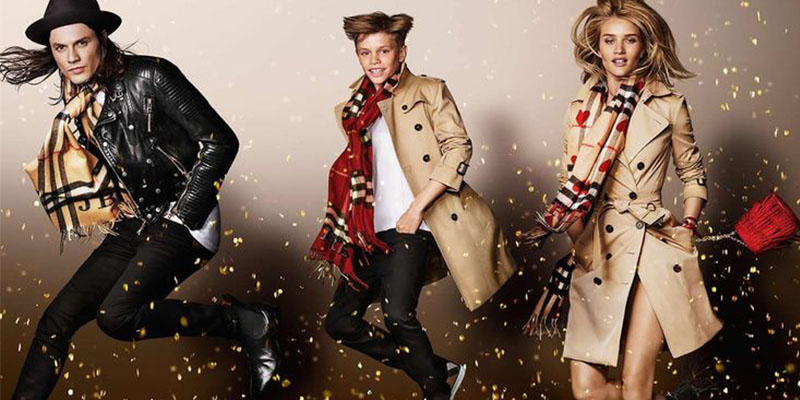 From Karl Lagerfeld appearing in Kim Kardashian's game to an Australian Instagram star quitting social media, these are the top international fashion stories of the week.
Karl Lagerfeld Makes His Avatar Debut in Kim Kardashian's Game
One of the world's most recognisable fashion figures has been turned into a cartoon character. Complete with fingerless gloves, Karl Lagerfeld has made his avatar debut in the app-based game called Kim Kardashian: Hollywood.
Lagerfeld, who is the creative director of Chanel, Fendi and his eponymous label Karl Lagerfeld, appears in the game in a virtual Parisian boutique. Introduced by Kendall Jenner's avatar, cartoon Karl even gives out advice on how to start your own fashion line. You can select virtual items from Karl Lagerfeld A/W15 collection that directs you to the new e-commerce site Karl.com.
Burberry Creates Billy Elliot Themed Christmas Campaign
British luxury brand Burberry has unveiled its 2015 festive campaign celebrating the 15th anniversary of dance film, Billy Elliot. Complete with a star-studded British cast of musicians, actors and models, the brand recreated the opening scene of the film for its advertisement. Elton John, James Corden, Julie Walters, Romeo Beckham, Naomi Campbell, Rosie and Toby Huntington-Whiteley, Michelle Dockery, James Bay and George Ezra all appear in the campaign film, jumping up and down in key pieces from the brand to the soundtrack of Cosmic Dancer by T Rex.
Burberry CEO Christopher Bailey said, "Billy Elliot is an incredible film full of so much joy and energy, so it was a real thrill and a great honour to be able to celebrate its 15 year anniversary through our festive campaign."
Burberry has also pledged to donate £500,000 to be dived between two charities for community development within the area which Billy Elliot was set.
Kanye West x Adidas Yeezy Season 1 Collection is Selling Out
Since its launch last week, Yeezy Season 1 has been selling out in various retail stores around the world. The highly anticipated collection by Kanye West, in collaboration with Adidas Originals, has proven to be more popular than anyone expected.
After initially being met with criticism when the collection debuted in February, it is now flying off the shelves in the hands of enthusiastic shoppers despite the high price tag.
While YS1 ranges from sweatpants and oversized t-shirts to crew-neck sweaters and shoes, the most popular items have been menswear and the highly coveted Yeezy 950 boot.
Social Media Star Essena O'Neill Creates Worldwide News
Nineteen year old social media star Essena O'Neill has created headlines all around the world this week with her public boycott of social media. After years of building her online profile to the point of celebrity status, the teenage model from Queensland announced the shut-down of her social media sites.
In the video, O'Neill exposed the negative impact that social media had on her life. Claiming that it was making her miserable, the model explained the exhaustive and misleading efforts she went to in order to create the "perfect" online persona.
"I found myself drowning in the illusion. Social media isn't real. It's purely contrived images and edited clips ranked against each other," O'Neill says on her new website Let's Be Game Changers.
Let's Be Game Changers blog by Essena Oneill is aimed at creating a new, positive, digital environment and promotes veganism, environmental awareness and acceptance of each other and ourselves.
Louis Vuitton Introduces City Guide Apps
French, fashion house, Louis Vuitton has moved with the digital age and released its famous City Guides in app form. For the first time, customers have access to the curated information of 25 cities through their Iphones and Ipads.
The apps were released earlier this week with the inclusion of new cities, Bangkok, Chicago, Prague and Rome. Aimed at providing insightful information for travellers, the new apps provide users with details such as addresses for chic hotels and restaurants, event information, must-see sites and tips for "living like a local".
SUBSCRIBE TO OUR NEWSLETTER
Subscribe to our mailing list and get interesting stuff and updates to your email inbox.