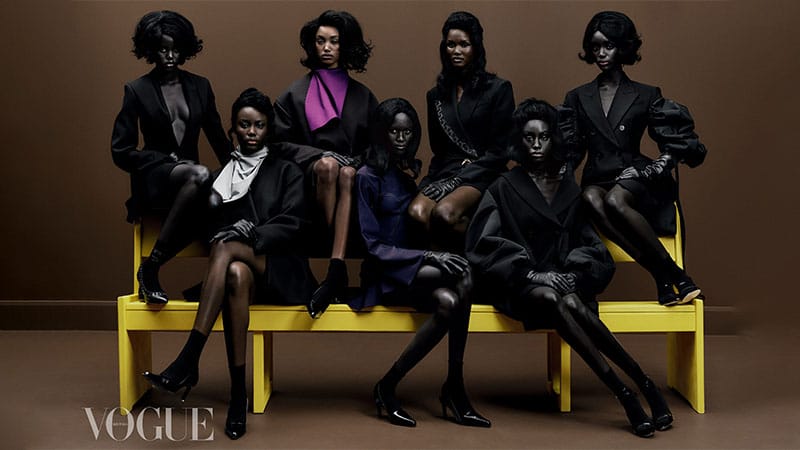 Bottega Veneta takes over the Great Wall of China, and the Paris Fashion Week schedule is here. Stay up to date with the week's top international fashion news stories.
Paris Couture Fashion Week Schedule is Released
The Fédération de la Haute Couture et de la Mode has confirmed a mix of physical and digital shows for its Fashion Weeks. The events, including the Men's and Couture runways, will run from January 18-23, and January 24-27, respectively. The majority of the event will run in person and require proof of COVID-19 vaccination upon entry. However, residents in the UK will not be able to attend, as the event doesn't qualify as an essential reason to travel.
Some of the brands appearing in the event include Hermes, Kenzo, Dior, and Fendi, who will host physical shows. Acen Studios, Dries Van Noten, and Giambattista Valli will host their runways on digital platforms, among many others.
View this post on Instagram
Milan Fashion Week Returns to Hybrid Format
Milan Fashion Week will kick off Fashion Month with a series of hybrid shows. There will be both digital and physical formats, with Camera Nazionale della Moda Italiana scaling down in-person shows. Designers such as Fendi, DSquared2, and Prada will present their collections on physical runways, but JAW Anderson and others will remain online.
"The positive thing is that many important brands decided to hold runway shows, and this is a good sign," said President of Italian National Fashion Chamber, Carlo Capasa. "Fashion is the second most important industry in Italy. It is important to remember that we must live with this virus and that we have to find a way to protect people's health while also continuing to work, to allow this industry to continue to work." Last week, Giorgio Armani confirmed that he will not showcase his latest collection as the Omicron variant continues to spread.
View this post on Instagram
Bottega Veneta Celebrates Lunar New Year with Great Wall of China Installation
Bottega Veneta is welcoming the Lunar New Year with a digital exhibition on the Great Wall of China. The brand takeover included a green and orange display – signature colors for the brand, and a symbol of luck in China. The installation included the brand name and 新春快乐, translating to Happy New Year in Pinyin. Additionally, Bottega is pledging a donation to restore the Shanhai Pass on the eastern part of the wall.
View this post on Instagram
British Vogue Honors Upcoming African Models for February Issue
British Vogue is honoring a series of upcoming African models in the latest February issue. The cover features nine stars, including Adut Akech, Abeny Nhial, Janet Jumbo, Majesty Amare, Maty Fall, Akon Changkou, Amar Akway, Anok Yai, and Nyagua Ruea. "As is tradition, the February issue of [British Vogue] brings readers the first distillation of the new collections, and as any fashion watcher will have seen at the SS22 shows, the rise of the African model felt, at last, like a permanent revolution," said Edward Enninful OBE, Editor in Chief of British Vogue. "No longer just one or two dark-skinned girls mingled backstage, but a host of top models took a meaningful, substantial, and equal place among the most successful women working in fashion today. It means so much to me to see it.'
View this post on Instagram
SUBSCRIBE TO OUR NEWSLETTER
Subscribe to our mailing list and get interesting stuff and updates to your email inbox.