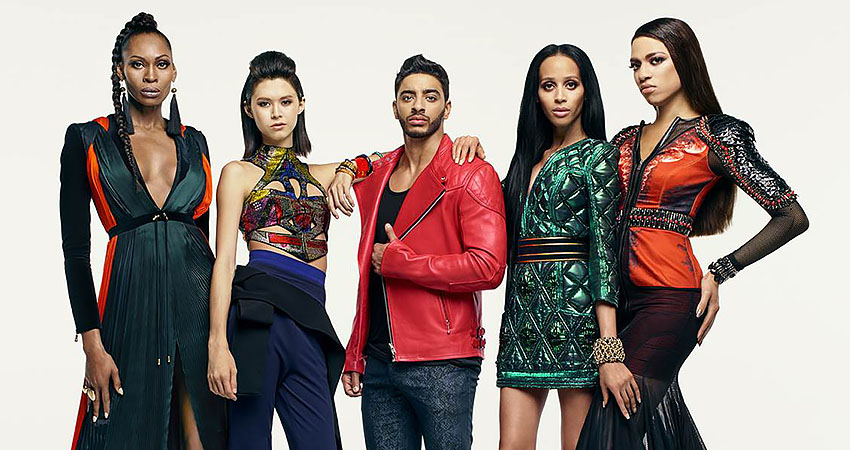 From Macy's closure of 100 stores to a new transgender modelling reality show, these are the top international fashion news stories of the week.
Macy's Unveils Plans to Close 100 Stores
American department store giant, Macy's has unveiled plans to close 100 of its 728 stores. The 100 stores, whose locations are yet to be known, serve as 14% of the brand's footprint and are reportedly underperforming. The struggling retailer is predicted to shutter the majority of the stores during early 2017, after the holiday period.
The decision to close so many Macy's stores comes in the face of declining retail profits. With the development of online shopping and fast-fashion retail, competition within the industry has become tight, forcing the department store retailer to adopt aggressive measures.
Zayn Malik is Designing Shoes with Giuseppe Zanotti
Zayn Malik is entering into the world of fashion design with a new footwear collaboration with Giuseppe Zanotti. The former One Direction star shared the news in a recent interview with GQ, for which he also modelled a preview of the collection. Set to debut in January 2017, the collection's first look is a stylish, suede, zip-up boot.
"Style is not being afraid to be bold about some things, or to say what it is you have to say," said Zayn. "I feel like Giuseppe does that with his collection — and I try to do that with my music."
The partnership, although somewhat surprising, is a natural evolution for both parties. Zayn, who is the boyfriend of model Gigi Hadid, is continuing to expand his involvement in the fashion industry (he has already posed for multiple magazine shoots and attended this year's Met Gala), while Zanotti adds another high-profile celebrity collaboration to his list (he recently collaborated with Jennifer Lopez).
Stuart Weitzman Steps Down as Creative Director from Eponymous Label
Footwear design legend, Stuart Weitzman is stepping down from his roles as creative director and executive chairman of his eponymous label. Weitzman, who has been designing shoes under his own name for over 25 years, will stay involved with the business and become chairman of the company.
In the role of creative director, Weitzman will be succeeded by Giovanni Morelli. Morelli comes to the brand following a stint at Loewe, where he served as leather goods design director. Previous to his time at Loewe, Morelli worked at a range of luxury labels, including Marc Jacobs, Burberry and Chloé.
"In Giovanni, we have found a creative director who will ensure that the unique DNA of the brand will be preserved while infusing his creative vision for a modern age," said Weitzman.
Morelli's appointment will come into effect in May 2017, at which time Weitzman will begin in the position of chairman.
Vivienne Westwood to Show Womenswear and Menswear Together in London
Vivienne Westwood is the latest designer to throw out the fashion show rule book and decide to present her menswear and womenswear collections together. Following in the footsteps of labels ranging from Gucci to Public School, Vivienne Westwood will combine both collections into one runway show this coming January. The show will take place in London, during London Fashion Week Men's, and will feature both fall 2017 collections.
The decision stems from the brand's recent desire to simplify and streamline its portfolio. Earlier this year Westwood also folded her Red Label and Man collections into the Vivienne Westwood main line.
The brand's other label, Andreas Kronthaler for Vivienne Westwood, will continue to show on its own as a unisex line at Paris Ready-to-Wear Fashion Week.
First Trailer released for Whoopi Goldberg's New Transgender Model Reality Show
The first official trailer for Whoopi Goldberg's new transgender model reality show has been released. Titled 'Strut', the show follows five transgender models from Slay Model Management (the first exclusively transgender modelling agency). Unlike most modelling reality shows, which focus on a competition, 'Strut' documents the journeys of its stars as they try to build their careers in the fashion industry while juggling personal lives and relationships.
"All of these struggles are amplified by the fact that they are also fighting to break down barriers and taking on the responsibility of representing the transgender community in today's society," said Goldberg, who is a producer for the project. "It's time to separate caricature from real people, and that's what we are doing with Strut."
'Strut' is set to air on September 20 on Oxygen.
SUBSCRIBE TO OUR NEWSLETTER
Subscribe to our mailing list and get interesting stuff and updates to your email inbox.