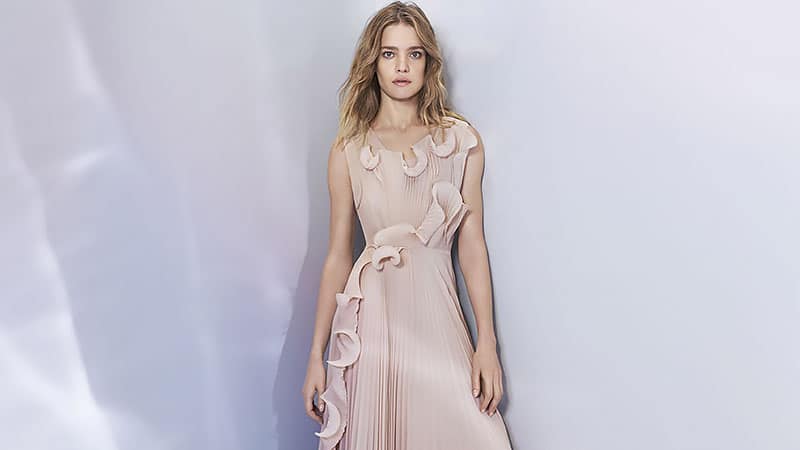 From eco-friendly fabric at H&M to white bandanas at Fashion Month, these are the top international fashion news stories of the week.
H&M Debuts New Sustainable Fabric Made from Recycled Shoreline Plastic
Fast-fashion retailer H&M has taken another step towards proving that sustainability and style can go hand-in-hand. The Swedish company unveiled its new Conscious Exclusive collection this week, revealing its latest variety of elevated, eco-friendly pieces. Amongst the assortment of women's and men's designs was a brand new and exciting sustainable fabric.
Dubbed Bionic, the revolutionary material is a recycled polyester made from plastic shoreline waste. The flowy and environmentally-friendly fabric was shown off by H&M in the form of an intricately pleated, powder pink gown.
"For the design team at H&M, this year's Conscious Exclusive is a chance to dream and create pieces that are both quirky and beautiful," said Pernilla Wohlfahrt, H&M's head of design and creative director. "It's great to be able to show just what is possible with sustainable materials like we have done with the delicate plissé dress made of Bionic."
Further enhancing its Conscious Exclusive range, H&M has also included kid's pieces and fragrances made from organic oils for the first time.
Fashion Industry Gets #TiedTogether with White Bandanas
Designed to promote inclusiveness, solidarity, and human unity, Business of Fashion (BoF) has launched the #TiedTigether initiative. The initiative, which has already begun and will last throughout Fashion Month, has invited and encouraged industry members of all types to wear white bandanas in support of the cause.
"In fashion, visuals often speak louder than words," said BoF founder, Imran Amed. "So join together this Fashion Month to make a simple and singular visual statement: wear a white bandana as a sign to the world that you believe in the common bonds of humankind — regardless of race, sexuality, gender or religion."
The white bandana has already seen plenty of support and promotion throughout New York Fashion Week. As well as being adopted and worn by designers, press, celebrity guests and digital influencers, the accessory was also integrated into fashion shows, such the Tommy Hilfiger runway in Los Angeles. The initiative is planned to continue throughout London, Milan, and Paris Fashion Weeks.
The CFDA Partners with Planned Parenthood
In the wake of the 2016 US presidential election, the fashion industry has become increasingly more political. This week was no exception with the Council of Fashion Designers of America (CFDA) announcing a partnership with Planned Parenthood. The collaboration sees the pair work together on the "Fashion Stands with Planned Parenthood" initiative to raise awareness about the nonprofit organisation's work.
For industry members to show support for the initiative, pink pins emblazoned with the partnership's slogan have been created. Designed and distributed to be worn during New York Fashion Week, the pins have been given to designers, modelling agencies, PR agencies, press, and guests.
"We are truly thrilled by the Council of Fashion Designers of America's show of support for Planned Parenthood at New York Fashion Week," said Cecile Richards, president of Planned Parenthood Federation of America. "Planned Parenthood has stood defiantly in the face of opposition for a century, and we're not backing down now."
Kith Hires Fashion Influencer Emily Oberg as Women's Creative Lead
New York label Kith has appointed fashion influencer Emily Oberg as creative lead for its women's range. Oberg, who recently vacated her role as an on-camera anchor for Complex, begins her new position effective immediately.
Oberg's appointment will see her utilise her talents and industry knowledge to oversee the Kith Women division and its development of products. A fitting choice for the streetwear label, Oberg has amassed a large following of enthusiasts, which includes over 200,000 Instagram followers, who will undoubtedly be interested in her work for the label.
During her time at Kith, Oberg plans to continue her lifestyle brand, Sporty & Rich. As well as selling a range of merchandise, including shoppable basics like T-shirts and hoodies, Sporty & Rich also includes a magazine.
Boohoo Officially Wins Nasty Gal Aquisition Bid
Following Nasty Gal's filing for bankruptcy last year, the American brand will be acquired by Boohoo. The UK online retailer offered US$20 million for Nasty Gal's intellectual property and customer databases late last year. That offer has now been granted court approval and was accepted by default after the brand failed to receive any other viable bids.
"We are delighted to have been successful in our bid to acquire Nasty Gal," said Boohoo joint CEOs, Mahmud Kamani and Carol Kane. "It represents an exciting opportunity to accelerate our international offering and inspire an ever-growing range of young customers in the US and around the world."
The deal between the businesses is expected to be completed by the end of this month.
SUBSCRIBE TO OUR NEWSLETTER
Subscribe to our mailing list and get interesting stuff and updates to your email inbox.