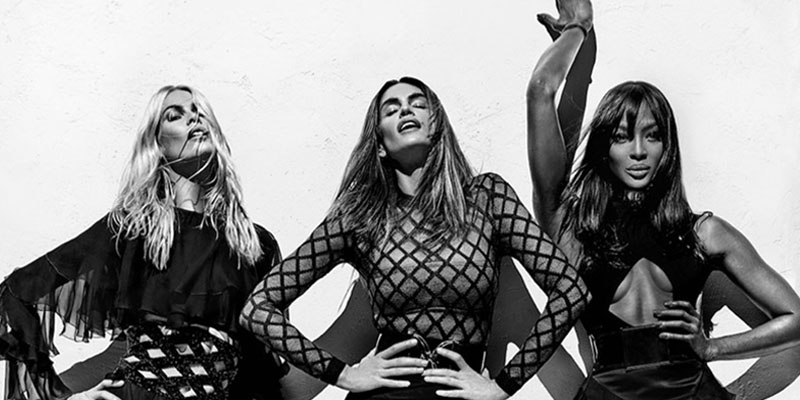 From Dolce and Gabbana's first line of hijabs to J.W. Anderson's unique partnership with Grindr, these are the top international fashion news stories of the week.
Dolce and Gabbana Reveals Its First Line of Hijabs and Abayas
Italian label, Dolce and Gabbana, has this week launched its first ever collection of hijabs and abayas. The new range caters to Muslim consumers and places the luxury brand amongst a growing number of fashion retailers targeting this expanding market.
The range consists of a variety of styles and prints which represent the typical Dolce and Gabbana feminine aesthetic in a more modest way. Florals, fruit and polka dot prints adorn silk and satin designs in a predominantly black and white colour palette. The stand out feature however? Beautiful and delicate lace trimmings which appear on multiple styles.
Cindy Crawford, Naomi Campbell and Claudia Schiffer Reunite to Join the Balmain Army
The Balmain Army has grown even larger with the recent edition of three iconic 90's supermodels to the roster. In a new campaign for Balmain's S/S '16 collection, Olivier Rousteing has cast Cindy Crawford, Naomi Campbell and Claudia Schiffer as the stars.
The decision came as somewhat of a surprise to fans with the creative director ditching his usual ensemble of the modelling industry's newest and biggest stars (A.K.A. Kendall Jenner and Gigi Hadid) in lieu of a piece of modelling nostalgia. The choice seems to have been the right one however, with the campaign images looking smoking hot. Shot in black and white the images are the works of famed photographer Steven Klein.
Karl Lagerfeld under Investigation for Tax Evasion in France
Another top designer comes in to scrutiny this week with the revelation that French authorities are investigating Karl Lagerfeld for tax evasion. It is believed that Lagerfeld possibly concealed 20 million euros from the government in an attempt to avoid paying taxes.
Rumoured accusations against Lagerfeld state that he has been utilising off-shore tax havens in Ireland, the British Virgin Islands and the United States in order to conceal the funds. Reports also suggest that Lagerfeld, who is not only a designer but also an avid and skilled photographer, failed to declare his professional activity in the realm of photography.
Lagerfeld isn't the only designer to face this type of investigation however. Italian designers Domenico Dolce and Stefano Gabbana faced charges for a similar matter in 2014 but were later cleared.
J.W. Anderson is Teaming Up With Dating App Grindr
In a move that is both unique and unprecedented, J.W. Anderson is teaming up with gay dating app Grindr for a new partnership. As more and more brands turn to live streaming for their runway shows, the British fashion label has found a way to stream its next show whilst staying innovative.
Live streaming allows fashion brands to be more consumer orientated and digitally-forward at the same time. While YouTube and Snapchat have been the most prominent choices for live streaming, J.W. Anderson has now chosen Grindr as the medium to showcase his runway at London Collections Men AW16.
As to why the brand chose Grindr, founder Jonathan Anderson said that the social platform "really reflects youth culture right now," and that the brand is constantly looking for ways to "push boundaries when it comes to gender and aesthetic."
Marc Jacobs Spring Campaign Features Transgender Director Lana Wachowski
Transgender Director, Lana Wachowski, is the newest Marc Jacobs star, featuring in the brand's Spring 2016 campaign. The news were released by Marc Jacobs himself on a personal Instagram post which revealed the first image for the new campaign.
"It is with an overwhelmingly full heart that I share this first portrait of our Spring/Summer 2016 ad campaign. Lana Wachowski," was just a small part of Jacobs' caption on the newsworthy post.
Jacobs also used the post to enlighten followers on the theory and meaning behind the campaign. The designer explained that it is a connected, visual narrative featuring a range of individuals that inspire him and represent "his America".
SUBSCRIBE TO OUR NEWSLETTER
Subscribe to our mailing list and get interesting stuff and updates to your email inbox.