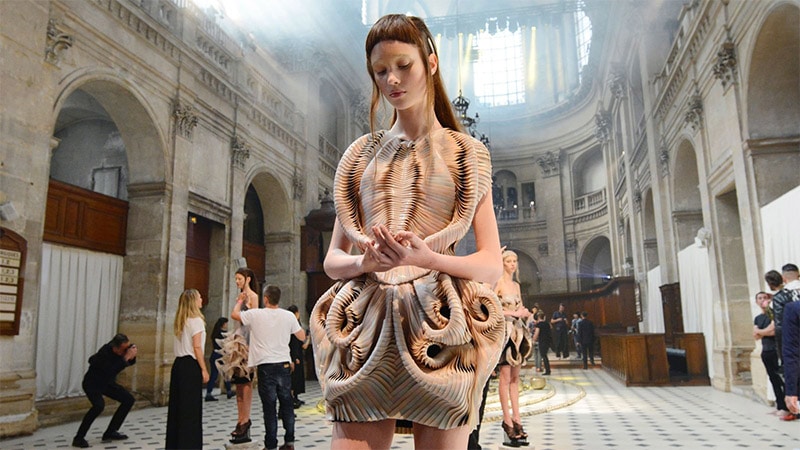 From celebrating curves at the Full Figured Fashion Week in New York to IMG stalling Toronto Fashion Week, these are the top international fashion news stories of the week you don't want to miss.
Avant-Garde Fashion Redefined at Iris Van Herpen Show
Over the years, fashion has seen many innovations, and it only gets better. True to the designer's style, Iris Van Herpen presented a collection inspired by cymatics, the visual representation of sound waves. The collection emerged as sui generis with its unique fabric selection, 3D Printing techniques, and unique geometric structures.
IMG Has Shut Down Toronto Fashion Week
There is going to be a major setback in the fashion scene in Toronto ever since IMG Canada has made a formal announcement of pulling a plug on Toronto Fashion Week.
Citing lack of funds and local support, Catherine Bennett, senior vice-president and managing director of IMG Fashion Events & Properties said, "We felt that our Canadian fashion footprint was not generating the local commercial funding that we required in order for us to continue producing the event to the highest standard that the industry deserves and the designers in Toronto deserve. We're sad to be moving on, but think it's the right decision and the right time to make it."
She added, "Partnership and sponsorship plays a really important role in it, and I think in the market in Toronto we just weren't seeing the local support for the industry that we do see in some other market."
Trussardi to Launch a Pet Fashion Line
For all the dog lovers, there couldn't have been a better time to pamper your pets with everything luxuriously fashionable. The Italian brand Trussardi signed a licensing agreement with Fashion Streetwear Italia Srl to launch their first-ever pet fashion line, Trussardi for your Dog.
The line will include dog leashes, carriers, collars, dog houses and embroidered knits, coats and jackets all embellished with Trussardi's signature greyhound logo. Trussardi will be available in selected pet shops, international departmental stores, and some of the brand's boutiques.
Vice Media Acquires Controlling Stake in Garage Magazine
Vice Media, a youth-oriented media empire has announced acquiring a major controlling stake in Garage magazine, a London-based publication covering art, architecture, fashion and design. Vice media will help Dasha Zhukova, the founder of Garage Magazine, to grow magazine's digital presence. The updated online channel will air original videos, news, interviews, events from the world of art, architecture, fashion and design.
Shu Uemura: The Power of Three
Shu Uemura, Art of Hair, yet again brings an improved and innovative technique to avail some hair TLC. The brand's latest product for in-salon experience is the Limited Edition Art Series 2.0 lineup, which is the second artistic collaboration after their successful initiative in 2015's 1.0 instalment.
This year the brand collaborated with Australian artists Billie Justice Thomson, Poppy Lissiman and Anya Brock who lent their respective interpretation of the brand's value and introduced three conditioner bottles. The exhibition held at China Heights Gallery displayed the most popular pieces from the artists' portfolios. Billie is the creative mind behind Shu Uemura Art of Hair's Muroto Volume Conditioner, Poppy Lissiman designed the brand's Silk Boom Conditioner and Anya Brock worked on the design of Color Lustre Brilliant Glaze Conditioner.
Ahead of the Curve
Full Figure Fashion Week 2016 and The Curvy Con brought women from all walks of life together for a week of events to celebrate their curves in New York. The women walking the ramp and attending the events celebrated their uniqueness and defied societal norms of a perfect figure in style.
The brands and designers showcased their diverse collection in sizes 12 to 32, available in every budget allowing women the opportunity to be spoilt for choice and buy clothes that would otherwise be restricted to slender frames.
Politically Correct Fashion
Samantha Cameron, the first lady and wife of British Prime Minister David Cameron, is launching her own clothing line. A former creative director of a luxury label and an ambassador for the British Fashion Council, Samantha along with her former aide, Isabel Spearman and personal stylist is ready to bring her fashion sensibilities to the fore and start her own line. Although the name for the brand has been selected no formal announcements have been made yet.
SUBSCRIBE TO OUR NEWSLETTER
Subscribe to our mailing list and get interesting stuff and updates to your email inbox.