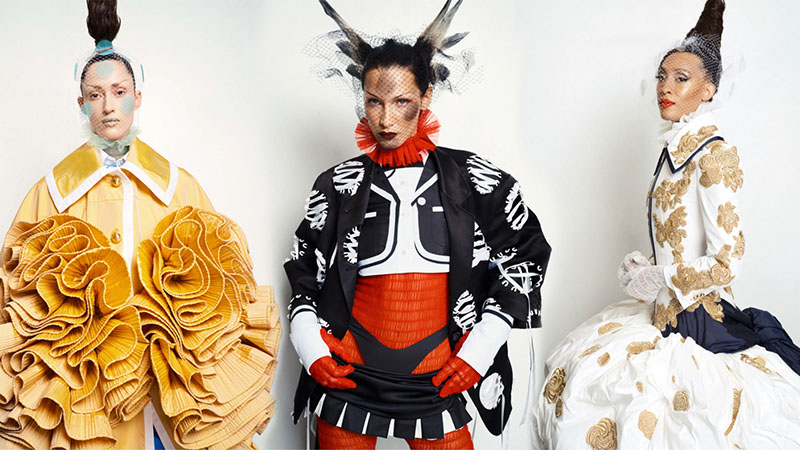 The fashion industry rallies behind Gabriella Karefa-Johnson, and Jared Leto is set to play Karl Lagerfeld in a new biopic. Stay up to date with the top international fashion news stories of the week.
Franca Fendi Dies at 87
One of the five sisters of the Fendi family, Franca, has died at the age of 87. Along with her sisters, she is credited with developing the fashion house into the global empire it is today. She and her sisters inherited the brand in 1946 but were involved in assisting the family to run the business since they were children. In 1965, they introduced Karl Lagerfeld into the company to design fur and ready-to-wear women's collections, propelling its brand into the luxury market.
View this post on Instagram
Fashion Industry Rallies Behind Gabriella Karefa-Johnson
The fashion industry is supporting Vogue fashion editor Gabriella Karefa-Johnson. The stylist and editor was targeted by Kanye West following his controversial collection in Paris Fashion Week, featuring T-shirts saying, White Lives Matter. "I guess I get what he tried to do; he thought it was Duchampian. It wasn't," she wrote in response to the show. "It didn't land, and it was deeply offensive, violent and dangerous."
Following this critique of the Yeezy show, West called out the Vogue stylist, sharing screenshots of her outfits and disparaging her personal style. "This is not a fashion person," he wrote on Instagram. The fashion world has since rallied behind Karefa-Johnson, with endless support towards the industry leader. "You wish [you] had a percentage of her intellect," wrote Gigi Hadid on Ye's Instagram post. "You're a bully and a joke." Vogue shared a post in response on all platforms, sharing their support for the editor. "Vogue stands with Gabriella Karefa-Johnson, our global fashion editor at large and longtime contributor," it said. "She was personally targeted and bullied. It is unacceptable. Now more than ever, voices like hers are needed, and in a private meeting with Ye today, she once again spoke her truth in a way she felt best, on her terms."
View this post on Instagram
A Wrap-Up of Paris Fashion Week
And just like that, fashion month is over. Paris Fashion Week was eventful from start to finish, with shows from designers including Valentino, which saw a departure of its Valentino Pink and steered to neutrals, glimmering blue and gold, and feathers. Balenciaga broke the internet by presenting their collection in mud, and Thom Browne turned to Cinderella as its inspiration.
Chanel ended the week with a series of polka dots, knee-high socks, and feather trims. FKA Twigs closed out the Miu Miu collection, which showcased leather skirts with oversized pockets, cropped bralettes, and knee-high sandals. Givenchy went for a contemporary feel with denim skirts, jackets, and bralettes, complemented by puffy outerwear and slinky white dresses.
View this post on Instagram
Jared Leto to Play Karl Lagerfeld
A Karl Lagerfeld biopic is on the horizon. Actor and House of Gucci star Jared Leto will play the role of the Austrian designer and is set to produce the film with Emma Ludbrook. The authorized film is executively produced by Karl Lagerfeld brand CEO Pier Paolo Righi, SVP of image and comms Caroline Lebar, and former bodyguard Sébastien Jondeau.
"Karl has always been an inspiration to me. He was a true polymath, an artist, an innovator, a leader, and, most importantly, a kind man, said Leto. "When we came together with the Karl Lagerfeld team, we immediately shared a creative vision of doing a respectful ode to Karl while pushing the artistic boundaries of what a biopic can be. I'm so grateful to Karo, Pier, and Seb for allowing us to go on this journey together."
View this post on Instagram
SUBSCRIBE TO OUR NEWSLETTER
Subscribe to our mailing list and get interesting stuff and updates to your email inbox.