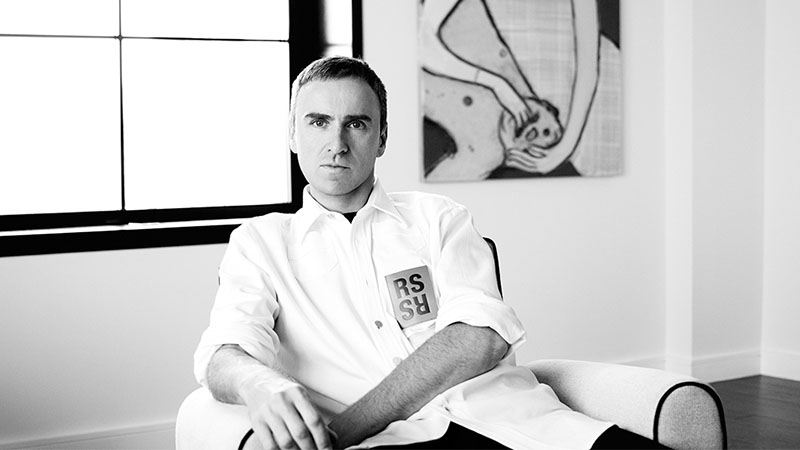 From Calvin Klein's new chief creative officer to J.W. Anderson's first famous face, these are the top international fashion news stories of the week.
Raf Simons Officially Announced as Calvin Klein Chief Creative Officer
It's official. After months of fashion industry speculation, Calvin Klein has finally confirmed that Raf Simons is its new chief creative officer. Simons will assume the role effect immediately, following the recent completion of his non-compete agreement with former employer Christian Dior. His first collections for the brand will debut for the Fall 2017 season.
In the role of the chief creative officer, Simons will be responsible for both women's and men's ready-to-wear collections as well as leading the creative direction for all Calvin Klein brands. He takes over from designers Francisco Costa and Italo Zucchelli, who were respectively in charge of womenswear and menswear until their dual departure in April.
"The arrival of Raf Simons as Chief Creative Officer signifies a momentous new chapter for Calvin Klein," said Steve Shiffman, Calvin Klein CEO. "Not since Mr Klein himself was at the company has it been led by one creative visionary, and I am confident that this decision will drive the Calvin Klein brand and have a significant impact on its future."
The brand has also hired Pieter Mulier to work under Simons as creative director. Mr Mulier will be responsible for executing Simon's creative and design vision across all Calvin Klein women's and men's apparel and accessories.
Bella Hadid is the Surprising Star of J.W. Anderson's New Campaign
J.W. Anderson's autumn/winter 2016 campaign has arrived, and it surprisingly stars Bella Hadid. While Bella may be used to appearing in campaigns for large fashion brands, J.W. Anderson is not used to featuring famous faces. In fact, the casting of Bella in the campaign marks the first time that the label has ever used a celebrity or social media model.
Shot by photographer Jamie Hawkesworth, the artistic campaign features Bella portraying an actress on set. In addition to Bella, it also features a young boy posing with a traditional puppet in front of him. The two images have then been juxtaposed next to each other in a thought-provoking and intriguing manner.
Whether this means that Bella will also star in the label's next runway show or not remains to be seen.
Salvatore Ferragamo CEO Steps Down
After ten years at the helm, Salvatore Ferragamo chief executive officer, Michele Norsa has stepped down from his role. Norsa first joined Ferragamo back in 2006, previous to which he was in charge of Valentino. During his time at Ferragamo, Norsa helped to build the brand and see it through its 2011 stock market listing.
Norsa's departure follows an announcement earlier this year which stated that he would exit before the end of 2016. At that time it was also revealed that Eraldo Poletto would serve as Norsa's replacement. Poletto joins Salvatore Ferragamo from Furla, where he, up until recently, served as CEO.
Instagram Launches Stories Feature to Rival Snapchat
The much-loved world of Instagram received a not-so-unique update this week. The social media app launched a new feature that is so similar to that of Snapchat it even has the same name.
Instagram 'Stories' allows users to post candid videos and photos to their accounts that will disappear in 24 hours. The new feature even lets users draw on the images, as they would in Snapchat. Once uploaded, stories sit in a row at the top of the screen for followers to watch and view as selected or, if left to play out, one after the other.
Despite the feature being just days old, those in the fashion and beauty world have already thoroughly embraced it with models sharing vacation moments and beauty bloggers sharing behind the scenes videos.
Kylie Jenner's Birthday Edition Cosmetics are a Sell-Out
In the lead up to her 19th birthday, Kylie Jenner has released a new range of special edition Kylie Cosmetics, and they are a sell-out. The collection was first announced by Kylie on Snapchat a week ago before becoming available for purchase on August 1st. Once launched, the products were quick to sell out, leaving customers waiting for a re-stock on the 4th.
On sale until Kylie's actual birthday on August 10th, the exclusive range includes a mini set of six matte lipsticks as well as several new products. Included in the new products on offer are a shiny gold gloss, a dark gold metallic lipstick, a cream eyeshadow (available in copper and rose gold), and a bronze "Kyliner" kit (the brand's first ever eyeliner).
SUBSCRIBE TO OUR NEWSLETTER
Subscribe to our mailing list and get interesting stuff and updates to your email inbox.