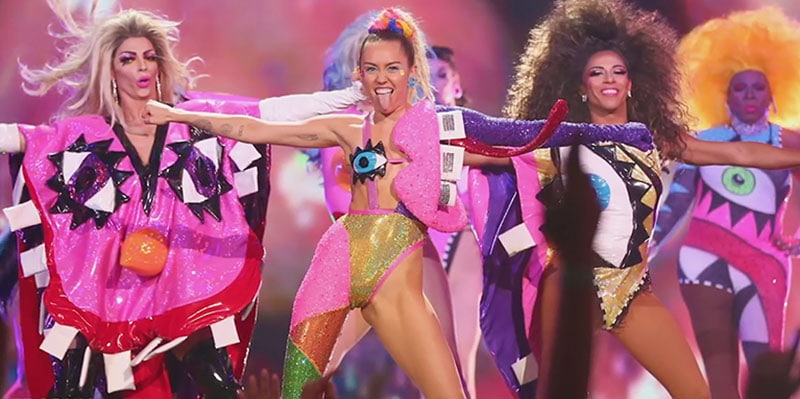 Miley Cyrus' VMA Outfit Sparks Controversy
Everyone's been talking about the VMA's and what went down – including Nicki Minaj calling out Miley Cyrus and Justin Bieber sobbing – but also Miley Cyrus' crazy, but pretty awesome outfits.
The "Wrecking Ball" singer hosted the MTV event last Sunday, and paraded around the stage in a series of different outfits, one of which, designed by BCalla, has been causing a bit of controversy. Australian label Discount Universe has slammed Miley's outfit claiming that it was essentially a rip off of some of their iconic styles, and they took to Instagram to explain just how "distraught" they are.
Rihanna Faces Anti-Fur Protesters at Perfume Launch
Rihanna found herself in a hairy situation with fur protesters recently. TMZ revealed that the singer was promoting her new perfume line RiRi at the Macy's in Brooklyn, New York, on Monday when she was greeted by angry protesters who held up signs reading "Who died for your coat?"
Rihanna is a big fan of snakeskin and fur coats, and this is certainly not the first time that she's had a clash with anti-fur protesters, it's also unlikely to be the last.
Lingerie Has Changed a Lot in the Last 100 Years
Have you ever wondered what lingerie looked like 100 years ago? And how our styles have changed in the last century? Well, wonder no more because Mode.com has created a video showing how lingerie styles have evolved over the years: from 1925 which showed virtually no skin and was referred to by the video as "demurely natural," to now, when there are a wide variety of different styles enjoying popularity.
The video is three minutes long and features model and UFC ring girl Arianny Celeste – and it definitely makes for an interesting watch.
SUBSCRIBE TO OUR NEWSLETTER
Subscribe to our mailing list and get interesting stuff and updates to your email inbox.