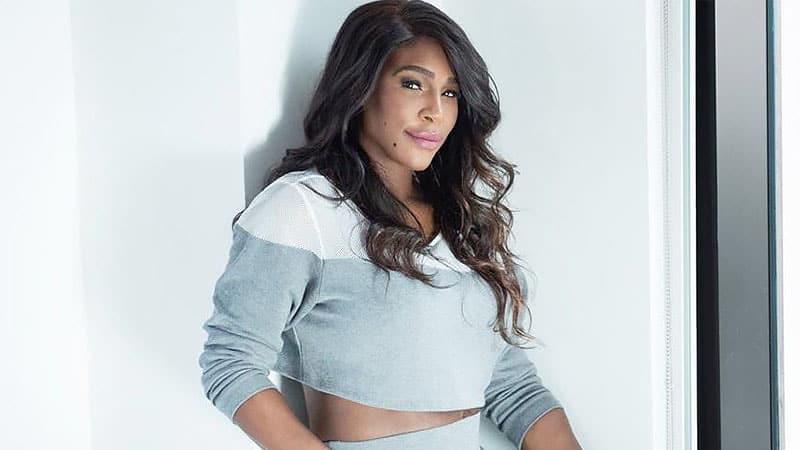 This week in fashion, Serena Williams launches a clothing line, Diet Prada accuses Virgil Abloh of stealing a design for his Ikea collaboration, and Gucci drops its decor range. Find these stories and more as we reveal this week's top international fashion news.
Serena Williams Launches a Fashion Line While Competing at the French Open
After winning her first French Open grand slam since giving birth, tennis royalty Serena Williams has launched her very own fashion line. The athlete debuted her 12 piece collection on Thursday at serenawilliams.com and announced the release of the range via Instagram. The line, adeptly named Serena features a selection of ready-to-wear dressy and casual pieces with prices ranging between $35-$250. Serena has long been working in the fashion industry and has been a staple at New York's Fashion Week, launching Aneres in 2004, before collaborating with HSN for another line in 2009.
Diet Prada Accused Off-White's Virgil Abloh of Ripping Off a Chair Designed as Part of His Ikea Collaboration
Off-White founder and chief executive officer, Virgil Abloh is the latest target of Diet Prada. The fashion Instagram watchdogs have called out the designer for supposedly ripping off a chair designed for his collaboration with Ikea. Abloh and IKEA creative leader Henrik Most said, the chair, which is part of the MARKERAD project, "'feels more like an art object than a typical chair."
However, Diet Prada are not buying it. They quickly took to Instagram to point out the similarities between Abloh's chair and one by iconic mid-century furniture designer Paul McCobb. The chairs are almost identical, the only difference being the additional doorstop detail on one of the legs of Abloh's. Diet Prada is renowned for calling out copycats in the fashion industry, and now we suppose the furniture industry is on their radar too. They pointed out the alleged plagiarism and offered Abloh a sound piece of advice suggesting, "it would actually be much more interesting to know the sources of your "inspiration"…especially if they're this iconic."
Louis Vuitton and Gucci debut 2019 Cruise Lines
Louis Vuitton and Gucci debuted their 2019 cruise collections earlier this week. Both shows were as remarkable as each other. Gucci's 2019 Cruise show took place at a cemetery in Arles on a runway which was literally on fire. Alessandro Michele does have a penchant for the strange (think models carrying served heads), but a graveyard isn't the most glamorous place for a runway. However, the 1700's Roman burial ground, Alyscamps, is now a gothic rock'n'roll museum. Models strutted down the runway in the light of hundreds of candles. The collection featured 114 styles including plaid skirts, floral silk prints, and tiger patterns. Fantasy characters ranging from rock stars to 19th-century widows inspired the outfits. There were velvet dresses, embroidered capes and fur coats all evoking elements of Catholicism.
In a less eerie setting, Louis Vitton again took to the historical architecture for its Crusie 2019 runway. Following shows at the Miho Museum in Kyoto, Rio's Niteròi Contemporary Art Museum and the Bob Hope estate in Palm Springs, the 2019 cruise collection debuted at the Fondation Maeght in Saint-Paul de Vence. The show took place in the life-size maze of sculptures known as Joan Miró's Labyrinth, with a backdrop of rolling green hills. Louis Vitton Creative Director, Nicolas Ghesquière said, "the volumes of the statue were influencing my silhouette. You always have to fight with gravity when you're creating clothes. You want the clothes to be light or suspended or in movement with the body of the woman." The show featured the designer's collection with Grace Coddington. The line echoed influences of the articular surrounds, think extravagant cuts, textures, and embellishments. The quirky avant-garde details make this Louis Vitton's most exciting collection yet.
Gucci's Highly Anticipated Decor Line Finally Arrives
After teasing they would be releasing a decor range last July, Gucci's line of homewares is finally available. The collection has landed online and in-store to shop if you have spare $46K that is. With scented candles setting you back about $950, everything about this range from the price to the designs is extravagant. But, as Gucci is known for its maximalist aesthetic, we wouldn't expect anything less. The Italian fashion house describes GUCCI DÉCOR as "an eclectic collection of items with which customers can dress their own spaces."
Creative director Alessandro Michele has brought his signature bright, bold patterns and floral and animal motifs to the line. It includes teapots, furniture, cushions, crockery, wallpaper (in silk, vinyl and paper), silk screens and so much more decor goodness. The line embodies all that is Gucci, with even the lavish candles coming complete with Gucci signature scents. Michele designed the range to be both stunning and practical. A statement read, "Michele's imaginative notion that if you make pieces easily moveable, you can constantly dress and re-dress your environment".
Beloved Aussie Label, LifewithBird Closes Down
After 16 years, LifewithBird founders Bridget McCall & Nicholas Van Messner have announced that the label will close its doors. Both the brand's South Yarra and Emporium stores have already ceased trading, business will continue online at LIFEwithBIRD.COM. They are offering some serious discounts online, so you may want to get in before it's too late.
The sad news came in an email sent out to their customer base, which read, "It is with a heavy heart that we announce the closure of LIFEwithBIRD in the coming weeks. We would like to thank everyone who has shared this incredible journey over the past 16 years. It has always felt more like a family than a business. We will be forever grateful to everyone who believed in our ideas and championed the modern woman. LIFEwithBIRD has been such a huge part of our lives. We started by patternmaking on kitchen benches, packing orders and hand tying swing tags at home. To have created something that grew and evolved into the brand many know today and knowing our designs have touched so many people in Australia and abroad is something we will always be very proud of. LifewithBird will be missed by many. It is the latest label to close its doors in what seems like trying times for Australian designers.
SUBSCRIBE TO OUR NEWSLETTER
Subscribe to our mailing list and get interesting stuff and updates to your email inbox.