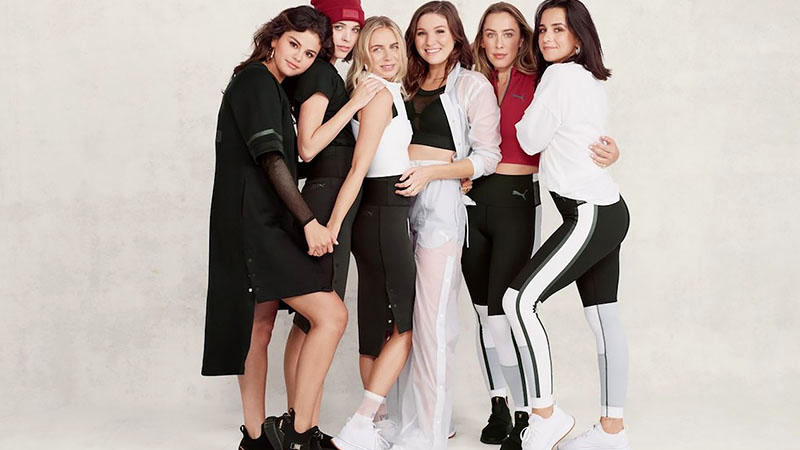 This week in fashion, Selena Gomez has created a collection with Puma, Miley Cyrus has joined up with Converse to create the perfect holiday sneakers and Asos is amongst the brands recognised at the 2018 PETA Fashion Awards. Find these stories and more as we reveal the top international fashion news of the week.
Miley Cyrus has Joined up with Converse to Create the Perfect Holiday Sneakers
After creating a glittery sneaker line as well as a colourful Pride collection, singer Miley Cyrus has teamed up with Converse for the third time. The 19-piece vegan collection, Converse x Miley Cyrus, is perfect for the holidays, featuring festive, shimmering shoes that reimagine the classic Chuck Taylor All Star, along with gender-neutral streetwear.
Cruelty-free fashion lovers can choose from a wide range of vegan sneakers, including high-tops, low-tops, and platforms that feature brushed velvet and glitter. The more subtle shoes in the collection are made from vegan patent leather. Fans can grab a white, black, blue, or pink pair; with both high top and low top available. The fashion line also features two gender-neutral velvet tracksuits – in blue or maroon – and a star-patterned Converse bodysuit. Other pieces include a lush velvet shirt and legging set, sleek leggings, satin puffer jacket, Converse star-laden velour pants, sweatshirt and cotton crops. Prices range from $45-$130, and the collection is available to buy now.
Selena Gomez has Created a Collection with Puma
Selena Gomez has designed her first collection with Puma, called Strong Girl. The range is designed to take your workout wardrobe to the next level — featuring cute sweats, sneakers, sports bras (including one that reads "Strong inside and out"), hats, jackets and more. There are 41 pieces in total, and each one is the perfect balance of sporty and trendy.
"For her first collaboration with the brand, Selena Gomez uses the legacies of strong women from the past to create classic pieces for today's girl," a press release stated. "These women are strong in their passions, expressions, and how they want to leave their mark on the world. They are compassionate but uncompromising. Fearless, but approachable." Selena featured some of her close friends in the campaign, including Raquelle Stevens, Connar Franklin and Courtney J. Barry. Selena's coveted collection will be available for purchase online at Puma and via select retailers worldwide on December 12 and at a pop-up shop in Los Angeles on December 8 and December 9.
Amy Schumer is Launching a Fashion Label to Empower Women of all Shapes and Sizes
Amy Schumer is set to release an all-inclusive fashion label on December 13 in Saks Off 5th. Le Cloud, which is co-designed with celebrity stylist and costume designer Leesa Evans, and aims to empower women regardless of age and size.
"My instinct is to be authentic and to empower women of all ages and sizes to do the same," Schumer told WWD. "We are making beautiful, comfortable and wearable clothing that is accessible to real women. A Le Cloud customer will feel confident and powerful when wearing these pieces. We take our product seriously, but not ourselves." The affordable ready-to-wear brand features tops, skirts, pants, a jumpsuit and outerwear, all made using "light as a cloud" fabrics such as crepe, satin, French terry and scuba. Sizes range from 0-20, so XS to XXL. There is also a charity element to the label – 30 per cent of all proceeds will go towards Community Partners, a not-for-profit organisation which supports the Stylefund project, a programme founded in 2017 that aims to empower women to use clothing to increase their success and confidence.
Burberry, Coach and Asos Amongst Brands Recognised at the 2018 PETA Fashion Awards
People for the Ethical Treatment of Animals (PETA) has revealed the winners of its annual Fashion Awards with more leading labels than ever before making the cut. This year, a growing number of brands turned their backs on the fur industry in support of the animal rights movement. In recognition of this, the likes of Burberry, Coach, Michael Kors and Diane von Furstenberg have been named the winners in PETA's luxury fashion moment category.
Over 300 high street retailers, including H&M, Mango, Zara and Topshop, have also been recognised in the awards round-up after committing to a ban on mohair. In the digital sphere, Asos was named the most progressive online platform in light of its ban on feathers, mohair, cashmere and silk products earlier this year. Meanwhile, Helskini Fashion Week won the trophy for PETA's most progressive event of the year for its decision to ban leather on the catwalk. The full list of this year's winners can be found on PETA's website.
Comme des Garçons has Collaborated with Gucci for a Limited-Edition bag
Ahead of the holiday season, Gucci has announced a collaboration with Japanese label Comme des Garçons, for a project that sees the label's blend their designs in an interesting way. Alessandro Michele's Gucci is known for its decorative and eclectic style while Comme des Garçons is known for its design-led approach to fashion. Based on the principle of a Comme des Garçons shopper-style bag, the labels have created a bag that uses brown paper and features a distinctive plastic shell. It's finished with a personalised Gucci vertical green-red-green stripe and will launch internationally on December 6.
SUBSCRIBE TO OUR NEWSLETTER
Subscribe to our mailing list and get interesting stuff and updates to your email inbox.