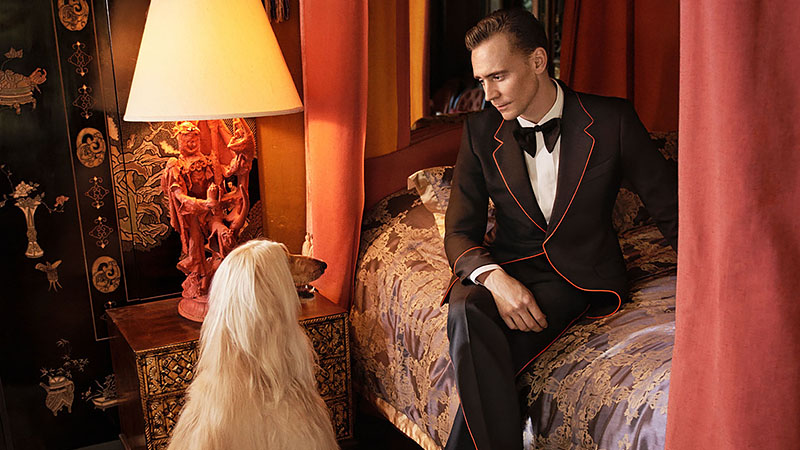 From Tom Hiddleston's new Gucci campaign to Mario Testino's new online platform, these are the top international fashion stories of the week.
Gigi Hadid and Lauren Hutton Close Bottega Veneta Together
Although fashion month is almost over, incredible moments are still aplenty. One such moment took place last Saturday at the Bottega Veneta show at Milan Fashion Week. The show, which was a triumph in its own right, saw a major Instagram moment take place at its close as Gigi Hadid walked the runway arm-in-arm with Lauren Hutton.
The two supermodel icons bridged generational gaps to prove that beauty knows no age as they closed the brand's 50th-anniversary show together. While Hadid is 21 years old and just beginning in the industry, Hutton is 72 and has had an extensive and impressive modelling and acting career.
For the show, Hutton revisited her character from the iconic '80s film 'American Gigolo' wearing a trench coat and carrying the same clutch she did in the movie.
Tom Hiddleston Stars in Gucci's Newest Campaign
Tom Hiddleston has recovered from his very public break up with Taylor Swift and apparently landed on his feet. Along with reportedly being in the running to play the new James Bond, the British actor has now been named the star of Gucci's newest cruise campaign.
Looking more dapper than ever, the "Thor" star appears in a range of high fashion suits for the brand's Cruise 2017 tailoring campaign. Although Hiddleston is the only human star of the campaign, he does pose next to a group of silky-haired Afghan hounds.
Shot by photographer Glen Luchford, the series of images were all taken on location at late, American artist, Tony Duquette's home. The Los Angeles estate provided an ornate background for the campaign, filled with heirlooms, paintings and curiosities.
Alexander Wang Reveals Fall 2016 Campaign Video
Alexander Wang has revealed a new video for his Fall 2016 campaign, and it looks like one epic house party. Starring countless #wangsquad celebrities, models and music stars, the video depicts a wild party in a mansion, complete with a fully stocked bar and plenty of dancing.
Starring in the campaign is Kylie Jenner and boyfriend Tyga, who share an intimate moment in the video. Alongside Jenner and Tyga, model, Anna Ewers also stars in the video, as does music producer, Skrillex, who created the exclusive track for the campaign.
Everyone decked out in Alexander Wang clothing, the cast reportedly each ended up creating their own storyline for the video with Wang stating that it "all came together better than planned".
Mario Testino Launches New Website Mira Mira
Legendary fashion photographer, Mario Testino has launched a new website called "Mira Mira". The site, which translates from Spanish to mean "Look Look" in English, will provide viewers with unparalleled access to Testino's work and an inside look at his life.
Featured on Mira Mira will be never-before-published, Testino photographs, travel diaries, his philanthropic work and behind-the-scenes (BTS) moments from his iconic Instagram "Towel Series". Fittingly titled "Under the Towel", the first BTS video from the "Towel Series" features 19-year-old model, Bella Hadid.
On top of that, the site also features a podcast section. Launching the section is the first episode of the series, featuring a conversation between Testino and Kate Moss where the two look back over past shoots they've done together.
Italian Jewels: Bulgari Style Opens at National Gallery of Victoria
"Italian Jewels: Bulgari Style" opened at the National Gallery of Victoria (NGV) in Melbourne this week. Taking place until the 29th of January, the free exhibition showcases magnificent jewels from the Bulgari Heritage Collection. Featuring over 80 pieces of jewellery, the remarkable collection highlights Bulgari's longstanding relationship with iconic Hollywood and Italian cinema stars.
"Spanning from the 1930s until today, the works illustrate a strong design heritage and aesthetic evolution, deeply entrenched in Italian history and artisanal traditions," said Lucia Boscaini, Bulgari Brand and Heritage Curator. "Italian Jewels: Bulgari Style showcases the glamour of a Golden Age of cinema and design, and represents Bulgari's constant experimentation and inimitable aesthetic codes."
Also included in the exhibition are pieces from Elizabeth Taylor's personal collection, such as the emerald ring gifted to her by her fifth husband Richard Burton when their love affair began.
Sarah Jessica Parker is Designing Little Black Dresses
Sarah Jessica Parker, whose Sex and the City character Carrie is still a fashion icon to many, has announced that she is launching a new collection of little black dresses. Personally designed by Parker, the line is made in the USA and will sell exclusively at Bloomingdales. Titled SJP LBD, the ready-to-wear range will debut its first style in October, with more designs (such as the one in this Instagram post) to follow soon after.
On top of designing and launching this new range, Parker is kept busy with both her acting career and other business ventures. The 51-year-old stars in the new HBO show "Divorce" and has her own line of footwear and accessories. On top of that, she also has a successful line of perfumes with her new fragrance "Stash" recently launching.
SUBSCRIBE TO OUR NEWSLETTER
Subscribe to our mailing list and get interesting stuff and updates to your email inbox.