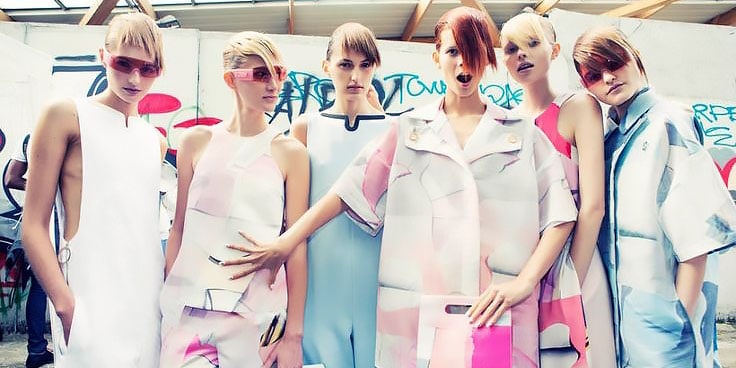 From 2015's Model of the Year to Carine Roitfeld's second collaboration with Uniqlo, these are the top international fashion news stories of the week.
Anna Ewers Announced 2015 Model of the Year
Models.com has announced blonde beauty Anna Ewers as this year's Model of the Year for the Women's category. Ewers was awarded the 2015 title after receiving the most votes by a poll of industry members.
The title didn't come without hard work however. Ewers has had a busy year, starring in campaigns for several big brands, including H&M, Chanel and Alexander Wang.
Gigi Hadid took out the runner-up position for the Industry's Vote award whilst simultaneously winning the Readers' Choice Model of the Year title. Unsurprisingly, Hadid's friend and fellow Victoria's Secret model, Kendall Jenner received the runner-up position for the Readers' Choice awards.
Carine Roitfeld and Uniqlo Team Up for a Second Collaboration
Retail giant, Uniqlo has announced that it will team up once again with Carine Roitfeld to produce a second capsule collection. The stylist and magazine editor partnered with Uniqlo earlier this year to create a collection of designs which flew off store shelves. Hoping to recreate that popularity, the retailer has once again enlisted Roitfeld to collaborate on a new collection to be released early February 2016.
The new collaboration will explore a "working girl" aesthetic whilst revisiting the popular fitted skirt and tailored coat styles. Working on a military motif, the upcoming collection contains predominantly black and khaki tones while mixing things up with details of lace, snakeskin and palm-leaf prints.
Paris Restricts Dangerously Thin Models from Working
France has adopted a new bill forcing ultra-thin models to provide a doctor's certificate confirming their health in order for them to work. The controversial legislation will take in to consideration a model's Body Mass Index (BMI) whilst allowing doctors the final say on whether they are healthy enough to work or not. Anyone found breaching this legislation, including models, modelling agencies and fashion houses could be fined and imprisoned for up to six months.
The bill also introduces new legislation in regards to magazines' photoshopping models' bodies. Under the new law, all commercial photographs of models which have been digitally altered to make silhouettes appear smaller or larger must be captioned as "touched-up".
Although many see this as a positive change to the industry it has ruffled feathers with some saying that it creates body-shaming of women with eating disorders whilst leaving designers and magazines unaccountable.
Rana Plaza Garment Factory Disaster: 24 Arrest Warrants Issued for Those Who Fled Murder Charges
A court in Bangladesh has issued arrest warrants for 24 people who have fled murder charges in relation to the 2013 Rana Plaza garment factory collapse. After failing to appear to face charges of murder, the judge issued warrants for 24 of the total 41 people charged. Primary defendant and factory owner, Sohel Rana was not amongst them however, as he awaits his trial in jail.
The collapse of Rana Plaza took place two years ago and killed over 1,100 workers who were in the building at the time. The incident is considered one of the world's deadliest garment industry disasters and highlighted a need for better practice within garment industries of developing nations.
Miss Universe Pageant Accidently Crowns Wrong Contestant
It may be the end of the year but the most awkward television moment for 2015 has just occurred. American comedian and host of the 2015 Miss Universe Pageant, Steve Harvey, has accidently announced the wrong winner for the contest in a cringe-worthy moment of live television.
Harvey originally announced Miss Colombia as the pageant winner, at which point she was presented with her sash, crown and flowers and began waving to the adoring crowd. Harvey then returned to the microphone only to apologise and name Miss Philippines as the true Miss Universe. The crown was then literally taken from the head of Miss Colombia and given to Miss Philippines in a dramatic and uncomfortable ending to the mistake.
SUBSCRIBE TO OUR NEWSLETTER
Subscribe to our mailing list and get interesting stuff and updates to your email inbox.