During the colder seasons, outerwear is often the only item of clothing that people see. Therefore you want to make a fashion statement with a single garment and nothing adds more impact to your wardrobe than a chic coat.
Designers have created some beautiful coat collections this year, with designs ranging everywhere from the classic collared coats to off-the-shoulder designs. However, it is the colour trends that have been emerging for pre-fall 2014 that have got us most excited.
1. Candy Coloured
Gone are the boring "safe" colours, fashionista's and style gurus around the globe have been loving brighter colours in recent years.  One of the best things about candy coloured coats is that they instantly brighten up a dull backdrop and lift your mood.
Opt for your most flattering silhouette in the colour that best compliments your skin tone—the choice between luscious greens, reds, yellows, blues and light pinks is all yours and for more inspiration look to the runways of designers such as: Tibi, Chloe, DKNY, Alberta Ferretti, Michael Kors and Emporio Armani.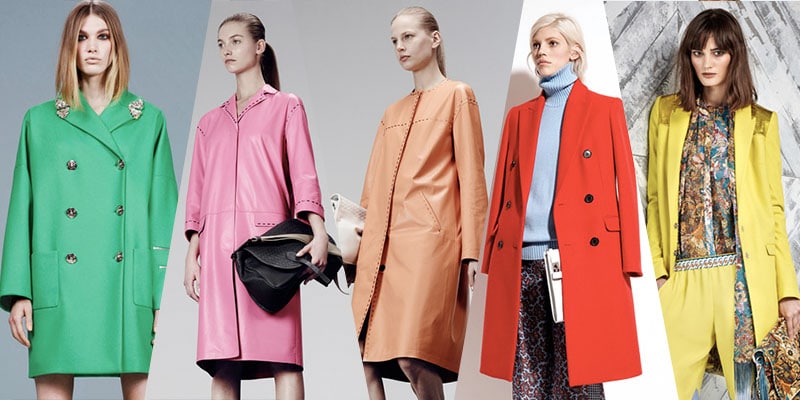 Michael Kors, Emporio Armani
  2. Camel Coats 
Camel is a colour that goes with everything! Soft and neutral, this luxurious colour has swiftly become a colour trend favourite for pre-fall 2014.
We have been lusting over the runway looks of MSGM , Emporio Armani, Gucci and Ralph Lauren. Other designers such as Michael Kors and Rykiel produced classic double breasted coats and the dressing gowns shapes of Max Mara also left us wanting more.
Like we said, camel goes with everything and it is truly a timeless and versatile option. However, the best colours to pair it with are black, grey, white, navy and pastel pink.  For the more daring fashionista why not opt for a floral or monochrome alternative to pair with a camel coat to produce a look that is both chic and fresh.
3. Grey Coats 
More than half of the pre-fall 2014 season consists of a muted palette of neutrals and shades of grey have inspired the runways of Balenciaga, Derek Lam, Dsquared², Giorgio Armani and Calvin Klein.
We saw spectacular coats in shades ranging from very light hues of grey to the stormier almost black hues. We loved the straight high-collared coats with a red linig, the cropped grey jackets with multiple shades of grey and coats completed with leather inserts for an attention-grabbing rocker look.
Grey looks great with wool and cashmere hoods and fur trimmed collars which make for a beautiful and feminine combination. This soft, versatile colour has been sweeping the runways and the grey coat colour trend certainly gives a new and more exciting meaning to "50 Shades of Grey"!
4. White Coats 
White may be a neutral colour, but it is one that turns heads and demands a whole lot of attention (literally). White coats look crisp and elegant and are certainly a season staple. However, unlike the other popular colour trends this season, white requires some tender loving care to avoid grime.
Timeless and lady-like it is little wonder that the designers of DKNY, Ellery, Giorgio Armani, Gucci and Tibi adopted this colour for their designs. Double breasted, to sports inspired jackets, the greatest thing about white coats is that they have the ability to create an ethereal futuristic look that no other colour can quite do.
If you have to buy one coat this season then we recommend a beautiful structured white coat for work-wear.
5. Metallic Coats 
Metallics are still on trend this year and there is something special about adding a shimmer to your wardrobe.
When it comes to choosing metallics there is truly something for everyone from the matte metallics or wet-look metallics, these designs come in all shapes and hues. The designs of Christian Dior creatively turned classic collard coats into a striking metallic design. Other designers that we were inspired by include 3.1 Phillip Lim, Jean Paul Gaultier and Erdem.
And it is not only the deep rooted silver and golds that have attracted popularity for the pre-fall looks, but the more fashion forward looks of pastel metallics have also been introduced.
Metallic coats and blazers are the perfect transition piece from day to night and look fashionable when paired with bright bold hues of blues and oranges or for a more subtle look denims, blacks and whites work great with this trend.
SUBSCRIBE TO OUR NEWSLETTER
Subscribe to our mailing list and get interesting stuff and updates to your email inbox.