Street style brought its A-game to last week's Mercedes-Benz Fashion Week Australia. Styles were bold and on-point as shape, texture, and pattern took centre stage. Sleek and chic met with youthful and fun as serious style became decidedly less serious. Bell sleeves, round sunglasses and psychedelic prints injected some late '60s hippy inspiration into wardrobes as smooth textures, netted styles, and sheer fabrics kept things very 2016. The '90s were once again referenced with chunky white sneakers and bandanas seeing a fresh revival. See it for yourself and find inspiration with these top ten street style trends.
1. Bell Sleeves
Bell sleeves were spotted everywhere this Mercedes-Benz Fashion Week. From flowy tops and button-up shirts to sleek dresses, the flamboyant sleeve silhouette added zest to several otherwise minimal looks. A favourite of designer Kym Ellery, bell sleeves can inject a sense of femininity into any outfit. Swooping out from the elbow to the wrist, bell sleeves create weight at the bottom of the arms. Try this trend for yourself by offsetting this weight with an off-the-shoulder style that carries no weight at the top. Choose styles in smooth and sleek fabrics to keep the trend modern and chic.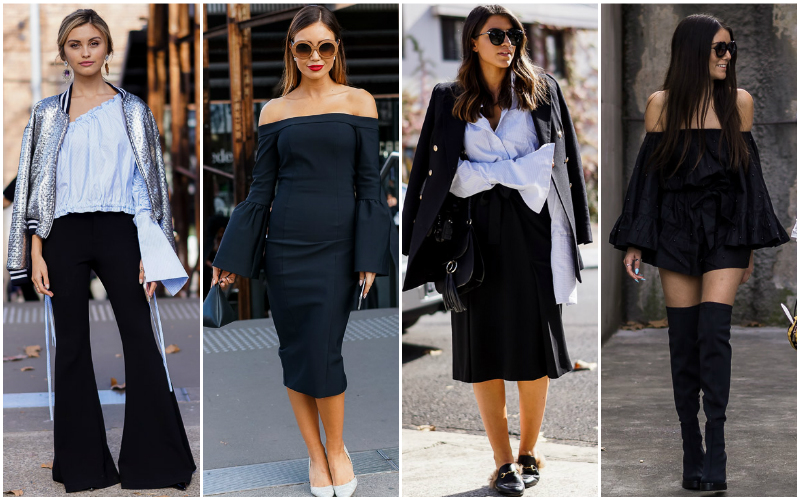 2. Accordion Bags
The coolest handbags spotted on the streets of MBFWA '16 were accordion bags. Resembling the musical instrument by the same name, accordion bags feature sides which are repeatedly folded in and out to appear almost as pleats. Street style stars toted sleek, leather versions of the bag in a range of styles. They allowed the unique shape of the accessory to take centre stage with neutral base colours. Some styles also highlighted the creative form by featuring the sides in a contrasting colour. Pick this trend up now to be ahead of the pack on the next popular bag style.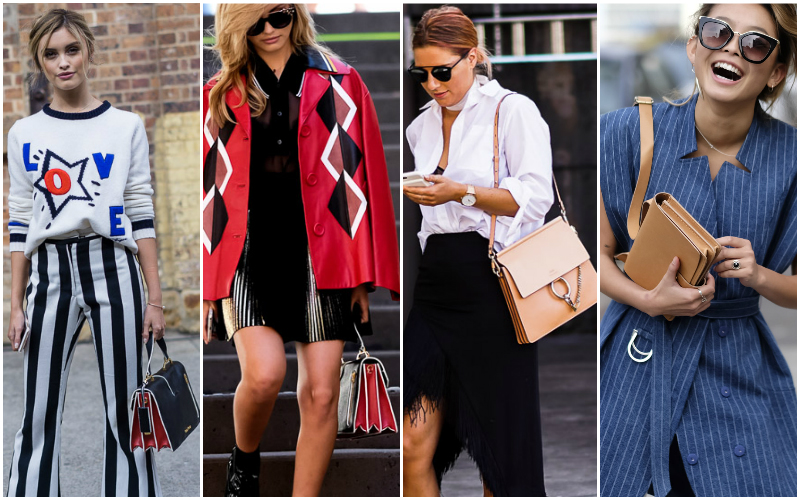 3. Caught in a Net
Some of Australia's most fashionable street style stars were all caught in a net this fashion week. Dresses, tunics and tops, wrapped around bodies in graphic ways, revealing slices of skin from beneath them. The eye-catching fabric technique created bold, geometric patterns that became the focal point of outfits. The strong aesthetic paired best with overall feminine looks which worked to balance and soften the severeness of the netting. Try this unique trend for yourself, either in a form of panelling on a garment or as the whole garment itself, just remember to wear the right undergarments.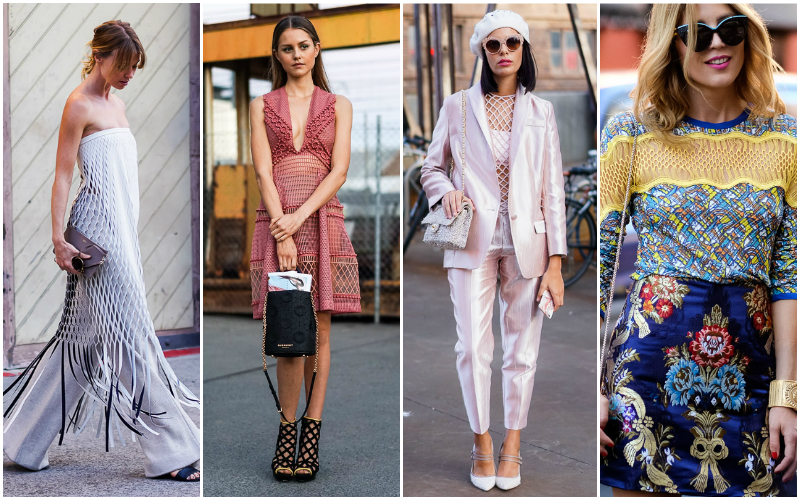 4. Bandanas
Bandanas, which we also saw on the streets of the recent European fashion weeks, held a strong presence at Mercedes-Benz Fashion Week Australia. The revived '90s trend was worn chicly tied around the necks of models, street style stars and industry members alike. No longer for wearing on your head, channel this trend by wearing your own bandana tied around your neck with the knot and two short ends left at the front. Stock up on multiple patterns and colours so you'll have one on hand to easily pair with any outfit.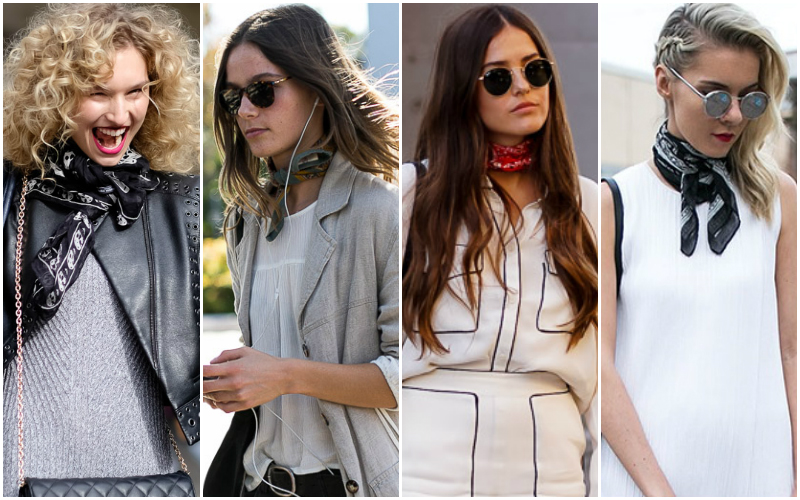 5. Sheer Moments
Modesty dressing has been shunned this season with fashion embracing exposure and provocation all over the world. MBFWA wasn't immune to the trend, finding pure confidence and risqué dressing on the streets outside its own shows. Fabrics ranging from chiffons and lace to cotton and knitwear were delicately woven to create sheer moments for several fashionable dressers. While bold, styles were softened with a perfect femininity to turn brash dressing into beautiful style. Undergarments were kept simple and minimal with neutral colours and straightforward design to add a chic finish to the overall look.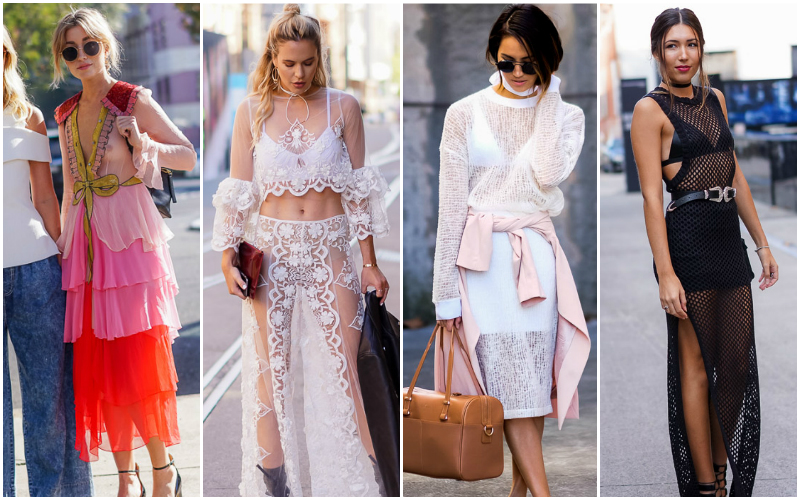 6. Retro Round Sunglasses
Shape and silhouette were major themes for the street style of MBFWA '16, which is why retro, round sunglasses made the perfect accessory companion. The bold shape worked in perfect synergy with the many loosely tailored sartorial looks of the week. Whether featured in gold, silver, white or another colour, the vintage feel of these geometric frames added a rock-chic aesthetic to many looks. Buy your own retro, round frames this season or revive an old pair from your closet. To add a relaxed and cool vibe to any of your outfits simply find the perfect shape and size to suit your face.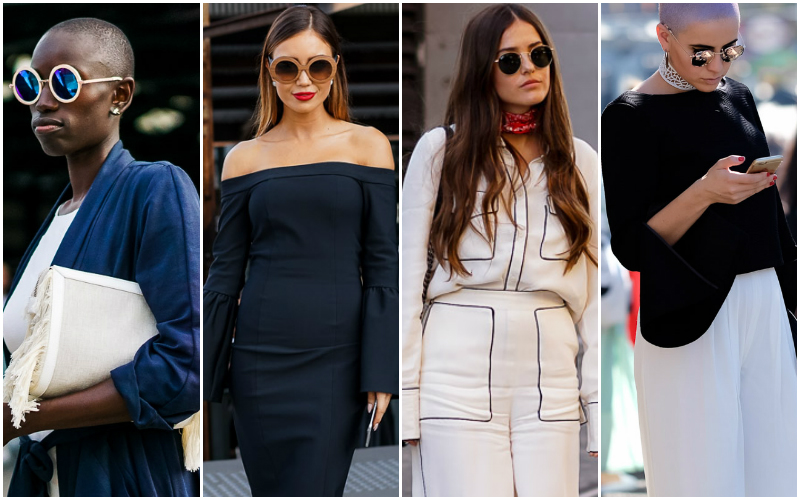 7. Psychedelic Prints
Prints got funky at fashion week with an injection of psychedelic colours and patterns which appeared like paint on a canvas. Swirling oranges, red, blues and pinks made simple t-shirts, sweaters and pants turn crazy with colour. The hippy-era throwback was a fun and unexpected trend from the week and helped to bring once again the worlds of fashion and art colliding together. Get your own groove on by adding a splash of psychedelic prints to your wardrobe. Pair bright and multi-coloured pieces with block colour basics, such as denim, pencil skirts, and leather jackets, to tame this wild trend.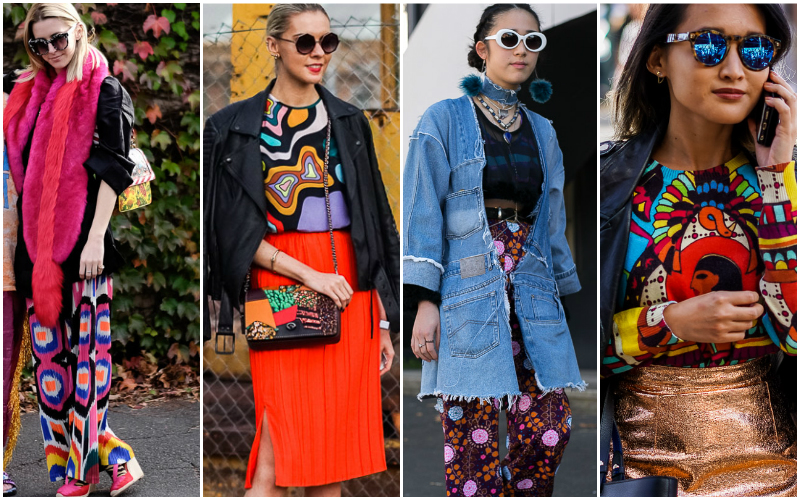 8. Chunky White Sneakers
The chunky white sneakers which we all owned in the '90s are back for another round, though thankfully styled a little differently this time around. The youthful and unapologetically comfortable footwear style was spotted on the streets of Sydney last week looking fresh and new. There were velcro versions, platform styles, some sporting stars and even a pair featuring rose gold caps on the toes. Styles were paired with feminine looks, such as midi dresses, skirts and silk trousers, to elevate the humble sneaker. Double down on trends by pairing your own chunky, white, sneakers with a pleated midi skirt, a style that was also popular last week.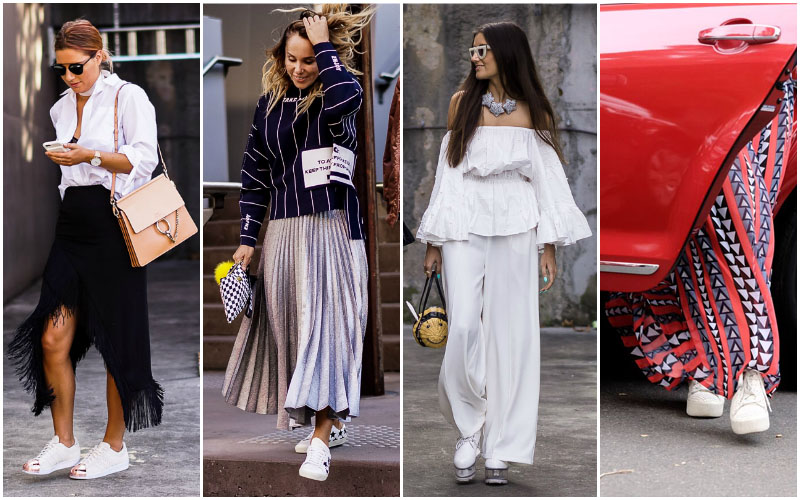 9. Garden Party
Long, flowing dresses covered in picturesque florals created a garden party of sorts at Fashion Week Australia. Maxi and midi dress styles featured loose silhouettes, cinched waists, high necklines and long sleeves. The botanical prints were colourful and often balanced soft, springtime pinks with richer greens and blues. The overall look was soft and elegant with the air of a simpler, bygone time. The lovely look captured the interest of street style photographers and ours too. The only thing missing? A cup of tea of course.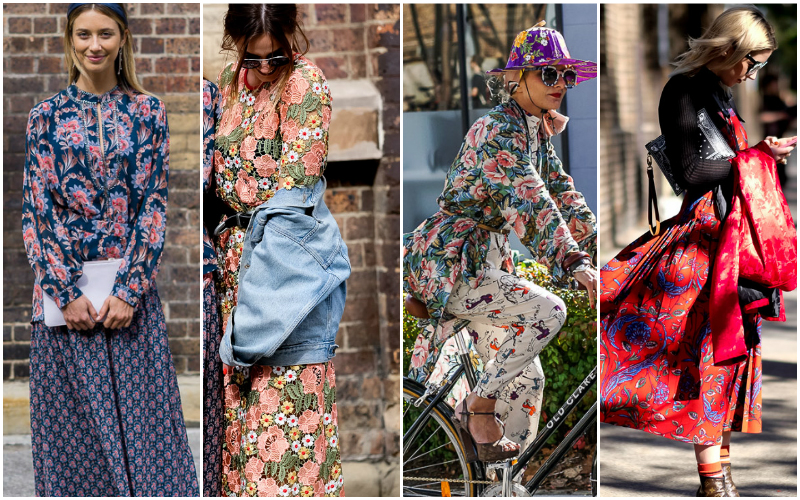 10. Braids
Hairstyles received a tough makeover this fashion week with braids trending heavily with the street style set. Single, double, and even triple braids, were spotted on sartorial looks that ranged from girly to grunge. The sharp hairstyle, which is a favourite of the Kardashian-Jenner clan, saw braids intricately wound in different ways to create bold looks on a range of hair types. Somewhat sporty in style, braids offer a positively fearless aesthetic and create a "ready for anything" appearance for the wearer. Give braiding a go on your own hair as a quick and surefire way of updating your look this season.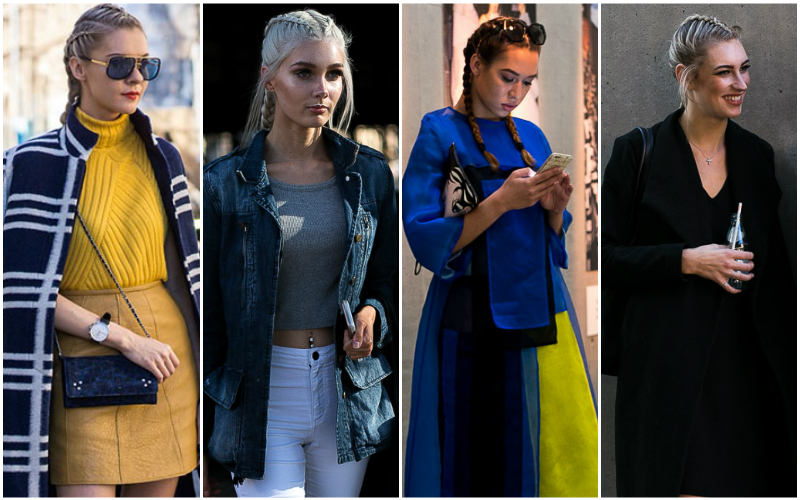 SUBSCRIBE TO OUR NEWSLETTER
Subscribe to our mailing list and get interesting stuff and updates to your email inbox.