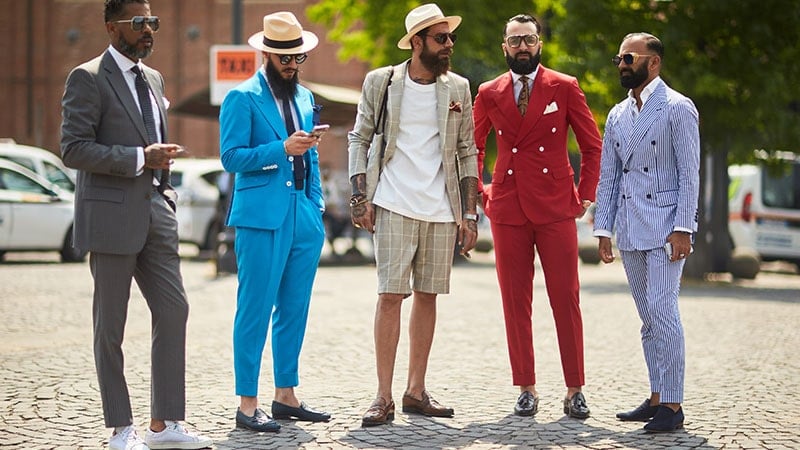 Men's street style doesn't get much better than in Florence throughout the duration of Pitti Uomo. The prestigious menswear tradeshow has a habit of drawing out the most stylish gents from all over the world and gathering them in one spot. As a result, Pitti is the place to look for the latest trends and best outfits. But, if you couldn't make it to Italy this year, never fear. We've gathered up the top fashion trends from Pitti Uomo S/S 2018 so that you can get a good dose of global fashion inspiration from wherever you are.
1. Suede Tassel Loafers
Menswear took a more relaxed approach at this year's Pitti Uomo trade show. Tailored silhouettes were loose, fabrics were thin, and outfits were injected with a little bit of fun. Likewise, footwear also favoured a more casual appearance this year. Instead of the typical wave of sophisticated Oxford and Derby shoe styles, laid-back loafers were the footwear of choice. In particular, suede tassel loafers were the most popular selection for gents, creating stylish looks for many men. Equal parts cool and classic, these chic shoes were worn without socks to beat the heat and made the perfect addition to luxuriously undone outfits.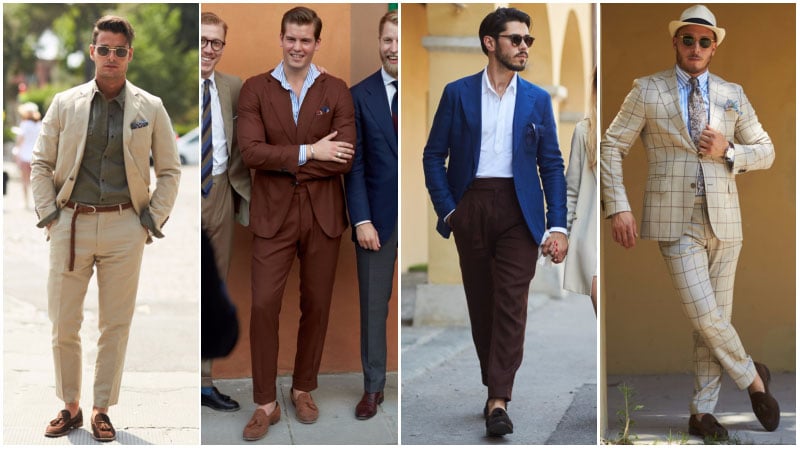 TOP PICKS
2. Bandanas
Bandanas have been trending for men for some time now and are continuing to dominate the street style scene. The accessory was spotted once again at Pitti Uomo providing a cool outfit addition to many looks. While there are several ways to rock a bandana, this year's interpretation involves the accessory being tied neatly around the neck. To nail the look for yourself, select a traditional bandana that's quite short and thin. Then, tie it around your neck so that the knot lightly sits against your clavicle. Then, just pair your bandana with any outfit, so long as the colours suit.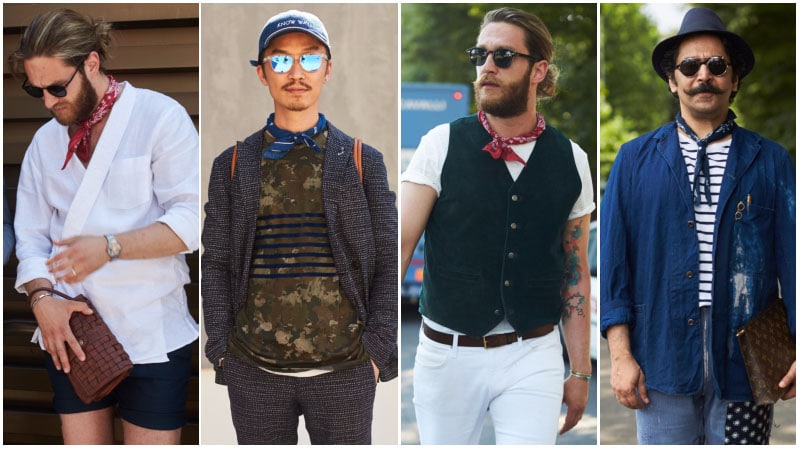 TOP PICKS
3. Tote Bags
Gone are the days of men carrying their possessions in their pockets. This year there are plenty of stylish bag choices for gents and this season's must-have design is the tote. Large enough to fit your phone, wallet, keys, and much more, while still sophisticated enough to appear polished, the tote is an unbeatable bag option. All you need to do is find the right one for you. For a sharp look, consider trying a leather style or for a more casual appearance, opt for canvas. Nylon, on the other hand, will add a subtle sports edge to outfits while suede will project a bohemian vibe.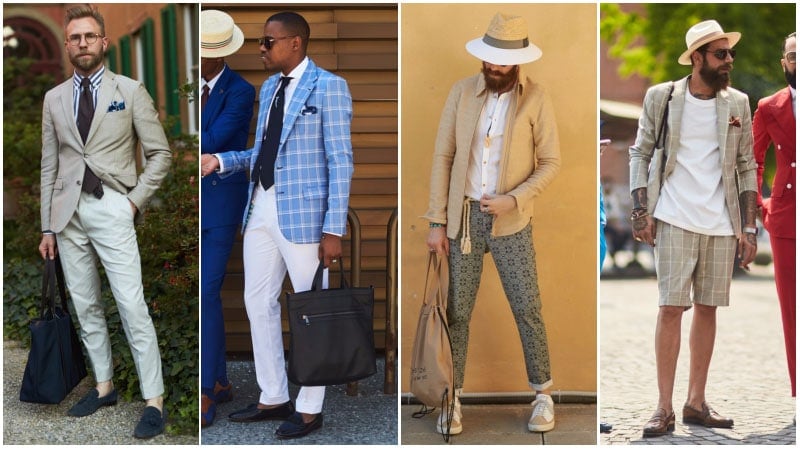 TOP PICKS
4. Beaded Belt Loop Chains
Remember the chains that everyone wore with their pants back in the early 2000s? You know the ones. You probably wore one yourself to help keep track of your wallet. Well, they're back, and they've had a significant style upgrade. These days, you can forget about the chunky silver linked styles because it's all about beads. Beaded belt loop chains are one of the coolest new accessory trends to come out of Pitti Uomo and are a look that you should try. The trend, which has stemmed from a resurgence of bohemian jewellery, is best worn with classic trousers or a vintage style outfit.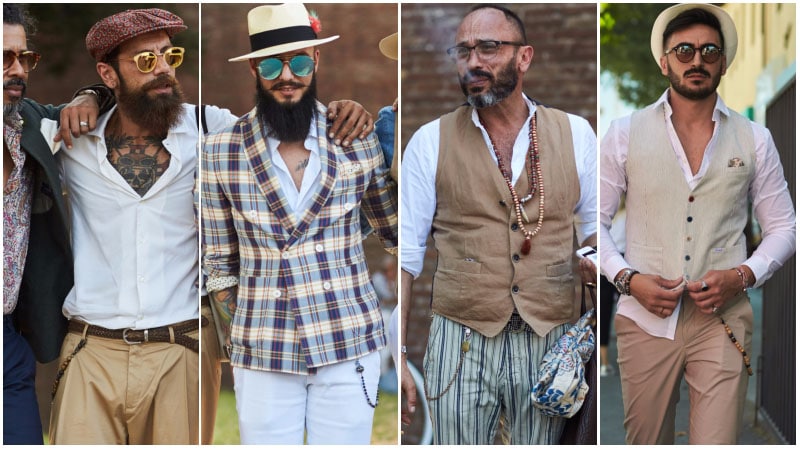 TOP PICKS
5. XXL Silhouettes
Forget ultra-slim and skinny styles; this season is all about the XXL silhouette. The oversized trend was rocked on the streets of Florence for Pitti Uomo recently and made a big splash. Shirts, shorts, blazers, T-shirts, and trousers were all worn a few sizes too big by some seriously stylish gents. Projecting a youthful and carefree appearance, the laid-back look is perfect for tackling hot weather with a fashionable flare. Try the comfortable and breathable trend for yourself, and you won't be disappointed. Just select whether you want a killer casual look with an XXL T-shirt and sweatpants or a unique, sophisticated-meets-street style with an oversized short-sleeved button-up and chino shorts.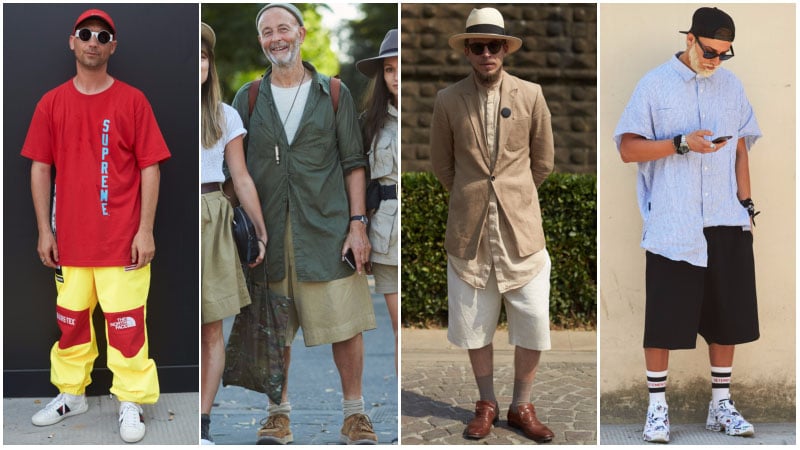 TOP PICKS
6. Crochet Ties
Fashionable menswear isn't always about sharp tailoring and sophisticated styling. Sometimes, the best looks are the ones that embrace a little bit of fun. As such, crochet ties were a big hit at Pitti Uomo. A refreshing departure from the standard smooth silk styles, these knitted designs appeared creative and eye-catching. Whether worn in a neutral hue or a bold colour or pattern, crochet ties project some seriously cool vibes. To rock one yourself, just partner it with a suit or a pair of trousers and a button-up shirt. The result will be a stylish and smart outfit with a quirky touch.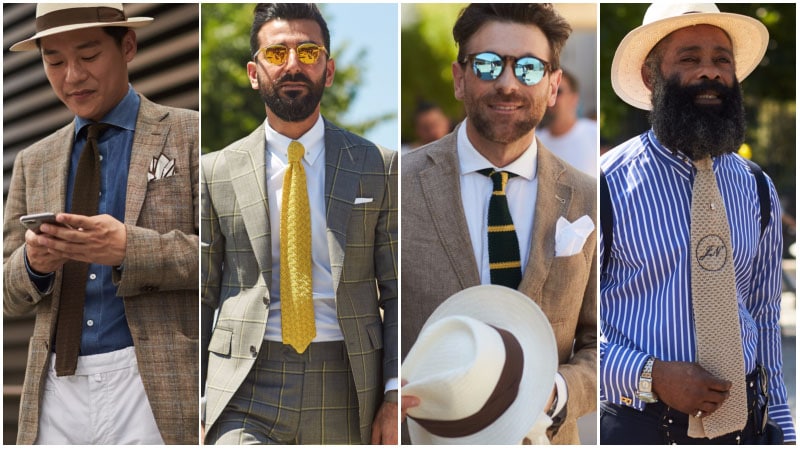 TOP PICKS
7. Polka Dots
Playful polka dots were out in force at this year's tradeshow, bringing back this reoccurring trend once again. Some may have been small and busy while others were large and sparse, but all were stylish this season. To don the look for yourself, you'll need to choose between using the pattern for an accent piece or a statement style. If you'd like your polka dots to provide a subtle yet fashionable accent, consider rocking a tie or scarf with the print. If you prefer a bolder look, on the other hand, try opting for a dotted shirt instead. For gents who like a unique look, you can also consider wearing a polka dot shirt and tie combination, so long as you have to confidence to pull it off.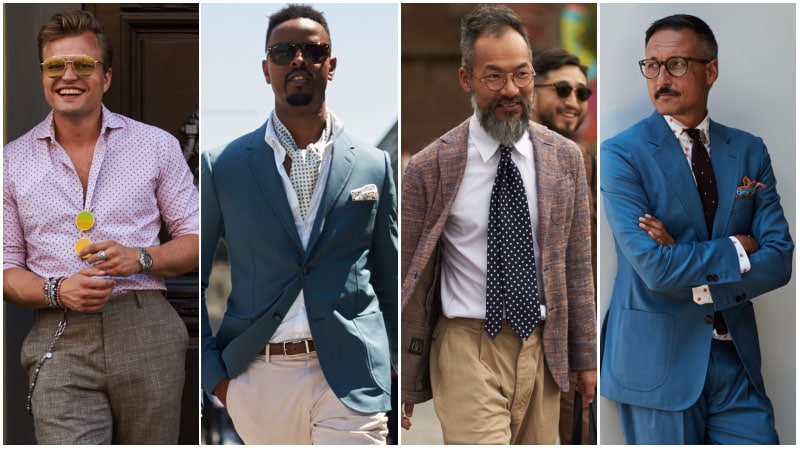 TOP PICKS
8. Mix n Match Stripes
Menswear and stripes often go together, but this season those lines were mixed and matched for a refreshed take on the standard style. Dark, wintery pinstripe suits were swapped for light and bright, summery styles. Nautical shades of blue and white became the favourite hues with barely a hint of black in sight. Then there were also the looks that mixed patterns together for a fresh and contemporary ensemble, such as yellow striped pants paired with a baby blue pinstripe top. No matter how they played it, the gents at this year's Pitti Uomo tradeshow could do no wrong in their striped styles.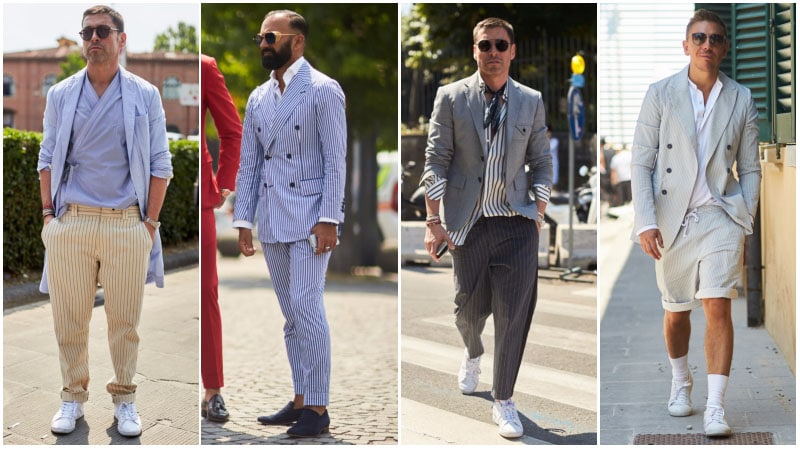 TOP PICKS
9. Vintage Style Suspenders
This season, follow the lead of the stylish gents and ditch the belt. Instead, consider trying out a more traditional approach to holding up your pants and invest in some vintage style suspenders. The classic accessory is ideal for adding a dapper touch of old world charm to various outfits while keeping your trousers neatly in place. To rock the look, just ensure that your outfit matches. To do so, select either a suit or shirt and pants with a similar vintage feel. A pinstripe suit paired with a fedora makes for a particularly stylish choice and projects an incredible, '50s gangster vibe.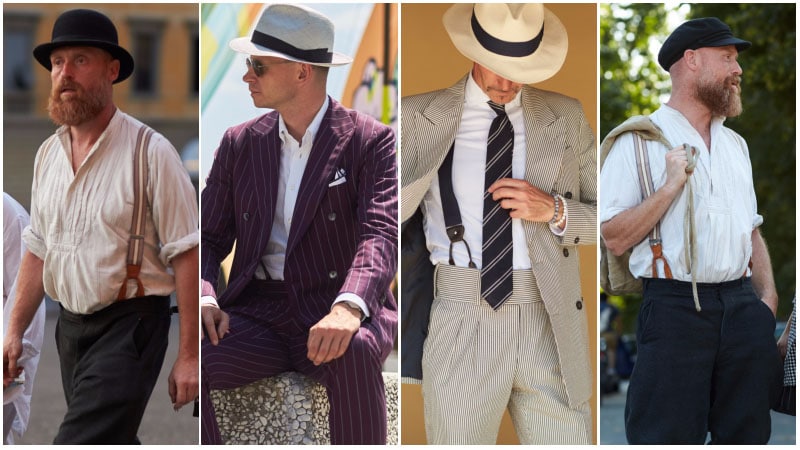 TOP PICKS
10. Bold Artistic Prints
Prints got seriously loud at this year's Pitti Uomo tradeshow as those who found stripes and polka dots too simple turned to bold, artistic designs instead. Bright splashes of yellow, red, and blue adorned style savvy gents with an impressive vibrancy. The lively hues and unique shapes, patterns, and pictures all contributed to an unmissable appearance. While the look certainly isn't for the meek, gents who want their clothes to appear as a paint-covered canvas should certainly give this trend a try. To rock the look, all you need to do is choose a single printed garment to use as a statement piece and pair it neutral accompaniments.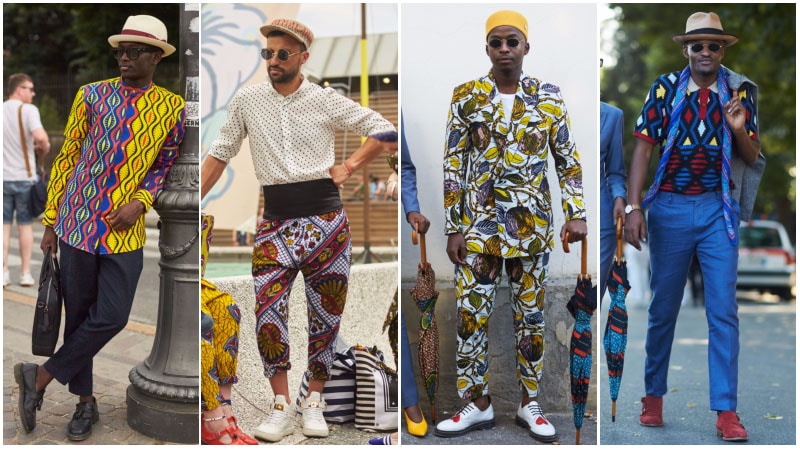 TOP PICKS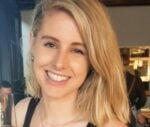 Taylah Brewer holds a bachelor's degree in fashion and business and is a skilled writer with several years of experience in the world of online content creation and copywriting. She is passionate about fashion, beauty, and all things lifestyle-related and has been writing for The Trend Spotter since 2016. She currently works as the Head of Digital & Ecommerce at White & Co.
SUBSCRIBE TO OUR NEWSLETTER
Subscribe to our mailing list and get interesting stuff and updates to your email inbox.