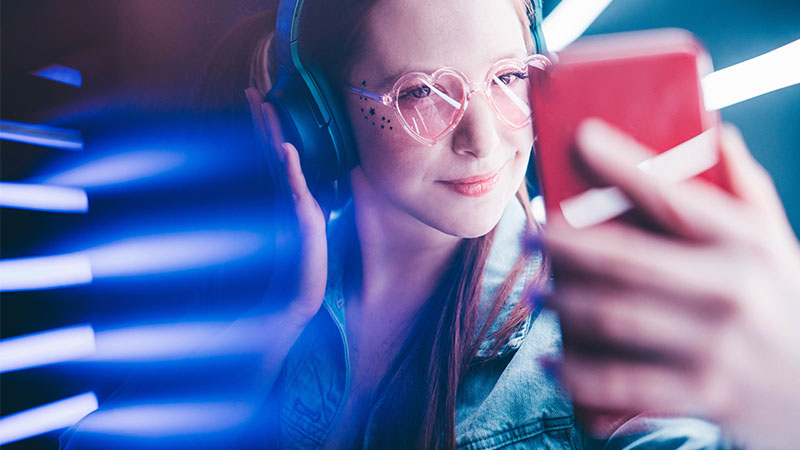 TikTok is responsible for a lot of trends. There's been the Renegade, the Savage dance, whipped coffee, Fleetwood Mac vibe checks, Skincare by Hyram, and Random Things That Just Make Sense. However, there have also been some significant home decor trends. Some are questionable (cloud ceilings and spray foam furniture), while others are great (plants and colorful ambient lighting). The colorful lighting, also known as TikTok lights, is one of the easiest and most cost-effective ways to increase the atmosphere in your home. You can set the scene for date night, improve movie watching, or creating cool backgrounds for filming your own TikToks. Plus, they're easy to install and even easier to use, thanks to handy remotes or smart apps!
1. Inkeltech Ring Light
Have you ever wondered how TikTok and YouTube stars always have impeccable lighting? It's the magic of a ring light. This option from Inkeltech has 480 LED bulbs that are incredibly bright and evenly diffused for a natural effect. It comes with a convenient remote to change the color settings from 3000K to 6000K for both warm and cool light needs. Plus, there's a second remote that lets you take selfies and videos with just the click of a button. The height of the stand is adjustable, as is the angle of the ring, so no matter your set-up, you'll look incredible. Plug it in at the wall, or enjoy the convenience of a SONY battery operation to make it portable. Lastly, it comes with a travel bag to make transporting it between different locations straightforward.
2. Daybetter LED Strip Lights
Light up your TikTok life with these Daybetter LED Strip Lights. They're perfect for adding color and illumination to your bedroom, office, kitchen, or living room. The 32.8ft length comes in two separate rolls and has 300 individual lights. Each strip can be trimmed to size and is easily installed, thanks to powerful self-adhesive. Plus, controlling the visuals is super easy with the 44-key wireless remote. Choose from 20 colors, plus different lighting patterns, including auto, fade, flash, and jump.
3. Ikea Dioder LED Light Strip Set
Design a more subtle lighting set-up with Ikea's Dioder LED Light Strips. This set is ideal for use in small spaces such as cabinetry, bookshelves, closets, or display units. The low heat emittance of LED lights means they're safe to use without the risk of overheating. You can connect up to four strips in a line or create L-shapes to go around corners. You'll also get double-sided tape and mounting screws for installation, making it ideal for both renters and homeowners. When it comes to color selection, you can auto-cycle through the seven shades or pick your favorite to have on all the time. Your choice is controlled through the simple and easy-to-use remote.
4. Minger LED Strip Lights
The strong backing adhesive and flexible strips make installing these Minger LED strip lights super easy. You can cut them to the right length and splice strips together using a connector pin (not included), so you can create all kinds of shapes and easily navigate corners. Choose from 20 bright colors to add interest and character to your TikTok videos. Alternatively, they're also great for just adding some ambiance to your dorm, bedroom, kitchen, or car. All of it is controlled with the simple-to-use wireless remote, which even lets you create your own colors.
5. Pixel Store Ring Light with Wireless Remote
Film yourself with perfect lighting using the Pixel Store Ring Light. This excellent kit not only comes with white diffusing panels to create a fresh daylight look, but there are also red and blue diffusers to produce more artsy results. It's ideal for vlogging, streaming, YouTube, or TikTok. Operation is simply via either the LED control panel, wireless remote, or Bluetooth using your phone. Plus, there's an easily adjustable tripod, angled light holder, phone holder, and camera mount – everything you need for the perfect filming conditions. It charges via a USB, or you can purchase two NP-F batteries.
6. Gusodor Led Strip
Add dreamy colors and lighting automation with these smart LED lights from Gusodor. While the set does come with a remote, you have much more control using the Lotus Lantern app on your phone. Choose from over 16 million colors and 28 dynamic modes – you're lighting-sequence creativity is almost unlimited! Plus, you can even sync the lights up to change in time with your tunes. There's an inbuilt microphone that can pick up on ambient noise and music – it's a brilliant way to pump up party mode or level-up your TikTok dances! Use these indoors or outdoors without worry because they're IP65 waterproof. Finally, you can also set up timing through the app to turn the lights on or off at a designated time. Doing so can create relaxing bedtime routines or gently wake you in the morning for the ideal start to your day.
7. AceTaken Webcam Light Stand for Live Stream
Improve your video and photo quality with this webcam and light stand. The double-arm design has a small ring light on one side and a bracket for a webcam or phone holder on the other. Both arms are a gooseneck which is easy to bend and shape to get the position just right. The light has multiple hues and brightness to optimize your filming conditions. Plus, it mounts easily onto any surface using the rotatable clamp. Finally, it's lightweight, easily portable, and runs on USB power. Whether you're filming a TikTok, make-tutorial, streaming a recipe, or taking flat lay photos, this stand is going to make your life much easier.
8. Govee LED Strip Lights
You'll get so much TikTok clout with these smart LED strip lights from Govee. They're the ideal way to generate appealing backgrounds and interactive lighting for your videos. Best of all, you can even control them using Alexa or Google Assistant. Start by setting everything up with the Govee Home App, where you have advanced controls for 16 million color choices, seven scene options, four DIY modes, and convenient timers. Plus, there's also a music sync option, so the colors change with every beat, taking your dancing to the next level. They're also ideal for creating general ambient light throughout your apartment or dorm, illuminating your kitchen, bedroom, or living room.
9. Elfeland LED Strip Lights
Keep it simple and easy with Elfeland's LED strip lights. The all-in-one kit has everything you need to install and control your new, colorful lighting system. It has a 44-key remote, power adaptor, connectors, and two 15.4ft lengths of lighting, which equates to 300 individual lights! Set up automatically changing lights to add energy to your room, or opt for something less intense with single color only illumination. The strips are IP65 waterproof so that you can use them outdoors as well as indoors. Not only can you create cool backgrounds for TikTok videos, but it's a great way to add ambiance to a party or just generally improve the atmosphere around your home.
10. LIFX Z Smart LED Strip Lights
LIFX Z's Smart LED Strip Lights make illuminating your creative space simple. It simply plugs into the wall, and you can stick the adhesive strips anywhere you like. They're easily controlled through the inbuilt-wi-fi, and you also get LIFX cloud access. Download the app that is both iOS and Android compatible to control everything. You can change the color, set timers, adjust, and dim. Plus, each strip has different zones, so you can let your creativity run wild and design your own patterns and waveforms. While you can control it through the app, it also integrates into other home automation systems such as Apple HomeKit, Google Assistant, Amazon Alexa, SmartThings, IFTTT, Nest, Arlo, Flic, and more.
11. Litake LED Strip Light
Enjoy easy life integration with the Litake LED Strip Lights. Whether you want to create a sleep-friendly ambiance in your bedroom, get the party started in the living room, or film a TikTok in your kitchen, these lights will help. Simply install them with the strong-adhesive and connect to the app on your phone via the wi-fi. From here, you can select from 16 million colors, connect the lighting pattern to music, add timers, and set up the convenience of voice control through Alexa. If you have multiple strips, you can also set up group control to save yourself time and energy. It's the perfect way to add extra color to your world.
12. Pangton Villa LED Strip Lights
Create the perfect mood in your home with Pangton Villa LED Strip Lights. They work well in your kitchen, around your TV, adding some fun to your office, or for filming TikToks. The kit comes with everything you need to set-up, including 32.8ft of lights, a power supply, an IR remote, and mounting clips to make installing the lights more secure. Once they're up and running, you can choose from 16 different colors and four dynamic modes to customize your illumination. It's excellent for setting the mood on a date night, enhancing the drama of a movie, or increasing the party-vibes when catching up with friends.
13. Philips Hue White & Color Ambience Go Table Lamp
Philips is constantly innovating with its interactive lighting solutions. The Go Table Lamp is a portable smart light that you can take with you around the house. You can use it as a standalone light, controlling it via Bluetooth or the lamp's physical button. Alternatively, you can easily add it to your existing home automation systems through the Hue Bridge or paired Google Nest and Amazon Echo devices. Transform each space with a choice of 16 million colors, or simply opt for warm or cool white light for optimized working. Plus, there are pre-programmed modes such as Sunday Coffee, Enchanted Forest, and Night Adventure that take the effort out of setting a mood. The inbuilt rechargeable battery lets you take it wherever you need and gives you just over two hours of intelligent lighting, or up to 18 hours with the Cozy Candlelight effect.
14. Emart 10-inch Selfie Ring Light
You'll be looking picture-perfect every time with the Emart 10-inch Selfie Ring Light. The multi-function tripod stand extends from 19-inches to 51 inches, so you can set it on the floor or a desk. You can then use it to mount the ring light, your camera, your phone, or use it as a selfie-stick. There's also a pole mount for your phone so that you can use both the light and your phone simultaneously. You can also take photos or record video hands-free using the IR remote. The light itself has three modes, including white, yellow, and warm white, plus 11 brightness levels. This means it works for make-up tutorials, game streaming, photography, selfies, and TikTok dances.
15. Supernight LED Strip Lights
Turn any room into a club with the music mode on these Supernight LED Strip Lights. The strip has a high-sensitivity mic installed to capture noise and convert it into a responsive light beat in whatever party colors you choose. It's a brilliant way to take drinks with friends to another level or improve the lighting on your TikTok dances. However, if your club days are far behind you, you can also set up soothing and calming ambient light wherever you choose to install the strips. Download the S-Light app for functional but simple operation. You can set up personalized lighting programs, selecting from 16 million colors, or choose one of the premade options. If your phone isn't handy, the set does also comes with a three-button controller for basic functionality.
16. Aurora Night Light
Transport yourself to the Aurora Oval, all from the comfort of your bed. This nightlight is perfect for helping kids and adults alike fall asleep. It projects a beautiful, realistic Aurora Borealis-style light show onto the ceiling and walls. Not only is it relaxing and mesmerizing to watch, but the soft light will also keep any monsters away. Choose three levels of brightness, depending on your needs (or how big the monsters are). Then, set a timer to turn off after one, two, or four hours. Alternatively, you can also keep it on all night. Keep the dome cover on or take it off for two different effects. Beyond lighting, there's also a built-in speaker, where you can plug in a phone or other music device to play music, lullabies, ASMR, or white noise to further assist in relaxation and sleep.
17. Galaxy Projector
Take a trip to outer space with this Galaxy Projector. It's the perfect nightlight for kids who are scared of the dark or adults who want some ambient light to help them fall asleep. It projects a field of stars drifting across a nebula cloud onto the ceiling and walls. Choose from 10 colors and enjoy 360-degree projection. There's also a built-in Bluetooth speaker so that you can play white noise, music, or lullabies. Make things more interesting by syncing the projection to change color with the beat of the music. There's also an auto shut-off timer that you can set for one or two hours or use the remote to turn it on and off. Beyond the bedroom, it's also a great way to create some special ambiance for date night or for a party celebrating with friends.
18. KJOY 16 Color Changing Rainbow Curtain Lights
Turn up your celebrations with these color-changing curtain lights. They're designed to hang either against a curtain or wall to form an incredible backdrop. Alternatively, you can create a beautiful canopy above your bed or add something extra to alfresco dining by draping them down the side of a gazebo or porch. Select from a rainbow of 16 colors, as well as four flashing modes – there's something for every mood and occasion. They're IP64 waterproof and durable; all you need is access to a power source for USB, such as a socket, charger, power bank, or laptop. Best of all, they're conveniently operated via a remote.
19. Smareal 50ft LED Strip Lights
These LED strip lights from Smareal let you cook up a visual feast at home! It's perfect for adding colorful and ambient lighting to your living room, bedroom, office, kitchen, or even walk-in closet. With 15ft of lighting, you'll have plenty of length to play with and set up your perfect system. Unlike other sets, you can piggyback these to each other, which gives you even more flexibility. Plus, if they end up too long, you can also trim them down to size. When it comes to functionality, one of the best features is the music and microphone setting that pulses the lights in time with whatever song is playing. Then there's also a memory function to keep track of your modes and a timer. All of it can be controlled using the smart app that you download to your phone.
20. Lepro 50ft LED Strip Lights
Lepro's 50ft LED strip light proudly boasts 30 lights per meter, compared to 18 lights in other brands. This means brighter, more intense lighting for you. Plus, the extended length is ideal for larger spaces such as the bedroom, living room, or office. Choose from 20 colors, plus six DIY shades, eight modes, and adjustable brightness to tailor your illumination to any experience or occasion. It could be creating great lighting for a TikTok video, making movie night even better, or setting a romantic vibe for dinner dates with your love.
FAQs
What are TikTok Lights?
TikTok lights generally refer to colorful LED strip lights. TikTok content creators use them to make exciting backdrops or accentuate dance videos by syncing them with the music. They're also often used as general decoration in the bedrooms of teens. Essentially, it's the Gen-Z equivalent of Millennial pink and fairy lights. The result can either be invigorating and intense or soft and soothing, depending on the set-up. However, strip lights aren't the only lighting source trending on TikTok. Rings lights are also popular and regularly used in make-up and cooking tutorials thanks to the brightness and similarity to natural light.
What ring lights do Tiktokers use?
The best ring lights that TikTok creators use include Inkeltech Ring Light, Pixel Store Ring Light with Wireless Remote, and AceTaken Webcam Light Stand for Live Stream.
What LED lights do Tiktokers use?
TikTokers use LED strip lights to create fantastic backgrounds and fun ambiance in their videos. Look for Govee LED Strip Lights, Litake LED Strip Lights, Minger LED Strip Lights, Daybetter LED Strip Lights, and Gusodor Led Strip Lights.
How to make black light with LED lights?
There are a couple of ways you can make black lights using LED strips. The first and easiest method is to purchase good quality lights that come with a remote to create a custom color. Once you have them set up and turned on, make a DIY color by pressing the red 25 times, followed by the blue 25 times. However, you can manually create a similar effect on a white LED strip using clear tape and a blue and purple marker, but it is much more time-consuming. You'll need to cover every individual light with tape that you've colored blue. Then repeat with another layer of blue tape, followed by a third layer of tape that's been colored purple. 
How to set up TikTok LED lights?
LED TikTok light installation is effortless. Start by working out where you want to lights and buying the correct size (or easily adjustable) strips. You'll also need to make sure you have enough connectors and adaptors, as many strips cannot be piggybacked. Then, clean the surface where you want to stick the light, ensuring it's dry. Peel off the backing strip to expose the sticky side, and press it firmly onto the surface. Finally, connect the strip light to the connector and power adaptor. Instructions for this can vary, so make sure you follow the manufacturer's guidelines for the best results. 
What are the best Tiktok lights?
Some of the best LED strip TikTok lights include Govee LED Strip Lights, Minger LED Strip Lights, Litake LED Strip Lights, Daybetter LED Strip Lights, and Gusodor Led Strip Lights.
SUBSCRIBE TO OUR NEWSLETTER
Subscribe to our mailing list and get interesting stuff and updates to your email inbox.