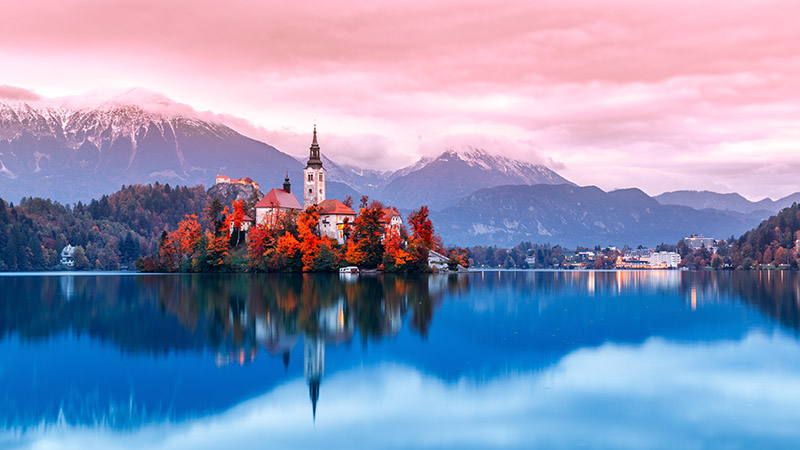 When you're planning your next European holiday, Slovenia should be on your list. This tiny country, located between Italy, Croatia, Austria, and Hungary, is becoming more and more popular as people discover its natural beauty. From the towering Julian Alps to the shores of the Adriatic Sea and its picturesque forest hikes, Slovenia has it all. The country has a rich history and culture that's just waiting to be discovered. You'll love exploring the peaceful and elegant capital, Ljubljana, and fall in love with the breathtaking scenery at Lake Bled. Whether you're looking for a solo adventure, family trip, or romantic break, these are the most fun things to do in Slovenia.
1. Ljubljana
The picturesque capital of Slovenia, Ljubljana, is one of Europe's greenest cities. Built on the banks of the winding Ljubljanica River, the city features plenty of parks and public squares. Many of the best-known monuments, bridges – including the iconic Triple Bridge – and buildings have a classical feel that is perfect for photos. Rising above the city on a tree-covered hill is Ljubljana Castle, which dates back to the 16th Century. From here, you'll have an incredible view. One of the other biggest attractions of Ljubljana is its nightlife; in summer, the terraces next to the river come to life with bars and cafés.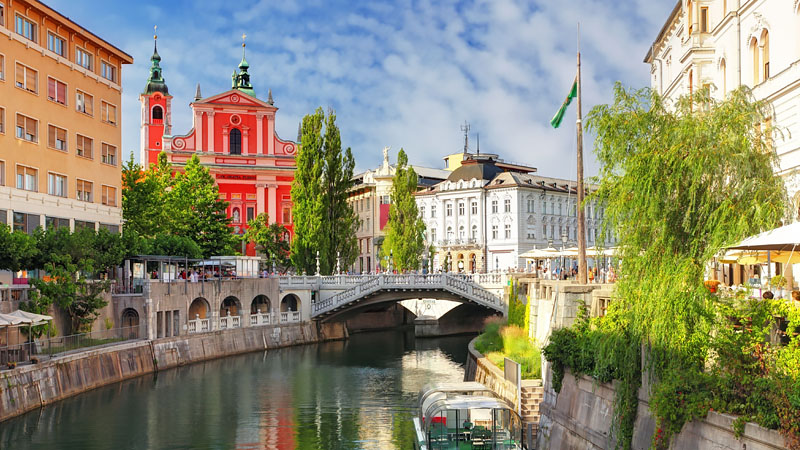 2. Skocjan Caves
The World Heritage-listed Skocjan Caves are breathtaking. You'll think you stepped into a fairy-tale. The vast underground system of tunnels, channels, lakes, and waterfalls is the largest in Europe. It formed over millions of years by the flow of the Reka River and has been a tourist destination for centuries. Archaeologists have even found a prehistoric settlement deep inside. You can take guided tours of the Skocjan caverns throughout the year. During these tours, you will explore the Silent Cave, Murmuring Cave, Natural Bridge, Great Hall, as well as massive rock formations, old riverbeds, and bat colonies.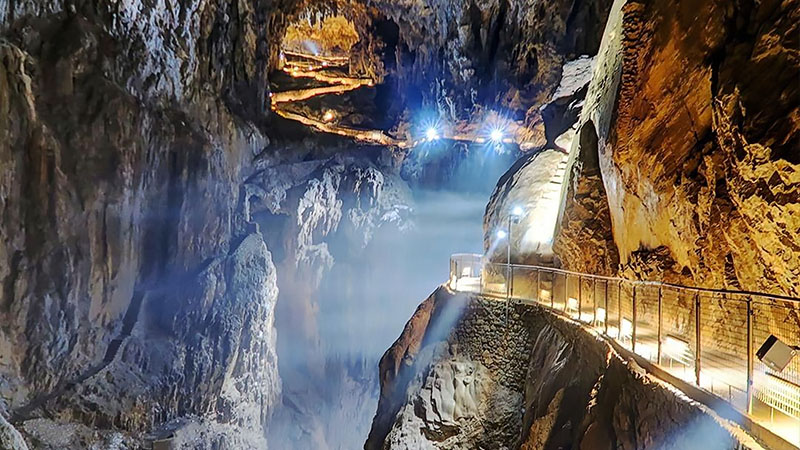 3. Predjama Castle
Predjama Castle seems like it was taken straight from the pages of a fantasy book. This 800-year-old fort is considered one of the most fascinating in the world because of its unique design. It's built into the side of a cliff, with corridors and tunnels extending back into the rock. The mysterious and romantic atmosphere at the castle has made it a popular destination for weddings – and ghost hunters! History lovers will be fascinated by its past, including the famous legend of the 15th Century knight, Erazem. Sometimes called the 'Slovenian Robin Hood', he used Predjama as his base. There is a medieval-themed tournament named after him that's still held at the castle today.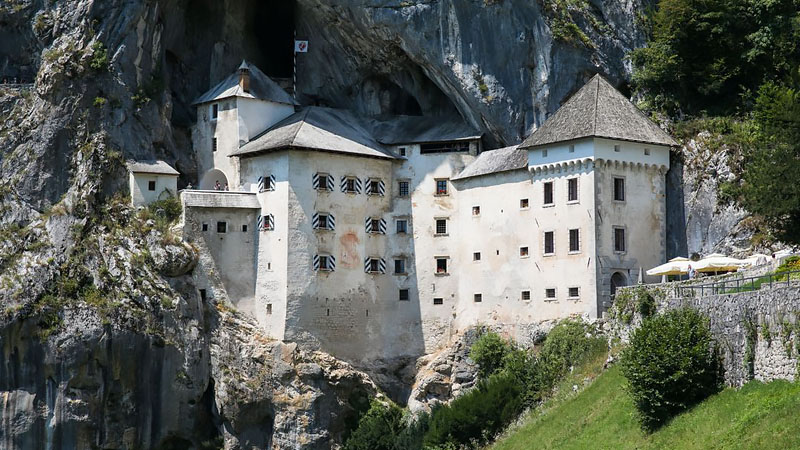 4. Lake Bled
One of the country's most popular tourist spots, Lake Bled lives up to its reputation. The scenery is second to none, with majestic mountains and lush forests meeting the crystal blue waters of the lake itself. With such a romantic backdrop, many couples choose Lake Bled for a honeymoon destination. It is also home to Slovenia's only island which you can visit via one of the traditional pletna rowboats. Once there, you can explore the historic Assumption of Mary Church and ring its 500-year-old bell – which legend has it, will make your wishes come true. Bled Castle is also a must-visit. Not just a beautiful historical spot, this medieval fortress also houses a museum, cellar with wine-bottling classes, archery activities and a restaurant. For those looking to relax, Lake Bled is warm enough for swimming and sunbathing during summer.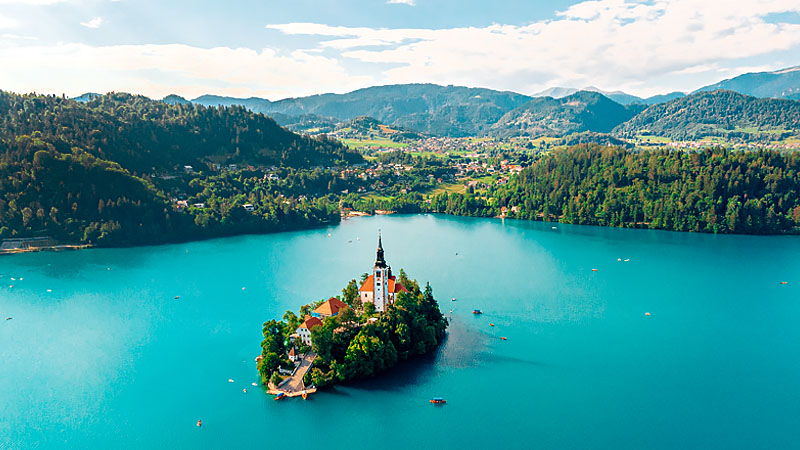 5. Postojna Cave
Slovenia is known for its caves, and you can explore the Postojna system uniquely – by underground train. The train has been running since the 1870s, and its track goes more than 3km into the caverns. On your ride, you will pass Postojna's most famous rock formation called 'Brilliant' – a giant, bright white stalagmite. These million-year-old landforms litter the caves. Parts of the Postojna system are so large that one cave – known as the Concert Hall – can fit 10,000 people. Meanwhile, Postojna's underground rivers and pools are home to unusual animals called olms – also known as 'human fish' – which are similar to salamanders. Because of their appearance, they were once thought to be baby dragons. The olms have given the Postojna Caves an even more magical feeling.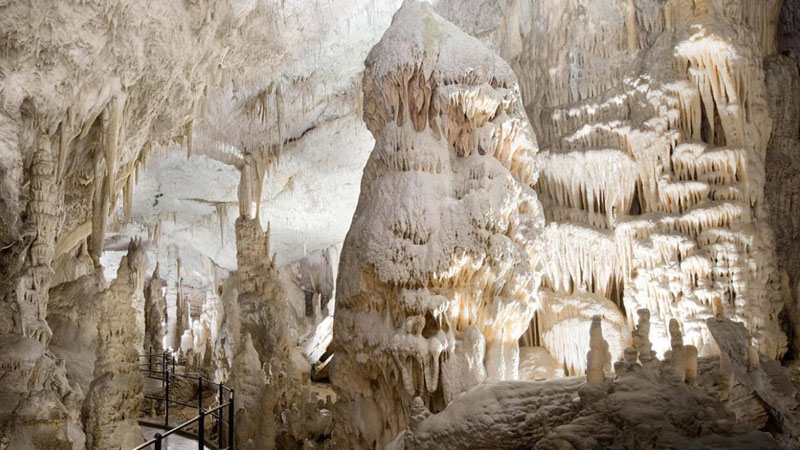 6. Vintgar Gorge
Just off Lake Bled, and a short drive from the village of Bled is Vintgar Gorge. During your visit, you'll criss-cross the emerald waters of the Radovna River on cute wooden bridges and pathways. The scenic views are second to none – think waterfalls, crystal clear pools and moss-covered cliffs. You won't want to put your camera down as you explore the charming forest path. At the end of the Gorge is the stunning Sum Waterfall, as well as a café, where you can stop for a relaxing break. Because it's a relatively easy walk and not too steep or slippery, Vintgar Gorge is a great place to visit for families.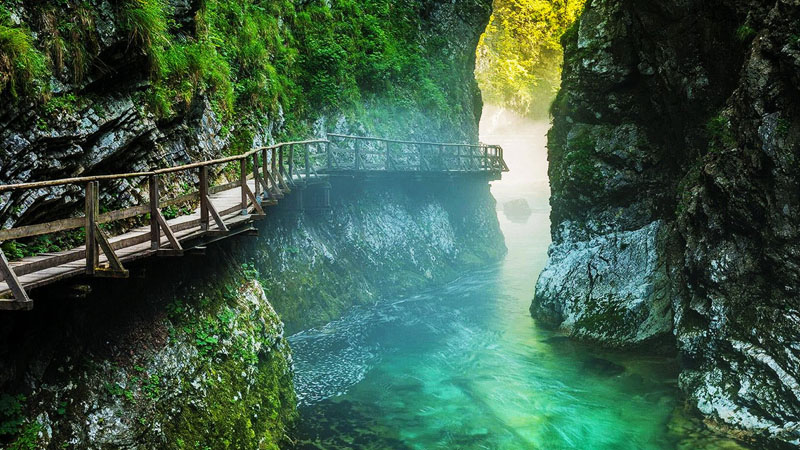 7. Piran
One of Slovenia's most picturesque towns is Piran, which lies on a peninsula on the Adriatic coast. It's closest to Croatia and Venice and shares the Mediterranean charms of those places. You won't be able to help falling in love with its historic architecture, winding alleys, and sunset views over the sea. A photo at the marble-paved Tartini Square is a must – the eye-catching bronze statue in the centre is of Piran-born violinist Giuseppe Tartini. Nearby are the beautiful churches like the Cathedral of St George, as well as the 15th-century palace known as the Venetian House. Ideal for a romantic getaway for two, Piran is home to fantastic seafood restaurants, and you can even go truffle hunting in the surrounding countryside.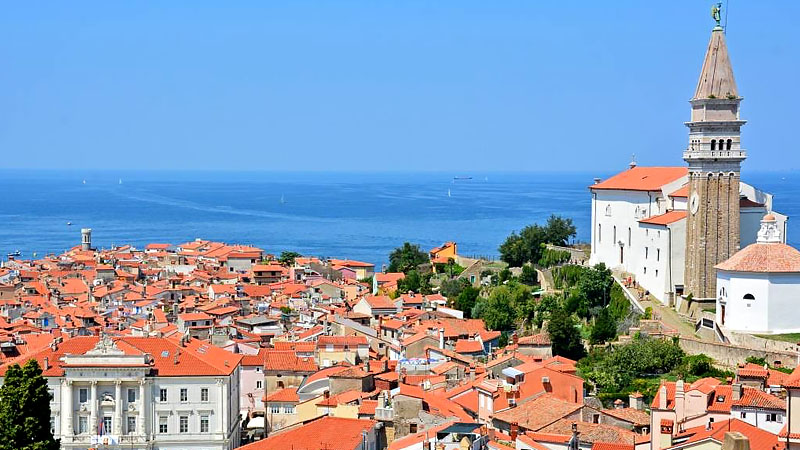 8. Bovec White Water Rafting
Bovec is the charming and historic main town in the picturesque Soca Valley. Because of its mountain-ringed location, Bovec is an excellent base for adventure sports of all kinds, from skiing and snowboarding to biking and canyoning. White water rafting is also one of the most popular attractions in Bovec. You won't be able to believe your eyes as you paddle out onto the incredible turquoise waters of the Soca River. The rich jade hue comes from the limestone in the water, so it's natural and just begging for an Instagram snap. When it comes to the rapids, there are sections perfect for all experience levels from beginner to expert. If you've never been white water rafting before, Bovec is the ideal spot to try it for the first time. Meanwhile, adrenaline lovers will be more than satisfied by the challenging passages and racing currents.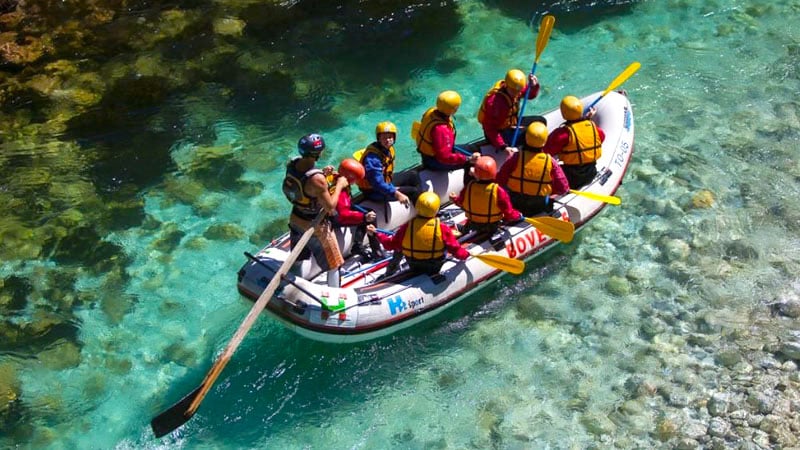 9. Maribor
Maribor is Slovenia's second-largest city but is a lot smaller than the capital, Ljubljana. It is considered by some to be one of the country's more underrated destinations but is full of charm and personality. Built on the banks of the Drava River in the country's north, it features classic Austrian-inspired architecture and a vibrant restaurant scene, particularly in the riverside Lent district. It is also where you will find the city's bars, clubs and craft beer spots, as well as the summer arts festival. Lent is one of the oldest parts of Maribor, so it has several historic churches and the Jewish Quarter within it. Maribor itself is located in a wine-making region. As a result, your visit wouldn't be complete without checking out the oldest grape-producing vine in the world here – naturally known as 'the Old Vine'.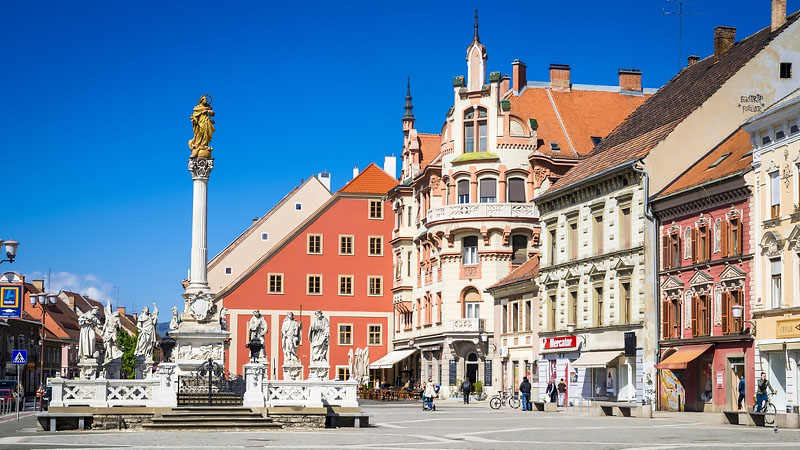 10. Triglav National Park
Slovenia's largest protected reserve and the only national park are located in the northwest of the country near the Austrian and Italian borders. The park spans from the mountains of the Julian Alps across forests, lakes, rivers, and waterfalls. Triglav's alpine resorts make the perfect destination for a hiking trip – there are three long, standout trails for experienced hikers – or skiing holiday. Those wanting to get back to nature won't want to miss a visit to Kozjac waterfall, it is one of Slovenia's most beautiful natural treasures. It's tucked away in a limestone gorge, with beams of light shining down onto its pure green waters. Meanwhile, families will love the glacial lakes for swimming, leisurely bike rides, and historic sites.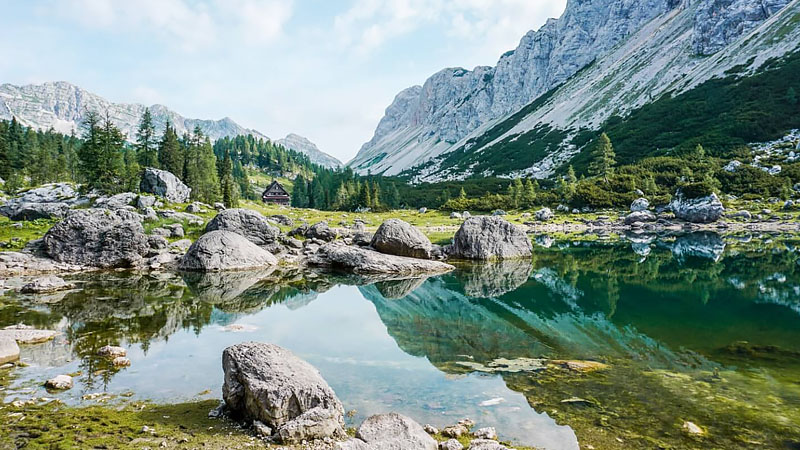 11. Lake Jasna
Part of the Kranjska Gora area in Triglav National Park, Lake Jasna is a picture-perfect place to stop as you explore the mountain forests. White sand rings its blue-green waters, while the peaks of the Julian Alps rise in the background. This calming spot is a popular place to swim in summer; it has a three-tier wooden diving platform as well as an ice-cream shop, bar, and areas for sunbathing. Meanwhile, in winter, the area transforms into a winter wonderland. The lake is 'guarded' by a bronze statue of the legendary golden-horned chamois – a goat-antelope – known as Zlatorog, who is the guardian of Mount Triglav.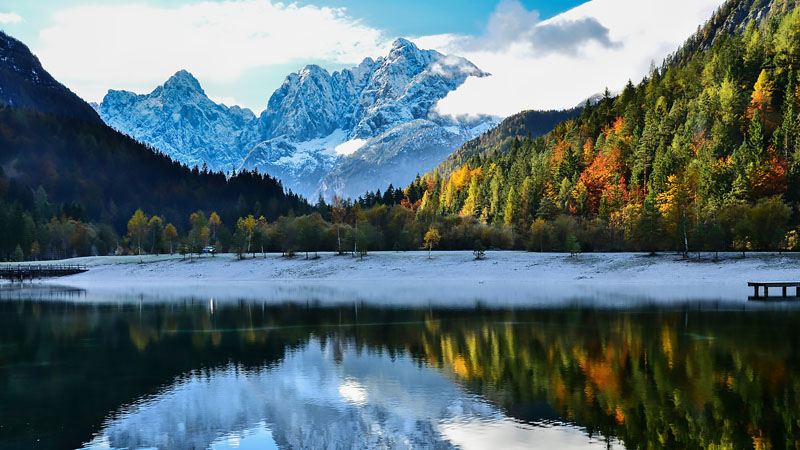 12. Mount Vogel
Mount Vogel guarantees you incredible views. It is linked to Lake Bohinj in the Triglav National Park and during the colder months, is a popular skiing and snowboarding destination. There are runs for all skill levels and plenty of natural snow, as well as cross-country skiing trails. In summer, it's an excellent spot for hiking. You start by taking a cable car to the station, 1,500m above sea level. From there, you can choose from several different walking trails which will take you past forests, alpine valleys, cute log cabins, and steep ridges. Mount Vogel is also a popular paragliding spot, with soaring views of the Julian Alps.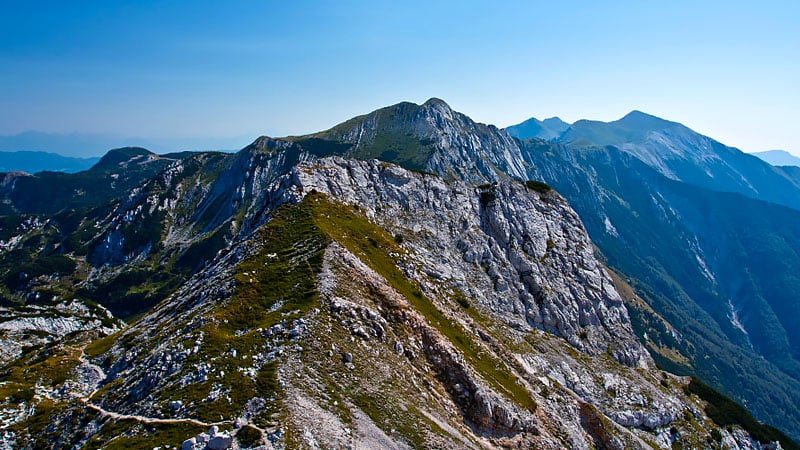 13. Portoroz
Located a little further along the coast from Piran, Portoroz – which means 'port of roses' – is as beautiful as its name. It is one of the more upmarket beach resorts in Slovenia, so it's ideal for those looking for a more luxurious experience. Five-star hotels and casinos line the beach, giving it the feeling of a mini Monte Carlo or Cannes, but with a Slovenian flavor. While Portoroz is famous for the beach and port, it is also known for thermal spas, which have treatments using the mineral-rich mud from local salt flats. Well-connected to the rest of Adriatic, this is an excellent base for trips to Venice and Trieste via boat.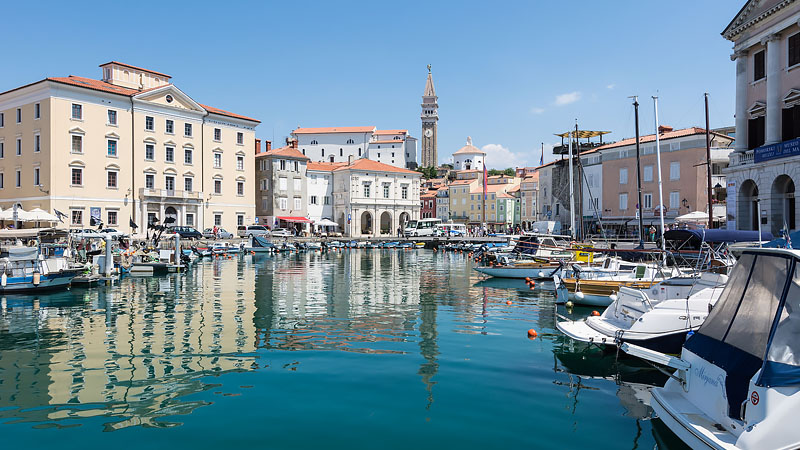 14. Koper
Koper is one of Slovenia's more Italian-influenced cities, being just 5km from the border with Italy. It traces its heritage back to Roman times and even has Italian as one of its official languages. Historically, it was part of the Venetian Empire so many of its most famous buildings – like the Loggia and Praetorian Palaces – were built in this Italian style. While it was once the town hall, the Loggia is now an art gallery with a 19th-century cafe underneath. Exploring it and the rest of the medieval Old Town is fascinating on foot. The Da Ponte Fountain – which looks like a smaller version of Venice's Rialto Bridge – is located in this area. As Koper is a busy port, the harbor is also lively and worth a look, with many restaurants serving local Istrian meals.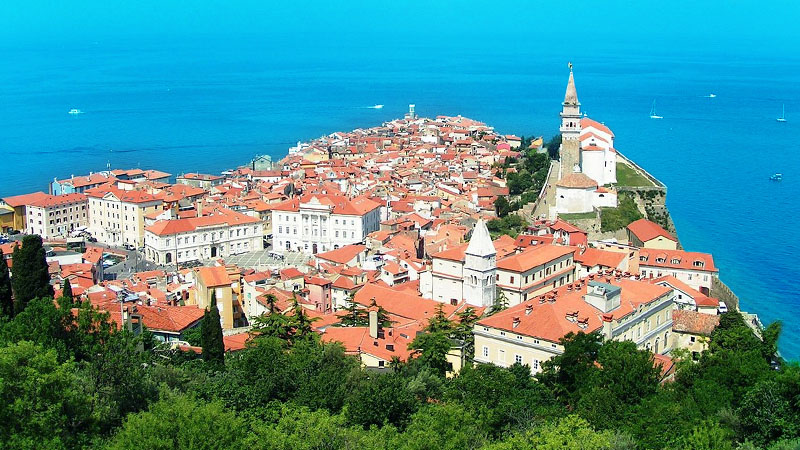 15. Radovljica
One of Slovenia's most well-preserved historic towns, Radovljica is located close to Lake Bled and the Karavanke mountains. Many of its houses date back to the 15th and 16th Centuries while the town's medieval defenses are still visible today. Radovljica is known for its beekeeping and honey, as well as gingerbread. Meanwhile, during April, a three-day festival celebrates chocolate. This combination has lead to the town being nicknamed 'sweet Radovljica' in Slovenian. However, the town isn't just a destination for sugar lovers; it's also the gateway to the Draga Valley. Draga is full of stunning hiking trails, bike paths, castle ruins, and activities like archery, so you can burn off all the treats you ate in town.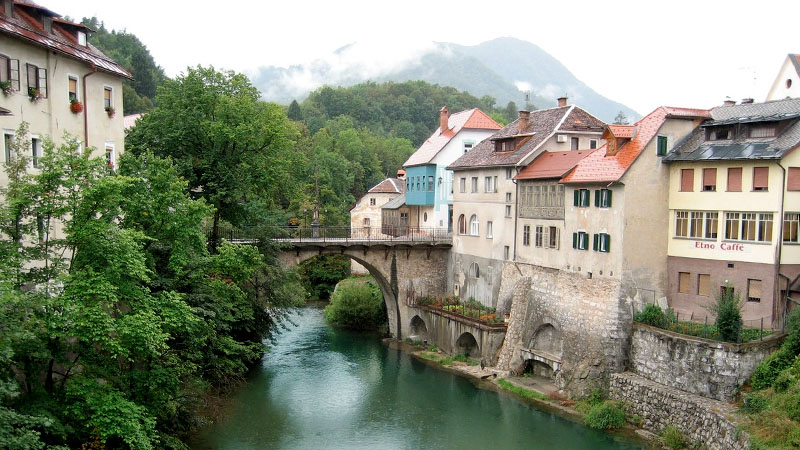 Fun Activities in Slovenia
FAQs
What are the top attractions to visit in Slovenia?
Slovenia has some incredible history and beautiful natural attractions. Make sure to check out the capital city of Ljubljana, the World Heritage-listed Skocjan Caves, and 800-year-old Predjama Castle. Other must-sees include Lake Bled, Postojna Cave, and Vintgar Gorge.
What are the most popular things to do in Slovenia with kids?
There are lots of fun things for kids to do in Slovenia, especially in Ljubljana. Check out the House of Experiments, take the funicular to Ljubljana Castle, and spend a day doing activities at Tivoli City Park. Older kids will love white water rafting in Bovec in the Soca Valley. Finally, visit the many, many lakes of Slovenia, particularly Lake Bled.
Is Slovenia a safe country to visit?
Slovenia is one of the safest countries in Eastern Europe. The biggest worry would be petty theft such as pickpocketing, but in general, crime rates are very low, the government is stable, as is the economy, and the people friendly and honest.
Is Slovenia cheaper than Croatia?
Overall, Slovenia is a bit cheaper than Croatia, with the exception being the capital city, Ljubljana.
Is Slovenia cheaper than Italy?
Slovenia is much cheaper to visit and travel in than Italy; however, the capital, Ljubljana, is more expensive than small or regional towns.
SUBSCRIBE TO OUR NEWSLETTER
Subscribe to our mailing list and get interesting stuff and updates to your email inbox.