There is nothing like summer in Melbourne. With an endless amount of things to see and do, it can be overwhelming to know where to start. Whether you fancy watching the pros go head-to-head at the tennis, grooving out at a festival or glamming it up at high tea, here are some of the best events in Melbourne that you won't want to miss!
1. Australian Ballet – Storytime Ballet: Coppelia
Add some sparkle to your summer with the Australian Ballet. Storytime Ballet presents Coppelia, a mischevious comedy with an interactive flair. Perfect for those with kids, this production is filled with magic, delight and enchanting costumes. Follow Coppelia and his "daughter", a mechanical doll come to life and get into all sorts of mischief. It's the perfect blend of stunning imagery and dance, with magic and cheekiness!
When: 12- 16 December
Where: Arts Centre Melbourne, Melbourne
Cost: $44-$51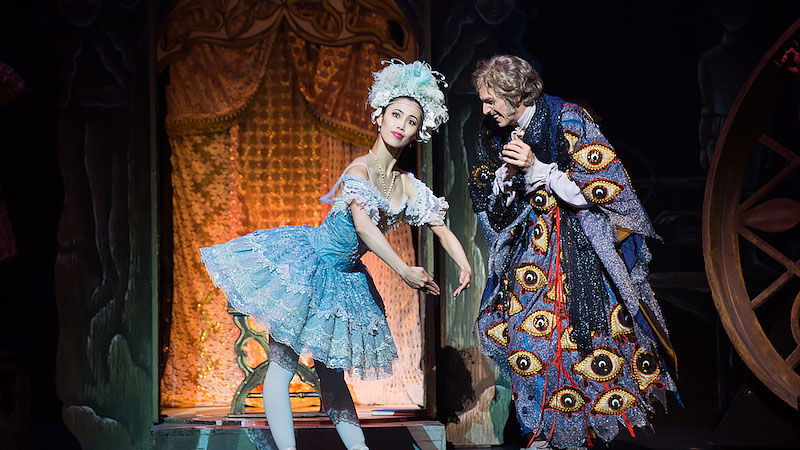 2. NGV: Escher x nendo / Between Two Worlds
Experience a pure blend of modern art, architecture and afternoon tea at Escher x nendo/ Between Two Worlds exhibition at the NGV. Hosted at the Sofitel Hotel on Collins Street, the Monochromatic high tea is a rendition of M.C Escher's work, presented by Sofitel's pastry chef, David Hann and the curators of NGV. The delicious desserts and finger sandwiches on a custom Escher-esque pastry stand; a piece of art in itself!
When: 3 – 31 December
Where: Sofitel Hotel, Collins Street, Melbourne
Cost: $55 per person
VISIT: Escher x nendo / Between Two Worlds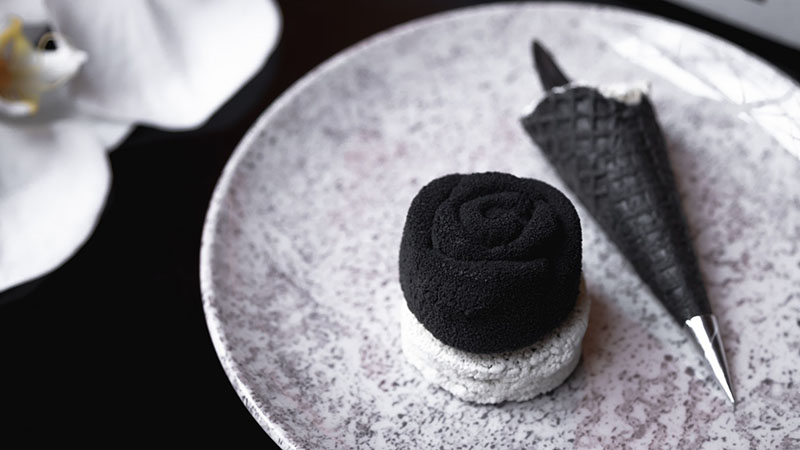 3. AO Live Stage
Australia's largest sporting event of the year, the Australia Open, is hosting a two-week music festival, featuring some of the biggest acts from both Australia and across the world. Swap between watching the best tennis players, to listening to some of the best music, all in the one place! The AO Live Stage has an incredible lineup planned, featuring international artists such as Bastille and Craig David, as well as homegrown talent Angus & Julia Stone and Dean Lewis. An Australian summer without the Australian Open is no summer at all, so soak up the sun and enjoy some fantastic music!
When: 13 – 27 January
Where: Birrarung Marr, Batman Ave, Melbourne
Cost: $49 (Ground Pass)
VISIT: AO Live Stage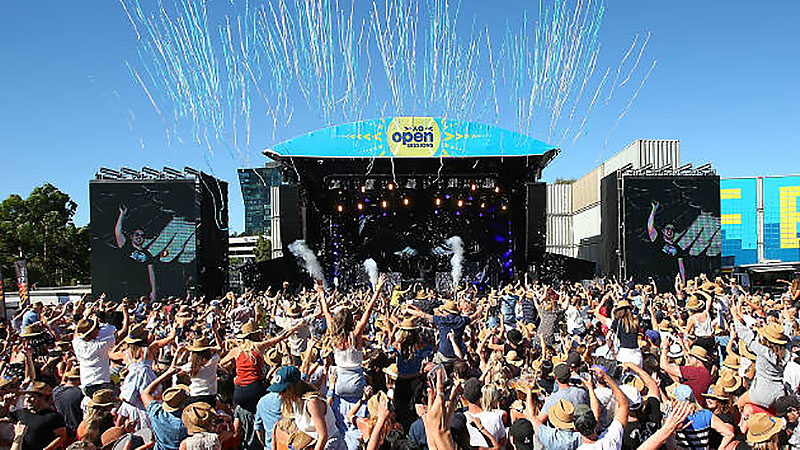 4. Rainbow Serpent Festival
Experience a unique combination of music and art, blended with spiritual education, relaxation and healing at the Rainbow Serpent Festival. Immerse yourself in the three-day festival, with a mix of grooves, atmospheres and rhythms, discover new DJs and bands, and celebrate nature. Named one of the best music, art and lifestyle festivals in the world, it features a diverse range of international artists such as 3 of Life, Super Flu, Altruism, Pixel to name a few. Some of the most anticipated domestic talents include Amhain, Brian Fantana and Aves Volare – a progressive techno and deep melodic artist, who is also playing at Subsonic, Day Doof, as well as Babylon and many other festivals locally and internationally next year. Spend three days with your crew, and make some new friends along the way! Set up camp and plunge into the depth of deep electronica.
When: 25 – 28 January
Where: Lexton, Victoria
Cost: $395
VISIT: Rainbow Serpent Festival

5. Australia Day Parade
Celebrate the incredible country we live in with the Australia Day Parade. A public display of Australia's diverse community, the parade will make its way down Swanston Street and St Kilda Road. It will overtake Melbourne's CBD, and the vibrant display of Australia's diversity will showcase more than 80 community and cultural groups in Melbourne. The parade has with a range of multicultural dancing and music, sporting and cultural experiences, perfect for everyone!
When: 26 January
Time: 11 AM – 12 PM
Where: Swanston Street, Melbourne
Cost: FREE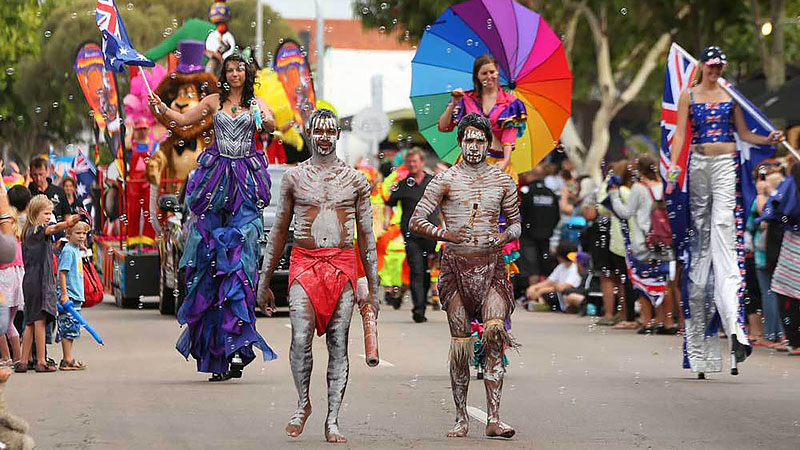 6. Chinese New Year Festival
Bring in the Year of the Pig at the Chinese New Year Festival. Enjoy the rich tapestry of Chinese culture as drums, firecrackers and dragons sweep through Chinatown in the Melbourne's CBD. The festivities are scattered through the city, with acrobatic lion dances, street performances and delicious food! The festival runs over the course of a few days, with lots of exciting things to see, do and eat. Come down to take part in one of the biggest New Year celebrations in Melbourne!
When: 5 February
Where: Melbourne CBD
Cost: FREE
VISIT: Chinese New Year Festival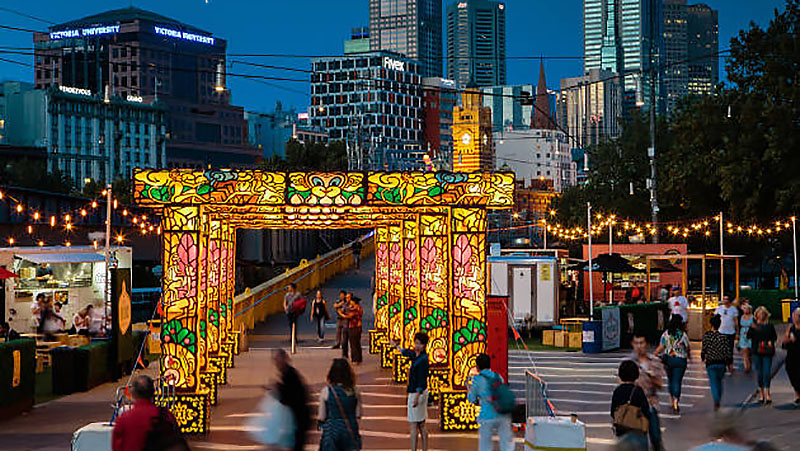 7. St Kilda Festival
Soak in the sun at Australia's biggest free celebration of summer at the St Kilda festival. Located on the beautiful St Kilda beach, the one-day festival is for all; relish in the amazing music, dish on the market stalls and take part in excellent activities like dance lessons and art stalls. With previous international and local acts such as Dan Sultan, Architecture in Helsinki and the Jezabels, it's the perfect day out for friends and families alike!
When: 10 February
Where: St Kilda, Melbourne
Cost: FREE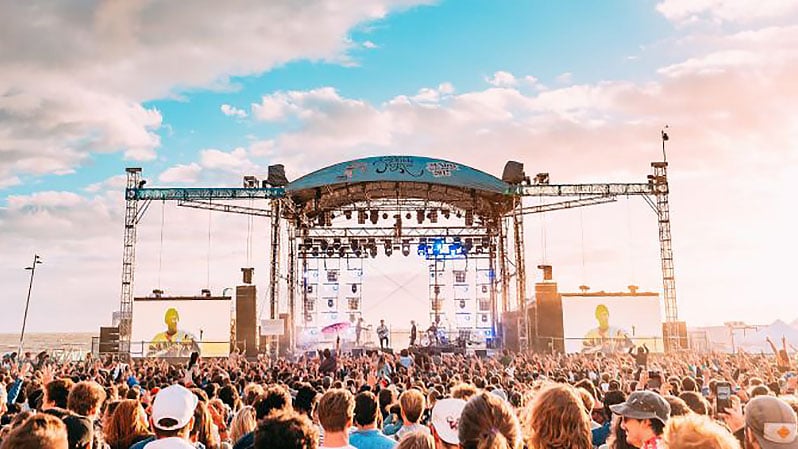 8. Sidney Myer Music Bowl Free Concerts
Treat your ears to the beautiful melodies presented at the Sidney Myer Music Bowl. In its 60th anniversary at the Sidney Myer Music Bowl, there is no better way to spend a summer night than with a magical free concert! Whether you're game for Gershwin or you're transfixed by Tchaikovsky, there is a concert that is sure to sweep you off your feet. Lay on the grass, have a picnic and spend quality time with your loved ones, with a symphony in the background!
When: 8 – 20 February
Where: Sidney Myer Music Bowl, Melbourne
Cost: FREE
VISIT: MSO Sidney Myer Music Bowl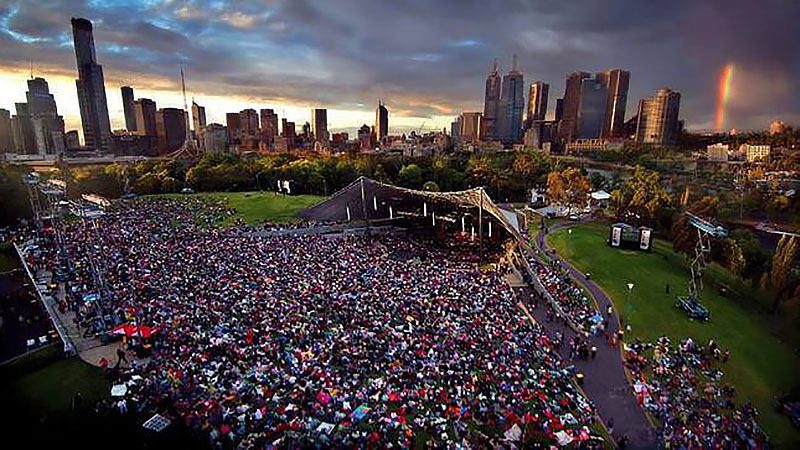 9. IMAX Melbourne
Escape the heat and spend some time watching a flick at IMAX. Their enormous screen will captivate you, and their awe-inspiring 3D and documentary films will stay with you long after the credits finish rolling. Catch the latest DC film, Aquaman 3D, Alita: Battle Angel 3D, Glass and Ralph Breaks the Internet. If you're into something a little bit more relaxing, watch the majestic sea life in Turtle Odyssey 3D.
When: See Website
Where: Melbourne Museum Complex, Melbourne
Cost: Starts at $12

10. The Queen Victoria Night Market
Wednesdays are the new Friday at the Queen Victoria Night Markets! The market takes place every Wednesday evening, with more than 60 global street food stalls, over 100 shopping stalls, live music and festival bars. Enjoy food from all over the world, and experience nightlife like no other. The night markets tend to get busy, so make sure you're ready for a night you'll never forget. Even on the hottest of Melbourne's summer nights, this place is still the coolest location in the city!
When: 21 November – 20 March
Where: Queen Victoria Market
Cost: FREE
VISIT: The Queen Victoria Night Market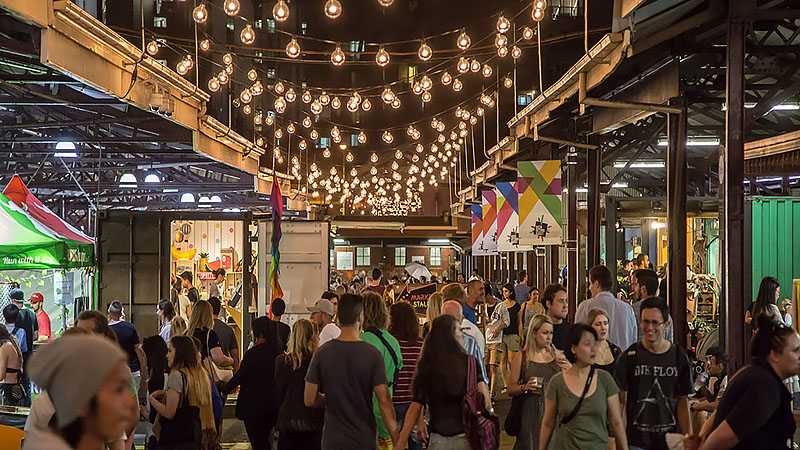 11. Boho Luxe Market
Feel boho-chic at the Boho Luxe Market. Located in Federation Square, this market has great vegan food, combi vans, music and glamping displays. The Boho Luxe Market brings the "festival vibe" to the heart of Melbourne's CBD. Get out your jingle bells and reign in the Christmas spirit with their Christmas Edition of the market, creating the perfect boho-chic Christmas!
When: 9 December
Time: 10 am -5 pm
Where: The Atrium + Deakin Edge, Federation Square, Melbourne
Cost: FREE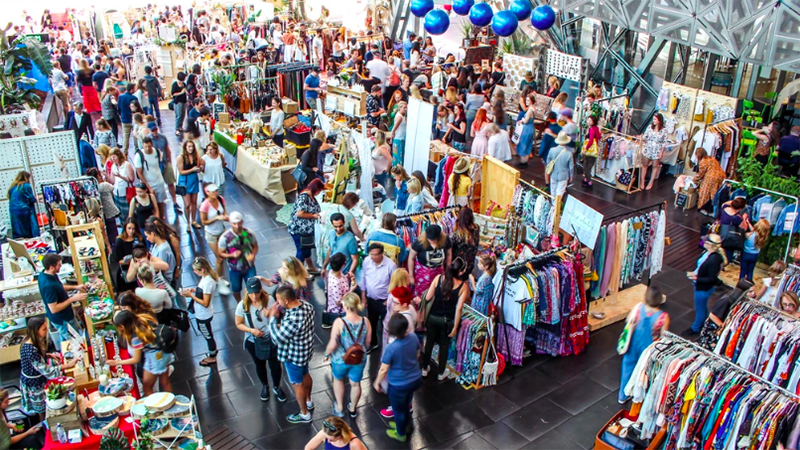 12. South Melbourne Night Market
Every Thursday for eight weeks in summer, the South Melbourne Night Market is the perfect spot for an after-work catch up with friends! The balmy summer nights are transformed into a warm, lively and delightful feats of street food, market stalls and music. Catch up with your friends in one of Melbourne's best night markets!
When: Thursdays, 10 January – 28 February
Time: 5.30 – 9.30 pm
Where: Coventry + Cecil Street, South Melbourne
Cost: FREE

VISIT: South Melbourne Night Market

13. St. Jerome's Laneway Festival
If you're after a festival filled with wonderful music, great vibes and unforgettable experiences, the St. Jerome Laneway Festival is the ideal way to spend your day! Filled with artists from around the globe, surround yourself with some of the best indie, hip-hop and electronica artists around! When you're not living off the beats of the music, relax on the grass, eat some delicious food and enjoy the beautiful warm weather.

When: 9 February
Where: Footscray Park, Footscray, Melbourne
Cost: $145 – $175
VISIT: St. Jerome's Laneway Festival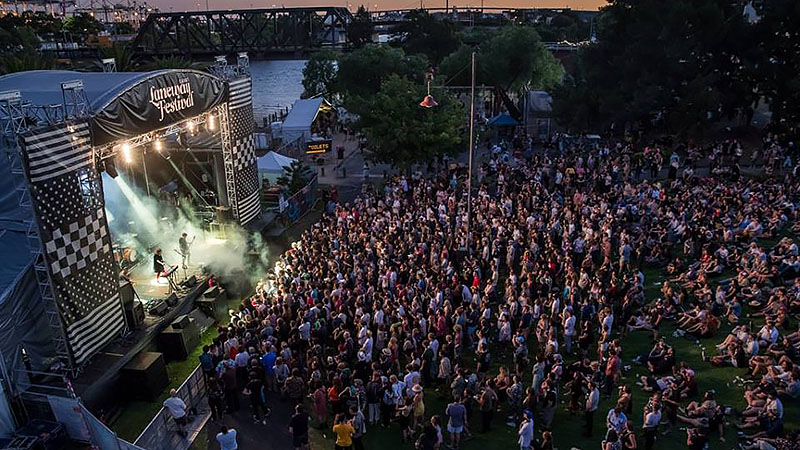 14. Air Canada Ice Rink
In December, grab your skates and head to the Air Canada ice rink, the perfect antidote to the sweltering Aussie sun! It doesn't matter if you're a figure skater or you're still trying to figure out how to avoid falling over; this ice skating rink is the best way to cool down on a boiling summer day! Conveniently located in the Queen Victoria Market, you can spend some quality time shopping afterwards!
When: 1 – 24 December
Where: C Shed, Queen Victoria Market, Melbourne
Cost: $10 – $15

15. Midsumma Festival
Grab your rainbow flag and celebrate pride and theatre at the Midsumma Festival! Running for three weeks, Midsumma Festival celebrates the LGBTQI+ community, diversity and inclusion, and is packed with amazing music and theatrical entertainment. No matter what sort of festival vibe you're after, you'll find something that perfectly suits you at Midsumma. Hang out with friends, feel the love and enjoy the beauty of diversity in Melbourne's culture-diverse city!
When: 19 January – 10 February
Where: Alexandra Gardens, St Kilda Road, Melbourne
Cost: FREE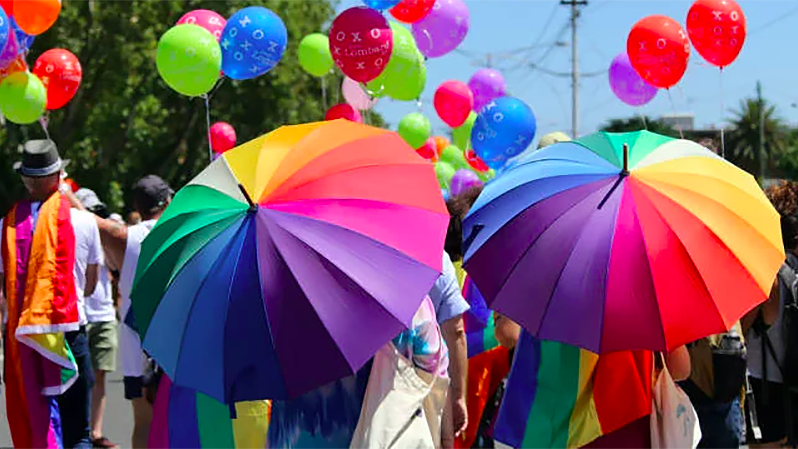 SUBSCRIBE TO OUR NEWSLETTER
Subscribe to our mailing list and get interesting stuff and updates to your email inbox.