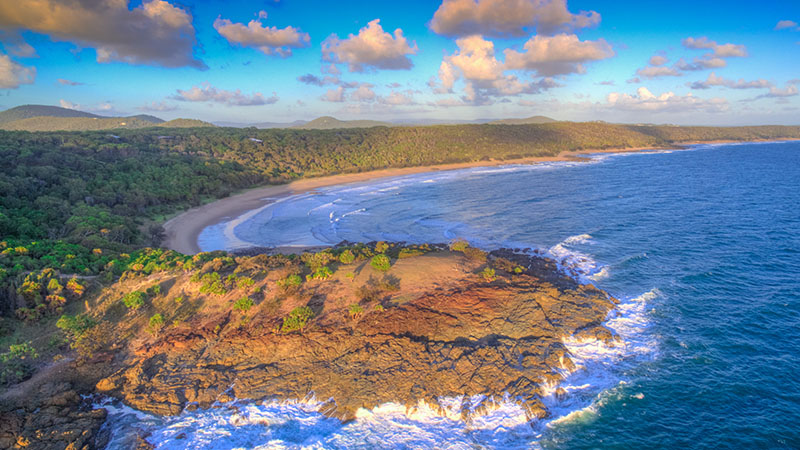 Agnes Water is a coastal town located on the east coast of Queensland. It's a five and half hours drive from Brisbane or an hour and a half from Bundaberg. This pretty section of the coastline is the perfect vacation spot, as there is so much to do and see. Agnes Water sits at the southernmost end of the Great Barrier Reef, so it's a great launching place for exploring the reef. The nearby Town of 1770 is steeped in history, as Captain Cook came ashore here in 1770, which was only his second time on land after Botany Bay. There's also an abundance of natural beauty to discover. From walking trails and secluded beaches to marine animals and magical forests, there are plenty of ways to escape the daily grind.
1. Hike the Red Rock Trail
The beautiful Red Rock Trail is located south of Agnes Water. It includes boardwalks, beaches, and stepping stone terrain, as well as some steep inclines, so you do need a reasonable level of fitness. However, you'll be rewarded with stunning views of the beaches and incredible scenery. Plus, you might be lucky enough to spot dolphins, turtles, or even migrating whales. Make sure to pack good walking shoes, water, sunscreen, and your swimmers for a refreshing dip at Springs Beach. Accessing the trail is easy if you have a car with high clearance. Just follow Springs Road, turning left onto the unpaved road opposite the Reedy Creek Reserve sign. This will take you to the start of the trail, where you can park by the trees. Additionally, if you are staying Sunrise at 1770, you will have direct access to Springs Beach and Red Rock Trail from the estate.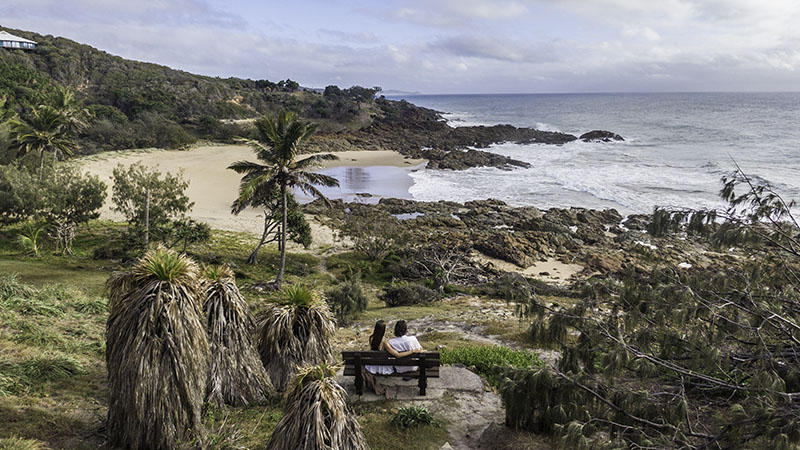 2. Watch the Sunset at 1770
Finish a perfect day in Agnes Water by catching the sunset in the Town of 1770. The 1770 headland car park is the perfect location for a sunset picnic. Grab your favorite bottle of wine, some cheese, and your loved one and head there in the late afternoon to relax and revel in the golden hour. If you need to work up an appetite, there's also a short 15-minute walk to the Bustard Bay Lookout, as well as a detour that takes you by a stunning secluded beach. Look out for dolphins and turtles, as well as the white-bellied sea eagles. Plus, during the winter months, keep your eyes peeled for migrating whales on their journey north.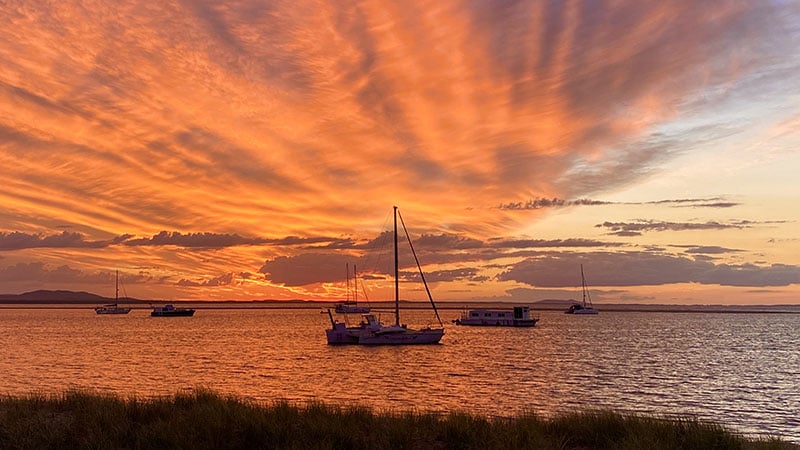 3. Grab a Bite to Eat and Stay overnight at 1770 Getaway
If you're looking to extend your Agnes Water adventure, book a night or two at the stunning 1770 Getaway. This boutique hotel, located a short walk from the beach, is set on four acres of tropical gardens. The stunning private villas are well equipped with full kitchens, private verandahs, comfortable beds, and a pull-out sofa, making it perfect for families or groups of four. When you get hungry, head to the garden cafe, which is perched over a tropical lagoon. You can indulge in delicious coffee, homemade pastries, and kombucha, as well as breakfast, lunch, and dinner. There are also woodfired pizzas available every Wednesday and Sunday evenings. If you're there in the late afternoon, you may even get a visit from the local kangaroos, which come in to graze on the grass. Finally, while you're there, pop into the onsite boutique which sells local supplies, clothes, and gifts.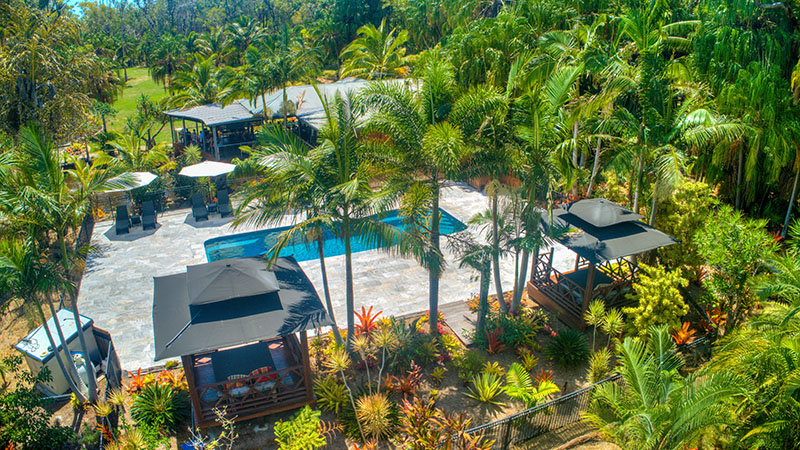 4. Visit 1770 and Headlands Lookout
The Town of 1770 sits just to the north of Agnes Water and is the location of Captain Cook's first landing in Queensland, and second in Australia. This picturesque seaside village occupies a peninsula surrounded by Bustard Bay and the Coral Sea. It's home to the Headlands Lookout, which is perfect for catching a stunning sunset. The walk to the lookout is only short, just 20-minutes from the car park. Once you're there, you'll be rewarded with views across the town and bay. The village itself is small, as the Joseph Banks Environmental Park takes up most of the area. However, there are several restaurants where you can enjoy a delicious meal, and there is a small marina and a few accommodation options. The foreshore has a lovely boardwalk, and space for picnics and barbecues, while the waters around it are great for swimming and paddleboarding.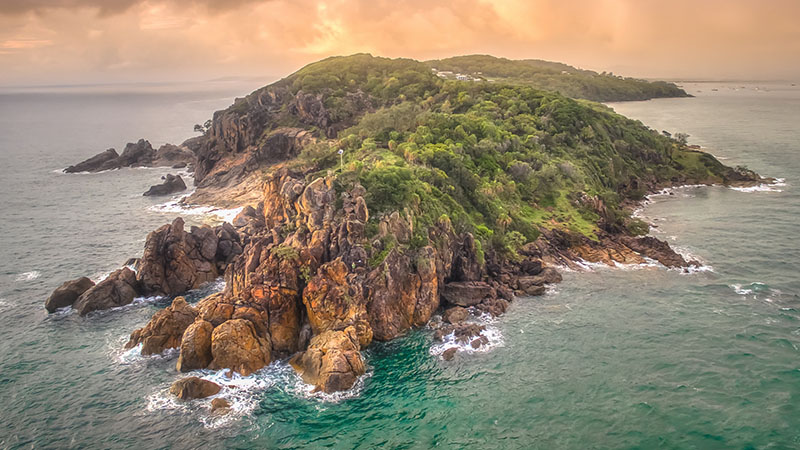 5. Journey Through the Paperbark Forest Walk
One of the most picturesque walks in the Agnes Water area is the Paperbark Forest Walk, in the Reedy Creek Reserve. This lush coastal environment is beautiful and somewhat magical. It's only a quarter-mile in length and it features stepping stones, boardwalks, and water crossings. The wet environment makes a thriving home for frogs, which you'll hear as you wander through the tall trees. You'll also be able to spy butterflies, friarbirds, flying foxes, and lorikeets, as well as an array of colorful fungi. To reach this enchanting walk, take Springs Road south, looking for the large Reedy Creek Reserve sign. There's be a gravel car park on the right and a trail icon marker for the beginning of the track.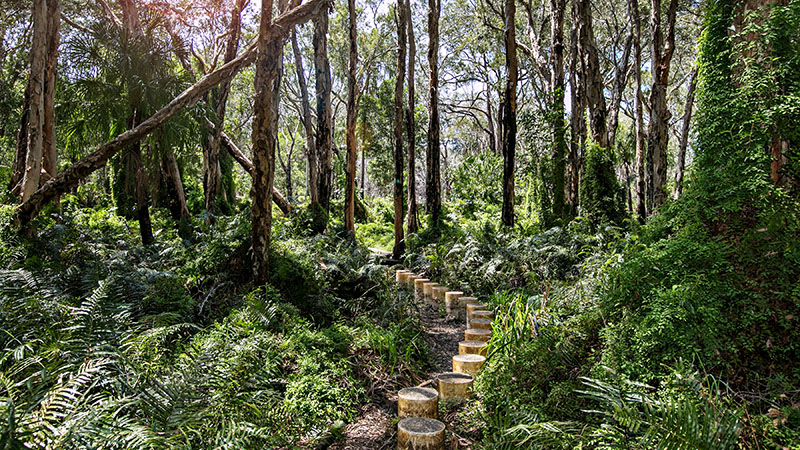 6. Day Cruise to Lady Musgrave Island
A day cruise to Lady Musgrave Island, which is 37 miles off the coast of Agnes Water, is another beautiful way to experience the Great Barrier Reef. The island, which sits at the edge of a protected lagoon, is surrounded by 3000 acres of living reef. Discover tropical fish, colorful coral, and turtles. You can join a day cruise to the island through a company like Lady Musgrave Experience, which will give you plenty of time to explore. Once you've reached the island, there is a range of activities to keep you busy. Choose from a guided walk, snorkeling, glass-bottomed boat tour, or swimming with turtles. Additionally, certified scuba divers will also be able to book diving experiences for a more in-depth exploration of the reef. Morning and afternoon tea, as well as lunch, are also included.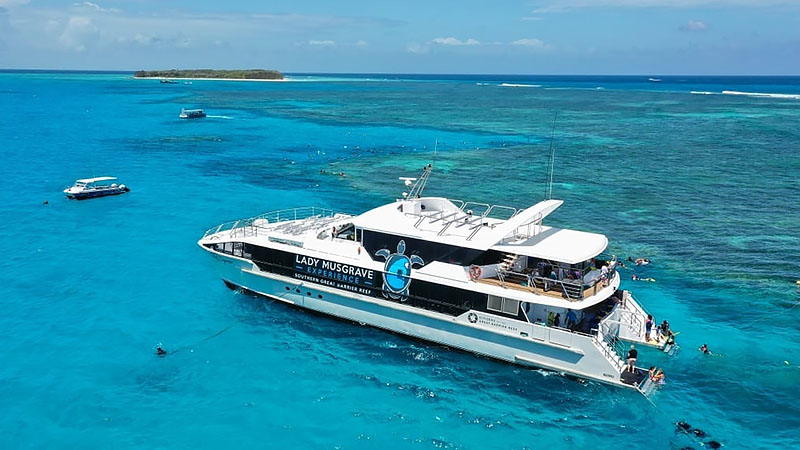 8. Explore the National Parks
Eurimbula and Deep Water National Park are both located close to Agnes Water. Take a four-wheel-drive and explore the beautiful beaches, coastal mangroves, freshwater paperbark swamps, and tropical rainforest of Eurimbula National Park. It's also great for fishing, bushwalking, and the Ganoonga Noonga lookout has incredible views. Then, to the south is Deep Water National Park. Here you'll find Deepwater Creek, a unique freshwater coastal stream, as well as an array of diverse vegetation. The park is perfect for bird watching, and seeing turtles that frequent the beaches along the coast during nesting season. Both parks are accessed by four-wheel-drive only, but tour options are available if you don't have a suitable vehicle. If you'd like to immerse yourself in the beauty and spend some more time amongst nature, both parks also have camping options.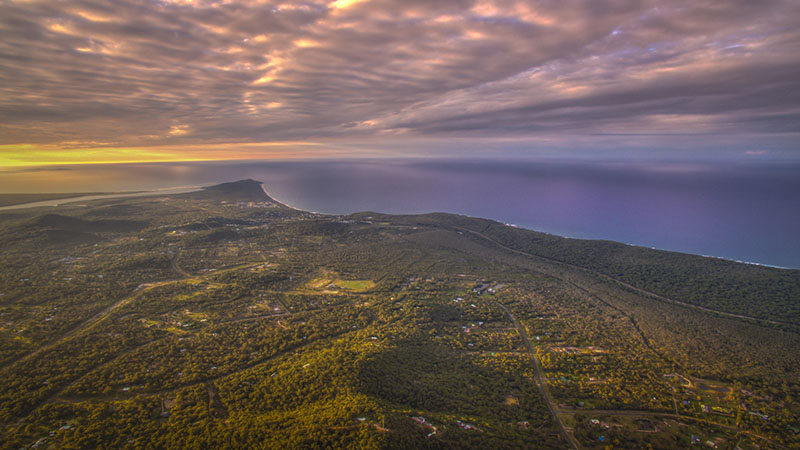 9. Rent a Holiday Home at Sunrise at 1770
Stay in Agnes Water for longer and rent a holiday home at Sunrise at 1770. It is an award-winning beachfront eco-estate set on 600 acres of land, featuring a botanical ecosystem with plants endemic to Reedy Creek Reserve. Accommodation options range from 1-bedroom to 5-bedroom homes, with full kitchen facilities. As such, it's an ideal choice for couples, families, and groups of friends. Aside from the beautiful homes and stunning views, there are also fantastic recreational options. Communal facilities in the estate include two ocean-facing horizon pools, barbecue facilities, a playground, kids' wading pool, and volleyball and basketball courts. There is also direct access to Springs Beach and the Red Rock walking trail. Agnes Water's town center and 1770 marina are just a 10-minute drive away, so it's also easy to venture out and about.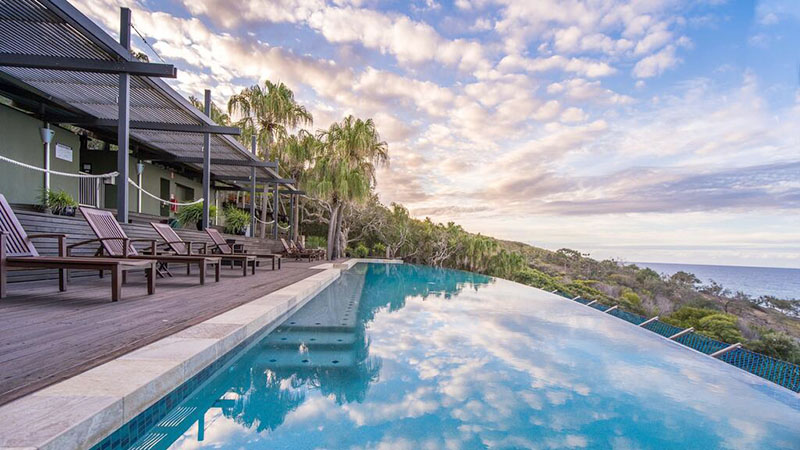 10. Relax at Main Beach
A vacation doesn't have to be all exploring. Sometimes, the best bit is doing nothing. Agnes Water Main Beach is the perfect spot for relaxing, soaking in the sun, and having a refreshing swim in the ocean. The beach itself stretches for over three and a half miles and is renowned for its excellent surfing conditions. While there are multiple access points, keep in mind that the whole beach isn't patrolled. If you are going for a swim, make sure to stay in the flagged area near Tom Jeffrey park.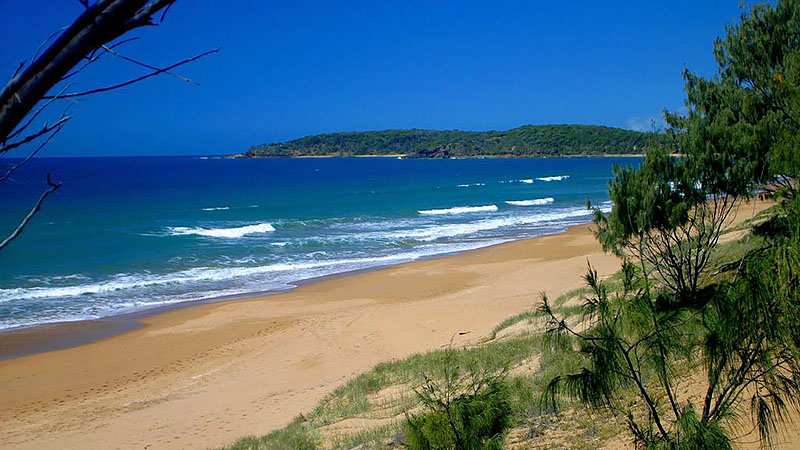 10. Take a LARC Tour
See the Town of 1770 and Agnes Water from a different angle on a LARC Tour. These tours take place onboard their iconic pink amphibious vehicles, known as LARC, which stands for Lighter Amphibious Resupply Cargo vessels. These ex-military vehicles provide a fun and unique way to explore the area. From four-wheel driving, crossing creeks and climbing headlands, you'll explore secluded beaches, remote national parks, and picturesque coastlines. There are four tour options. Visit Queensland's only operating lighthouse on the Paradise Tour, which also includes sandboarding. Alternatively, take fun afternoon cruise around Bustard Bay to see the full capabilities of the LARC. Nature lovers, on the other hand, will love the LARC and Lunch, where you get to explore the national parks and enjoy a beach picnic. You can also learn about the culture of the Indigenous people of the area on the Goolimbil Walkabout.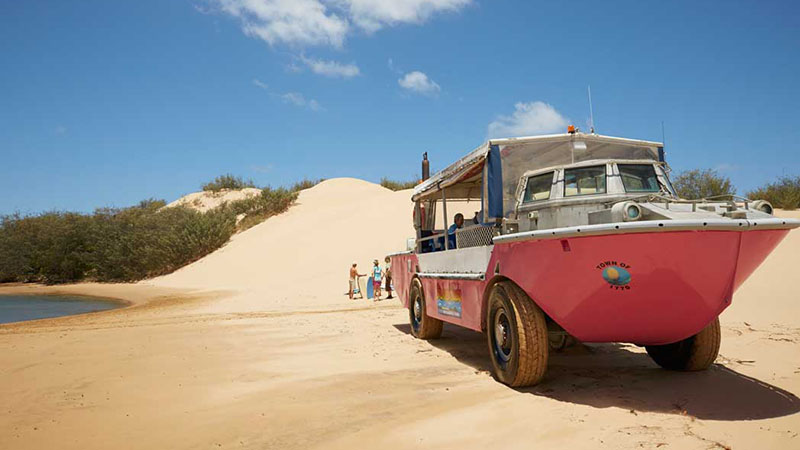 11. Visit Springs Beach
Escape the crowds at another one of Agnes Water's pristine beaches — Springs Beach. Located south of the town center opposite from the Paperbark Forest Walk, the beach is accessible by car with high clearance. It's quiet and secluded, making it a perfect, peaceful escape for surfing, rock fishing, or a wedding ceremony. The beach isn't patrolled, but as the inlet is protected, the water is calm and safe for swimming. The Red Rock Walking Trail also starts at Springs Beach so it's a great spot to cool off after a long walk.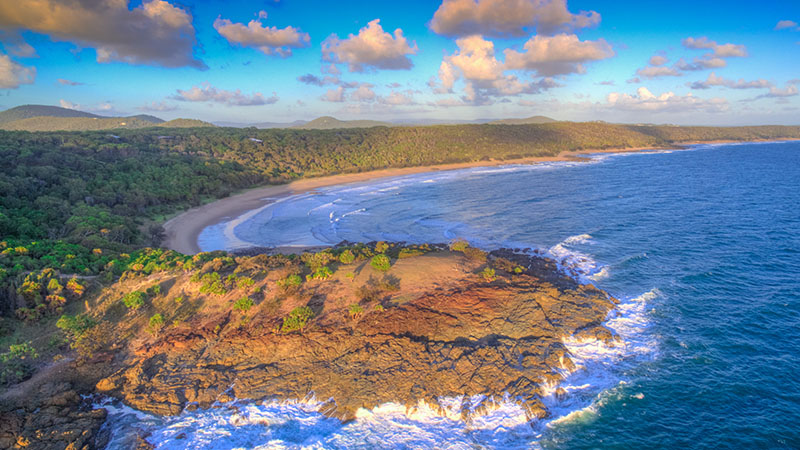 12. Hire a SUP at 1770 Inlet
Stand up paddleboarding, or SUPping is a brilliant way to explore calm waterways while getting in some low-impact exercise. The 1770 Inlet is the perfect place for SUPping. The protected waters are calm and safe, making it great for learners, as well as experience boarders. You'll be able to explore Bustard Bay's unique marine environment, spotting turtles, stingrays, and even dolphins. Being on the water is also a beautiful way to clear your head, calm your mind, and be present in the moment. 1770 SUP Hire, which is run by Chris de Aboitiz, a world champion surfer who brought SUPping to Australia, is the best place to hire a paddleboard. They do lessons if you've never paddled before, and you can request a guided tour.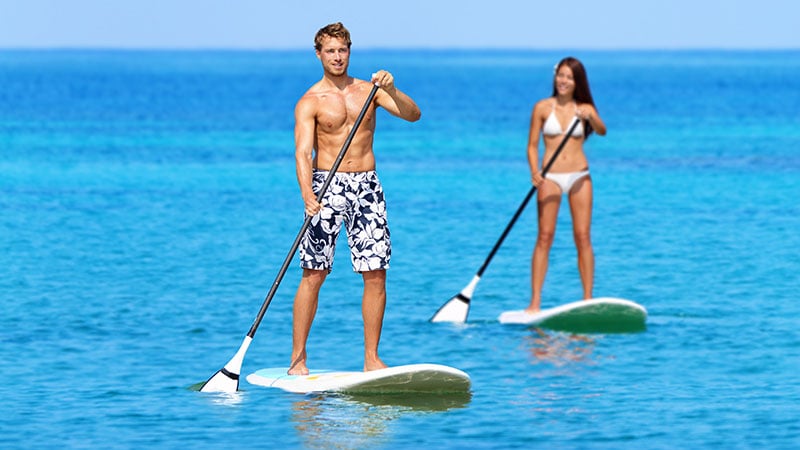 13. Walk the Discovery Trail
Take a leisurely walk around the Agnes Water Headland on the Discovery Trail. This circular trail starts at the Community Centre and Agnes Water Museum and takes around 30 minutes. Wear comfortable shoes, as the path does take you through the bush to the lookout. Here you'll admire the incredible views over Workman Beach and Agnes Water Beach. If you're visiting during the winter, the lookout is also the perfect spot to look for migrating whales. Once you've completed the walk, pop into the museum, which is small, but packed full of interesting information. Learn about the area, including Indigenous history, maritime stories, as well as the Endeavour landing.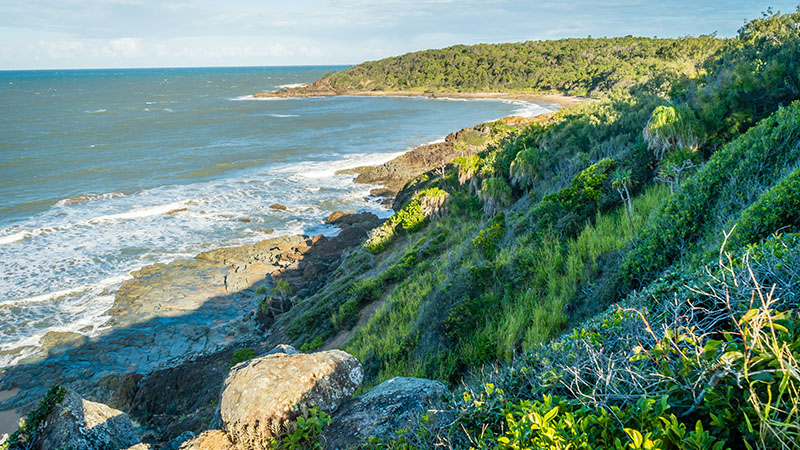 14. Go Fishing on a Charter Boat
When you're right on the Queensland coast, it would be a missed opportunity not to hit the water for some boat fishing. The Southern Great Barrier Reef is the perfect spot to fish for reef species like the red emperor, coral trout, Spanish mackerel, and grassy sweet lip. Companies like Reef Fishing Charters 1770, offer full or short days on the water, as well as private charters. You'll be right at home on the boat, Southern Comfort, which boasts a large fishing deck for plenty of action, as well as a bathroom, galley, and an in-cabin table and chairs if you need a rest from the sun. The crew is incredibly knowledgeable, and very helpful, even down to keeping your hooks baited. They can also give you details of a friendly local who will clean and fillet your catch for you, ready for a delicious home-cooked dinner.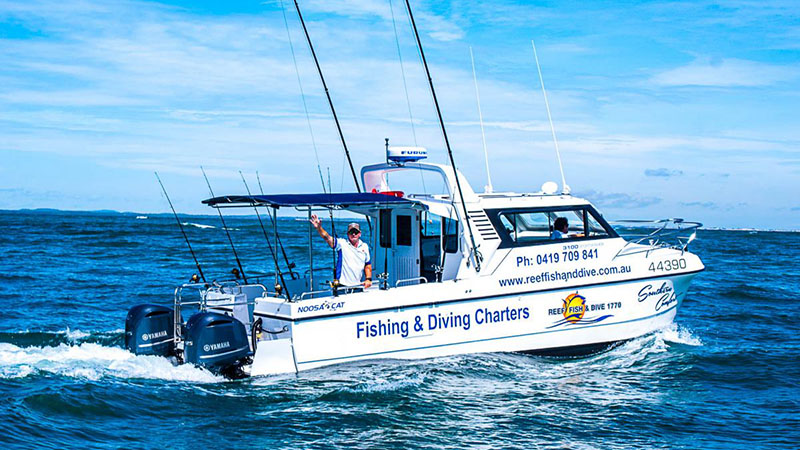 15. Take a Surf Lesson
If you've always wanted to learn to surf, Anges Water is a great place to do it. Gnarly Tours Surf School will pick you up and take you to a private secluded beach. You'll be kitted out in a rash vest, sunscreen, and a surfboard, before making your way down to the beach. Then, the friendly team will take you through the basics on the sand. Once you've mastered the core skills, it's time to hit the waves for some real surfing. The benefits of the private beach include small waves, which are great for learners. Plus, there's no one else there to witness you wiping out! The groups are small, you'll spend three to four hours learning, and you'll get free photos from the day as well. If you enjoy it, you can book a three-day package as well, to properly nail it.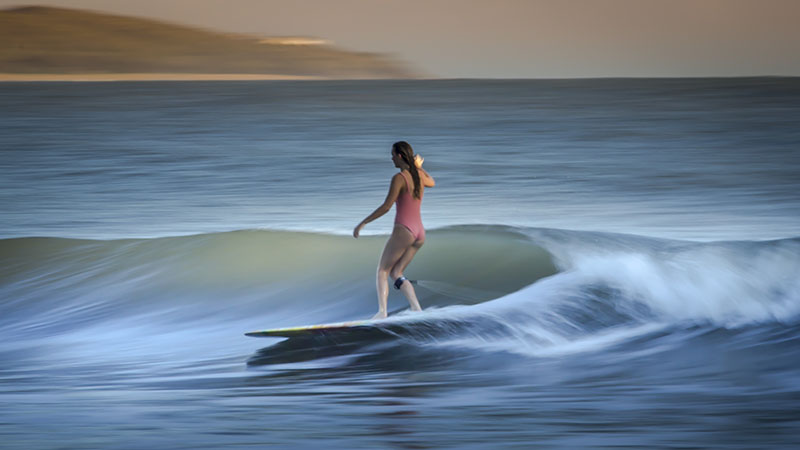 16. Visit Cook's Monument Along the Butterfly Coastal Walk
Captain Cook first set foot on Queensland soil near Round Hill Head, on May 24, 1770. His shore party included botanist Joseph Banks and assistant Daniel Solander. This historical event is commemorated each May with a recreation of the Endeavour landing at the annual 1770 Festival. There's also the Captain Cook Monument, located near the site where one of the crew carved the date of the landing into a tree. This monument also marks the beginning of the 1770 Butterfly Walk through the Joseph Banks Conservation Park. Enjoy a leisurely 20-minute stroll along this track, which follows the shoreline of Round Hill Creek. Take the opportunity to marvel at the thousands of butterflies that call the area home. If you visit between March and June, you're likely to see incredible Blue Tiger butterflies.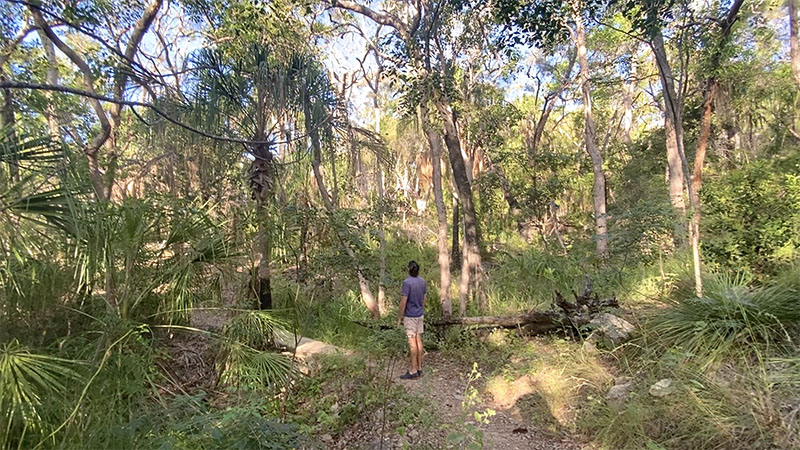 17. Go Rock Fishing
Rock fishing is a great alternative to hitting the water. One of the best spots is known locally as The Catwalk, which is located on the easternmost point of Round Hill Head. The high position allows anglers to easily spot the shoals of baitfish, which bring in larger fish specifies like Spanish mackerel, yellowfin tuna, and all kinds of trevally. The best time to visit is at sunrise or sunset when it's peak feeding time. Other great locations for rock fishing also include Springs Beach, which is where the Red Rock Walking trail begins, as well as Red Rock Beach, which is south along the walking path. While rock fishing can be fun and fruitful, it can also be dangerous. Remember to wear suitable footwear, always take a friend, and never turn your back on the ocean.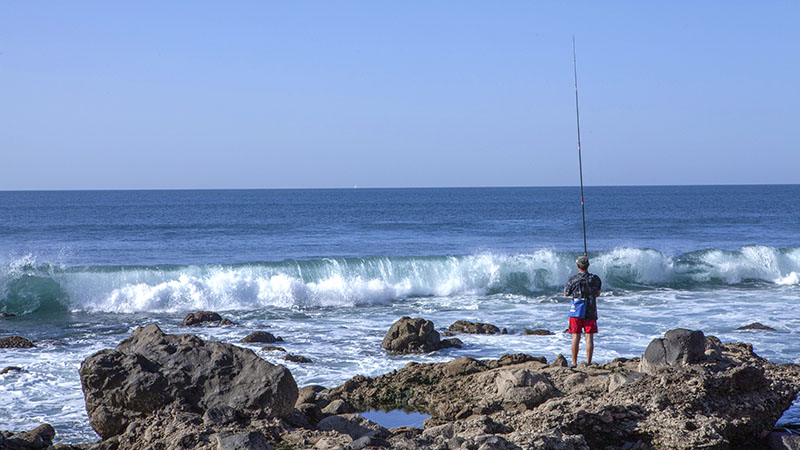 18. Take a Guided Kayak Tour
Discover Agnes Water a different way with a guided kayak tour. Whether you go single or double, you'll be able to leisurely paddle your way around the calm waters of the inlet. You'll get to learn about the area, discover the local secrets, and say hello to new friends such as turtles, dugongs, and dolphins. Day time kayaking is lovely and takes advantage of the warm Queensland sunshine. Alternatively, head off in the late afternoon to stop for a cheeky wine on the beach as the sunsets. The best part is, you'll have snuck some casual exercise that won't even feel like you've been working out!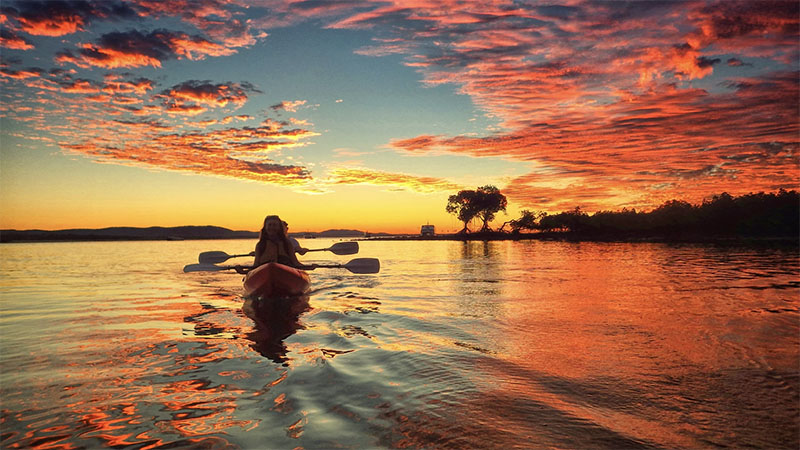 19. Visit 1770 Distillery
One of the best ways to discover a region is through its local produce. The boutique 1770 Distillery turns the locally grown fruit into delicious liqueurs, using traditional copper stills. The distillery, which is in the center of town, is open to visitors, so there's plenty of opportunities to pop in for a tasting. Explore flavors like Sunset, so named because it's the perfect accompaniment for quietly watching the sun go down. It features grapefruit, bush lime, and ginger. Alternatively, there's Daybreak, which would be the perfect breakfast wakeup if not for the alcohol. It combines the warming flavors of oranges, cinnamon, and star anise. Other options include Strawberry Splash, which is bursting with berry sweetness, and Pink Dawn, which is made with juicy plums, green apple, and ginger. You can also buy them online when you've run out at home.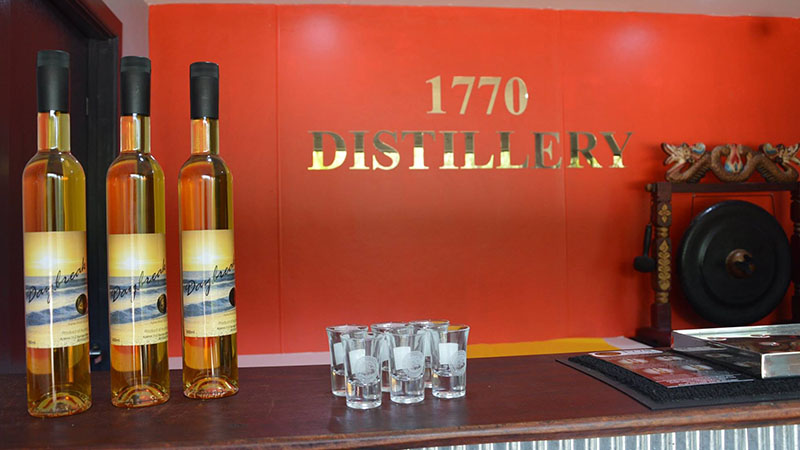 20. Visit the 1770 Markets
Fit in a spot of shopping if you're in town on the second or fourth Sunday of the month. It is when the Discovery Coast Rotary Markets are on at the SES Grounds in 1770. Like many local markets, you'll be flush with choices on what to buy. Pick up a souvenir for friends and family back home, indulge in some fresh local produce, or pick up an unexpected crafted treasure. Locals run the stalls, so it's an excellent opportunity to make new friends and learn the insider secrets to having the best time in Anges Water.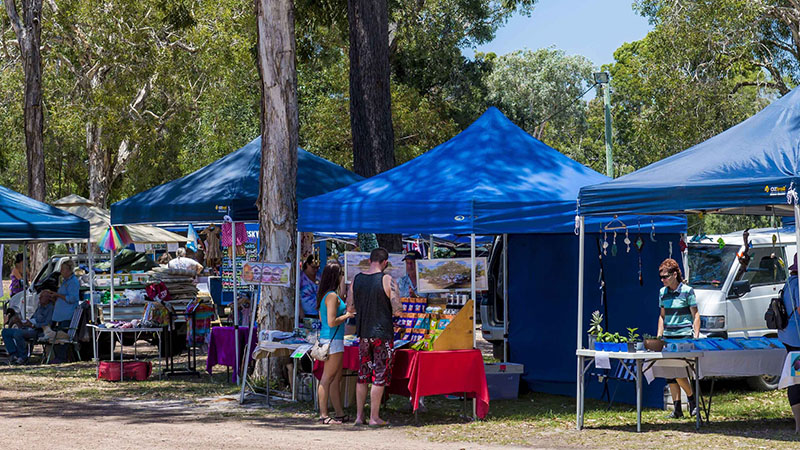 Fun Activities in Agnes Water
FAQs
What are the top attractions to visit in Agnes Water?
There are so many great things to do in Agnes Water. Hike the Red Rock Trail, catch a 1770 sunset, take a day cruise to Lady Musgrave Island, and journey through the Paperbark Forest Walk.
What are the best outdoor activities in Agnes Water?
Agnes Water is the perfect place to get out and about in nature. On land, explore the Eurimbula and Deep Water National Park, take the picturesque Paperbark Forest Walk, or hike the Red Rock Trail. If you feel like getting wet, why not take a surfing lesson, try stand-up paddleboarding or kayaking, head to Lady Musgrave Island, or just relax on Main Beach.
What are the most popular things to do in Agnes Water with kids?
Kids will love the amphibious LARC tour, swimming at Main Beach, or exploring the Paperbark Forest Walk. The Holiday Homes at Sunrise at 1770 also have lots of great facilities for the whole family, including pools, a playground, and volleyball and basketball courts.
SUBSCRIBE TO OUR NEWSLETTER
Subscribe to our mailing list and get interesting stuff and updates to your email inbox.