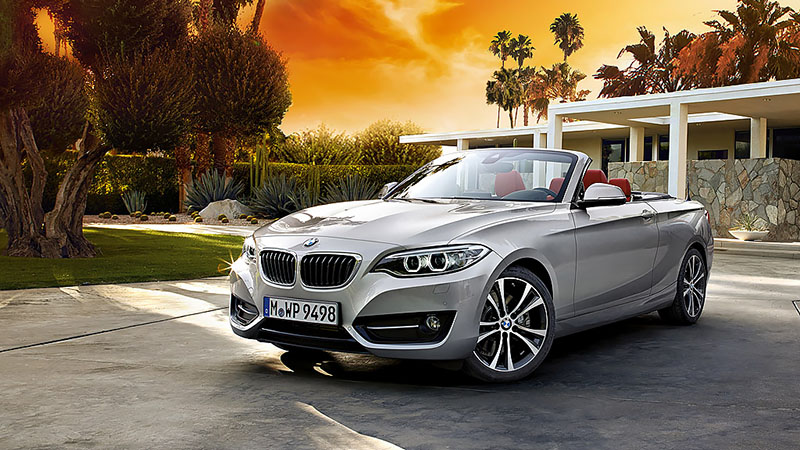 Convertibles are the childhood dream that never died. Sleek, novel and downright fun, this breed of car is the grown-up equivalent of a Tonka truck. All our picks don't just share a collapsible roof, but a range of appealing features that make purchasing one just that little bit more alluring. So, in celebration of this beloved vehicle, we have compiled our top ten picks of stylish and affordable convertibles to buy in 2016.
2016 Mazda MX-5
The Mazda MX-5 is a handsome car. It exudes sportiness from every angle and the roof doesn't detract from the design when it's up. Utilising Skyactiv Technology, this model drives exceptionally well. The awards that this car has amassed speak for themselves. The MX-5 was the 2016 World Car of the Year and World Car Design of the Year. The model is small but hyper-sporty and sleek. This convertible also comes in Mazda's signature colours, but our top pick would be the classic Jet Black Mica version.
2016 Ford Mustang GT Convertible
The 2016 Ford Mustang as most people would know is one of Ford's most identifiable and iconic models. Ford's latest attempt to breathe 'new life into a legend' certainly has been successful, with the brand creating something that is 'instantly classic and completely new'. With improved aerodynamics, an EcoBoost engine ensuring performance without sacrificing fuel economy and Electric Powered Steering, this model doesn't just possess a pretty exterior. After 50 years, it is evident with this convertible that the charm of the Mustang lives on, well into 2016.
2016 BMW 2 Series Convertible
The 2016 BMW 2 Series convertible combines comfort and safety, but also boasts efficient dynamics. With less fuel consumption and better performance, this model by BMW is outstandingly responsive and flaunts dynamic contours and sporty proportions. Combine that with the vehicle's strong power and maximum efficiency and you have got yourself an appealing choice for functionality.
2016 Fiat 500 Abarth
If you're after something different and a whole lot more eccentric, the 2016 Fiat 500 Abarth is certainly for you. This model by Fiat is described as instinctively protective and intelligently aware. Providing steel safety frame construction and Abarth-tuned three-mode Electronic Stability Control, this convertible is a stickler for safety. Its powerful features include a dual exhaust system with bright tops, dual intercoolers, performance suspension, spoiler and brakes as well as a turbo boost gauge with LED Gear Shift Indicator. Its perforated leather-wrapped Abarth performance steering wheel and aluminium pedal covers with raised rubber inserts are just some of the other additional bonuses that make this model a great choice for its features alone.
2016 Nissan 370Z Roadster
Nissan is known for its reliable vehicles, and the 2016 Nissan 370Z Roadster is no exception. Its sleek, modern design is one of its most alluring features and its fully automatic top peels away in an estimated 20 seconds. There are many colours to choose from but for something more head turning, the Dark Cherry, Solid Red and Deep Blue Pearl are a good choice.
2016 Jeep Wrangler
The 2016 Jeep Wrangler relives many childhood dreams. For gentlemen, it is reminiscent of G.I Joe; a military vehicle that is sporty yet masculine and perfect for outdoor adventures. For women, it is a nod to Barbie with its identifiable shape and playful aesthetic. Regardless of how you identify with this iconic convertible, it is most certainly one of the most identifiable vehicles purely for its novel aesthetic. For a military inspired take on this model, opt for the Tank Khaki Green colour. The Bright White is also a simple yet vivid version, and never forget the classic appeal of a Jeep in its traditional Black shade.
2016 Mini Convertible
With a new engine, new transmission, new interior technology and a whole lot more room, this model is a total upgrade from its predecessors. The 2016 Mini Convertible is said to be much quieter and the roof operates on electric power. Keep an eye out for the brighter, vibrant colours this model comes in, which reaffirms the brand's more playful take on its newest designs. High-beam assist, a reverse camera, head-up display collision and pedestrian warning, as well as adaptive cruise control, further add to the appeal of the latest model from this brand.
2016 Audi A3 Cabriolet
When you think 'convertible', this would be the standard model that most individuals would imagine. Super stylish and classically designed, the 2016 Audi A3 Cabriolet by Audi is the ultimate for convertible purchasers wanting a quintessentially sporty vehicle. The start-stop system this model flaunts is a nifty way to help reduce fuel consumption and its lightweight technology ensures a smoother drive with a dependable structure. Further, LED technology in this vehicle has long service life and consumes significantly less energy than conventional bulbs.
SUBSCRIBE TO OUR NEWSLETTER
Subscribe to our mailing list and get interesting stuff and updates to your email inbox.