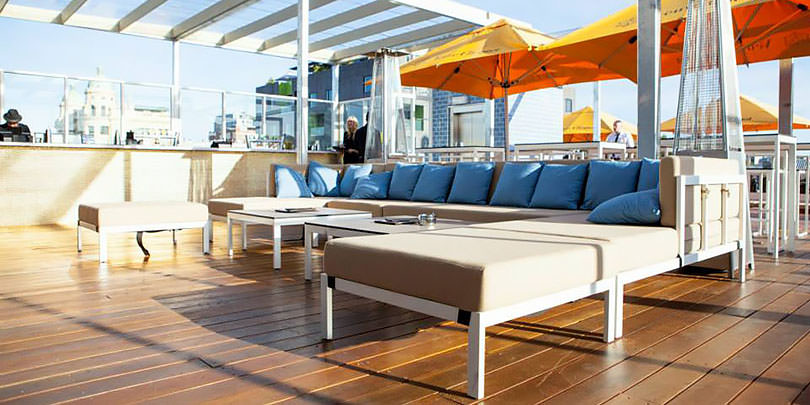 To jointly celebrate the onset of summer, this marvellous season of joy, and the recent completion of all refurbishment at The Emerson, Rick Molinsky, Senior Client Manager at Dig and Fish, threw a Sunset Soirée on The Emerson's glamorous rooftop terrace.
The Emerson, the glittering new hub of haute entertainment, stands like a beacon in the midst of Commercial Road, Prahran. Though many will remember the venue's former guises, in its current incarnation as the Emerson, one will find themselves transported into a magical world of luxury…..luxury…luxury….where troubles are best left at the door. Be mesmerized by installation like glistening custom designed chandeliers, a sweeping staircase, comfortable lounges and booths. The entire place has been designed to keep you dear reader and patron, comfortable and in the lap of luxury.
Back to Molinsky's Sunset Soirée which was held on the rooftop terrace, a scene was set akin to attending a glamours night out in the South of France. Molinksky, a well renowned journalist himself, has amongst his friends, a coterie of Melbourne's uber beautiful social types and in support of both venue and host, these impressive luminary friends – near 100 or so- gathered bountiful in their jubilation and well wishes for success of the venue.
Amongst the luminaries that attended, renowned DJ Grant Smilie, Bo Phillips, Lydia Schiavello -soon to be star of upcoming reality show, 'The Real Housewives of Melbourne', television personality Helen Kapalos, Steve and Ineke Carey, polo player and key driver of the Polo in the City franchise Janek Gazecki with partner Natalie Decorte. All seemed ebullient and convivially mingled with each other and other attendees.
The PR and fashion industries were equally well represented with the appearance of Kate Keane of PR firm Kate & Co, milliner Richard Nylon, designers Gwendolynne Burkin and Yeojin Bae, Dasha and Colin Gold of TheTrendspotter, publicist Helen Reizer, Cathy Baker of Profile Talent and designer at Pacific Brands Roger Grinstead.
Still others of equal social prowess attended, evidently enjoying the Veuve Clicquot and other libations that freely flowed. Basking in the evident mirth were Annie Clemenger, Mark Tucker, Drew Ballmaine, Bettina Petrone, Gavan Burgess, Laurent Perrier's Alan Nelson, DQ Vodka's Carlos Sala and David Cook amongst others.
A night of memorable and triumphant jubilation where the glittering guests shone as brightly as the venue, The Emerson, itself did.
To hosts and the team at The Emerson, our gratitude for the gracious hospitality and a loud HUZZAH towards continued success.
The Emerson is located at 143 – 145 Commercial Road, Prahran.
Visit The Emerson for more information.
SUBSCRIBE TO OUR NEWSLETTER
Subscribe to our mailing list and get interesting stuff and updates to your email inbox.