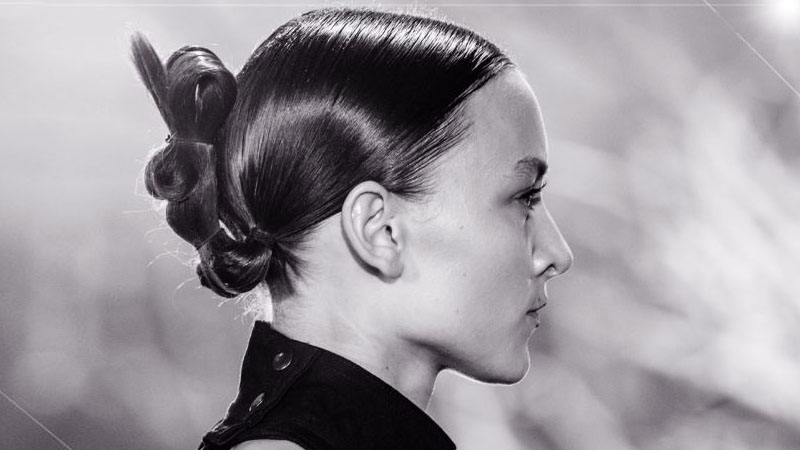 Brought to you by Redken.
In part one of The Best Hairstyles to Copy from MBFWA 2016 we brought you three of the best hairstyles from Mercedes-Benz Fashion Week Australia and showed you how to recreate them. The 'Tough Girl', 'Neo Grunge' and 'Crystal Galaxy' runway looks, created by Redken, offered tough glamour at its best. In this part, talented Redken Hair Directors, Richard Kavanagh and Alan White, reveal their tips and tricks for creating three more of the best runway hairstyles. Whether you want to channel a Geisha, tackle the androgyny trend or sweat it out in an Indian summer, these exotically modern looks will have you inspired and runway-ready in no time.
Frayed Fluidity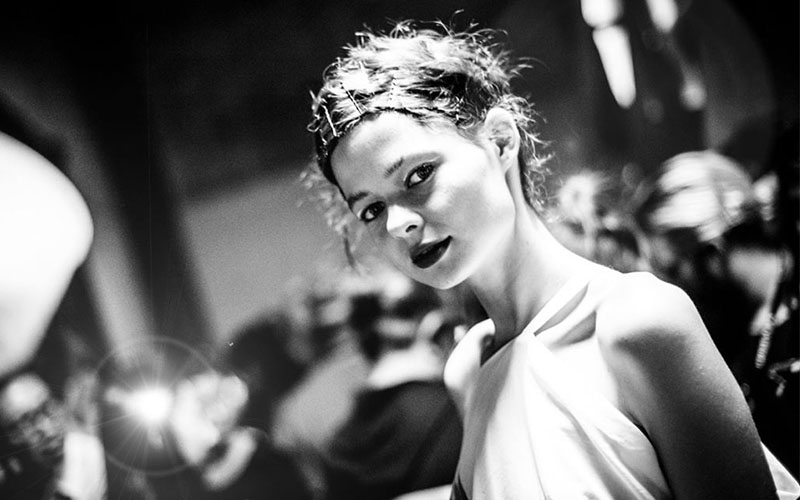 Diversity and androgyny were key themes for the Akira Resort '16/'17 show. Both female and male models took to the runway to showcase the new collection from the talented designer. Gender fluidity was reflected in designs in the form of wide leg pants, tunics and loose shirts while cultural diversity took place in Akira's traditional East-meets-West aesthetic.  These notions were also reflected in the "Frayed Fluidity" hairstyle that was created by Redken Hair Director Richard Kavanagh for the show. The "genderless style" wrapped closely around the heads of models to seemingly have no beginning or end. Bobby pins offered an exposed structure while loose strands and a frayed texture hinted at fragility.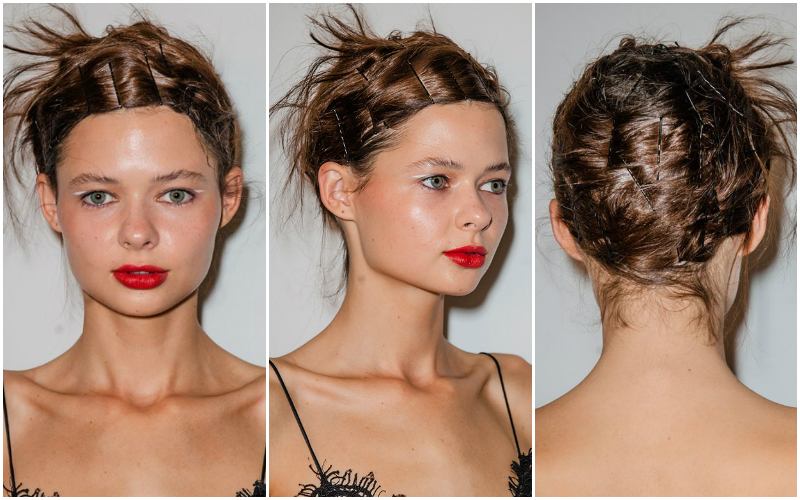 How to Create the Look
1. Prepare hair for styling by applying POWDER GRIP 03 and PILLOW PROOF Two Day Extender Dry Shampoo.
2. Use hands to sweep hair in a circular motion and secure tightly with small bobby pins.
3. Gently pull then ends of loose strands to create a subtle fraying effect.
4. Secure the style, without adding unnecessary crunch, by misting hair with new TRIPLE TAKE 32 Extreme High-Hold Hairspray.
Indian Summer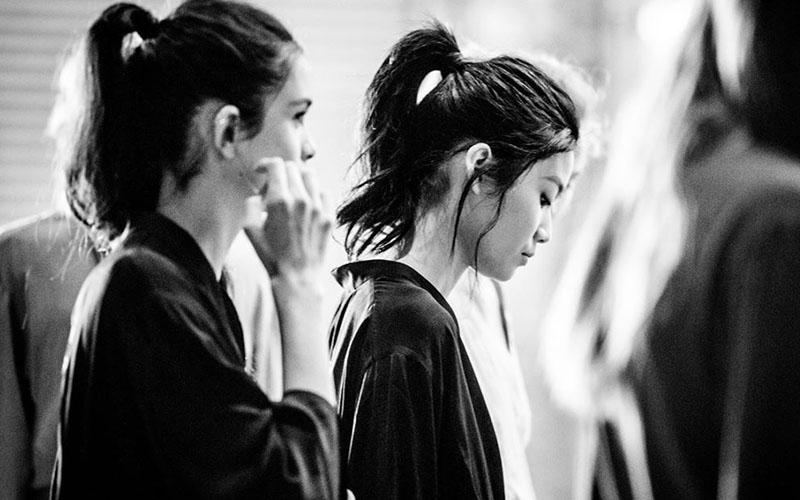 The Bec & Bridge Resort '17 runway was a perfect celebration of an Indian summer. All the show's elements worked together to transport viewers to a balmy night in a far-flung destination. The dreamy collection, created by designers Becky Cooper and Bridget Yorston, was feminine, exotic and effortlessly chic. Models in swimwear, separates, and dresses made from light, flowing fabrics glided down a runway decorated with Indian chalk art.  Their hair channelled the raw energy and sensual mood of the show in an "Indian Summer" high ponytail style. Created by Redken Hair Director Alan White, the windswept look featured "effortless, undone texture and movement". The "ethereal, feminine mood" of the style also worked to bring the show's elements seamlessly together.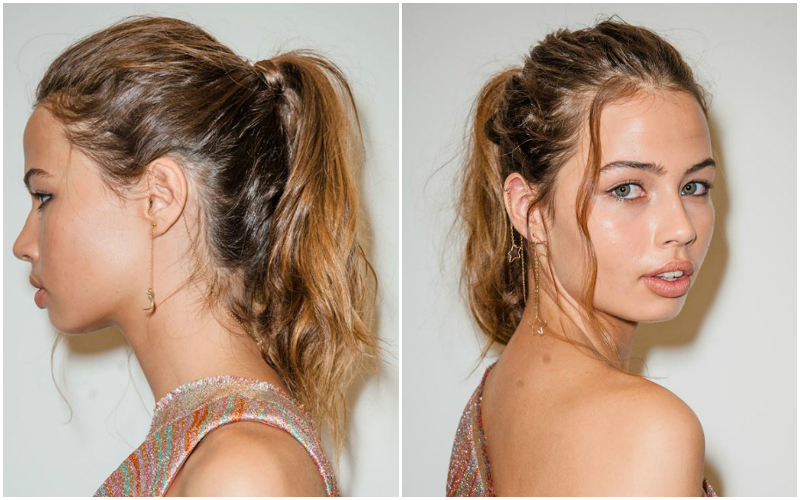 How to Create the Look
1. Apply GUTS 10 Volume Spray Foam and ROOTFUL 06 Root Lifting Spray to clean, towel-dried hair. Blow-dry hair, using hands instead of a brush, by following the natural shape of the hair to create natural texture and flyaways at the hairline.
2. Complete the final moments of blow-drying with a round bristle brush to create soft movement and add polish.
3. Enhance hair's natural texture by creating kinks, bumps and dents with a medium-sized curling tong.
4. Add moisture and subtle sheen to hair by applying a few drops of DIAMOND OIL Shatterproof Shine combined with SATINWEAR 02 Prepping Blow-Dry Lotion at a ratio of one to three.
5. In sections, apply WIND BLOWN 05 Dry Finishing Spray to roots and mid-lengths. Blow-dry to enhance texture and amplify movement.
6. Loosely gather hair into a high ponytail just below the crown, leaving some pieces loose. Secure with a bungee elastic.
7. Finish the look by adding a windswept allure with WIND BLOWN 05 Dry Finishing Spray.
Geisha Echoes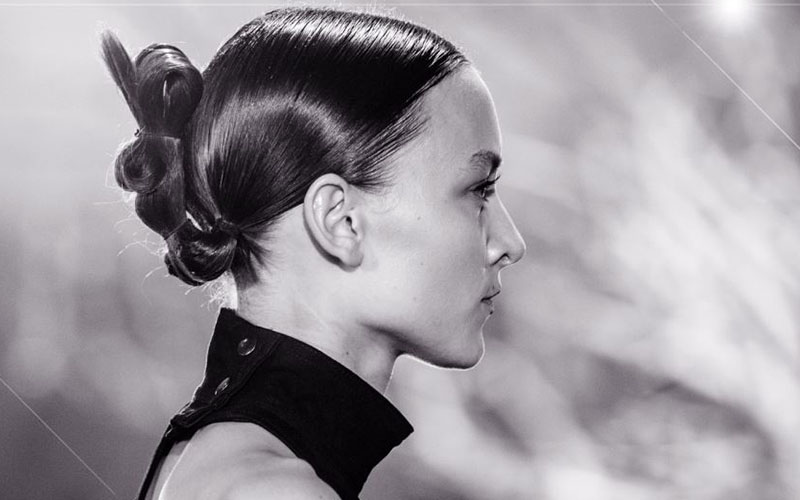 Japanese influences were on show at the Jennifer Kate runway this MBFWA. Bold reds were injected into a palette of mostly muted and neutral block colours while delicate, hand-painted, cherry blossoms adorned garments.  A tough sports-like vibe was juxtaposed with a poised femininity in designs turning models into a representation of the modern "strong but soft" woman. Redken Hair Director, Richard Kavanagh, echoed this sentiment with a Geisha-inspired chignon hairstyle for the show. Called "Geisha Echoes", the bespoke style is sleek and full of shine. The unique shape of the bun creates a sense of art and beauty while the slicked-back front brands the look with a sharp confidence.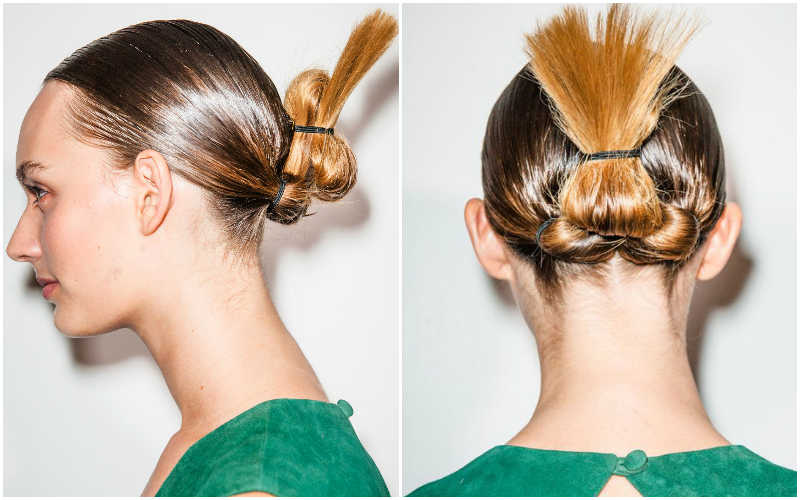 How to Create the Look
1. Begin by parting slightly damp hair in the middle. Create two pigtails at the nape of the neck and secure. Apply SHORT SCULPT 19 High-Hold Texturizing Gel to add extra shine and control.
2. Apply DIAMOND OIL Shatterproof Shine sparingly to mid-lengths and end before straightening hair with a flat iron.
3. Tie pigtails together and fold hair into a bundle, securing with another elastic and leaving ends loose. Use one bobby pin to secure the bundle to the back of the head.
4. Complete the look and add shine by spraying hair with both FASHION WORK 12 Versatile Working Hairspray and  TRIPLE TAKE 32 Extreme High-Hold Hairspray.
SUBSCRIBE TO OUR NEWSLETTER
Subscribe to our mailing list and get interesting stuff and updates to your email inbox.