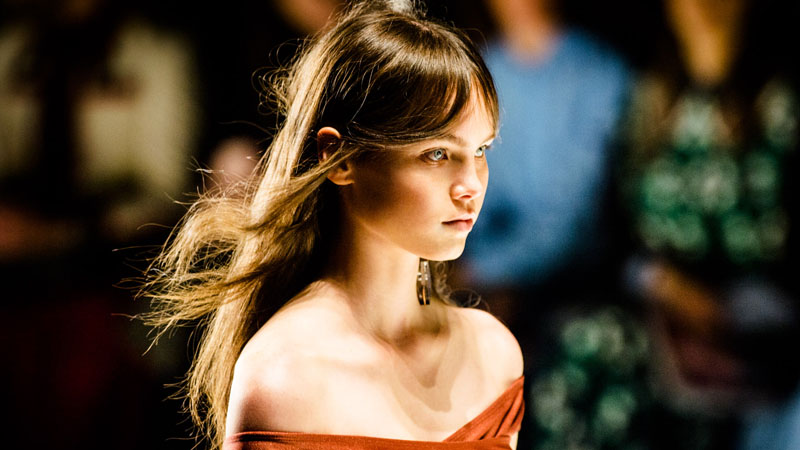 When you're stuck in a style rut, there's no better place to look for inspiration than fashion week. True for both fashion and hair, runways provide the best sneak peeks of the trends which are about to become huge. While you may have to wait months for the clothes, nothing is stopping you from having runway-worthy hair right now. Whether you like the tough and grunge looks of Ginger and Smart and Dion Lee or want to add some Swarovski sparkle, the Redken Hair Directors can help you recreate the best hairstyles from Mercedes-Benz Fashion Week Australia. Follow these easy tips and tricks by Richard Kavanagh, Jon Pulitano and Philip Barwick, and you'll soon be creating fashion-forward hair in your bathroom.
1. Tough Girl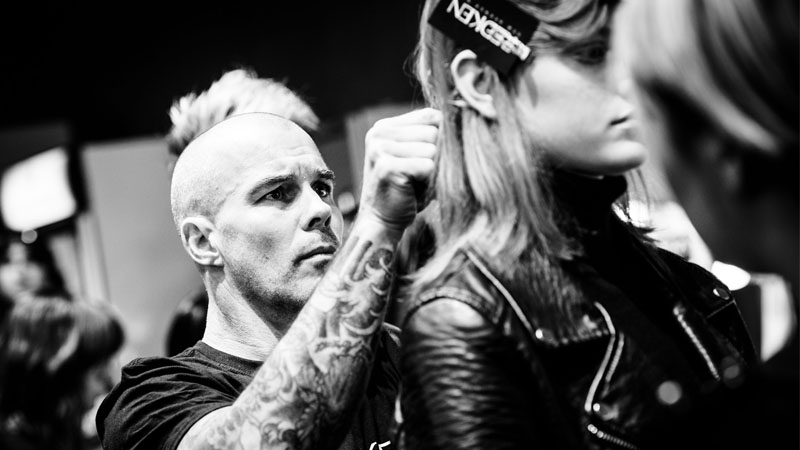 Ginger and Smart's Resort '17 collection, which was fittingly titled 'Voyager', debuted an aesthetic which brought together a reimagined bohemian, "global wanderer" style with practical design. Even the hair for the show undertook a journey as Redken Hair Director, Richard Kavanagh, channelled a "distinctly British" style for his "Tough Girl" look. Featuring '70s "suede-head"influences, models' hair paralleled the label's designs with interesting texture and an effortlessly cool characteristic. A sense of rebellious independence was put forth as hair mimicked design in the way it was draped, wrapped, and even sewn to create a relaxed silhouette with added movement. While hair looked to the past for inspiration, designs were kept strictly in the present with subtle sports detailing.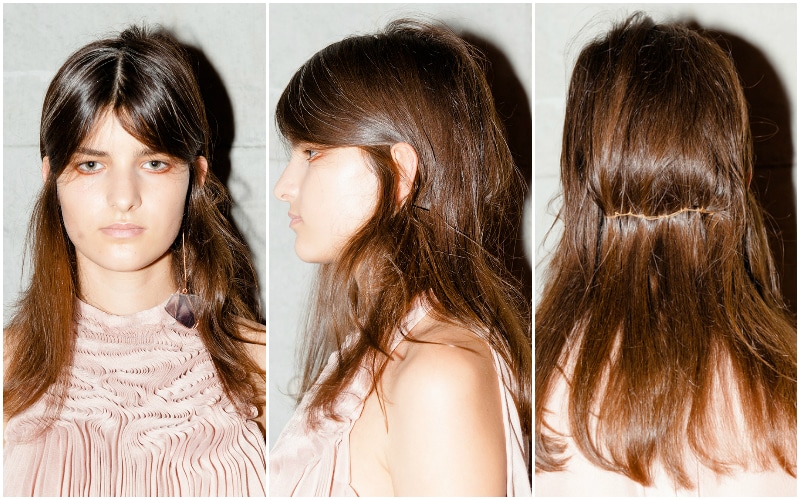 How to Create the Look
1. Add volume to clean hair by lightly spraying ROOTFUL 06 Root Lifting Spray from roots to ends.
2. Blow-dry hair using a medium round-barrel brush.
3. Securely stitch a section of hair low at the back of the head by using a blunt sewing needle and cotton thread.
4. Use hands to push the front of the hair down and out from the middle part, tucking top strands behind ears.
5. Secure hair with a mist of FASHION WORK 12 Versatile Working Hairspray.
2. Neo Grunge
Dion Lee's Resort '17 collection proved once again the power of a refined brand aesthetic in today's fashion world. The clean cut lines and architectural silhouettes which the brand has become known were well represented while themes and details were reimagined. The latest instalment from the brand provided a lesson in what happens when swimwear meets deconstructed suiting. The result was sleek fabrics, waterfalls of Swarovski crystals, and wet-look "Neo Grunge" hair. Created by Redken Hair Director, Jon Pulitano, the "Neo Grunge" hairstyle flawlessly complimented Lee's designs with a polished yet edgy style. The undone ponytail was inspired by grunge but modernised with "volume, separation and subtle sheen".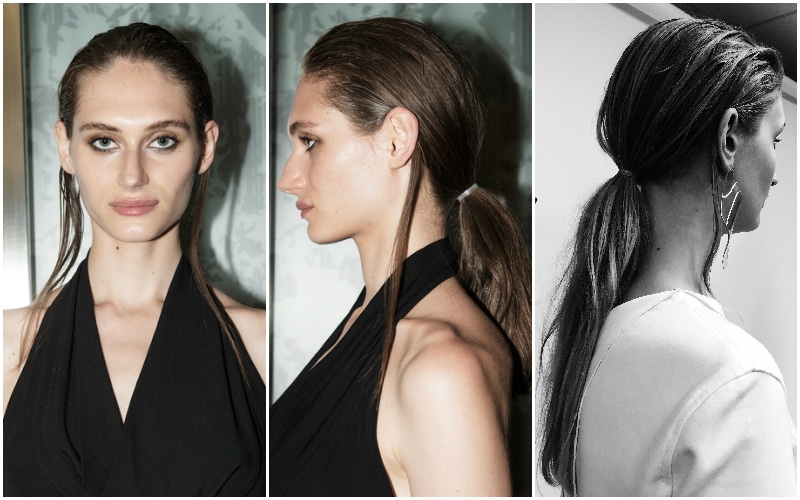 How to Create the Look
1. Generously apply ROOTFUL 06 Root Lifting Spray to the roots of hair and blow-dry. Use hands while drying, to create height and texture at the top and keep sides sleek.
2. Wet hair with FASHION WAVES 07 Sea Salt Spray and dry again using a blow-dryer and hands.
3. At the back, separate the underneath of hair from the top by using the tips of the ears as a guideline. Apply SHAPE FACTOR 22 Sculpting Cream-Paste to the roots of the bottom section.
4. Continue to apply the paste in 1cm sections of hair until the front hairline.
5. Lightly smooth hair from roots to mid-length using a large tong before misting hair with FASHION WAVES 07 Sea Salt Spray.
6. Sparingly apply ALL SOFT Argan-6 Oil to the ends and tie hair into a low ponytail leaving stray sections to tuck behind ears. Finish the look with FASHION WORK 12 Versatile Working Hairspray.
3. Crystal Galaxy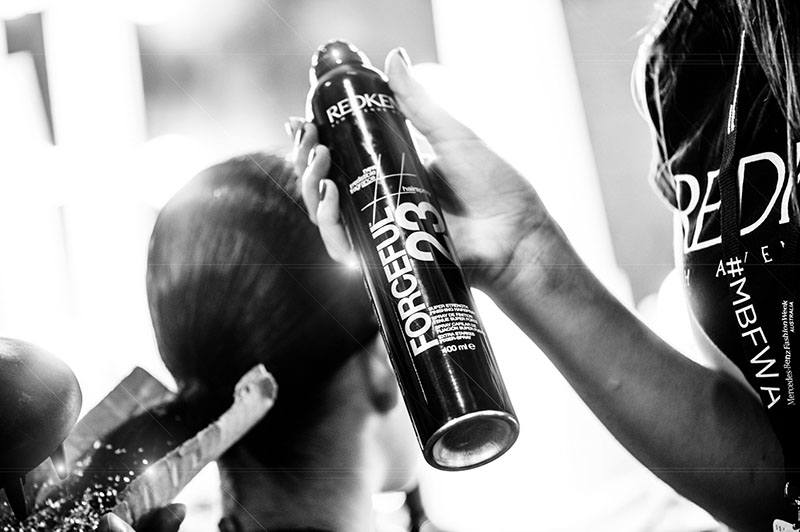 Models appeared as modern-day Cleopatra's at the Swarovski runway for MBFWA 2016. With thick, black, winged eyeliner and an abundance of decadent jewels, they looked set to step off the catwalk and start ruling an empire without batting an eye. Glamour and power were coinciding themes for the show which showcased the jeweller's latest crystal creations. Glimmering under spotlights in the dark show space was not only the jewels but also the model's hair. Named "Crystal Galaxy", the hairstyle was inspired by the brand's "opulent, multi-faceted crystals" and infused with glitter. Created by Redken Hair Director, Philip Barwick, the glamorous ponytail hairstyle gleamed, sparkled and shined as models slinked down the runway.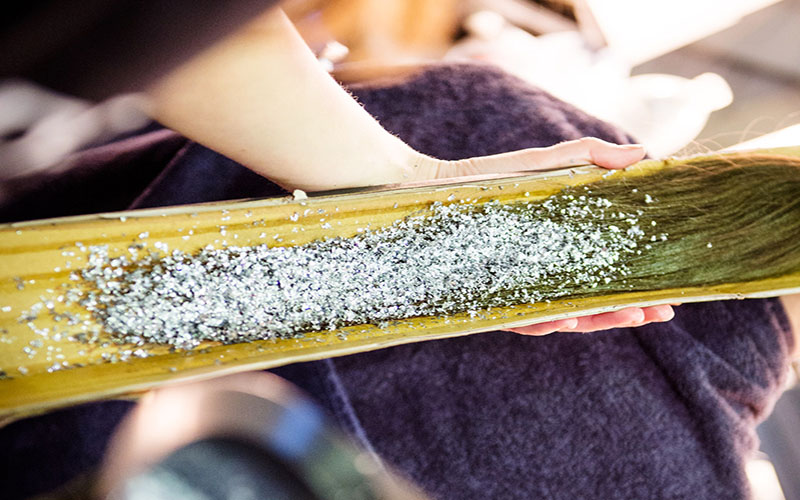 How to Create the Look
1. Prep hair by applying PILLOW PROOF Express Blow Dry Primer to clean, dry hair and blow-drying hair toward the crown.
2. Separate a tennis ball size section of hair at the crown and apply RFM Stand Tough Extreme Gel to roots.
3. Use a tail comb to direct all the hair to the crown and tie with an elastic. This will create a small ponytail to serve as an anchor point for hair as you continue applying gel and slicking tightly.
3. Tie off the final ponytail and wrap a ribbon of hair around the elastic. Spray with FORCEFUL 23 Super Strength Hairspray and blow-dry for lasting hold.
4. Flat iron the ponytail before applying hairspray to its length.
5. Apply glitter to the ponytail and set using heat from a blow-dryer with a diffuser. Repeat this step until the desired outcome is reached.
SUBSCRIBE TO OUR NEWSLETTER
Subscribe to our mailing list and get interesting stuff and updates to your email inbox.