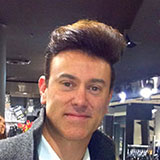 Roger Grinstead has always been a little different when it comes to individual expression. Growing up in a mostly academic household Roger was left for himself to discover the wonderful world of art and design.
Having worked in the fashion industry for all of his career, including owning and operating his own high-end fashion brand, Roger has a formidable fashion background. Throughout the years Roger's design work has appeared in top magazines such as Harper's Bazaar, Cleo, Cosmo and Russh.
Roger's pursuit of style has taken him all over the world and he continues to travel to discover emerging trends at fashion weeks and to develop his own creative interests.
LATEST AUTHOR ARTICLES