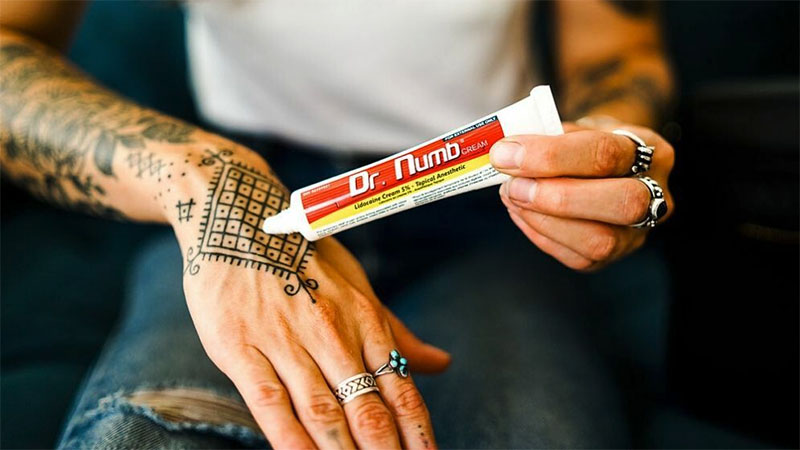 The thought of getting a tattoo can be daunting, especially regarding the pain level. There's no secret about it – tattoos can hurt. This is especially true in certain body parts, such as the feet, ribcage, stomach, or fingers. But there's good news. Numbing creams can help reduce the discomfort felt during the tattoo process and assist in relaxing during the entire inking procedure. Unsure of the right cream to get? Well, we've got you covered (literally). Here are the best tattoo numbing creams for a pain-free tattoo experience.

Best Tattoo Numbing Creams
1. Dr. Numb 5% Lidocaine Numbing Cream
Tattoos affect everyone differently, from small ink on your ankle to an entire piece on your back. Some feel the pain more than others, so if you expect to feel pain or tingling when you get to the chair, this is the cream for you. It settles into the skin without leaving oily residue, preventing any issues with your tattoo artist. In as little as 15 minutes, the area you apply the cream and the surrounding areas will feel numb enough to prevent pain. Plus, it lasts up to four hours, which is perfect for small or larger designs.
2. Zensa Numbing Cream
If you are looking for the perfect all-rounder for numbing creams, Zensa Numbing Cream is an excellent choice. This FDA-approved product has a vegan and cruelty-free formula with 5% lidocaine and vitamin E that helps reduce pain and is hypoallergenic and suitable for use around the eye area. Plus, no blood constrictors mean your tattoo ink color won't fade or shift over time! Depending on how much coverage is needed during application (which can be re-applied) users receive 2 – 8 hours of relief from the discomfort associated with getting tattoos done.

3. Base Laboratories Lidocaine Numbing Cream
If you want to get a tattoo, but the numbing sprays aren't doing the trick, this cream from Base Laboratories is the next best thing. It features 5% lidocaine, hemp oil, and menthol to reduce pain and relax the skin during the tattoo process. It takes only 15 to 30 minutes to take effect, and you can apply after-care lotion and goo afterward without issue. It can also help the freshly-inked skin recover afterward, as the ingredients can reduce inflammation. While you can still feel the needle, it can dramatically help stop the pain.

4. Deeveeant Numbing Cream
For a premium numbing cream that roundest great numbing power, you can't go past Deeveeant. With 4% lidocaine, it provides effective relief against sharp needles during a tattoo session and lasts for roughly two hours. This is a non-sticky and non-oil recipe that leaves the skin feeling soft and ready to ink – plus, it won't dry on the surface, so it will prevent any issues while the artist does their magic. This cream takes approximately 30 minutes to take effect, but you should start to feel the sensation closer to an hour.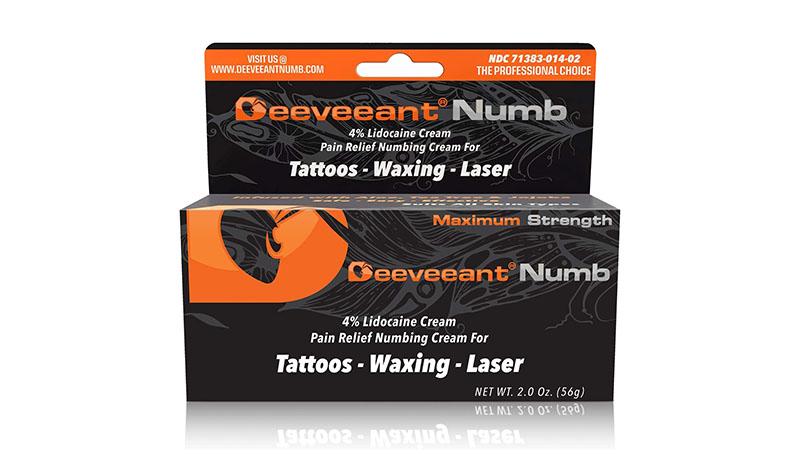 5. Ebanel 5% Lidocaine Numbing Cream
If you need pain relief fast, this cream from Ebanel is a perfect choice. It hits in just five minutes, peaking after 25 minutes and providing an hour of high-strength soothing for the skin. This is best suited for those getting a smaller piece or touch-ups, as it lasts for a shorter amount of time but really packs a punch. For maximum results, apply it before, during, and after the procedure.
6. TKTX 10% Lidocaine Tattoo Numbing Cream
Most numbing creams provide pain relief for a few hours, but few actually enhance the color of your tattoo. That's where TKTX comes in – it offers the same effect as the other creams but creates a brighter tattoo result. For best results, you need to make sure you've removed any hair and exfoliated the area prior to applying. You will start to feel the effect in 25 minutes, but it takes approximately 50-60 minutes to reach its peak, with the numbing feeling lasting up to five hours.
BUY: Amazon BUY: Numbing Cream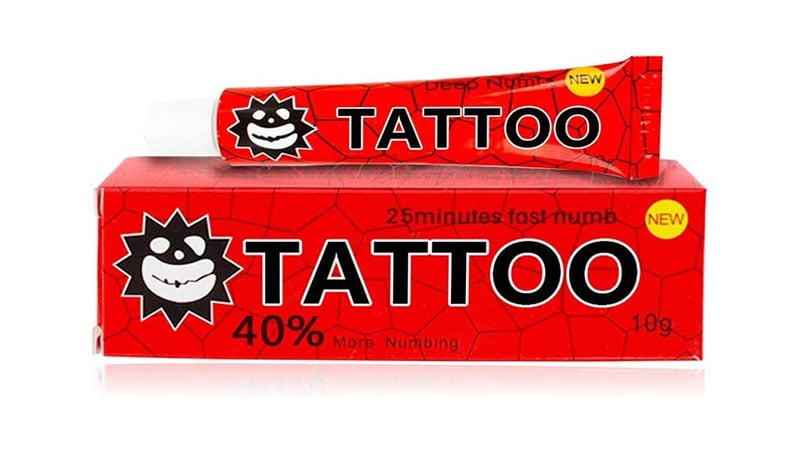 7. Numbskin Numbing Cream
Tattoos can be painful and take a long time to complete. This numbing cream makes the process less painful. This cream features 5% lidocaine, which prevents the feeling of pain while getting inked, and can last up to four hours. This is the perfect choice if you are getting a piece of art on your hands or feet, which are famously the body's most sensitive parts. The numbing takes approximately 15 minutes to take effect, so apply it a short time before you begin the process for maximum impact.
8. Uber Numb Tattoo Numbing Cream
Thanks to the high-strength 5% lidocaine, you can say goodbye to pain as you get tattooed. This ultra-strong formula is safe and effective, leaving the skin feeling soft and blocking the nerves for up to an hour. It takes only half an hour to take effect, so we recommend you apply it shortly before you arrive at your appointment. It's fast-absorbing and doesn't leave behind any sticky residue, which will help the tattoo artist as they work their magic.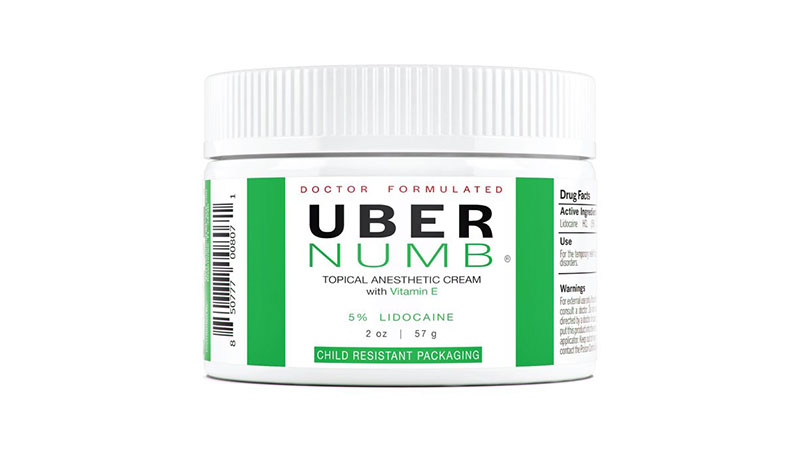 9. Bengay Tattoo Numbing Cream
When you're getting your first piece, this is the perfect cream to get you through the pain. Your first tattoo is a brand-new experience, so you will want to remember it fondly. It features 4% lidocaine, which is a high-strength topical treatment that prevents inflammation and creates a numbing effect. You can apply it anywhere on the body, and it doesn't leave a sticky or oily residue, which will help the tattoo artist create the masterpiece without hesitation.
10. BCOT Pain Reducing Numbing Cream
This is the pain-reducing cream for tattoo sessions where you need serious numbing. It takes effect in 20 minutes and relieves the pain for up to four hours, depending on the amount you use. This is the perfect companion if you get your first round of ink, something larger, or a cover-up. The BCOT cream is softening, so it reduces swelling and leaves you feeling relaxed, and soothes your skin. This is the perfect option if you require a bit of extra strength, as it is 40% more effective than traditional creams.
How do Tattoo Numbing Creams Work?
Most tattoo numbing creams feature lidocaine, temporarily blocking nerve endings from reaching the brain. These feelings usually subside after an hour, but some creams with higher ingredient levels can last up to four hours. Some other creams feature benzocaine, a topical anesthetic that prevents feelings of pain or discomfort for periods of time. However, it is far more common to use lidocaine as a relief when getting a tattoo, as it is more effective for sensitive body areas.
How to Use Tattoo Numbing Creams?
As with a tattoo application, you must ensure the area is free from hair and dirt before applying numbing cream. Clean the areas with an alcohol wipe to remove excess dirt. For a more potent effect, use a warm compress on the skin before applying the cream, as it softens the skin and allows for better absorption. Apply the cream 20-30 minutes before you begin the tattoo process for the best results.

Tattoo Numbing Cream Buying Guide
Before you take the plunge and purchase numbing cream, you should do some research first. Each formula features different ingredients, some of which offer softer skin, enhance the tattoo's color, and have longer-lasting effectiveness. We've listed some vital things you should check before buying the cream and how it can affect your skin.

Strength
You can find many different types of numbing creams on the market, but they usually have the same amount of lidocaine. Typically, numbing creams with lidocaine will be anywhere from 4% to 5%. This is the safest level of numbing power without needing a prescription and is safe for the skin. However, you can find other creams with ingredients such as tea tree or eucalyptus oil, which can further reduce feelings of pain.

Formula
While different tattoo numbing creams claim they have unique formulas, many contain the same recipe. The most effective formula includes lidocaine (anywhere from 4% to 5%), which locks the nerve endings and stops the pain receptors from reaching your brain. From there, you can find options with skin-softening ingredients, such as jojoba oil, tea tree, or eucalyptus – these further reduce inflammation and keep the surface feeling soft and supple. Be sure to opt for a cream rather than an ointment, as it will absorb better, thus giving your tattoo artist the perfect texture to create the ink.
Effectiveness
Tattoo numbing creams are generally effective. However, this depends on a few key things. First, if you want to find a stronger cream than others, opt for something with a higher percentage of lidocaine. The maximum strength for over-the-counter creams is 5%, and the cream usually takes 20-40 minutes to absorb and kick in. Generally, this feeling will last for a few hours, reaching its peak at an hour. You can re-apply it every few hours if needed. However, most will recommend you not apply it any more than three times in a single sitting. It is important to note that you will still be able to feel the tattoo pen while it's being used, but this cream can reduce immediate pain.
Tattoo Numbing Creams FAQs
How long does tattoo numbing cream last?
Most tattoo numbing creams reach their peak an hour after applying, then begin to lose their potency. However, some numbing creams can last up to five hours, which is great for those getting larger pieces done. 
What is the strongest tattoo numbing cream?
The strongest numbing cream for tattoos will feature 5% lidocaine as its main ingredient. This is the strongest percentage available over the counter, and will cause a numbing effect on the skin roughly 20 minutes after application. You can also find options with eucalyptus oil, which can aid in reducing swelling and pain in the affected area. 
Is it okay to use numbing cream before a tattoo?
It is generally safe and effective to use a numbing cream before you get a tattoo. If applied 20-30 minutes before the tattoo process begins, it will have absorbed into the skin, therefore not affecting the outcome of the ink. However, some artists prefer to work on skin that doesn't have this texture, so it's best to inform them prior to beginning the process. 
SUBSCRIBE TO OUR NEWSLETTER
Subscribe to our mailing list and get interesting stuff and updates to your email inbox.