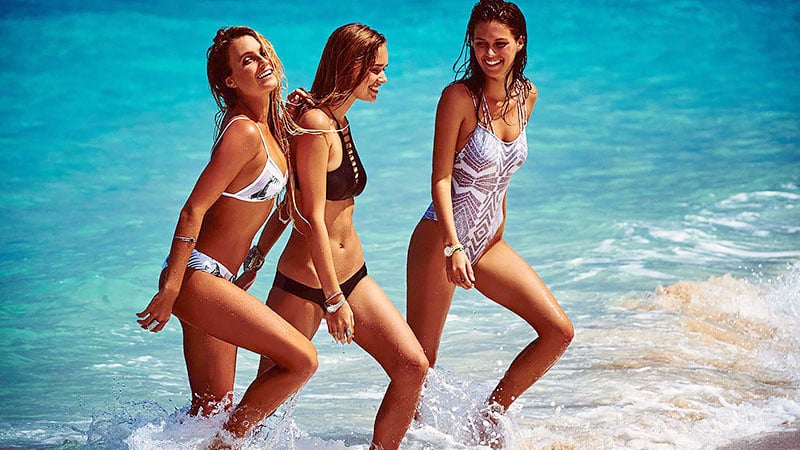 With summer just around the corner, it's easy to feel the excitement in the air. Long days spent at the beach, lounging on the sand and frolicking in the water, are about to become a reality once again, and we can't wait. The feel of the sun on our skin (appropriately slathered in sunscreen, of course) will be here to invigorate us once again as we strut about in our swimwear. But wait a second! You weren't planning on wearing those same old bikinis again, were you? Not this summer! This summer, it's time to up your swimwear game and try these sexy new styles. From high-rise, one-piece designs, and sheer panelling, to cool cut-outs, wrap-around styles, and lace-up looks, this season is all about flashing some skin. Don't worry, though, if you're into more subdued styles, tackle the sexy vibe with high-waisted bottoms and retro, pin-up looks, or try out a chic, sports style with crop tops and zip-up pieces. Here's how.
1. One-Piece Swimwear with the High-Rise
Maybe it's part of the '90s revival, or maybe it's inspired by the impending film adaptation due to be released next year, but Baywatch-style swimwear is back. Yes, those one-piece suits with the super high, leg-rise are back on our beaches and looking sexier than ever. A favourite amongst the Kardashian-Jenner clan, this style of swimwear is all about showing off your curves. When shopping for one-piece swimmers with a high-rise, look out for classic, block colours and simple patterns and styles. Doing so will allow the unique cut and shape of your swimsuit to take centre stage without having to compete with other details.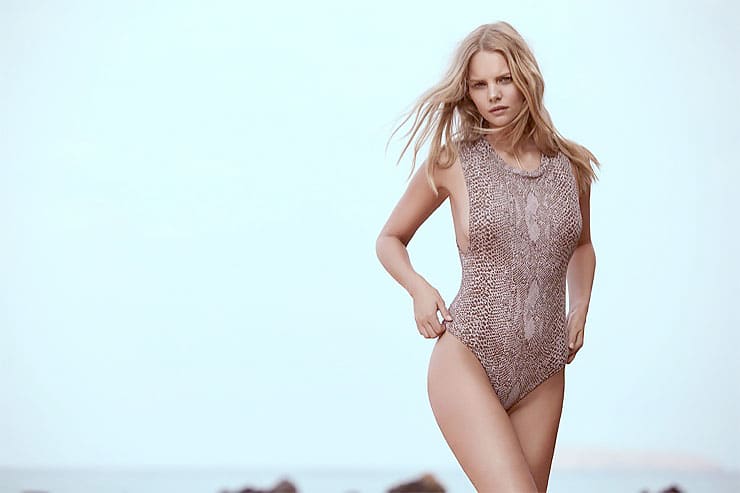 Get The Look
2. High-Waisted Bottoms Swimwear
This season it's all about getting high (fashion wise that is!). If you're not opting for a high-rise swimsuit, how about a high-waisted bikini? Simple, cute and featuring a light, vintage feel, high-waisted bikini bottoms are an essential swimwear style. Ideal for women with straight or "column" shaped bodies, high-waisted bottoms add definition at the waist and help create the appearance of curves at the hips. Likewise, choosing a style with horizontal stripes will also add to this "hourglass" effect. To keep your high-waisted bottoms looking modern, wear them with a simple triangle top, or, if you want to embrace the vintage feel, opt for structured and halter-neck styles.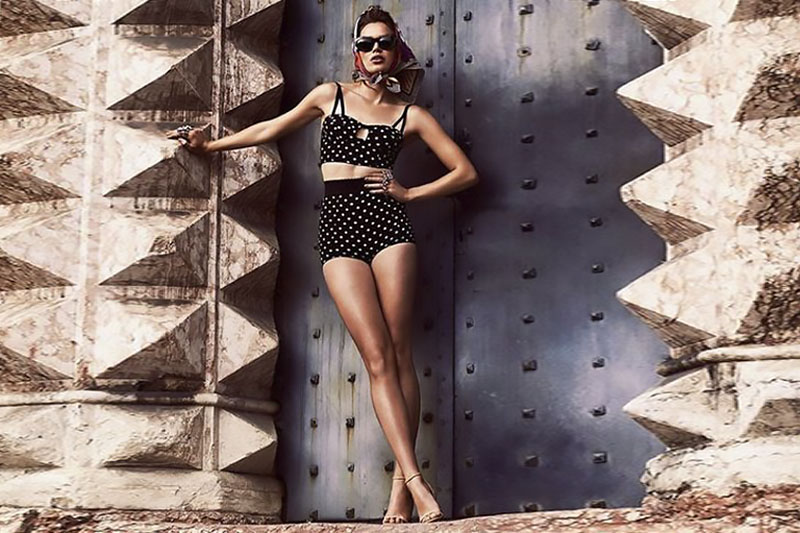 Get The Look
3. Retro Swimwear
Like the vintage style of high-waisted bikini bottoms, all things retro are in at the moment for swimwear. Sexy in a way that's reminiscent of the pin-up girls from the fifties, retro swimwear is the perfect option for the modern, seductive and classy, woman. Chic and a little bit cheeky, retro styles not only look great, they're also fun to wear! When shopping for retro swimwear, keep an eye out for key styles, such as halter-necks and bustier tops. Also, opting for a retro-style print will really complete your look. Polka dots, particularly in a combination of white with black, red or navy, are a perfect choice and look fabulous.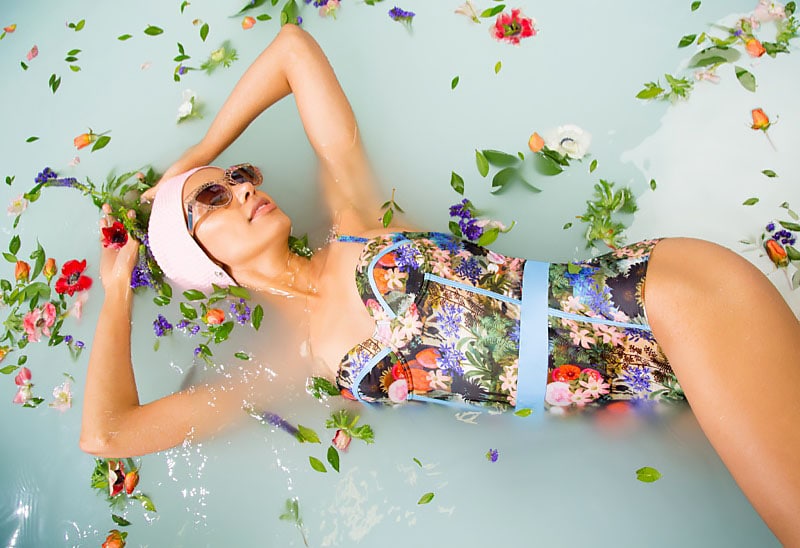 Get The Look
4. Deep V-Neck Swimwear
When it comes to showing off skin, there's nothing more classic than a sexy, deep V neckline. While rocking this style in a top or dress can sometimes feel a bit daunting (especially during the day!) the beach or pool is a safe place to try out the trend. After all, most of us are used to showing more skin in our swimmers anyway! No matter if you have a large or small bust, a deep V-neck cut can still look great, as long as it fits right. The style lends itself particularly well to halter-neck styles of swimwear, but can also work with regular straps. No matter which style you choose, keep an eye out for an extra-low back to really work this look.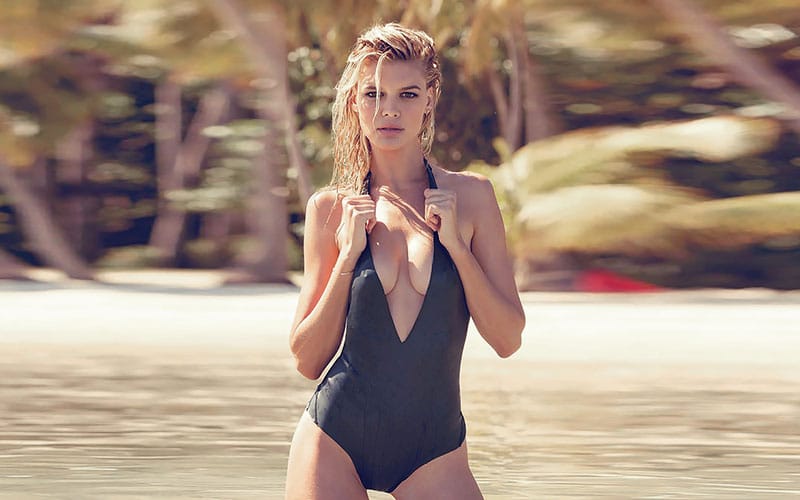 Get The Look
5. Wrap-Around Tops Swimwear
Simple bikinis just won't cut it this summer. If you want to stay cool while getting hot at the beach, you'll need to invest in some special swimwear. One style that we're loving at the moment is wrap-around bikini tops. These chic swimmers have a unique point of difference that we can't get enough of. Their straps wrap around the body at the ribs, creating graphic flashes of skin. While most just wrap around once, some wrap around multiple times for an even more striking look. This modern style looks particularly great in black or dual-toned designs where the straps are a different colour to the cups. If you're feeling extra daring, you can even pick up some wrap-around bottoms to match!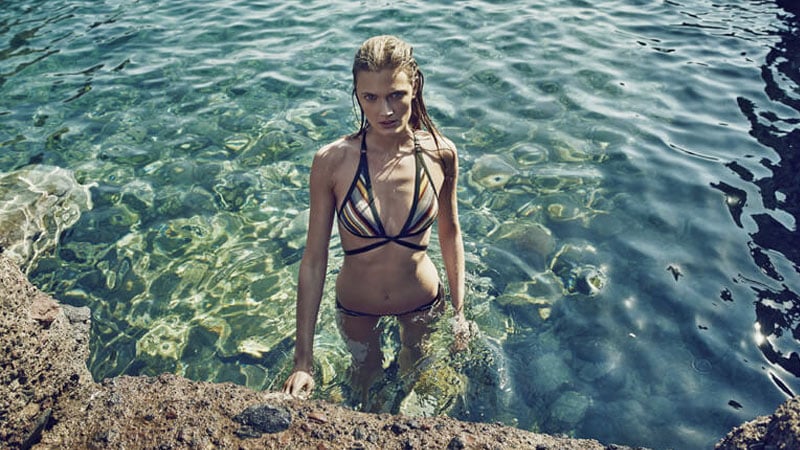 Get The Look
6. Cool Cut-Outs Swimwear
Cut-outs are taken to the next level this season as they're reworked and dialled up. Whether they're featured on one-piece styles, bikinis, or are even used to create monokinis, all manner of cut-outs are cool right now. The best part of this trend is that you can tailor it to your individual style. Like things simple and chic? Opt for a classic black design with simple cut-out shapes, concentrated at the sides. Want to turn up the va-va-voom? Pick a bold red hue and wild design. Lots of cut-outs that wrap all the way around your body is what you're after.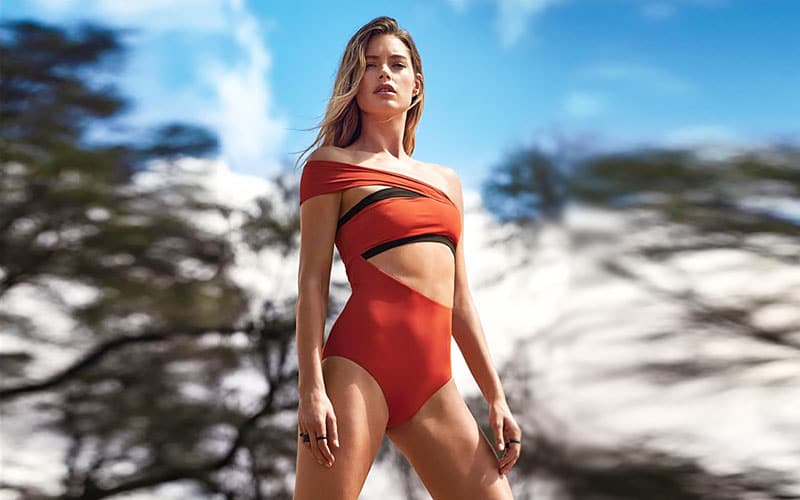 Get The Look
7. Lace-Ups Swimwear
Along with bold cut-outs, lace-ups are also being used to create eye-catching flashes of skin on modern swimwear. Taking swimwear from simple styles into pieces of corsetry, lace-ups are a transformative design detail. The most striking of designs take the laces all the way up the front or side of your swimmers. For a more subtle look, however, you can also opt for bikini styles and versions where the laces are concentrated on smaller areas. Just remember to apply sunscreen when rocking this trend or you'll end up with a line of red diamonds on your body!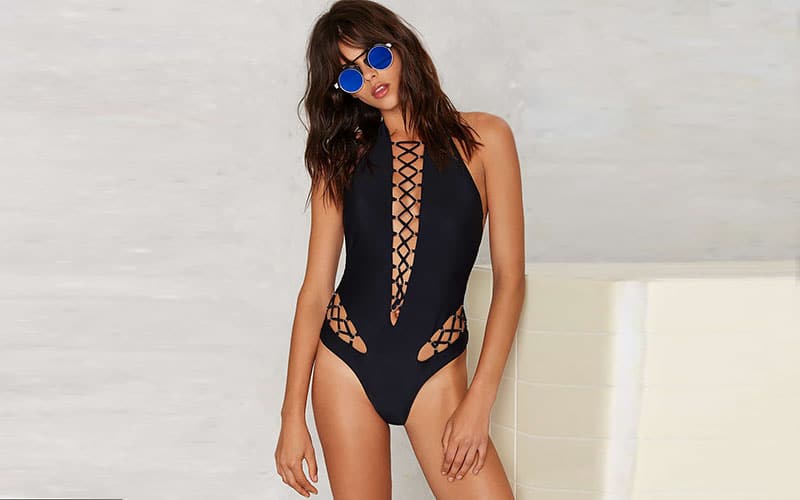 Get The Look
8. Crop Tops Swimwear
While showing off skin is a surefire way to look sexy, covering it up can be sexy too, particularly when it comes to sporty styles. Crop tops have that sexy, sporty vibe and are a great style to add to your swimwear drawer. Although crop tops are considered somewhat revealing when worn on the street, on the beach they are the opposite. Providing coverage and looking very athletic, crop tops are completely cool without trying too hard.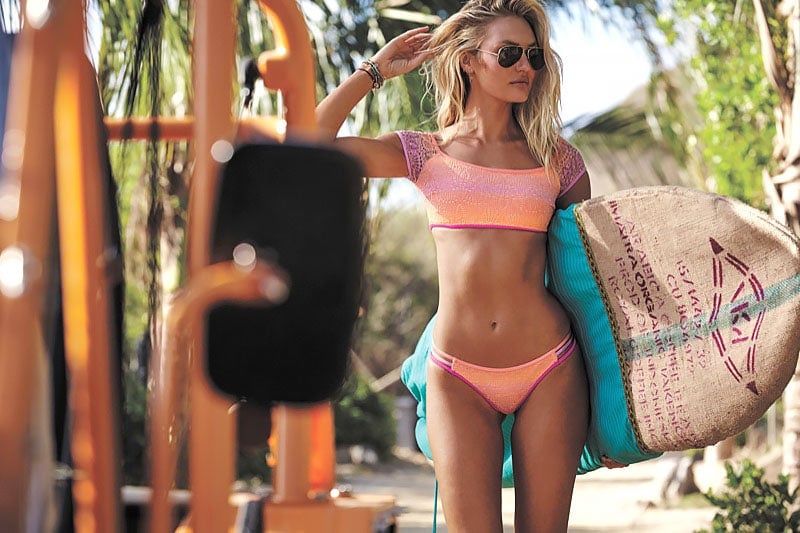 Get The Look
9. Sheer Panelling Swimwear
If you're loving the idea of graphic cut-outs, but are finding the reality a little too dramatic, how about investing in swimwear with sheer panelling? Chic and modern, sheer panelling provides swimwear with the same sexy flash of skin as cut-outs without the feeling of being over-exposed. Featuring a subtle lingerie feel, this trend is feminine and seductive while remaining completely tasteful. It even looks perfectly pretty with lovely, floral designs.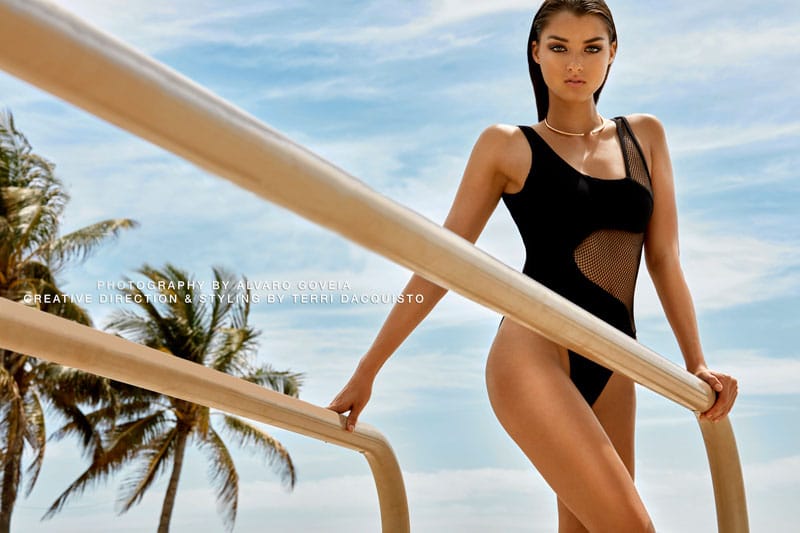 Get The Look
10. Zip-Up Sports Luxe Swimwear
Sports luxe is the trend that just keeps giving. While it's a bit tricky to rock your white sneakers at the beach (hot feet, sand, and what not!), you can still achieve a sleek, sports luxe look when hitting the waves. The answer is chic swimwear with a front zip fastening. Simple, comfortable and utterly fashionable, this stylish look will have you feeling like a sophisticated surfer as soon as you put it on.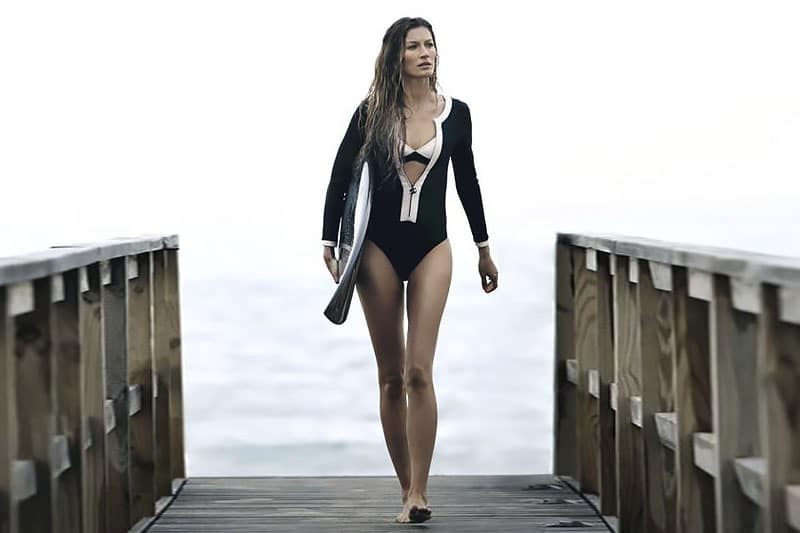 Get The Look
SUBSCRIBE TO OUR NEWSLETTER
Subscribe to our mailing list and get interesting stuff and updates to your email inbox.