Everyone's favourite style crush is Cara Delevigne, but she is not just loved for her style but for her quirky personality!  She makes countless crazy and hilarious faces which captivate her millions of Twitter and Instagram fans, she has an refreshing attitude and has graced countless catwalk shows worldwide. Cara is our style inspiration, and if you haven't heard of her, where have you been hiding?
20-year-old model Cara Delevigne was born in London on the 12th August 1992 and is nicknamed C-Diddy! When asked about her style, C-Diddy stated "I've not a specific style, I mix different looks, maybe my style is relaxed yet chic." Well no one can describe her style better than her; she always looks so comfortable and confident which she cites as being one of the most important things to consider in fashion.
Cara began her modelling career at ASOS before she was snapped up by Burberry in their S/S'11 campaign by legendary Mario Testino which made it evident that Cara was destined to make it in the modelling industry. She is one of the most talked about models in 2012 and now into 2013 she seems to be continuing that trend.
Her fun nature has attracted an impressive social circle, with a list of celebrity best friends that include style icons Rihanna and Rita Ora.
Winning the Model Of The Year award last year (2012) at the British Fashion Awards, she has been the cover girl on numerous magazines, so it is no wonder she has become such a celebrated style icon.
Cara has two sisters, Chloe who takes on the big sister role and it seems that modelling runs in the family as sister beautiful older sister Poppy is also a model/socialite. A girl of many talents Cara beatboxs, plays drums and also starred in a small role in the 2012 film Anna Karenina in the role of Princess Sorokina.
However as impressive as her lists of accolades may be, it is her off-duty style that has made her an icon to thousands. A style that combines her influence and love of hip-hop meets rock n' roll for an effortless edge, a musical influence that she states, "…I like Hip hop, reggae, I love any type of music."
Her tomboy attitude translates into her style and her favourite pieces are a combination of skinny jeans, denim shorts, khaki jackets, boyish beanies and snapbacks which she teams with comfortable shoes: biker boots, sneakers and metallic high-tops worn with bright socks for a splash of colour.
Her playful side is evident in her playful white and black t-shirts either worn plain or with fun logo quotes, plaids, emblazoned hoodies and bunnies (She posted an picture on Instagram of herself wearing it) all worn with an addictive expression and hilarious pose.
Neutral colours are also a Cara favourite; her wardrobe consists of many neutral coloured outfits, white t-shirts, khaki and tan jackets, grey and denim jeans and all black. She has been seen on several occasions wearing a rock n' roll inspired all-black look, super skinny black jeans and leather biker jackets worn with multiple rings, chunky gold chains and backpacks to create effortlessly stylish outfits.
She has a flair for the weird and wacky styles that includes the Jeremy Scott Bart Simpson wool knit which she turned into a big international trend and inspiration from Ozzy Osborne's style with rounded tinted glasses—seen on her at the Vogue Festival.
She has graced high profile campaigns which include Chanel, Burberry and DKNY—including having been signed as the face of quirky label D-Squared. The list continues to include Saint Laurent, Pepe Jeans, YSL beauty and most recently her campaigns extend to Mulberry A/W 2013 and FENDI A/W '13 collections.
The Mulberry A/W '13 campaign was shot by the amazing Tim Walker, in a woodland wonderland theme, where Cara was surrounded by multiple owls and handbags, that were creatively perched in trees.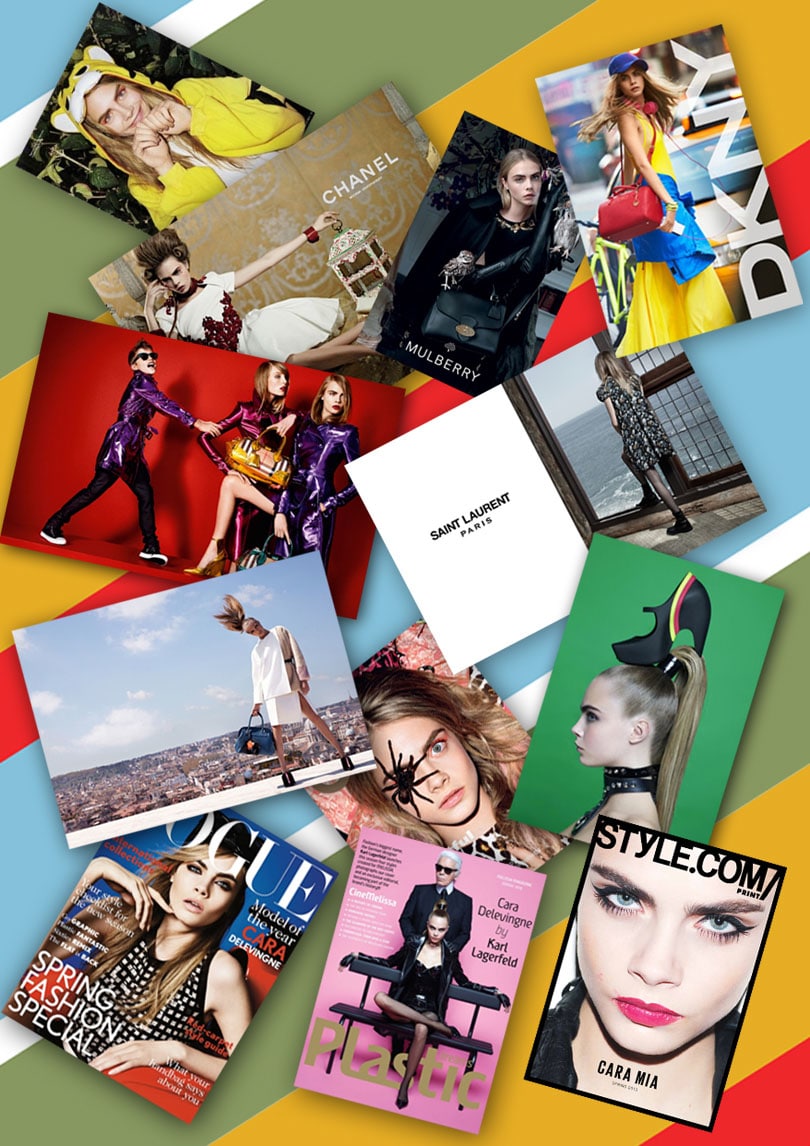 The prestigious A/W '13 FENDI campaign entitled Roman Skyline and shot by none other than Karl Lagerfeld himself. For the campaign Cara and fellow model Saskia De Braw pose in FENDI furs and bright sky scraper heels on a rooftop in Roma.
In September 2012, Cara was featured in almost every single show during the major fashion weeks in the London, Milan, Paris and New York, and she has repeated that pattern again this year—as she has been the biggest trend on the A/W13 catwalks, covering around 40 shows in the biggest fashion capitals of the world.
Where you would have seen her most recently: (if you missed her don't worry, she is here to stay)
New York: Jason Wu, Oscar De La Renta, Rodarte, Rag&Bone, Mark Jacobs, Michael Kors, Derek Lam, Diane Von Furstenberg, Carolina Herrera, Anna Sui, DKNY, Jeremy Scott, Tory Burch, Tommy Hilfiger.
London, Milan: Issa, Topshop Unique, Matthew Williamson, Sister By Sibling, Giles, Mulberry, Burberry, Peter Pilotto, Port 1961, Versace, Fendi, DSquared2, Emilio Pucci, Etro, Iceberg.
Paris: H&M, Saint Laurent, Stella McCartney, Jean Paul Gaultier, Galliano, Vanessa Bruno, Lanvin, Hakaan, Chanel, Louis Vitton.
She has gathered fans all over the world and is going to continue conquering hearts of many more—yet she still does not take her icon status too seriously, all the more reason to love her! That and her amazing eyebrows which are left au natural, making girls feel good about themselves that everything does not have to be perfect.
We look into Cara's casual everyday style for inspirations as she shows us how to wear khaki and leather jackets, fun t-shirts and beanies.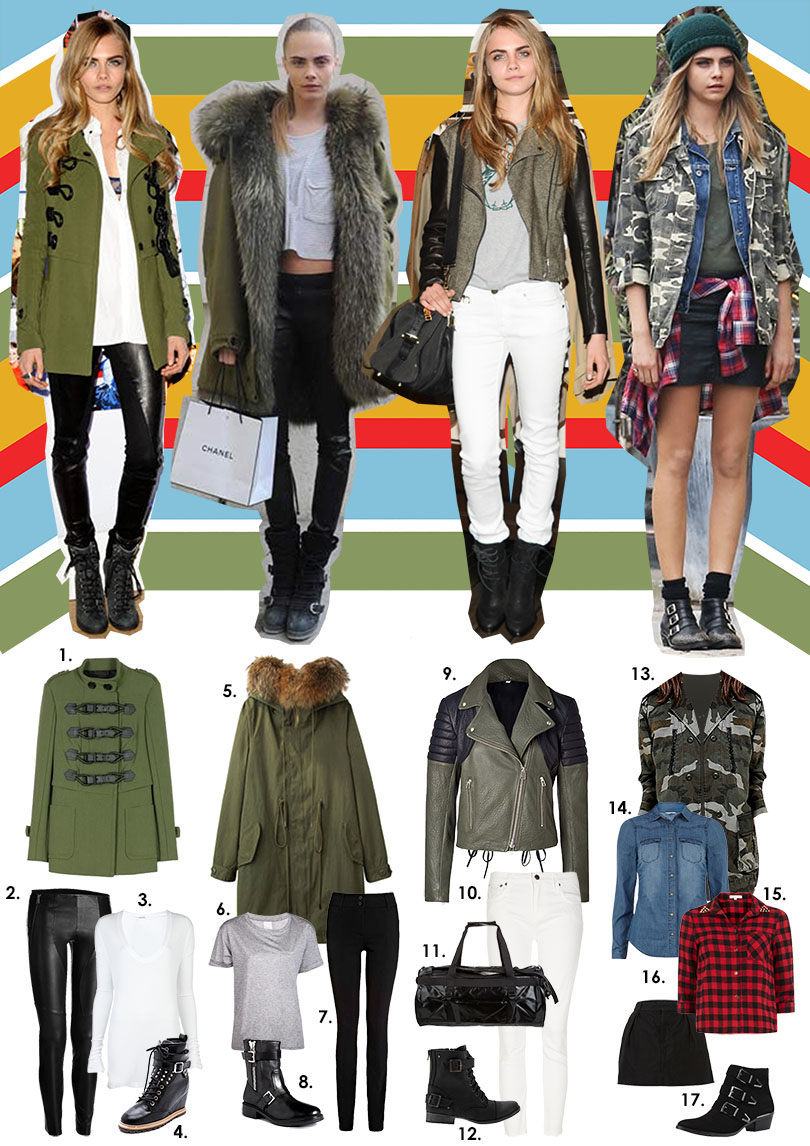 1. Army Green Long Sleeve Buckle Strap Epaulet Coat 2. JITROIS Black Zip Stretch Leather Pants 3. Transit Long ribbed t-shirt 4. BE & D London Lace Up Wedge Booties 5. ar srpls mods coat 6. AR SRPLS Embellished t-shirt 7. Black Lift, Slim And Shape Skinny Trousers 8. Pour La Victoire Flat Moto Booties – Montero 9. Faith Connexion Leather Jacket 10.Helmut Lung 11.Helly HansenHH Duffel Bag 50Ln 12. Sargeant by DV by Dolce Vita 13.BDG Vegan Leather Trim Surplus Jacket 14. Dorothy Perkins Blue denim shirt 15. Dorothy Perkins Red / black check stud shirt 16. theyskens' theory black mini skirt 17. tipper bootie vince camuto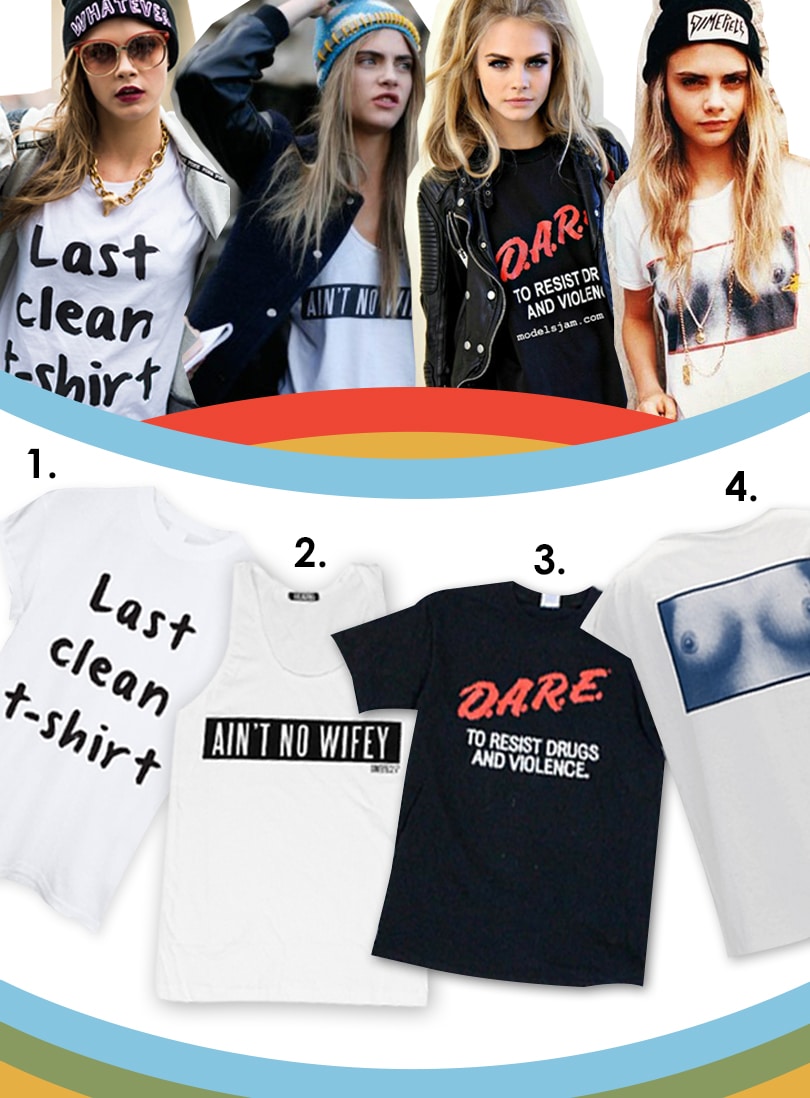 1. Last Clean T Shirt 2.dimepiece aint no wifey tank top 3. DARE to Resist Drugs and Violence T Shirt 4.tits square t-shirt
SUBSCRIBE TO OUR NEWSLETTER
Subscribe to our mailing list and get interesting stuff and updates to your email inbox.