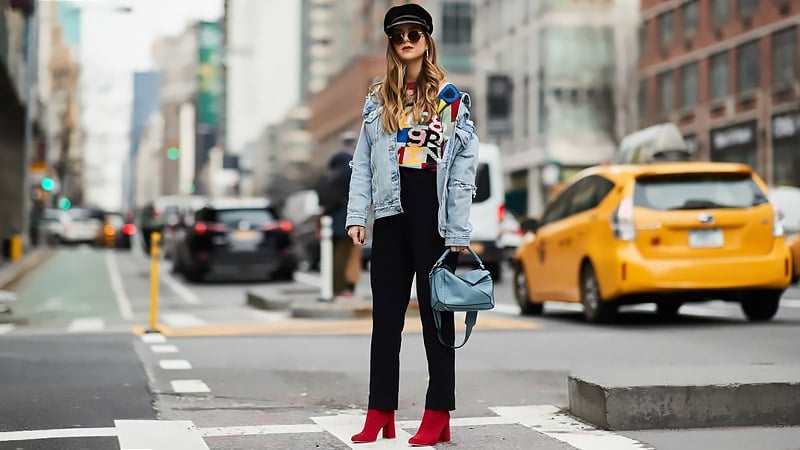 New York Fashion Week wrapped up, but in its wake, we have been blessed with a sneak peek into the 2018 Autumn/Winter trends. This year the colder months are all about bright, bold statement pieces. So it's time to say goodbye to your basic winter knits, muted colours and demure hemlines. With strong '80s vibes, head to toe leather, plaid, perspex and bright red boots, A/W '18 is anything but subtle. So if you're ready for a cool change, and we're not just talking about the weather, check out the hottest street style trends from New York Fashion Week A/W 2018.
1. Yellow Pop
Bright, bold colours are not usually what one thinks of when picturing autumn and winter trends. But this year the streets of New York City during fashion week almost resembled a rainbow. Firey oranges, cherry reds, lime, fluorescent greens, and fierce fuchsias were all out in force. But it was the surfeit of sunny, canary and daffodil yellows that caught our eye. It is a surprising yet welcomed divergence from the typical dark and moody winter colour palette.
Yellow is a seasoned spring trend, usually used as a subtle pop of colour, reserved for bags, scarves, jewellery or sometimes shirts and skirts. For winter, however, we suggest bursting that subtle pop. Try a bright yellow bomber or trench over an all-black ensemble or a pair of primrose pants with a plain coloured shirt. Yellow is the colour of the sun after all, and you should feel equally as hot while wearing it.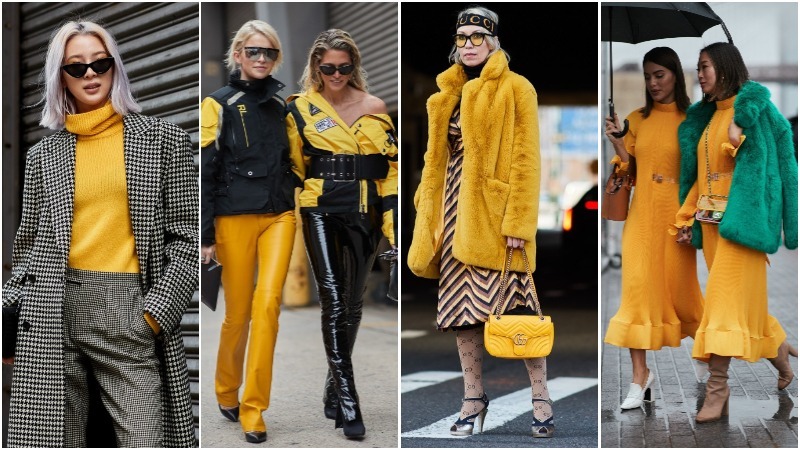 2. Extra Long Belts
Move over Gucci buckles because these extremely long belts are tightening their grip on the fashion world. From mid-thigh lengths to ankle grazers, and even caution tape, belts have come very far from simple, functional accessories. Street style stars have been spied wearing extra long belts wrapped around blazers, trenches, high-waisted pants, flowy dresses and tight and loose denim alike. The opportunities to rock this trend are endless.
Try throwing on a patterned or coloured long belt over a trench or boxy coat. Not only will this help define your waist but the exaggerated belt will contrast your outerwear, breaking it up and creating a point of interest. This trend also works well with loose silhouettes such as dresses and pants, wide-leg flares and tailored trousers. You can wear it like normal, letting the exaggerated end fall where it may, loop the extra length across the buckle or tie it in a knot. This trend has no real rules, so be as creative as you wish.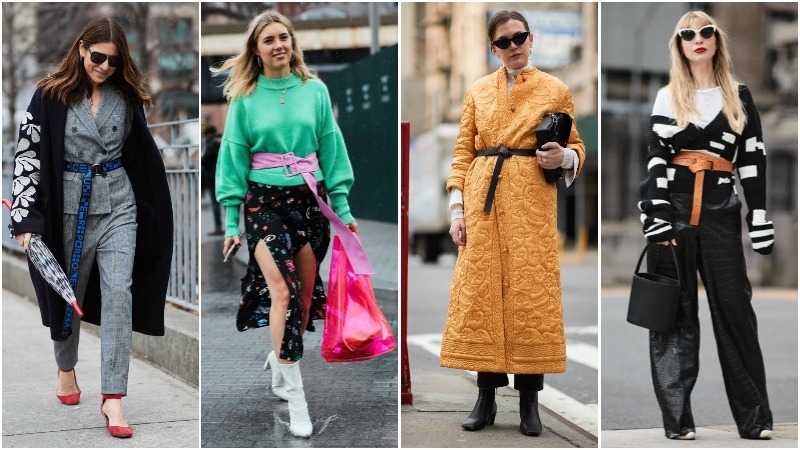 3. Head to Toe Leather
Head to toe leather or pleather is typically not attempted outside of Halloween costumes, superhero movies and 50 Shades of Grey, but our 2018 street style vixens seemed to have other ideas. With everything from caps, hats, jackets and bags all the way down to pants, skirts, and boots, this trend is rocking.
We understand that all-over leather might be a little intimating at first. So, why not start out small? Try a leather skirt and boot with a zip-up leather jacket. Or even a killer pair of leather pants with a leather jacket and a hat. That way you can just unzip the jacket or remove the hat if you feel like you're overdosing on leather. But we're loving these bold leather looks and think you should not be scared to embrace your inner biker babe. Also, keep in mind that there are some gorgeous pleather alternatives out there if you'd prefer this option.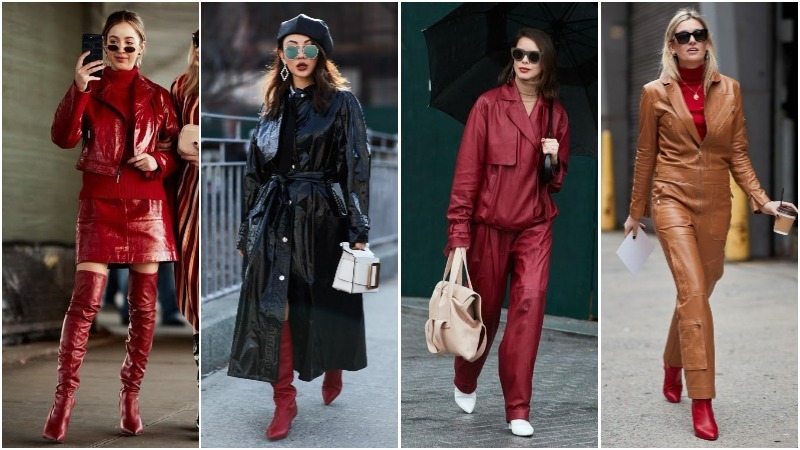 4. Statement Clear Raincoats
How often have you planned the perfect outfit only to have your fashion goals dashed by the weather forecast? The cute clear coats are simple solutions to the age-old problem of having to rethink your entire ensemble because of the rain.
These PVC translucent raincoats mean that you no longer need to cover up your favourite looks with boxy jackets. As opposed to a standard raincoat or non-waterproof woollies, these see-through saviours will keep you dry and stylish. In case of a sun shower, they are even light enough to throw on in summer and spring without looking too wintery. Our favourites come with coloured piping, which almost acted as a frame around the outfit. But there are plenty of choices on the market when it comes to clear raincoats.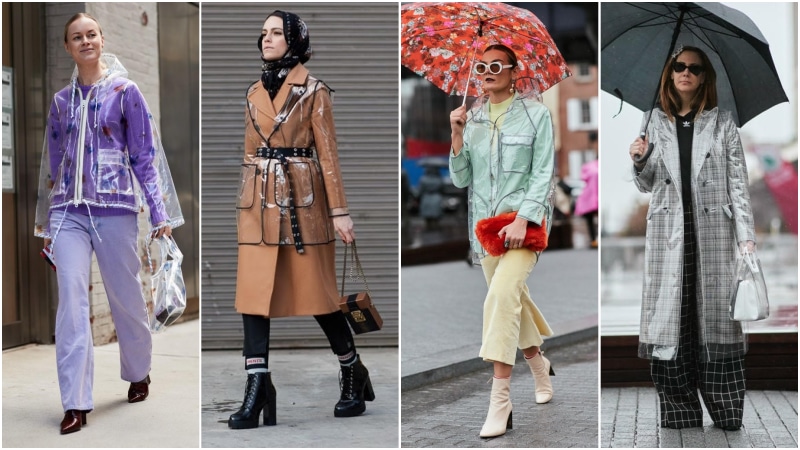 5. Plaid Pants
Plaid is a veteran in the print world for good reasons. It's edgy yet classic, subtle yet bold, pretty yet grungy, easy to match or clash, and it is consistently being reinterpreted. We've seen '90s grunge skirts, chic farmer shirts, schoolgirl tartan jackets, and now we have the rise of plaid pants. From preppy to punky, plaid is incredibly versatile and can create many different looks, which is why this trend is so exciting.
For a preppy look, throw on your tennis shoes and try styling a more muted tone of plaid with a sweater and collared shirt combo. Doc Martins and denim combined with plaids will take you from prep to punk. Or clash your tartan trousers with a different colour plaid jacket for a hipster look. Style red tartan pants with a white blazer and camel trench coat for a fresh take on corporate. Alternatively, pair your tartan suit with a monochrome printed t-shirt. Doing so will create a super on-trend and laid back look.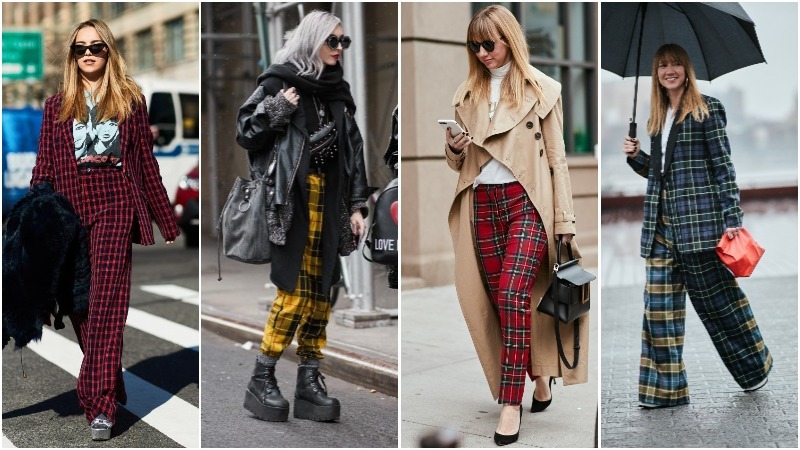 6. Pastel Pink Fur Coats
Forget Wednesdays, we wear pink every day, especially when it comes in a pretty pastel faux fur coat. It's probably not the first colour you'd imagine when you think of a classy fur coat, but the street style fashionistas have spoken, and A/W18 is all about pastel pink furs. In fact, the fun revamp makes this vintage classic more modern, giving it a younger feel. The muted makeover isn't surprising considering millennials are so obsessed with the shade that they've coined the term millennial pink.
Pink fur coats are surprisingly a very wearable trend from NYFW. Pink is bold, but not too over the top. It is quirky without being weird. It is also super easy to match as it looks great with neutral, primary and pastel colours as well as metallic and jewel tones. Faux fur coats are classic, elegant, comfortable and versatile pieces, so it only makes sense to have them in such a versatile colour. Try opting for a slimmer shape in a nude-pink for a subtle pop of sophistication or go for a shaggy long haired style to stand out in the crowd. Best of all, you can wear this trend causally or formally.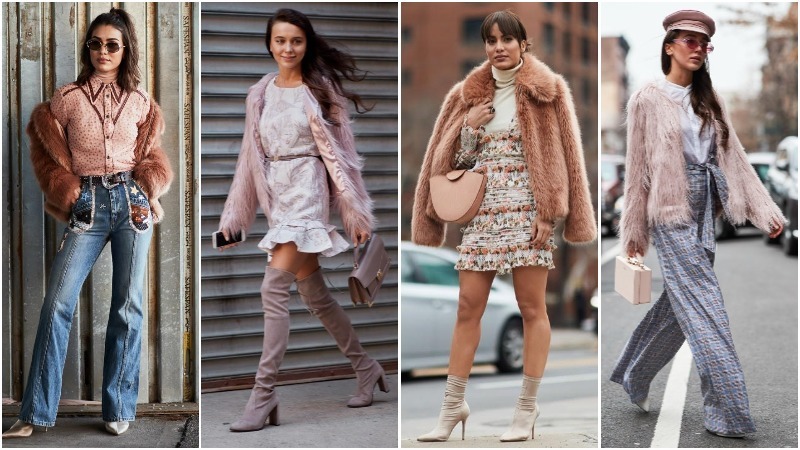 7. Clear Accessories
From transparent raincoats to hats, belts, bags and umbrellas, New York Fashion Week has undoubtedly proven that life in plastic is fantastic. But, if full see-through clothing is a bit too much for you, fear not. You can still partake in this perspex trend. Clear accessories were just as popular as their clothing counterparts, with some even being worn at the same time. One of the greatest things about this trend is that you no longer have to worry about matching your bag, belt, hat etc. with your outfit. These sheer accessories will go with every look imaginable.
Our favourite item is the transparent handbag, which not only looks super chic and original but also allows you to show off your favourite essentials. Strategically placed designer brand compacts, lipsticks, keychains and phone covers can add an extra level of luxe to your look, while also motivating you to keep your purse clean. Clear hats will keep your hair clean and dry while also providing a quirky, fresh accent to your overall look. Transparent umbrellas and belts, on the other hand, are a fun yet subtle way to rock this trend.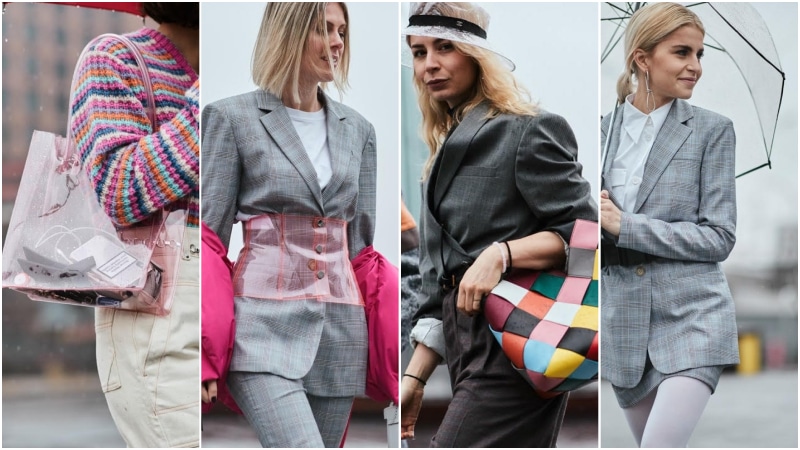 8. Red Boots
Blaring red ankle, knee and thigh-high boots were undoubtedly some of the most significant trends spotted at NYFW. With every second supermodel, blogger, designer, or even just fashion spectator alike rocking a pair of scarlet boots. We are excited about this trend as it is much simpler to wear than you may think. A red boot is a surprisingly versatile and inspired way to add a little pep to your step.
Bright poppy reds, muted cherries and Bordeaux hues, velvet, suede and patent leather, booties, ankle grazers, knee and thigh highs; there are endless ways to embrace this trend. We're blessed to be living in the era of monochrome and colour-blocking meaning that rocking statement items, such as a pair of red boots, has never been easier. Tone wise, red works best with navy, white, beige, black and denim, but you can pretty much style these babies however you like. Go for a firey thigh high with a fun, flirty black or white mini dress. Try a pair that rides above your ankle with a laid back cropped jean and vintage band tee. Or, if you're feeling extra bold, why not rock them with your favourite red dress and red lippy? Monochrome is in after all.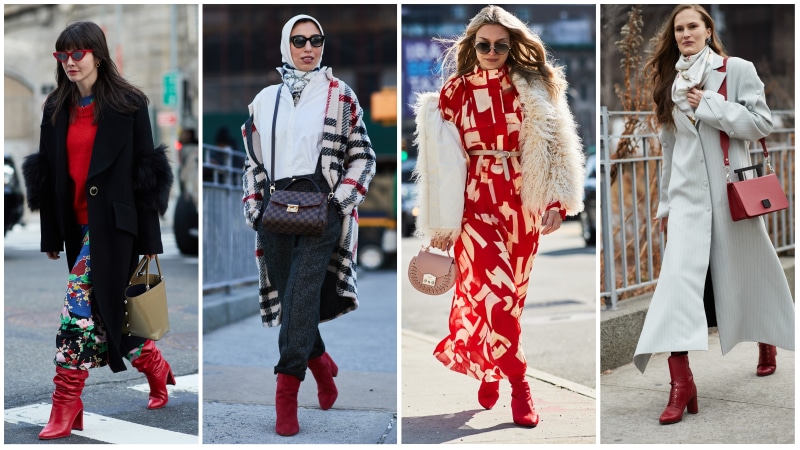 9. Coloured Aviators
The retro revival continues with the rise of colour tinted aviators. Since the early 2000s, aviators have been the cool girl's shade of choice, and this '70s revamp only ups their stock. These sunglasses are once again gracing the faces of our street style idols. Their understated colour infusion creates a more gentle and soft look as opposed to the harsh appearance of darker glasses.
This trend suits nearly ever style. It doesn't matter if you're hippie, boho, girly, tomboy, punk or preppy, these colour splashed specs will elevate any look. Try donning a pair with distressed double denim and an old rocker tee or with a warm-toned floral dress. Whichever style your outfit is, these frames will instantly give your look vintage twist. Another plus, the warm orange tint immediately gives your face a warm glow, sans the Instagram filter.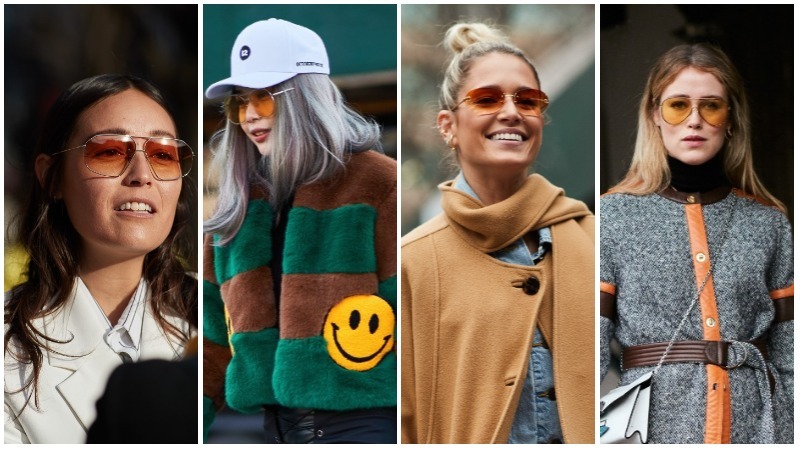 10. Shopping Bags
At first glance, you may think these ladies have just come back from the shops, and to be fair some of them probably have. While the bags they are sporting may appear like simple grocery or paper lunch bags, they are actually fun, chic and practical accessories.
The smaller paper lunch bags are subtle, pretty and will add a touch of quirk to any casual or dressy ensemble. They're an ideal size for smaller items, perfectly fitting a phone, wallet and cosmetics. While the larger shopping bags just scream fun and different, which is really what A/W '18 is all about. As well as making a pretty big statement, these bags are also stylish and practical, easily fitting everything you could need, groceries included. They can be carried under your arm or hanging low by their straps. Try this trend for a casual lunch with gal pals at a funky rooftop bar or restaurant. Or throw one under your arm for the ultimate street style infusion for a day of serious shopping. These also make stylish and convenient travel bags.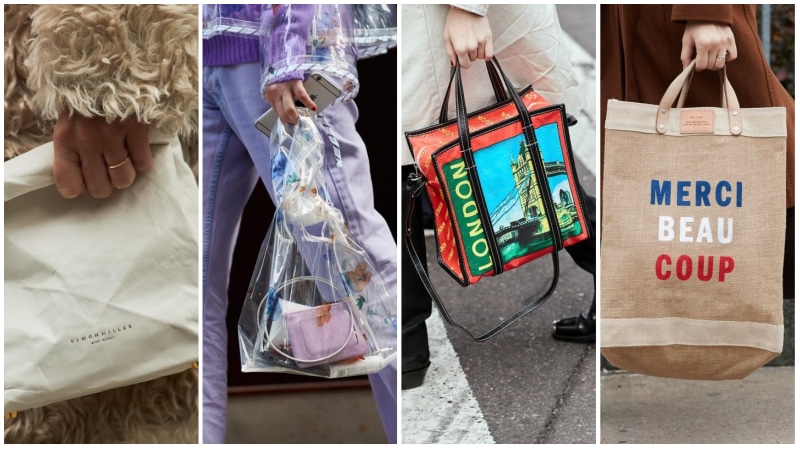 SUBSCRIBE TO OUR NEWSLETTER
Subscribe to our mailing list and get interesting stuff and updates to your email inbox.