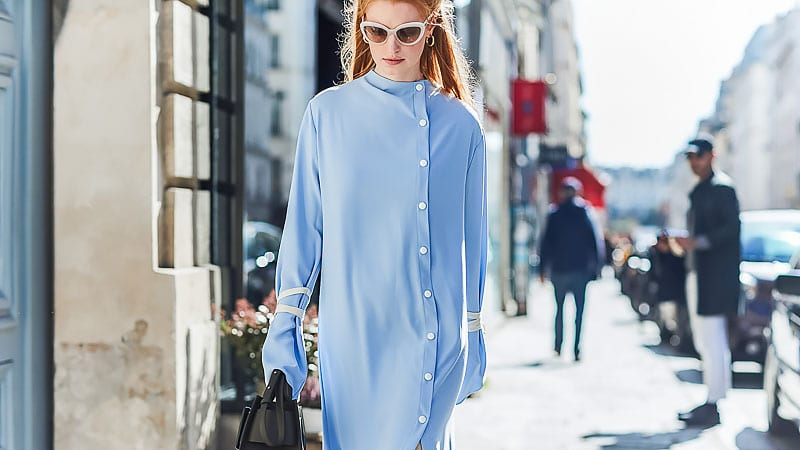 This season, it's all about statement sleeves. From bell-shaped and extra-long to balloon and cold-shoulder, attention grabbing sleeves are stealing all the spotlight. So, to make sure that you're not left in the dark, we've rounded up the top 10 sleeves trends to invest in right now.
1. Bell Sleeve
One of the key trends to come out of recent fashion weeks is bell sleeves. Fitted on the shoulder and flaring out wide toward the wrist, the bell sleeve is the same as it always was, yet totally different. Gone are any hippy and bohemian references, instead, the new bell sleeve is modern and utterly chic. From sleek dresses to cool tops and even quirky knits, bell sleeves add a unique dose of fashion to even the simplest of outfits. When shopping for bell sleeves look for styles that are a little flamboyant. Extra-wide flares, ones made of modern, structured materials, flares that tie at the elbow and ruffle designs are all key styles to buy this season. Once you have your statement bell sleeves, remember to keep the rest of your look minimal. A simple silhouette in a neutral colour palette is all you need to finish this look.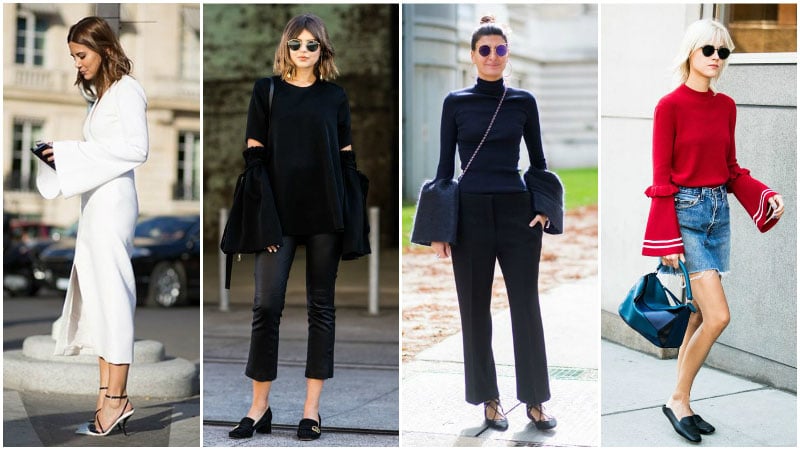 Get The Look
2. Bishop Sleeves
While bell sleeves look sleek and chic, bishop sleeves appear soft and feminine. Most commonly spotted on lovely dresses, bishop sleeves compliment the outfits to which they belong while remaining a standout feature in their own right. The style, which balloons out toward the lower arm before gathering into a cuff at the wrist, looks best in sheer fabrics such as chiffon and lace designs. As for how this statement sleeve should be styled, there are two equally chic ways. The first embraces the relaxed, bohemian aesthetic of the sleeves, carrying the style, and fabric, through the entire outfit. The second juxtaposes the loose sleeves with sharp designs and clean fabrics to keep the look modern and more tailored.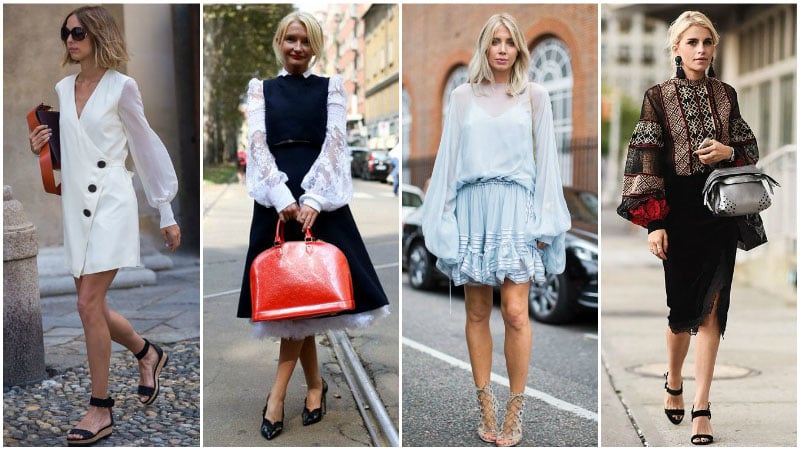 Get The Look
3. Flounce Sleeves
Despite having a similar silhouette to bell sleeves, flounce sleeves tend to be slightly more subtle and feminine. The style is created by attaching a separate piece of circular-cut fabric to the sleeve. This creates a ruffle effect that gives flounce sleeves their flare. This season, flounce sleeves were seen in all sizes. There were the small and simple designs that lightly flared out toward the wrist and then there were the dramatic types that featured large flounces attached at the elbows. Whatever the size, both types were on trend and statement-making in their own way. To wear this trend for yourself, pair tops and shirts featuring small flounces with casual styles such as jeans and low-heeled shoes. The large and dramatic flounce sleeves, on the other hand, are best reserved for standout dresses and times when you're after that "look at me" style.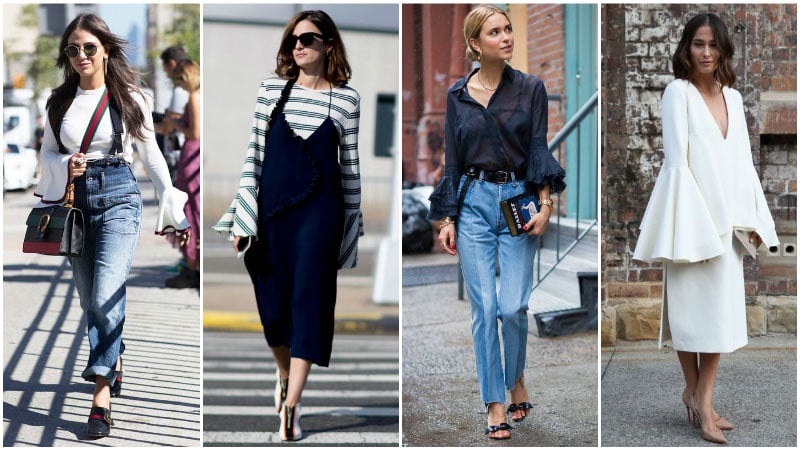 Get The Look
4. Ruffle Sleeves
To up the ante on flounce sleeves, consider trying statement-making, ruffle sleeves instead. These sleeves are loud, fun and attention-loving. They were spotted on the streets of the recent Spring/Summer 2017 fashion shows, and we haven't been able to get them out of our heads since. Choose between different sizes and amounts of ruffles for different variations on this trend. Whether you choose ruffles that completely cover the sleeve or ones that start from the elbow, these sleeves are all the statement you need. Forget loud colours and patterns and opt for minimal black and white hues instead. Pair your ruffle sleeve shirt with simple designs such as cropped, straight-leg trousers. The straight-forward style will keep your look super stylish and chic, rather than letting it go over-the-top.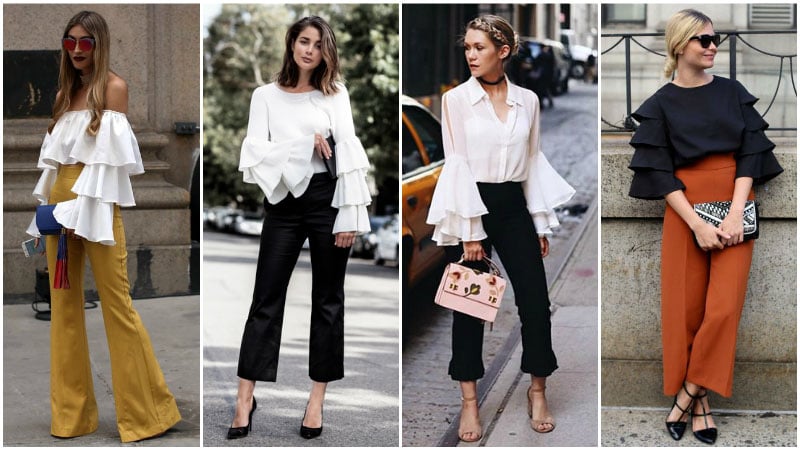 Get The Look
5. Extra-Long Sleeves
They may not be practical, but extra-long sleeves are totally in fashion at the moment. Appearing oversized and stretched out, these extra-long sleeves have made a cool "rough around the edges" statement for many fashion week outfits of late.  These sleeves have taken their place on button-up shirts, delicate tops, casual knitwear and even glamorous dresses as they continue to dominate the world of street style. Like other statement pieces, extra-long sleeves tend to look best when paired with basic items, so wear yours with a simple pair of blue jeans or black pants. Also, remember that such long sleeves can pull the eye down and leave you looking short, so always wear heels.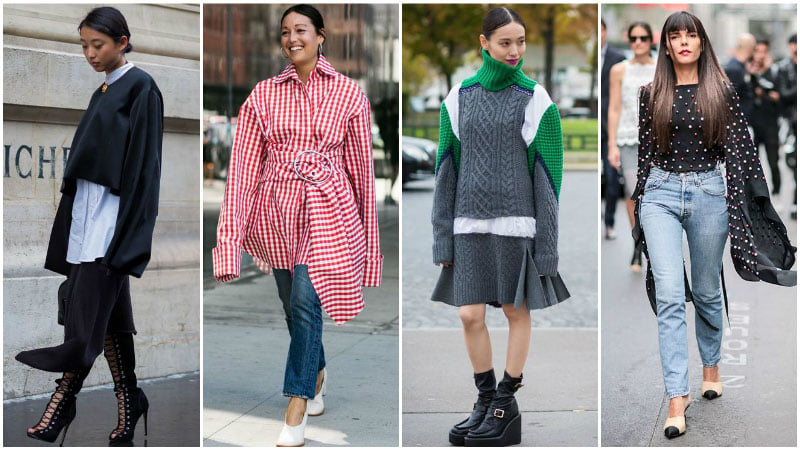 Get The Look
6. Off-the-Shoulder Sleeves
Off-the-shoulder sleeves have been trending  for some time now, and they're only getting more popular. The sexy style provides a daring yet delicate flash of skin at the shoulders that's both feminine and eye-catching. Perfect for sunny days spent sipping cocktails, these statement sleeves make it feel like you're on a holiday every day. So, whether you're actually on vacation or simply dreaming of the day, off-the-shoulder tops and dresses should definitely be on high rotation in your closet. While there are many types of off-the-shoulder styles to choose from, our favourites play up the feminity of the design with soft fabrics, pretty ruffles, and lovely patterns. Pick your own favourite style and wear it all season long.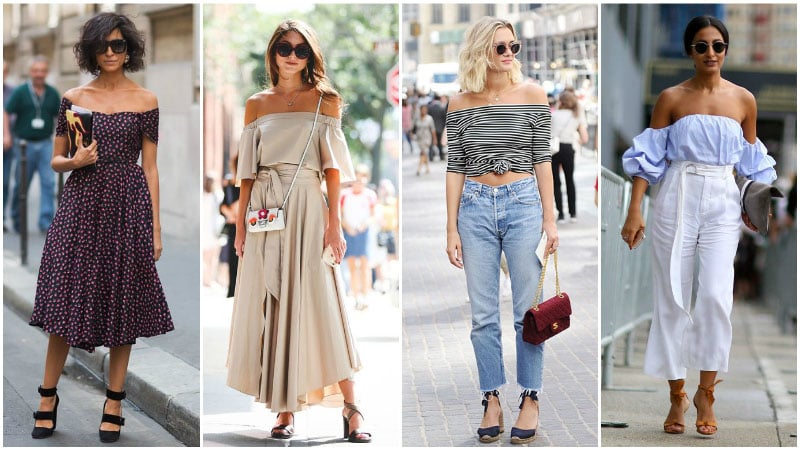 Get The Look
7. Cold-Shoulder Sleeves
Coinciding with the rise in popularity of the off-the-shoulder sleeves has been the rise of cold-shoulder sleeves. Perfect for women who like to bare a little less skin, cold-shoulder designs feature a flash of skin just on the tops of arms. Appearing like a regular design with cutouts at the shoulders, cold-shoulder sleeves are modern and chic. Despite being less impactful than off-the-shoulder designs, cold-shoulder sleeves have the benefit of being more practical. After all, with the addition of the bodice top, there's more support and sleeves can be looser. This means that there's no need to worry about your sleeves slipping up or top slipping down! As well as being practical, the style is also gorgeous and looks great when paired with long, flowing silhouettes.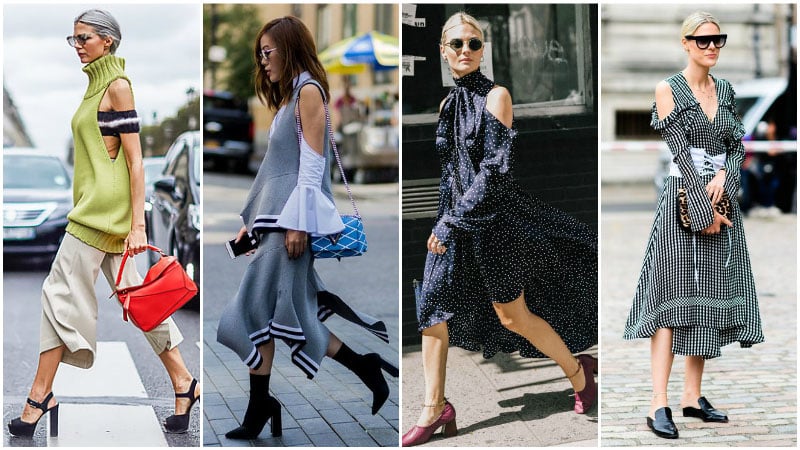 Get The Look
8. Layered Sleeves
Ok, so this statement sleeve may not be an actual type of sleeve, but rather a lesson in how to turn regular sleeves into a statement. While large bell and ruffles sleeves may garner more instant attention, layered sleeves are equally as stylish if not more so! While this sleeve appears quite simple at first glance, it's actually quite complex. Despite being able to use pieces that are already in your wardrobe, layered sleeves require effort to get right. You need to think about the juxtaposition of the two sleeves and how they work together as a whole. Start with your colour palette and pick either neutrals or similar colours in different shades. Likewise, fabrics should be similar (textured with textured, smooth with smooth) yet not the same. Then finish with length and shape, remembering to always wear the thicker and shorter sleeve on top.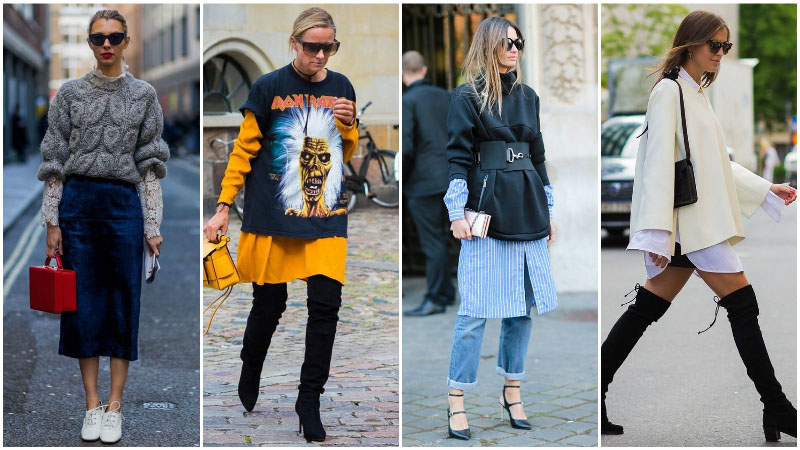 Get The Look
9. Fur Sleeves
This sleeve trend is one that's perfect to unleash in chilly weather. Fur sleeves, while being quite unique, have the wow factor that a statement piece should have.  The heavy dose of fluffy texture creates an instant focal point for the outfit that commands attention. Add in a bold colour and there's no looking away from these bold sleeves. A great alternative to plain and boring designs, fur-sleeved coats will keep your fashion spirits high, even when you have to wear thermals! Just pair yours with simple fabrics (too much texture will clash!) and you're ready to combat the cold in style.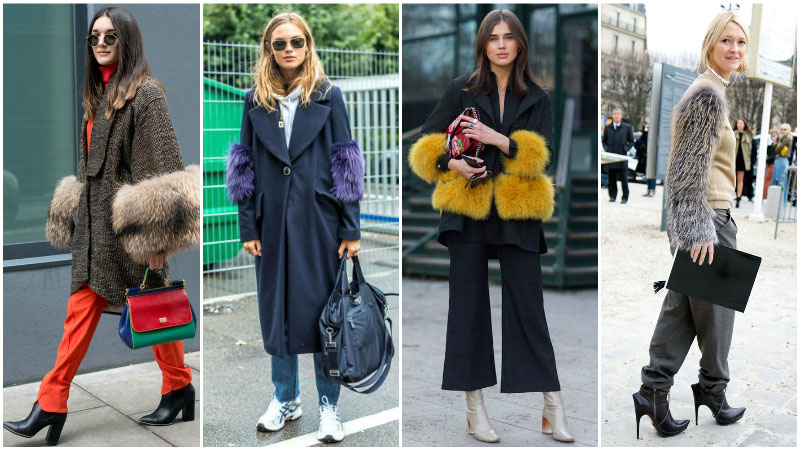 Get The Look
10. Balloon Sleeves
The final statement sleeve that should be added to your wardrobe right now is balloon sleeves. While extra-long sleeves are stretched out, balloon sleeves are puffed up to be short and wide. The round style is then gathered at the end, so the overall shape resembles a semi-deflated balloon. This unique sleeve plays with proportion in a way that's different to all the other statement sleeves, which is why you need it. The voluminous design looks particularly great when paired with a fitted bodice and worn with cropped, straight or wide-leg pants.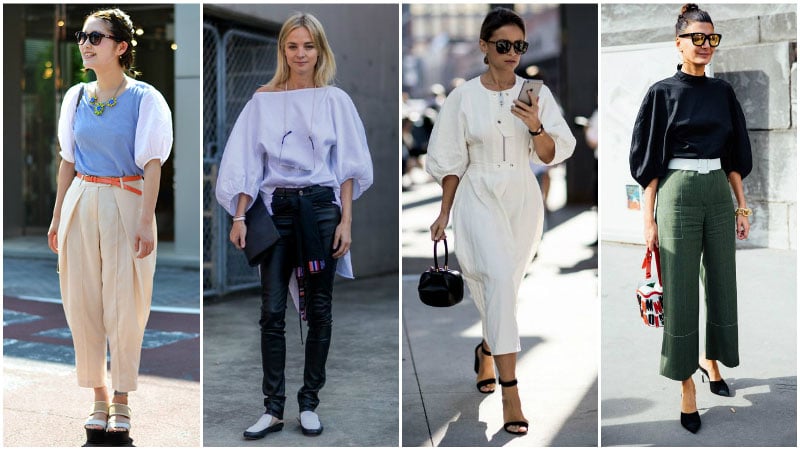 Get The Look
SUBSCRIBE TO OUR NEWSLETTER
Subscribe to our mailing list and get interesting stuff and updates to your email inbox.