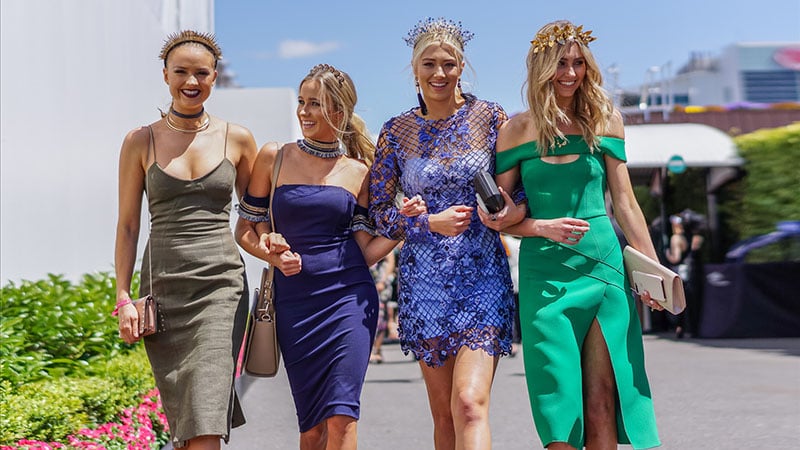 Ladies, it's that time of year again. The sun is starting to burst through the clouds, and excitement is in the air. Melbourne's Spring Racing Carnival is underway. With only a couple of short weeks left, the time has come to prepare yourselves and plan your race day outfits. Of course, we know what a challenging task this can be! From following dress codes and respecting tradition to acknowledging current trends and attempting to look unique, dressing for the races can seem like an impossible task. Well, stress no more because we're here to ensure that getting ready for the races is as fun as actually being there. From Derby Day and Melbourne Cup to Crown Oaks and Emirates Stakes, here's how to slay at the races this season.

RELATED: What to Wear to Spring Racing Carnival for Men
Derby Day
Derby Day always kick-starts the Melbourne Cup Carnival in style. If you haven't attended Derby Day before it's especially important to plan your outfit ahead of time. As one of the most important days of the Spring Racing calendar, Derby Day is an excellent example of classic elegance. Featuring a black and white dress code, the day is as classy as they come. This dress code is the most widely adhered to of the carnival, so trust us when we say leave the colours at home. Instead, choose between monochrome, all-over white or all-over black looks and let the details of your dress become the statement.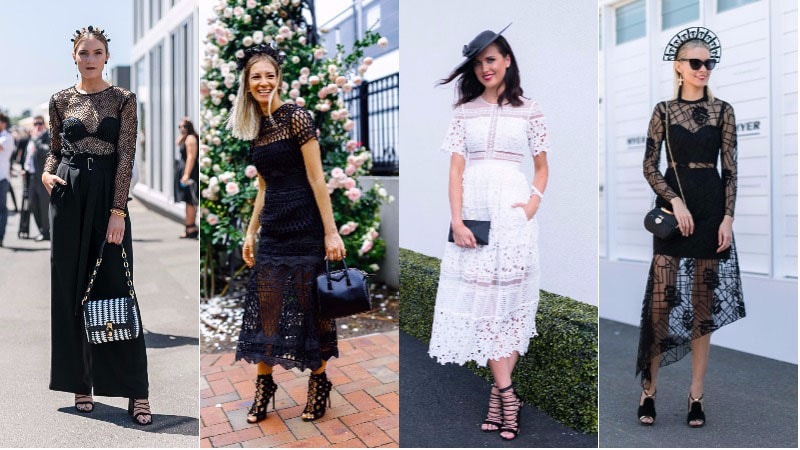 What to Wear to Derby Day
Derby Day is all about looking stylish and chic in black and white. The most elegant of looks for this day tend to be either predominantly white or predominantly black as busy patterns and prints can look jarring in the monochromatic palette. Although black can sometimes look dull for spring, for Derby Day, it's a sharp choice. White, on the other hand, has a lovely and fresh appeal that works great in the sunshine. No matter which of the two colours you choose, be sure to pick a dress with a unique silhouette, textured fabric or standout garment details. Bell sleeves, light feathers and metal fastenings are all your friends this season and will help you add the on-trend edge that your outfit craves. As for headwear, leave the fussy fascinators at home and opt for a sleek, brimmed hat instead.
Get the Look
Melbourne Cup Day
Melbourne Cup Day is one of the most prestigious events in horse racing history and the biggest day of the Spring Racing Carnival. A real one-of-a-kind type of day, Cup Day is a must-attend event for every fashion-loving woman. Planning your outfit is essential for Melbourne Cup as the day calls for your style A-game. While there's no colour rule as there is on Derby Day, you are expected to look appropriate. That means forget the strapless mini dress and choose something knee-length or longer. Although you do need to look appropriately dressed, you also want to stand out with a fashion-forward outfit. This day is your chance to go bold and show off your sartorial flair. After all, Cup Day is as much about Fashions on the Field as it is about the races.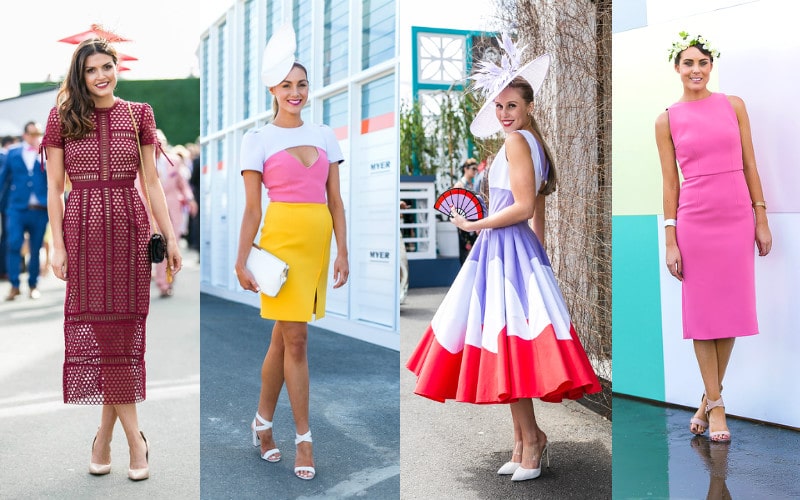 What to Wear to Melbourne Cup Day
For the race that stops the nation, you want an outfit that will do the same. Melbourne Cup Day is the perfect day to inject some colour into your outfit and accessories. Don't be afraid to go bold with it and choose vibrant block hues of red, yellow, green, pink, or purple. Your outfit should make an instant style statement when you walk into Flemington, so get a little creative. Keep your silhouette defined but choose a dress with unique design details. Ruffles, flounces, statement sleeves, and laser-cut details are all winning looks. As mentioned, also watch that your hemline doesn't fall too far above your knee and avoid strapless styles and anything with glitter or sequins. You want to look festive and fashionable, not like you're headed to a nightclub. When it comes to your headdress for Cup Day, it pays to be brave and get creative. Choose a unique fascinator that's more artwork than a hairpiece.
Get the Look
Crown Oaks Day
Traditionally known as "ladies day", Crown Oaks Day invites women to express their signature style through their dress. The day is all about feeling and looking beautiful and women expressing themselves in a ladylike manner. Simply choose your favourite feminine dress that expresses your unique style. If you're unsure where to start, look for dresses in delicate fabrics such as silk, satin, chiffon, lace, or anything with a floral print, and go from there. While planning your outfit, always keep in mind that for Oaks Days you want to appear stylishly feminine while highlighting your individual personality.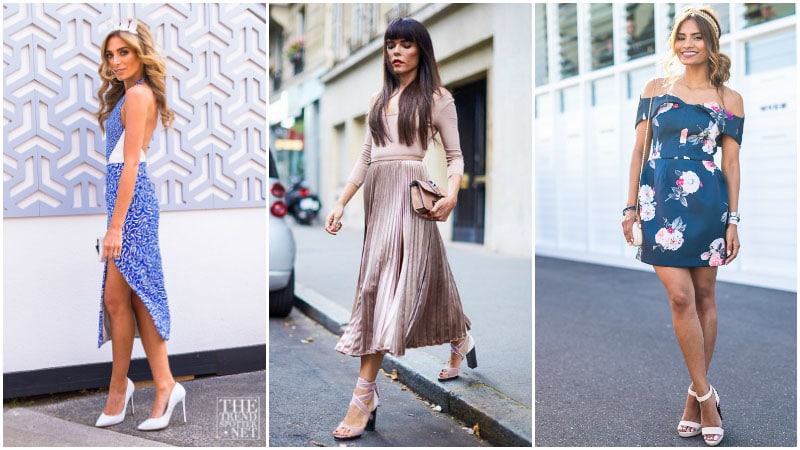 What to Wear to Crown Oaks Day
Crown Oaks Day is all about expressing your personal style in a polite way. Whether you have a favourite colour, silhouette, style or theme (vintage looks are perfect for Oaks Day!), this day is yours to showcase your style within the parameters of the race day setting. While Melbourne Cup Day is ideal for bright, bold colours, Oaks Day is better suited to soft pastels and muted hues. Choose a block colour in a feminine shade or opt for subdued floral prints instead. While florals are a traditional look for Oaks Day, block colours often have a great ability to break through the pack. If you do choose a floral dress, keep your look modern with simple, uncluttered designs. As for fabric, choose something soft and form-flattering that sits gently against the body. Finally, finish off your look with a crown instead of a fascinator. It will have a fresher feel and make your look more modern and on-trend.
Get the Look
Emirates Stakes Day
Traditionally known as "family day" at Flemington, Stakes Day is the least formal day of the Spring Racing Calendar. With plenty of youngsters around, Stakes Day has a distinctly relaxed feel that penetrates its dress code. The last thing you want to wear on this day is something that feels stuffy and too serious, so forget the rules and trust your instincts. Aim to find a balanced look that appears classic and dressed up yet simultaneously relaxed and youthful. Whether you choose a dress, jumpsuit or separates, make sure you feel comfortable and confident in what you wear.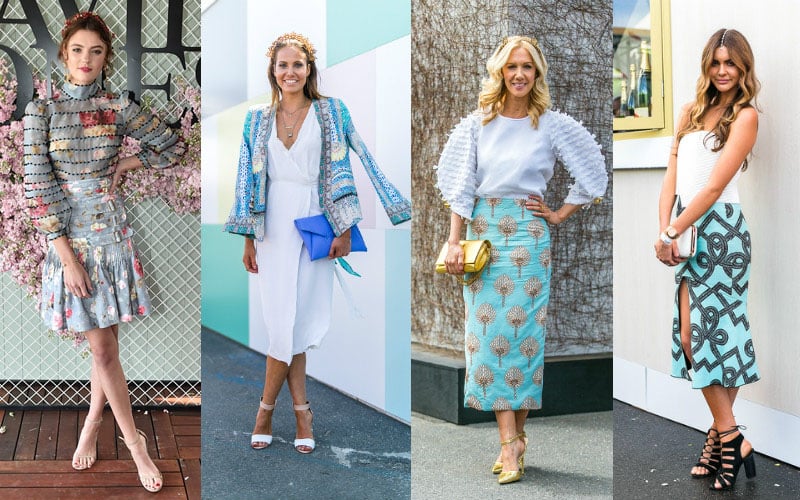 What to Wear to Emirates Stakes Day
Emirates Stakes Day is the day on the racing calendar where we see the widest variety of looks and styles. To nail this day in the sartorial stakes, we recommended mixing understated style with a touch of youthful fun. Unstructured dresses, sophisticated separates and lighthearted prints are all perfect go-to options for Stakes Day. Forget about intensely structured and tailored designs and choose softer silhouettes that flow outwards from the body and glide over curves, rather than highlighting them. Complete your relaxed look with your choice of heels, wedges, or even chic flats, and an appropriate headpiece. We recommend a charming straw hat or small-scale headpiece that won't overwhelm your look. A simple headband or decorative slide will even do the trick for Stakes Day.
Get the Look
What to Wear to the Races
Familiarise yourself with each race day's dress code before planning your outfit and attending.
Select either a monochrome, all-over white or all-over black look for Derby Day's strict colour-free attire.
Embrace vibrant block colours and unique design details for Melbourne Cup Day.
When dressing for Oaks Day, acknowledge its "ladies' day" reputation with feminine designs, pastel colours, and subdued floral prints.
On Stakes Day, aim for a balanced look that appears classic and dressed up yet relaxed and youthful.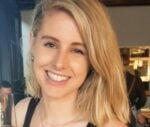 Taylah Brewer holds a bachelor's degree in fashion and business and is a skilled writer with several years of experience in the world of online content creation and copywriting. She is passionate about fashion, beauty, and all things lifestyle-related and has been writing for The Trend Spotter since 2016. She currently works as the Head of Digital & Ecommerce at White & Co.
SUBSCRIBE TO OUR NEWSLETTER
Subscribe to our mailing list and get interesting stuff and updates to your email inbox.