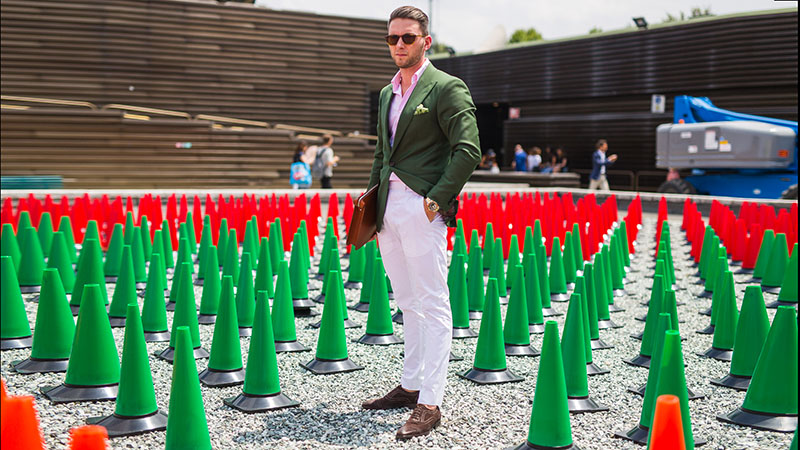 As the Menswear Spring/Summer 2014 Fashion Week kicks off, we take a closer look at the latest trends spotted on the runways. The colour pallets on display show some interesting styling descriptions, shades, and ideas. Below we break down the top colour trends to inspire you during the sunnier months of the year.
White on White Trend
Sarah Burton's line for Alexander McQueen was dramatic, with clear Edwardian and aristocratic influences. Burton showcased outfits that were purposely created with frayed hems, combining the masculinity of the cut with white lace, finished with decorative silver detailing. Loose fitting cropped trousers were a popular cut, and despite the Edwardian theme, a boxy cut denim jacket was included in the collection ensuring that nothing about this collection was ordinary.
Nicole Farhi's collection comprised of beautifully tailored, quality garments, adorned with white quartz crystals. Designed in shades of whites, greys, light blues and greens; creating a timeless yet muted sophistication to the looks. Garments included suits and coats produced in fine tweed fabrics, and edgier separates, which included cropped trousers, blue knits and suede biker jackets.
We see white emerging in multiple designer collections, including the runways of Richard James and Agi & Sam, there is no questioning that white will be used as a strong base colour for the SS14 collections and white on white styling will be a runway highlight.
Pastels Trend
Designers like Christopher Kane, Agi & Sam, Burberry Prorsum, Christopher Shannon, Richard James and Nicole Farhi lit up the runways with a delicious scoop of pastel sorbet colours.
Christopher Shannon showcased his nineties inspired collection which used materials such as PVC, nylon and vinyl to make brilliant bomber jackets, baggy shorts and oversized shirts, in a mixture of pastel shades, ranging from yellow, orange and green. The collection was filled with collaborations starting from footwear brand Kickers to Liberty, who saw the creation of loose shirts and baggy shorts in floral prints.
The colour pallet at the Tom Ford's menswear show was pastel hues, with white serving as the base of the colour palette, to complement the streamlined masculine silhouette. Lacquered nylon day-jackets wore with slim trousers, jeans in four different cuts and floral swimsuits gave variation to the collection and were accessorised with neatly folded pocket squares, large-zipped suede backpacks and soft dyed espadrilles, for multifunctional purposes.
Another refined and classic look was the collections from Savile Row, the models resembled prestigious gentleman, wearing finely tailored suits from the LCM schedule that included: Gieves & Hawkes, Kent & Curwen, Hardy Aimes and Richard James.
Preppy woollen blazers, flannels and male models with whisky in hand, conveyed an image of social grandeur.
Richard James deserves a mention of his own, for his collection of gleaming embroidered espadrilles, paired with tailored suiting. He chose a colour palette of classic white, soft pastel blues and dusty pinks, the image of a spring sunset.

Bright Colour Blocking Trend
An energetic and vibrant runway show was that of Agi & Sam. Exciting prints, bold colours and exploding with texture, the focus of this collection, however, remained on the cut and structure, which included inventive, boxy shapes. The collection contained square shaped tees, with richly textured panels and the strong use of block colours, made Agi & Sam stand out from the pack.
E.Tautz's aquamarine palette combined a black undertone with warm and cool tones of yellows, reddish oranges, blues and greens, which created a strong oceanographic theme. The strength of the collection was a blend of rich textures, colours and unique designs, to make sure the spring/summer designs broke free from their previously conservative brand image. Patrick Grants double-faced t-shirts expressed duality; tri-coloured pants and kimono-influenced raincoats added further edge and detail to the runway.
A similar collection was that of Burberry Prorsum's SS14 menswear collection, which was bright, quirky and different, as it combined shades of aqua, blue, red and yellow.
James Long's collection was filled with Lycra bodycon cycling jerseys, chunky knits, textured shorts with added side pleats, jackets with leather panels and drawstring hoodies—showing his influence by archetypal cycling outfits. Long described his collection by stating that "It's taking pieces that we're known for and pushing them in a new direction".
Katie Eary's SS14 entitled "Flamingo Massacres" was a collection that was loud, shocking and fluorescent pink! With an influence of the early nineties, that was seen by the skateboards tucked under the male model's arms and Nike Air Maxes footwear. In addition to inspiration from Irvine Welsh's influential novel, Marabou Stork Nightmares, based on man's fascination with the Flamingo, a popular print in the collection.
With a palette of bright pink, orange and crimson combined with animal prints that included the Flamingo, crocodile and leopard, guaranteed the collection is one only wearable for the brave. The male models looked eccentric in simplistically styled trousers; board shorts and polo shirts, which placed further emphasis on the colour palette.
Look out for Paris Fashion Week, showcasing designers such as Issey Miyake Men, Louis Vuitton, Dries Van Noten, Junya Watanabe and Givenchy, to name but a few.
Milan Fashion Week is showcasing designers such as Jil Sander, Versace, Les Hommes, Prada, Vivienne Westwood, Gucci, Etro and Giorgio Armani, to name but a few.

SUBSCRIBE TO OUR NEWSLETTER
Subscribe to our mailing list and get interesting stuff and updates to your email inbox.