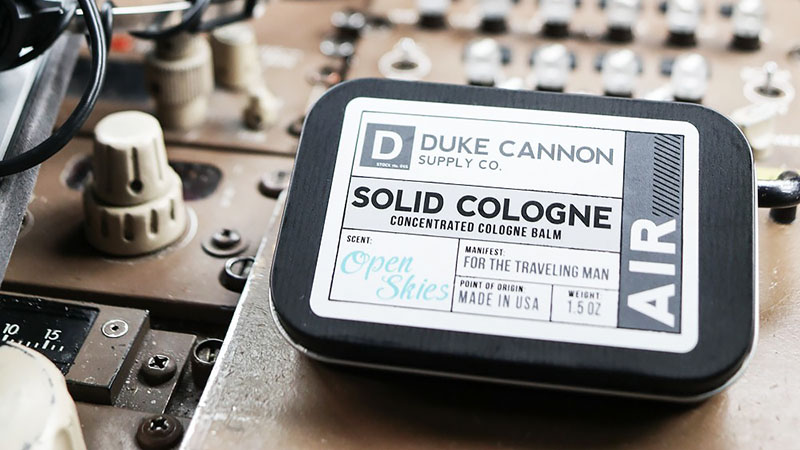 For modern men leading busy lives, traditional, bottled colognes just aren't cutting it anymore. After all, what gent has the time to be re-spritzing every hour or the patience to deal with broken flacons in his luggage? Enter the solid cologne. This new interpretation of men's fragrance comes in a solid, wax-like form, making it simple to apply with the swipe of a finger. Not only are they easier to use, providing a more concentrated and neater application than traditional sprays, they are also longer lasting and more convenient for travel. So, if you're thinking of making the switch to a solid scent, we have rounded up our picks for the best solid colognes for men.
RELATED: The Best Smelling and Irresistible Cologne for Men
1. Duke Cannon Solid Cologne
Duke Cannon Solid cologne's manly and woody scent is the perfect way to smell good on the go. With hints of sandalwood, amber, citrus, rosemary, and clove this concentrated cologne balm will have you smelling like you've just hiked through a Redwood forest. The balm makes for an easy precision application that will last all day long. The small traveling tin is also ideal for commuters, travelers, or adventures as it fits neatly into your jacket pocket, briefcase, backpack, or gym bag. A portion of proceeds goes to U.S. Veterans, so you can feel good as well as smell good.
2. Blazing Saddles Solid Cologne
One of the manliest fragrances on the market, Blazing Saddles Cologne smooth leathery scent is reminiscent of your favorite old leather jacket. This strong cologne has undertones of gunpowder, the sultriness of sandalwood, and all the ramblin' wild of sagebrush. If you're looking for a gift, this cool packaging requires no extra wrapping.
3. Cremo Solid Cologne Pocket
With a unique blend of essential oils and ingredients, Cremo Solid Cologon contains multiple levels of notes that provide a unique and lasting fragrance. Developed by some of the world's leading fragrance experts, this robust scent has soothing bergamot and citrus coupled with the deep aroma of musk. It also comes in a small convenient container which is travel-friendly so you can reapply whenever needed.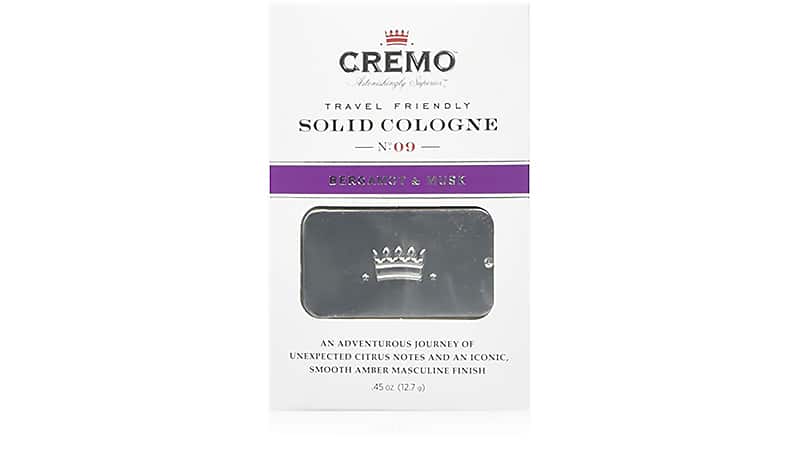 4. Gambler Solid Cologne Bourbon
If you love a swig of whisky then this the scent for you. Gambler Solid Cologne Bourbon is a rugged yet soothing scent with strong whisky tones as well as tobacco and hints of leather. It is a strong yet subtle fragrance that provides just the right amount of allure and isn't too overpowering.
5. Drifter Solid Cologne
Ulio & Jack's Drifter Cologne is ideal for the outdoorsman who still wants to smell great. The convenient travel-sized tin can be easily stashed in the pocket of your pants or coat as well as hidden away in the smaller pockets of your backpack. It is a subtle and natural scent with hints of cardamom and mandarin and subtle sandalwood, clove, and leather undertones. This gentle formula is made with jojoba oil, shea butter, beeswax, and phthalate-free fragrance oil.
6. Urban Prince Solid Cologne
This refreshing balance of cedar, grapefruit, spices, fir, and lavender essences is for the sophisticated and modern gentleman. Distinctively masculine, this scent will last all day, but if you find it fading, you can store the small tube in your pocket without even knowing it's there. The concentrated formula means you can easily apply the balm directly to your pulse points, letting you get more out of your product than traditional sprays.
7. Natural Solid Cologne
This all American scent will evoke memories of spring picnics and summers spent hiking and relaxing by the lake. This natural fragrance contains citrus, cranberries, and spearmint with warm apple and cinnamon. Essentially Natural Solid Cologne will have you feeling like you've just spritz on the great outdoors. The light formula is made using soothing beeswax, almond oil, jojoba oil, and an essential oil blend; it is a timeless scent that will have you smelling fresh all day long
8. Fixxxer Gunpowder Solid Cologne
This solid cologne by Fixxxer contains a blend of naturally sourced essential oils and premium fragrance ingredients. It is a fresh and lively scent made up of bright and tantalizing citrus with mandarin and bergamot. The aromatic expressions of Evergreen, Mint Julep, Musk, Amber, and the sharp bite of Clary Sage add an extra hint of zest.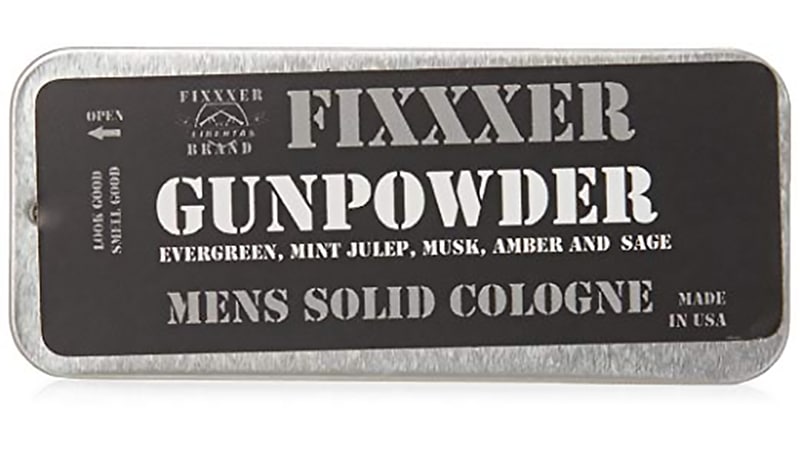 9. Urban Woods Cologne Taconic
The Urban Woods Cologne Taconic has a manly scent without all the bells and whistles. Containing notes of warm tobacco and bergamot this solid cologne is finished with undertones of sweet vanilla and cedarwood. It is created with natural essential oils and premium fragrance oils and will fit comfortably in your pocket for a convenient all-day application.
10. ODouds Natural Solid Cologne
ODouds are serving up everything you could want in a natural all day solid cologne. With its rich and crisp notes of citrus combined with deep sandalwood, this scent is musky and masculine as well as soothing and sweet. The hints of premium tobacco create an alluring scent that will captivate those around you.
11. Wingman Fragrance By Sir Hare
A better wingman than Barney Stinson, this unique blend of sandalwood, bergamot, and musk will undoubtedly make you the center of attention. This long-lasting scent is attractive and subtle while being super easy to apply and convenient. The best part is, Sir Hare offers a love it or get your money back policy. Meaning you can buy with peace of mind knowing you can return the product for a full refund. But, once you get a whiff of this classic solid cologne, we don't think you'll be sending it back.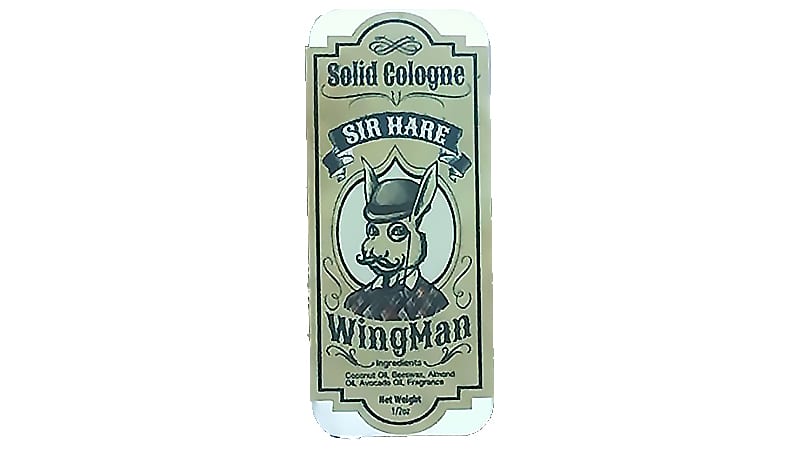 12. NZ Fusion Botanicals Australian Sandalwood
Made from organic sandalwood sourced from the Western Australia sandal tree, this strong fragrance is designed to reflect the harsh Aussie outback and beautiful desert landscapes. It is unapologetically woody creating a deep, sensual, and warm scent. This long-lasting solid cologne works best when applied to dry skin.
13. Ireland Springs Beer Soap Company
This vegan blend contains no harmful chemicals or artificial fragrances. Perfect for the conscious lad or if you have sensitive skin, it is made from soothing and natural candelilla wax, palm kernel oil, and soy wax. This fresh and clean blend will have you smelling like a spring day in Ireland.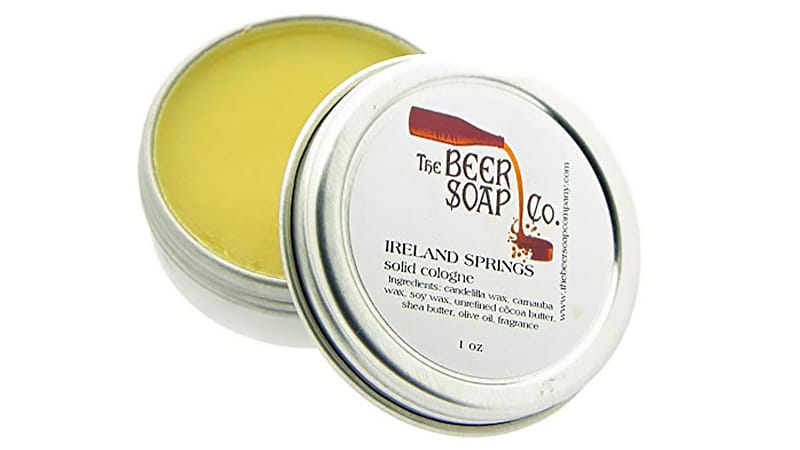 14. Urban Prince Cologne Fragrance Parfum
Indulge in the invigorating blend of spices, grapefruit, cedar, and fir and with a hint of soothing lavender essences. This dapper and sophisticated scent is perfect for the office or after-party. Just keep this solid cologne in your pocket and reapply as needed. However, this shouldn't be too necessary as the fragrance is made to last.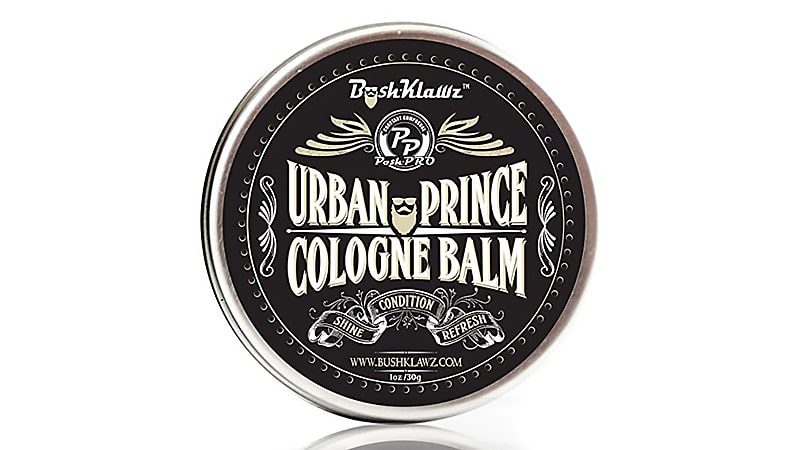 15. Outlaw's Life Solid Cologne Gift
Outlaw's Life Solid Cologne Gift set contains three solid colognes all with unique and desirable scents. Blends include scents of leather, sagebrush, gunpowder, whiskey, campfire, and tobacco. It comes in cool packaging which requires no extra wrapping for your convenience.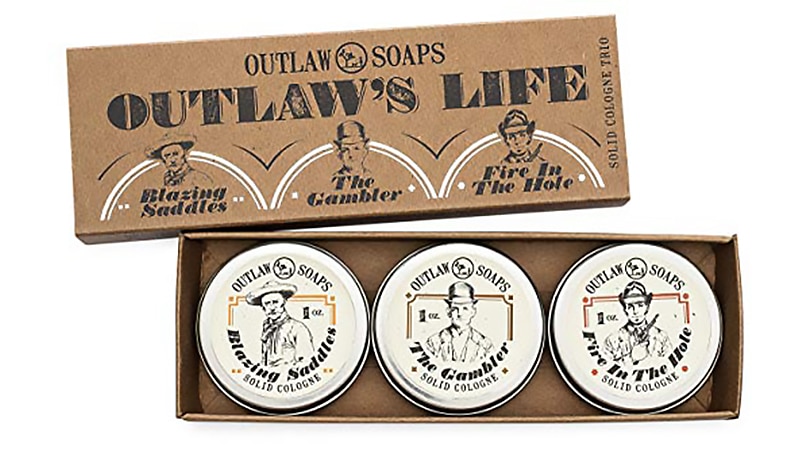 If you're looking for the latest fragrances, check out our article on the best colognes for men that are irresistible to women.
FAQs
What is a solid cologne?
Solid cologne is a fragrance that comes in the form of a solid balm or wax, rather than spritz-able liquid. It's more concentrated, easy to apply, and kind to your skin (as they don't have the drying alcohols that liquid fragrances do). They're also very convenient for traveling because they're small, lightweight, and won't break or smash like glass bottles can.
Is solid cologne good?
Solid cologne is an excellent option for modern gentlemen. It's easy to use, great for travel, and smells fantastic. On the downside, they're far less available than liquid fragrances, so they can be trickier to find. You also probably won't be able to get your favorite mainstream scent, as most large brands don't offer solid versions of their fragrances.
What is the best solid cologne?
Some of the best solid colognes for men are Duke Cannon Solid Cologne, Blazing Saddles Solid Cologne, and Cremo Solid Cologne Pocket.
How do I make men's cologne solid?
You can do a DIY solid fragrance at home by combining essential oils with equal parts of beeswax, jojoba oil, and shea butter. Slowly melt the last three ingredients together using a double boiler method, stirring constantly, and adding the essential oils once you've taken it off the heat. Pour it out into a sealable can, and you're ready to smell amazing. Alternatively, you can try substituting a small amount of your favorite fragrance for the essential oils; however, the extra chemicals and alcohols may change the final product's texture.
SUBSCRIBE TO OUR NEWSLETTER
Subscribe to our mailing list and get interesting stuff and updates to your email inbox.