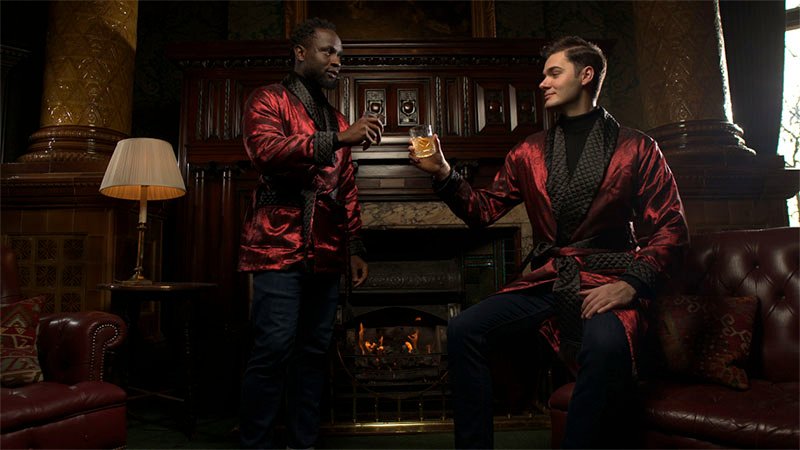 The smoking jacket has experienced a rollercoaster of changes in the last two centuries. Starting out as a humble piece of clothing to help you relax in your bedroom, it became a symbol of luxury at dinner and an iconic piece of fashion history amongst the Rat Pack. But how do you wear it today? The luxurious velvet and silk fabrics, double-breasted silhouette, and shawl lapels are some of the most iconic parts of this outerwear. They are a fantastic way to put a classic twist on your existing closet. Prepare to relax in style – bonus points if you have whiskey or a cigar. Here we have provided a history of this essential menswear attire and have collected the ten best smoking jackets for men to buy.
What is a Smoking Jacket?
A smoking jacket is a piece of clothing that is worn over your regular clothing while someone is enjoying a smoke or evening beverage. The original concept of this outerwear was to prevent hot ash from hitting the wearer's fine clothes. Smoking jackets have a distinctive style, including a shawl lapel, often decadent fabrics like velvet, silk, or satin, and a double-breasted silhouette. There are many different styles of smoking jackets, which can include ones for the home or for more formal settings. The latter became popular in the mid-to-late 19th century when more luxurious fabrics became readily available.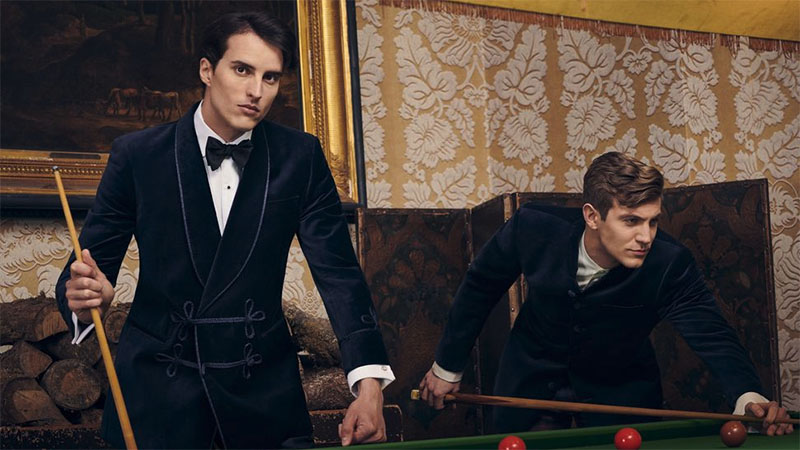 What Was the Original Purpose of a Smoking Jacket?
The traditional smoking jacket has a rich history in fashion. It originated from robes, which began circulating in the 17th century as pajamas became more mainstream. When tobacco was introduced to England in the 17th and 18th centuries, it became essential that the person would not leave ash on their clothing, as it could seriously damage the fabric. Moreover, it would help eradicate the scent of tobacco from infesting the wearer's clothing. In the mid-19th century, the purpose of this jacket changed, and it soon became associated with dining. Many may recognize them from the Rat Pack in the '40s and soon became associated with Hugh Hefner in the '60s.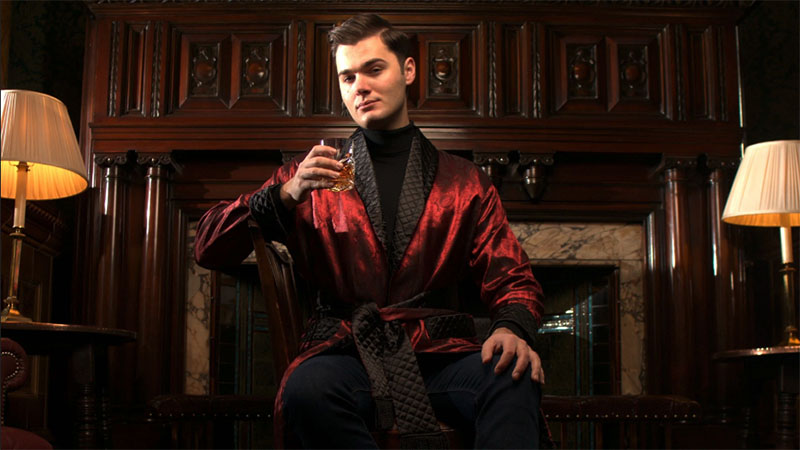 How Should a Smoking Jacket Fit?
When it comes to discovering the best and most stylish men's outfit that goes perfectly with an evening event, nothing fits the scene better than a smoking jacket. Unfortunately, you won't find a smoking jacket in any old store, so ensuring the fit is spot-on is key. Generally, it should be more relaxed than your typical blazer or suit jacket but not excessively baggy. One way to ensure you get the proper fit is to go with your normal size when selecting a smoking jacket – it should give off an almost tailored feel and still be comfortable. Seams should end at your shoulders, while sleeves should hit right around your wrist and not too much longer or shorter. If anything looks off or feels a bit snug when you try it on, size down as needed for best results.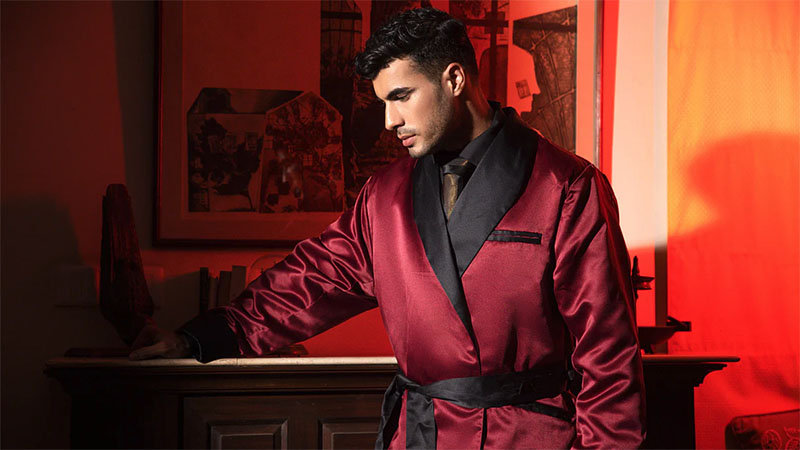 Best Smoking Jackets
1. Lucasini Velvet Smoking Jacket
Thanks to this smoking jacket, taking your time to relax has never been easier. Crafted from fully-lined satin and a velvet outer, it is luxurious and stylish. The design is classic with contrast piping and provides ample room to hold your things with three pockets. You can choose from three sleek shades, which provide a sense of royalty as soon as you slip them on.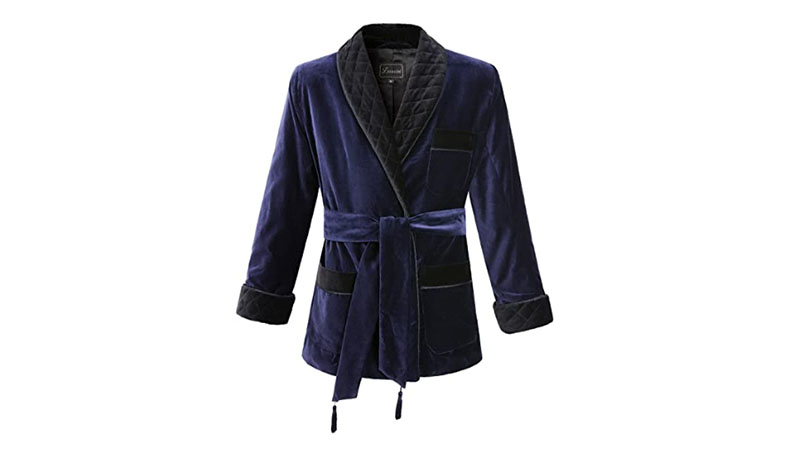 2. Savage X Fenty Smoking Jacket
Combine the extreme comfort of a night robe with a tuxedo, and you have yourself this smoking jacket from Savage X Fenty. While it appears as any other robe, it features elements of the traditional silhouette, such as a shawl lapel, three pockets, and a waist-tie belt. There are three shades to choose from, each crafted from decadent satin and featuring a beautiful pattern. Your skin will thank you when you wear this piece of clothing after a long day.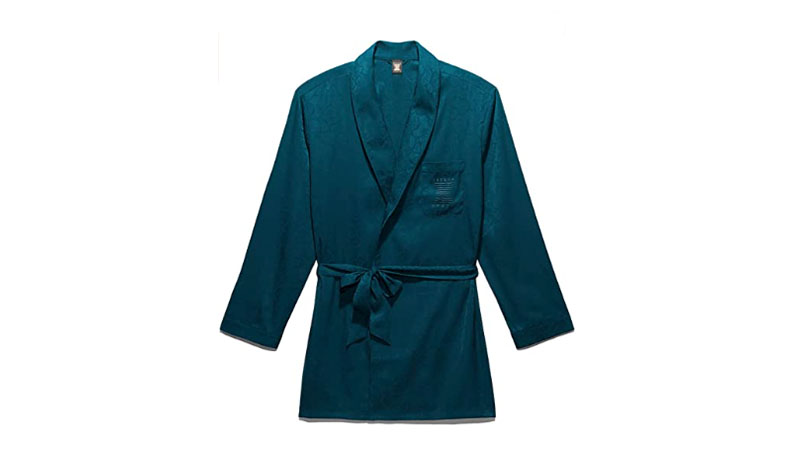 3. AMI Paris Double-Breasted Smoking Jacket
Tradition with contemporary design fuse together to create this elegant smoking jacket. Much like a classic design, it features a double-breasted construction with peak lapels and a chest pocket. However, the modern color and virgin wool fabric instantly elevate the design, providing a fresh take on a timeless silhouette. Wear this with black trousers or something lighter for a more updated style.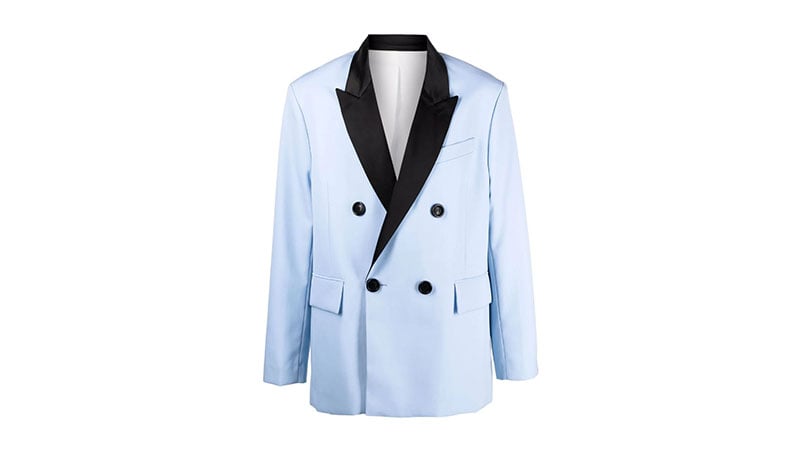 4. Derek Rose Smoking Jacket
When temperatures dip, and you need to stay warm in the evening, turn to this smoking jacket to do the job. The sleek and snug outerwear provides luxurious comfort all night long and still looks stylish enough to have guests over. This design offers many features from the traditional silhouette, such as turn-back cuffs, a shawl lapel, and a tie waist. It is perfect for chilly weather with a fully lined construction and checks pattern. The Derek Rose name is famously associated with smoking jackets, as this brand helped increase popularity in the late 1920s. When wearing this, you are, in fact, experiencing a part of fashion history.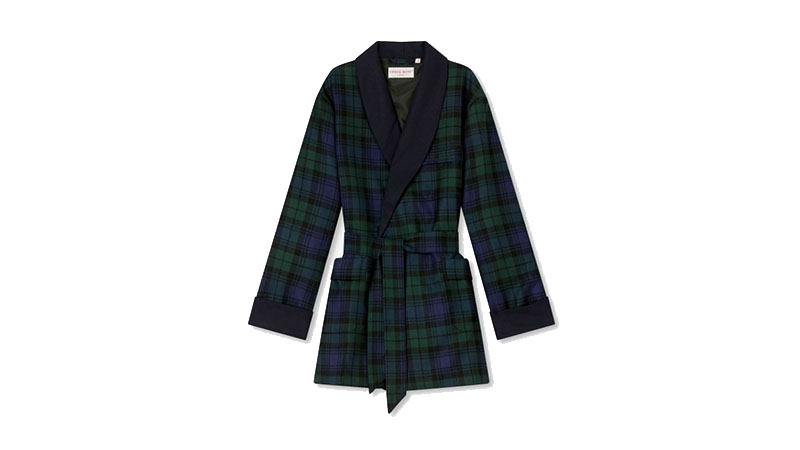 5. Classic Smoking Jacket
Take things back to the 19th century with this classic smoking jacket. The high-quality velvet fabric is soft to the touch and ultra-luxurious, and the satin lining makes it silky smooth. It's complete with a tie waist and a quilted lapel for a snazzy finish. The classic black and white colors are stylish and timeless, making for an excellent choice after a long day and relaxing in the evening. You don't have to smoke while wearing this, but you'll certainly feel super fancy.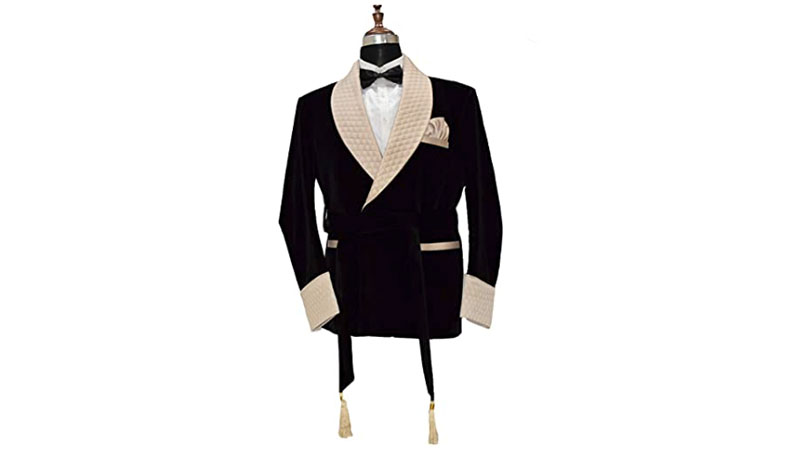 6. Abruzzomaster Smoking Jacket
Is it time for you to up your jacket game? Well, look no further than the smoking jacket from Abruzzomaste. This sleek and stylish outerwear features a classic tuxedo design, with touches of extravagance on the buckle closures, a shawl lapel, and velvet construction. The upturned cuffs are a classic element, but if you want to update the look, why not try it in one of the three available colors – purple, black, or navy?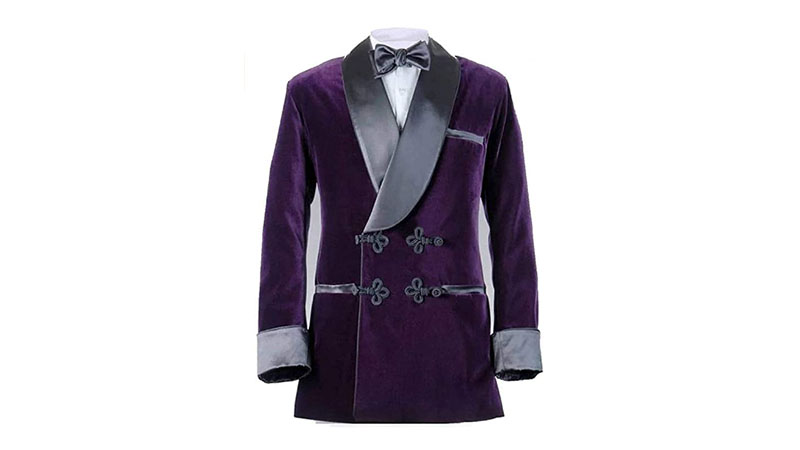 7. Ascentix Smoking Jacket
There's no better feeling than coming home after a long day and wearing comfortable clothing. This jacket provides that feeling of relaxation but also incorporates elegance and old-timey classic style. The jacket is lined with satin, making it soft and silky when you wear it, and the luxurious velour is decadent and plush. Complete with contrast piping trim, a matching waist tie, and two roomy pockets, it's the ultimate first step towards R&R.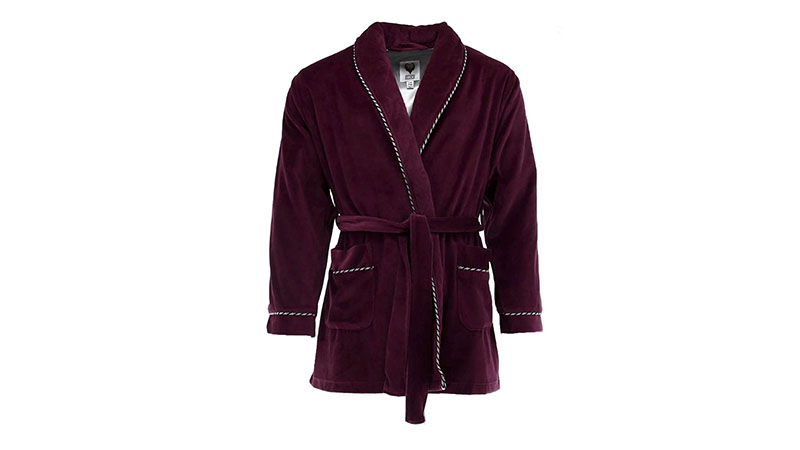 8. ASOS Burnt Orange Slim Smoking Jacket
Are you ready to stand out in every room you enter? This burnt orange smoking jacket is the ultimate people-pleaser, and we can see why! Not only is the shade bold and interesting, but it pays homage to the traditional outerwear worn in the 19th century. With classic shawl lapels and a tie waist, it is constructed from soft velvet and is lined for extra comfort. What's more, it is slim in size, so it sits effortlessly against your clothing without creating any extra bulk.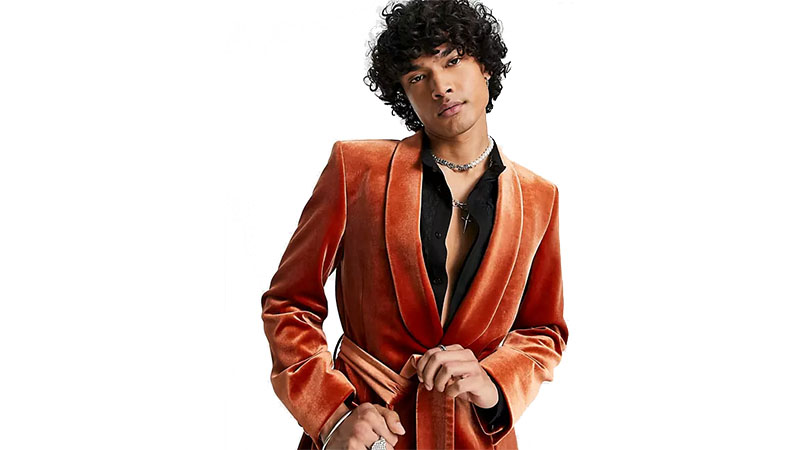 9. Silky Smoking Jacket
Thanks to this smoking jacket, your evening wind-down just got a lot better. Unlike other styles, this outerwear is ultra-lightweight but still provides the luxurious feeling that comes with this silhouette. This style is made from satin fabric and takes a more modern approach to the traditional smoking jacket. However, it still offers the classic elements that make it identifiable, such as the shawl lapel, three pockets, upturned cuffs, and a tie waist. Add this to your nighttime ensemble, or throw it over your work clothes when you come home and need to relax.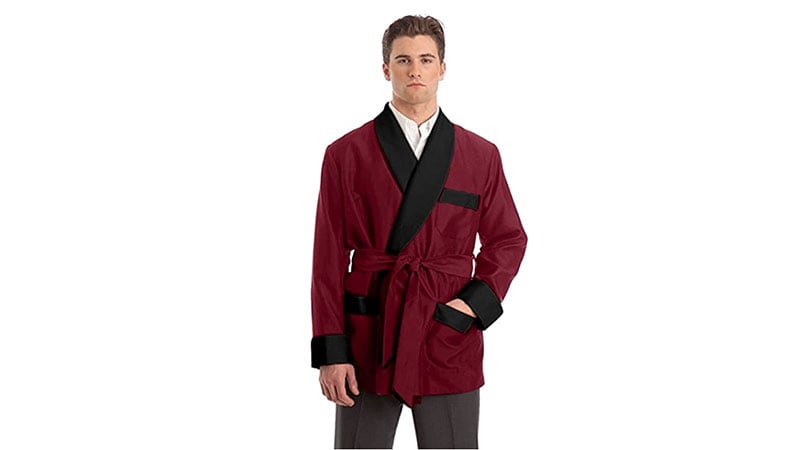 10. ASOS Sage Green Oversized Smoking Jacket
With padded shoulders and a striking sage green color, this smoking jacket is a modern interpretation of a classic design. This is a great choice if you want to deviate from the norm and try something new. The bold shade works well with light trousers and shirts and is an excellent choice for transitional temperatures. The soft velvet fabric is luxurious and a great way to mix up your routine.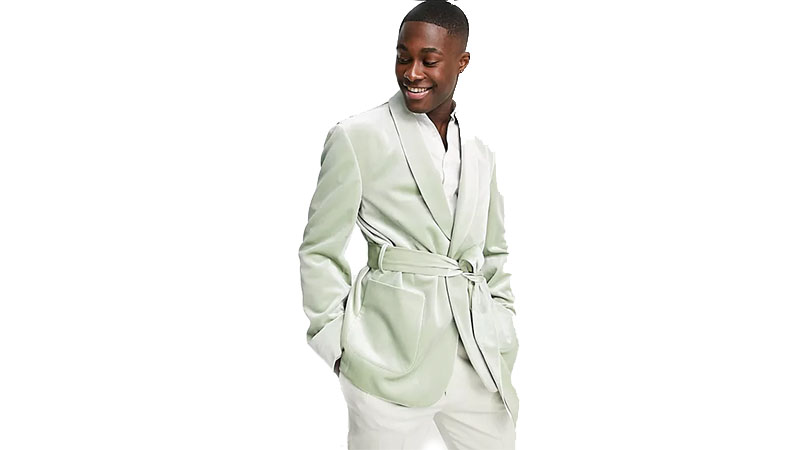 How to Buy a Smoking Jacket
Styles and Features
When shopping for a smoking jacket, it's important to focus on finding one that meets your individual needs and preferences. Take into consideration the various aspects mentioned in the how-to-wear guide, such as occasion, type of fabric, and color or pattern. A key factor to look at is whether the jacket has a modern or timeless cut. Some may love the iconic tuxedo style, while others may prefer something more contemporary with an urban edge. As long as you feel confident in wearing it and it meets all your ideal criteria, then it's important that you can look forward to wearing your new smoking jacket out with style.
Sizing and Fit
Adding a smoking jacket to your wardrobe offers a unique and stylish option for formal occasions. It is important, however, to remember the correct fit of a smoking jacket when shopping for the perfect one. Because the fabric of a smoking jacket is usually bulky and not forgiving, you may need to consider having alterations done by your tailor; but it's worth it for the perfect look! Generally speaking, smoking jackets are cut more generously than dinner jackets, but even with sashes that allow more volume, be sure you're selecting one that fits your frame properly. Getting sized properly and making adjustments if needed will guarantee that you have the perfect pick for sipping bourbon on your next night out.
Secondhand Smoking Jacket
Shopping for a vintage smoking jacket can be a great way to save money while still getting the desired quality and style. However, it takes some know-how and luck in order to ensure that you bring home something of true value at an attractive price. You should look out for any general signs of wear and tear, such as discoloration or burn marks, and inspect the garment to ensure any lingering odors are not embedded in the fabric. If all goes well though, you may find yourself the proud owner of a high-quality smoking jacket at a fraction of its original cost.
Men's Smoking Jacket FAQs
What does the phrase smoking jacket mean?
A smoking jacket is a piece of outerwear, often made from velvet or satin, that features a tie waist or double-breasted pockets. It was originally intended for home wear but has since become an alternative for formal attire. 
When should you wear a smoking jacket?
While the smoking jacket was originally intended for the home only, it has since become an appropriate piece of clothing for a formal or black tie event. There are different styles of smoking jackets - tie waists are best suited for home, as they resemble the traditional robe style. However, jackets made from velvet and featuring a double-breasted silhouette can be worn to almost any formal event. 
What is worn with a smoking jacket?
This depends entirely on the location you are wearing the jacket. If you are heading to a formal event, you can pair the smoking jacket with a button-down shirt and smart trousers. Complete the look with a bow-tie or a cravat if you want to emulate the 19th-century aesthetic. For home-only smoking jackets, you can wear anything you like, as long as it's comfortable!
SUBSCRIBE TO OUR NEWSLETTER
Subscribe to our mailing list and get interesting stuff and updates to your email inbox.