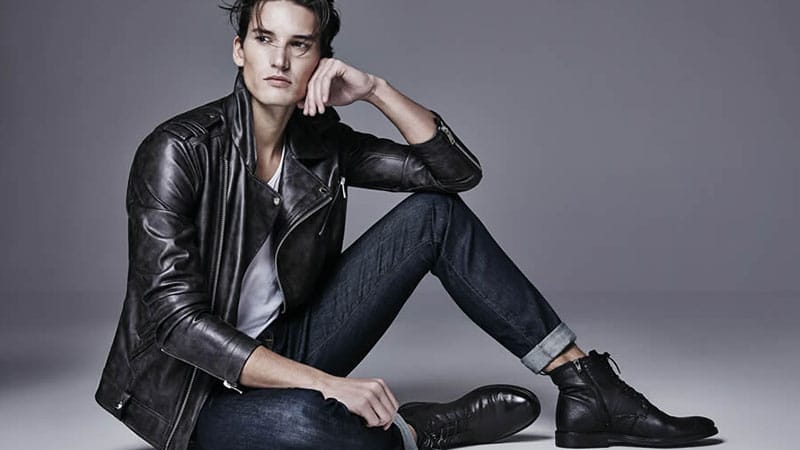 Your shoes can either make or break your outfit, so it's essential to get the choice right. As such, all gents should know the best footwear styles to partner with their pants. Unfortunately, when it comes to jeans, finding the perfect shoes can be difficult. As jeans are available in a wide range of silhouettes, not all shoes will suit all styles. Luckily, we're here to help you decipher the right shoes to wear with jeans. Whether you need fashionable footwear to suit with your skinnies or stylish shoes to complement your straight-legs, we've got you covered.
RELATED: 40 Best Jeans Brands for Men
RELATED: What Shoes To Wear With Jeans for All Occasions
What shoes to Wear with Skinny jeans
These days, most gents own a pair of skinny jeans and why wouldn't they? Skinny jeans are modern, sleek, and completely stylish. But, there is one thing that can instantly ruin an awesome outfit with skinny jeans: the wrong shoes. When you're rocking your skinnies, it's important to note that not all shoes will work well with this tight-fitting denim style. In particular, shoes that are thick or chunky will make your feet look awkwardly large next to slim legs.
As such, it's best to stick to simple and streamlined styles of footwear. Chelsea boots are a particularly good choice thanks to their slim and smooth silhouette. Choose a pair in black or brown leather, and you'll always have shoes ready to wear with skinny jeans. Oxford shoes are another excellent choice and are perfect for more formal events. Sneakers, on the other hand, are ideal for casual occasions, but you must pick a slim pair to avoid looking like a clown.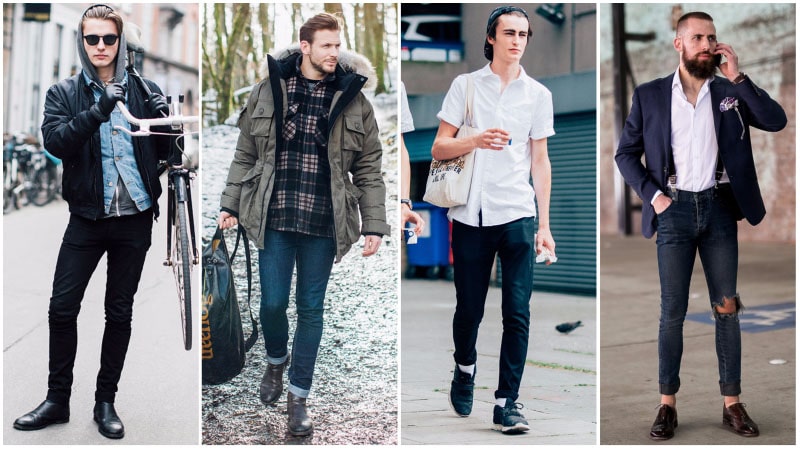 SHOP THE LOOK
What shoes to Wear with Slim Jeans
Slim jeans are appropriate for a range of looks and, therefore, you can wear them with a range of shoes. However, as with skinny jeans, it's important to remember to balance a slim pair of pants with a slim footwear style. To do so, avoid bulky shoe styles, such as lace-up boots, and choose designs that are a little lighter. Loafers, for example, are an excellent choice and look great when worn with slim jeans. Together, the combination is sleek, stylish, and well-balanced.
Other footwear styles to consider when donning slim jeans are sneakers and derby shoes. While sneakers are ideal for casual outfits, derby shoes work perfectly with more polished ensembles. Just be sure only to choose pairs that are a suitable size and shape. While your shoes can be a little thicker than those you would wear with skinny jeans, they must still achieve a balanced, slim aesthetic. If you do choose a design that's wide or thick, select it in a dark colour, such as black, for a more flattering appearance.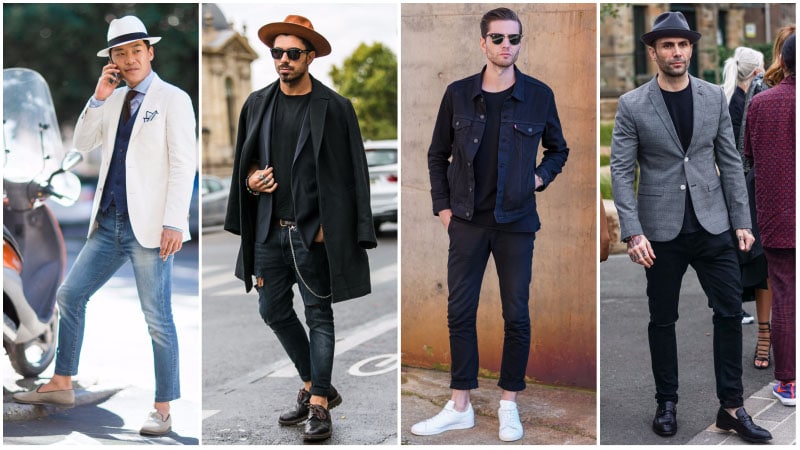 SHOP THE LOOK
What shoes to Wear with Boot Cut Jeans
Unsurprisingly, boot cut jeans look fantastic when worn with boots. Thanks to their shape, which flares out slightly from the knee to the ankle, boot cut jeans sit perfectly over a pair of boots. So, when you're rocking this classic style of denim, you just need to select the type of boots that you want to wear. You can easily do so by choosing the style that best suits your overall outfit. For example, if you're rocking a smart casual or semi-formal outfit, chelsea boots are an ideal option. If you're donning a casual look, on the other hand, lace-up boots will be a better choice.
Alternatively, if you're not a boot-loving gent, you can consider wearing your boot cut jeans with a pair of derby shoes instead. To nail the look, you just need to ensure that they balance out the wide hem of your pants. To do so, opt for a pair with a thick sole and a round toe. Also, ensure that your jeans are long enough to cover your ankles but short enough to show off at least part of your shoelaces.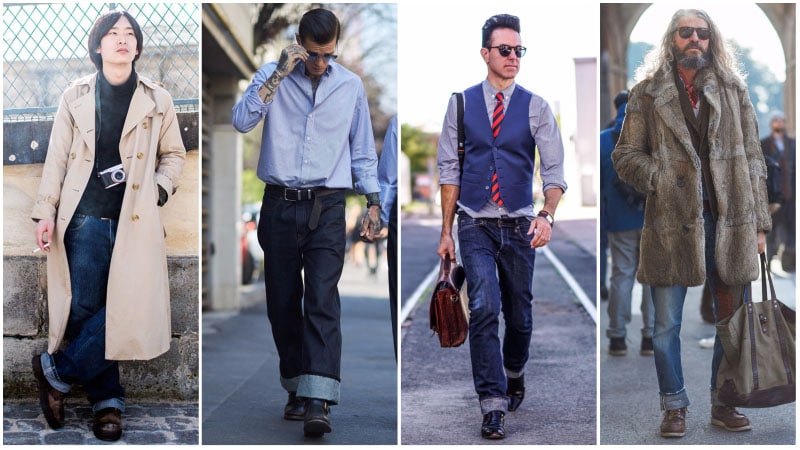 SHOP THE LOOK
What shoes to Wear with Straight-Leg Jeans
Straight-leg jeans are a classic denim style that every gent should own. They provide a minimal and clean aesthetic but are far from boring. In fact, these understated pants can be quite exciting and are perfect to wear with fashionable casual and smart casual outfits. All you need is the right shoes and shirt, and your straight-leg jeans will project a sophisticated, stylish and contemporary appearance.
When choosing your shoes, look to styles that are both refined and relaxed, such as brogues, boots, sneakers, and loafers. Each of these footwear styles will appear excellent when partnered with your straight-leg jeans to achieve a laid-back, luxe look. As your straight jeans are neither tight nor loose, there's also not much need to worry about proportions. Both broad and slim shoes can suit this style of denim well.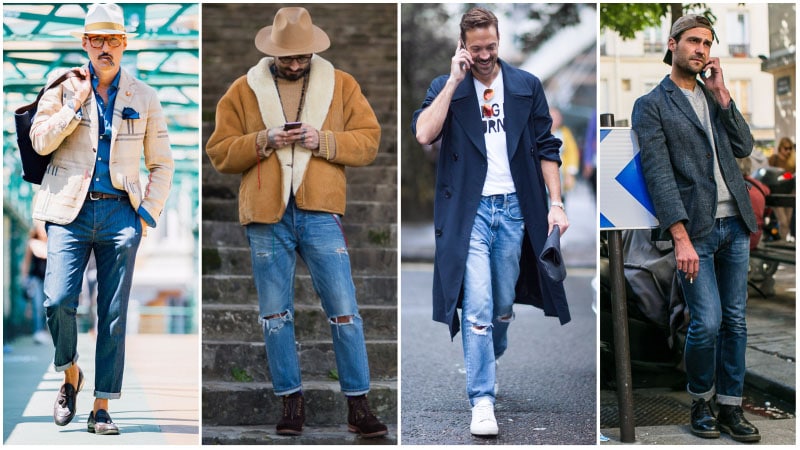 SHOP THE LOOK
What shoes to Wear with Tapered-Leg Jeans
Tapered-leg jeans fall somewhere in-between straight-leg and slim styles of denim. As their name suggests, they also taper and feature a looser fit near the thighs and a tighter one near the calves and ankles. Due to this shape, it's important to select shoes that will help balance your overall appearance. Chunkier styles and those that finish higher on the ankle will add weight to the lower half of your legs and offset the extra fabric up top.
If you like to pinroll or cuff your jeans, you should consider choosing a style of footwear that is low and wide, such as leather sneakers or derby shoes. Choosing suede derby shoes over leather styles will also add more texture and weight to the look while maintaining a sophisticated aesthetic. If you don't plan to show off your ankles, you can select either high-top sneakers or chukka boots for a fashionable and flattering appearance.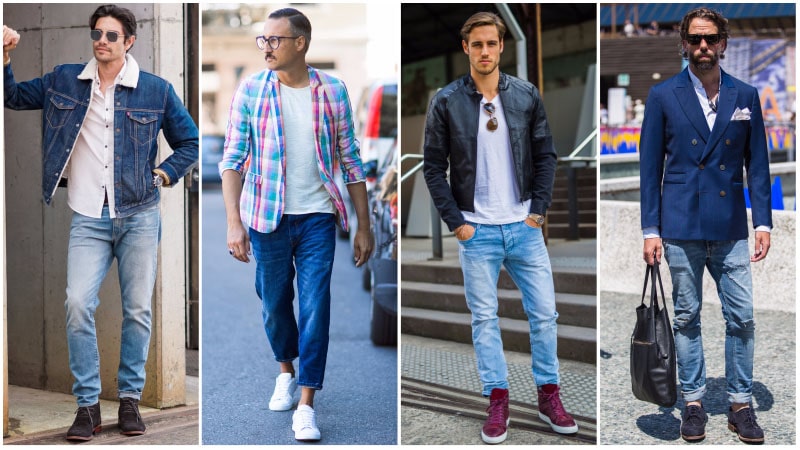 SHOP THE LOOK
SUBSCRIBE TO OUR NEWSLETTER
Subscribe to our mailing list and get interesting stuff and updates to your email inbox.