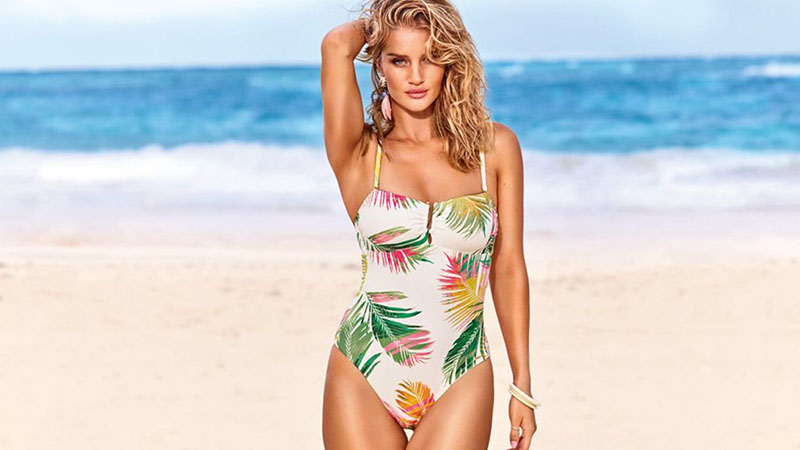 For your next vacation, why not hit the beach or the pool in style? You don't always have to rock a bikini to look and feel sexy, one-pieces swimsuits are just as seductive and beautiful. From something simple to elaborate cut-outs, there are a massive variety of bathing suits to choose from. So whether you're taking a dip in the ocean or just after that perfect Insta snap, here are the sexiest one-piece swimsuits that will have you looking hotter than the sun.
Sexy One Piece Swimsuits
Black One Piece Swimsuit
Sometimes you can't go wrong with a little black swimsuit. Whether you're stepping onto the sand or relaxing by the pool, you'll look effortlessly sexy in one of these bathing suits. Keep it simple with a plain design or let your legs do the talking with a high cut – it's up to you. You'll be the hottest one on the beach in these beauties!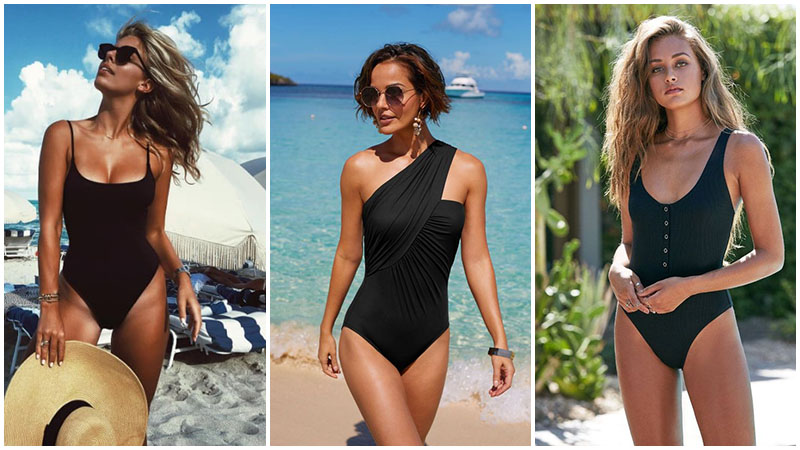 Get the Look
Red One Piece Swimsuits
The sun is sizzling and so are you in this red bathing suit. From a retro pinup-inspired look to something straight out of Baywatch, these piping hot swimsuits are sure to turn some heads. After you've finished with your dip in the water, throw on a pair of shorts and hit the town for ice cream; the whole world will need to cool down after seeing you!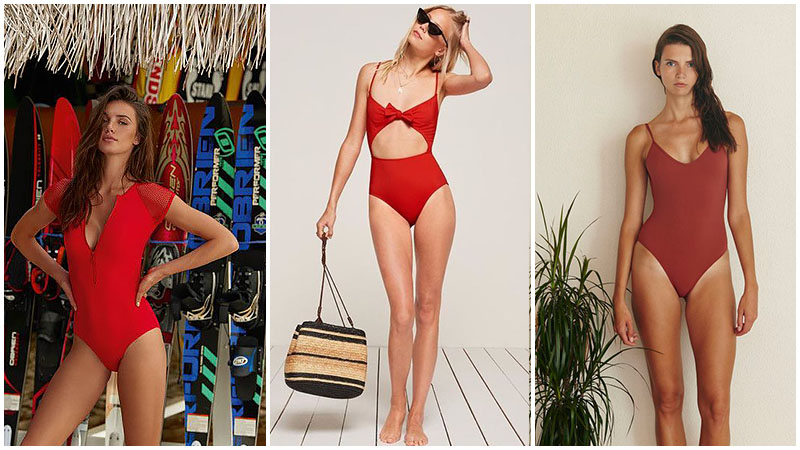 Get the Look
White One-Piece Swimsuits
Stand out from the crowd in one of these wicked white one-pieces. These swimsuits look amazing soaking up the sun, no matter how you style it. Choose from basic stripes or a block tone; there are no wrong answers when it comes to these cute bathers! Pair it with a blue overshirt and some killer sunnies for a complete look.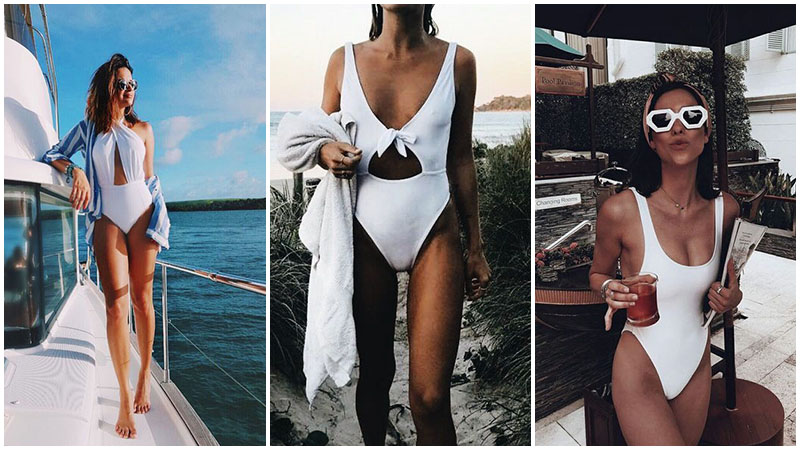 Get the Look
Cute One Piece Swimsuits
Switch things up in one of these cute swimsuits. Polka dots, stripes, and frills are the perfect finishing touches to a bathing suit that will make it unlike any other. Stand out by wearing a traditional piece in a zesty color such as lemon, orange or pink. You could even add a flourish like a matching belt to complete the look. With pieces this lovely, everyone will be asking you "Where did you get that?"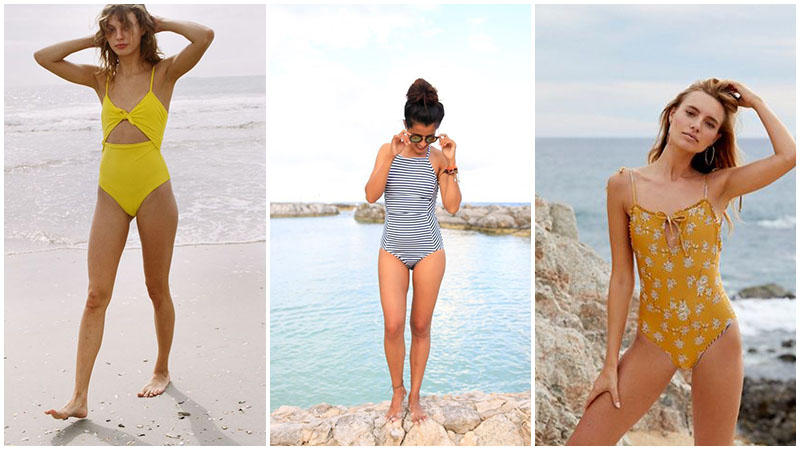 Get the Look
One Piece Thong Swimsuit
You've worked hard at the gym, why not show it off with one of these swimsuits? Made for those who are feeling a little cheeky, these bathers have a super high cut and make your butt look its best. You can find them in a myriad of colors and designs, so you can pick something that best suits you and your style. These also look best when lounging by the pool; be aware that you may get a wedgie or two!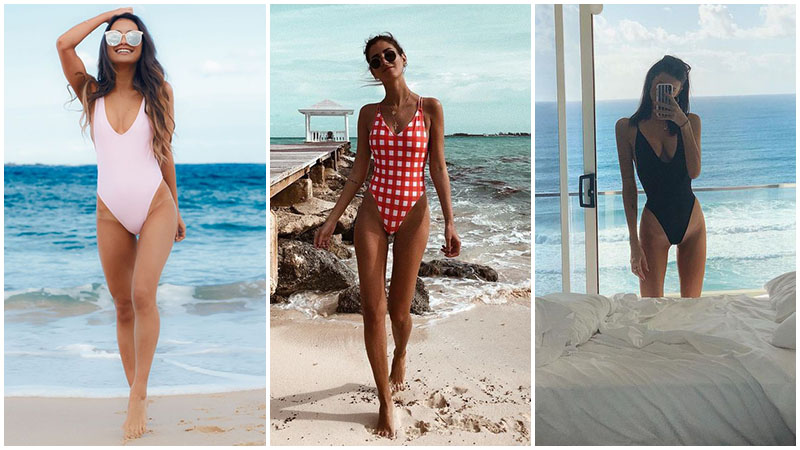 Get the Look
Cut Out One Piece
You don't have to wear a bikini to rock a bit of skin; a cut-out swimsuit is a perfect way to feel a little flirty without wearing a two-piece. This style comes with a large variety of cut-outs, so no matter if you want to show off a bit of midriff or your back, you can find something that perfectly matches you and your preferences! Be aware, you may end up with some funny looking tan lines, but it's so worth it with bathers this fierce.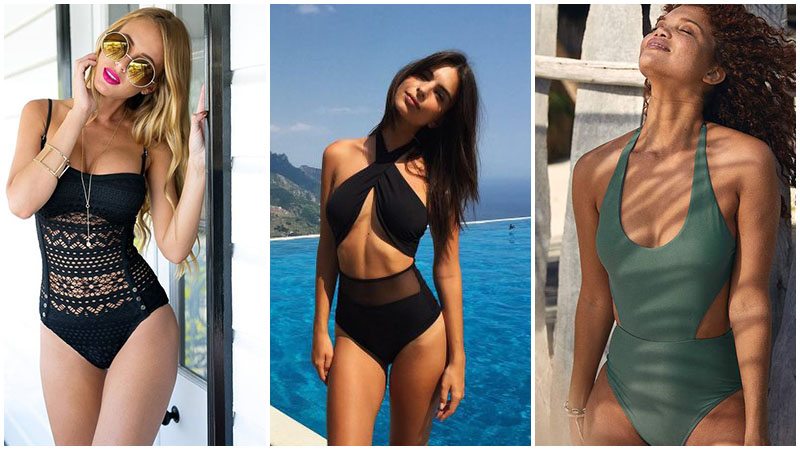 Get the Look
High Neck Swim Suit
Show off your stunning shoulders and nip in the waist with a high neck swimsuit. Styles like this give off an instant high-fashion appeal and look fantastic when paired with shorts or palazzo pants. This is also an ideal neckline if you're susceptible to burning on your chest, or if you'd prefer to keep your decolletage covered. These bathers will guarantee you a compliment or two, no matter where you are.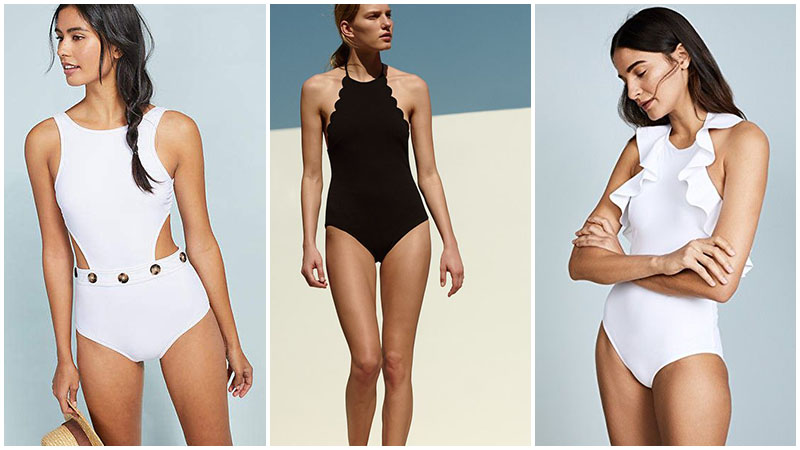 Get the Look
Off The Shoulder Swimsuit
Cute, flirty, and fun – these swimsuits are a crowd favorite. Soak up the sun in an off-the-shoulder bathing suit and watch the compliments roll in with the waves. You can choose to wear a large frill, contrasting patterns, subtle folds or something asymmetrical; they're a beautiful option if you'd like to showcase your shoulders and nip in your waist. These are a timeless pair of bathers that look good on everyone.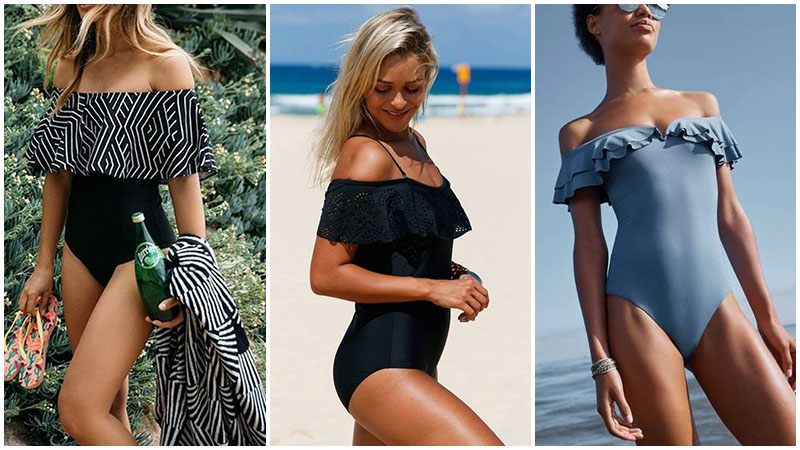 Get the Look
Push Up Swimsuit
Give yourself a boost with one of these push-up swimsuits. Whether you need some serious support or you'd like a lift, these bathers are sure to do the trick. Choose from a plunging neckline or a balconette cup for optimum elevation; brighter colors make a tan pop and make an impact. So, what are you waiting for?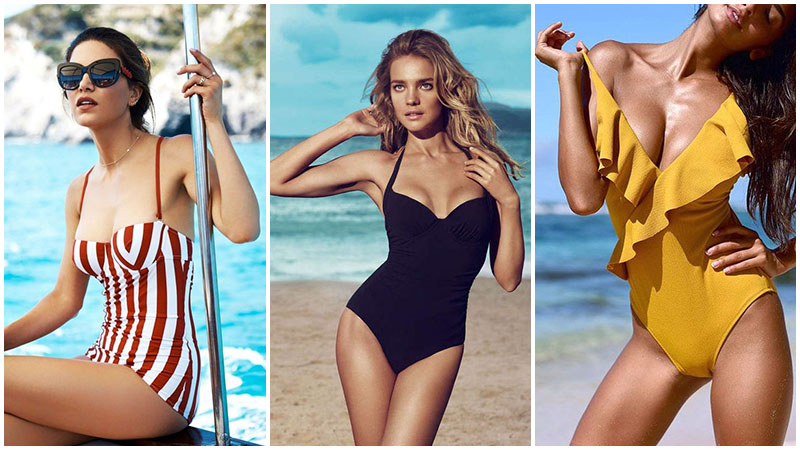 Get the Look
Long Sleeve Swimsuit
Protect your skin from the harmful rays with a long-sleeved swimsuit. Whether you're spending the day on the board or you're lapping it up in the pool, these beautiful bathers shield you from the sun in style. You can choose to wear something made of scuba material or classic swimwear fabric. No matter how you rock it, you'll look like a superstar!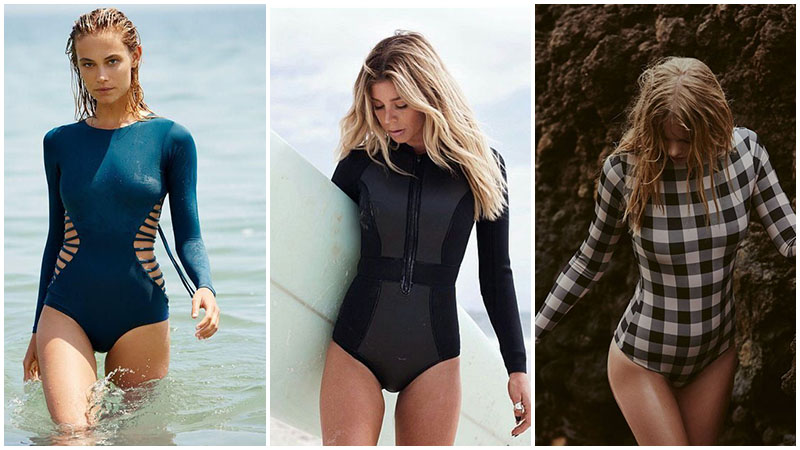 Get the Look
Low Back Swimsuit
These bathers embrace the idea of business in the front, the party in the back. Low scoop swimsuits are essential to have in your wardrobe. Choose from a myriad of designs and cut-outs to show off your skin. They're super flattering and look fantastic!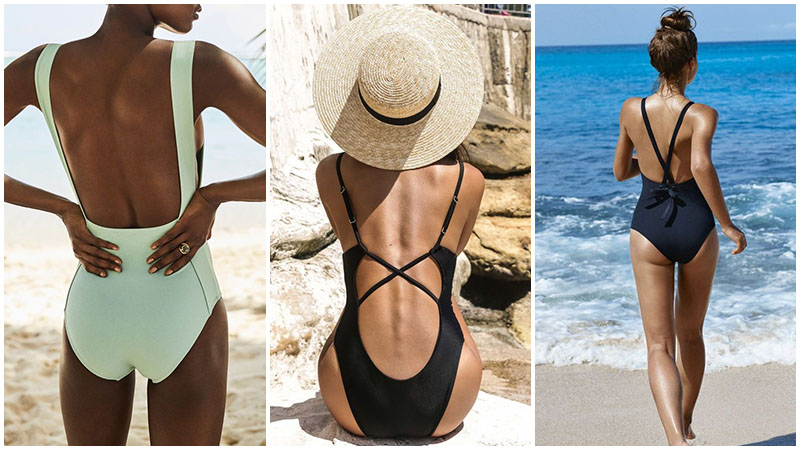 Get the Look
Strapless Swimsuit
A strapless neckline is a beautiful alternative for a pair of bathers. Perfect for showing off your shoulders and decolletage, these swimsuits are sure to turn a few heads. You can slip a shirt over the top if you'd prefer to cover up a little. Choose the pattern and style that you prefer, and you'll effortlessly be as hot as the sun.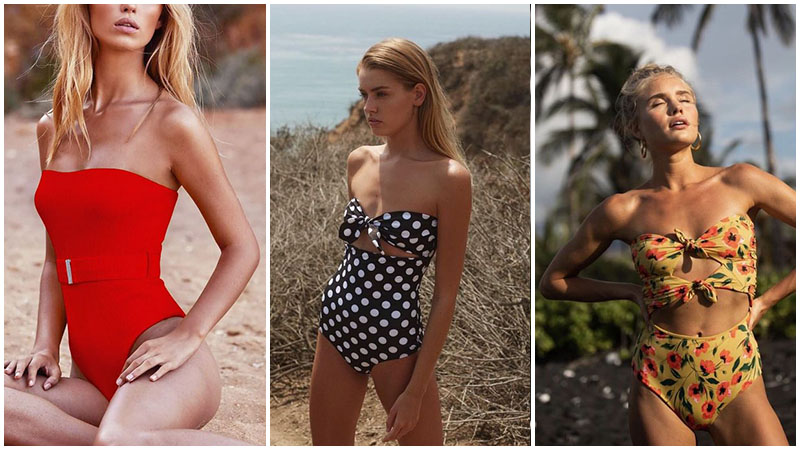 Get the Look
Brazilian Swimsuit
These swimsuits are one of the most popular choices and for a good reason. A narrow triangle cut characterizes the Brazilian bathing suit. You can find these bottoms on a tremendous variety of swimwear so that you can choose the perfect fit for you. This allows you to pick out a neckline and colors of your choice.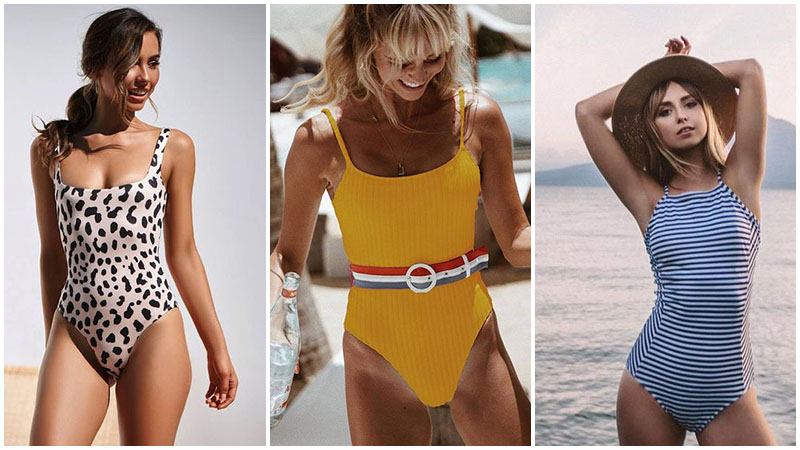 Get the Look
Floral Swimsuit
A rose by any other name would smell as sweet. Whether you wish to be covered in flowers or prefer a simple design, these bathers are sure to get some attention. Be inspired by retro styling with the '50s cut or embrace the future with sexy cutouts. No matter what you choose, you'll be as beautiful as a rose.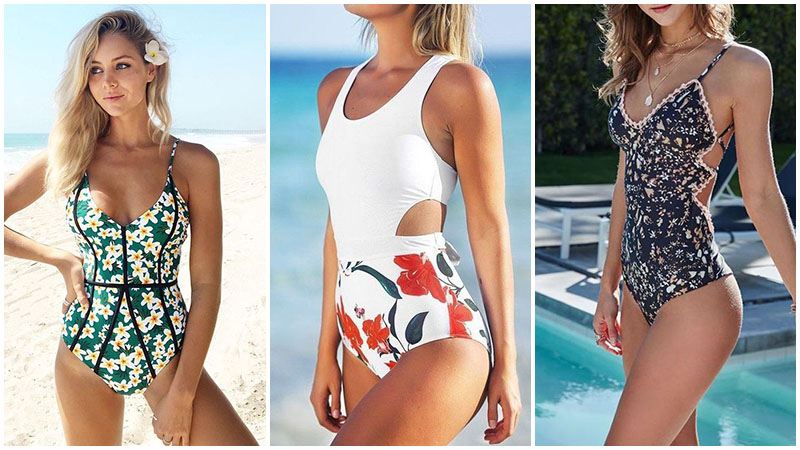 Get the Look
Halter Swimsuit
Put a twist on the classic swimsuit with the help of a halter neck. Wrap the straps around your neck to elongate your shoulders, or opt for a plunging neckline for some added drama. These bathers look amazing on all body types and come in a massive variety of designs.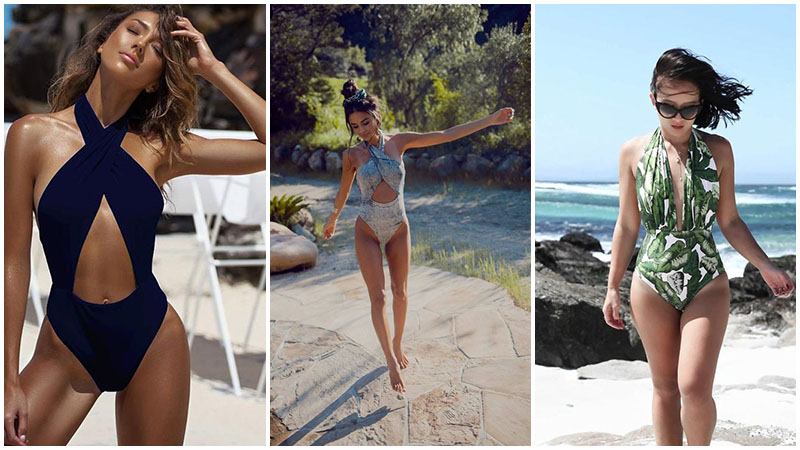 Get the Look
Lace-Up Swimsuit
Tie up any loose ends with one of these sexy swimsuits. Daring but subtle this bathing suit will get you noticed for all the right reasons. Lace-up bathers look amazing when sightly undone at the front or entirely tied on the sides. These are a great option if you want to give yourself a bit of a lift, or if you're feeling a little flirty.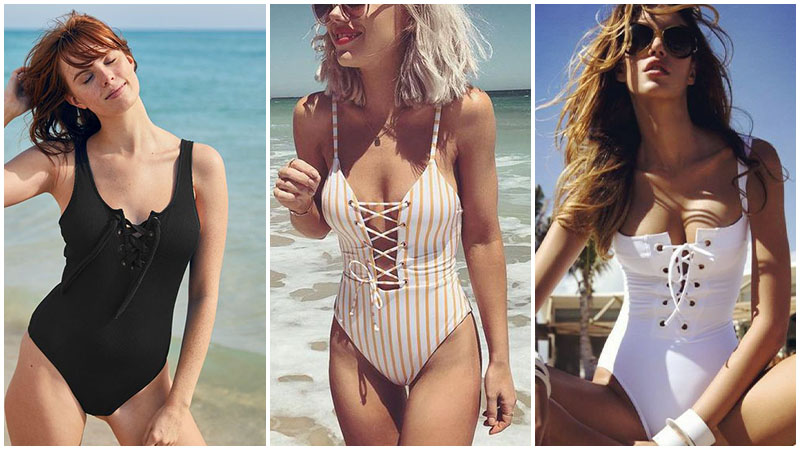 Get the Look
Graphic Swimsuit
Make a statement and watch as all eyes are on you with these graphic swimsuits. Prints, statement slogans, and patterns, all of these make you stand out like no other. These bathing suits can showcase your dazzling and hilarious personality, so don't be afraid to step outside of the box and shine like the star that you are.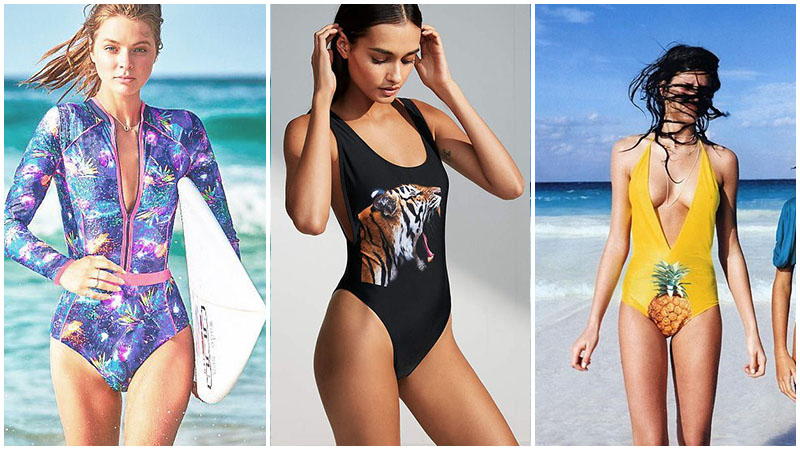 Get the Look
One Piece Swimsuit with Skirt
Be cute, flirty, and oh-so-stunning in one of these dress swimsuits. These look exquisite when paired with crashing waves and sand. Opt for a sporty feeling aesthetic with an A-line skirt or feel extra fun in this bathing suit.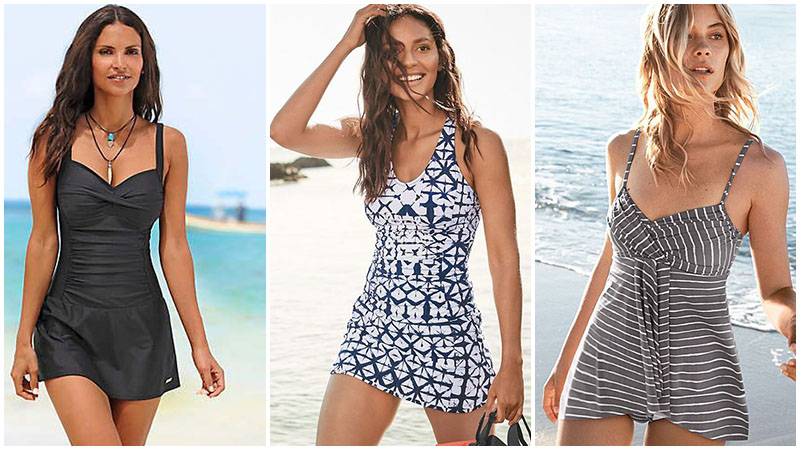 Get the Look
Swimsuit with Words
Make a statement at the beach or poolside with these slogan swimsuits. Quirky and youthful these bathing suits are sure to get people talking. Choose from a brand logo splashed on the front or a nod to pop culture.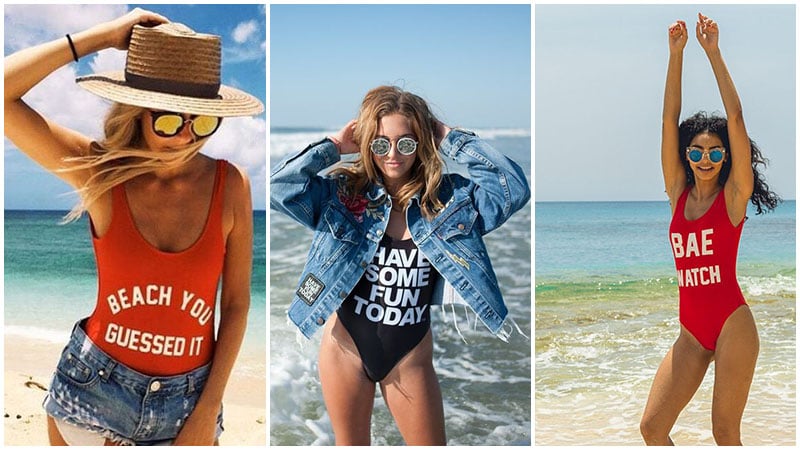 Get the Look
Plus Size Swimsuits
Show off your beach body with these impeccable swimsuits. Bright colors such as reds, blues, and greens will look stunning against the ocean or pool; whites and blacks are a classic choice for a more traditional approach. Boylegs and Brazilian cuts are incredibly flattering and look amazing when paired with a tan. Go out and show the world what your mama gave you!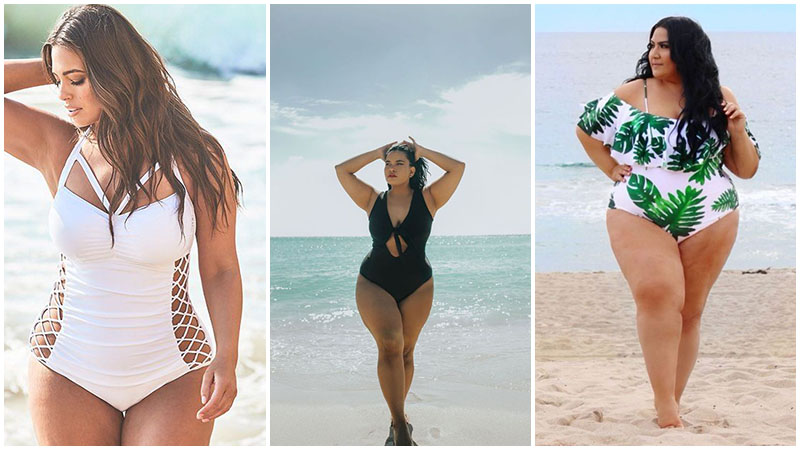 Get the Look