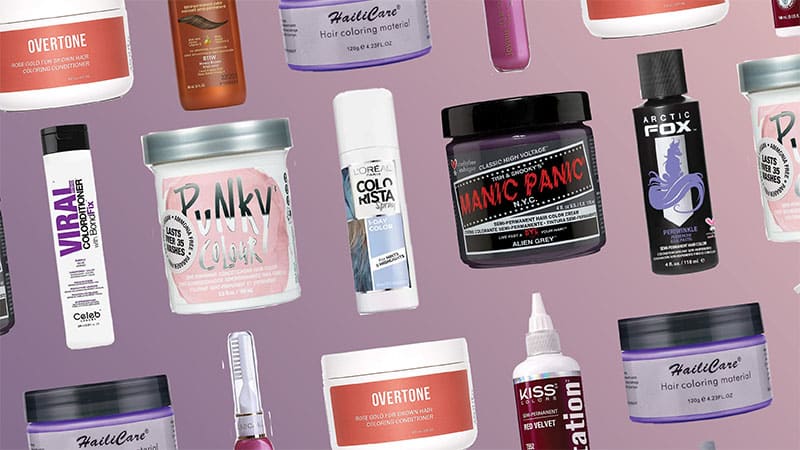 Semi-permanent hair dye products are the best way to switch up your look without committing to long-term change. Opt for that hot pink or vivid blue you've always coveted but not been brave enough to try. Alternatively, if you are considering a more significant, permanent change, it's a great way to check you're not insane first. You get to try out a different color for a few weeks see what you think without the risk of regret. Best of all, semi-permanent dyes won't cause any damage as they don't contain the harsh ammonia or peroxides of permanent dye. If a few weeks is still a bit long, or you just have a special occasion like a birthday or festival, try a temporary color. These sprays, waxes, and chalks are designed for single-day wear, and you can wash them out like nothing ever happened.
Semi-Permanent Hair Color Products
1. Keracolor Clenditioner Hair Dye
Enjoy healthy, vibrant, colorful hair with the Keracolor Clenditioner Hair Dye. The cruelty-free formula is a three-in-one product that colors, cleanses, and conditions your hair. Simply apply the rich, non-lathering cream to wet or dry hair, let it sit, then rinse. It deposits semi-permanent instant color to the hair shaft, allowing you to build the intensity with every use. Additionally, it contains nourishing ingredients to protect your hair and add shine and softness. These ingredients include keratin complex, shea butter, rosehip, coconut, jojoba, and almond oils. This is the perfect way to switch up your look and maintain vibrancy. Lastly, you can select from 18 vibrant and beautiful shades.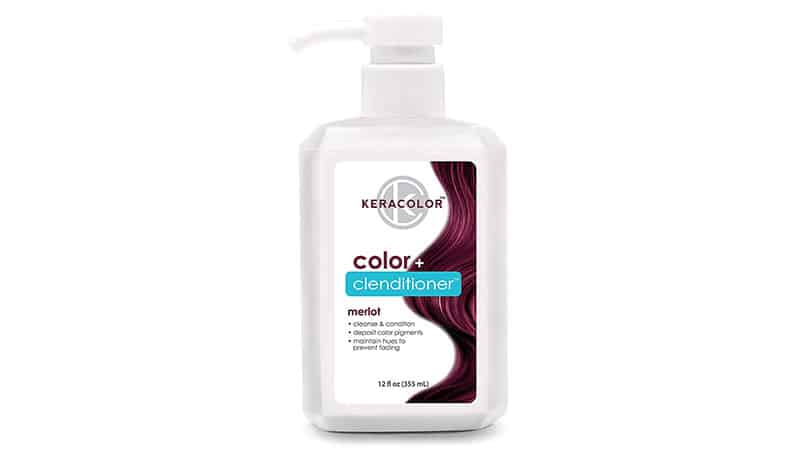 2. oVertone Semi-Permanent Sulfate Free Hair Color Conditioner
oVertone offers award-winning semi-permanent hair color. The thick, rich coloring conditioner is packed full of healthy hair ingredients, such as avocado oil, coconut oil, and shea butter. Plus, there are no nasties that will damage your tresses, including ammonia, bleach, parabens, or sulfates, and it's vegan and cruelty-free. Use the gloves to apply a generous amount of product from root to tip, and leave it in for just 15 minutes. Then, rinse it out and get ready to show off the rich multi-dimensional color that will turn heads. Best of all, it's made for all hair types, including coily, curly, kinky, or straight. You can also choose specially designed brown hair formulas for better results when starting with a darker base.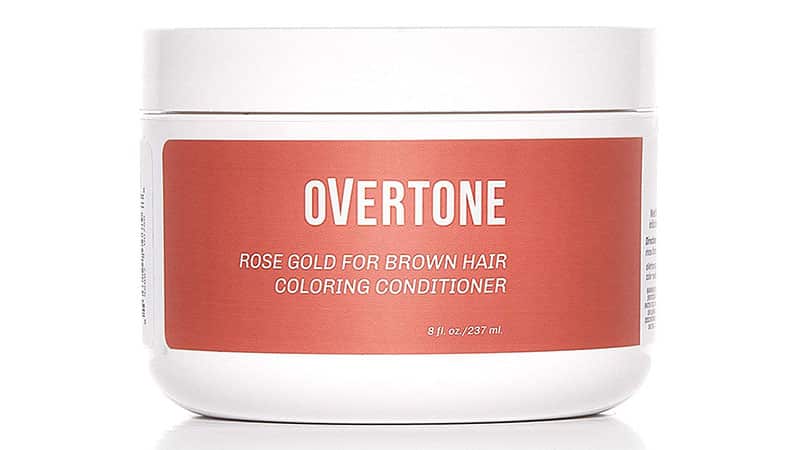 3. Punky Colour Cotton Candy Semi-Permanent Conditioning Hair Color
Add some vibrant color to your look with Punky Colour semi-permanent dye. It's a fun and easy way to transform your look and try out different, exciting shades without long-term commitment and maintenance. To apply, use a tinting brush to coat your hair evenly, and let it sit for 15 to 30 minutes, then wash out. The formula nourishes your strands, leaving them feeling silky, soft, and healthy. No harsh chemicals like peroxide also mean it great for all hair types and won't dry it out or cause breakage. Additionally, a color-enhancing keratin complex means the color will last for up to 35 washes. Select from 21 incredible hues, including cotton candy pink, lagoon blue, apple green, fire, flame, red wine, bright yellow, and ebony. If you're looking for a more pastel vibe, mix in some of the PastelFX Shade Adjustor.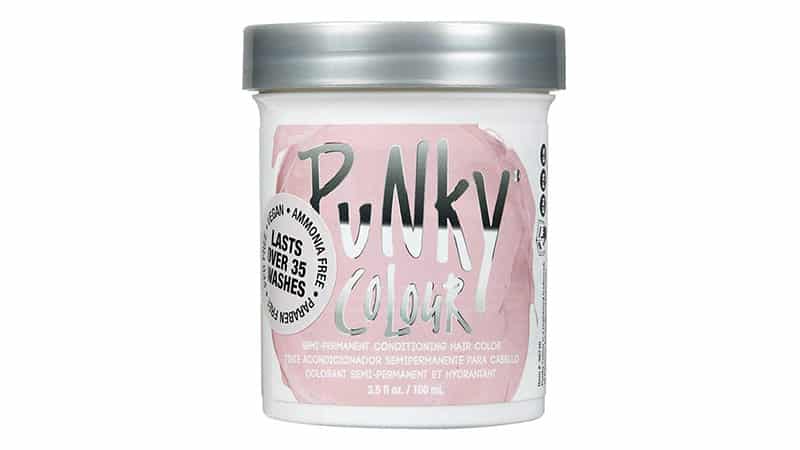 4. Celeb Luxury Intense Color Depositing Viral Colorditioner
Change your hair color quickly and easily with the Celeb Luxury Viral Colorditioner. This semi-permanent hair dye is plant-based and will smooth, soften, and moisturize your hair while depositing intense color. On the first application, use a generous amount, apply it through dry hair, and leave it on for 20 minutes before rinsing. It will fade and wash out over time; however, if you love the shade and want to maintain the color, simply use the conditioner every second time you wash, leaving it on for two to five minutes for an easy refresh. The proprietary BondFix complex strengthens your locks and can help repair damaged hair, so your mane will not only look fantastic but feel it too!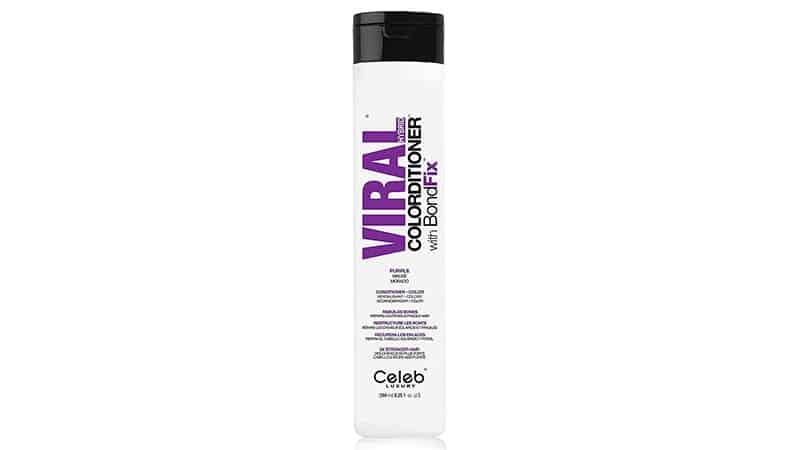 5. Schwarzkopf Live Color Xxl Ultra Brights
Enjoy vivid, shiny hair with Schwarzkopf Live Color Xxl Ultra Brights. This gentle, semi-permanent hair color nourishes your mane without damage from chemicals like peroxide or ammonia. One of the best things about the Ultra Brights is that you can choose to go super vibrant or tone it down for a pretty pastel look. If you're going bright, simply apply the color cream straight from the tube to towel-dried hair and let it develop for 20 to 30 minutes. However, if you're after a pastel, create your own custom shade by mixing the color cream into the provided conditioner. You'll also only need to leave it to develop for a few minutes. This formula washes out within six to eight washes, taking you back to your original look. It also comes in various fun hues, including hot pink, purple punk, electric blue, and pillar box red.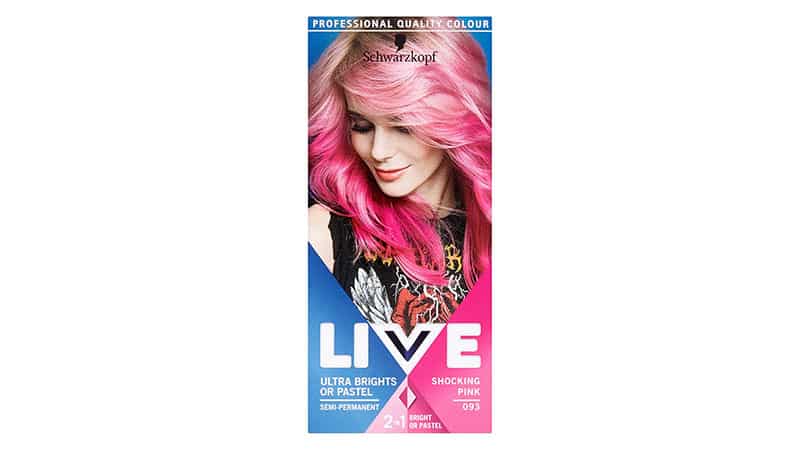 6. Kiss Tintation Semi-Permanent Hair Color Treatment
Select from over 40 vibrant, mixable colors to create your perfect look with Kiss Tintation Semi-Permanent Hair Color Treatment. There are fun shades like atomic Pink, Sapphire, and Neon Green, or natural hues like Cinnamon, Red Velvet, and Jet Black. No matter what look you want to try, there's a perfect option for you. The rich formula contains natural nourishing ingredients like aloe vera water, argan oil, olive oil, collagen, and keratin. This combination gives you hydrated, silky smooth hair and beautiful color. Best of all, it's so simple to apply. Wash and towel dry your hair. Then, while wearing gloves, apply the cream directly from the bottle, or dispense it into a bowl and use a brush. Once you have even coverage, leave it on for at least 15 minutes, then rinse it thoroughly. Dry it off, and get ready to look fabulous!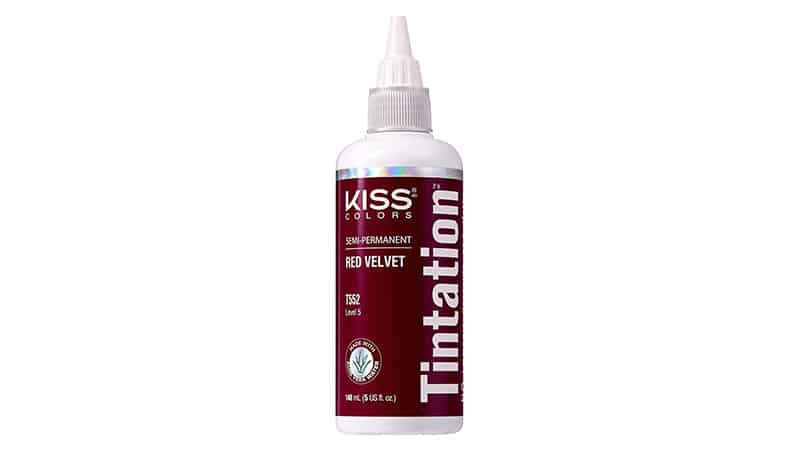 7. Clairol Natural Instincts Semi-Permanent Hair Color
Semi-permanent hair color doesn't have to be all about crazy hues and electric brights. It's also a great way to try out natural colors, especially if you're contemplating a more permanent change but are still a little unsure. The Clairol Natural Instincts Semi-Permanent Hair Color range has a selection of beautiful natural shades, from dark, cool blonde, or light auburn to darkest red and brown-black. Results last for up to 28 washes, which gives you a reasonable amount of time to decide if you like the color or switch it up for something else. It's also great for a refresher between salon appointments. Coconut oil and aloe vera add a beautiful, healthy shine, and 80% of the ingredients are naturally derived. Finally, the formula also doesn't contain any parabens, ammonia, or other harmful chemicals.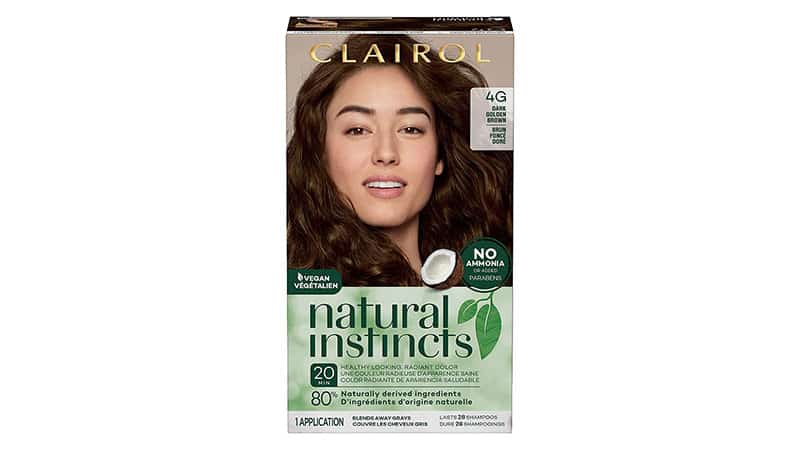 8. Clairol Professional Beautiful Collection, Semi-Perm Hair Color
Enjoy a rich, indulgent color boost between salon appointments with the Clairol Professional Beautiful Collection. These semi-permanent hair colors are a great way to refresh your look and add some shine if you're feeling a little flat. Select from 15 mixable natural shades like natural blonde, honey brown, or rosewood brown. The gentle formula contains nourishing aloe vera, jojoba, and vitamin E, all of which will condition your hair, leaving it soft and moisturized. Apply a generous amount evenly throughout freshly washed, towel-dried hair. Chill out for 25 minutes, then rinse thoroughly for color that will last for up to eight washes.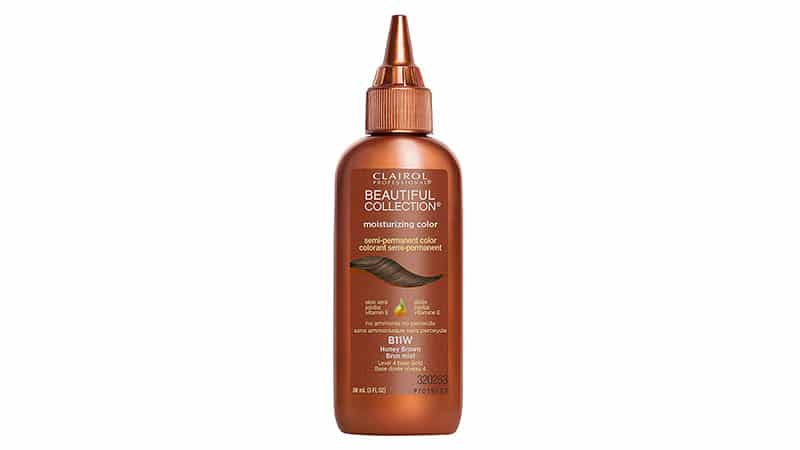 9. Arctic Fox Semi-Permanent Hair Color Dye
Create beautiful vibrant colors in your tresses without any damage using Arctic Fox Semi-Permanent Hair Color. It's made in the United States with only high-quality vegan, cruelty-free ingredients that hydrate while depositing intense pigments. Choose from over 20 color options, including Cosmic Sunshine, Electric Paradise, Violet Dream, Poseidon, and Sterling. You can also opt for a more pastel look by mixing in some Arctic Mist Diluter. You'll get four to six weeks of wear, depending on your washing routine. However, because there are no harsh chemicals like peroxide, ammonia, or ethyl alcohol, you can use it regularly to keep your color bright.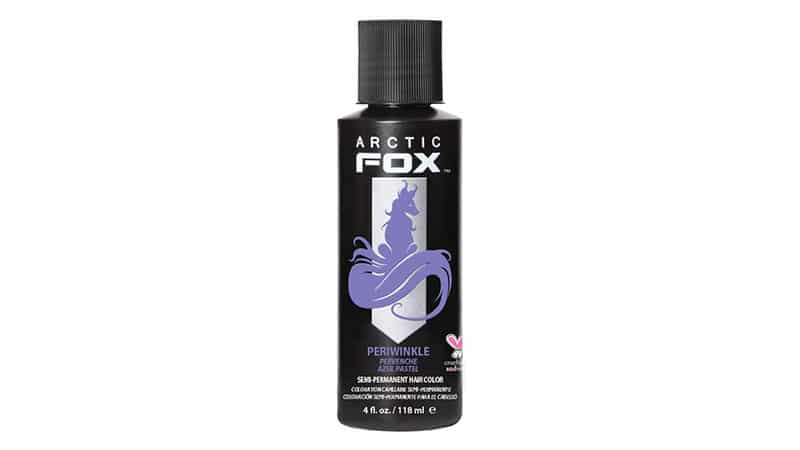 10. L'Oreal Paris Hair Color Colorista 1-Day Spray
If a few weeks of color is still too much to commit to, then you need L'Oreal Paris Hair Color Colorista 1-Day Spray. This temporary, lightweight, quick-dry spray formula will stay on until your next wash. Plus, it's easy to apply. Start with styled hair, shake the can well, and spray your dry hair from four to six inches away, giving it a couple of minutes to dry. Protect your clothes by draping an old towel around your shoulders, and once it's dry, avoid touching your hair to prevent transfer. This spray formula is ideal for ombre and highlights to add interest and dimension to your look. You can select from various shades, including silver, gold, coral pink, hot pink, blue, mint green, pastel blue, purple, red, and rose gold.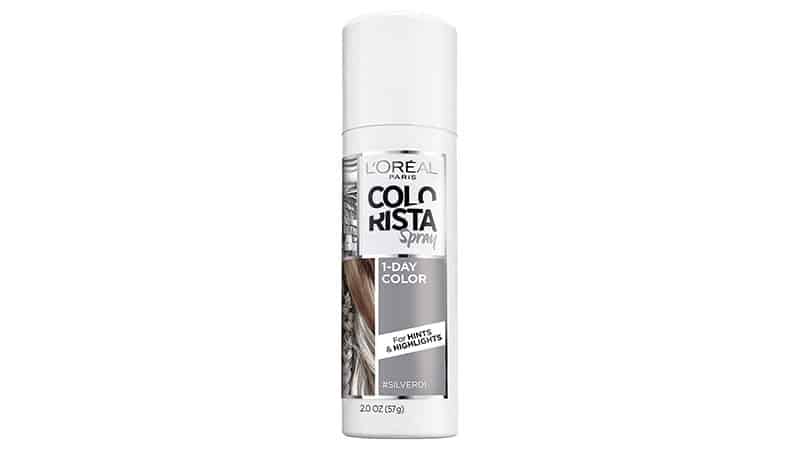 11. PRAVANA ChromaSilk VIVIDS Creme Hair Color with Silk & Keratin Protein
Get creative with your color using Vivids from PRAVANA. This award-winning product is a popular choice among industry professionals for the bright, vibrant shades and flexibility. Choose from a rainbow of blue, emerald, orange, magenta, wild orchid, jade, rose gold, and silver. You can then dilute to lighten without losing vibrancy or to create pretty pastel hues. None of the shades require any kind of developer, so it's quick and easy to apply without damaging your locks. All the products are paraben and phthalate-free, nor are they tested on animals.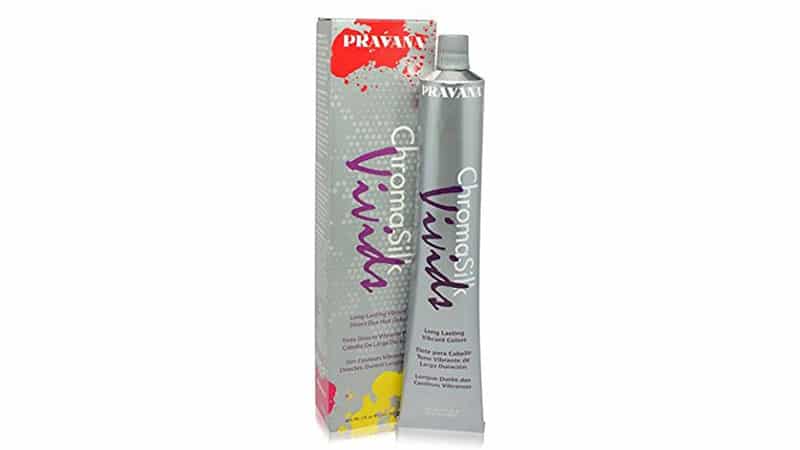 12. Manic Panic Semi-Permanent Cream
Manic Panic has long been one of the OG semi-permanent hair dye brands. The cream formula is easy to apply and lasts four to six weeks, depending on your washing routine. Indulge in high-voltage colors in more than 40 shades, from Cotton Candy Pink and Electric Tiger Lily to Alien Grey and Shocking Blue. You can safely mix every shade with others, making your own custom color. Plus, there's a Pastel-izer that you can use to tone down the vibrancy for a more muted, soft look. Every tub is vegan, cruelty-free, and contains no parabens, ammonia, gluten, or phthalates, so you won't damage your hair achieving these incredible results.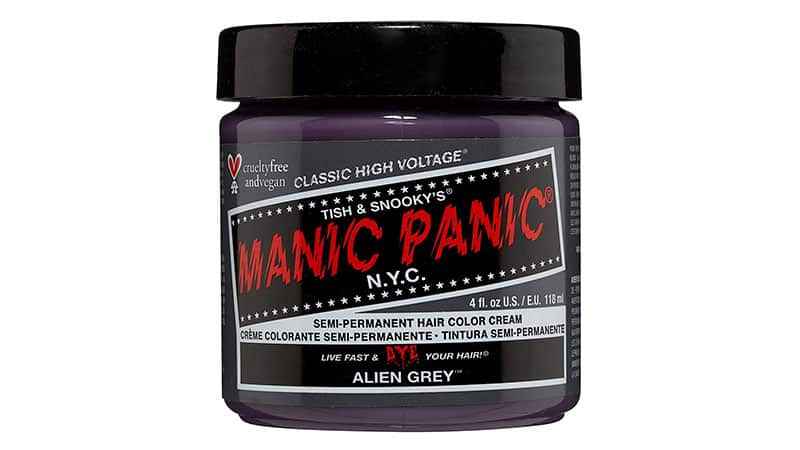 13. HailiCare Purple Temporary Hair Dye Wax
Colored wax is another excellent alternative to permanent hair dyes. It's a temporary option that washes out quickly and is simple to apply. Plus, it also doubles as a styling product, providing hold, texture, and the color. The formula contains natural ingredients, including tea extract, beeswax, and licorice extract, which won't damage your hair or irritate your scalp. Select from a range of colors, including white, purple, blue, pink, green, and orange. You can even create beautiful rainbow or oil spill effects by combining the different shades as you style. Hair wax works particularly well on naturally curly hair including type fours, as well as dark shades.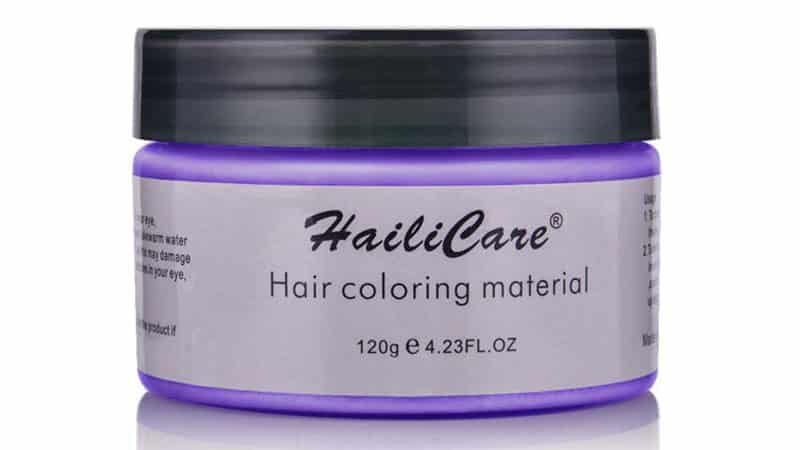 14. Joyous Professional Hair Dye Temporary Hair Dyeing Mascara
Hair dye mascara is another great option for temporary color and changing up your look. These ones from Joyous Professional come in various shades, including blue, pink, purple, green, gold, and silver. The application is also super simple and great for creating highlights throughout your tresses. Start with clean, dry hair, and separate a small section to start, pulling it tight. Use the inner brush just like a mascara wand, sweeping color down the strands in a smooth, single direction motion. The more you go over it, the more intense the shade. Then use either the soft or hard brush to comb through for a more natural look and a hairdryer to gently dry the formula. At the end of the day, jump in the shower and wash it out easily using shampoo for no lingering residue or unwanted side effects.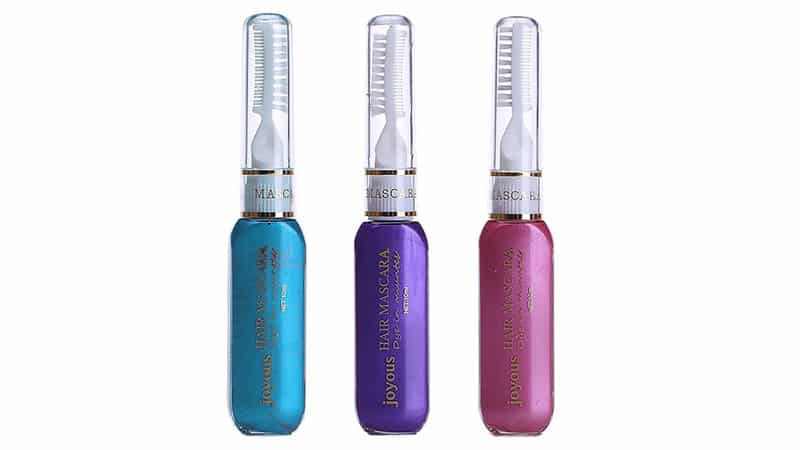 15. Kevin Murphy Color Bug
Kevin Murphy's Color Bug is a colored hair shadow with a chalk-like texture. It provides high-definition color without commitment. Dry and style your hair, using a styling product to help the color stick. Then, take the color bug and rub it onto the hair until you've built up the depth you like. Because the chalk sticks to the styling product rather than the hair, you'll get different results depending on what you use. This also means that you can achieve an intense color even on dark hair, unlike some other temporary and semi-permanent hair dyes – just use wax or pomade first. At the end of the night, simply wash your hair with shampoo, and the color will be all gone.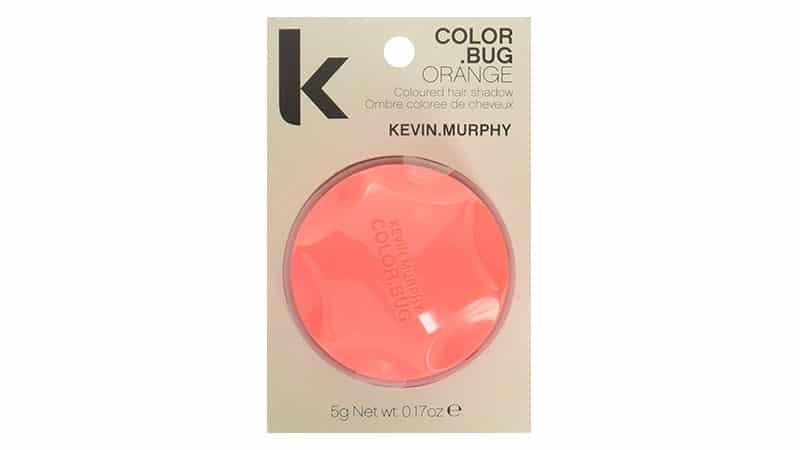 What is Semi-Permanent Hair Color?
Semi-permanent hair dye is a product that lets you change your hair color temporarily. It most often comes in a cream format and coats the hair shaft with dye, which then washes or fades out over a few weeks. It's best used for temporary color changes or to reinvigorate your color between salon visits. The formulas are generally very nourishing and don't contain harsh chemicals like ammonia or bleach. Plus, they also don't need to sit as long on your hair as permanent options, so they're great if you're short on time!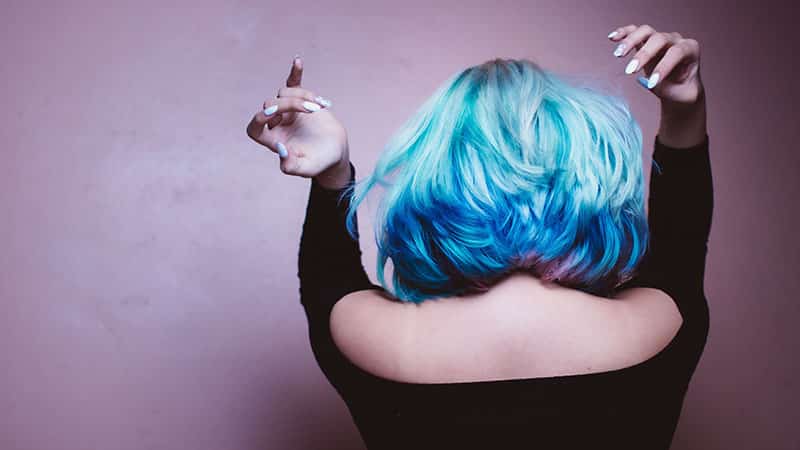 What's the difference between semi-permanent and permanent hair dye?
The most significant difference between permanent and semi-permanent hair dye is the chemicals. Permanent hair dyes contain ammonia or peroxide, which opens the follicles on the hair depositing color into the shaft. Semi-permanent dye does not open the follicles, subsequently only coating the outside of the hair shaft with color. Permanent color will grow out and sometimes fade a little, but to remove it will require a color remover or bleaching, whereas semi-permanent washes out over an average period of four to six weeks.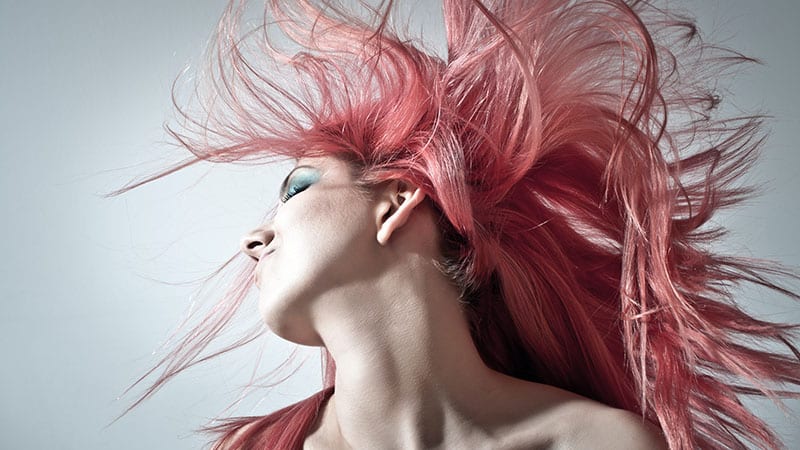 How does temporary hair dye work?
Temporary hair dye is slightly different from semi-permanent, as it's designed to wash out immediately. It often comes in the form of a paste, spray, chalk, or wax that you apply to the hair. It then sits on the surface just like other styling products and is best used for adding pops of color such as highlights or ombre. At the end of the night, you can just jump in the shower, and it washes out with shampoo, leaving your hair as it was before the application.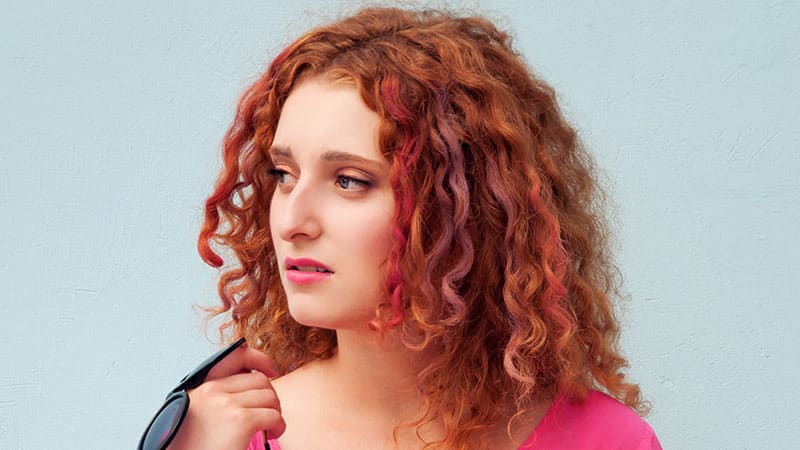 Types of Semi-Permanent Hair Products
There are quite a few different kinds of semi-permanent hair color products. However, they fall into two main categories: semi-permanent and temporary. What you choose will depend mostly on how long you want the color to last, as semi-permanent will stick around for a few weeks while temporary ones you can wash out in one go. If you're apprehensive (or terrified of commitment), temporary ones will be the best choice. However, if you want to give a new color a good try, with the idea that you might go permanent or just feel like a big-but-not-forever change, then choose a semi-permanent dye.
Coloring Conditioners
Coloring conditioners, such as Keracolor Clenditioner Hair Dye and oVertone, contain pigments that are deposited onto your hair while the product is in contact. They can both dye your hair, as well as revitalize the existing color. To dye, you'll need to apply it to dry or damp hair and leave it to sit for 20-30 minutes. However, for a refreshing, it's as simple as using it every second time you wash and condition your hair. These kinds of semi-permanent hair dyes are great because they also nourish your hair, leaving it stronger, healthier, and feeling soft and silky while looking incredible.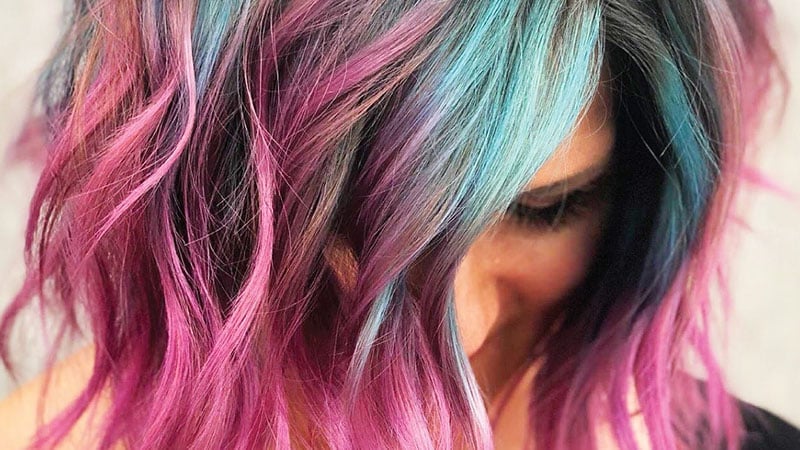 Coloring Cream
Coloring cream is probably the most traditional kind of semi-permanent hair color. Brands like Manic Panic and Arctic Fox produce these kinds of dye, and they're brilliant for bright, vibrant colors, as well as mixing. This is also the kind of dye that you're more likely to find natural colors in, like the options from Clairol Natural Instincts. Apply it all over dry or slightly damp hair, leaving it to sit as per the packet instructions before rinsing. The cream itself is colored, which is why it's ideal for mixing and making your own custom shades. Many options will also have a method to create pastels, often by diluting your chosen hue with a clear or white cream.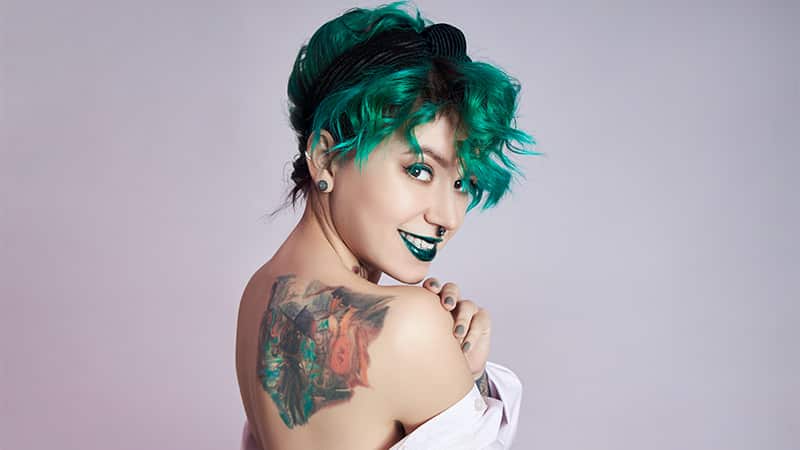 Colouring Sprays
Coloring sprays, like L'Oreal Paris' Colorista, are a form of temporary hair color. They sit on the surface of your hair, similar to the way makeup sits on your skin and washes off completely in the shower. They're perfect for special occasions such as festivals or hen's parties, or if you just feel like a change without having to commit to anything long term. You can also use them on all types and shades of hair.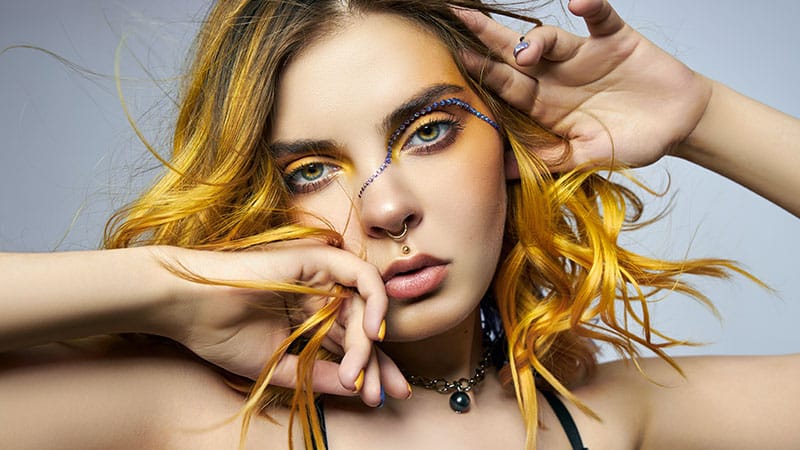 Coloring Wax
Another type of temporary hair color is wax. These are hybrid color and styling products that deposit tinted wax onto the surface of the hair shaft and wash out easily with shampoo. They can have more longevity than other temporary options like sprays or chalk, as they wear more flexibly. The other great thing about waxes is that they work really well on type three and four hair and naturally dark hair, still achieving quite vibrant and bright results. TikTok user Amari (@amari_music) has many videos where she does impressive colors in her hair using colored waxes.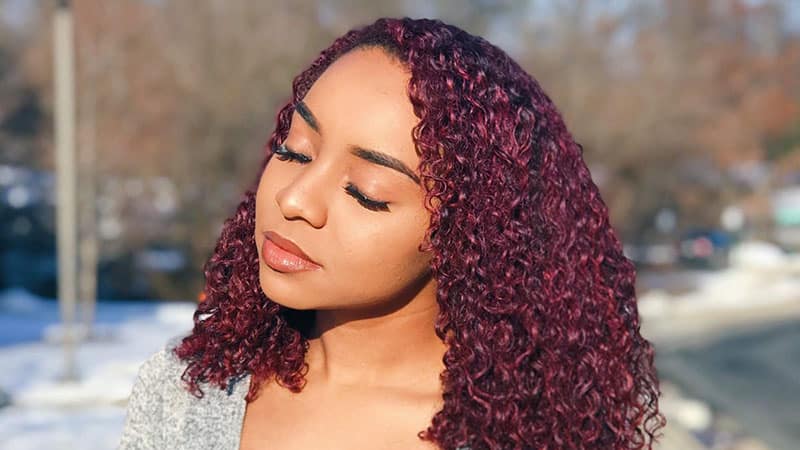 Hair Chalk
Think of hair chalk as similar to eyeshadow. It's a powder-based substance that you rub into your tresses, leaving behind color. Products like Kevin Murphy's Color Bug need some kind of styling product in the hair to stick to, while others can go on clean hair. It works best on light hair, but you can build the color up when you've got a darker base. Like other temporary colors, it washes out easily in the shower and won't cause any damage to your hair.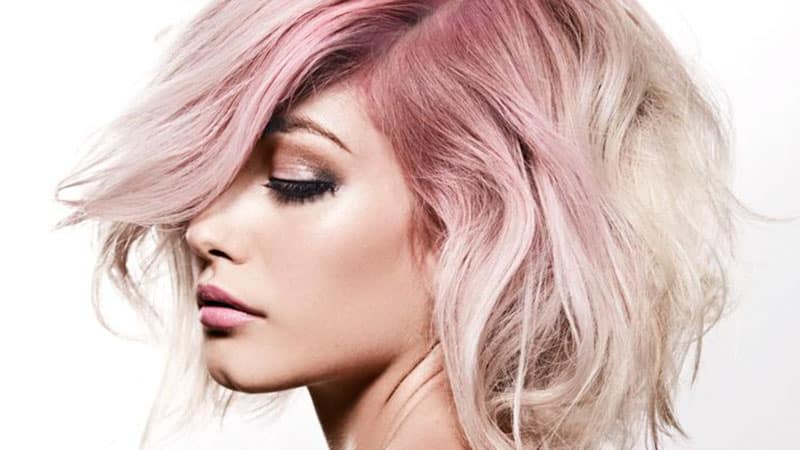 How to Apply Semi-Permanent Hair Dye
Even though you're applying semi-permanent hair dye, you still want the best results possible. As such, it's essential to use it correctly. Start by choosing the right shade, then prep your hair properly, apply the dye, and rinse. It's still important to look after your hair with adequate aftercare, as this will ensure both the health of your locks and improve the longevity of your beautiful new shade.
Choose a Color that is Flattering
The first step to dying your hair is picking the color. Do you want something natural, or are you going bright and fun? You'll need to consider your existing hair as the base shade, which will affect the final result. The lighter your base, the more vibrant and bright the color will be. It will still work on dark hair, but you'll just have more subtle or jewel-toned results. Secondly, you'll need to consider if warm or cool tones are more flattering to your skin and eyes. Warm shades like pink, red, and orange fade quicker but well, while cool blues and greens will hang around for longer. The best thing about semi-permanent hair color is that if you do make a faux pas and choose a shade that makes you look more Walking Dead than Walking on Sunshine, it won't take long before it's gone!
Prepare Your Hair
It's important to read the instructions about how to prep your hair, as it can differ between brands. Some products need clean hair, while others will work better on Day 2 hair. Meanwhile, certain products require dry hair, while others prefer damp, towel-dried hair.
1. The day of or before (depending on the brand), give your hair a thorough wash.
2. Condition only if your instructions say to. Certain products require clean but not conditioned hair.
3. If the color asks for damp hair, towel dry your freshly washed tresses. Damp hair has a slightly opened shaft, which can help the dye to take more effectively.
4. Comb through your hair, so there are no knots or tangles, and section it out into four quadrants (or however works best for you). Sectioning will help ensure even coverage, with no missing pieces or patchiness
Apply The Dye
The application process for semi-permanent dye is generally straightforward, as there are fewer steps than permanent dye, with no need for a cocktail of chemicals. While many colors won't permanently stain, it's best to play it safe and use a towel around your shoulders (or an old shirt), and wear gloves.
1. You can dispense the dye into a bowl and use a dye brush for more thorough coverage, or just use it straight from the tub or bottle with your hands.
2. If you're applying the color to all of your hair, work through each section from root to tip. For ombre, highlights, or multiple colors, you'll need to work out your color placement and apply it appropriately.
3. Once you've applied the color everywhere, comb through with a wide-tooth comb to check you haven't missed any spots.
4. Let the color sit and develop for the amount of time indicated on the packet before rinsing out thoroughly. However, don't shampoo, as that will start removing the color you've just put in!
After Hair Care
Even though the color isn't meant to last forever, you still want to take care of your locks and ensure your new shade has the longest possible life. That's where hair aftercare comes in. Start by just rinsing the color out, not shampooing. Then, always opt for color-safe, sulfate-free shampoos, as well as deeply nourishing conditioners. You could even consider adding a color-safe hair mask once every so often and toner for natural shades. Next, use a good heat protectant spray when blow-drying or styling with hot tools, or even when going out in the sun. Heat and UV rays can fade your hair faster. Finally, keep in mind that salt and chlorinated water will also strip the color faster, so if you swim, wear a bathing cap to help preserve it.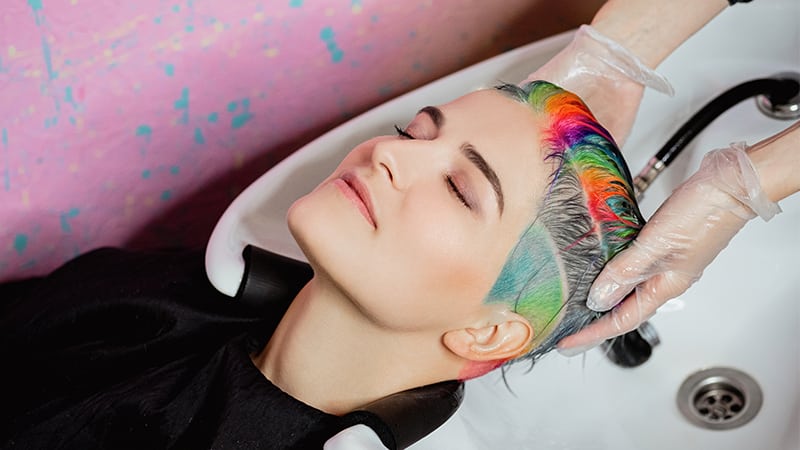 FAQs
Is temporary dye bad for hair?
Semi-permanent hair dye, on average, lasts for four to six weeks. Of course, longevity is affected by a few factors, including the type of hair you have, your starting base color, the condition and porosity of your tresses, and your washing schedule. Using a colored conditioner, specially formulated shampoos, avoiding salt and chlorinated water, using heat and UV protection, and limiting your washing will all help your color last longer. 
How long does semi-permanent hair dye last?
Semi-permanent hair dye, on average, lasts for four to six weeks. Of course, longevity is affected by a few factors, including the type of hair you have, your starting base color, the condition and porosity of your tresses, and your washing schedule. Using a colored conditioner, specially formulated shampoos, avoiding salt and chlorinated water, using heat and UV protection, and limiting your washing will all help your color last longer.
Where Can I buy semi-permanent hair dye?
You can buy semi-permanent hair dye from online retailers like Amazon, as well as beauty stores, department stores, and pharmacies. 
Can Semi-Permanent Hair Colour Lighten Hair?
Semi-permanent hair dye doesn't contain ammonia or peroxide that strips the melanin from your hair, which is what lightens it. As such, it won't lighten your hair. If you want to start with a fairer base, so you get a more vibrant shade, you'll need to bleach your hair in a separate step first. 
SUBSCRIBE TO OUR NEWSLETTER
Subscribe to our mailing list and get interesting stuff and updates to your email inbox.