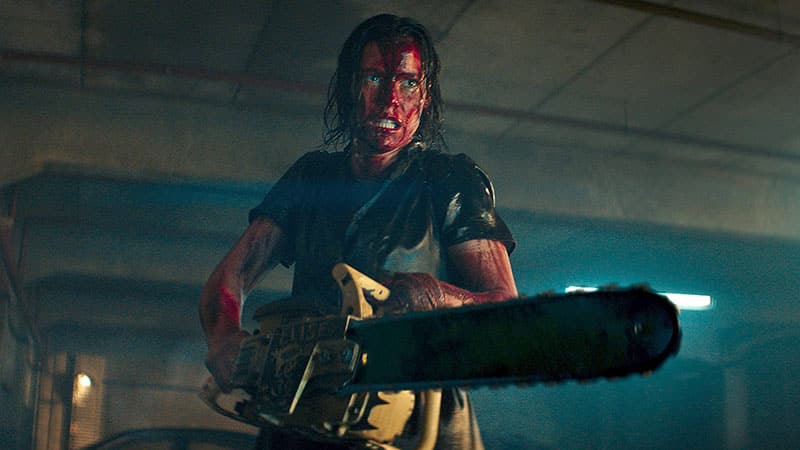 If you're a fan of horror movies, then buckle up and get ready for a fright. We're taking a look back at some of the scariest horror films ever made to date. From classic slasher flicks to more modern takes on terror, we've curated this list of spine-chilling masterpieces that will keep you wide awake long after the credits roll. So if being petrified is your idea of a good time, then hop aboard this roller coaster ride through fear – prepare yourself; it's going to be one helluva scary ride!
Scariest Horror Movies of All Time
1. Sinister
2012's Sinister has been scientifically proven to be the spookiest movie around! Starring Ethan Hawke as a writer haunted by supernatural forces, this terrifying tale follows Ellison Oswald's quest for truth and justice. When he discovers the existence of a snuff film showing the death of an entire family, his investigation brings him face-to-face with some spine-chilling surprises. It is no surprise that viewers reported their heart rate shooting up to 86 BPM while watching – making it an unforgettable thrill ride from the beginning to the end.
2. Insidious
Insidious has come to define modern horror, blending tension and paranormal activity for a true fright. Director James Wan expertly guides the franchise's ship as viewers follow Josh and Renai Lambert's journey when their son Dalton falls into an inexplicable coma after moving house. With eyes peeled, audience members found themselves immersed in suspense—making Insidious worthy of its title as the second scariest movie ever produced.
3. Paranormal Activity
Paranormal Activity is a classic horror movie that has struck a chord with horror fans everywhere. With its captivating story and skillful blend of household objects to create terror, the movie offers viewers a powerful and memorable experience. The film follows a young couple, Katie and Micah, who move into a new house plagued by strange paranormal events. Despite initial skepticism, they soon find themselves tormented by something sinister lurking in their home. As the tension builds and increasingly dangerous occurrences occur, it becomes clear that there are forces beyond what our eyes can see working against them. Overall, Paranormal Activity stands as one of the most iconic films in the genre due to its clever mix of jump scares and suspense.
4. Hereditary
Hereditary is a horror movie that tells the story of a family coping with their grief following the death of Annie's mother. This grief, however, leads to increasingly unsettling and terrifying consequences. The movie masterfully builds tension by crafting a very oppressive atmosphere combined with the creative use of sound and cinematography. By taking everyday elements such as parent-child dynamics or one's home and twisting them in clever ways, it creates truly unnerving experiences for its viewers. For those looking for a unique experience of horror that dives deep into familial bonds and mental illness, Hereditary is sure to deliver an experience they won't forget.
5 . Conjuring 2
The Conjuring 2, directed by James Wan, is a 2016 horror film that tells the story of the Hodgson family, who are terrorized by a malicious spirit. Set in London, the premise of the movie follows ghost hunters Ed and Lorraine Warren investigating supernatural phenomena experienced by the Hodgson family. Not only did The Conjuring 2 manage to draw from real-life events reported by the Warrens, but it also created an incredibly suspenseful atmosphere in order to keep viewers on their toes. Its intricate plotline and successful horror elements made it one of the highest-grossing films of 2016, and it has garnered much critical acclaim for its success.
6. The Descent
The Descent is a 2005 British horror film that follows a group of female adventurers who venture into the Appalachian Mountains while on a caving expedition. It soon becomes clear that they may not be alone in their subterranean quest when they discover ancient, unknown creatures lurking in the depths below them. Despite low expectations for its box office performance, The Descent went on to become the highest-grossing British horror film of all time and draw significant critical acclaim due to its powerful visual effects and its competent handling of suspense. The film has been said to subvert traditional masculinity tropes both within its story and in real-world media coverage as well, positioning six female characters as the heroes of a horror movie traditionally dominated by male protagonists.
7. The Visit
The Visit, a psychological horror-thriller movie released in 2015, is sure to send chills down your spine. Directed by M. Night Shyamalan and starring Olivia DeJonge and Ed Oxenbould, the film follows two siblings – Becca and Tyler – as they visit their estranged grandparents for the first time. As secrets unravel, it quickly becomes apparent that their seemingly loving grandparents are not who they seem. With its masterful mix of suspense and fear-inducing music, The Visit is sure to keep you on the edge of your seat while providing insight into family dynamics along the way.
8. The Ring
The Ring, a horror classic of the early 2000s, was a movie that captivated an entire generation. Directed by the then-little-known creator and mastermind, Hideo Nakata, audiences were entranced and drawn in by this compelling story of a cursed videotape. At its heart, the film taps into deep-seated legends, beliefs, and superstitions surrounding supernatural curses, setting off a chain reaction of epic proportions. While some will remember it not only for its horrific visuals but also for its surprise ending that left many viewers on the edge of their seats.
9. A Quiet Place
A Quiet Place is a modern thriller directed by John Krasinski, which follows a post-apocalyptic family struggling to survive in absolute silence. The family must silently evade mysterious creatures that hunt through sound and ultimately find the courage to fight back. This movie successfully conveys complex emotions only using music and sound design, enabling viewers to understand what lies beneath the surface of their silent world. Its minimalist approach works exceptionally well – allowing for deeper exploration into how sounds can shape how we experience everyday life and how we express ourselves. A Quiet Place is an extraordinary cinematic experience that will stay with viewers long after the credits roll.
10. A Nightmare on Elm Street
A Nightmare on Elm Street is an iconic 1980s horror film that hugely influences the genre. Directed, co-written, and co-produced by Craven, this slasher film follows the story of Freddy Krueger, who terrorizes teenage characters in their dreams, killing them when they fall into a deep sleep. The powerful imagery of Krueger stalking victims from within their nightmares makes for terrifying entertainment. It has been praised for its memorable performances and power in subverting traditional slasher movie tropes.
11. The Texas Chainsaw Massacre
The Texas Chainsaw Massacre was released in 1974 and is a horror classic that remains popular with fans today. Initially receiving mixed reviews and being banned in some countries, over the years, it has become widely recognized as one of the best movies of its genre. Well known for its intensely gripping scenes and iconic characters, this movie has left an indelible mark on many viewers with its grim depiction of violence and despair. The film's haunting soundtrack also contributes to its atmosphere of dread, contributing to its overall effectiveness as a memorable terror experience. Many people are still terrified by the events portrayed in this movie, years after first witnessing them on-screen.
12. 28 Days Later
28 Days Later is an iconic horror movie that was released in 2002. Directed by Danny Boyle, the movie follows protagonist Jim, played by Cillian Murphy, as he awakens in a hospital 28 days after a devastating virus has swept through Great Britain. Infected people are reduced to inhuman savages with a taste for violence and flesh. As Jim attempts to avoid them and find his family, audiences are immersed into a gripping story of survival and hope in a world overrun by darkness. The haunting soundtrack elevates the intensity of the movie even further – there's no denying that 28 Days Later had a major influence on the zombie genre ever since its release.
13. The Exorcist
The 1973 supernatural horror film The Exorcist has become a classic in the genre. Directed by William Friedkin and based on a novel by William Peter Blatty, the movie chronicles the ordeal of a 12-year-old girl who is possessed by a demon and follows two priests who attempt to exorcise it. It went on to win two Academy Awards and was highly praised for its intense nature, with many considering it to be one of the scariest films ever made. Re-released several times over decades, The Exorcist continues to attract fans all over the world due to its success at capturing fear and dread so effectively.
14. Hush
Hush is a thriller horror movie about an isolated writer, Maddie, being terrorized by a mysterious masked murderer. It's the kind of story that keeps viewers on the edge of their seats. Maddie's deafness gives her slight advantages in certain situations while putting her at an extreme disadvantage in others, providing a unique dynamic to this already thrilling tale. The thrilling conclusion will draw cheers and applause from audiences. Hush is worth watching for its originality and intense suspense; it will keep viewers guessing until the last minute!
15. Scream
Scream is an iconic horror movie that continues to terrify audiences today. It follows the story of a group of high-school friends who a serial killer terrorizes in a rubber ghostface mask. Directed by Wes Craven, the film features intense suspense, dark humor, and references to classic horror films, which make it feel timeless. Scream has gone on to influence a new generation of slasher movies and continues to haunt viewers with its unexpected twists and jump scares more than 20 years after its release.
16. It Follows
The 2014 horror movie, It Follows has gained monumental attention from the horror community and beyond. The movie follows a young woman stalked by a mysterious entity after a sexual encounter with an unknown man. Critics lauded the film for its use of smart suspense and the unpredictable storyline that keeps viewers guessing throughout. It Follows was praised for its evocative cinematography that adds to the dread feeling and its creative monsters created through practical effects. In addition, it launched writer/director David Robert Mitchell's career as accredited in the horror genre and is considered a cult classic among horror fans all over the world.
17. The Babadook
The Babadook is a critically acclaimed horror movie that tells the haunting story of single mother, Amelia, and her son, Samuel. This tense thriller follows Amelia as she struggles to take care of herself and her son while also dealing with supernatural forces. As if things weren't already bad enough, what Samuel thought was an imaginary monster soon turns out to be all too real. The Babadook is an incredible display of bravery, resilience, and the bond between a mother and son as they faced the unspeakable evil lingering in the shadows of their home. Fans of horror movies will surely appreciate this cleverly crafted film bursting with raw emotion and gripping suspense.
18. Midsommar
Midsommar is a horror movie that will leave you feeling unsettled. It follows a young couple, Dani and Christian, who travel to Sweden for a summer solstice celebration. As the festivities unfold, the viewers watch their nightmare reality come alive in slow and relentless increments – a descent into surreal madness. From strange rituals to vivid colors and offbeat characters, Midsommar explores the depths of cult behavior while making its audience question what they'd do in similar extreme circumstances. The movie captures all these moments with masterful editing and direction from Ari Aster – truly an unforgettable horror experience.
19. Goodnight Mommy
Goodnight Mommy, released in 2014, was an Austrian horror film directed by Veronika Franz and Severin Fiala. This dark psychological thriller tells the story of twin brothers who are suspicious of the woman their family welcomes in as their mother who returns after a cosmetic surgery procedure. Showcasing thrilling performances from its cast, including Susanne Wuest, Lukas Schwarz, and Elias Schwarz, Goodnight Mommy is sure to make viewers question their perception of reality and the relationships around them. While it may be seen as a slow-burner to some, what makes this movie truly terrifying is that it has a lot to say about truth and identity beneath its sinister surface.
20. Wrong Turn
Wrong Turn is a horror movie series released to major acclaim. The movies follow a group of hikers as they take a wrong turn and find themselves running from violent monsters. Although the series has remained beloved for years, it has also come under scrutiny for its portrayal of violence in some scenes. Despite this criticism, Wrong Turn continues to be an iconic horror movie series that remains popular with audiences around the world who appreciate its unique suspense and thrills.
21. The Witch
The Witch is a horror movie you won't soon forget. It follows a pious family living in 1630 New England who are exiled from their Puritan plantation. As they try to create a new home on the edge of an eerie forest, their lives begin to unravel when their youngest child disappears mysteriously. With increasing paranoia and dread, it becomes harder and harder for them to distinguish between what's real and what's imagined as the fear slowly takes hold. Those looking for an intense supernatural thrill would be wise not to miss this one!
22. Evil Dead
Evil Dead is a cult classic horror movie that brings chills to viewers both old and new. Released in 1981, this cult favorite depicts five college students who travel to an isolated cabin in the woods, where they unknowingly release evil forces into the world. The intense scare factor of Evil Dead makes it one of the most popular horror films of all time, as evidenced by its multiple remakes and continuations throughout the decades since its original release. With an iconic score and one-liners, it's no wonder why Evil Dead continues to mesmerize fans with its spine-chilling thrills and spooky atmosphere.
23. The Shining
Released in 1980, Stanley Kubrick's The Shining is one of the most iconic and beloved horror films. Tapping into an atmosphere of dread and loneliness, The Shining combines psychological horror with intense visual imagery to mesmerize audiences. For many viewers, Jack Nicholson's performance as the man driven mad by isolation and supernatural forces still holds a certain level of terror today. Despite popular mythology, Kubrick remained tight-lipped about much of the movie's deeper meaning. Still, regardless, it has become a classic piece of cinema that will be remembered for decades to come.
24. [Rec]
[Rec] is a 2007 Spanish horror film directed by Jaume Balagueró and Paco Plaza. The movie was revolutionary when it came out due to its innovative first-person filming style, making viewers feel like they were part of the horror themselves. The premise is that a group of people are trapped in an apartment building with some horrific creature while a local news crew films the ensuing chaos. It is highly suspenseful, as the viewer follows along on the camera or through night vision goggles and experiences the panicking and confusion of those on screen. [Rec] delivers on jumps scares just as much as it does the tension, offering an intense experience for those brave enough to watch it.
25. Children of the Corn
The horror movie Children of the Corn remains a cult classic thirty-five years after its release. Based on the 1977 Stephen King short story of the same name, the movie follows a young couple's attempt to escape an isolated Nebraska town populated by murderous children who worship an ancient demon. The film has achieved iconic status as one of the scariest movies ever. It spawned several sequels and even a remake in 2009, making it clear that no matter how many years have passed, audiences love to be scared by Children of the Corn.
Scariest Horror Movies FAQs
What is the best horror movie of all time?
Psycho is an absolute classic in the horror genre and stands unrivaled as one of film's greatest masterpieces. Alfred Hitchcock's 1960 masterpiece has consistently been lauded by critics, with its influence still reverberating through Hollywood today - making it without a doubt the most iconic movie of all time.
What is the scariest movie of all time?
According to a recent study by Broadband Choices, Sinister has been deemed the scariest movie ever made according to science. It was found that during viewings of this spine-chilling flick, viewers experienced an average resting BPM of 65 and a peak minute in suspense with readings as high as 131 beats per minute!
What is the scariest horror movie franchise?
The Conjuring emerges as the most terrifying movie franchise, according to Broadband Choices' survey - measuring fear through active heart rates. Two films of this series make it into their top 10 list for scariest movies ever made.
SUBSCRIBE TO OUR NEWSLETTER
Subscribe to our mailing list and get interesting stuff and updates to your email inbox.