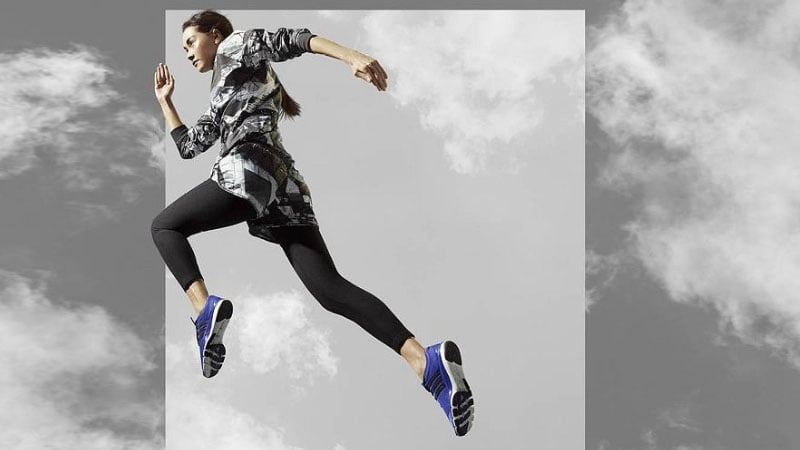 There's a lot to consider when it comes time to buying new running shoes. You want something comfortable, supportive, durable, and ideally stylish. Luckily, dozens of sportswear and footwear companies have invested millions of dollars into developing the highest quality running shoes with advanced technology. Choose designs from big guns like Nike, Adidas, and Asics; off-road experts like Merrell, Altra, and La Sportiva; or newer kids on the block like APL and On Running. Each brings its own version of technical advancements, design philosophies, and stylish looks to the track, field, road, or mountain.
Best Running Shoes for Women
1. Nike
Nike is a world leader in sportswear innovation and manufacturing. Their range of running shoes for women is world-class and boasts the latest technology. Popular styles include the React Infinity Run Flyknit, Air Zoom Pegasus 37, Free RN, and Revolution 5. Most designs have Flyknit uppers, which uses a combination of tight and loose-weave fabric to ensure they're both flexible and supportive where it matters. Newer material additions for uppers include Atomknit, an even lighter version of Flyknit, and VaporWeave, which is a waterproof alternative. Then, when it comes to soles, few developments are as iconic as Nike Air. It features pockets of pressurized air that increase movement and absorb impact. Nike also does its chemistry in-house, which allows them to develop foam insoles, such as the React and ZoomX, both of which deliver excellent energy return with each step.

SHOP: Nike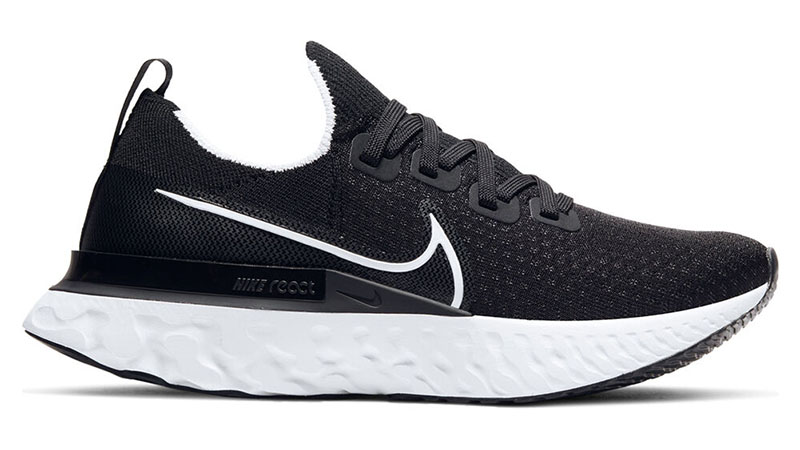 2. Adidas
With a successful run since its foundation in 1949, Adidas aims to be the world's best sports company. As such, they have an excellent range of women's running shoes. Try the UltraBoost, SolarGlide, SolarBoost, Supernova, and Adizero models for a comfortable, smooth run. Some of the most significant innovations in footwear for the brand are Boost and 4D midsoles and Primeknit uppers. The Boost and 4D midsoles improve the energy return on each stride. The former is made from TPU, which is shaped into miniature foam capsules. Meanwhile, the 4D is a data-based innovation that uses Digital Light Synthesis™ to print insoles with light and oxygen. Both increase propulsion, cushioning, and stability. Finally, the Primeknit uppers not only look stylish, but they're optimized for performance, flexibility, and movement. Collaborations with stars like Kanye West, Pharell Williams, and Stella McCartney also increase Adidas's street appeal for fashion-forward runners.

SHOP: Adidas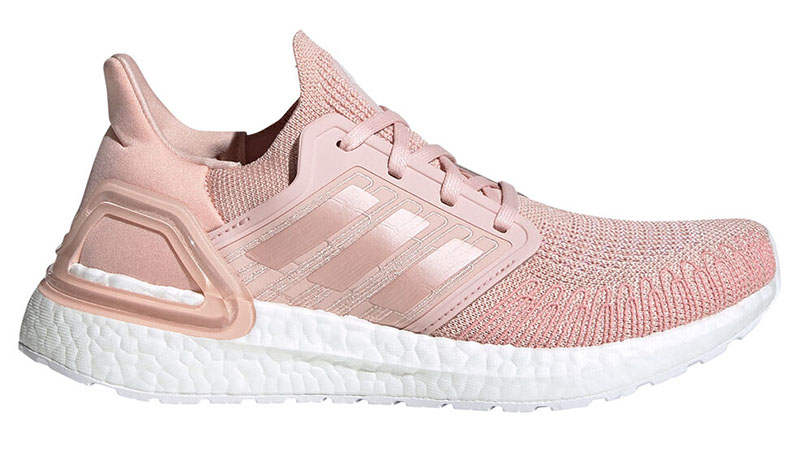 3. Reebok
Perhaps one of Reebok's most iconic footwear developments was Pump. Released in the late '80s, you manually add air to pockets in the upper and lower tongue to improve fit and ankle stability. It's just as popular today as it was when first launched. However, since then, the technology has evolved even more, especially since it was merged into the Adidas Group in 2006. Zig Energy Shell is another innovation. It's a rubber band that sits around the outsole, stretching with each foot flex and returning energy with every step. Regarding the inner shoe, FuelFoam is used in many designs for the ideal balance of cushioning and response. Some of the most popular Reebok styles for women include the Zig Kinetica, Instapump Fury, Forever Floatride, and Classic Leather Legacy shoes. Stylish women will also enjoy the various artist and stylist collaborations that merge sports and art.

SHOP: Reebok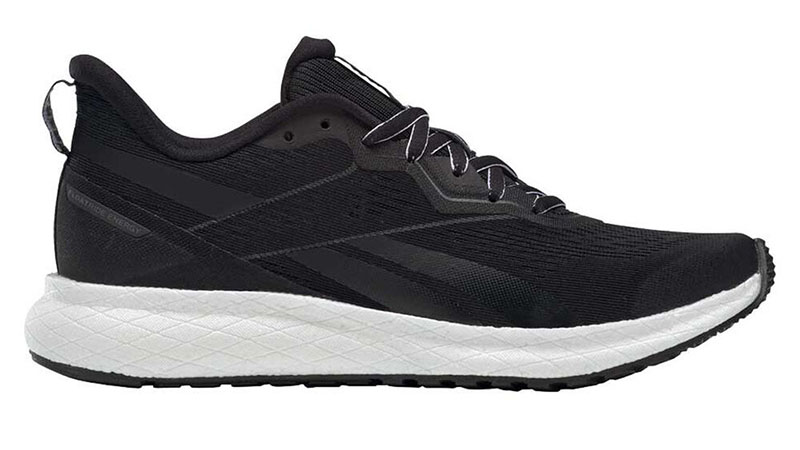 4. Puma
Puma was founded in Germany in 1948 by Rudi Dassler, whose brother Adi establish Adidas a year later. The philosophy at Puma is to always strive for faster, better, and stronger. As such, innovation is extremely important. Some of the landmark achievements over the years include Puma Cell, LQDCELL, ProFoam, and PROPLATE. Puma Cell and LQDCELL are both cushioning systems that use hexagonal cells for improved stability and better padding. ProFoam is the lightweight yet ever-so-bouncy midsole that creates a responsive run. Finally, PROPLATE is a built-in propulsion plate to give you a better take off and a faster stride. Invest in these advantages yourself with styles like UltraRide Runner ID, Carson 2, Calibrate, Mega Energy, and LQDCELL Method. Additionally, performance isn't the only area of innovation. First Mile yarn upcycles plastic waste into usable materials, leaving behind a cleaner planet.

SHOP: Puma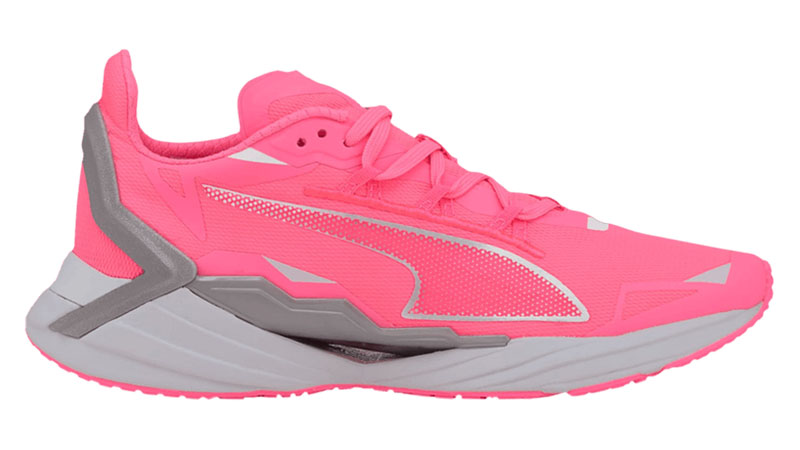 5. Skechers
Skechers are about both lifestyle and performance, which is why they have a great range of casual shoes and running shoes for women. When it comes to performance, there's plenty of technology to back you up. The ULTRA GO™ cushioning is lightweight and responsive, while the ULTRA PILLARS™ react with each stride to give you the ultimate in rebound energy. You'll stay cool and fresh with the breathable Air Cooled Goga Mat™ insole, and the SMART FLEX DESIGN midsole gives you the ideal amount of flexibility and movement through the whole foot. The best women's running shoes from the range include the GOwalk 5, GOtrail, and Gorun.

SHOP: Skechers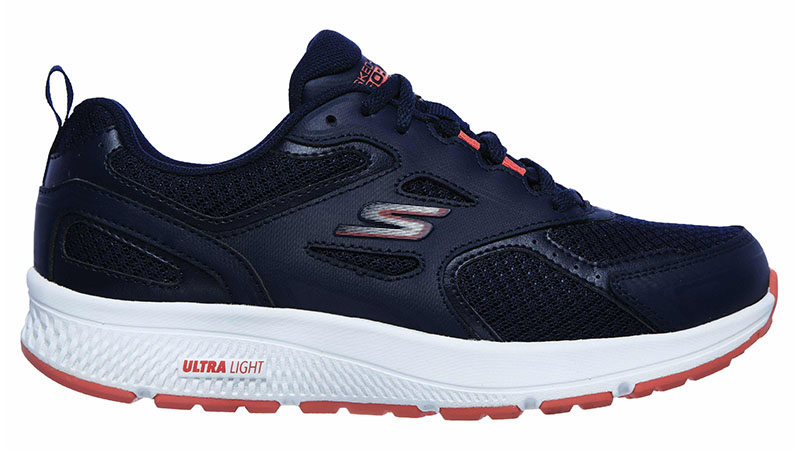 6. Hoka One One
Originally founded in France, Hoka One One is now based in California. The brand's first foray into the market was with a shoe with an oversized outsole to better allow the runner to move downhill. Since then, the technology has grown to include details like meta-rocker geometry for improved gait, Pro2 Lite midsoles for smarter cushioning, bucket midsoles for security, and J-frame soles to combat overpronation. The excellent cushioning to weight ratio and visual appeal of each design has gained the brand popularity among ultra-marathon runners, trail runners, and casual road runners. Bestsellers for women's running styles include the Bondi 7, Clifton 6, Carbon X 2, and Speedgoat 4. Plus, many of their popular models come in a wide fitting, which is excellent for women with broader feet.

SHOP: Hoka One One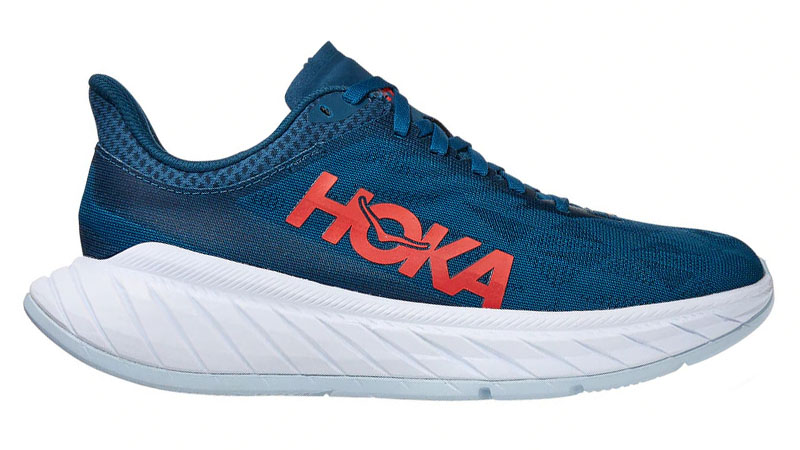 7. New Balance
Fresh Foam X and FuelCell foam are two of New Balance's most iconic features in its line-up of women's running shoes. You'll feel fresh as a daisy on every run thanks to the lightweight Fresh Foam X midsoles. The development was based on thousands of runners' data to engineer the perfect balance of support and flexibility, with plenty of cushioning to prevent tired feet. If you're looking to put a spring in your step and find your fast, then the FeulCell performance EVA foam is the answer. The design is optimized for impact, pivot, and takeoff, based on real athlete data, and channels energy back into each stride. Some of the best styles the brand offers include the FuelCell Echo, Fresh Foam 860v11, FeulCell Prism, and Fresh Foam Roav.

SHOP: New Balance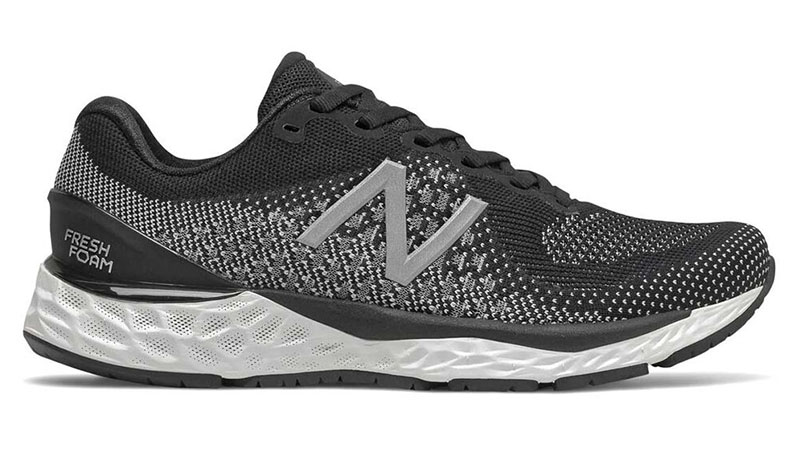 8. Asics
Get yourself a pair of Asics with their GEL technology for the ultimate in all-day, all-run comfort. The GEL appears in many of the best-selling styles, including the GEL-KAYANO™, GEL-QUANTUM™, and GEL-NIMBUS™. There are pockets of it in the rear and front foot to reduce heel strike impact and forefoot shock, letting you run more naturally. In addition to the GEL, Asics has FLYTEFOAM midsoles, made from a lighter, softer, yet more resilient foam to let you fly, not run. Finally, enjoy comprehensive support with TRUSSTIC™ technology, which is carbon-reinforced support that sits in the arch of the sole. It flexes when needed but becomes rigid when the foot rolls too much to provide extra security. Asics is also great at showcasing women in running, sponsoring legendary runners like Candace Hill, Deena Kastor, and Diane Nukuri.

SHOP: Asics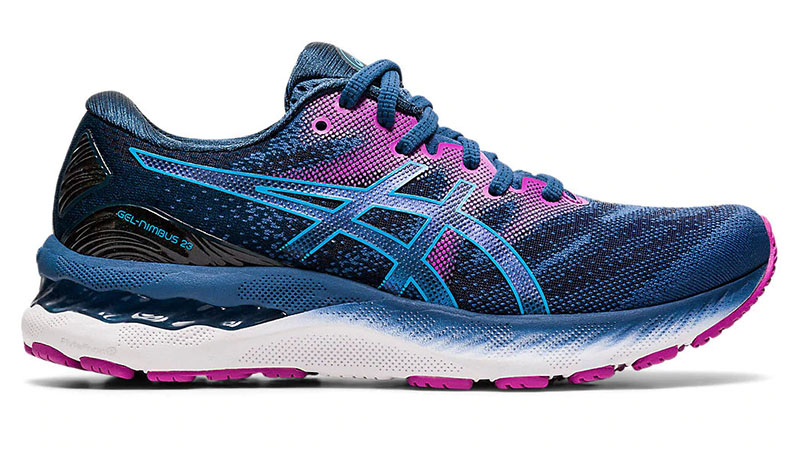 9. Saucony
Saucony exists for runners. It was founded in 1898, one year after the first Boston Marathon and two years after the first Olympic Marathon. Consequently, the brand understands every runners' needs and desires regarding a comfortable, high-performance shoe. That's why each design is packed full of technology. First, there's EVERUN cushioning, which is three times more durable than regular EVA and three times less temperature-sensitive. Then, there's FLEXFILM to allow fewer layers in the upper for a lighter shoe, and the revolutionary ISOfit ensures a custom-feel. Finally, triFlex soles are super flexible with excellent traction and larger dispersal of force with each foot strike. The best selling styles that incorporate these features include the Peregrine, Kinvara, Ride, Omni, and Endorphin Shift.

SHOP: Saucony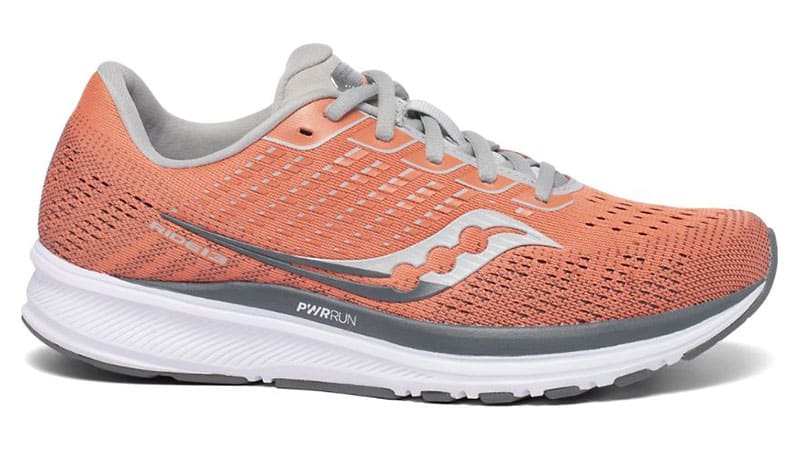 10. Under Armour
Most of Under Armour's running shoes for women use their iconic HOVR cushioning technology. It integrates a cushioned run with the ideal energy return using a mesh web that wraps the padded core. Taking this even further, you can get styles, such as the HOVR Sonic and HOVR Phantom, that have a high fidelity sensor embedded that connects to the MapMyRun app to give you data insights into each journey. This means you no longer need additional wearable devices — all you need is your shoes. Other HOVR styles include the Machina, Velociti, Guardian, and Infinite. A similar alternative to the HOVR tech is the Charged Cushioning®, which also provides a brilliant balance of comfort and cushioning. Look for designs such as the Charged Breath, Charged Bandit, and Charged Rogue.

SHOP: Under Armour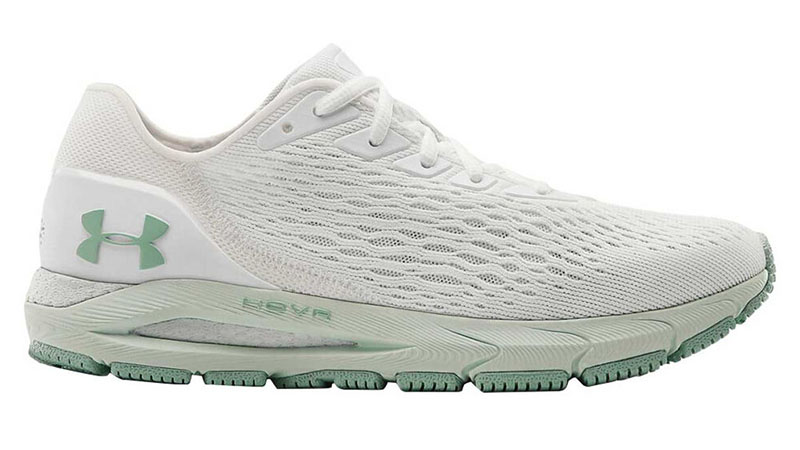 11. Brooks
Based in Seattle, Brooks has been around since 1914, so they have plenty of experience under their belt. Like many sportswear brands, the company has invested a lot of time and money into technological advancements for their running shoes. This includes development for the insoles, midsoles, uppers, and soles. GuideRails® technology in the shoe provides support and stability for your entire body. Meanwhile, DNA LOFT is adaptable and soft cushioning to reduce impact, while DNA AMP delivers excellent energy return for every stride. When it comes to the uppers, Engineered Mesh provides stretch and structure, while Fit Knit fits like a firm but comfy pair of socks. Trail runners will also enjoy the incorporation of GORE-TEX into the off-road designs to keep your feet dry no matter where you run. Check out the best sellers, including Levitate 4, Adrenaline GTS 21, Revel 4, Bedlam 3, and Ghost 13.

SHOP: Brooks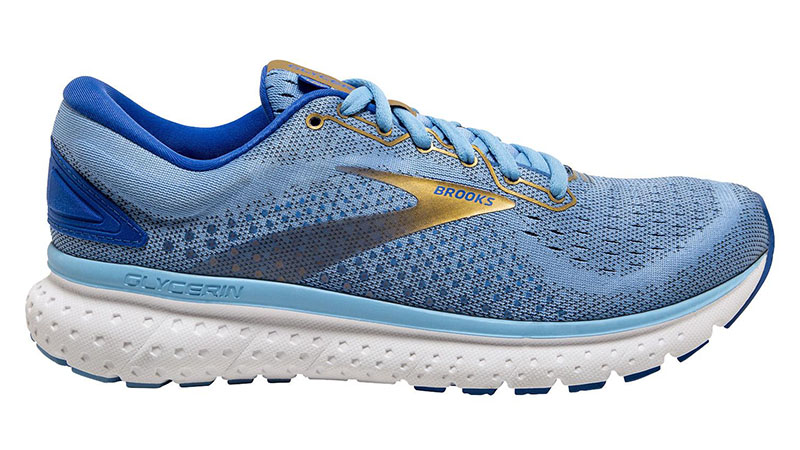 12. Mizuno
Mizuno is a Japanese brand that has been making sportswear and equipment since 1906. Unsurprisingly, the brand has some of the most advanced and quality technology in their women's running shoes. Whether you're a track, road, or trail runner, there's a model specifically for your needs. The signature technology is the Wave, for cushioning and stability, and comes in both a WAVE PLATE and FOAMWAVE version. There are four variants in the midsole — U4IC, U4ICX, AP+, and XTACTICRIDE, each providing different benefits for different activities. Lastly, DynamotionFit is Mizuno's overarching upper philosophy. Within this idea, there are various materials, including Engineered AIRmesh, Waveknit, and waterproof GORE-TEX. Check out the Wave Inspire, Wave Horizon, Wave Sky for track and road, or the Wave Rider and Wave Daichi for trail running.

SHOP: Mizuno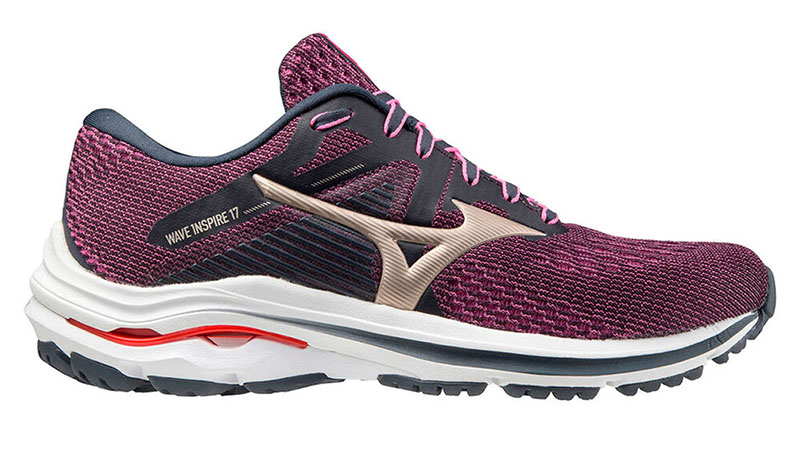 13. Salomon
Go on grand adventures and connect with nature with Salomon. The brand began in the French Alps in 1947 and is passionate about outdoor sports, craftsmanship, and new technology. In line with these ideals, the range of trail running shoes is extensive and complemented by a concise offering of high-quality road runners. Sonic 3 is one of the best road and track options, while the Supercross Blast, Ultra Pro, and Speedcross are ideal for trails. The technology used in their designs includes Optivibe™ foam to reduce muscle fatigue; Internal SensiFit™ uppers, which nestle the foot for a secure, snug fit; and Contagrip® in trail shoes for the ultimate all-terrain grip. Additionally, there's 3D Advanced Chassis™ for motion control and energy management, plus Quicklace™ for simple, one-pull tightening. While there's a lot of tech to consider, they have a guide on the website to narrow down your choices.

SHOP: Salomon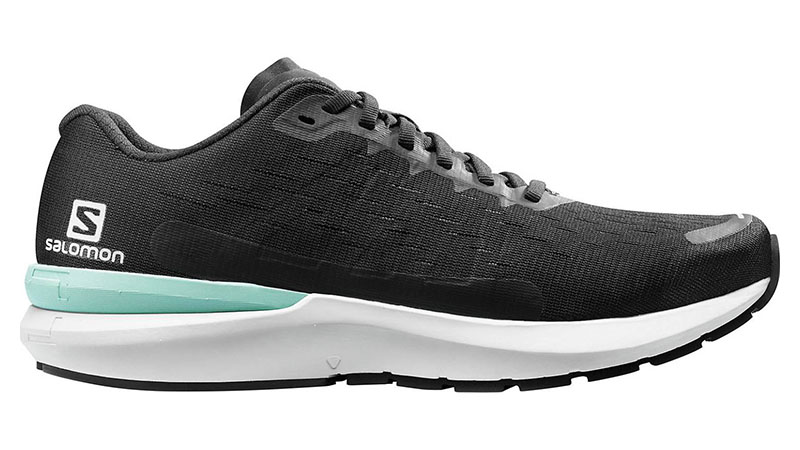 14. Altra Running
There are three reasons you should choose Altra Running for your next pair of running shoes. These are Footshape™ Toe Box, Fit4Her™ Technology, and Balanced Cushioning™. Both the Footshape™ Toe Box and Balanced Cushioning™ emulate barefoot running, without the stressors. Cushioning at the same height throughout the foot provides better impact control and a more natural foundation. Meanwhile, the toe box is wider, letting your feet spread out and relax, with the big toe maintaining a straight position. Add to this Vibram soles, and you have a really natural feeling run. Then, when it comes to women's feet, Altra understands they're biomechanically different. As such, the women's designs have a narrower heel and midfoot, with a higher instep and longer arch. This makes a better fit for female runners. Select styles for road, track, or trail running, such as Paradigm, Lone Peak, Superior, Olympus, and Torin.

SHOP: Altra Running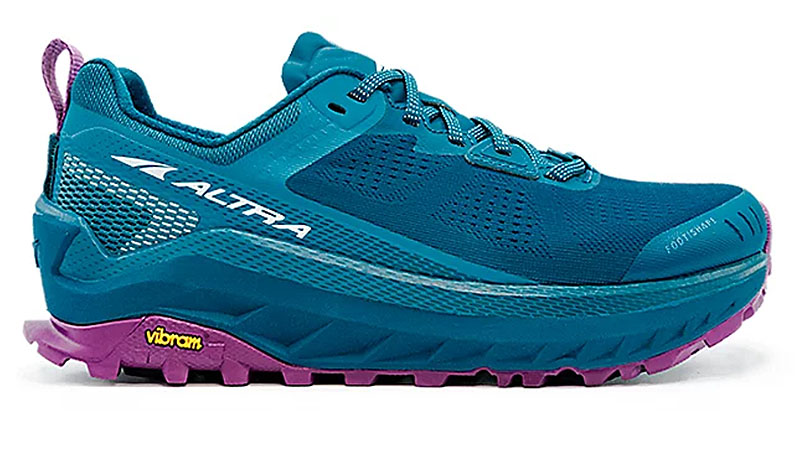 15. Newton Running
If you're looking for a running experience that feels more natural, turn to Newton Running. Based in Boulder, Colorado, they create performance shoes for every level and kind of runners, from 5K fanatics to ultra-marathoners. Some of their technology includes the proprietary Action/Reaction™ Technology, which is the bones of most styles. It gives each runner trampoline-line cushioning for better energy redistribution through each step. A level platform also emulates the foot's normal form, letting your run at your most natural. However, unlike barefoot running, you'll still get full-foot cushioning through both the front and heel, so you don't fatigue and can back your runs up day after day. Choose from shoes designed for beginners, training, race day, or trail running. Some of the best-sellers are Gravity, Motion, Distance, Fusion, and BOCO AT.

SHOP: Newton Running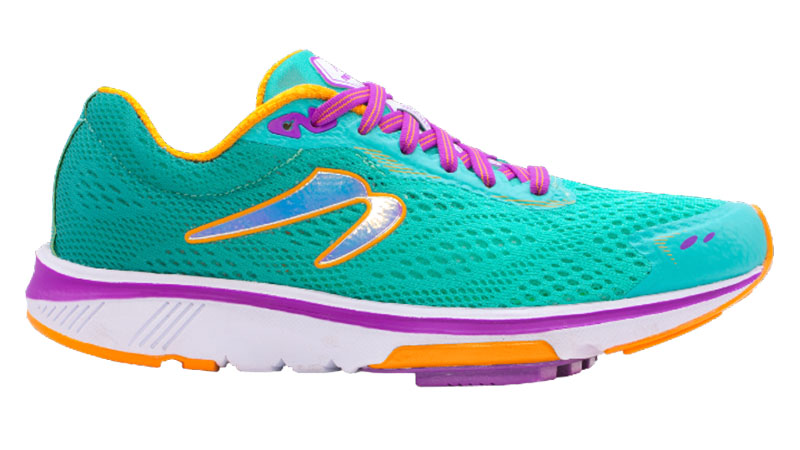 16. Apl
APL, or Athletic Propulsion Labs, is a relatively new player on the sports shoe scene. It was founded in Los Angeles in 2009 by Adam and Ryan Goldston, former collegiate athletes. It's a brand the combines innovation and performance with luxury. While the silhouettes look like traditional joggers, the use of Techloom fabric in a vast range of colors and patterns gives them a more casual athleisurewear vibe than competitors. Each shoe is made from a single piece of the performance fabric, which features different knit patterns for extra detail and flexibility. You'll find the proprietary Propelium® technology in the midsole, which gives an excellent energy return yet is supremely comfortable and more durable than regular EVA. The Techloom Pro is the classic running style that started it all. Other options include the Techloom Wave, Bliss, Breeze, and Phantom.

SHOP: Apl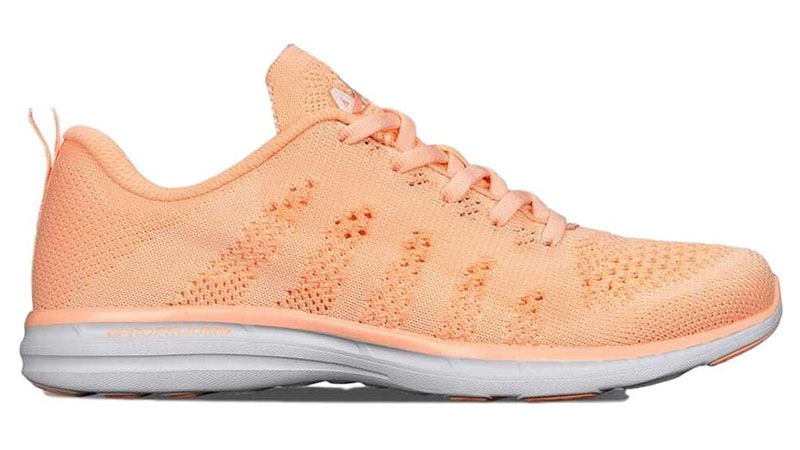 17. La Sportiva
The Italians do shoes very well, including running shoes. La Sportiva was founded in 1928 in Tesero, Italy by Narciso Delladio. Initially catering to lumberjacks and farmers, the brand has moved beyond to offer an extensive range of mountain clothing and footwear. You'll have plenty of choices for trail running shoes with options for ultra-long distances such as Akasha, Jackal, and Akyra; mid-distances with Mutant, Kaprive, and Blizzard GTX; and short distance with Lycan and Helios. These styles feature FriXion® soles made with a complex compound for the ideal mix of durability and grip. Plus, sole shape and construction vary depending on terrain. Enjoy a more pleasant and safe downhill run thanks to carefully shaped and position lugs to increase shock absorption and enhance the braking effect. Finally, the midsoles come in three different options, depending on the cushioning and energy return requirements.

SHOP: La Sportiva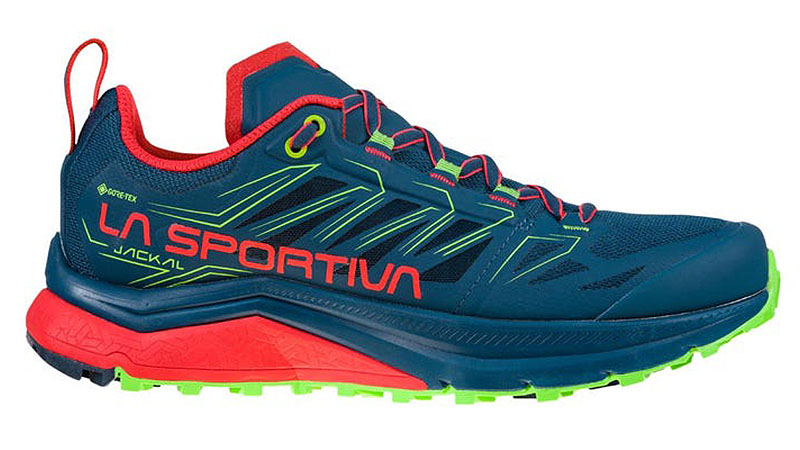 18. On Running
Feel like you're running on a cloud with a pair of shoes from the Swiss company, On Running. Born in the Swiss Alps, the brand believes every run should have soft landings and explosive take-offs, an idea that guides every style and technical choice made in their footwear development. The Cloud, Cloudswift, Cloudflyer, and Cloudventure are all popular designs that are recognizable by the signature cloud-shaped soles. In terms of technical details, an internal Speedboard™ increases forward motion, while the midsoles are made with Zero-Gravity or Helion™ foam and CloudTec® to ensure the softest landing with each footfall. Breathable, antimicrobial mesh on the uppers keep your feet cool. Then, when it comes to trail running, there are weatherproof designs made with a 100% waterproof membrane and Missiongrip™ outsole with a varied pattern to keep you in control.

SHOP: On Running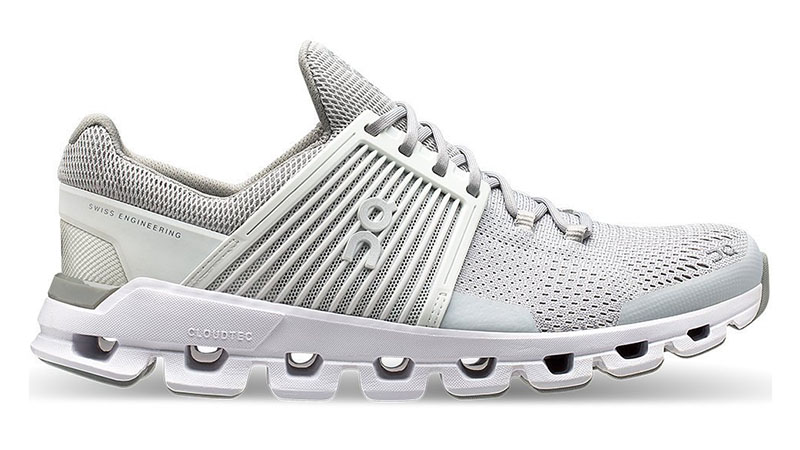 Running Shoes Buying Guide
Choosing running shoes can seem a little overwhelming, especially if you're new to the sport. There are thousands of styles and a lot of jargon that might not mean a lot at first. To help the process, we've broken down the meaning and function of some of the most common shoe features. This includes the fit, cushioning, stability, and drop. Knowing the impact each has on your run will assist you in making an educated selection. However, it remains that the best way to buy a pair of running shoes is to try them on – you're not really going to understand how they feel until you do.
Fit
The right pair of running shoes will fit and feel good straight out the box, not requiring any wearing in. You want it to be snug but not tight and have about a half-inch of room at the end of the toe. A shoe that's too long, too short, too wide, or too narrow is going to give you grief over the thousands of steps you take when you go running.
Cushioning
Running shoes have cushioning to absorb the impact of each step, which can be a force of one and a half to three times your body weight. Generally, the thicker the padding, the more cushioning but also the heavier the shoe. They're ideal for heavier runners and long training days to take the pressure off. You can also get minimally cushioned shoes that are better for race days and speed training. In addition to the amount of cushioning are different kinds of cushioning – plush and responsive. Plush dissipates the force well and is very comfortable but inhibits the propulsive effect, so you run slower. Meanwhile, responsive is the opposite, letting you run faster but with less cushioning. What you choose is personal preference and how you train, but you can also opt for balanced cushioning with the best of both worlds.
Stability
When you run or even walk, your feet and ankles roll slightly to help compensate for the motion and redistribution of weight. If they do this a bit too much, you might have stability issues and require extra support to prevent injury and improve your form. As such, stability or motion-control shoes could be the answer. You can get styles that target overpronation (rolling in) and supination (rolling out). They're designed and structured to support your foot, preventing too much movement for a straighter run.
Drop
Drop when talking about running shoes refers to the height difference, in millimeters, between the heel and toe of the shoe. The most common drop is 10-12 millimeters, which is a good starting place for beginners and won't place too much stress on your calves. It's also the best for runners landing on their heels. Low drop shoes exist with a four to six-millimeter difference, and you can also get zero drop shoes that emulate barefoot running. Both shift the gait forward for a mid or forefoot landing. Like cushioning, what you choose will come down to personal preference.
FAQs
What are the best running shoes for women?
Some of the best running shoes for women are the Nike React Infinity Run Flyknit, Asics Kayano 27, Brooks Ghost 13, Saucony Kinvara 11, On Running Cloud, and New Balance Fresh Foam X 1080 v10.
Which brand shoes are the best for running?
The best brands for running shoes include Nike, Asics, Adidas, New Balance, Newton Running, On Running, APL, and Saucony.
Can I wear women's running shoes?
Men's and women's feet are biomechanically different, so running shoes often reflect that. Women's shoes tend to be narrower in the heel and mid-foot but broader in the toe and forefoot. You can wear women's shoes if you find them to be a better fit, and vice versa, if men's fit better, it's a great idea. The most important thing for running shoes is that they fit well and work with your running style and form. Some options can fix pronation issues, or heavy heel strikes, while others can tackle posture problems and fatigue. 
Is it OK to wear running shoes every day?
While you can wear your running shoes on daily runs, it's not ideal for wearing them casually. If you wear them for different purposes, you can affect the footbed and sole wear pattern, which in turn can affect your gait and posture. Running shoes are also expensive, and rocking them everywhere will cause them to break down faster, and you'll need to replace them more regularly. As such, it's best to leave them just for running and treat yourself to a casual everyday pair for all other occasions. 
How long should running shoes last?
Running shoes' lifespan is more easily measured in distance than time. Most styles will generally last between 300 to 500 miles, depending on the design, how you run, and where you run. As such, if you run 20 miles a week, it should last around four to six months. Other factors will also tell you it's time to replace. If you're sorer after a run or have new pains or blisters, this could be a sign. The same goes for a worn-out tread or uneven wear on the soles, as well as a decrease in shock absorption.
Which surfaces are suitable for running shoes?
The manufacturer will most likely indicate what kind of surfaces a particular pair of shoes is designed for. Some are better suited to track running, sprint days, or endurance training. Trail shoes are generally designed tougher, like 4WD tires, so they don't wear out as fast, while others are ok for all kinds of sports and cross-training. Make sure to check that style fits your intended use. Serious runners will often own multiple pairs of shoes for different types of training or events.
SUBSCRIBE TO OUR NEWSLETTER
Subscribe to our mailing list and get interesting stuff and updates to your email inbox.