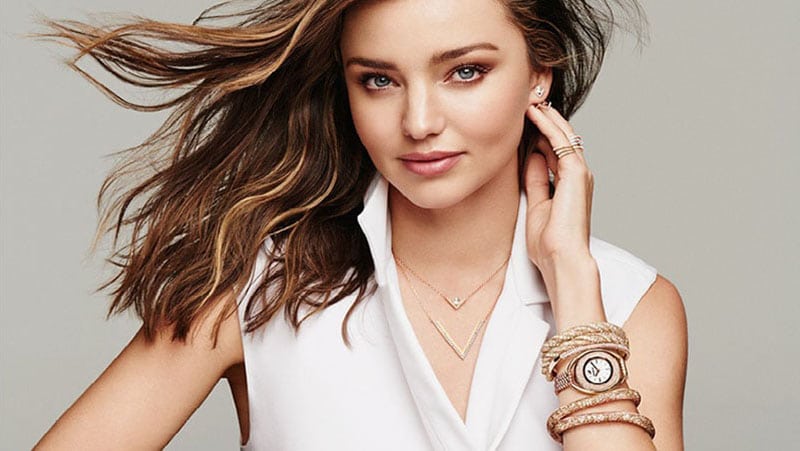 Just as our world is not always black and white, jewelry is not strictly silver or gold. Rose gold has experienced an enormous increase in popularity on the style radar, especially when it comes to watches. The luxurious metal with soft hues of pink and yellow seamlessly projects a stylish and elegant appeal. So, if you're thinking about upgrading your look with a fashionable new timepiece, you're in luck because we've rounded up the best rose gold watches for women.
1. Guess

Diamond-Accented Rose Gold Watch
The rose gold Guess U0532L3 merges timeless elegance with a sleek, contemporary design. The ultra-fine mesh-and-link bracelet nestles gently up against the contours of your wrist, thus providing ultimate comfort. Its large dial features a sunray design with sword-shaped hands and four beautiful diamonds.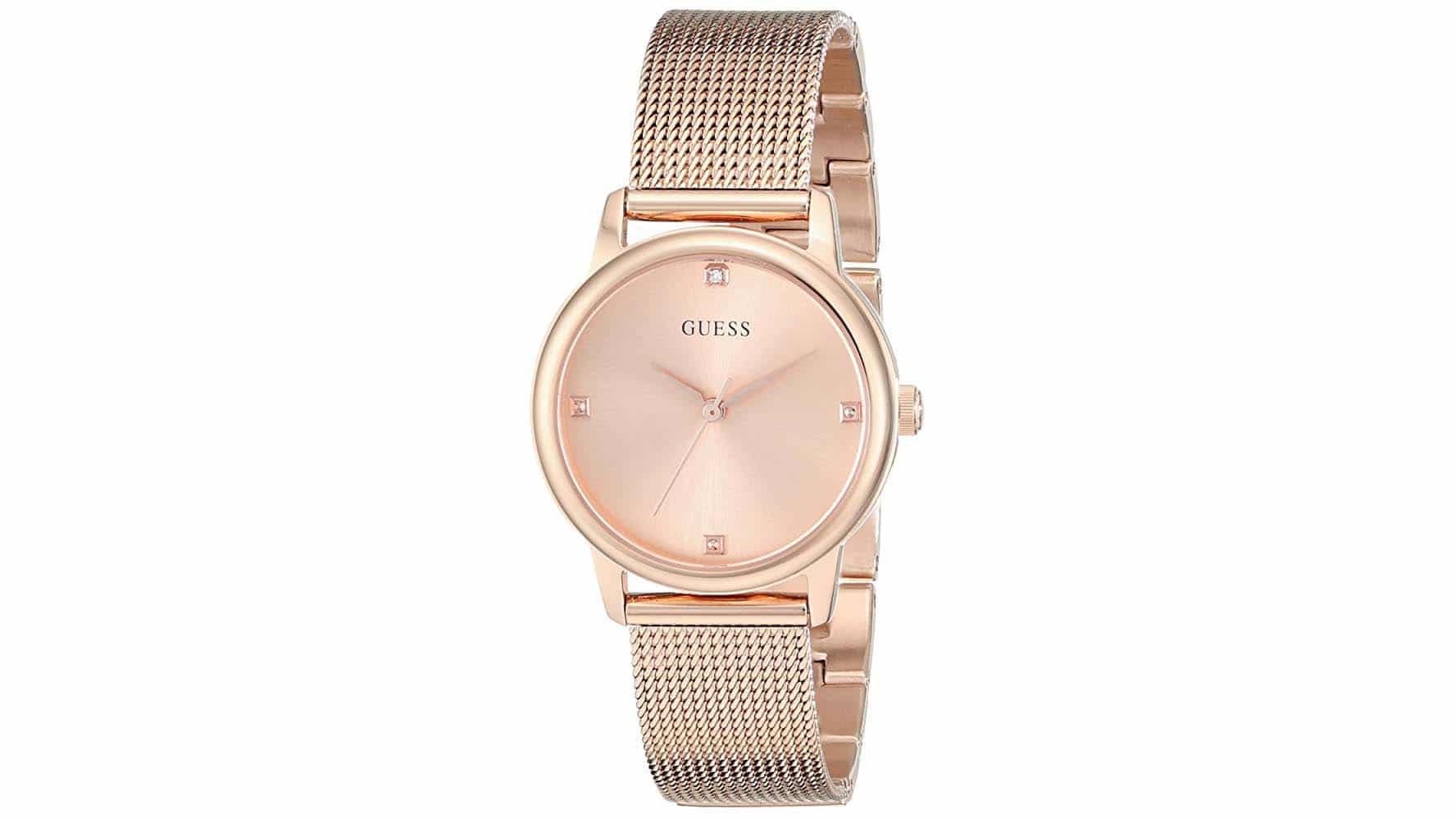 2. Calvin Klein Body Rose Gold Watch
The Calvin Klein Body watch is not only practical but also extremely good looking. Its stylish design gently graces your wrist thanks to its discreet and elegant dial, which perfectly complements the band.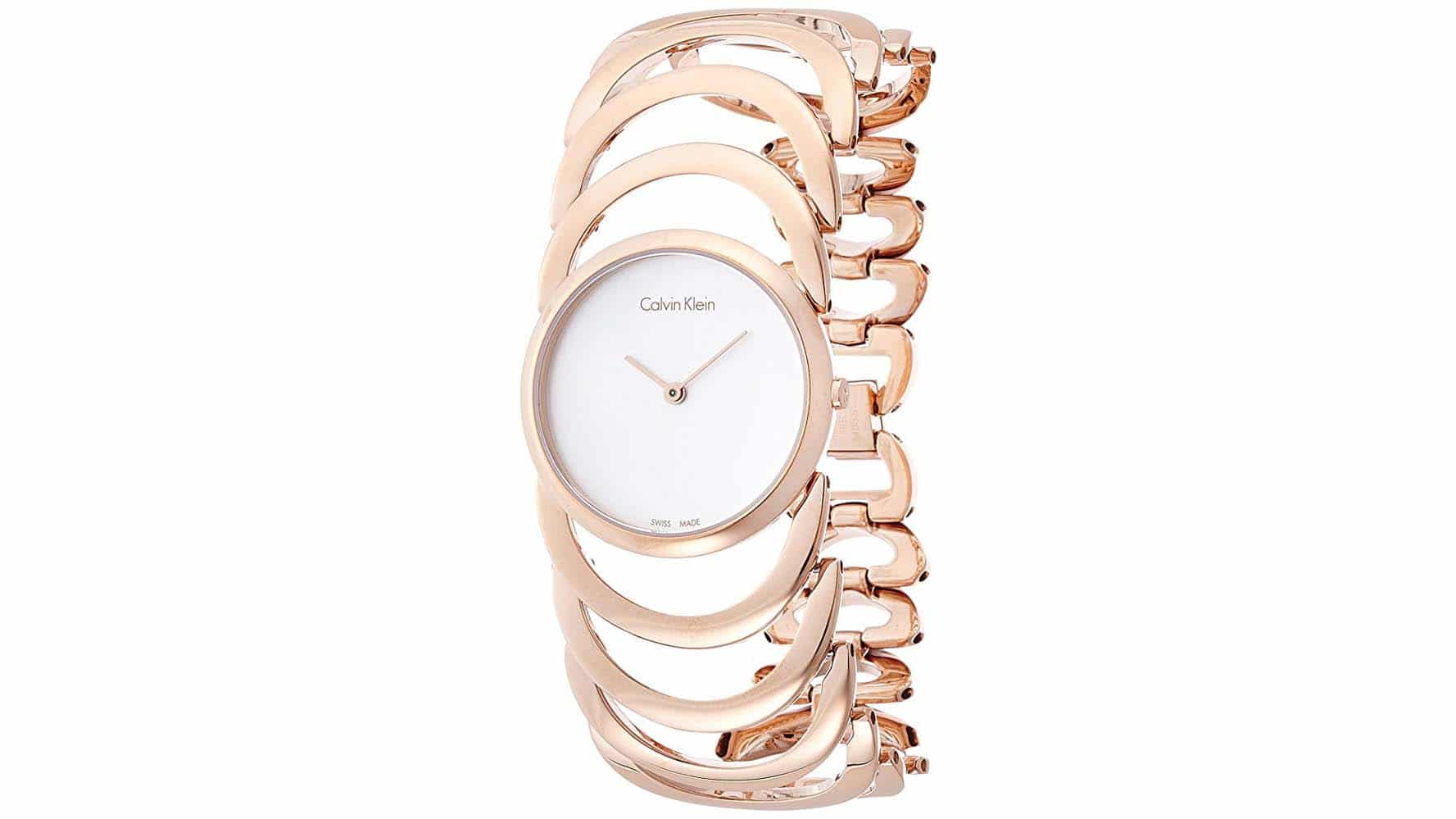 3. Anne Klein Rose Gold Watch
Anne Klein's 10/9918RGLP wristwatch is a skillful mix of smart design and exquisite detail. The soft leather band provides ultimate comfort while blending perfectly with the rose gold watch body. The mother-of-pearl dial features large Roman numerals and clear crystals for a one-of-a-kind time-reading experience.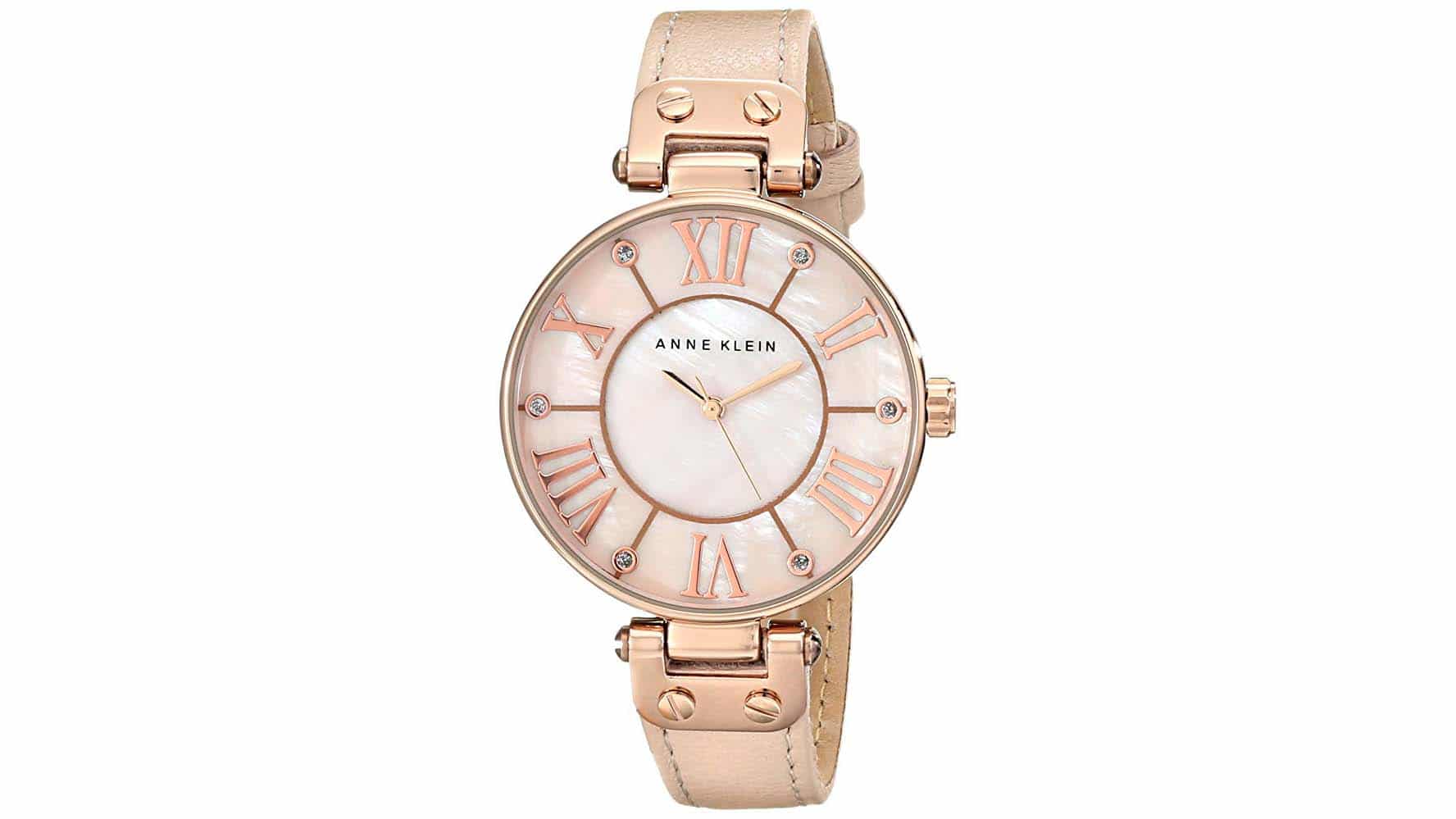 4. DKNY Soho Three Hand Rose Gold Watch
DKNY is a well-respected brand in the fashion industry, and their watch designs also do not disappoint. The Women's Soho Three Hand Quartz timepiece is an impressive creation, with a round stainless steel case and rose gold dial. The rose gold-tone allows for versatility, so there's a good chance you will want to wear this every day. Another highlight is the Quartz movement with a 3-hand analog display, making it easier to get a more precise time.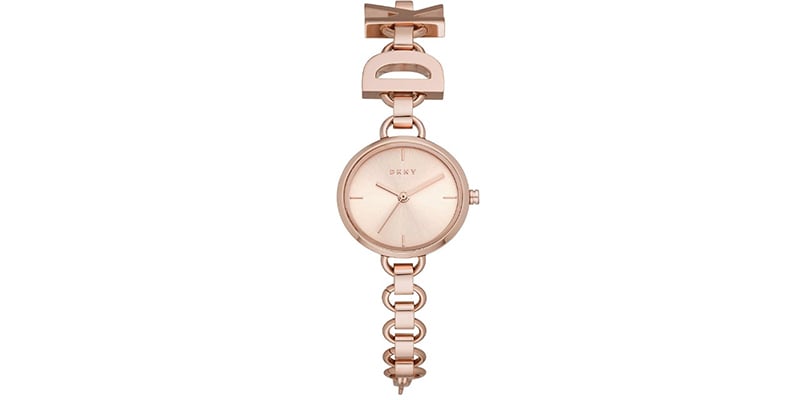 6. Emporio Armani AR1840 Rose Gold Watch
Emporio Armani believes that their watch is so great that they offer a two years seller warrant, and the sellers are dedicated to customer satisfaction. It is not hard to see why, though, because the Ladies Gianni T-Bar Steel and Rose Gold Watch is a real head-turner! Rose gold-tone stainless steel case has been combined with a silver-tone, and the two-tone appearance pops. The hands are rose gold and show minutes as well as hours. The hours are marked with either three faux diamond or Roman numerals.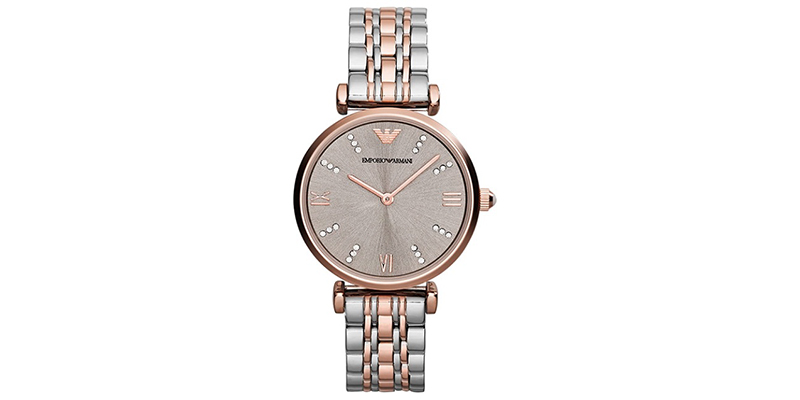 6. Ted Baker Rose Gold Watch
Ted Baker's designs are often bold and quirky, and this is one of the reasons the brand is so loved. The Women's Kate Fairy Print Rose Gold timepiece is a standout watch, and the fairy located at the six o'clock mark makes it a real conversation starter. The rose gold piece has an analog display, and the dial is paired with a nude leather strap. Highlights include the two-year manufacturer's guarantee, and it is up to 50 meters water-resistant.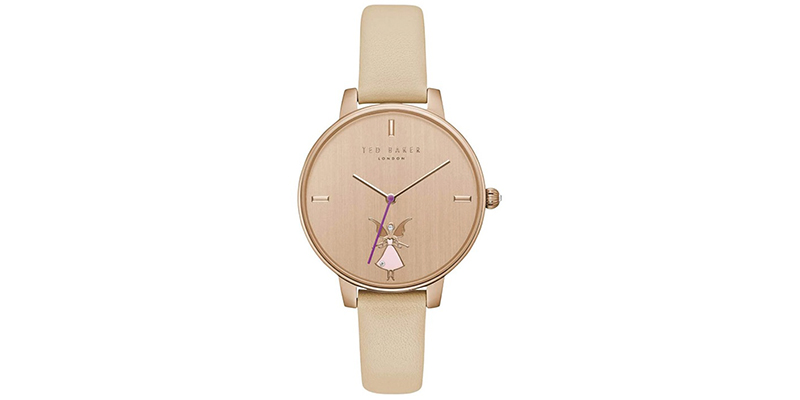 7. Kate Spade Holland Rose Gold Watch
The Kate Spade Holland is a stylish everyday timepiece that's free from bling and unnecessary frills. It features a thin 12-millimeter wristband made from stainless steel and a contemporary, oversized body with a diameter of 34 millimeters.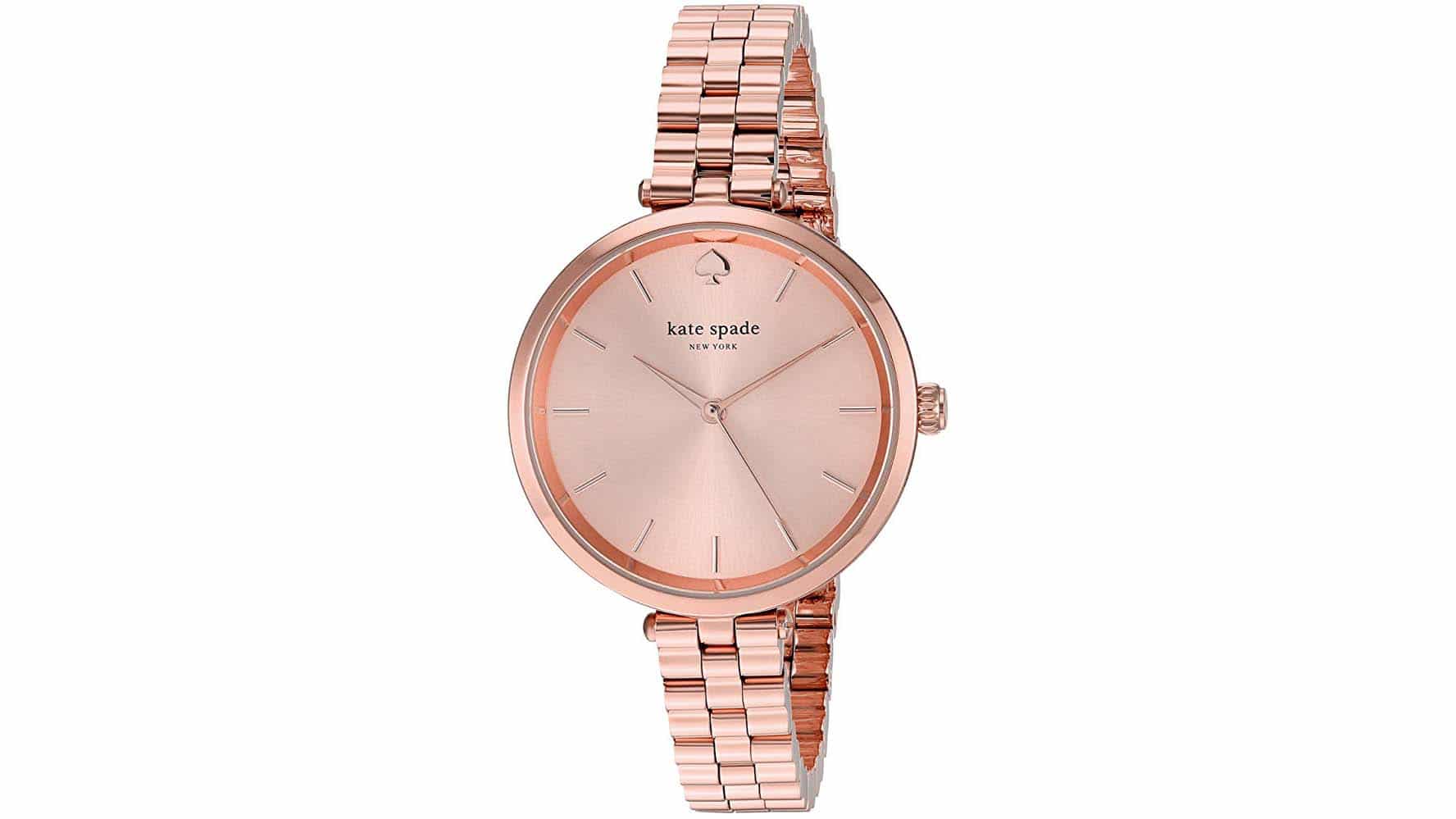 8. Michael Kors Parker Rose Gold Watch
The Michael Kors Parker is for those who aren't afraid to make a bold statement. The 45-millimeter stainless steel case is framed by over 70 clear crystals and features the iconic MK monogram at its center. Boasting 100 meters of water resistance, this timepiece is also suitable for swimming or snorkeling.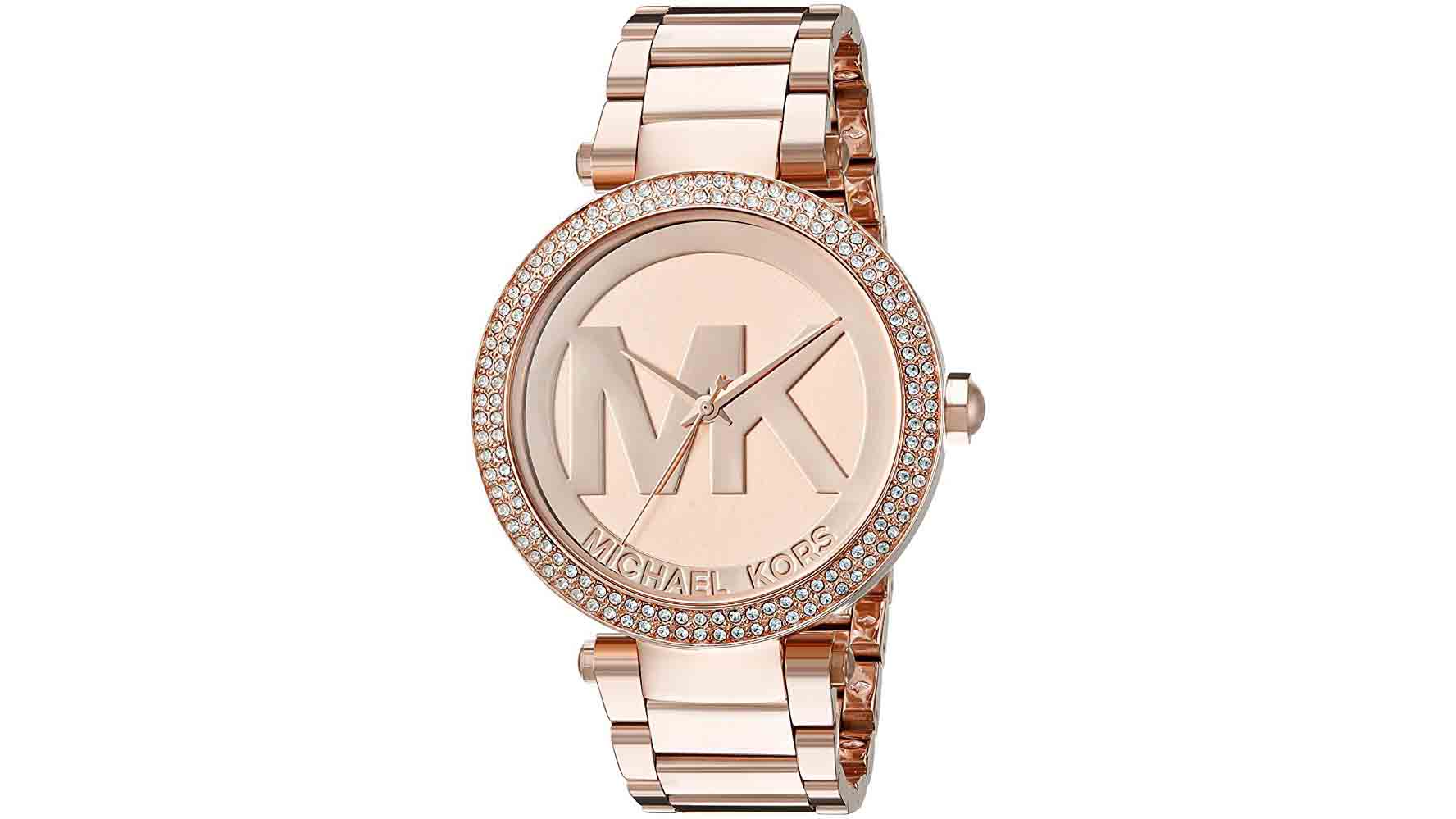 9. Fossil Tailor

Stainless Steel Rose Gold Watch
The classic design of the Fossil Tailor watch is complemented by carefully placed details that give this piece its luxurious appeal, like the delicate guilloche pattern adorning the outer ring of the dial. It also features two sub-dials, which indicate the day and date.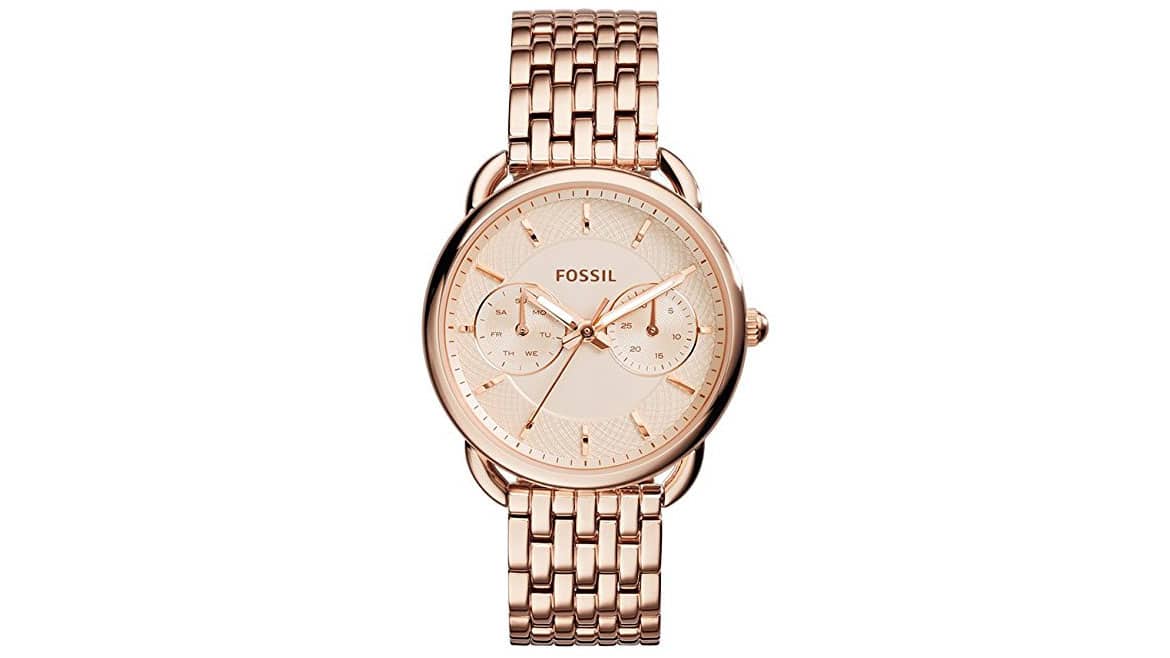 10. Tommy Hilfiger Rose Gold Stainless Steel Watch
Women who are interested in fashion will be impressed with Tommy Hilfiger's Rose Gold Stainless Steel Watch, which is every bit as stylish as you would imagine. The design is classic and timeless, thanks to the round face, mineral window dial, and stainless steel band. The combination allows the wearer to use the watch in both formal and casual settings. Other highlights include the Quartz movement technology and the display type, which shows hours, minutes, and seconds.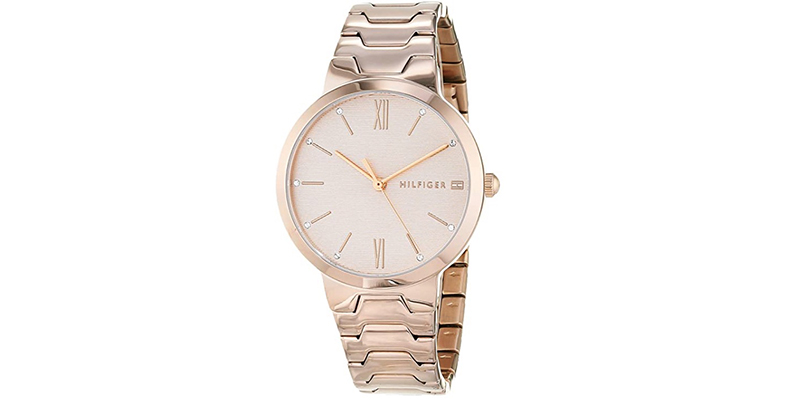 11. Guess Petite Rose Gold Watch
The art deco-inspired Guess U0135L3 captivates with its slim, feminine lines and incredible detailing. Its bangle and body are set with multiple small crystals and decorated with braided elements.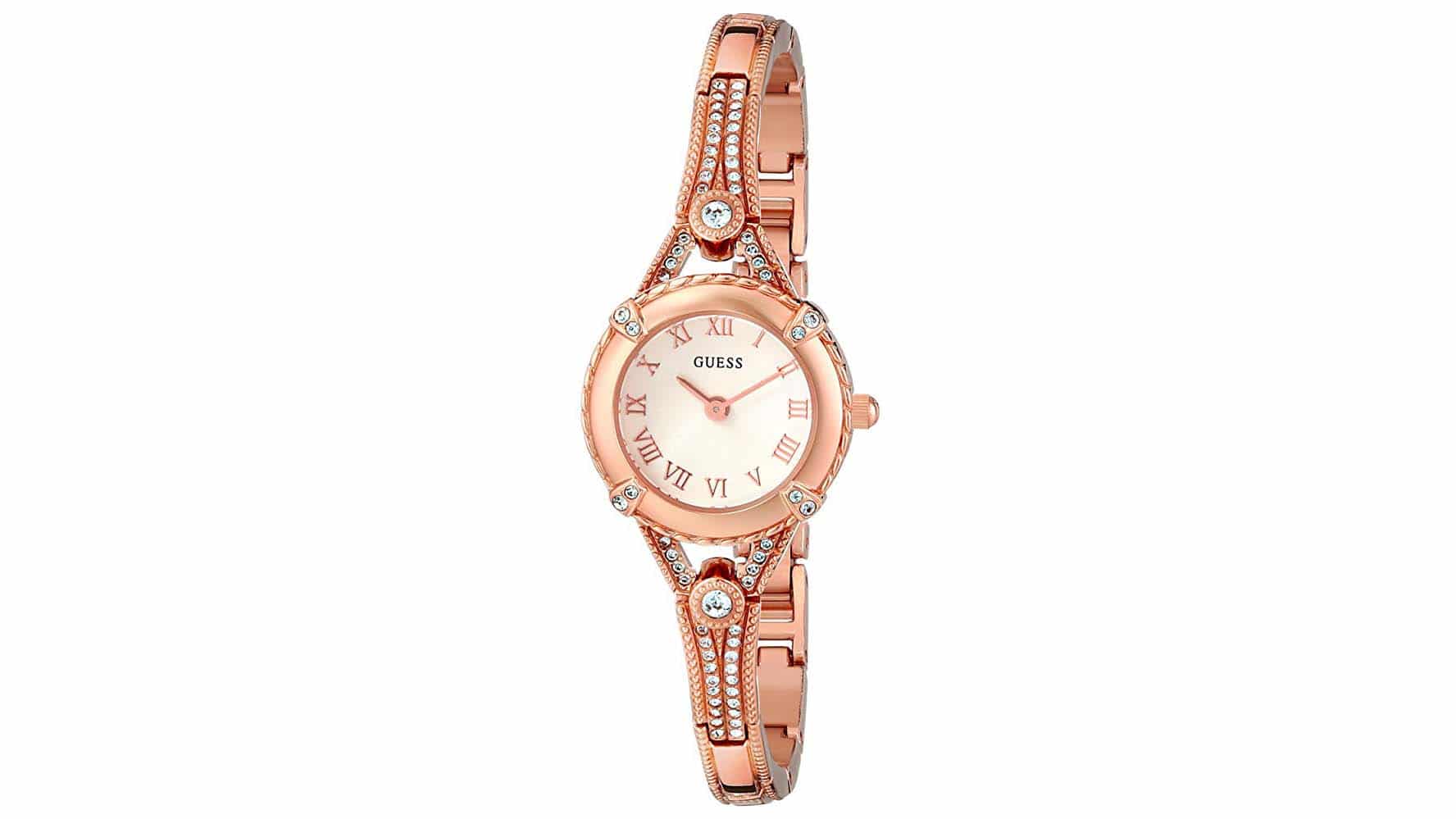 12. Skagen Anita Rose Gold Watch
Skagen produces contemporary, timeless wristwatches that ooze minimalistic elegance. The Anita is no exception. Its micro-mesh bracelet provides comfort and style while the simplistic design of the body is underlined with the beauty of a mother-of-pearl dial.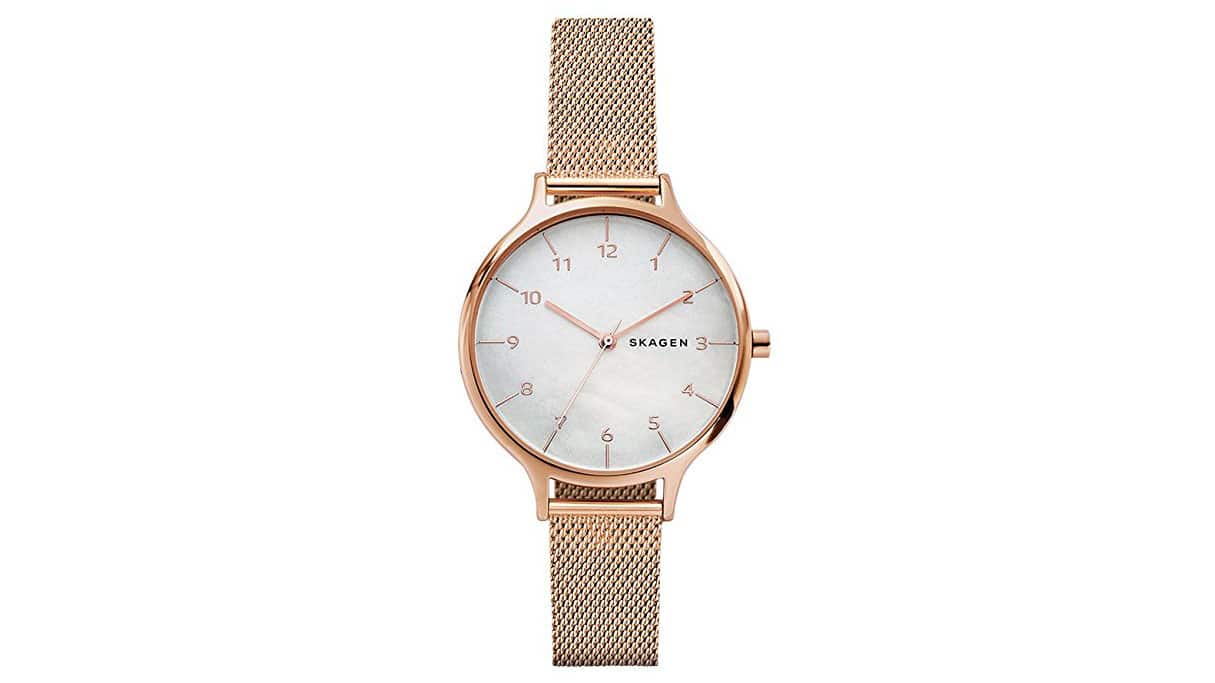 13. Nixon Kensington Rose Gold Watch
The design of the Nixon Kensington may scream minimalism; however, its extra-large 37-millimeter stainless steel case is sure to make an impression wherever you go.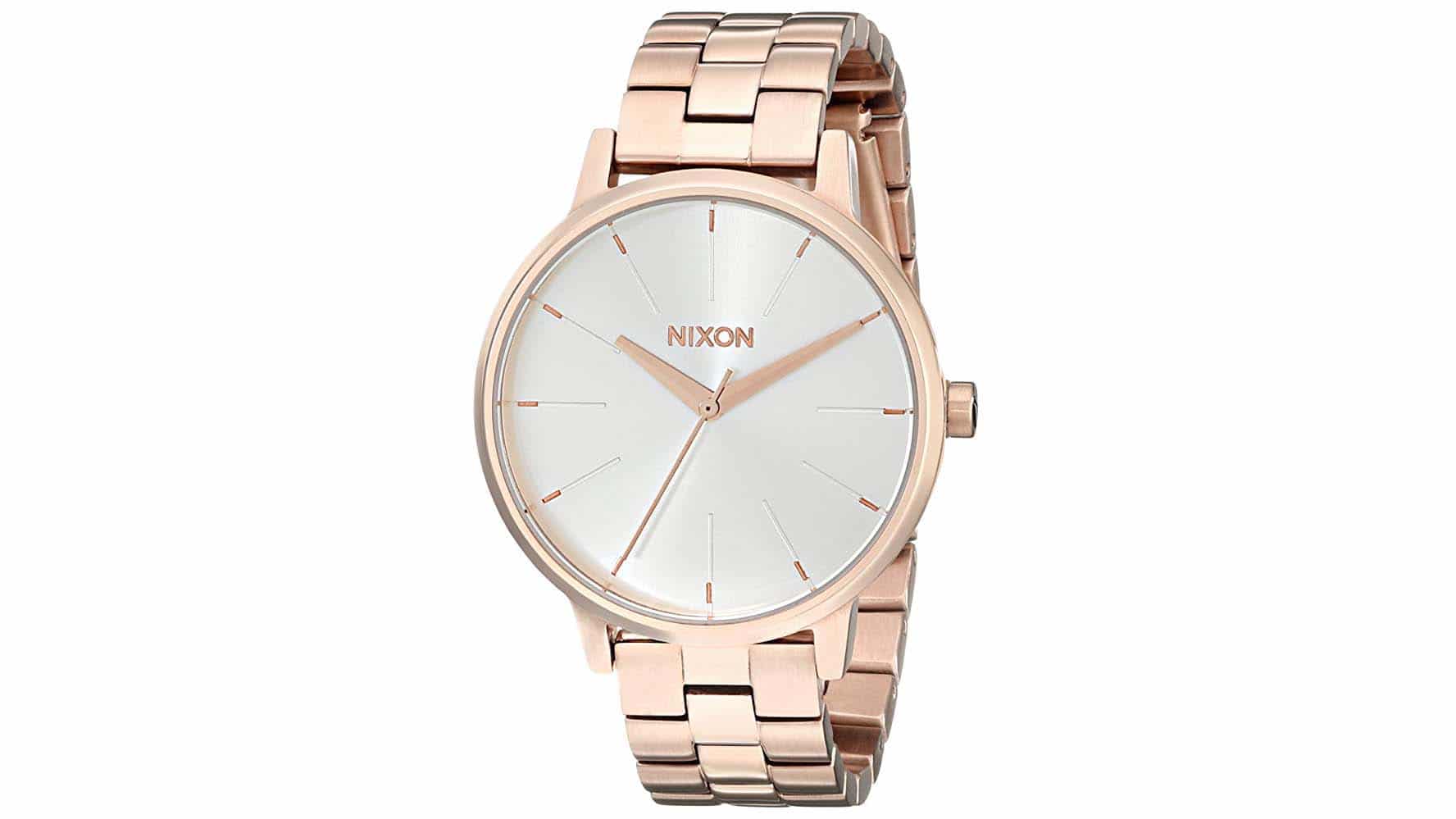 14. Bulova Rubaiyat Diamond Rose Gold Watch
Bulova's Rubaiyat collection is impressive, and their gold-tone stainless steel watch would be a welcome addition to any women's accessories. The gold-tone outer is combined with a silver-white dial. Elegantly finished with small diamonds around the case, as well as on the dial. The 12 o'clock position is marked with a synthetic blue spinel cabochon crown, and the overall appearance is stunning.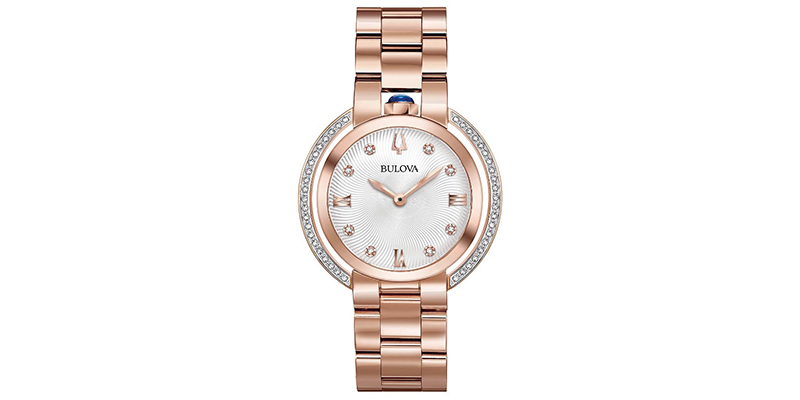 15. Invicta Pro Diver Rose Gold Watch
The Invicta Pro Diver watch manages to merge the two worlds of luxury and sports into one elegant yet durable package. It's water resistant up to 200 meters, which makes it suitable for activities like swimming and surfing.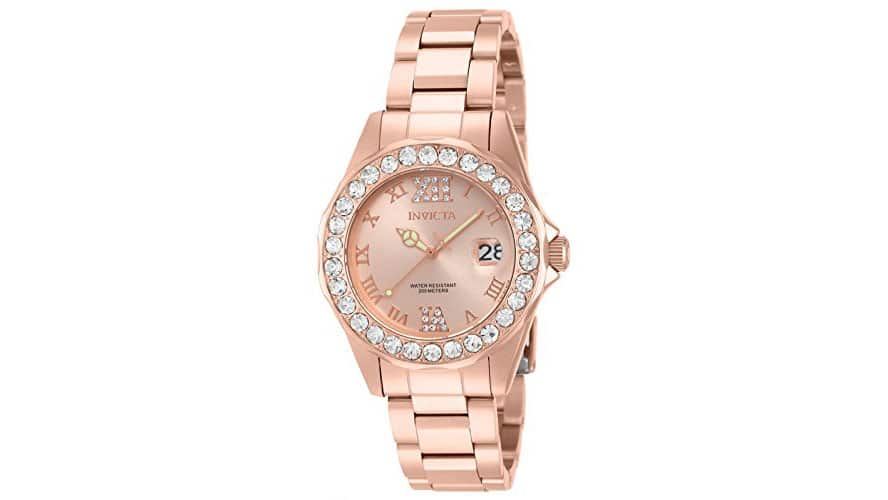 16. Furla Linda Rose Gold Watch
In classic Furla fashion, the Linda rose gold wristwatch is an incredibly feminine timepiece. Its delicate design resembles an elegant bracelet and thus discreetly upgrades your look. As such, it promises to accent your wrist perfectly for dressier occasions.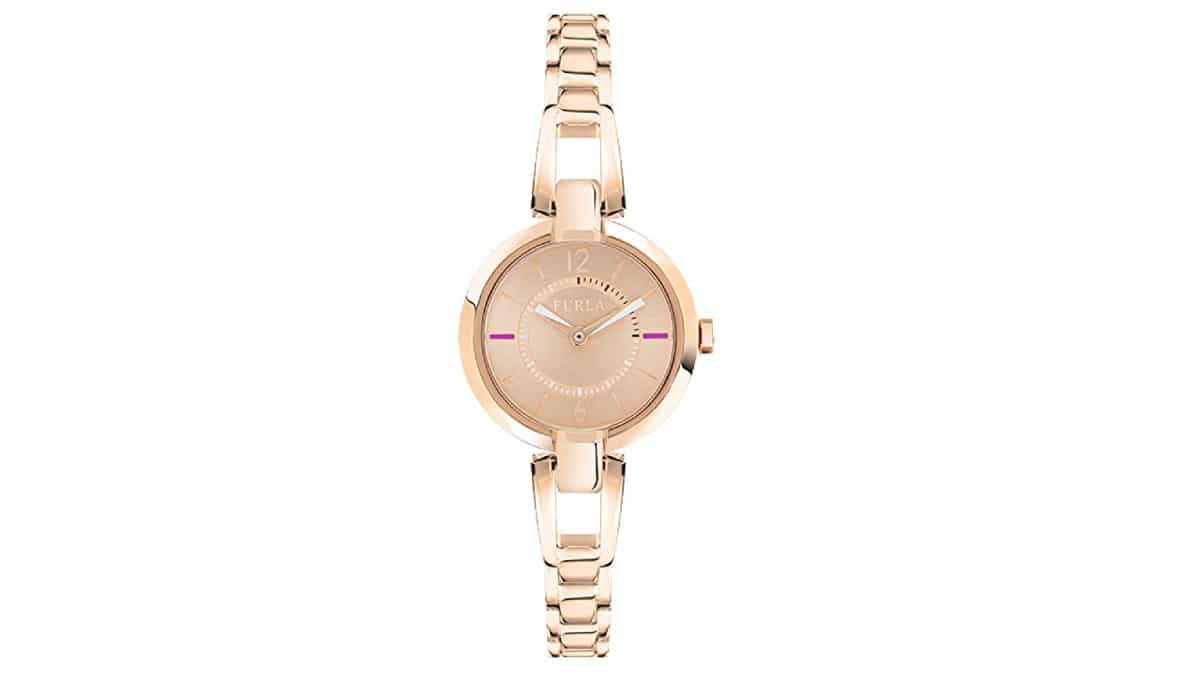 17. Fossil Karli Three-Hand Rose Gold-Tone Watch
If you want a watch that has a lot of bling, Fossil's Karli Three-Hand Rose Gold-Tone piece may be just what you need. A combination of chain link band with a thickness of 14 millimeters, a gold dial, complete with hour markers, and many diamonds, gives the design a very feminine feel. Appearance is not everything, though, and the timepiece is created using stainless steel, which makes it sturdy, and the watch uses a Quartz movement.
18. Casio Baby-G Rose Gold Watch
The Casio Baby-G in rose gold can add a stylish '90s touch to any outfit. In addition to its retro looks, the Baby-G is also shock-resistant, and features LED lighting and 29 time zones, amongst other useful features.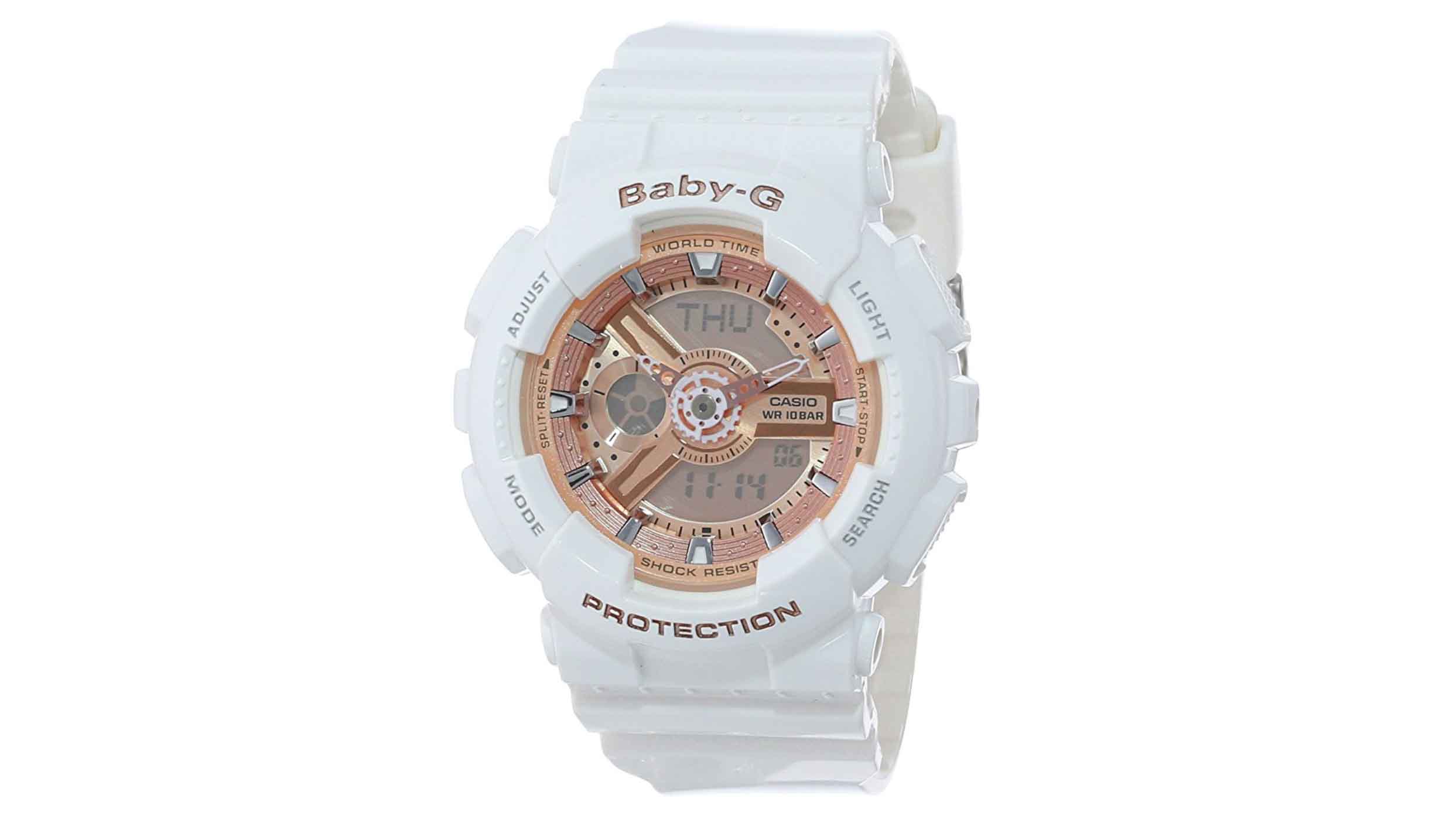 19. Burberry

Stainless Steel Rose Gold Watch
The rose-gold-plated Burberry BU9235 champions the brand's signature check pattern across its band and dial, adding interest to its classic design. As well as being stylish, the watch is also practical with a high-quality sapphire crystal face.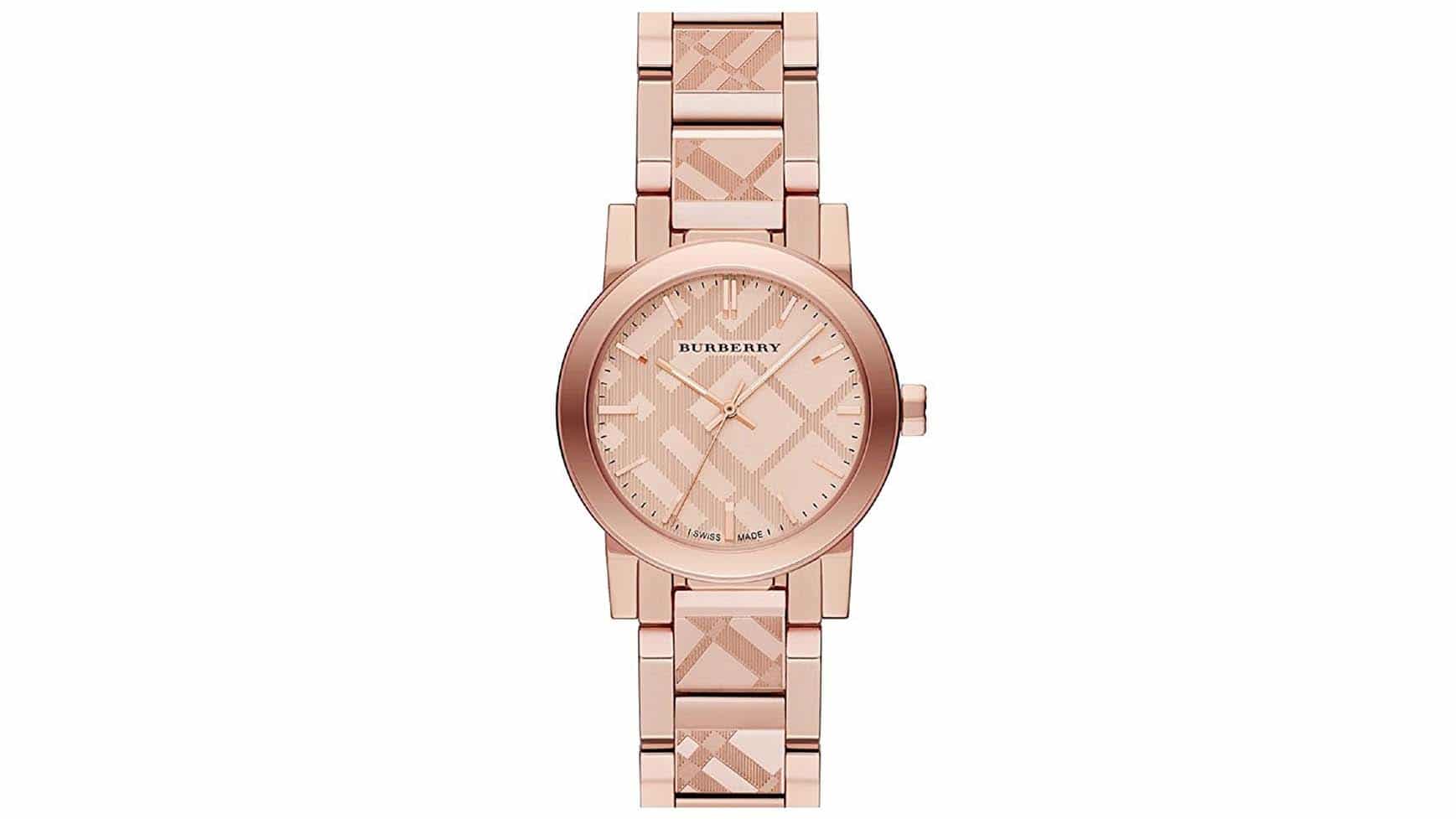 20. Hugo Boss Ambassador RoseGold Watch
The Hugo Boss Ambassador is a classic timepiece that conveys pure elegance and leisure. The stunning mother-of-pearl dial only enhances the sleek and polished finish of the rose gold wristband.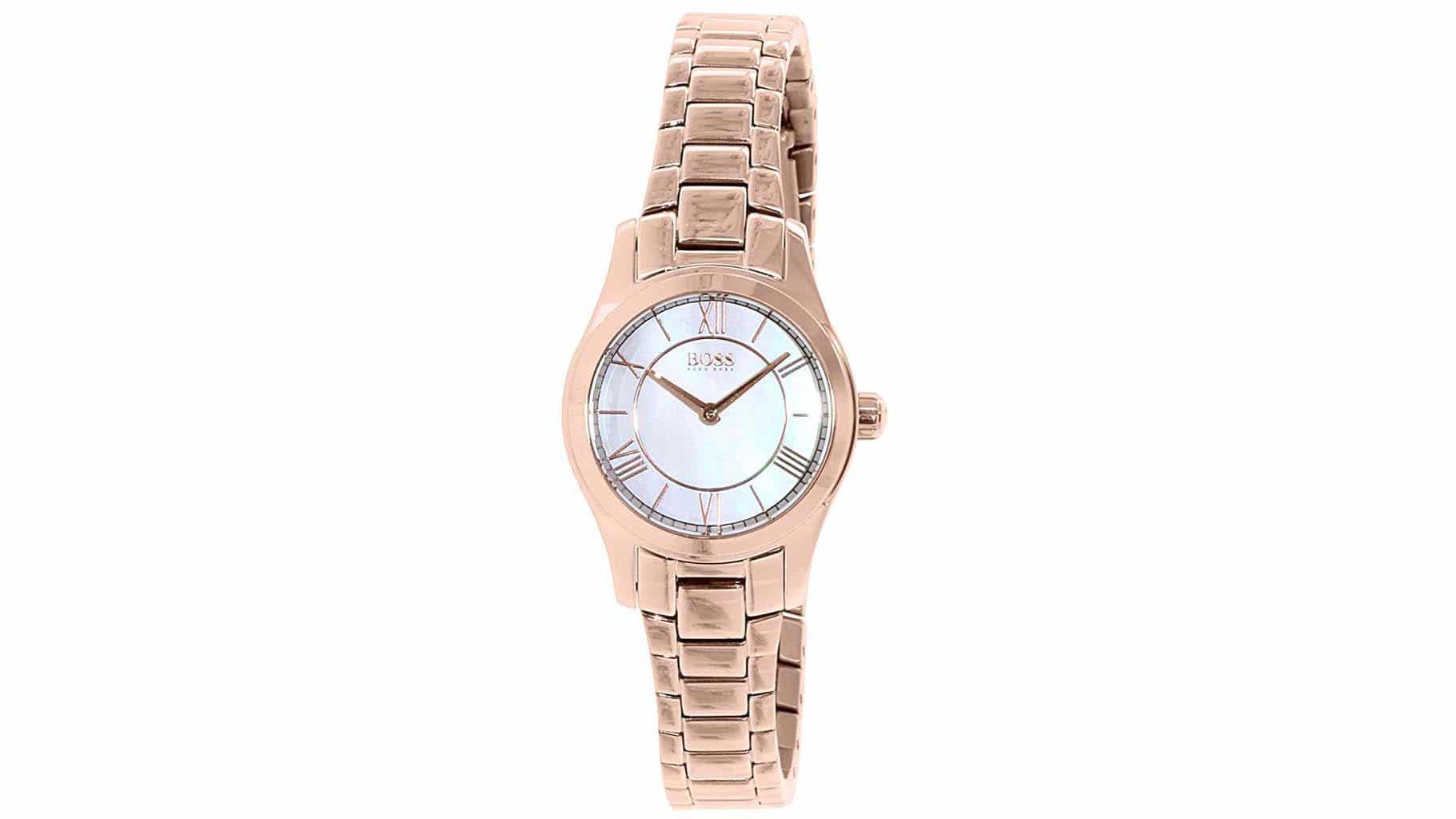 21. Furla Giada Date Rose Gold Watch
Furla's Giada rose gold design is a standout watch. The round dial has a glitter finish, as well as two gold-tone hands, and two bright pink lines indicating the 3 and 9 o'clock hours. The dial type is analog, and the watch uses a Quartz movement. Another highlight is a scratch-resistant mineral crystal, which ensures that the watch keeps looking as good as new! Water-resistant at 50 meters.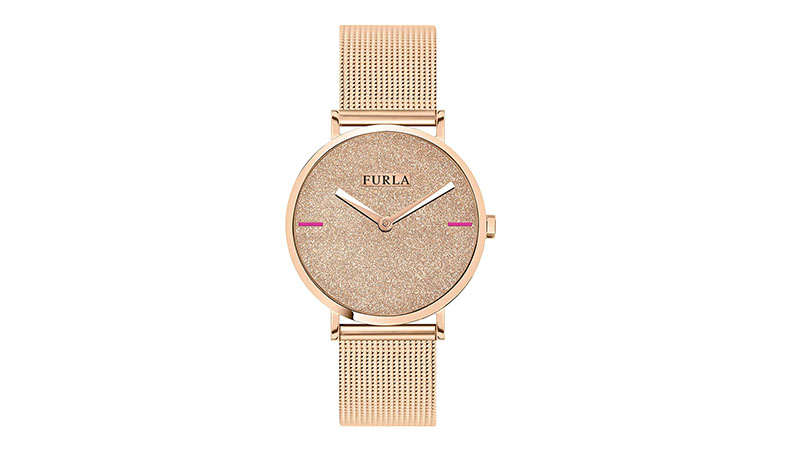 22. Samsung Gear S2 Rose Gold Watch
Samsung has proven that smartwatches don't have to look bulky or ugly. The Gear S2 Smartwatch combines stylish design with smart technology. Just sync your watch to your phone to always stay in-the-loop. The rose gold model features 18 karat gold and a soft leather band.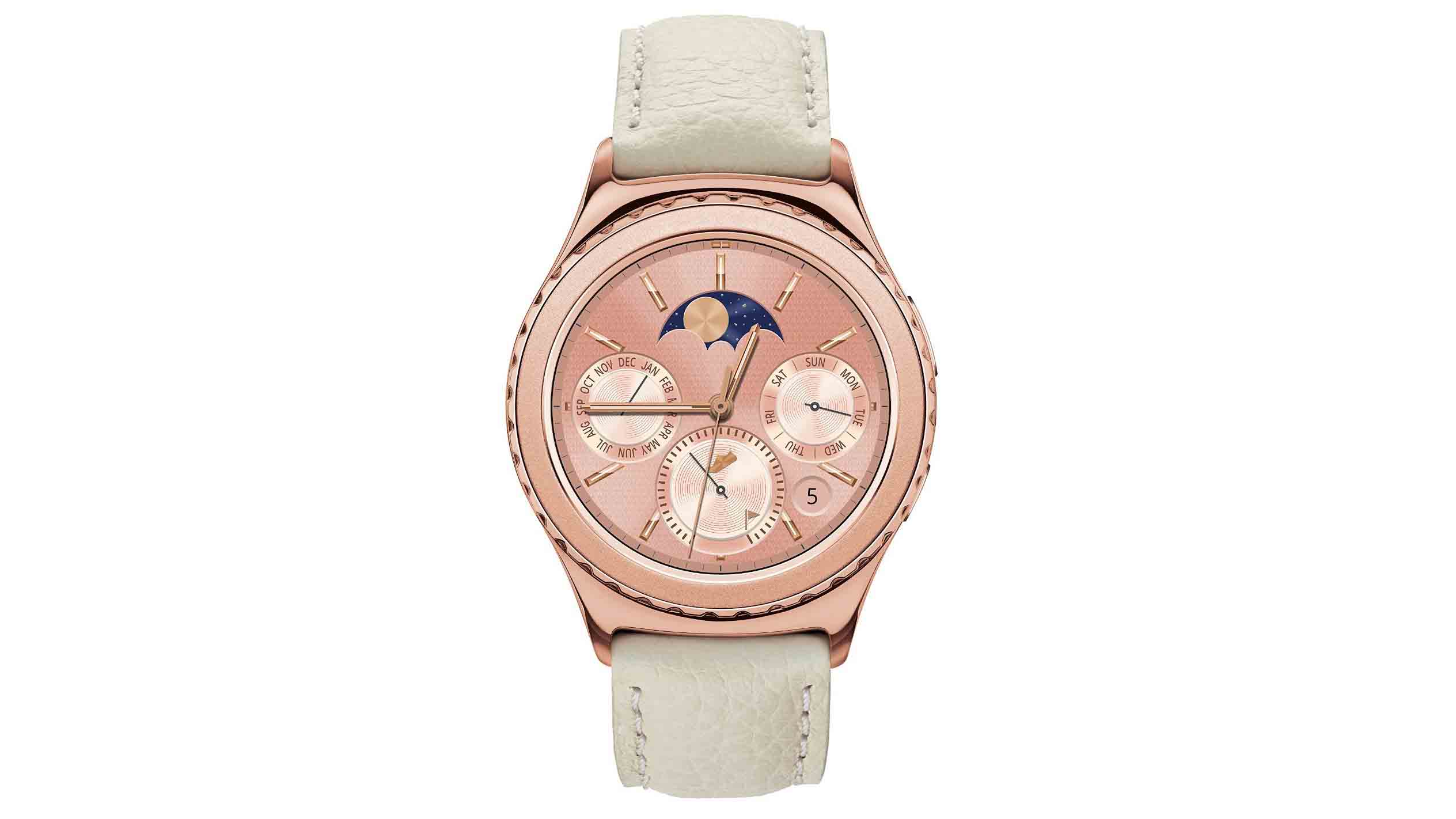 23. Juicy Couture Women's Rose Gold Watch
You've probably seen tracksuits with the words Juicy Couture emblazoned on them, but the brand is also well-known for its accessories. The Women's CALI Analog-Quartz Watch will likely catch your eye thanks to the rose gold-tone, silver-white sunray dial, and the many crystal accents. It is not just a fashion watch, though, and highlights include the Analog-quartz movement, a durable mineral crystal finish, designed to protect against scratches, and the fact that the watch is water-resistant to 30 meters — you can't swim with it.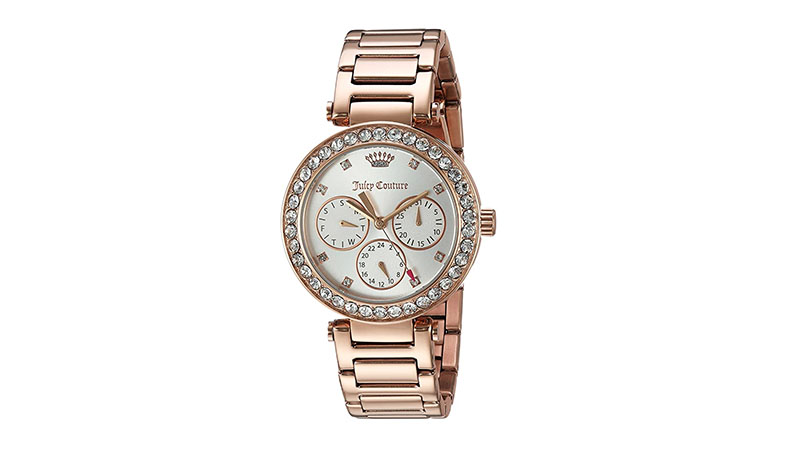 24. Nixon The Cannon Rose Dial Watch
Nixon's The Cannon Rose Dial Ladies Watch is a timeless design, which makes use of a round stainless steel 40mm case and band. The band closes with a fold-over clasp, making it more comfortable to wear, and has an analog display and quartz movement. The stunning rose gold-tone throughout makes this timepiece simple, yet chic. Lastly, it is also 100 meters water-resistant.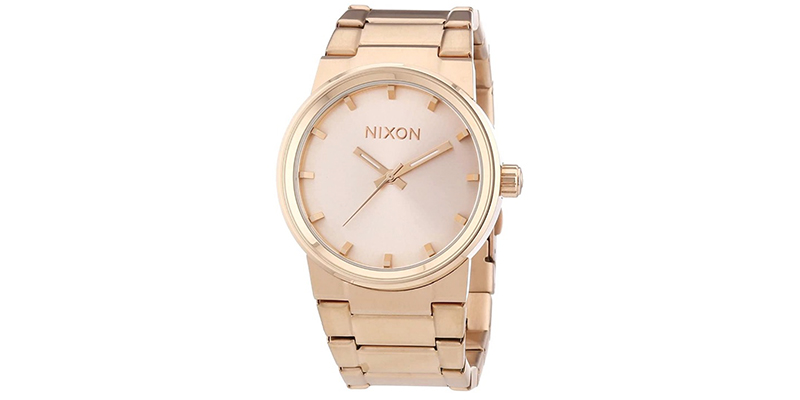 25. Skagen Anita Quartz Rose Gold Watch
Skagen's Anita Quartz watch is excellent for everyday wear because it is casual but also reasonably priced. The brand is inspired by Danish design and creates timepieces that are modern yet playful. The combination of the rose gold plated case combined with the silver-tone dial makes this is a striking watch. Crystals mark out the hour, aside from 12 and 6, which are shown in rose gold Arabic numerals. The band looks like a bracelet and is complete with adjustable fold-over clasp closure. Lastly, Anita is water-resistant to 30 meters, so you need to remove it when swimming!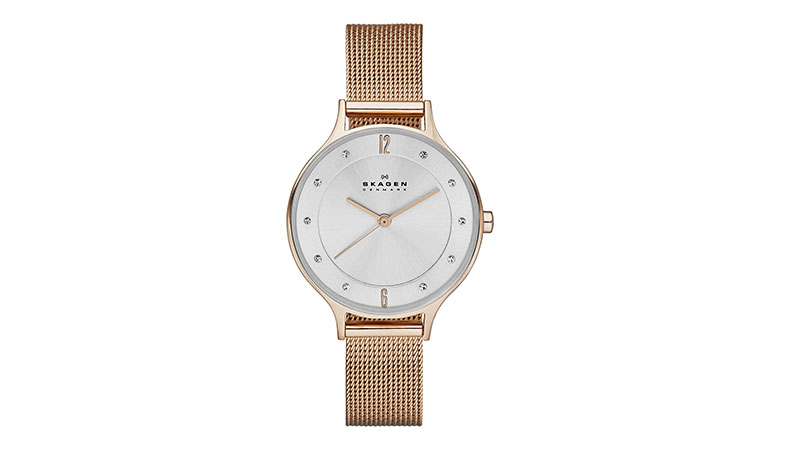 FAQs
Are rose gold watches in style?
In recent years, rose gold watches have been increasing in popularity, and they are now incredibly chic and trendy options for women. The metal's soft pink hue also tends to mix and match well with gold and silver and can be worn in various settings and with just about every outfit. It is for this reason that it has a stylish and elegant appeal.
Does rose gold watch fade?
Rose gold is an incredibly durable metal and tends to age well, but you can expect some wear when choosing plated items. The plating eventually begins to rub off with frequent use and will expose the base metal below. Some substances can cause the metal to tarnish, and these include chlorine, nail polish remover, and certain oils.
Does a rose gold watch go with everything?
If you choose a sleek, contemporary design, it can be incredibly stylish and will pair well with almost anything. In general, rose gold is a warm hue and one that looks great on every skin tone and can be easily mixed and matched with various colored garments. This hue's appeal is it is incredibly versatile and can even be worn with other precious metals and gemstones. It tends to look best when paired with neutral colors like white, beige, black, cream, navy, and dark green.
SUBSCRIBE TO OUR NEWSLETTER
Subscribe to our mailing list and get interesting stuff and updates to your email inbox.