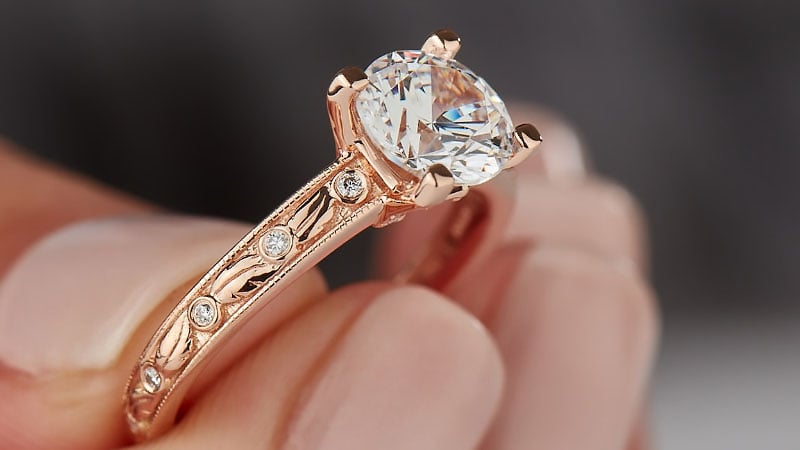 When it's time to ask someone to marry you, many factors go into the decision. Of course, the jewelry that you choose is one of the most important to consider. From classic designs to something as unique as your partner, finding that perfect ring can easily showcase your love. Unlike regular gold bands, a pink hue puts a modern twist on the classic style. If you're on the search for jewelry that showcases your relationship, here are the most beautiful rose gold engagement rings for a romantic proposal.
RELATED: 10 Stunning Emerald Engagement Rings for Brides-to-Be
1. Nudo 18-Karat Rose and White Gold Diamond Ring
Make the ultimate statement about your love with the Nudo diamond ring. Featuring brilliant-cut G-H VS diamonds on a rose gold setting, the handmade jewelry is stunning. The cast of this piece resembles a multi-faceted structure that shines beautifully from every angle. It is a timeless design that is sure to set her heart alight!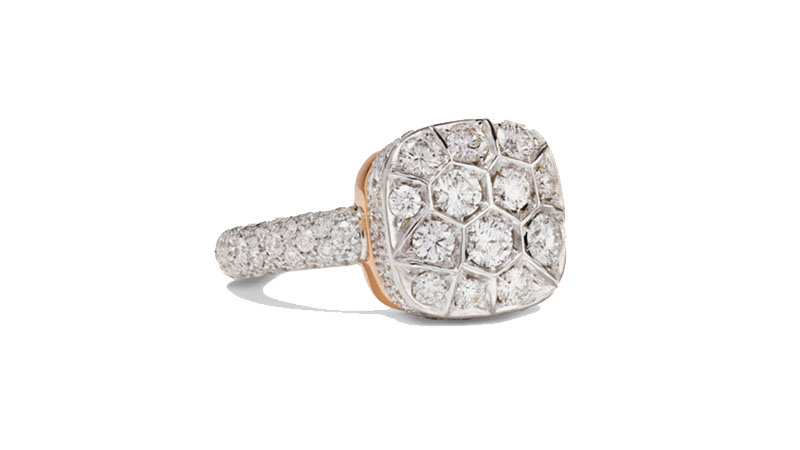 2. Move Uno 18-Karat Rose Gold Diamond Ring
Ideal for a modern engagement, the MoveUno ring features a simple and delicate design. With an 18-karat rose gold band and round cut diamonds, this is the perfect option for your partner. The unique style of the jewelry makes for an ideal standout piece- hinted with sparkles for a bedazzled finish. The G VS1 diamonds are presented in a halo with a simple rose gold band – it makes for the perfect representation of your love.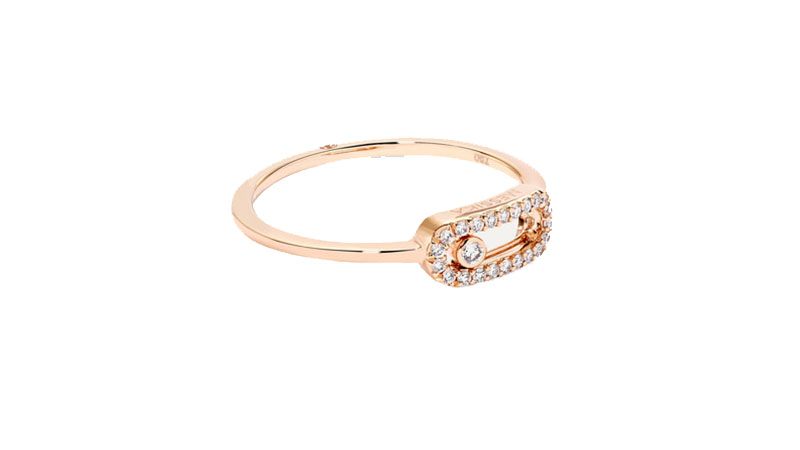 3. Round Diamond Solitaire 14k Engagement Ring
For the person who loves simplicity, you can't look past this engagement ring. With around 1ct diamond in a rose gold setting, it's a brilliant representation of your love. Watch as the jewel sparkles in the light and makes your partner's hands shine – it's finished with a G-H and SI color and clarity rating, respectively. The thick and polished band accentuates the jewel in the center and is sure to shine bright like your future.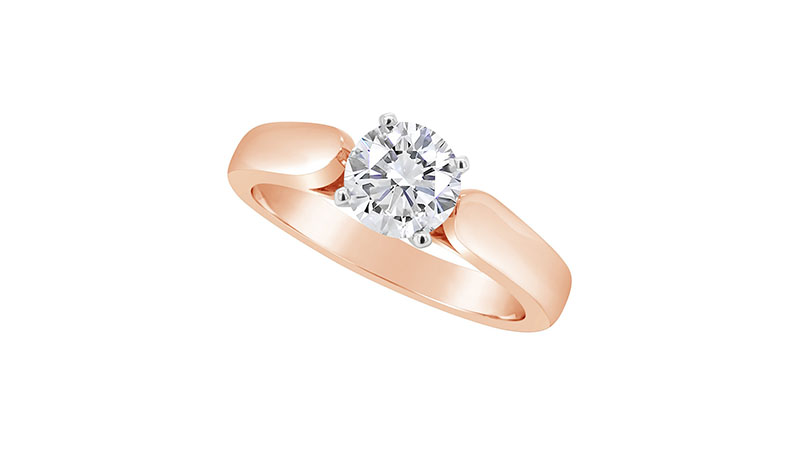 4. 18kt Rose Gold Floral Diamond Ring
Nothing says 'forever' like a diamond, and this floral engagement ring is the perfect option for your next step to that goal. Featuring a 0.5ct round cut jewel in the center and surrounded by sparkling petals, it's set in 18kt rose gold. Its vintage design is sure to set hearts alight, and the polished finish will shine beautifully on the wearer's finger.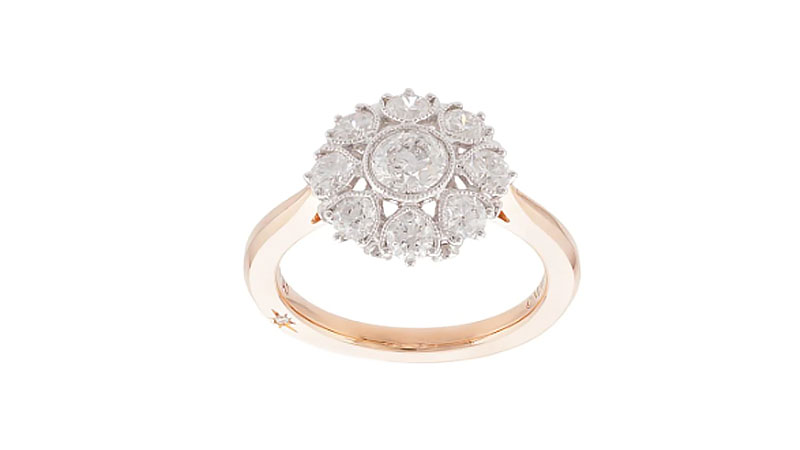 5. Rock Candy by EFFY Diamond Halo Cluster Ring
For those who love exceptional sparkle, the Rock Candy engagement ring is a perfect choice. Featuring a 1-1/3 ct diamond halo cluster and stunning rose gold setting, it's the best way to celebrate your love. It's diamond color, and clarity ratings are H-I and 12, respectively – it will shine so bright that you'll want to look at it every second of the day.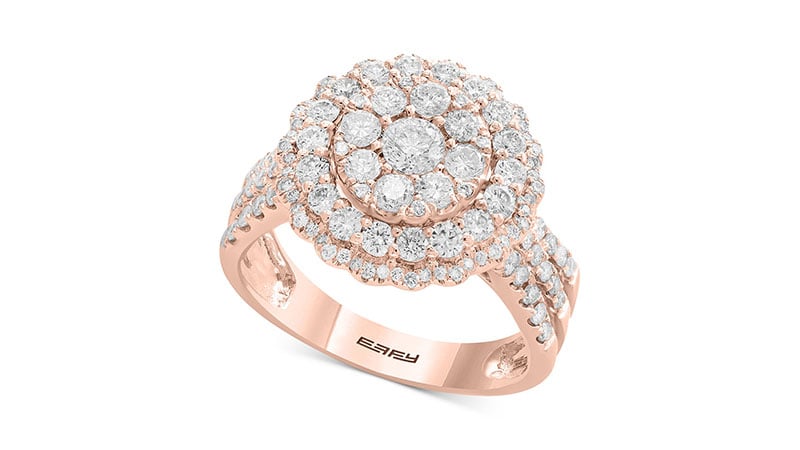 6. 18kt Rose Gold Diamond Serpent Bohème Toi et Moi
Perfect for the unique partner, this rose gold ring is made for the bold. Featuring a serpent design, it pays homage to the necklace that Frédéric Boucheron bought his wife in 1888. The Boheme Toi et Moi engagement ring celebrates eternal love and offers an exquisite set of 0.67ct diamonds wrapped in an 18kt rose gold setting.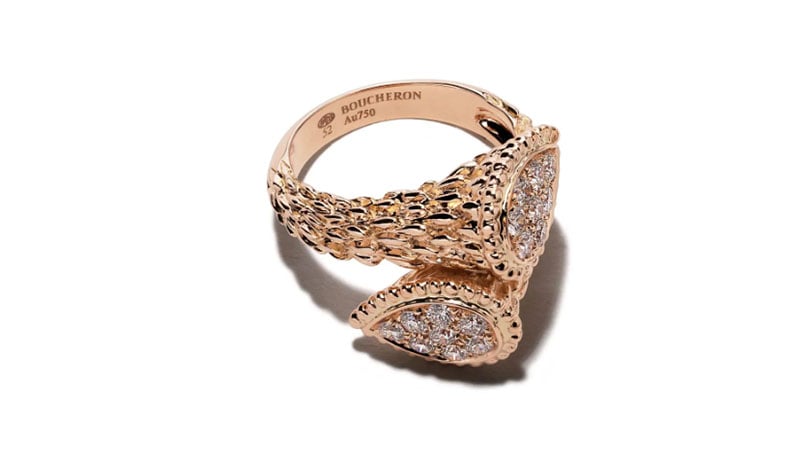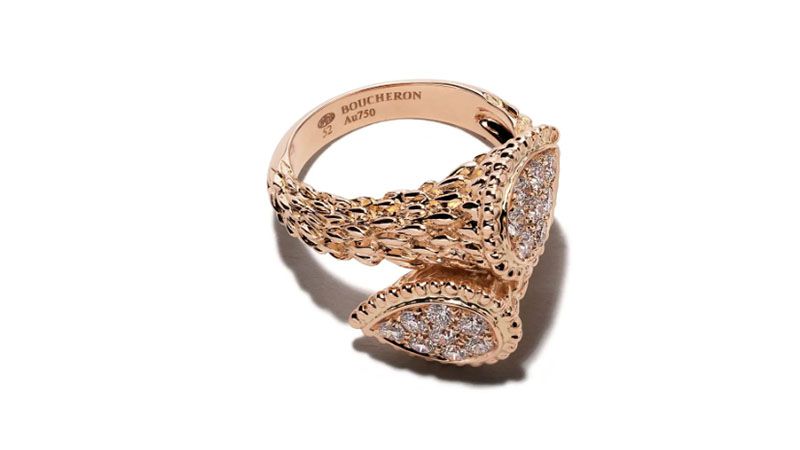 7. Diamond Heart Cluster Ring
The romantic 1/2 cut diamond heart arrangement and rose gold band make for a beautiful statement that will look amazing on your partner. With an intricate design and a stunning sparkling finish, this is the perfect piece of jewelry to showcase your relationship.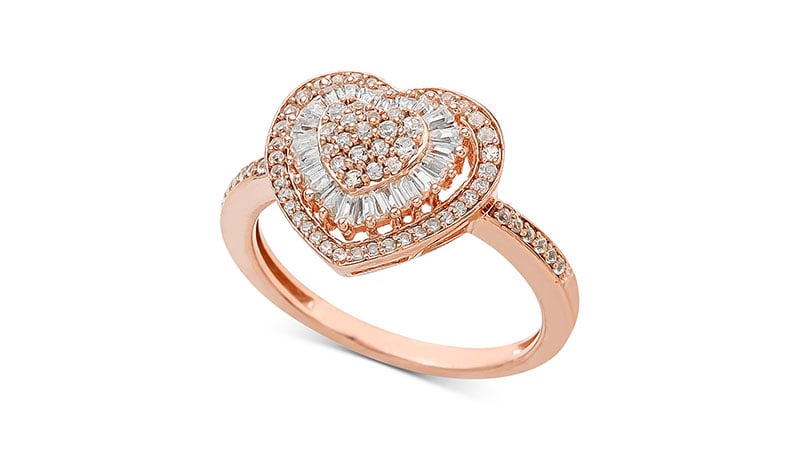 8. 18kt Rose Gold Happy Precious Ring
For those who are genuinely unique, this Chopard precious ring is the best way to showcase your love. With a flower design and pavé diamond trim, this sparkling jewelry represents drops of water. The center of the engagement piece cascades light and flickers with brilliance – for love as undying as yours, why not show it off in style?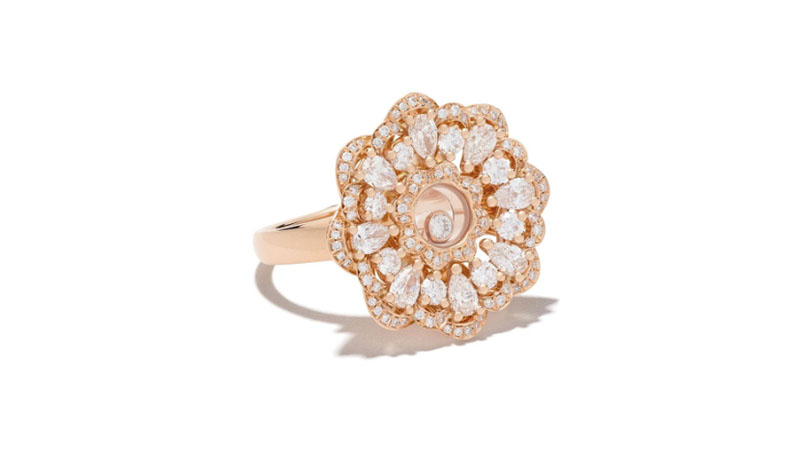 9. Diamond Cushion Halo Engagement Ring
For those who love elegant and timeless styles, this engagement ring is the perfect option. With a 2ct diamond cushion halo and band, this is a beautiful piece that looks exquisite on any finger. Its clarity and color rating are HI, and SI2-I1, set in 18kt rose gold. The focal jewel in the center will sparkle brightly on the wearer and is sure to set hearts alight.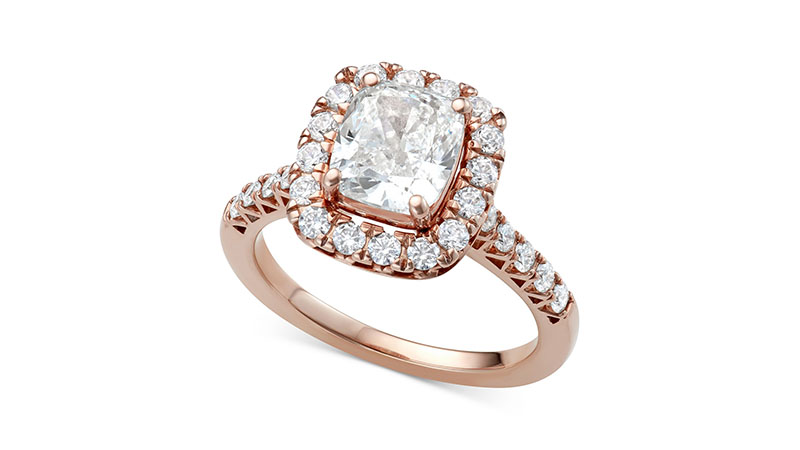 10. Certified Round Diamond Engagement Ring
To show the one you love how much they mean to you, why not say it with this engagement ring? Encrusted with pavé diamonds and milgrain edges, this is a delicate and stunning piece that will captivate the wearer. It's also perfect for those who prefer understated designs with an elegant and timeless touch.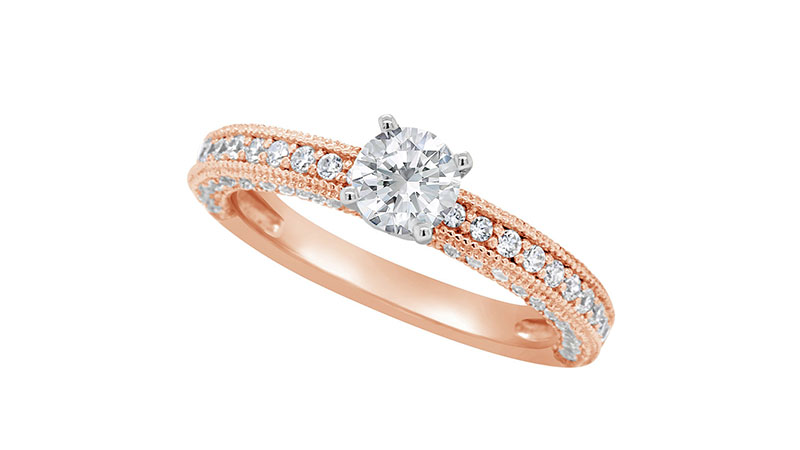 FAQs
Is rose gold good for an engagement ring?
Rose gold engagement rings are slightly different from the norm, adding a modern twist on a classic style. If you want jewelry that reflects your partner's unique taste, this is the perfect material for that special engagement band. It is also durable and more budget-friendly.
What color diamond is best for rose gold?
Rose gold is a color that makes a statement, so you want to opt for a classic near-colorless diamond to complement it. The warm hue of the band will look great against the clear stones.
Are gold engagement rings tacky?
Gold engagement rings are definitely not tacky. They are considered timeless, classic, and something that will be passed down for generations to come. The yellow precious metal has been a top choice for decades and makes for the perfect bridal jewelry.
Is Rose gold cheaper than white gold?
There are many benefits to choosing rose gold. The color is pretty and feminine, it is a durable material, and yes, it is often cheaper than other precious metals. This is because the alloy used to make this material is copper, which tends to cost less. White gold, on the other hand, is more costly.
SUBSCRIBE TO OUR NEWSLETTER
Subscribe to our mailing list and get interesting stuff and updates to your email inbox.