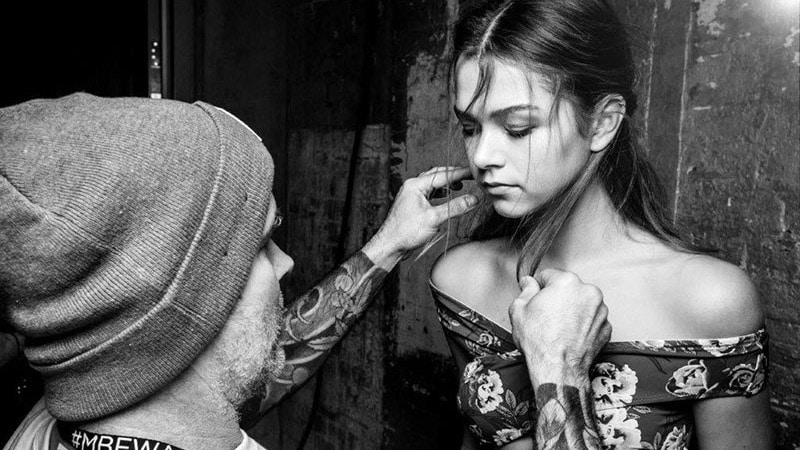 From Melbourne to Sydney, Paris to London, the award-winning Hair Directors at Redken Australia have travelled the country and the globe throughout their careers. Working with the industry's top designers, these professionals are consequently known for their consistent ability to create fresh, innovate hair looks. In May, the Redken team travelled to Sydney as the Official Hair Partner of MBFWA. With Sydney's stunning, iconic locations as their backdrop, they worked alongside leading Australian designers such as Dion Lee, Michael Le Sordo, and We Are Kindred.
We have chatted to the hair directors and gained exclusive insight into their top tips, tricks, and advice on all the latest trends. Whether you're in need of a change or want to recreate a runway worthy look at home, these professionals have provided the solutions.
What is your top tip for someone thinking about a drastic colour change?
Paloma Rose Garcia at OSCAR OSCAR SALONS: I ask my clients to visualise themselves with a new colour as they dress for day and night, to consider their wardrobe, complexion and lifestyle in preparation for the change. Changing the colour of your hair requires dedicated time and care in a professional Salon. Redken pH-BONDER is a new game-changing system to protect and strengthen hair during and after all colour transformations. My clients feel confident that their precious locks will be protected and the results are really impressive. Healthy hair is our number one priority!
What are the key hair trends this season?
Dmitri Papas & Justin Pace at PAPAS & PACE: The key colour trends for the coming season all focus on 'individuality'. Clients are becoming more experimental and we are seeing some bold colour statements on the street. After all, hair colour is the new makeup! With regards to style, smooth sleek locks are making a comeback but have been reimagined with a clean centre part. Shorter cuts are also trending with an emphasis on layers and precision cutting to create the most flattering silhouettes.
How does the designer's aesthetic for the collection influence the hair look/mood you create?
Richard Kavanagh: For the We Are Kindred Show at MBFWA this year, I was inspired by the collection's free-spirited mood and wanderlust echoes. The We Are Kindred girl is dancing under the stars on a magical island, she twists and pulls her hair back while she is celebrating life and love. The look is whimsical and effortless.
What 2 products do you recommend for maintaining beautiful, healthy, shiny hair?
Philip Barwick at MUSE HAIR: As blow-drying forms the foundation for the most enviable hair looks, choosing products that provide heat protection is critical to maintaining the health of your hair. One of my favourites is Redken Satin Wear 04 Thermal Smoothing Blow-Dry Lotion, aside from protecting the hair from heat damage. This lotion melts into the hair reducing friction and breakage. I love its mild control and the polished finish it creates. If split ends are a problem, I recommend Redken Extreme Length Sealer Split End Treatment, it targets split ends building strength and restoring shine for ultimate hair health.
Which designers have you worked with at MBFWA this year and what excites you about their collections and the hairstyles they inspire?
John Pulitano at HEADCASE HAIR: I worked on a number of Shows including Dion Lee staged at the Opera House and Ten Pieces at Icebergs in Bondi. I was really inspired by Dion's architectural mood and his seamless fusion of fluid elements. The hair looks focused on amplifying the natural texture and highlighting longer disconnected fringes. One of the star looks was curly hair reimagined with a lived-in mood to make it sexy and a little bit tough. The Ten Pieces show was anchored by a lawless, punk-inspired attitude. Some of the boys showcased exaggerated mullet haircuts and for the girls, we focussed on choppy, windswept texture.
What is your favourite runway hair look, and how can women recreate this at home?
Ben Martin at SALON XVI: My favourite look I created at MBFWA was the 'Undone Waves' for the Next Gen Runway. The look is young and fresh, it promotes generous volume without sacrificing length. Recreate the glamour at home by applying a generous amount of Redken Guts 10 Volume Spray Foam to freshly washed hair. Blast dry the hair using your fingers. Using a medium or large tong create curls, interchanging the curl direction for an imperfect finish. Allow the hair to cool, then shake hair out with your fingers and finish with Wind Blown 05 Dry Finishing Spray to amplify the windswept mood with a matte finish. My top tip here is to dress out the curls with your fingers and not a brush to create an effortless, undone look. We have seen a range of new hair colour trends emerging this year including rose gold, coral, and blended colour combinations.
How do you create a refined but edgy hair look for men?
Marie Cain at Head Studio: It starts with a great haircut so be sure to find the best stylist for your needs. I think it's really important to tailor the texture of your hair to your lifestyle. Faded styles are trending heavily at the moment but if you look better with a longer length, a good stylist will be able to make this look refined and edgy. If you choose to go for a rougher, textured style, be sure to visit your salon regularly to maintain the look.
SUBSCRIBE TO OUR NEWSLETTER
Subscribe to our mailing list and get interesting stuff and updates to your email inbox.