What is RAW? 
 
Once a year at the end of every year an amazing awards show is held. This inspiring indie arts award show is called RAWards.
 
RAW showcases independent up-and-coming artists in the first 10 years of their career in following categories: film, fashion, music, art, performing art, hair styling, makeup artistry, photography and accessories design. RAW is an incredible platform to expose young talents before they are in full career bloom and help them to gain recognition for their unique skills.
 
The eagerly awaited arts RAWards happens to be the biggest arts awards show in Australia. With over 700 talented artists competing this year, over the course of 3 weeks, to be awarded the prestigious accolade of RAW Artist of the Year in each of their respected craft categories.
 
Raw hosts bi-monthly showcase events to expose these artists, as well as bridging the space gap with their online web hub, www.RAWartists.org
 
TheTrendSpotter's very own Dasha Gold was honoured to have been a part of the judging process. Along with two other local judges. They were asked to judge approximately 27 local and extremely inspiring artists in nine different categories online.
 
The results are in, and the winners left us feeling truly touched and encouraged. TheTrendSpotter is thrilled to have been a part of giving young artists the opportunity to gain experience and future followers.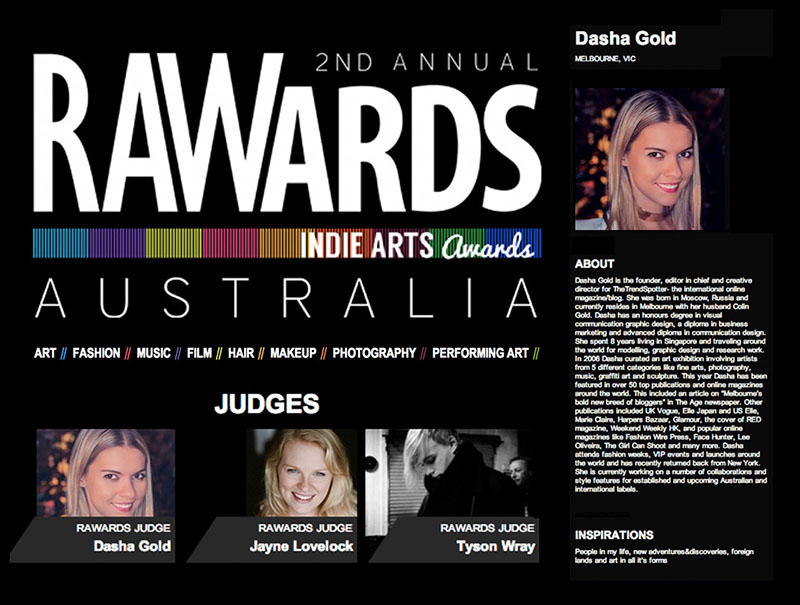 The winners are:
 
FILM – Mikey Hill   http://www.rawartists.org/mikeyhill
 
Mikey Hill's quirky and fun animations have served as inspiration to many young artists in the country. An animation director, animator and writer, his stories are enjoyable and make you feel good.
 

 
VISUAL ART – Rehgan De Mather   http://www.rawartists.org/busyplayingart
 
Rehgan De Mather is no stranger to success, as he has previously been selected as a finalist for multiple high-profile awards. Fans and art lovers will recognise De Mather for his collection of disjointed stories and ideas which he expertly creates using multiple mediums such as painting, drawing and collaging.
 
Best described by the man himself: "I am more interested in the marks we leave behind than those we try to make; the thing that happens when we're not looking, the line that leads us elsewhere…"
 

FASHION – Neisha
http://www.rawartists.org/neisha
Inspired by the talents of individuals across the globe, Melbourne based designer Neisha knew that this was the career path that she was destined for since she was 5 years old.  
Her work has a distinctive style and her love of fabric is evident from the batiks and the time she spends hand dying, an end result which is impressive and striking. Filled with creative energy and imagination, there is no wonder why Neisha's feminine garments have come out as victorious.    
MUSIC – Porcelain Pill
http://www.rawartists.org/porcelainpill
If you have been searching for a fresh new sound, then look no further than Porcelain Pill. Inspired by the emotions of musical greats such as Sigur Ros and Radiohead, this creative duo (Adam Scott-McGuinness and Madeleine Becker) have generated a steady fan following due to their emotionality and diverse range.    
HAIR – Hiroko Okada
http://www.rawartists.org/hiroko
Hair stylists around the world do not get enough recognition for their creativity and expertise. Inspired by colours, life and balance and skateboards, Hiroko Okada is an extremely talented Melbourne based freelance Hair Stylist, who has already made waves in the industry and works at a Salon in Fitzroy. Feel inspired.    
MAKEUP – Liana Milne
http://www.rawartists.org/demoiselleblanche
Liana Milne's inspirations are clearly evident in her work. She is constantly inspired by cinema, pinup/vintage makeup and vintage makeup artist/hairstylist Candice De'Ville, with whom she has worked alongside to produce passionate vintage styling. Let's hope her dreams come true: Next stop the catwalk show for John Galliano!    
PHOTOGRAPHY – Mariana Bonofiglio
http://www.rawartists.org/marinabonofiglio
Mariana Bonofiglio is inspired by the relationships that surround her and the ever-changing lives of others. This Argentina born photographer has been gifted with a beautiful and rare talent, which she has continued to cultivate over the years whilst at all times maintaining a sense of professionalism.        
PERFORMING ART – Ee'da Brahim
http://www.rawartists.org/wwweedamusiccom
Ee'da Brahim is a positive and carefree person, poet, dancer and singer-songwriter. Brahim hails from Southeast Asia, with a half- Indian, half-Malaysian background and finds herself inspired by ancient civilisations, personal freedoms and human conundrums to name but a few. However, this talented performing artist has also remained true to her roots and finds further creativeness from Indian culture.      
ACCESSORIES – Aimee Sutanto
http://www.rawartists.org/aimeesutanto
After some unique bling? Aimee Sutanto is a Melbourne-based Indonesian contemporary jeweller, who "delves in the deconstruction and reconstruction of cube forms" by creating pieces from sterling silver and gold.  
Sunato's inspirations stems from Gothic architecture and grotesque art from Renaissance and Mannerist period, works by Yukio Mishima. Her work is truly moving and continually evolving.    
SUBSCRIBE TO OUR NEWSLETTER
Subscribe to our mailing list and get interesting stuff and updates to your email inbox.