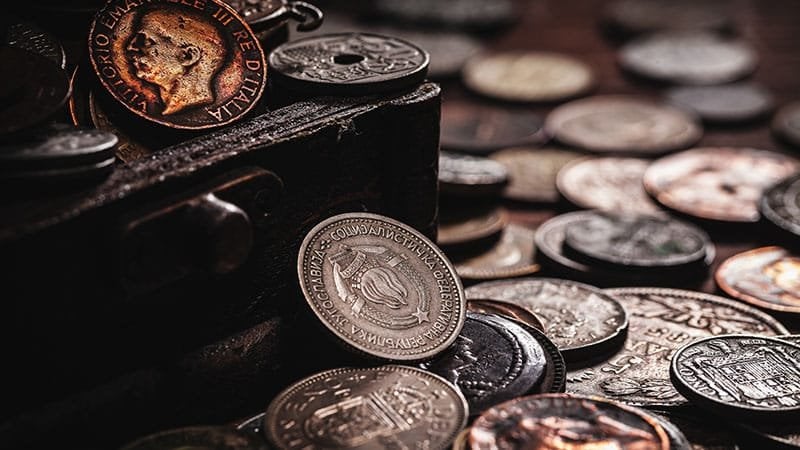 The world's most valuable and rare coins showcase an array of intriguing and significant history. From the Roman Empire and the pre-Mint United States to the first American dollar and television star nickels, these coins tell stories. While most have a nominal face value, with many being worth more in materials, they attract breathtaking sums of money from passionate numismatists and coin collectors seeking to add these alluring pieces to their cabinets.
Most Valuable Coins
The majority of the most valuable and rare coins hail from the United States of America. Some date back to before the establishment of the United States Mint, but most are from the late eighteenth to nineteenth centuries. There are a couple of ancient coins from long-gone empires, plus a couple of examples that have only recently celebrated their centenary. What sets them all apart is that they are rare and have a storied history that adds to their allure.
1. 1933 Saint-Gaudens Double Eagle (King Farouk of Egypt)
Only one Saint-Gaudens Double Eagle coin is legal to own privately, which is why it fetches such an extraordinary price. Designed by renowned sculptor Augustus Saint-Gaudens, there were 445,500 of the 1933 coins minted. However, none ever made it to circulation as President Franklin D. Roosevelt issued an executive order to melt all gold currency to try to end the economic crisis. While two were reserved for preservation at the U.S. National Numismatic Collection, around another 20 mysteriously ended up illegally in the hands of collectors. While authorities seized most, one of these collectors was King Farouk of Egypt, who, with timing on his side, legally exported the coin. After his death, the coin disappeared for a time before reappearing in the 1990s. The U.S. government then struck a deal to allow it to be monetized and sold at the cost of half the proceeds.

Country: United States
Years: 1933
Grade: MS-65 CAC
Price: $18,872,250 sold in 2021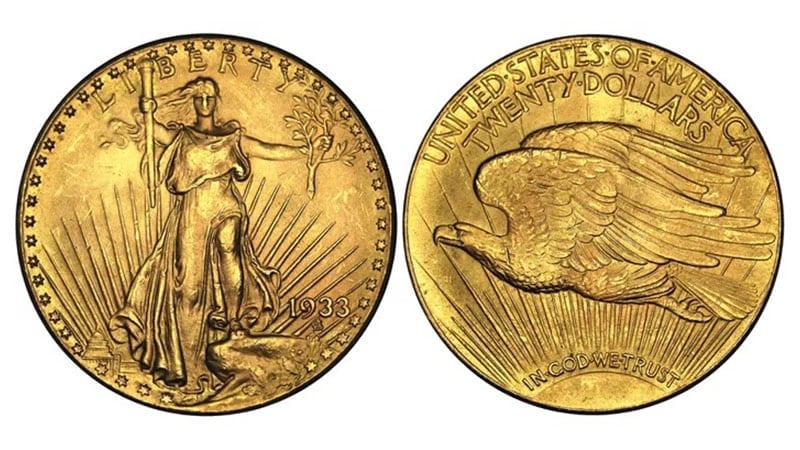 2. 1794 Flowing Hair Silver Dollar (Neil, Carter)
The consensus is that this particular 1794 Flowing Hair Dollar was the first dollar minted by the Philadelphia Mint in 1794. As such, it bears extraordinary features and is of remarkable historical significance. Characteristics of note include the razor-sharp details, suggesting this was the first one struck. It also has the adjustment marks of a plug and filing, which minters used to ensure the correct weight of the coin. This is the only known 1794 dollar to be plugged at the Mint. Additionally, it boasts a grey-gold patina and multi-colored highlights that add interest and visual appeal. These unique aspects earned it a specimen grade of 66. Robert Scot, the Chief Engraver of the United States Mint, designed the coin with a Liberty bust on one side and wreathed eagle on the other.
Country: United States
Years: 1794 & 1795
Grade: SP-66 CAC
Price: $12,000,000 sold in 2022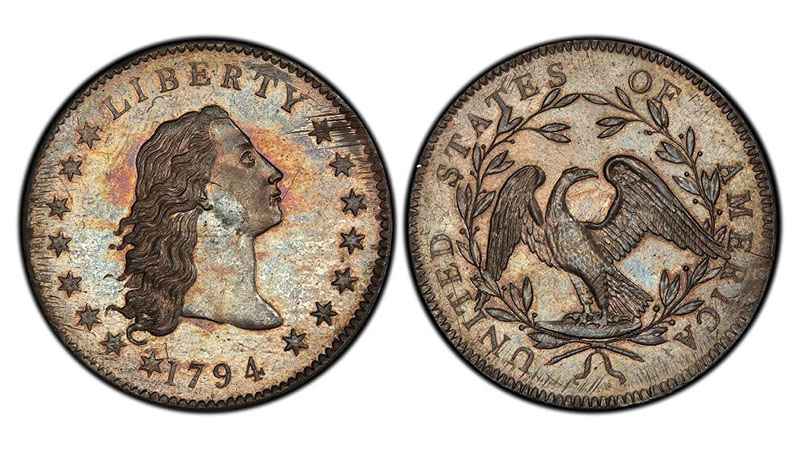 3. 1787 Brasher Doubloon – E.B. on Wing (Stickney, Ellsworth, Garrett, Partrick)
All of the Brasher Dubloons are numismatic rarities, with only seven known specimens existing. Goldsmith Ephraim Brasher privately minted this New York-style doubloon in 1787. This was five years before the United States established the Mint, making it one of the few pre-federal gold coins made for circulation. These coins are noted for their quality and exacting standards, as well as the hallmark E.B. stamp, which in this example appears on the wing of the eagle. Adding to the mysterious and appealing aura of the coins is their appearance in pop culture, including the novel The High Window by Raymond Chandler and the 20th Century Fox film, The Brasher Doubloon. The provenance of this particular coin goes back to famed coin collector Matthew Adams Stickney who acquired it in 1848.
Country: Privately Minted, United States
Years: 1787
Grade: MS-65 CAC
Price: $9,360,000 sold in 2021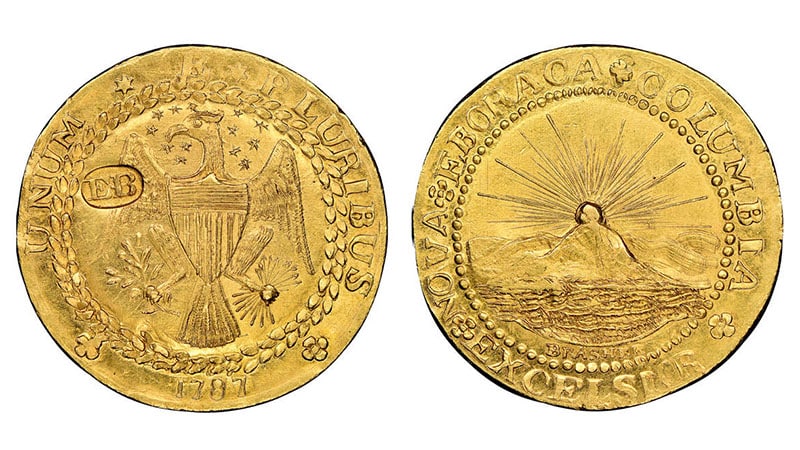 4. 1822 Capped Bust Half Eagle (Brand, Eliasberg, Pogue)
Like many other coins with a multi-million dollar price tag, this is the only 1882 Half Eagle in a private collection. There are two other known specimens, but the National Numismatic Collection holds them at the Smithsonian Institution. This particular coin's early years remain a mystery, adding to its appeal. However, signs of wear suggest it spent some time in circulation, yet it is still in remarkable condition. It boasts a lovely shade of amber and a well-detailed strike. After selling in 2021, the coin has only been in four collections since 1899, the last of which was D. Brent Pogue. Again, this adds to the elusive appeal, as it means numismatists have only had very rare opportunities to add it to their collection and complete their half-eagle inventories.
Country: United States
Years: 1822
Grade: AU-50
Price: $8,400,000 sold in 2021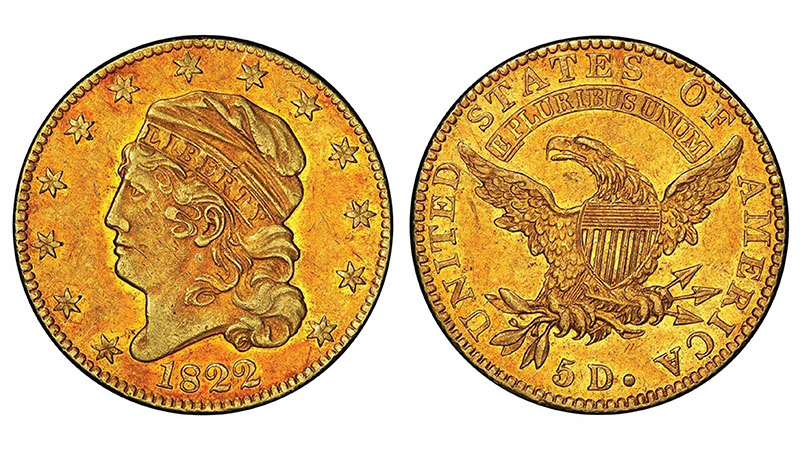 5. 1804 Draped Bust Silver Dollar, Class I (Sultan of Muscat)
Like the 1822 Capped Bust Half Eagle, the 1804 Draped Bust Silver Dollar, Class I has only been part of four private collections. The Class I is a unique coin because, despite the date, it was struck in 1834 to complete a diplomatic set to be gifted to the King of Siam and the Sultan of Muscat. This particular specimen had belonged to the Sultan of Muscat. Interestingly, the habit of using a die until it wore out or broke meant that many of the silver dollar coins recorded as minted in 1804 actually bore the date of the previous year – 1803. Combined with unreliable record keeping, the accurate mintage of the 1804 coin is unknown, although it's generally agreed there were none. Today, there are only 15 know specimens of the later struck coins – eight Class I, one Class II, and six Class III.
Country: United States
Years: 1834
Grade: PR-68
Price: $7,680,000 sold in 2021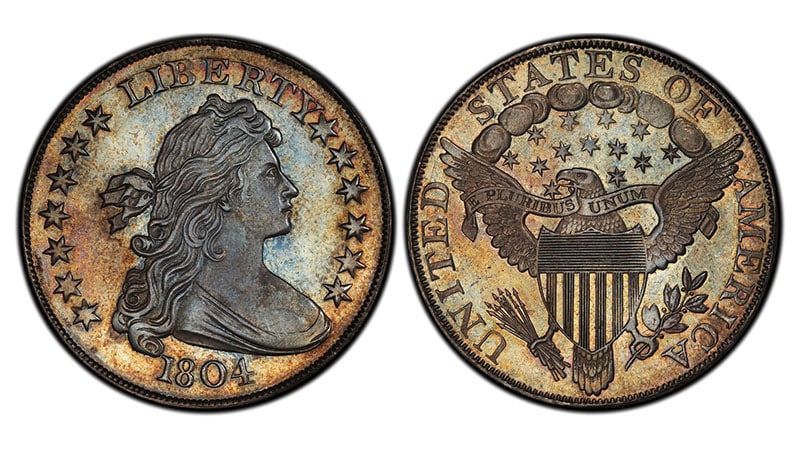 6. 1787 Brasher Doubloon – E.B. on Breast (Bushnell-Garrett)
Another of the rare Brasher Doubloons, this coin is the only one with the E.B. hallmark stamped on the eagle's chest. Being the only one of its kind, it has extra appeal, and scholars widely consider it to be the most important coin in American numismatics. It's also believed to have been the first coin struck out of the seven know specimens, as the placement of the hallmark moved to the wing after this one. The Brasher Doubloons were the first coins to use the Great Seal of the United States, which has since become a significant part of the American identity. At the time of minting, the coin used around $15 worth of gold and was struck to the same standard later adopted by the government for gold coinage.
Country: Privately Minted, United States
Years: 1787
Grade: AU-50
Price: $7,395,000 sold in 2011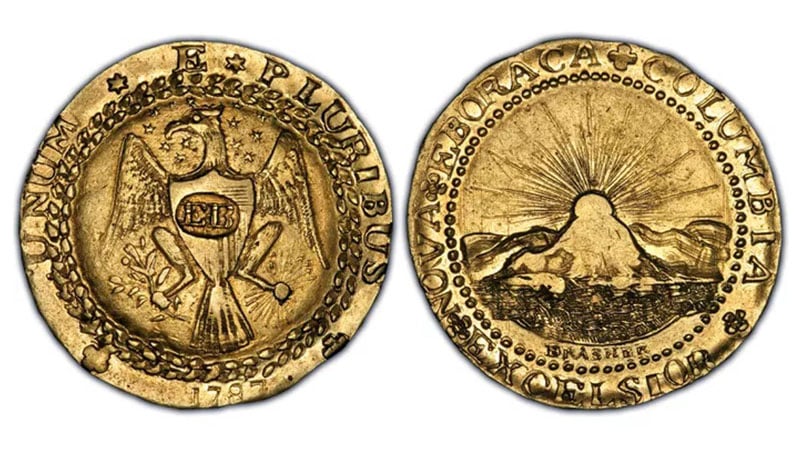 7. 1861 Paquet Liberty Head Double Eagle (Norweb)
There are only two known examples of 1861 Paquet Liberty Head Double Eagle, and this is the finer of the two. It takes its name from Anthony C. Paquet, an engraver at the United States Mint, who sought to improve the original design with taller, more slender letters. These coins were struck at both the Philadelphia and San Francisco Mints. However, there were concerns that the narrow rim would cause the dies to fail faster, so the coin-makers stopped production. Only two were struck at Philadelphia, while 19,250 were minted in San Francisco with the S mintmark and released into circulation before the memo was delivered. Wear and natural loss or removal from circulation means only a couple hundred examples of the 1861-S exist, and none are in such pristine condition as this one.
Country: United States
Years: 1861
Grade: MS-67 CAC
Price: $7,200,000 sold in 2021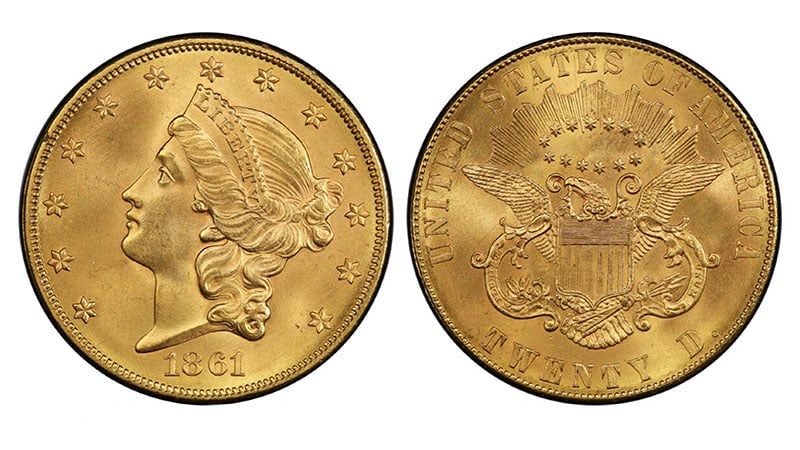 8. 1794 Flowing Hair Silver Dollar (Lord St. Oswald, Hayes, Pogue)
This 1794 Flowing Hair Silver Dollar is another coin sold in 2021 from the D. Brent Pogue Collection. Like its $12 million counterpart above, this was among the first silver dollars struck at the Mint and carries historical significance as the standard unit of American currency. The original mintage was only 1,758 pieces due to a lack of silver bullion and the mint equipment failing. Characteristics of this coin suggest a middle die state, and it has fewer adjustment marks than others. Consequently, it was likely reserved as a sample, hence its Mint State grading.
Country: United States
Years: 1794
Grade: MS-66+ CAC
Price: $6,600,000 sold in 2021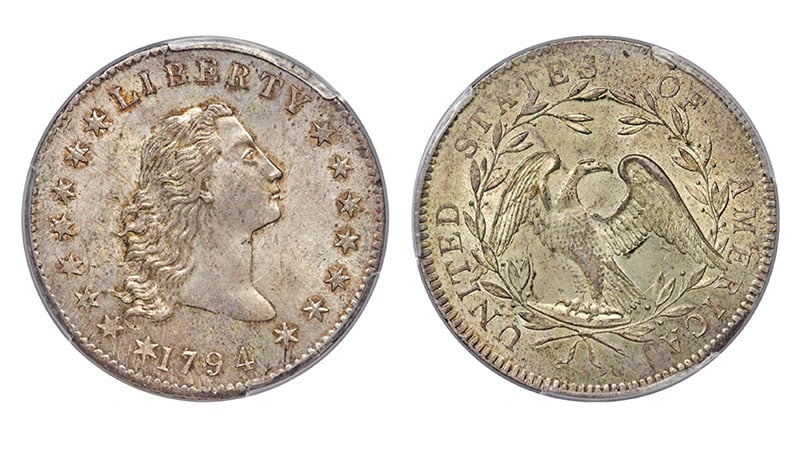 9. 723 Umayyad Gold Dinar
Rare and expensive coins also come from outside the United States, and this Gold Dinar from the Umayyad Caliphate is the perfect example. Selling for over $6 million, it originates from the reign of Yazid II, who ruled from 720 to 724. There are approximately a dozen known specimens of this coin, and it's unique due to an inscription that translates to 'Mine of the Commander of the Faithful in the Hijaz.' It's the first Islamic coin with a location stated, which today is part of Saudi Arabia. Auction house Morton & Eden also sold a second coin of this type in 2019 for just under $5 million.
Country: Umayyad Caliphate
Years: 723
Grade: N/A
Price: $6,029,400 sold in 2011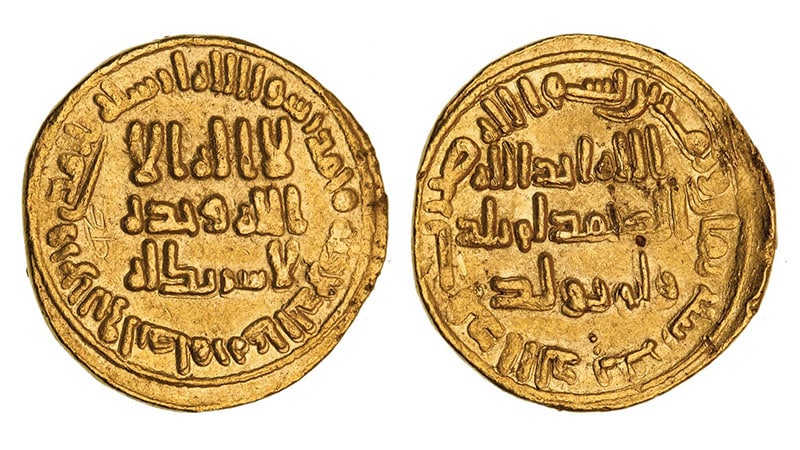 10. 1787 Brasher Doubloon – E.B. on Wing (Newlin, Davis, Perschke)
It's the rarity of the 1787 Brasher Doubloons that have them featured so heavily in the list of the most valuable and rare coins. As one of only seven coins, this example sold privately in 2019 for $5.5 million. Meanwhile, its provenance dates back to Robert Gilmor, Jr. in the 1830s. While this is a lower grade than the coin in position three, it still has a rating of Mint State 63, with a lustrous finish and rich color. There are some minor abrasions and a nick on the rim; however, it's still a stunning piece. Additionally, this is the "discovery specimen" of the Brasher Doubloons. After Ephraim Brasher's death, the public forgot about the coins until Robert Gilmor, Jr found this one, as noted in an 1840 letter between numismatists W. G. Sterns and Dr. Bowditch.
Country: Privately Minted, United States
Years: 1787
Grade: MS-63+
Price: $5,500,000 sold in 2019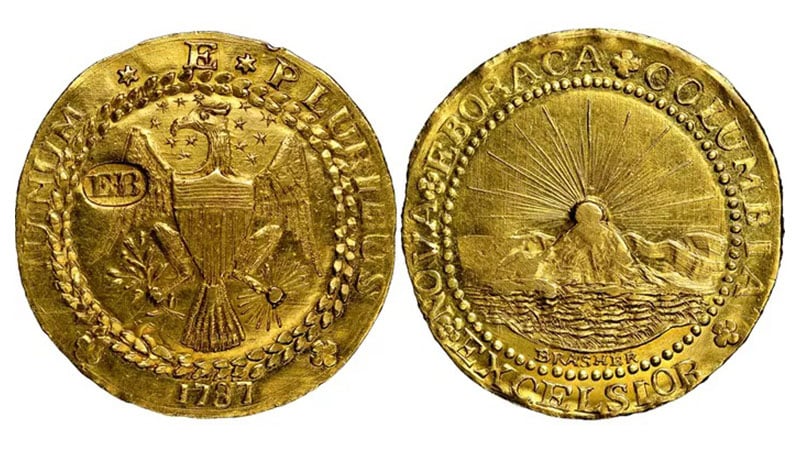 11. 1804 Plain 4 Proof Eagle – DCAM (Woodin, Col. Green, Simpson)
Although it was included in the 11-coin proof set for the Sultan of Muscat, this coin is perhaps less well known than the 1804 Draped Bust Silver Dollar, but rarer. The original mintage was just four, but only three are accounted for today, and one of those is permanently off the market and on display at the American Numismatic Association Headquarters. Of the two in private collections, this is the finer example. It boasts a sharp definition and a well-preserved surface free from significant distractions. Such is its appeal for collectors that numismatist Dean Albanese wrote a book about it in 2009, titled The King of Eagles.
Country: United States
Years: 1804
Grade: PR-65+ CAC
Price: $5,280,000 sold in 2021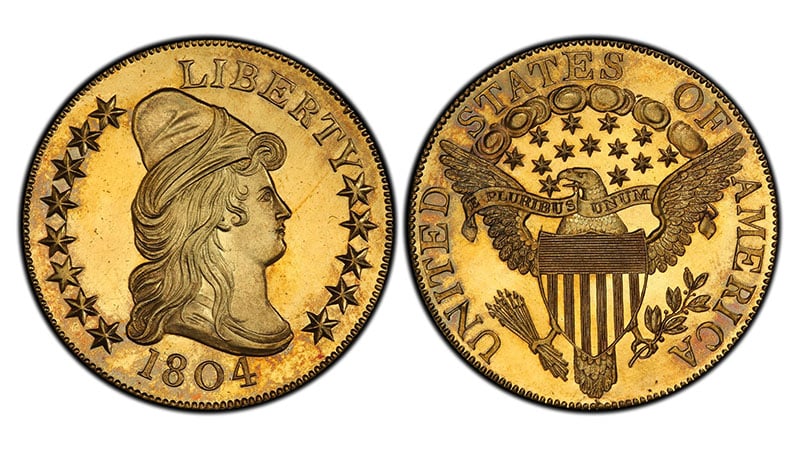 12. 1907 Proof Saint-Gaudens Gold Double Eagle Ultra High Relief Lettered Edge (Bell, Hein, Simpson)
An anonymous private buyer purchased this 1907 Proof Saint-Gaudens Gold Double Eagle in 2021. As one of the most valuable and rare coins, it fetched a huge price, close to $5 million. This example resulted from a partnership between President Theodore Roosevelt and sculptor Augustus Saint-Gaudens to produce iconic and beautiful coins for the United States. Initially, only 20 of the Ultra High Relief designs were minted because production in large amounts was impractical. It required multiple strikes with immense amounts of pressure from the hydraulic press. Today it's estimated that only 13 to 15 remain. Additional coins with High Relief and low relief designs were also minted from 1907 for mass circulation.
Country: United States
Years: 1907
Grade: PR-68 CAC
Price: $4,750,000 sold in 2021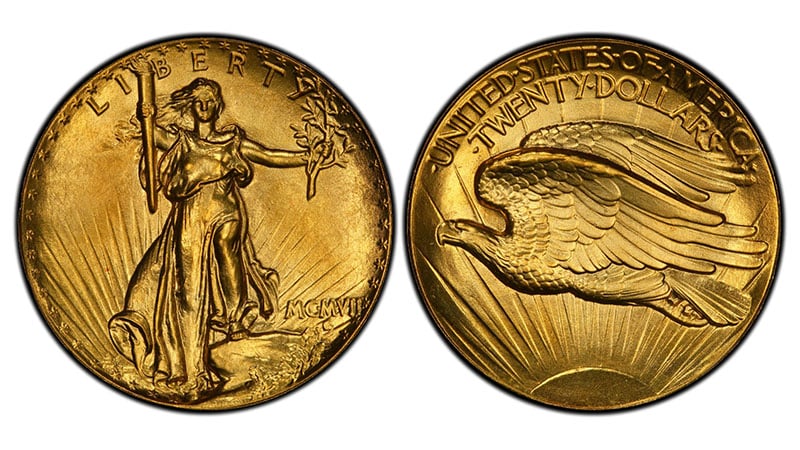 13. 1913 Liberty Head Nickel (Eliasberg)
There are only five known specimens of the 1913 Liberty Head Nickel, making it one of the most valuable and rare coins. This one, formerly owned by Louis E. Eliasberg, is one of the finest examples, with a grade of PR66. It sold privately in 2007 for $5 million, then again in 2018 to Legend Numismatics and Bruce Morelan for $4,560,000. That makes it the most expensive non-precious metal coin sold. Even though Liberty Head Nickels had been minted since 1883, the popularity of the 1913 specimens is the result of hype. With only five (or a rumored six) ever made, dealers and collectors built an unrivaled fanfare around the coin. Entrepreneur B. Max Mehl even advertised a reward for finding one, sparking a nationwide treasure hunt.
Country: United States
Years: 1968
Grade: PR-66 CAC
Price: $4,560,000, sold in 2018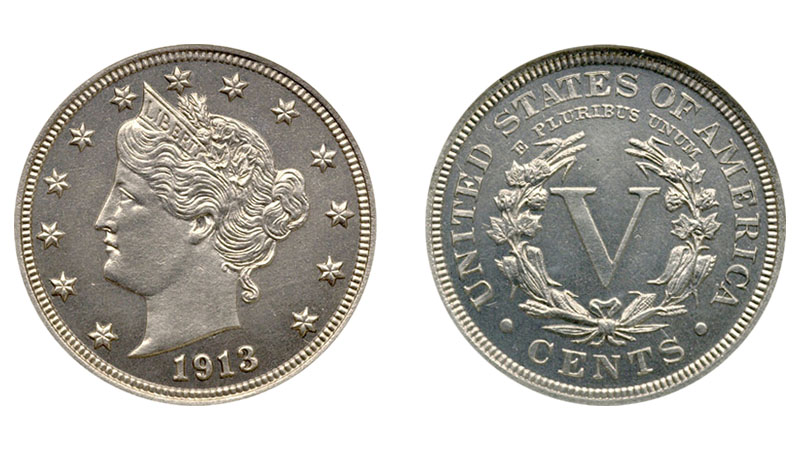 14. 42 BC Q. Servilius Caepio (M. Junius) Brutus AV Aureus
Coming in as the oldest addition to the list of most valuable and rare coins is this ancient specimen from the Roman Republic. Marcus Junius Brutus, one of the conspirators behind the assassination of Julius Caesar in 44 B.C., commissioned a set of coins to commemorate his part in the coup. His profile sits on the obverse side while the reverse has the words EID MAR, in honor of the Ides of March, the date the killing occurred. There are more than 80 versions in silver. However, only three are in gold, and only one is held privately, last selling for over $4 million in 2020. The history of this coin, combined with the acts of the people involved, adds much allure not just for numismatists but artifact collectors and historians alike.
Country: Roman Republic
Years: 42 B.C.
Grade: N/A
Price: $4,174,950 sold in 2020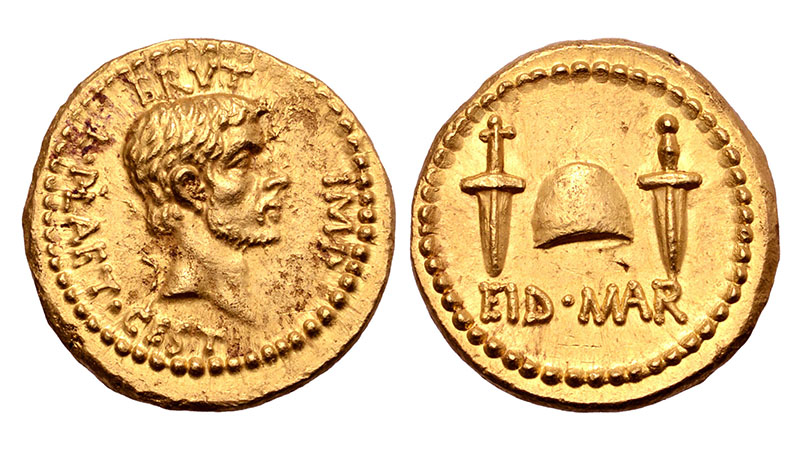 15. $1 Million Gold Canadian Maple Leaf
Most coin collectors take the history, significance, and provenance of their coins very seriously. However, every once in a while, a novelty coin release makes a unique addition to a cabinet (or large and sturdy shelf in this case). The $1 Million Gold Canadian Maple Leaf, also known as the Big Maple Leaf, is a great example. The Royal Canadian Mint made six of this 100-kilogram coin using 999.99/1000 pure gold. At the time, it was the largest coin ever minted, though it has since been overtaken by the one-tonne Australian Gold Nugget known as the "Gold Kangaroo." While a collector purchased this one for more than $4 million in 2010, there was one person who objected to the price and instead stole a different iteration from a museum in Berlin (and police suspect they melted it down).
Country: Canada
Years: 2007
Grade: N/A
Price: $4,020,000 sold in 2010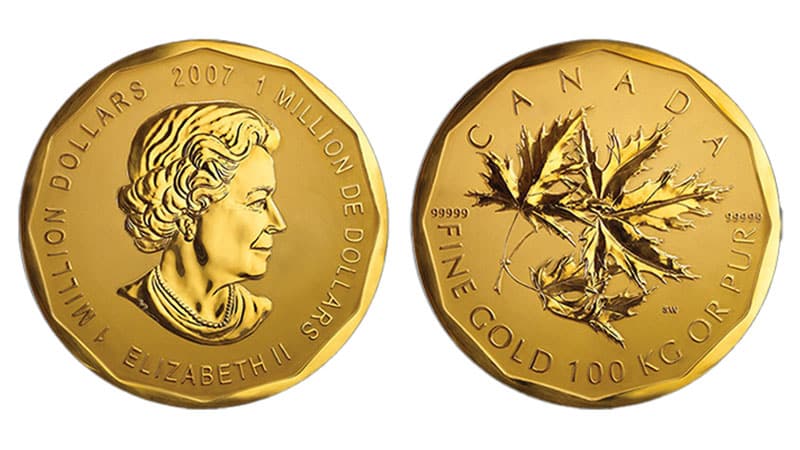 16. 1898 Single 9 Pond (King Farouk of Egypt)
Known as the "King of South African Coins," the 1898 Single 9 Pond is one-of-a-kind. Amid the Second Anglo-Boer War, President Paul Kruger of the South African Republic ordered the minting of new gold coins for 1899. After the British seized a shipment of dies from Germany, the government decided to reuse the 1898 die and stamp a nine on the obverse side to indicate the new year. However, after they struck the first one, it was apparent the numeral was too large and extended over President Kruger's bust. Instead, they continued with two smaller nines, minting 130 of the Double 99. The Single 9 coin was set aside until it was gifted to the United States Consul General C.E. Macrum, who scratched the letter M onto the bust. It disappeared for several years before showing up in King Farouk of Egypt's extensive collection.
Country: South Africa
Years: 1898
Grade: MS63 PL
Price: $4,000,000 sold in 2010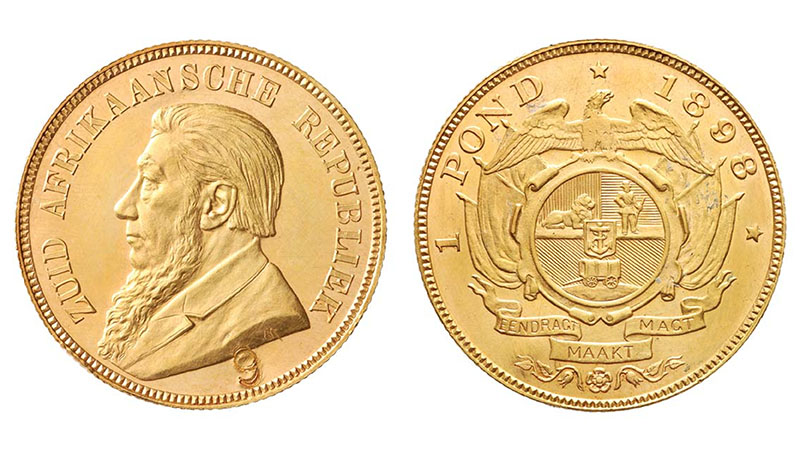 17. 1913 Liberty Head Nickel (Hawaii Five-O)
Most coin specimens take an identifier name based on their illustrious owners. However, this 1913 Liberty Head Nickel is a Hollywood celebrity, having featured in Season Six of the 1973 television series Hawaii Five-O in an episode called "The $100,000 Nickel." While it's officially the Olsen specimen, it's commonly referred to by Hawaii Five-O. As one of only five made and three in private possession, it's already one of the most valuable and rare coins. The addition of pop-culture renown adds even more to its appeal, even among non-collectors. The latest sale in 2021 was to a private investor and exceeded $4 million. However, experts can trace its provenance back to many distinguished owners, including Colonel E.H.R. Green, Fred E. Olsen, and King Farouk of Egypt.
Country: United States
Years: 1913
Grade: PF-64 CAC
Price: $4,000,000 sold in 2021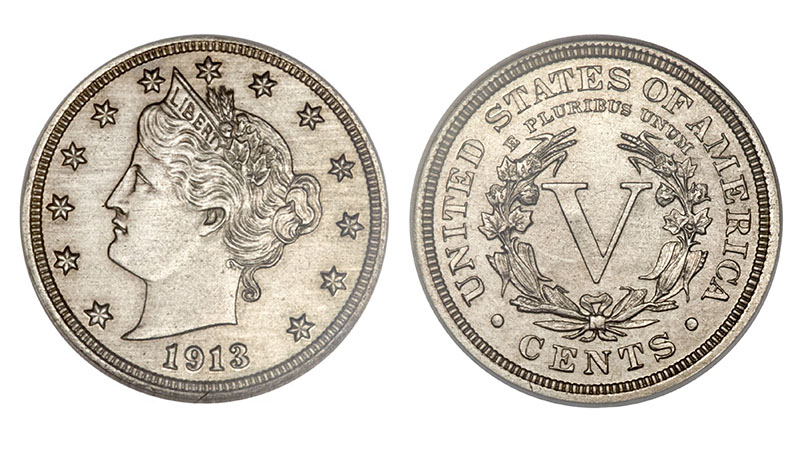 18. 1885 Trade Dollar (Eliasberg)
With only five examples known, the 1885 Trade Dollar is just as elusive as the 1913 Liberty Head Nickel. There is little documentation around the striking of these coins, although it's suspected minting took place in the first half of 1885. There is some conjecture as to why there are only five, including that they could have been made clandestinely or part of a canceled proof mintage. Whatever the reason, they're subsequently hugely desired and maintain an air of mystery as none are on public display in collections such as the Smithsonian. Philadelphia Mint Superintendent Archibald Loudon Snowden owned the Eliasberg specimen first, and since then, it has a long pedigree of illustrious collectors. Like all in the series, it's sharply detailed, except for some slightly flat stars. It's well preserved, with deeply mirrored fields and exceptional visual appeal.
Country: United States
Years: 1885
Grade: PF-66
Price: $3,960,000 sold in 2019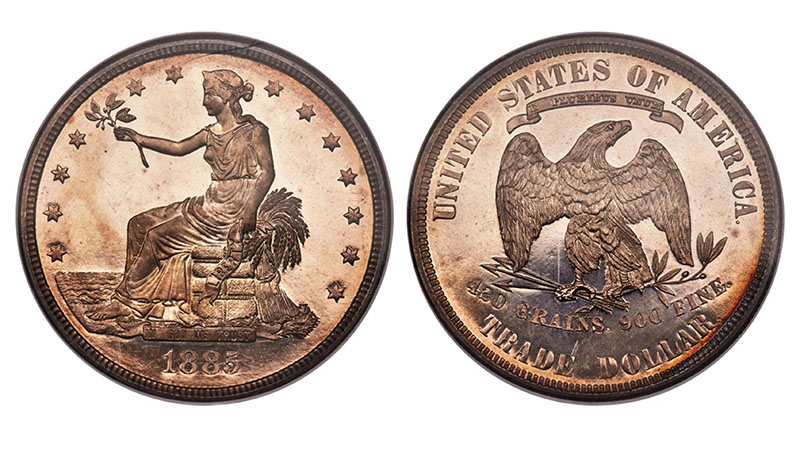 19. 1907 Saint-Gaudens Gold Double Eagle Ultra High Relief (Norweb)
This Norweb specimen is another of the most valuable and rare coins from the 1907 Saint-Gaudens Gold Double Eagle Ultra High Relief minting. These coins were made in three different striking periods, and this is part of the second iteration after the reverse die broke with the fourth coin in the first round. Subsequently, minters sourced a new die as well as a new collar, with serifs on the letters E PLURIBUS UNUM plus a different star arrangement. Like the other coins in the series, the process of annealing and cooling the pieces in nitric acid between strikes removed copper alloy leaving behind a thin layer of pure gold. As such, it has excellent visual appeal and a classic hammered-gold appearance with a radiant mint luster.
Country: United States
Years: 1907
Grade: PR-68
Price: $3,600,000.00 sold in 2021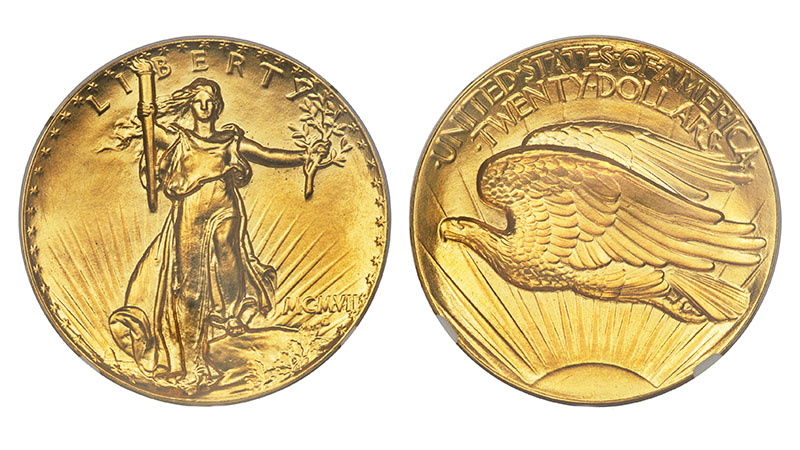 20. 1804 Draped Bust Silver Dollar, Class I (Stickney, Eliasberg)
The Stickney specimen of the Class I 1804 Draped Bust Silver Dollar was the first of the eight coins to be privately owned (apart from those gifted to the King of Siam and the Sultan of Muscat). While Joseph J. Mickley (see number 27 below) may have spotted these rare and expensive coins in the Mint Cabinet first, Matthew A. Stickney made the first move. In 1843, he exchanged several coins, including a gold 1785 Immune Columbia cent from his personal accumulation for this expression. As such, it became part of his private collection and was something he kept safe and guarded well, along with a 787 New York Brasher doubloon – both sources of immense numismatic pride.
Country: United States
Years: 1834
Grade: PR-65
Price: $3,360,000 sold in 2020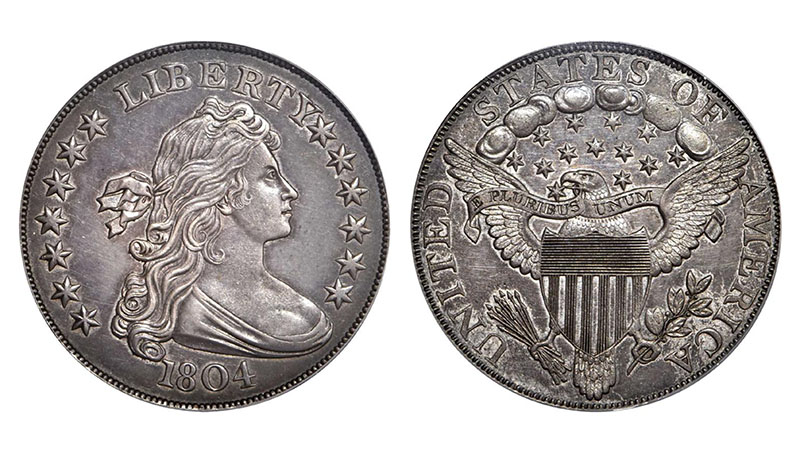 21. 1795 Capped Bust Right Eagle, 9 Leaves (Pogue)
The United States Mint was established in 1792 but didn't strike gold coinage until 1795. The first accomplishment was a small mintage of 5,583 Capped Bust Right eagles; however, given the use of die beyond the noted year, more 1795 coins may have been minted in later years but not counted. Within this original release, they used five different dies, with the 9 Leaves design belonging to the BD-3 variety. All the others had 13 leaves, leading experts to assume it was a design experiment. This is the most elusive variety, with a mintage estimate of around 500 of the 5,583, with approximately 20 left across all grades today. With a Select Uncirculated MS-63 grading, this coin is highly sought-after for its rarity, exceptional quality, vibrant luster, and minimal signs of contact. None rival it in this regard.
Country: United States
Years: 1795
Grade: MS-63+
Price: $3,360,000 sold in 2022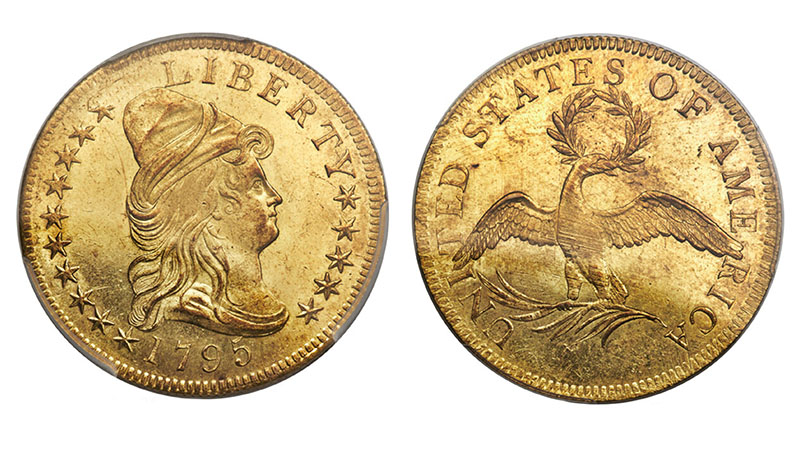 22. 1804 Draped Bust Silver Dollar, Class I (Dexter)
The Dexter Specimen of the Class I 1804 Draped Bust Silver Dollar is another of the most valuable and rare coins known as the King of American Coins. This piece has aged beautifully and showcases a stunning array of hues from violet and gold to blues and greens on the reverse. These are similar to the colorings on the same coins sent to the King of Siam and the Sultan of Muscat, suggesting it mostly spent time in careful storage before turning up in Germany in 1884. Eventually, it ended up in the possession of James V. Dexter. He took the extraordinary and controversial step of punching a small letter D into the seventh cloud on the reverse side. Hence, its referred to as the Dexter Specimen. The latest sale of this coin was to Bruce Morelan, who also owns the 1913 Eliasberg Liberty Head Nickel.
Country: United States
Years: 1834
Grade: PR-65
Price: $3,290,000 sold in 2017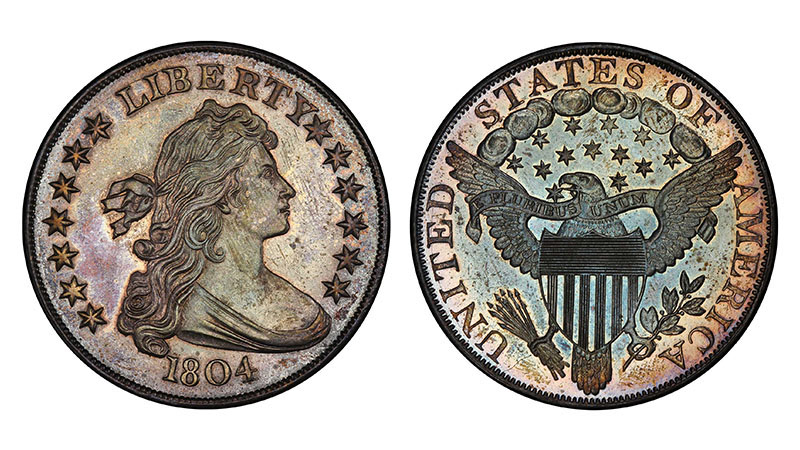 23. 1913 Liberty Head Nickel (George O. Walton)
Making it into the most valuable and rare coins list is the final privately owned 1913 Liberty Head Nickel – the George O. Walton specimen. Of all these coins, this one has perhaps the most fascinating history. George acquired the example in the 1940s and was on his way to a coin show with it when he was killed in an automobile crash. While the coin was recovered and returned to the family, it was rejected from a 1963 auction and accused of being a fake. Then, it sat in a family closet for decades while mystery and rumors swirled about the location of the "real" coin. In 2003, when Donn Pearlman launched a nationwide search for the nickel as a P.R. stunt, the family had the coin re-evaluated. This time, evaluators found it to be the genuine article, after all, solving a four-decade-long mystery!
Country: United States
Years: 1913
Grade: PR-63
Price: $3,172,500 sold in 2013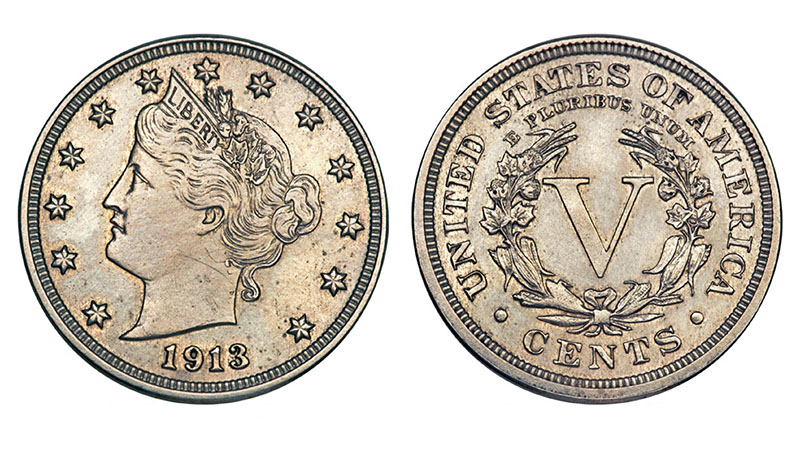 24. 1927-D Saint-Gaudens Gold Double Eagle (Eliasberg)
The past couple of owners of the Eliasberg 1927-D Saint-Gaudens Gold Double Eagle chose to remain anonymous. It's perhaps a wise choice, given this is widely considered to be the second finest example of this coin. There are five coins in the MS-66 category, with one more in the MS-67 grade. Additionally, it's the rarest gold coin in the United States, aside from the only-just-legal-to-own 1933 Saint-Gaudens Double Eagle. The original mintage had around 180,000 units, with the majority struck from the same pair of dies, with distinct features, including specific die cracks. Today, only 15 to 18 of these coins exist across all grades.
Country: United States
Years: 1927-D
Grade: MS-66+ CAC
Price: $3,090,000 sold in 2021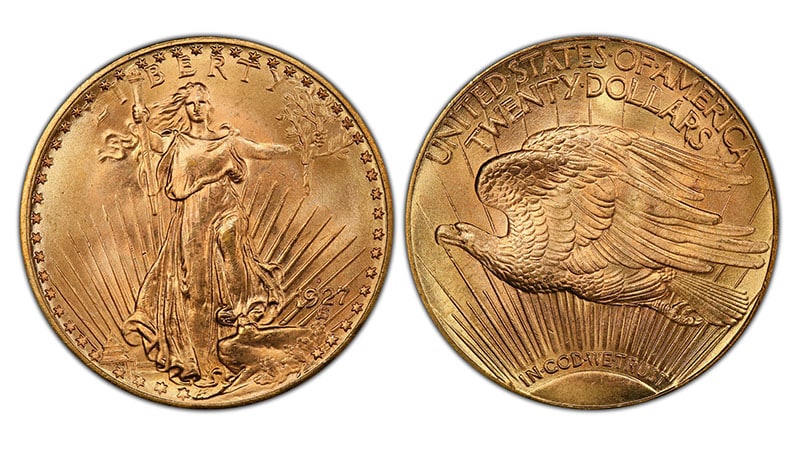 25. 1794 Flowing Hair Silver Dollar ( Lord St. Oswald, Norweb)
The Norweb 1794 Flowing Hair Silver Dollar is another historic treasure from the first striking of the U.S. Dollar. It represents the second half of a pair obtained by English gentleman farmer William Strickland in 1794 and 1795 on a trip to the United States. They remained together in the Lord St. Oswald cabinet for 170 years until 1964. Experts consider this specimen among the finest examples of the rumored 150 surviving Flowing Hair dollars, hence its impressive price tag. The impeccably preserved surface is lustrous and has a Mint State grading of 64, following three other MS66 and MS66+ examples.
Country: United States
Years: 17974
Grade: MS-64 CAC
Price: $2,820,000 sold in 2017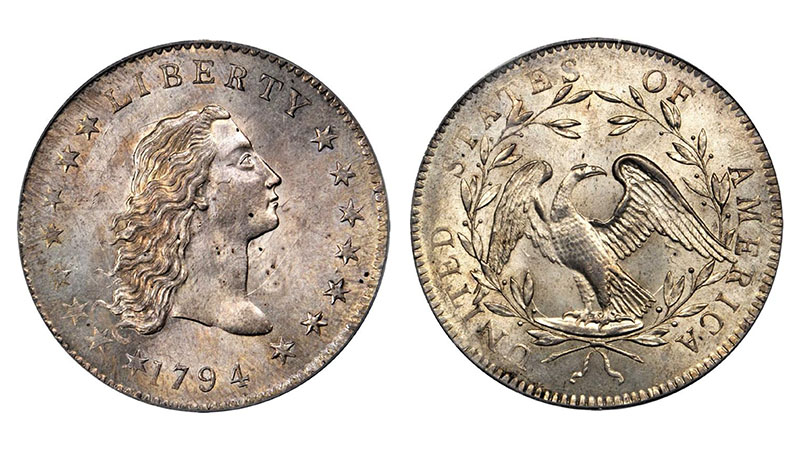 26. 1804 Draped Bust Silver Dollar, Class I (Mickley, Hawn, Queller)
This Mickley specimen of the much famed and romanticized 1804 Class 1 Silver Dollar is one of the eight made as diplomatic gifts. Four were intended to make it to Asia and the Middle East with Edmund Roberts as part of America's first envoy to the Far East. However, Edmund passed away en route to China and Japan, so their coins returned to the United States. Adam Eckfeldt, the Chief Coiner, saved the other four and set them in the Mint Cabinet. One surfaced in 1847 at the Bank of Pennsylvania, where Joseph J. Mickley purchased it. Since then, it's changed hands a number of times, including selling for the much higher sum of $3,877,500 in 2013. Finally, it exhibits many of the characteristics of the Class I 1804 dollars, including slight striking softness, a thin die crack, and "crushed" lettering at the edge.
Country: United States
Years: 1834
Grade: PR-62
Price: $2,640,000 sold in 2018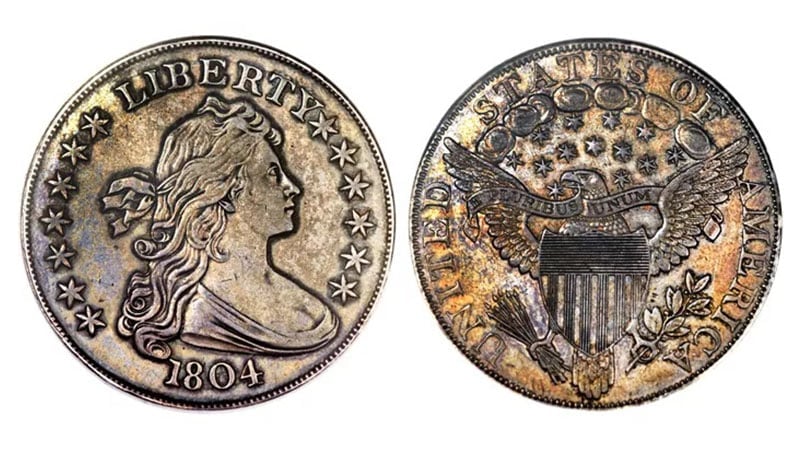 27. 1825 Ruble Pattern
Russia also has rare and valuable coins, with the 1825 Ruble Pattern featuring the would-be emperor Constantine. As the middle male child of Emperor Paul I and Sophie Dorothea of Wurttemberg, he was next in line after the assassination of his father and the death of his older brother, Alexander I, who had no legitimate sons. However, he wanted no part of it and passed the role onto his younger brother Nicholas. In the short period between Alexander's death and Constantine's refusal, coin-makers struck a small number of rubles at the St. Petersburg Mint. This included five coins with edge lettering and three with a plain edge, of which this $2 million specimen is one. As such, it's one of Russia's most famous coins and one of the most expensive non-US coins.
Country: Russia
Years: 1825
Grade: PR62
Price: $2,640,000 sold in 2021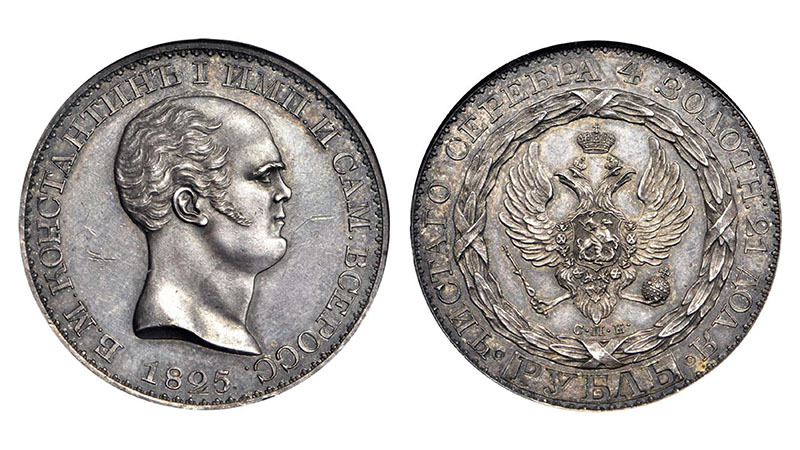 28. 1792 Birch Cent (Garrett, Partrick)
The American Congress passed the Coinage Act in 1792, and production began immediately. Consequently, the Birch Cent is the first ever American cent. After much debate about the design, the visage of Lady Liberty was chosen over George Washington. There are four varieties of the Birch Cent, with this specimen one of the Judd 4 editions, of which only seven are known. It's distinguished by the edge lettering TO BE ESTEEMED * BE USEFUL *. This coin's pedigree dates back to David Rittenhouse, the first Director of the United States Mint. With excellent condition and proof-like surfaces, this coin was most likely set aside just after striking and kept well preserved for hundreds of years, making it not only rare but exceptionally valuable.
Country: United States
Years: 1792
Grade: MS-65 CAC
Price: $2,585,000 sold in 2015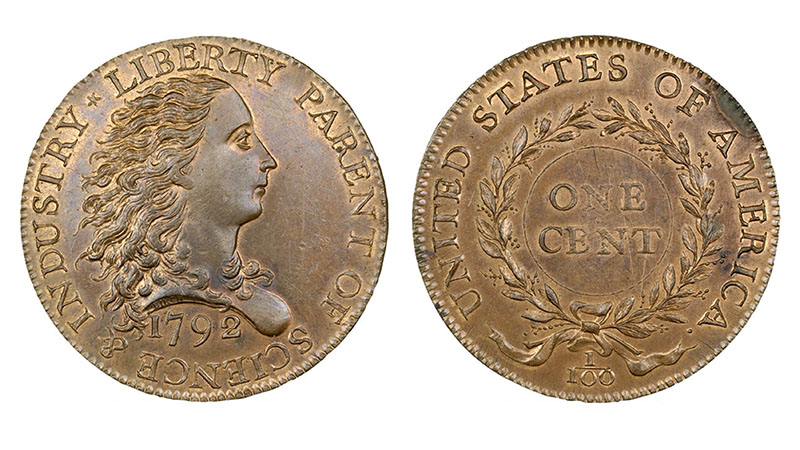 29. 1795 Capped Bust $10 Gold Eagle – 13 Leaves (Garrett, Pogue)
Few coins rival the Garret-Pogue specimen of the 1795 Capped Bust Gold Eagle with 13 Leaves. It's not only exceptionally aesthetically appealing, with a satiny surface, rich gold and orange hues, and no notable defects – but it's also historically significant. This mintage was the first year of the $10 denomination, with 5,583 coins struck across both the 13 and nine leaves designs. Today, only 400 to 500 of the 13 leaf coins survive, with only three gem examples, the finest of which is this MS66+ piece. At the time, it was the largest and highest denomination made until the 1849 Double Eagle, which came during the California Gold Rush.
Country: United States
Years: 1795
Grade: MS-66+
Price: $2,585,000 sold in 2015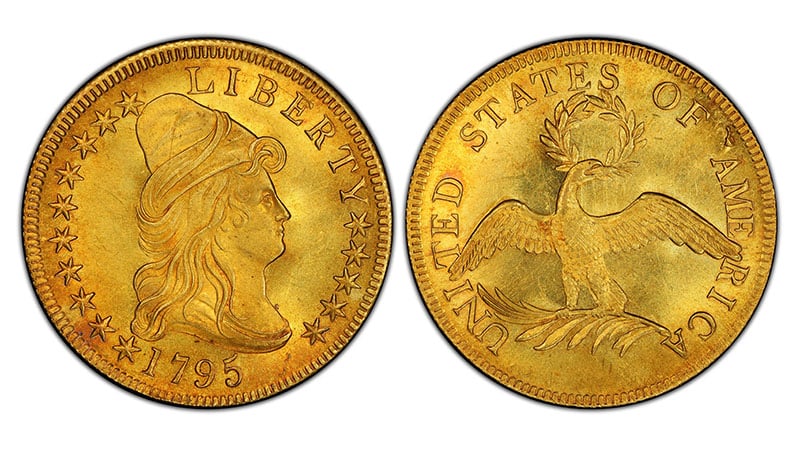 30. 1880 Proof $4 Stella Coiled Hair
With the official mintage records lost, the general consensus is that there were only around ten to 15 of the 1880 Proof $4 Stella Coiled Hair coins struck. Of those, it's believed maybe eight or nine examples have survived today. Consequently, this is one of the most valuable and rare coins in the world. Numismatist David Akers examined multiple instances of this coin, noting two different finishes. One style was a fully brilliant proof, while the other had frosted devices and mirrorlike fields, as shown in this specimen. It's suspected then that these were stuck at different times, perhaps one even being a restrike. This coin that sold for more than $2.5 million is tied for the title of the finest example, with a grading of PR67CAM and rich yellow-red color.
Country: United States
Years: 1880
Grade: NGC Proof 67 Cameo
Price: $2,574,000 sold in 2013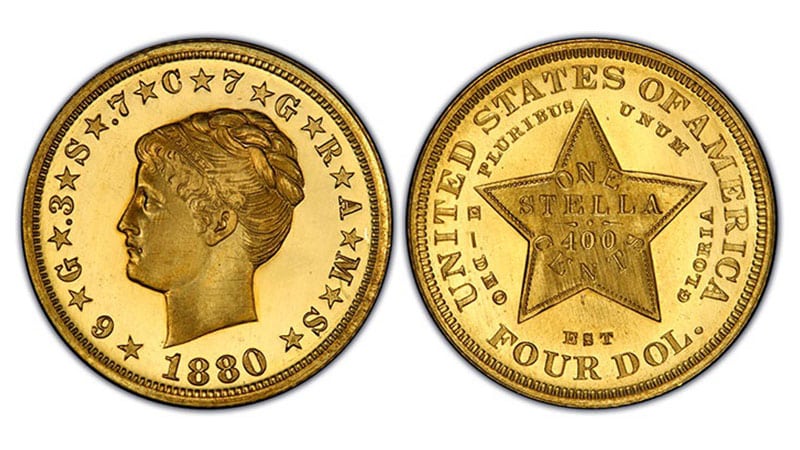 31. 1854-S $5
Small mintages contribute to the rarity and value of coins, and the 1854-S $5 is a prime example. A combination of factors, including inadequate facilities at the San Francisco Mint and a nitric acid shortage due to the Clipper Ship San Francisco sinking, meant minters made only 268 examples. Up until 2018, there were only three known survivors, one of which found a home in the National Numismatic Collection at the Smithsonian Institution. However, the Numismatic Guaranty Company (NGC) declared a "discovery of a lifetime" in 2018 when a coin collector came forward with this fourth example. While many assumed it was a counterfeit, both the NGC and Professional Coin Grading Service (PCGS) verified it as genuine. It went on to sell for over $2 million.
Country: United States
Years: 1854-S
Grade: XF45
Price: $2,400,000 sold in 2021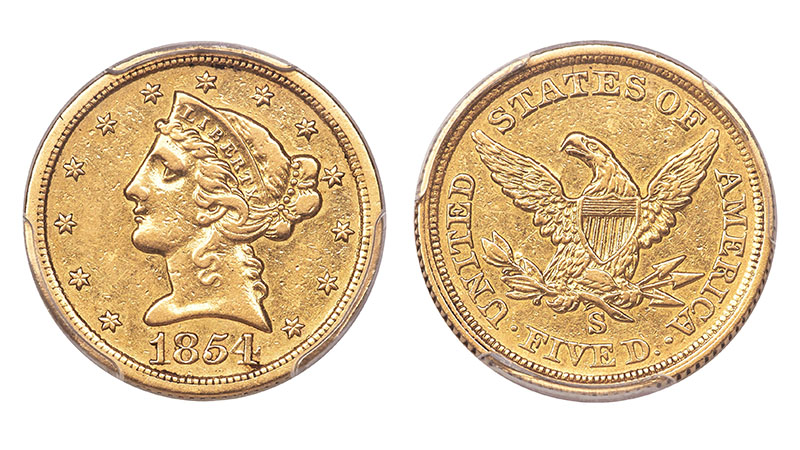 32. 1808 Capped Bust Gold Quarter Eagle
The U.S. Mint only struck 2,710 Capped Bust Gold Quarter Eagles in 1808, the only year in which this design was produced. Iterations after this changed to a head-only depiction of Lady Liberty, making this one of the most valuable and rare coins. Another factor that contributes to the appeal is the exemplary condition. It's the finest of the 12 known PCGS-graded Mint State coins, with a grade of MS65, as most of the other surviving expressions were heavily circulated and, therefore, flawed. This specimen has beautiful coloring with deep copper and bright yellow gold hues, a satiny luster, and only superficial marks. Numismatists have celebrated this Quarter Eagle for over a century, with some of the industry's biggest names heaping praise on this coin.
Country: United States
Years: 1808
Grade: MS65
Price: $2,350,000 sold in 2015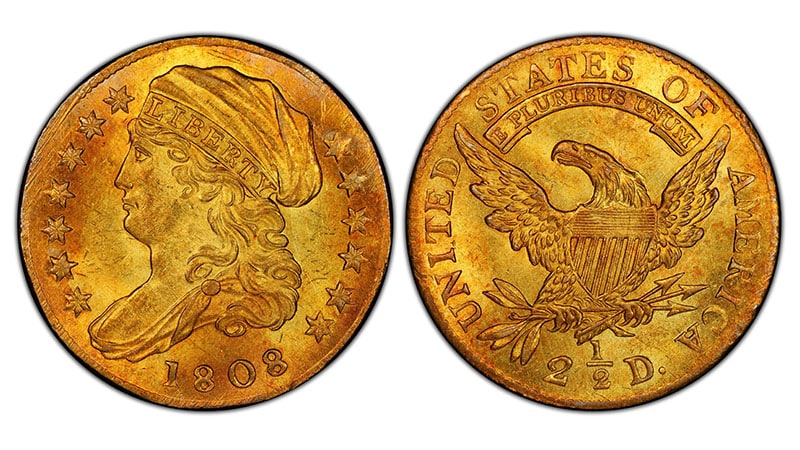 33. 1793 Cent Chain S-4
While the 1972 Birch cents were the first pennies struck by the United States Mint, they were only prototypes. The Mint's first business strike, or edition intended for circulation, was the 1793 Chain Cent. It had a mintage of 36,103 and was produced only in early 1793 due to a planchet shortage (and somewhat unpopular design). Only around 1,000 still exist today. The S-4 variation is especially unique, as there are design variations on the obverse side. This includes a different hair treatment on Lady Liberty and the addition of a period after the year and the word LIBERTY. Both suggest a different engraver prepared the die. Another factor that makes this coin valuable is the quality – it's a Gem in every aspect, boasting excellent detail, bold relief, and superb coloring. Plus, it has a legendary provenance that includes collectors like Lorin Parmelee, Harlan P Smith, and Virgil Brand.
Country: United States
Years: 1793
Grade: MS66
Price: $2,350,000 sold in 2015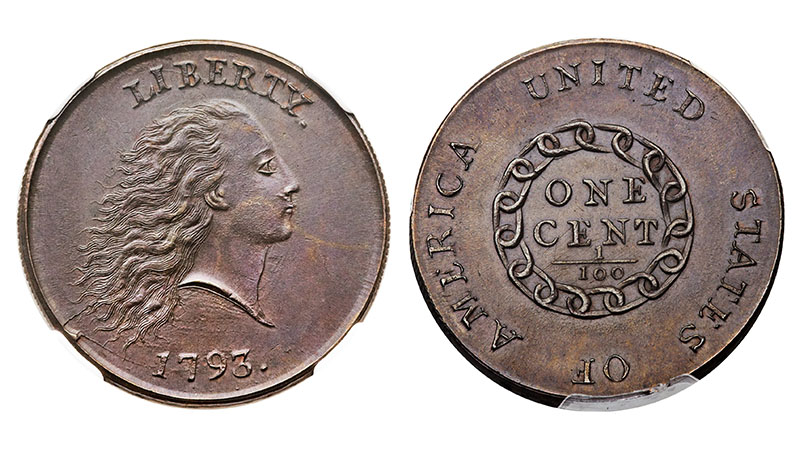 34. 1804 Draped Bust Silver Dollar, Class III, Adams-Carter Specimen
The famed 1804 Draped Bust Silver Dollar has three varieties. The best-known and most valuable are the Class I, which were struck in 1834 to complete the diplomatic sets for Edmund Roberts' envoy to the East. However, there are also Class II, and III coins made no earlier than 1857 and potentially as late as the 1870s. When the first coins were minted, a single obverse die was made plus two reverse dies labeled X and Y. The Class I coins used the X, while the Class II and II were struck with the Y. The differences are notable in the position of the A in STATES and O in OF. Another element that differentiates the latter classes is the presence of artificial wear to make the coins look like they'd been in circulation. The Adams-Carter Specimen is the least worn of Class III and, therefore, most valuable.
Country: United States
Years: Estimated 1857
Grade: PR58
Price: $2,300,000 sold in 2009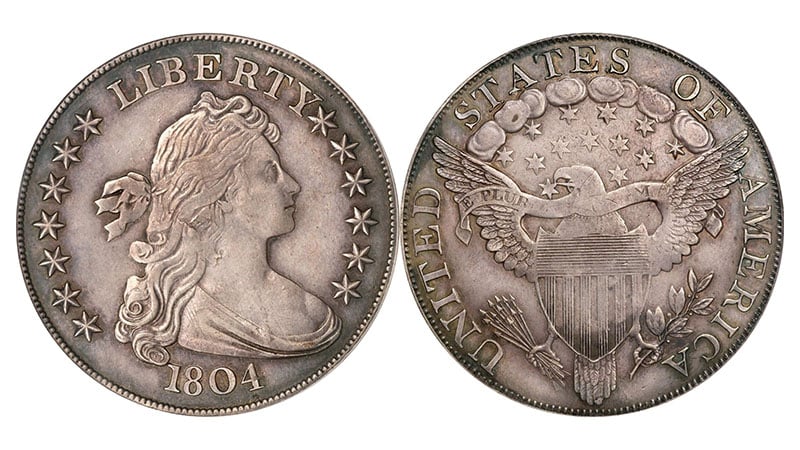 35. 1928 Dollar Pattern
Hailing from China, this rare silver pattern dollar is a tribute to Governor Chang Tso-lin, known as the Mukden Tiger. He was assassinated on June 4, 1928, by the Japanese Kwantung Army, and the coin contains the phrase "Memorial coin of the Commander-in-Chief." It also features the Iron Blood Eighteen star flag of the Wuchang Uprising and the Five-Colored Flag of the Republic of China. It's one of the few non-United States specimens to make the list of the most valuable and rare coins. After years of ownership by a passionate numismatist, it's in excellent condition. The surface showcases rich hues, a stunning patina, and sharp details. As such, it sold for more than ten times its predicted price, proving it's a valuable addition to a world-class collection.
Country: China
Years: 1928 (Year 17)
Grade: SP-64
Price: $2,280,000 sold in 2021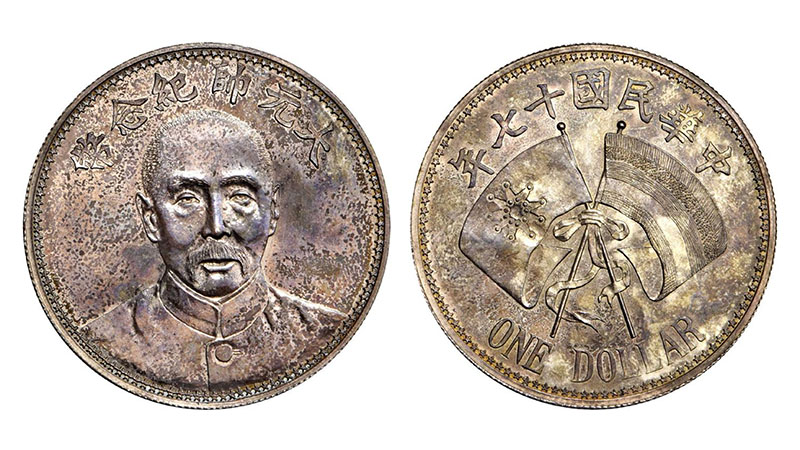 Determining Value of Coins
Lots of consideration goes into determining the value of coins. Market forces such as supply and demand play a role, but there's more to it than that. Other factors include mintage and survival rate – how many coins there were and are now. This also applies to how many of certain coins dealers have in stock and how much demand there is. Like many things, coins and coin collecting also go in and out of fashion. Additionally, coins in better condition will be more desirable, as will those with historical significance. Finally, using precious metals like silver and gold means some coins will have more intrinsic value based on the materials involved rather than the face or resale value.
Mintage
Coins don't get made; they get minted. As such, the production run of a particular coin in a specific grade, or initial mintage, is one of the most significant determining factors in the value or price of a coin. Generally, coins are minted for a calendar year, and once that year is over, production stops, and the supply of that coin is finite. The lower the number of initial coins, the higher the value. Modern coin presses are machine-operated using a die to press the design onto a blank planchet. However, in the early days of coin making in the United States, this was done by hand using a die until it wore out. Consequently, there would occasionally be coins minted with a previous year's date but counted in that year of production.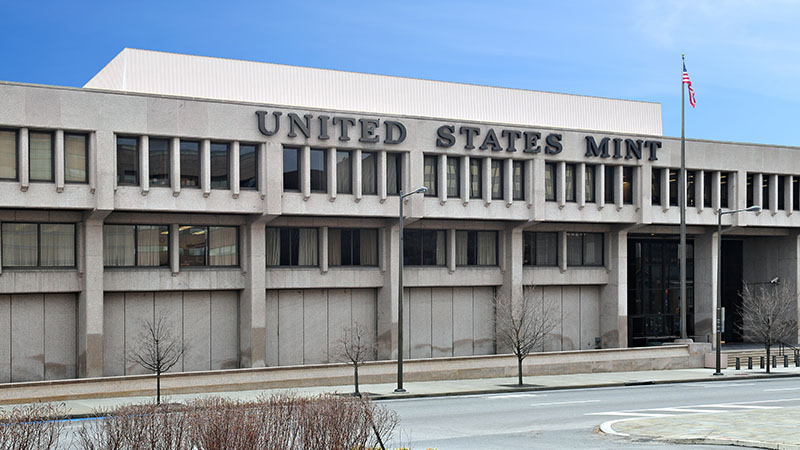 Survival Rate
Once coins are minted, they're released into circulation. However, as soon as they're in use, the population of these coins starts to decline for several reasons. One is that coins are taken out of circulation when damaged or too worn – the average lifespan of a coin is around 30 years. In cases like these, they're returned to the Mint and melted down for reuse. Private citizens might also melt them down when the material's value exceeds the coin's face value. Then, during strong economic periods, people will often add specimens to their private collections rather than using them. Finally, some coins also just get lost over time. The number of coins left is called the surviving population, and the smaller that number, the higher in value.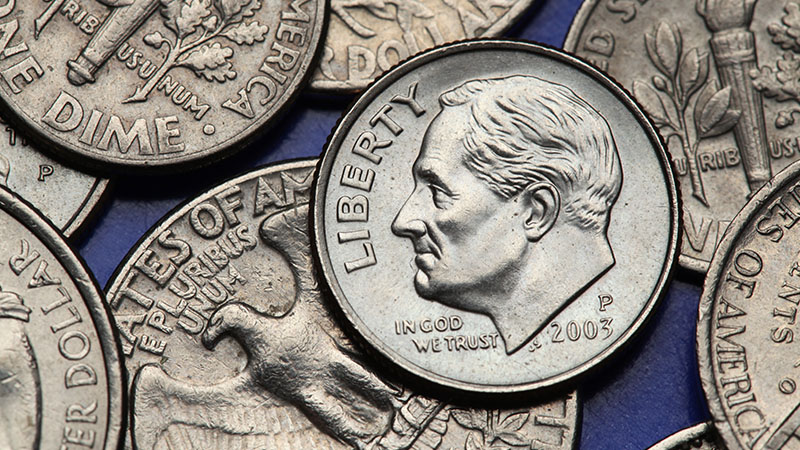 Demand
Like any part of the economy, demand influences the price and value of coins, and it can be cyclical. The rise in popularity of hobbies such as coin collecting increases demand and, therefore, price. Additionally, marketing campaigns, such as the 50 State Quarters Series by the U.S. Mint or Lincoln cent redesign, also pique interest and engagement. Conversely, demand can also decline. If there's an economic recession, people might sell their coin collections rather than add to them. The price of metals used in coins can also impact demand when the value of the components exceeds the coin's value.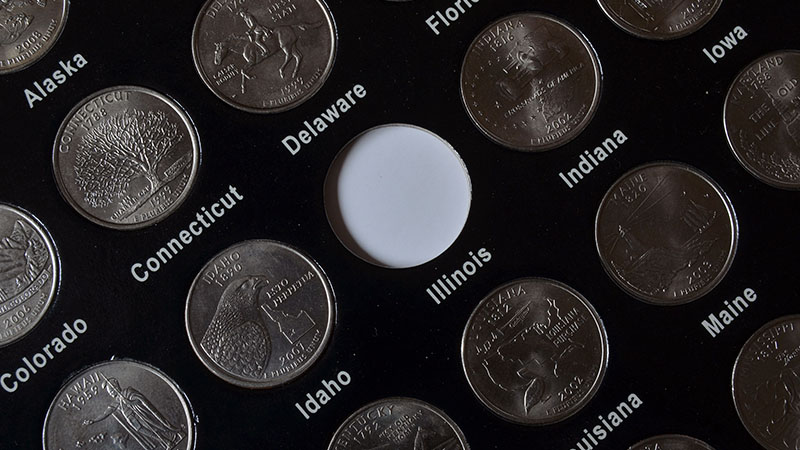 Melt Value
The composition of a coin also influences the value of a unit. If it's made from a precious metal such as gold or silver, the value can rise and fall with variations in the price of gold and silver. Coin composition, especially in the United States, has shifted since the mid-1960s to a base metal made of less precious components such as copper and nickel. However, even the price of these non-precious metals ebbs and flows, leading people to melt common coins for the intrinsic value of the recovered metals.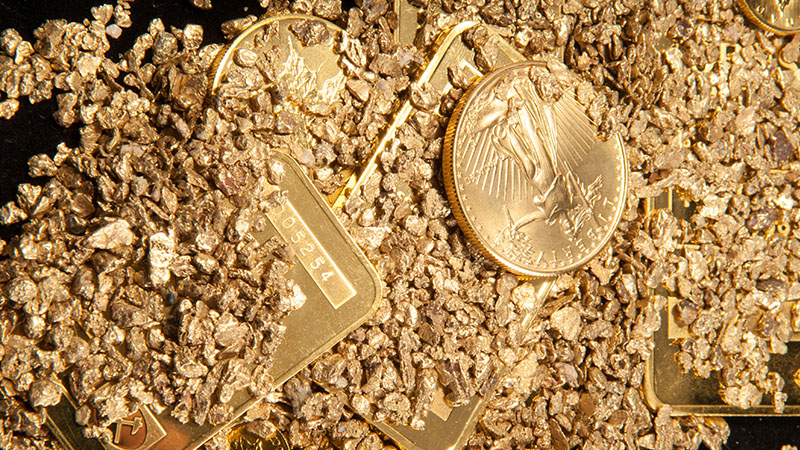 Grade & Condition
The best condition that a coin can be in is uncirculated. This means it looks like it's fresh off the Mint because someone took it out of circulation and stored it safely to keep a pristine condition. These are the most desirable coins for collectors. Older coins in this condition are rare and, therefore, more expensive. However, after coin collecting became mainstream, more people kept mint-state coins. They would sometimes even collect rolls of uncirculated coins, especially of low-mintage releases. Even if a coin is in mint condition, it may not always be as valuable as expected if collectors kept many out of circulation. The opposite is also true, though – if only a few uncirculated coins exist from a large mintage, then they will be worth more.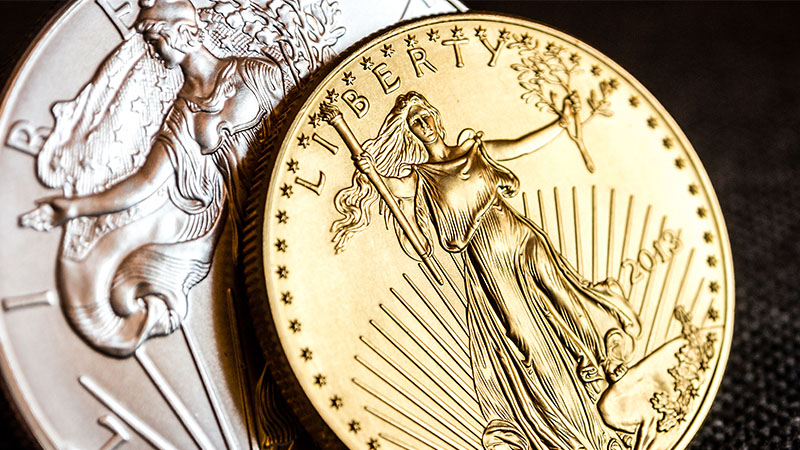 Dealer Stock
Finally, the amount of stock available at a coin dealer will influence pricing. Like when fruit is in season and plentiful, it's cheaper – the same applies if a dealer has a lot of one particular coin on hand. You'll likely be able to purchase it for a lower price as they seek to reduce inventory. At the same time, if you sell that coin, you also won't achieve a higher price. Of course, the opposite also applies, with buy and sell prices higher when stock is limited. Whether you're looking to add to your collection or relinquish part of it, it's worth getting multiple quotes from different dealers to you ensure you're getting the best price possible.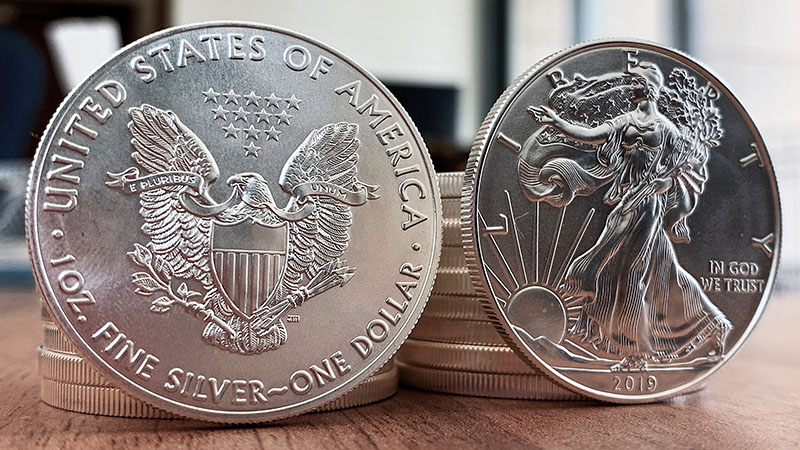 Rare Coins FAQs
What coins are worth money?
There are lots of coins worth millions (and lots worth nothing more than their face value). Some of the most prominent and consistently sought coins that are worth several million dollars each include the 1794 Flowing Hair Silver Dollars, the 1787 Brasher Doubloons, the 1804 Draped Bust Silver Dollars, and the 1913 Liberty Head Nickels. 
What is the rarest coin?
The rarest coin is the 1933 Saint-Gaudens Double Eagle, which once belonged to King Farouk of Egypt, was the subject of an intense legal battle, and sold in 2021 for $18,872,250.
How do I know if my coins are valuable?
The first step to determining if your coin collection is valuable is to start with research online. You'll be able to find information about mintage, editions, history, mint markers, mint mistakes, grading, origin, materials, and more. There are also books and guides, such as the Bluebook, that give you an idea of the value of popular collector coins. Finally, you can pay for a certified appraisal if you suspect you might be onto something worth a small fortune. 
SUBSCRIBE TO OUR NEWSLETTER
Subscribe to our mailing list and get interesting stuff and updates to your email inbox.