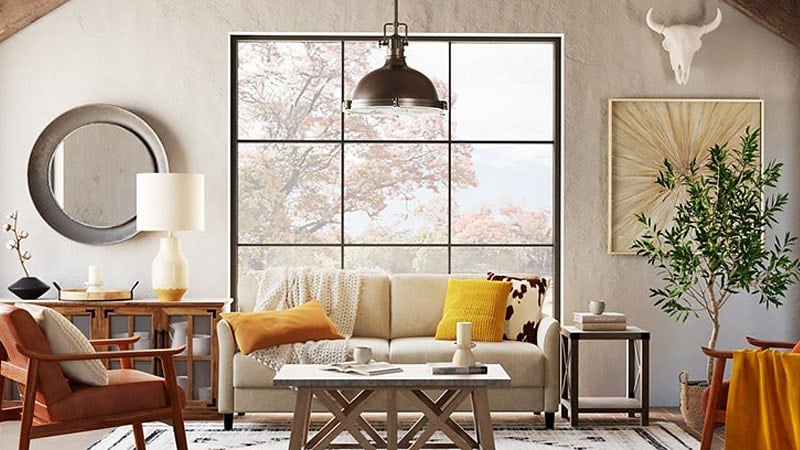 This article has been sponsored by Walmart.
Ranch Style homes are versatile and flexible spaces that bridge the gap between inside and outside. As such, when it comes to styling, it's all about embracing light, neutral colors and welcoming all kinds of natural textures into the space to add depth and interest. Of course, if you don't have a Ranch Style house, you can still incorporate the same styling and decorating elements into your own home. When it comes to shopping for the fit-out, Walmart has everything you need and more, from fire pits and fairy lights to beds, sofas, and all kinds of beautiful accessories and art. You'll be able to look for inspiration and pick up new furniture and decor at over 10,000 stores in 24 countries, with more than 4,700 of those are located in the United States.
What is a Ranch Style Home?
A Ranch Style home is a particular architectural design of housing found in the United States. They're generally a single-story house, with an open-concept floorplan; rectangle, "U" or "L" shape; and a dedicated patio out the back. Other standard features include long, low-pitch roofing, deep eaves, large windows, and sliding glass doors out to the patio. There's a heavy emphasis on blending the lines between indoor and outdoor living. The exteriors will have a mix of materials, including stucco, wood, brick, and stone, as well as an attached garage. Inside you'll often find a complete and finished basement, bedrooms separate from the open living areas, and simple decorative details. It's a flexible and functional design that lets you adapt the space how you like.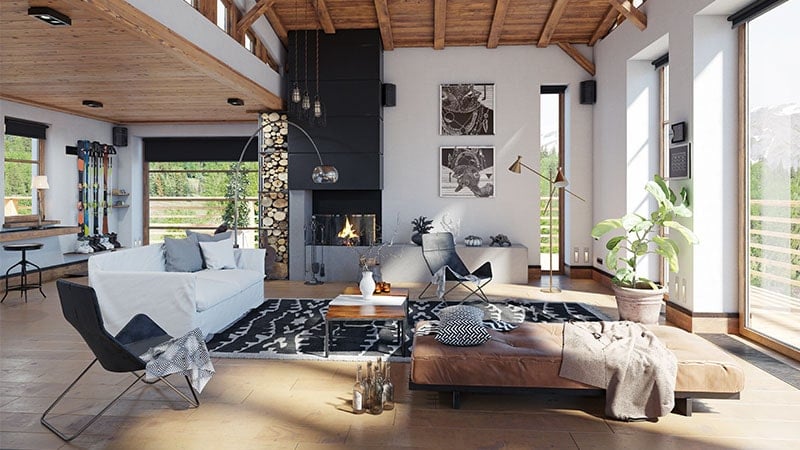 When Did Ranch Style Houses Originate?
Ranch Style homes originated in the United States during the 1920s, taking inspiration from North American Spanish Colonial architecture. However, this architectural style really grew in popularity in the mid-century, as post-WWII life saw a shift towards practical, functional, and affordable housing, where ex-soldiers and citizens could settle down for a peaceful suburban life. You can find entire neighborhoods full of these houses, as it was a popular choice for tract housing during this time. Towards the 1960s, it fell out of favor for more formal or traditional styles. Since the 1990s, it has had another resurgence, as an affordable entry point to the housing market and a more navigable design for an aging population.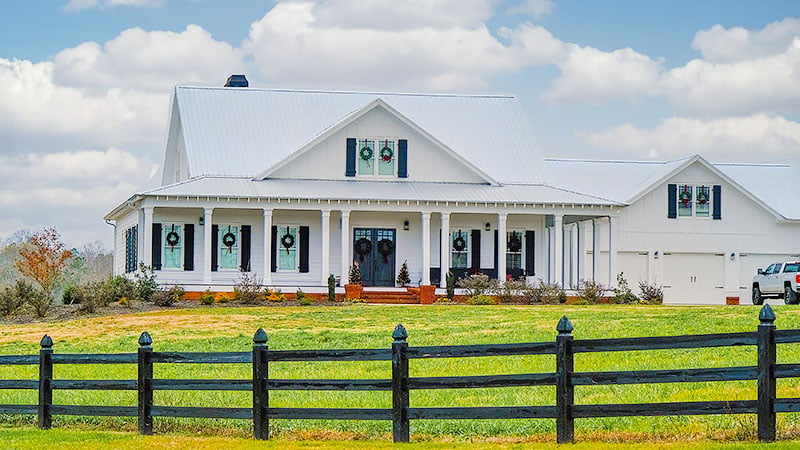 How to Decorate a Ranch House
The beauty of a Ranch Style house is that it's such a flexible and versatile space, so there are no hard rules. However, you can do a couple of things to maximize the design and get the most out of the home's features. Firstly, emphasize the interaction between the indoors and outdoors by choosing a neutral color palette, with natural shades like white, beige, light greys, or even soft blue. Add accents with natural textures such as linen, wood, and sisal, and hints color through house plants and soft furnishings. Then, maximize the natural light with lighter walls, mirrors, and sheer or light curtains. Plus, don't neglect outside the house — you can massively expand the living space with smart styling of your patio or deck. Finally, while the open-plan is a big drawcard in ranch-style homes, you can create subtle definitions between rooms using rugs or runners.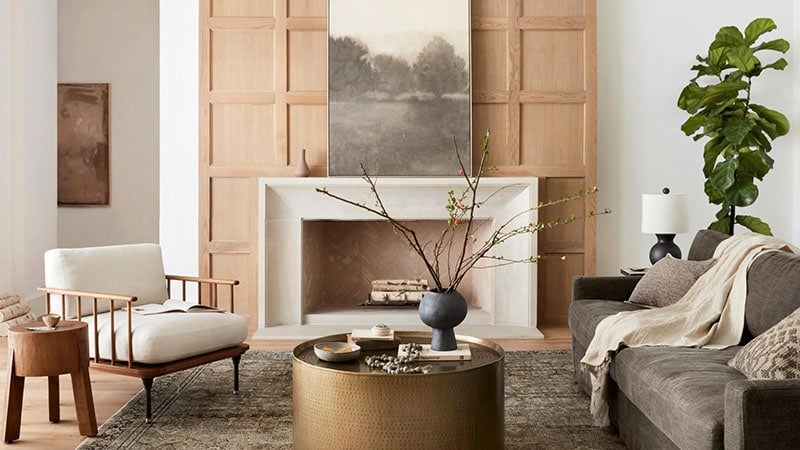 Dining Room
The open plan of Ranch Style houses means there's an easy transition from the kitchen to the dining room. This makes it perfect for families and entertaining friends, as no one is shut away in a separate room cooking. Keep this feeling up with a large communal dining table that brings everyone together. A solid wood option is excellent, as it embraces the natural textures from the outdoors. Pay homage to the mid-century popularity of the housing style by adding mid-century modern dining chairs with sleek lines and simple ornamentation. Not that everything needs to be simple. Throw in some texture with a large rug, colorful table runner, comfy cushions, and a set of candles to set the mood and create a soft ambiance. Finally, when it comes to choosing colors, warm shades like orange and yellow encourage hearty appetites.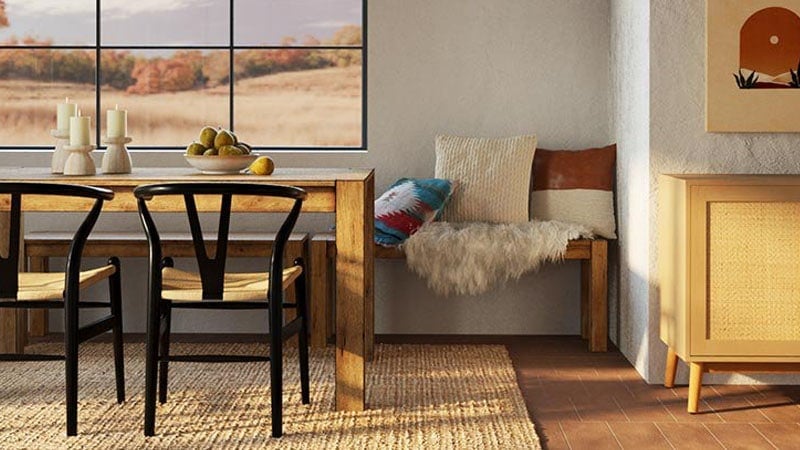 SHOP THE STYLE

Living Room
A Ranch Style living room should be a relaxed space where you can just chill out and feel comfortable. It's ideal for embracing warm neutrals and natural finishes. A soft couch that envelopes you in a warm hug is a must, especially when combined with a textured throw rug for cold nights and cushions in various colors and materials. Accent chairs are brilliant if you have the space but opt for a different style or fabric than the main couch to create character and interest. If you want to define the area more, a large rug is perfect and a great way to tie elements together. Then, a coffee table, side table, or even a sideboard will enhance the functionality. Finally, the living room is also the perfect place for extra decorations and personality, such as coffee table books, a drinks tray, wall art, plants, and lamps for mood lighting.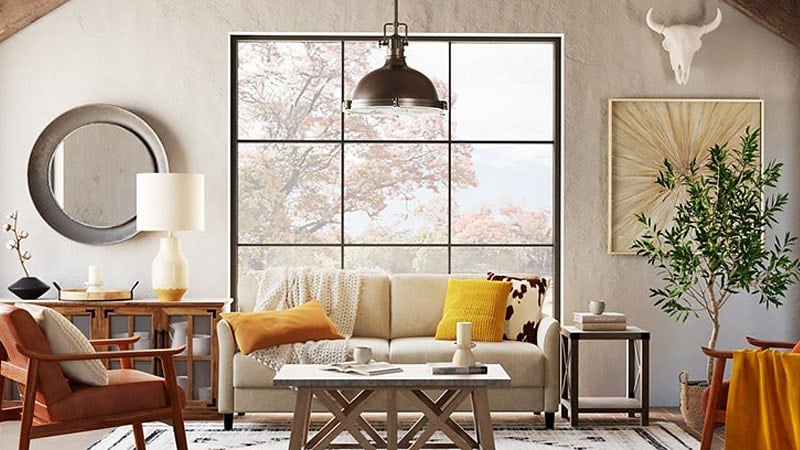 SHOP THE STYLE

Bedroom
The bedroom is a more private area than the open-plan communal spaces in a ranch-style home. As such, you can show off a lot more individual taste here! A bed is obviously the key piece of furniture, so invest in a frame you like and a quality mattress so you get a good night's sleep. Like the other rooms in your house, a mix of textures is an excellent option for adding interest and bring elements of nature in. On your bed, try a textured duvet cover, plus some throw cushions with mixed fabrics. If you don't have carpeted floors, a rug is a great way to warm and soften the space, as is textile art like macrame hangings. Finally, when it comes to a color palette, light shades will enhance any natural light, while soft orange, yellow, pink, green, and blue can encourage reduced stress and better sleep.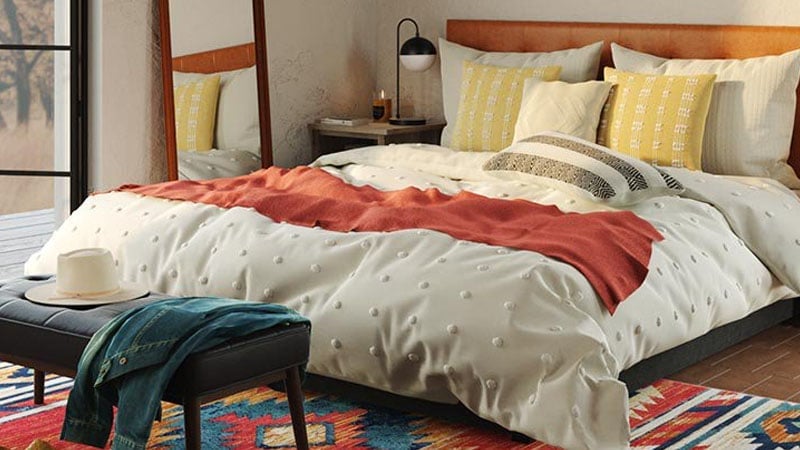 SHOP THE STYLE

Bathroom
Just because a bathroom is a functional space doesn't mean it can't be as beautiful as the rest of your Ranch Style home. Keep the color palette light to open up the room and enhance the natural light. Warm timbers and plants are a great way to bring nature inside, as is an oil diffuser. Of course, you still want plenty of functionality, with adequate towel racks, a wastebasket, and storage solutions. When it comes to shower curtains, a simple white is a classic choice that won't overwhelm the eye, but it can also be a great way to add a pop of color if you like. There's also nothing quite like a matching set of towels for adding texture and feeling like an adult, so splash out on a set. Lastly, optional extras to consider include a stool, soap dispensers, candles, toilet paper holders, or even art prints.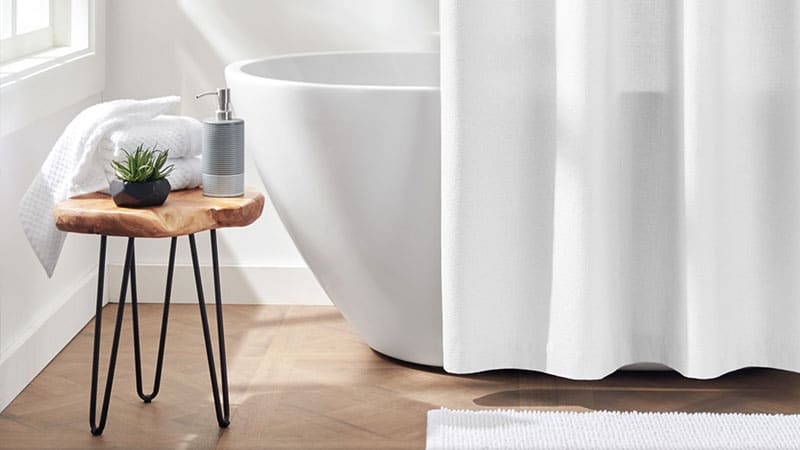 SHOP THE STYLE

Outdoor Living
One of the key design functions of the ranch-style house is to bridge the gap between the indoors and outdoors. Consequently, to get the most out of your home, the patio or deck (and even the backyard) should be treated as just another room, especially if you live somewhere with great weather. This means you should invest in some outdoor furniture to make the space welcoming and comfortable. Depending on how much room you have and how you like to relax or entertain, there are a few options. One is an outdoor dining table, where you can enjoy a meal, surrounded by nature. The other main option is a lounge or conversation set for chilling with a good book in the summer sun. Increase the appeal with accessories like an outdoor rug, sun umbrella, cushions, candles, string lights, or even a fire pit.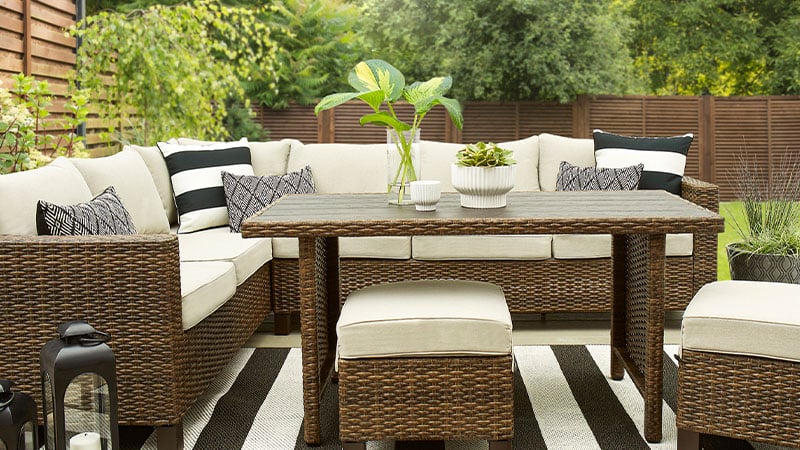 SHOP THE STYLE

FAQs
What makes a house a ranch-style?
Ranch Style houses are single-story domestic dwellings with long, low-pitch roofs, an open plan design, an attached garage, and glass doors that open onto a patio or deck. They also feature deep eaves, large windows, a basement and are commonly constructed in a rectangle, "U" or "L" shape. This style of home was first trendy in the United States in the 1940s and 50s and bridged the gap between indoor and outdoor living. 
What are ranch-style homes called?
Another name for ranch-style homes is a rambler. There are also different styles of Ranch-Style homes, including California, Suburban, Split-Level, Raised, and Storybrook. 
What is the main advantage of the ranch-style home?
There are lots of advantages to a Ranch Style home. One of the major ones, especially for young families and older people, is there is no staircase and therefore fewer accessibility and safety issues. Other benefits include an open plan so you can keep a better eye on kids, they are generally less expensive, the design is simple and versatile, and it lets lots of natural light in. 
How to add curb appeal to a Ranch Style home
There are a few ways to add curb appeal to a Ranch Style home. The first is landscaping. Soften the boxiness of the house with rounded garden edges, and create dimension with different layers of trees, shrubbery, and flowers. This is also a great way to add extra color. Just keep your garden well-trimmed so the house doesn't get lost. Additionally, with color, you can always add a little brightness with some paint. If your home is a darker brick, then painting it a lighter shade can add appeal, as can adding a pop of unexpected color on the trims or shutters. 
How to modernize a Ranch Style home
Many Ranch Style homes were built in the early to mid-1900s, so they can feel a little outdated. Some tips to modernize your home include a paint job – covering dark bricks with a lighter hue or mix of shades. Like curb appeal, using thoughtful landscaping with layers and color will help freshen things up, soften harsh edges, and add dimension. Internally, opting for lighter colors will give a more modern vibe, whether through paint or a remodel. Lastly, you can also replace the carpet, lift the ceilings, and upgrade the doors, especially the front door, to a better quality option. 
How to update the exterior of a Ranch Style home
The best way to update the exterior of a Ranch Style home is a fresh coat of paint. Light colors will have more of a modern appeal, but any neutral palette will work. Another tip is to make your front door a feature piece, either with a brighter color or contemporary design and side-lit windows. While these houses already have a patio out the back, adding a porch at the front will update the look and add more living space too! Finally, add layered landscaping to soften the boxiness, and mix in different shapes and colors that break up the horizontal lines and silhouette of the building.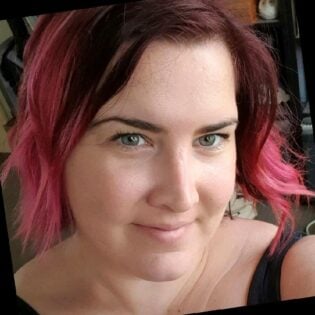 Alexandra Linde is an experienced writer holding a bachelor's degree in Journalism. She is the owner of Alexandra McKiterick Creative and has expertise in travel, fashion, fitness and lifestyle. Alex has previously written for Flightcenter, Travello, and Backpacker Deals.
SUBSCRIBE TO OUR NEWSLETTER
Subscribe to our mailing list and get interesting stuff and updates to your email inbox.