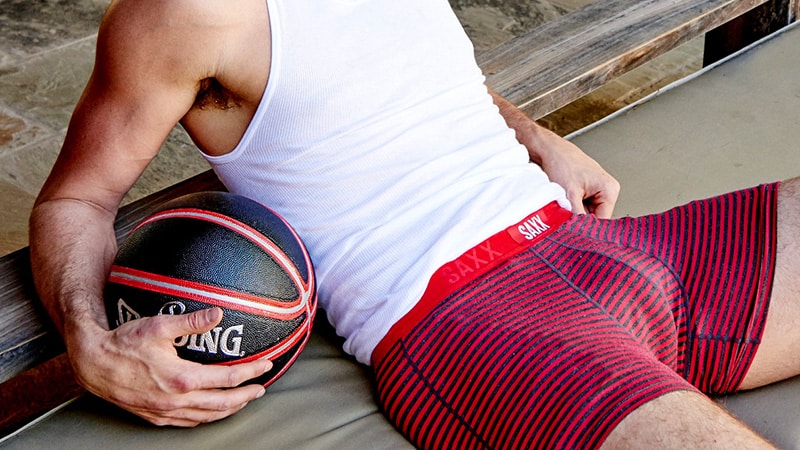 Give your boys a little extra support and love with some pouch underwear. Also known as ball hammock underwear, these designs offer an additional pocket of fabric out front to cradle your gear and bring everything up and away from your body. This means you'll not only be cooler and more comfortable, but you don't have to worry about sweat building up and gluing your balls to your legs. It's more hygienic, better for baby-making, helps prevent chafing, and can feel a lot fresher. The designs vary with single or dual pouch variations, and some even extend the extra support from much further back. Underwear like this can take a little getting used to, as there's a lot more fabric contact and some maneuvering required to place everything where it should be. However, once you're in, you'll be good to go!
Best Ball Hammock Boxer Briefs
1. David Archy Men's 4 Pack Micro Modal Separate Pouch Briefs with Fly
You won't need to worry about any "sticking" situations when you're rocking a pair of pouch underwear from David Archy. The patent-pending design offers a cooling, breathable panel and a separate pouch for the crown jewels to hold everything in place. It'll keep your nether region cool and dry all day long. The soft micro modal fabric feels silky and comfortable, while the waistband is comfortable and won't ride or dig in.
2. New Balance Men's 6″ Boxer Brief Fly Front with Pouch
If you're looking for a sporty pair of boxer briefs with extra support, then the New Balance 6-inch fly front with pouch is excellent. The mix of performance polyester and spandex make them breathable, while the mesh gusset and moisture-wicking design move sweat away from the body. Meanwhile, enjoy four-way stretch for the ultimate flexibility, plus a no-ride inseam to avoid bunching. While some ball-hammock designs don't have a fly, this option does have one for quick, convenient access at the urinal.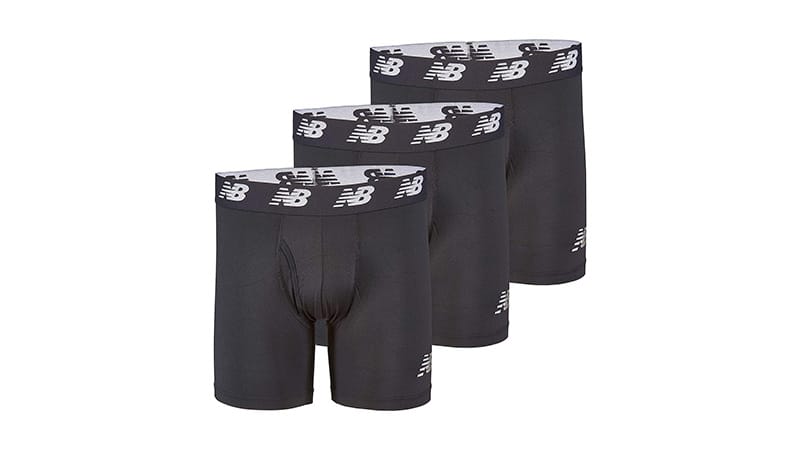 3. Separatec Men's 3 Pack Bamboo Breathable Pouch Underwear
Gents who prefer natural materials will love these pouch briefs from Separatec. The bamboo rayon blend is soft to the touch, breathable, and moisture-wicking – no ball sweat here! Meanwhile, the dual pouch design has a place for everything, so you can keep all your parts comfortably separate and avoid the need to readjust any sticky situations. Plus, the panel between pouches is breathable, allowing for improved airflow. Finally, trips to the bathroom are also efficient with the functional fly.
4. Hanes Ultimate Men's 4 Pack Total Support Pouch Boxer Brief
Hane's Comfort Flex Fit ball hammock boxer briefs are comfortable and supportive. Made with soft and sustainable TENCEL Lyocell fabric, they're moisture-wicking and offer odor control for when you're hitting the gym or working outside in the summer. The pouch separates and supports your gear, while a breathable mesh liner offers better airflow. No-ride seams and a flexible waistband ensure your underwear stays where it should be, so you don't need to fidget or adjust throughout the day.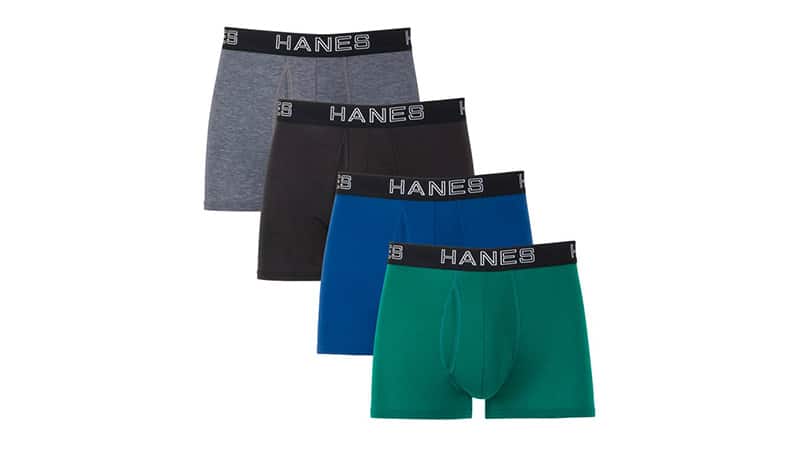 5. Shinesty paradICE™ Cooling Ball Hammock® Underwear
Show off your assets in this paradICE™ Cooling Ball Hammock® Underwear from Shinesty. This cheeky style uses innovative fabric to keep the boys three degrees cooler and you more comfortable. The moisture-wicking, quick-dry material is infused with cooling minerals, and strategic mesh zones allow adequate and cooling airflow. Meanwhile, the supportive ball hammock cradles you gently while enhancing your look. They're fun and functional pouch underwear perfect for gents with a sly sense of humor.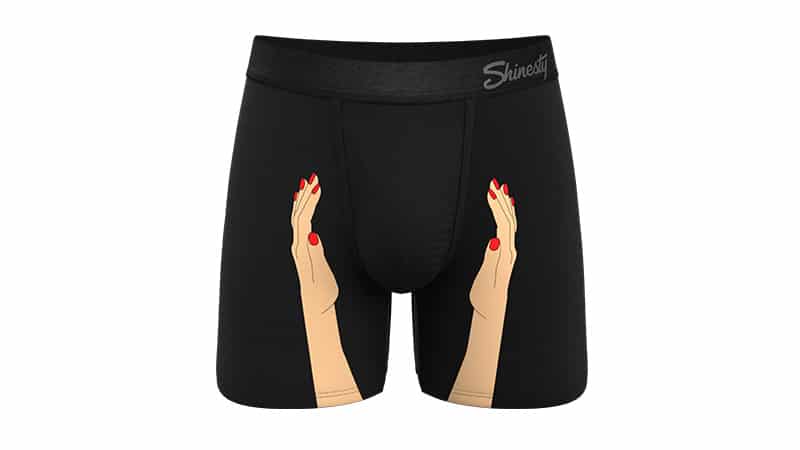 6. SAXX 2 Pacl Ultra Super Soft Boxer Briefs with Fly and Built-in Pouch Support
Savor the everyday comfort of SAXX's men's pouch underwear. Featuring a relaxed fit, you'll be supported yet not constricted. Design elements include the BallPark Pouch with patented technology that offers support for your balls while reducing heat, friction, and sticking. The super-soft fabric is moisture-wicking, while the Flat Out Seams don't rub or chafe. Finally, the innovative Three-D Fit design uses smart paneling to create the perfect fit with maximum moveability.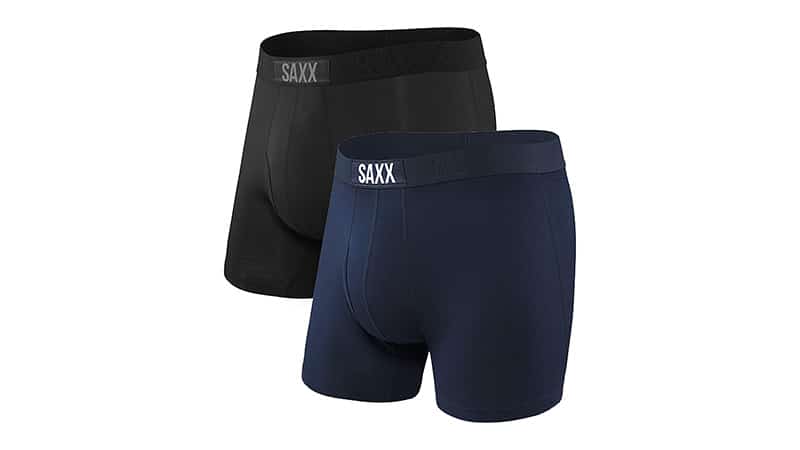 7. Shinesty The Big Bang Ball Hammock® Pouch Underwear With Fly
Don't get lost in the dark with a pair of saucy glow-in-the-dark ball hammock briefs from Shinesty. This fun design comes in various styles, including no-fly, with a fly, long, briefs, or trunks, so you'll be comfortable and supported no matter your underwear preferences. Each features a pouch in the front to keep your tackle away from the heat of your body and prevent sticking or squishing. It also helps enhance your natural shape. The MicroModal fabric is soft and moisture-wicking, while the four-way stretch and gusted crotch offer plenty of movement without the risk of escape.
8. Champion Men's 3 Pack Polyester Blend Total Support Pouch Boxer Brief
You'll feel like a champion while wearing the Champion polyester blend total support pouch boxer briefs. The fabric offers odor control, moisture wicking, and lightweight stretch, making them ideal for even the most active sportsman. The pouch provides support for your equipment while keeping everything cool and comfortable. Plus, it has a functional fly for those who appreciate that method of access when nature calls.
9. SHEATH 4.0 Ball Hammock Boxer Brief
Treat your junk to the best with a pair of Dual Pouch 4.0 Boxer Briefs from SHEATH. This underwear brand offers an innovative, patent-pending design that combines functionality with style. A dual pouch keeps the different parts of your member contained in their own comfortable areas for both support and enhanced shaping. The functional fly provides convenient access when needed, while the modal/elastane blend fabric is soft and breathable. Finally, the standard five-inch inseam offers plenty of flexibility as well as security.
10. Separatec Men's Cotton Stretch Separate Pouch Colorful Boxer Briefs
Daily comfort is the goal with the Separatec cotton stretch pouch underwear. The boxer briefs, with a six-and-a-half-inch inseam, won't ride up or bunch and give you grief. Meanwhile, the cotton is breathable and doesn't fade with washing. The separated pouch design keeps everything high and tight, staying out of the way and keeping sweat-free. There'll be no sticking or awkward adjusting! Plus, it comes in a pack of seven, so you're set for a whole week before you have to do the washing!
Pouch Underwear Buying Guide
Buying your pouch underwear is an important decision – after all, it's the base of your outfit and is all up in your most intimate areas. As such, there are a few factors to consider. This includes practical elements such as material and style, as well as more trivial factors such as color and how many to purchase.
Material
The material you choose for your pouch underwear can greatly impact your comfort levels. Cotton and bamboo are great, breathable options if you prefer to stick to more natural fibers. However, they're not as great at sweat-wicking as innovative performance materials like polyester or polyester blends. Micromodal is another excellent option made using tree cellulose. It's super soft and stretchy, so you won't scratch or itch, plus it's moisture-wicking, breathable, and shrink-resistant. As such, it's a popular choice for underwear.
Style
Like most things when it comes to underwear, style is a very personal preference. Pouch underwear is generally common in boxer brief styles; however, you can also get extra support in briefs. Inseam length is one of the most significant variations in style, with the average being between five to six inches, but you can get longer lengths with some brands. Another big variant is the fly. Some designs will have it; some will not – again, it's a personal preference for how you address the call of nature.
Color
Even though most people (probably) won't see your underwear, color choice is still important. If you wear a lot of light-colored trousers, then plain, lighter-colored jocks will likely be a better choice for not showing through. However, if your wardrobe is dark, then dark shades are acceptable. Undies are also a great way to have fun with a bold design that only you (and maybe a lucky partner) will get to see!
Multipacks
If you're onto a winning pair of underwear, why not buy a few of them? Multipacks are an economical way to purchase undergarments and often come in threes, fives, or even sevens to kit you out for a whole week. However, if you're trying a new style, it might be best to opt for a single pair first, so you can make sure they're keeping your nethers comfortable. If they're brilliant, then invest in more!
Ball Hammock Boxer Briefs FAQs
What is the pouch on men's underwear for?
The pouch in men's underwear is to help support your balls, keep them cool, and add more comfort to your day. It keeps everything up and away from your body to reduce heat, sticking, and chafing while improving hygiene. 
How does pouch underwear work?
Pouch underwear works by providing extra space in the front of the garment for your tackle. There will be a pouch or hammock-shaped section that gently nestles the crown jewels up and away from your body. Some designs even have a dual pouch with different areas for the shaft and balls so that you can separate them even more. 
How to determine pouch size in pouch underwear?
Even though pouch underwear is common, it's still generally only measured by waist size. The pouch size can also vary across brands, with some intentionally making larger allowances while others keep it standard. As such, it can be trial and error to find the perfect pair for your manhood, and what fits well and comfortably for one gent may not suit another.
Is pouch underwear more comfortable?
Underwear is a very personal choice, and not everyone will find the same styles comfortable. However, pouch underwear is designed to be more comfortable in that it keeps your bits cooler, sweat-free, and more hygienic and prevents them from sticking to your thighs. They can also provide more support if you're pretty active. 
What is the benefit of pouch underwear?
There are many benefits to wearing pouch underwear. The main one is that it keeps your crown jewels up and away from your body, which in turn helps you stay cooler, sweat won't gather, and you won't have to unstick throughout the day. It's more hygienic, comfortable, and supportive and can enhance your natural bulge. Keeping your tackle cool is also important for gents in the baby-making stage of life as it can help improve fertility. 
Is dual pouch underwear worth it?
Dual pouch underwear can be worth it if you find it more comfortable. Unfortunately, as what feels comfortable varies greatly between individuals, so the only way to know is to try them. Opt for a single pair first up, rather than a multipack, in case you hate it, and give them a few good wears before you decide if they're excellent or a write-off. 
SUBSCRIBE TO OUR NEWSLETTER
Subscribe to our mailing list and get interesting stuff and updates to your email inbox.