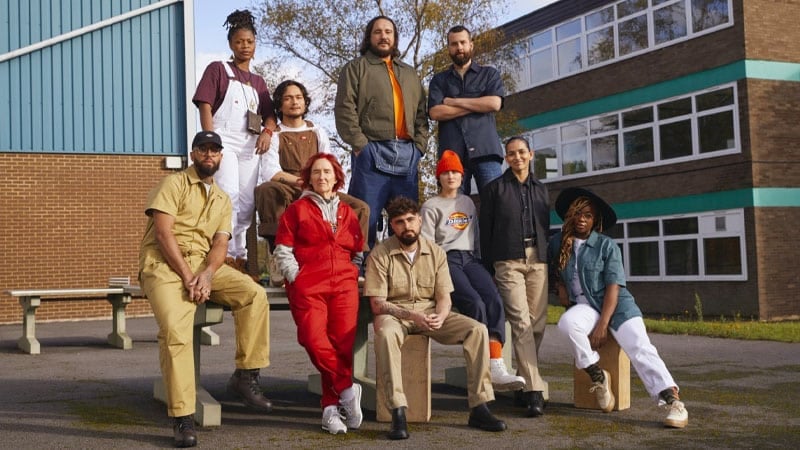 Designed more than 100 years ago, the humble pair of dungarees have dominated blue-collar jobs for generations. Today they're an essential garment for myriad careers and tasks. From gardening to painting and everything in between, they've proven reliable and tough to withstand all conditions. In recent years, they've also become key for skiers and snowboarders and have even entered the fashion zeitgeist. Whether you are heading to the snow or want to update your closet, here are the best overalls for men.
Best Overalls for Men
1. Walls Men's Big Smith Overalls
This pair from Walls is perfect if you are looking for durable and reliable overalls for manual labor. Featuring plenty of pockets for tools and equipment, plus a five-piece pocket on the bib, giving you ultimate storage options for your day. Moreover, the straps on the bib are adjustable, and its denim construction provides plenty of comfort for all-day wear. Whether you need a work-friendly garment or want to experiment with '90s style, this is a great choice.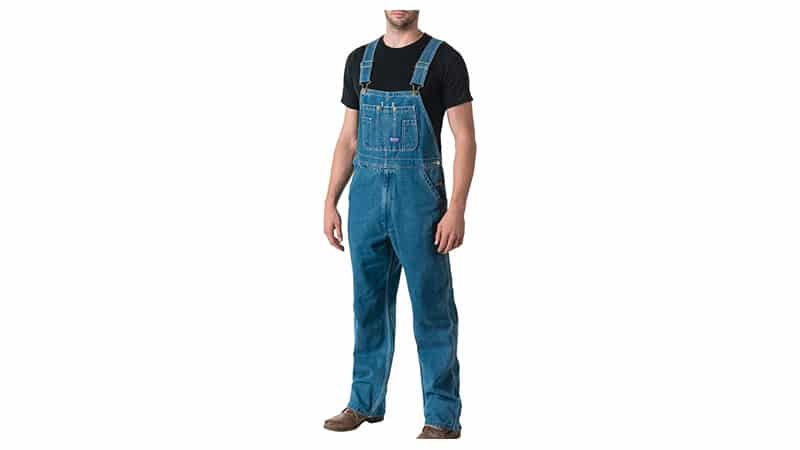 2. Coofandy Denim Overalls
Say hello to the ultimate comfy outfit thanks to these denim overalls from Coofandy. These dungarees are designed for a bigger frame, with longer legs and sizes going up to 2XL. They're lightweight and easy to clean, so you can wear them in any season and keep them fresh anytime. The relaxed fit is looser around the waist and features a big pocket on the bib for ultimate storage. You'll look like a star as soon as you try these on.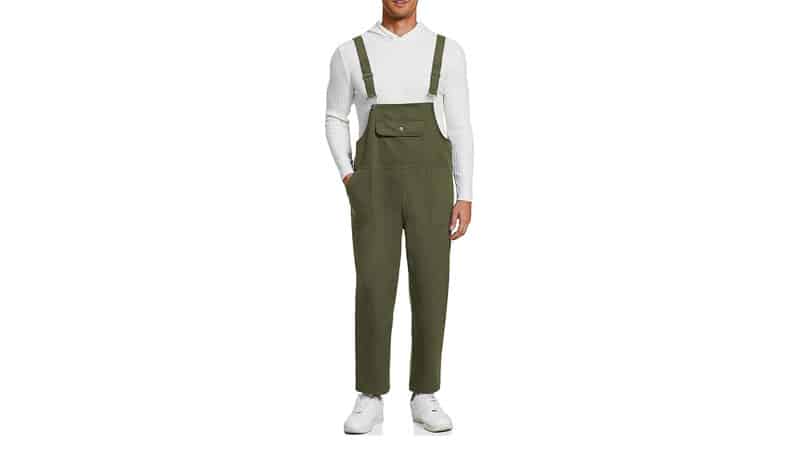 3. Carhartt Unlined Duck Overalls
Carhartt understands the requirements for a comfortable and durable set of work clothes, and this pair of overalls is no exception. Crafted from 100% ring-spun cotton duck with elastic suspenders, you can always enjoy a perfect fit. Thanks to its multi-compartment bib and extra pockets throughout the garment, you will have ample room for your items. Plus, it includes double-later protection on the legs if you need to add knee pads and has reinforced 360-degree kick panels – it's extra tough and perfect for any job.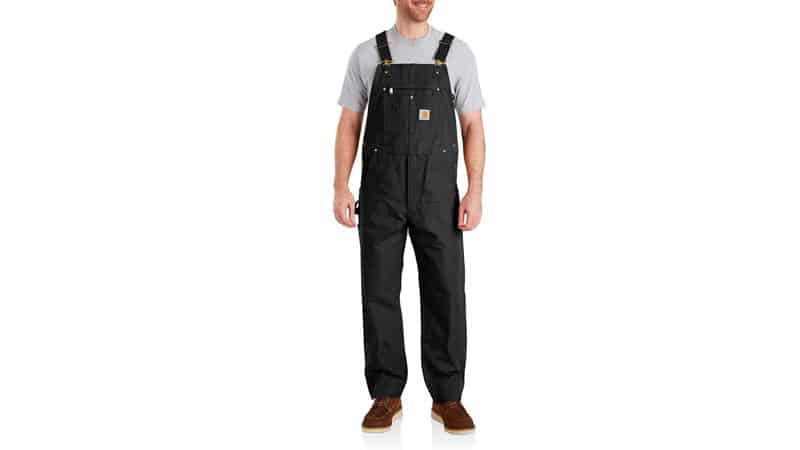 4. Smoke Rise Utility Overalls
For the guys who want to take their fashion game to the next level, look no further than a pair of utility overalls from Smoke Rise. This stylish pair features a low front with a large bib pocket. Its tighter legs provide you with stability with multiple pockets for optimum storage. Whether you are heading to work or out for the weekend, you will be the best-dressed person everywhere you go.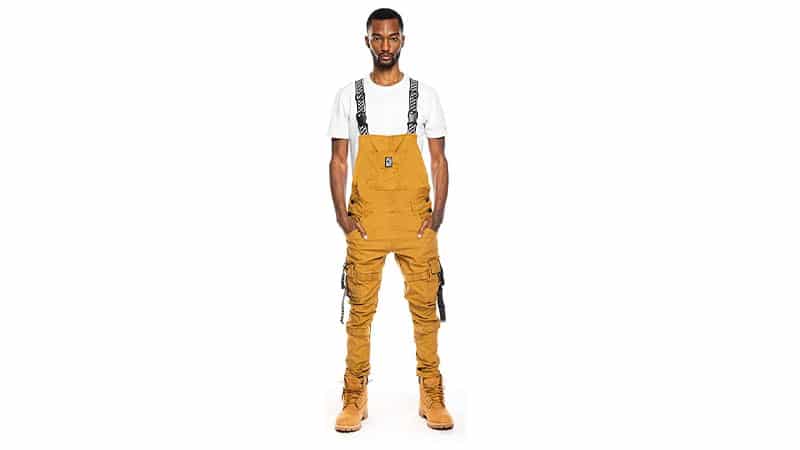 5. Amazon Essentials Snow Overalls
You'll never feel the chill in a set of these overalls. This garment is designed for snow and skiing and provides water-resistant protection and insulation for your whole body. Staying warm in freezing conditions can be tough and harsh, but with a full-body zipper and adjustable elastics, you can easily slip in and out and get a perfect fit every time. It also features a D-ring attachment point at the front, giving you easy access to hook your boot gaiters whenever you need.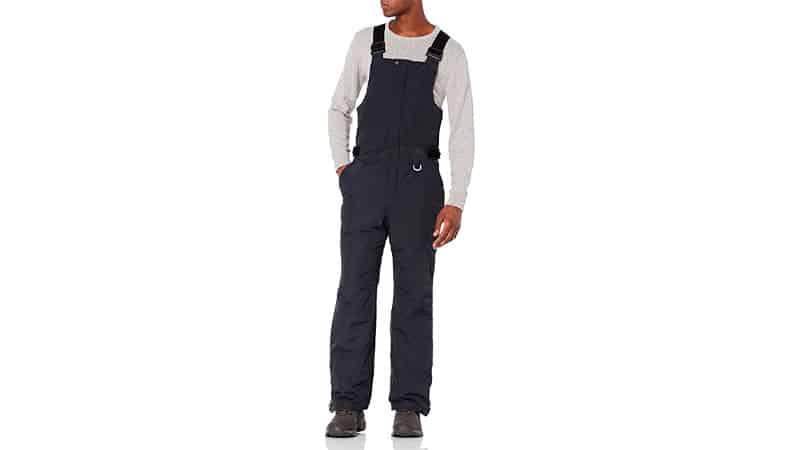 6. Liberty Duck Bib Overalls
Your workday just got more comfortable, thanks to these overalls from Liberty. They are crafted with plenty of pockets across the body, including in the bib and the back. Its cotton duck bib is durable with reinforced bar tacks across stress points. Two colors are available, making them perfect for work, gardening, and everything in between.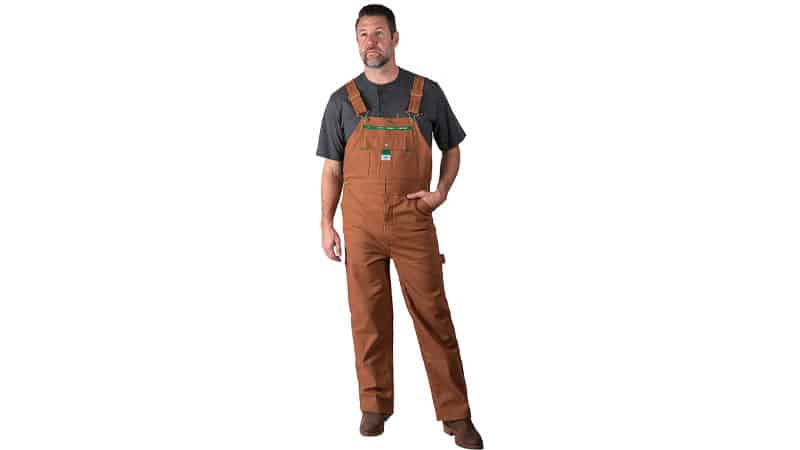 7. Stan Ray Blue Overalls
Why have a regular pair of overalls when you can have something this stylish? Stan Ray's set of dungarees features a denim constriction with light stripes and yellow embroidery. Style these by unclipping the bib on one side and letting the fabric hang, and wear a shirt underneath or nothing at all. You can wear these to the beach, a bar, or anywhere that requires fun and colorful attire. They're the ultimate head-turner.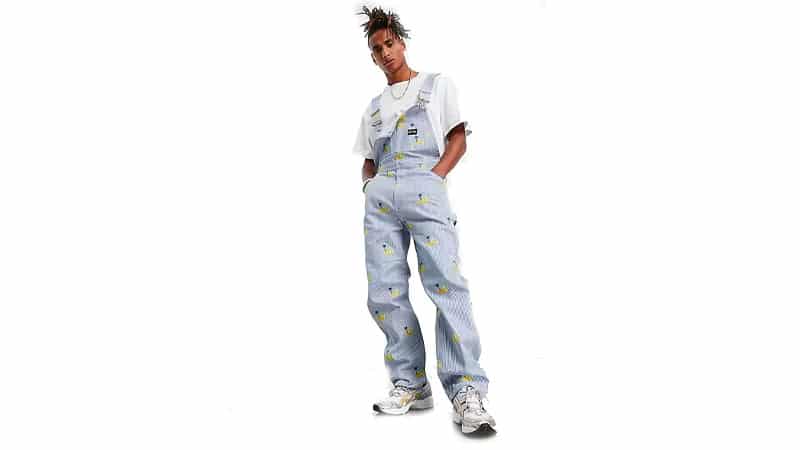 8. Dickies Men's Overalls
From the construction site to a festival, a pair of overalls is a great way to secure essential items and stay comfortable at the same time. These dungarees feature plenty of pockets and a hammer loop, so you can always keep your much-needed items with you. You can wear them repeatedly without fuss with a large bib and triple-stitch seams. There are eight different colors to choose from, so you can wear something different every day of the week.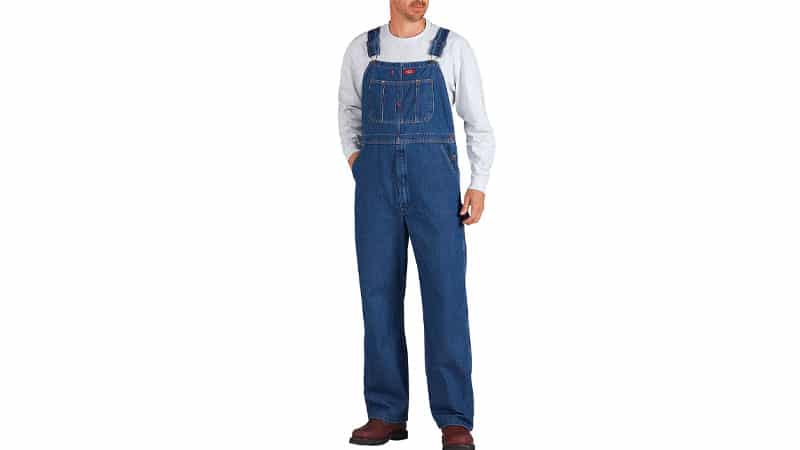 9. DUOltd Denim Overalls
If you want to make a statement with your overalls, look no further than this pair from DUOltd. With a straight-leg silhouette and side button fastening, you can rock them with almost anything and look sleek. It features plenty of pockets across the chest and the back. Thanks to its cotton construction, you will be comfortable all day or night and sure to impress everyone who looks your way.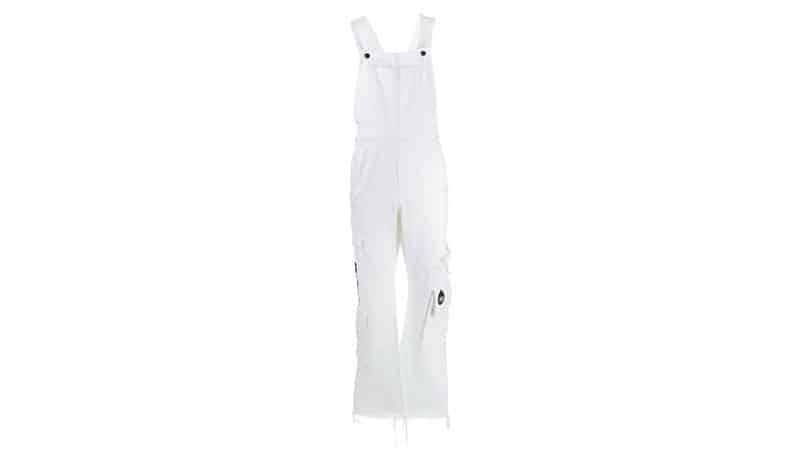 10. Filson Double Hunting Overalls
Protect yourself through any situation with these hunting overalls. Featuring water-resistant Shelter and Tin cloths and sturdy side zippers and clasps for reinforced defense against the outdoor elements. It also includes zips on the bottom half of the legs, so you can easily slide the pants over the boots. With camouflage-friendly colors, you can hide in the environment while keeping all of your essential items by your side.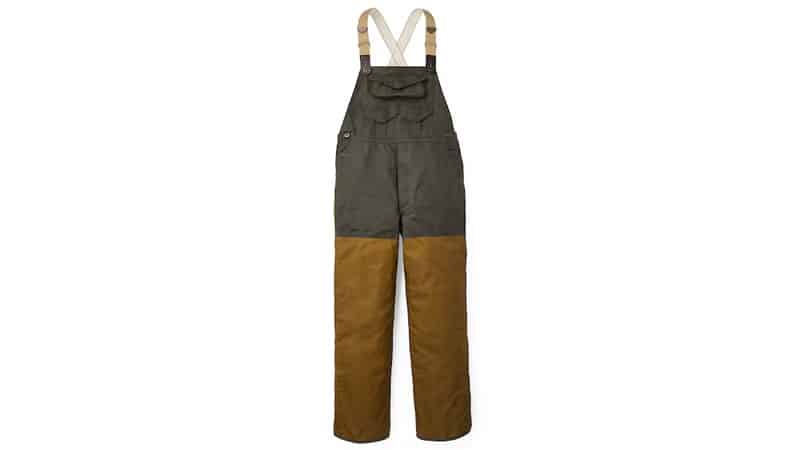 11. Polartec Swoveralls
Combining a pair of overalls with a tracksuit would give you a set of Polartec Swoveralls. These super comfortable garments don't have a waistband, so they sit easily around the stomach, allowing ample room to relax and breathe. They feature soft fleece inside and a durable outside so you can wear them almost anywhere. Plus, they come in various colors, meaning you can find the perfect fit to suit your taste.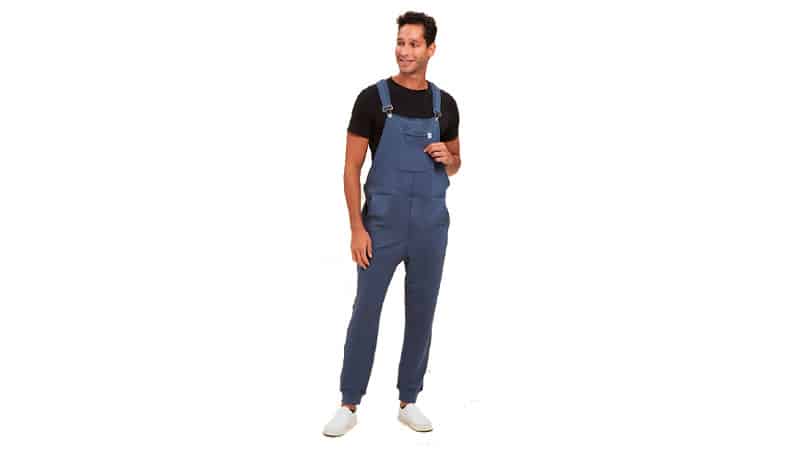 12. BenBoy Snow Overalls
Are you heading to the snow and needing something comfortable, warm, and insulated? You can't look past the overalls from BenBoy. They're specifically designed for skiing and snowboarding, allowing ultimate movement while locking in heat and protecting you from harsh temperatures. Featuring a construction of polyester and heat-trapping and water-repelling technologies, it will keep you warm and dry no matter the conditions.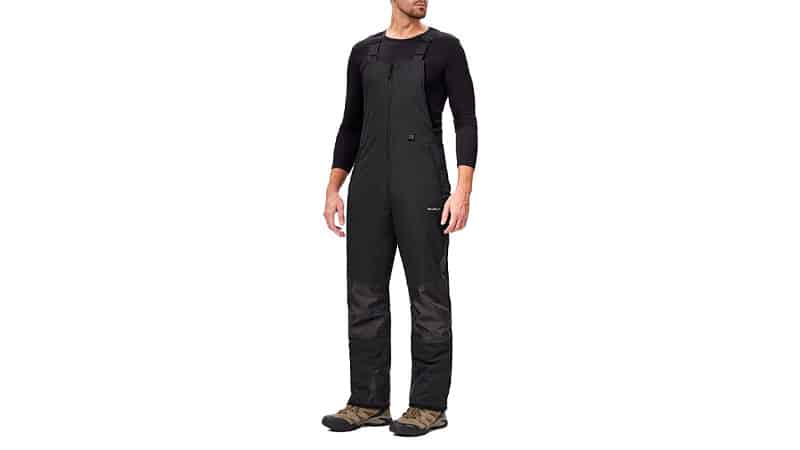 13. Carhartt Unlined Overalls
Upgrade your current work outfits with a set of unlined overalls from Carhartt. With adjustable suspenders at the front and a large front bib pocket, you can keep items like your phone and other electronics safe from falling out. The pants are stretchy, allowing you to move around without needing to tug and readjust your clothes. Plus, with double back pockets, you can store plenty of necessary items, so you can focus on getting your work done.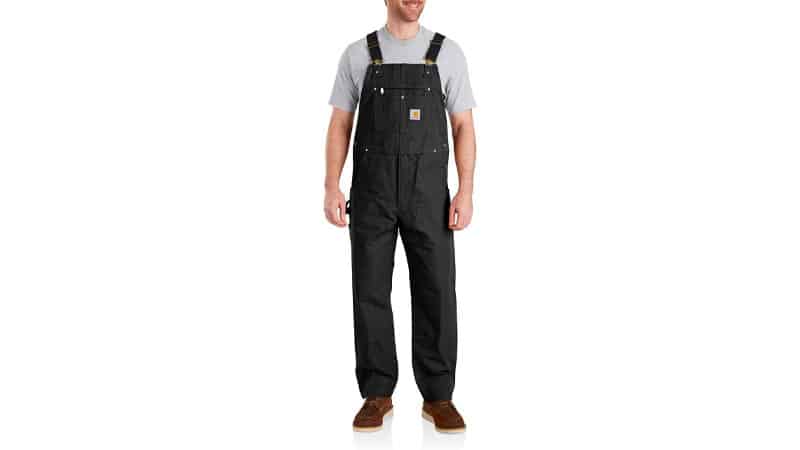 14. Longbida Denim Overalls
You were born to stand out, so why do it in a pair of denim overalls from Longbida? This statement piece features a tighter bottom half and looser waist, which accentuates your calves and gives you room to breathe. There are many colors to choose from, so you can style them however you wish. This style is best suited for a casual look – style them with sneakers and your favorite shirt.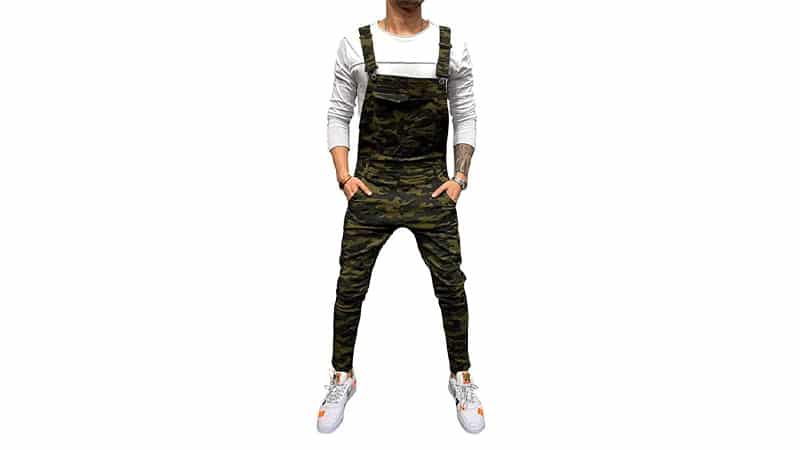 15. Key Apparel Washed Overalls
Not all overalls were born equal, and this set from Key Apparel is proof of that. Featuring its signature design, it's been a favorite for wearers since 1908. The denim construction features diamond-back and triple needle stitching for extra strength, meaning you can wear them for years. And washing them has never been easier – throw them into a cold wash and tumble dry, simple as that!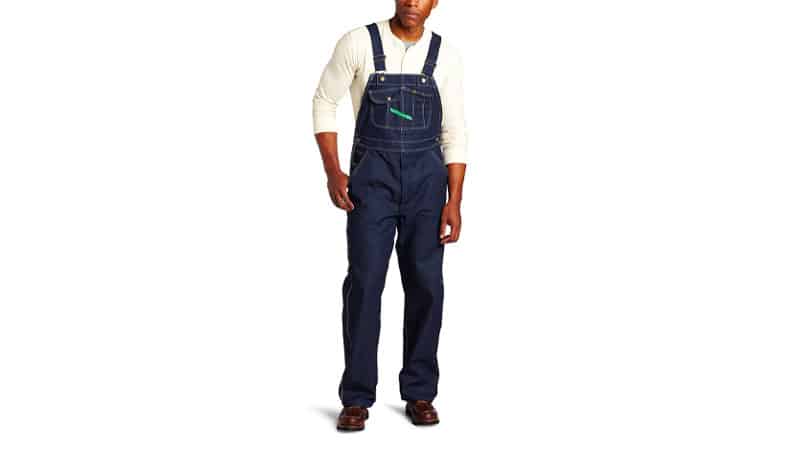 The History Of Overalls For Men
The history of overalls goes back to the late 19th century, thanks to Levi Strauss & Co. Theiconci denim manufacturer first developed this simple design in the 1890s, specifically for laborers and workers in the blue-collar industry. The design features a bib at the front, designed to stay secure around the shoulders and provide extra storage for tools and equipment. In under 150 years, they have become more than just a uniform for construction sites and hunting; they're also popular amongst painters, handymen, gardeners, and in the snow. They're also a popular choice amongst the fashion-conscious, as they make for perfect casual outfit attire.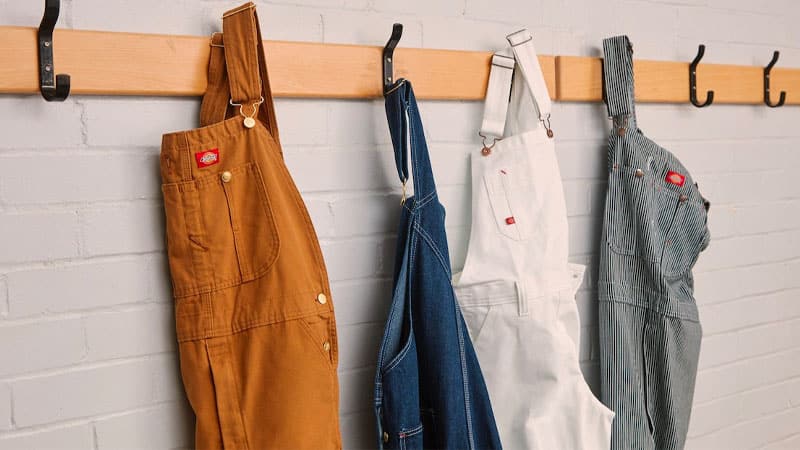 What To Look For in Men's Overalls
Occasion
The type of overalls you select depends entirely on the event or occasion you attend. While most dungarees are created for heavy-duty use, such as on a construction site or for labor, you can also find appropriate designs for hunting or fishing. Those who enjoy skiing and snowboarding can benefit from a pair of overalls as long as they keep the body warm and protected from wet weather. Other occasions that call for a pair of coveralls include casual settings and loungewear – this calls for soft and loose fabric.
Fabric
Just like the occasion, the fabric you select depends on why you wear overalls. For instance, if you are heading to a job requiring a lot of heavy lifting or using tools, you will likely need to wear something heavy-duty with a lot of pockets. However, if you are preparing for a ski trip, you would be better suited to a set of dungarees with insulation and water-resistant fabrics. Sticking to breathable and comfortable fabrics and a looser fit for casual settings would be best.

Fit
Unlike traditional clothing, overalls combine the top and bottom half into a single garment. This considered, it can be daunting trying to figure out what size you should get. Be mindful of the length of your legs and torso, as they aren't always a one-size-fits-all. Ensure the legs have enough room to bend down in – they shouldn't be so tight that you can't freely move around. Be mindful of its straps, too. Choose something with adjustable clasps or elastic, as anything too long or short can cause issues like discomfort and items falling from your pockets.

Water Resistance
If you are preparing for cold or wet temperatures, you must choose a water-resistant fabric. Polyester is usually the most common type used for hunting, skiing, and fishing overalls. Still, you can also find water-repellent technology that will keep you fresh and dry, no matter the conditions.

Pockets
The beauty behind overalls is their practicality. With many pockets, you can keep essential items by your side – this is ideal for labor jobs, painting, and anything that requires tools or equipment. Usually, a pair of dungarees will feature five pockets – one on the bib, two at the front, and two at the back. The large bib pocket is perfect for your electronics and sometimes features separate sections for pencils, screwdrivers, and everything in between. Be on the lookout for pockets with closures, as they keep your items extra secure.

Zipper Fly
If you've ever worn a pair of dungarees without a zipper fly, you'll appreciate how much effort it takes to use the bathroom. So when you purchase a pair of overalls, double-check that it features a zipper fly – this will save you the hassle of fully undressing every time you need to visit the restroom. You can thank us later.
Reinforced Knees
While the occasion may not call for it, some pairs of overalls feature reinforced knees to protect your joints while you kneel down. In other cases, some feature an extra roomy flap at the knee so you can add your own knee pads. Not only will this protect your bones, but it will also prevent the fabric from wearing down too quickly, giving your clothes a longer shelf life.
Overalls for Men FAQs
What are men's overalls called?
Men's overalls have a few different names, depending on your location. In the US, Australia, and in many other countries, they're referred to as overalls. However, in the UK, they are most commonly called dungarees.
What is the difference between coverall and overalls?
Coveralls and overalls may sound similar, but they're quite different. Both feature protection over the body with legs attached, and overalls feature a bib at the front with a large pocket and suspenders. Coveralls, on the other hand, feature sleeves and fabric that covers the shoulders, front, and back of the wearer.
Are overalls cool for guys?
Overalls have been around for more than 100 years, but only in the last few decades have they become a fashion statement in everyday circles. While the trend comes and goes in waves, this design is usually a comfortable and stylish choice for men. Style it with a comfortable t-shirt and sneakers; you will look fantastic and feel great.
What company makes the best overalls?
Many brands offer fantastic dungarees, depending on the occasion you are attending. For work that requires labor, it's best to turn to brands like Carhartt and Walls, which offer superior quality and last for years. Other great brands include Dickies and Pioneer, thanks to their functionality and relatable fabrics.
SUBSCRIBE TO OUR NEWSLETTER
Subscribe to our mailing list and get interesting stuff and updates to your email inbox.