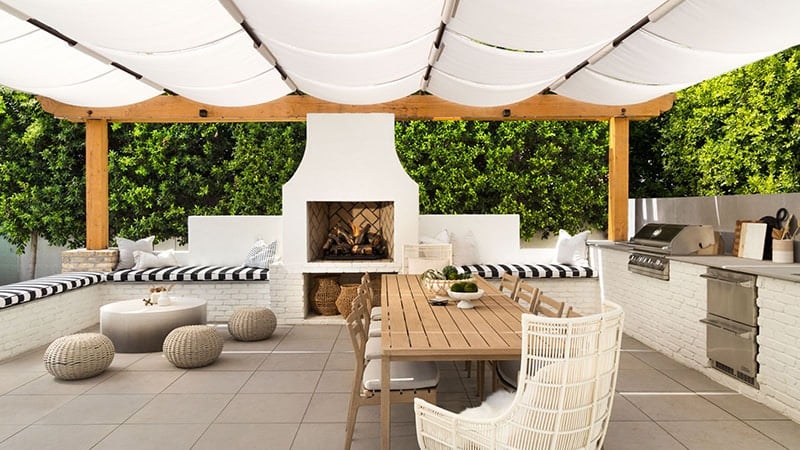 What better way to appreciate nature and its beauty than opting for an outdoor kitchen? They are a great addition to any home and will boost its value, but they also make mealtimes more fun and social. There are many ways to design your space, from decor with a rustic charm that feels at place in your yard, to modern or minimalist designs that benefit from clean lines, clever lighting, and unusual finishes. If you have a small space, you can opt for a compact kitchen or create a large, open-plan area that also includes a living area to relax after a long day. If you want to update your home, these outdoor kitchen ideas will help you do just that.
1. Antique Inspired Kitchen with Brick Wall
If you want an outdoor space that feels luxurious but also full of character, then you can create it to look antique using finishing touches like a statement light feature and a mix of different materials. Wood and metal furniture, an old-fashioned-looking cooker, and a brick wall create the perfect combination.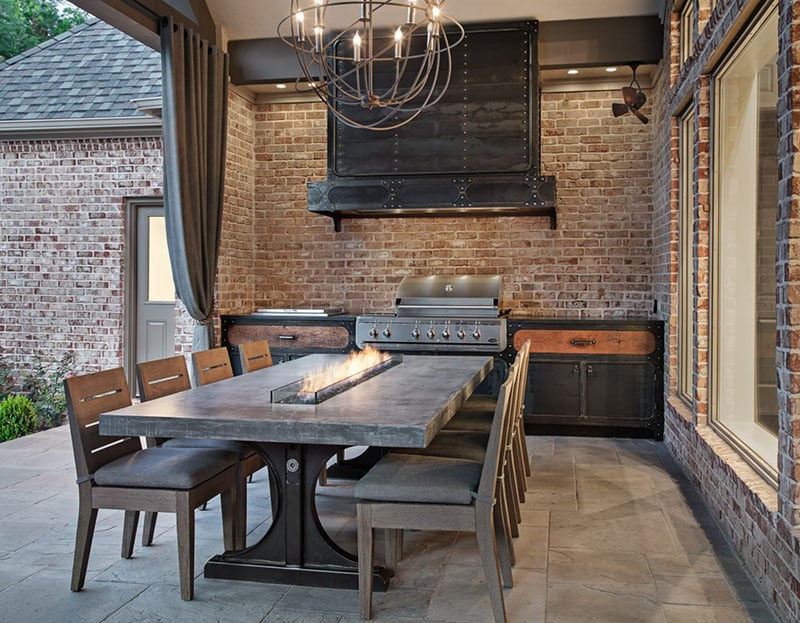 2. Artistic Outdoor Kitchen
The right furnishings can transform a room and make it feel unique and personal. Art is one of the easiest ways to achieve this, and adding statement pieces, including sculptures or unusual furniture, will make for an eye-catching space that can boost your creativity and your mood.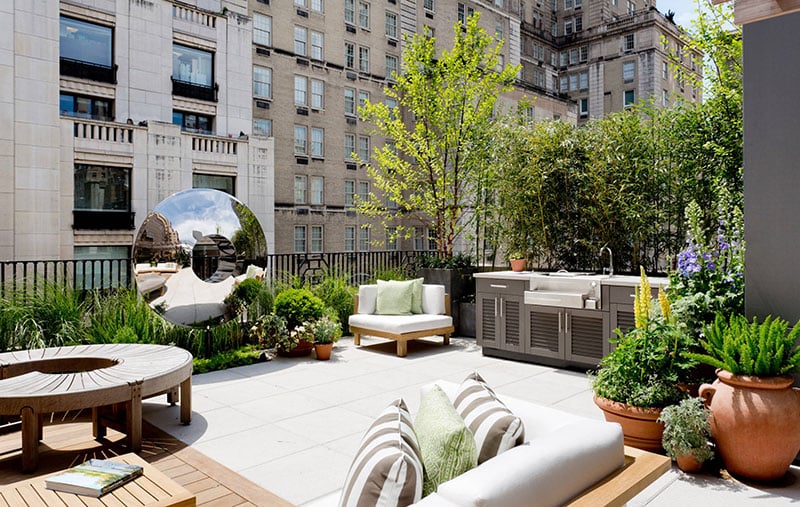 3. Backyard Outdoor Kitchen
Having an outdoor kitchen in your backyard is a great way to be able to fully enjoy the space and spend time outside. It is the perfect spot for entertaining in the summer months and getting cozy around a heater when it's colder. You can also include a television and bar stools to add to the appeal of this outdoor entertainment area.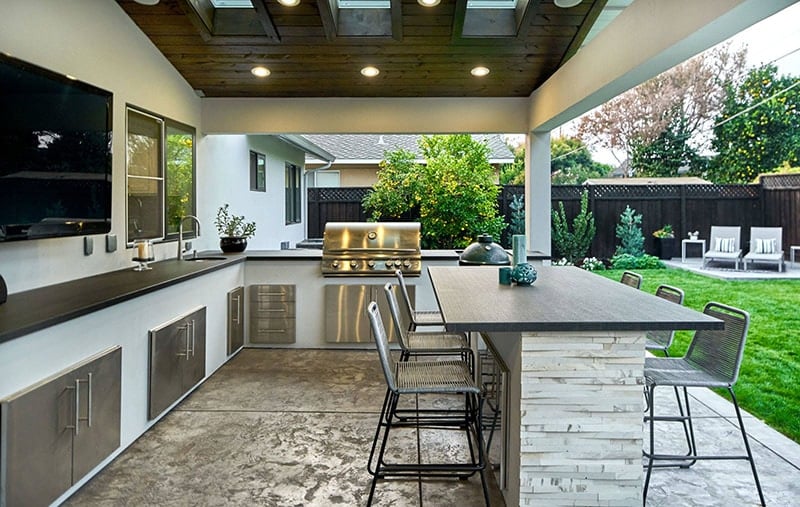 4. BBQ and Wood Fired Pizza Oven
If you are a foodie or love to entertain guests, it doesn't get much better than an outdoor kitchen complete with a wood-fired pizza oven and a BBQ. These pieces can be a feature of the space, which you can complement with a wooden seating area and cushions for comfort and style.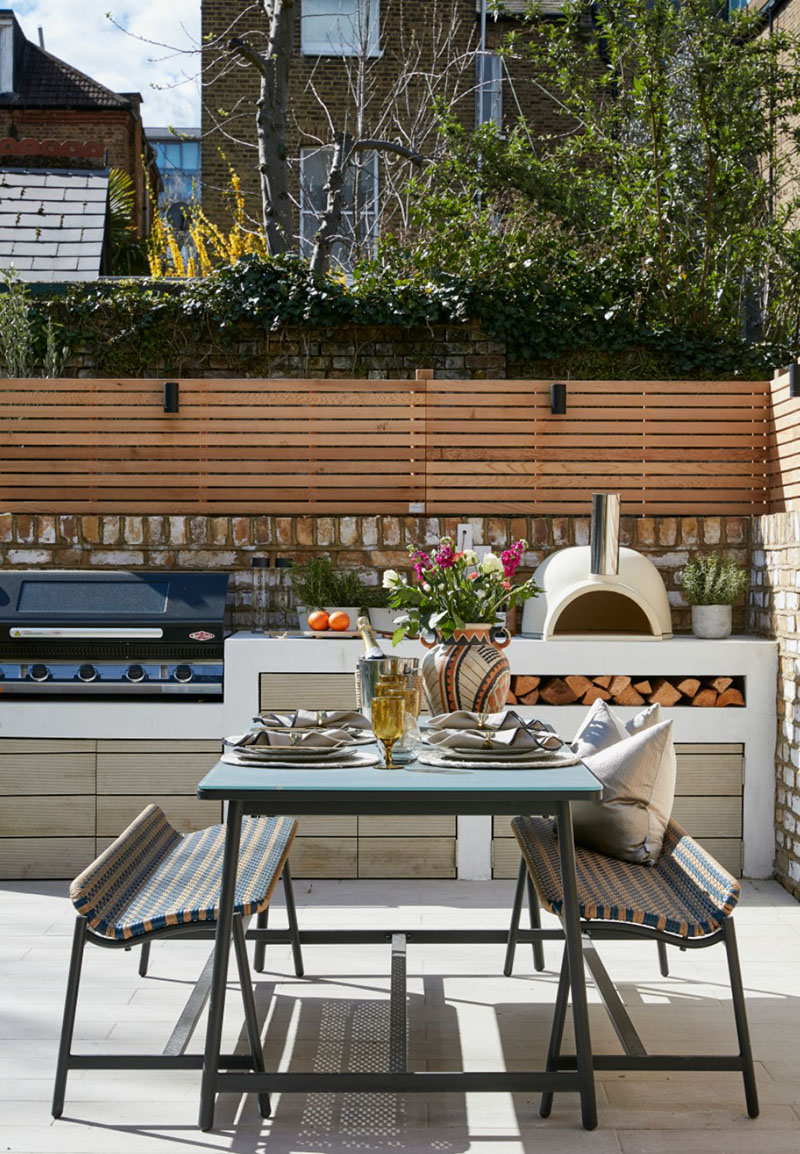 5. Beautiful Al Fresco Kitchen
Al Fresco dining refers to eating outdoors, which is a wonderful experience, especially in warmer climates. If you live in an area that regularly has good weather, then design your outdoor kitchen to be open-plan and enjoy the view of your pool or a garden.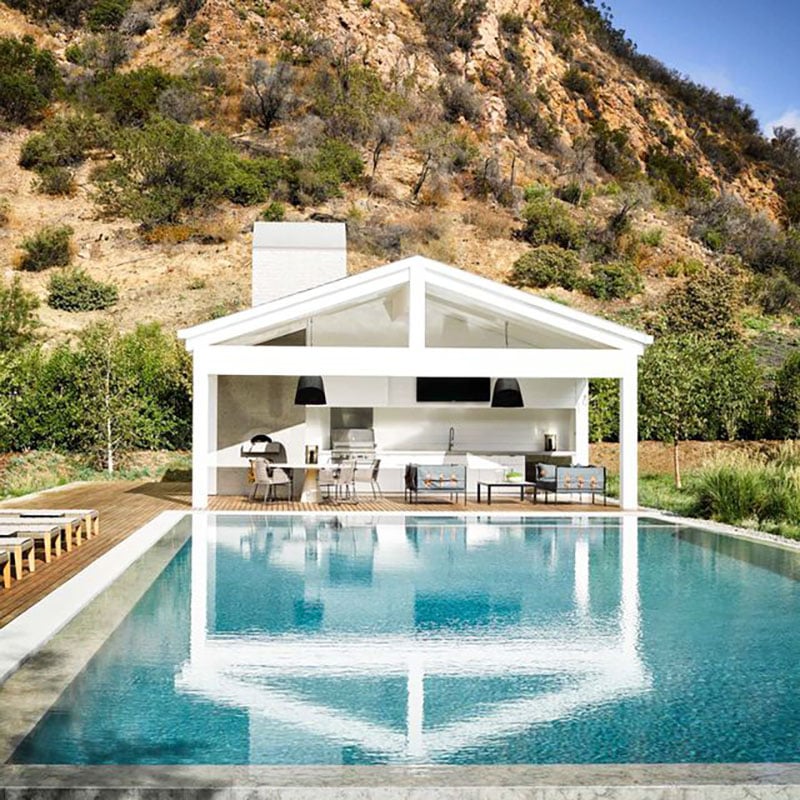 6. Black and White Stripes with Yellow Pop
A monochromatic color scheme like black and white is ideal because it is timeless and versatile. It also mixes and matches everything, and for a room that is eye-catching and demands attention, you can also include a pop of yellow, for example, yellow seats. This is for the lover of retro decor.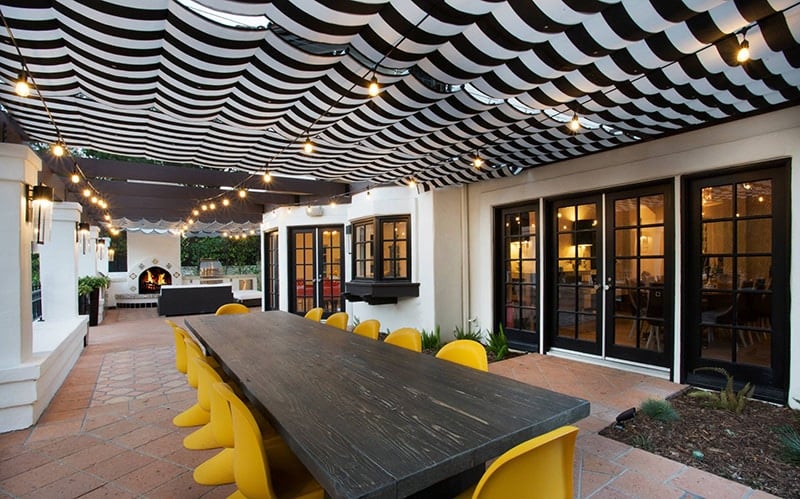 7. Black White and Wood Elements
Black and white can also be styled to look elegant and sophisticated, and the muted color scheme is incredibly versatile. Adding wood elements to your outdoor kitchen will give it warmth and create a slight contrast with the black and white color scheme.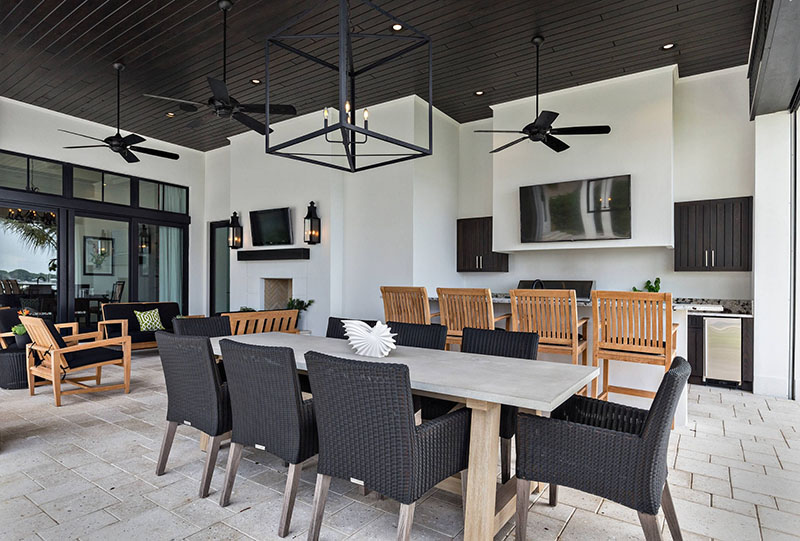 8. Blue Outdoor Kitchen
Blue is one of the most desirable colors for an outdoor kitchen because it is a color associated with calmness and serenity. Painting your space with your favorite shade of blue, whether a soft, muted shade or a rich deep tone, can help boost relaxation and let you fully enjoy spending time outdoors.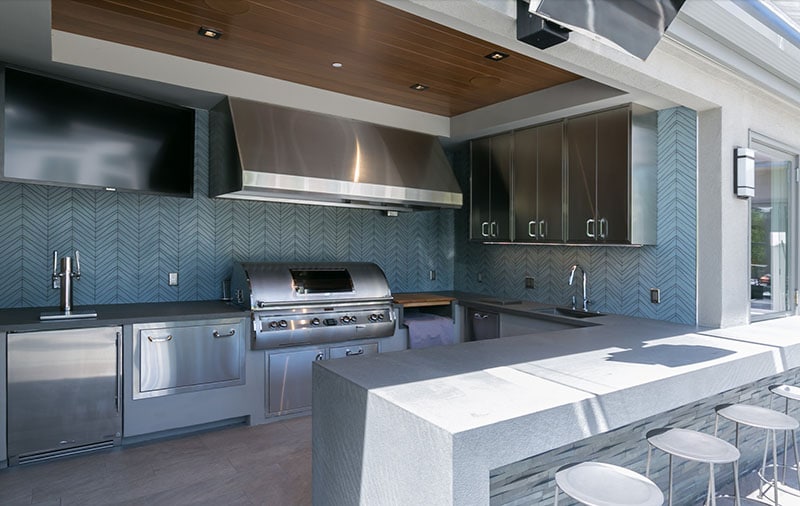 9. Brick Feature Wall
A brick wall feature is a fantastic addition to an outdoor kitchen space. The undone feel and textural finish make it a standout feature and can also create a contrast with the rest of the space. You can opt for rustic or industrial-inspired decor or complement the bricks with modern elements.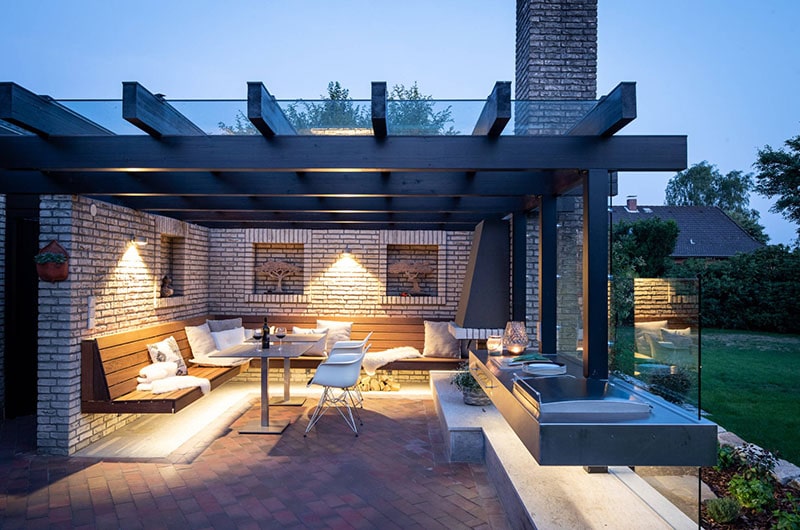 10. Coastal Kitchen
To fully enjoy the coastal beauty and create an outdoor kitchen space that complements it, it is best to stick to a natural and muted color scheme, including off-white or Tuscan-washed colors and wooden and wicker furniture.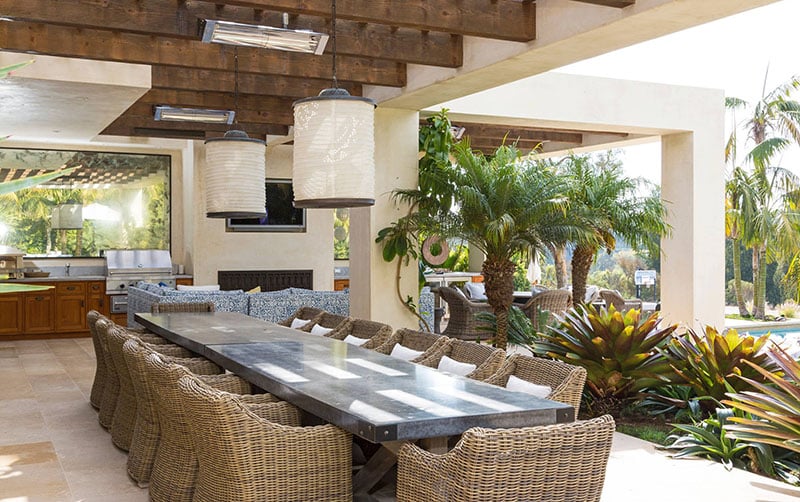 11. Communal Outdoor Kitchen
If you have a really large space or live in a shared space, it is a great idea to create an outdoor kitchen that makes socializing easy. This can be achieved by focusing the cooking station in the middle of the space and surrounding it with tables and chairs.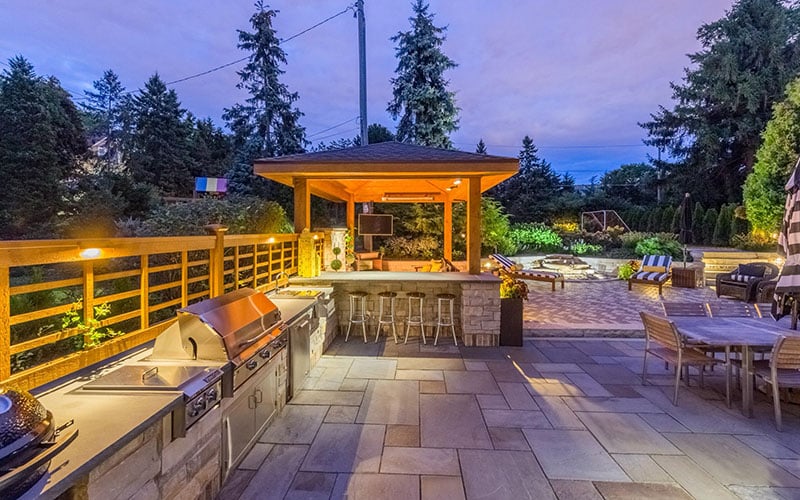 12. Compact Outdoor Kitchen
You do not need a large yard or a big space to create the outdoor kitchen of your dreams. Utilizing the space to make a compact kitchen is a wonderful choice. You can focus the kitchen area against the wall to save space.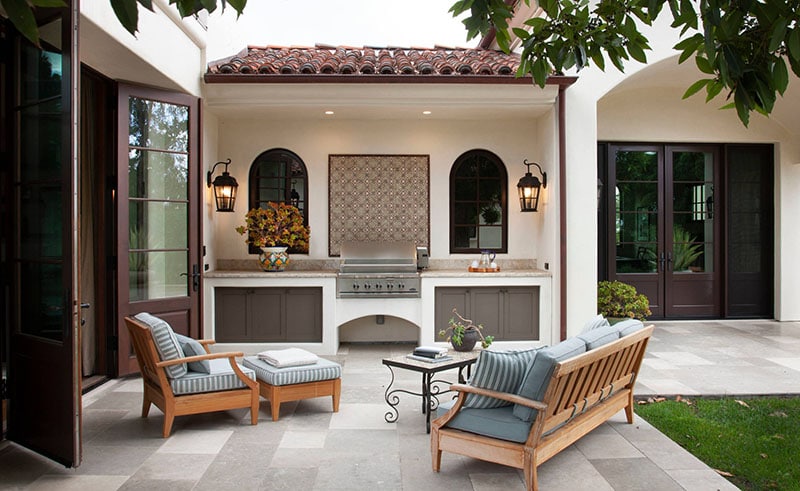 13. Cozy Outdoor Kitchen
Creating a cozy space that feels warm and welcoming can be achieved with the right lighting. Fairy lights, rustic-looking bulbs, and a statement light feature are excellent choices. You can complement the space with wooden furniture and bright cushions or table settings.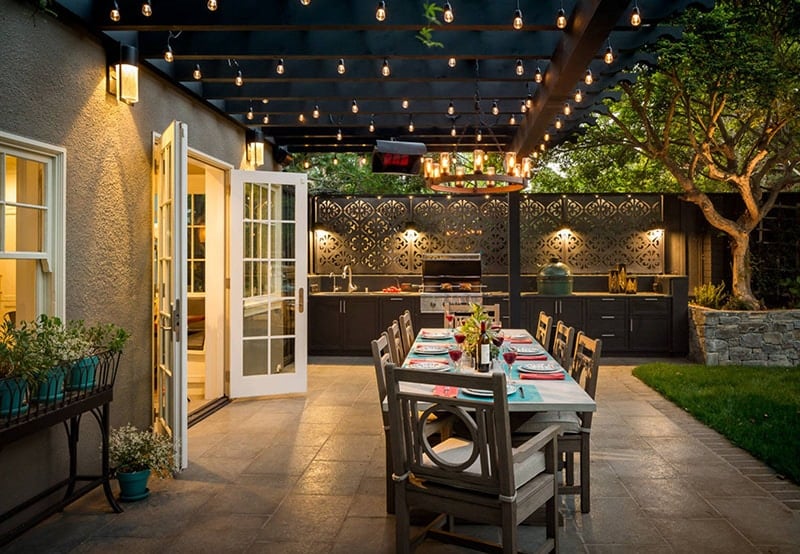 14. Country Pergola Outdoor Kitchen
A pergola is an arched wooden structure that can transform your garden into the outdoor kitchen of your dreams. This is the ideal choice for warm climates and those who enjoy al fresco dining. To give character to the pergola, you can also add vines or climbing plants to the side of the structure which does not have the kitchen installed.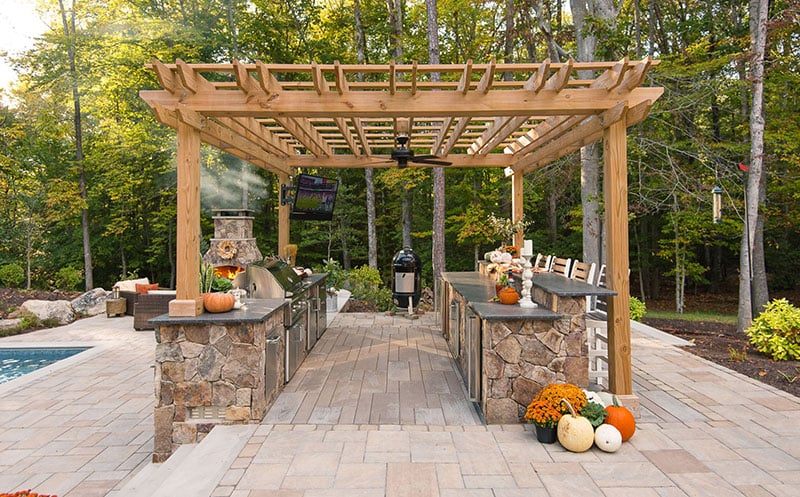 15. Different Shades of Wood
Wood is a great choice for any outdoor kitchen as it creates a natural appearance that complements the surrounding area of your yard. To create a contrast, you can opt for different shades and types of wood for your seating area and your kitchen space.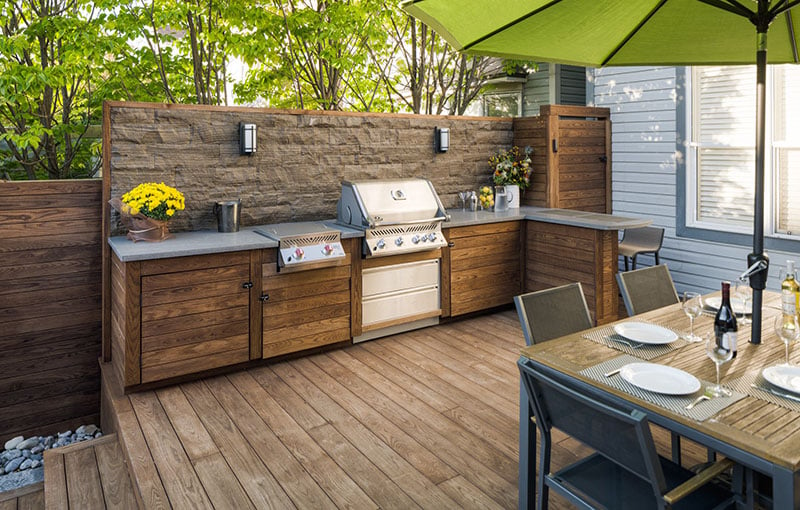 16. Dining Table Overlooking the Pool
If you have a pool, it is a great idea to create an outdoor kitchen near it, giving you a space with a view. This is also practical and an extra safety measure if you have children who may be swimming in the water while you are eating or cooking.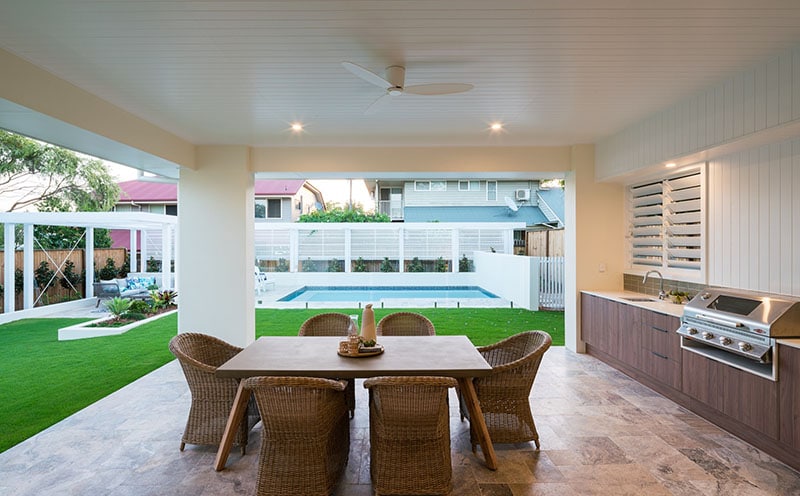 17. Feature Fireplace
A fireplace is an excellent addition to an outdoor garden and will ensure that you are kept warm on cooler days or when the sun goes down. The fireplace can also be a feature of your space, adding warmth and light.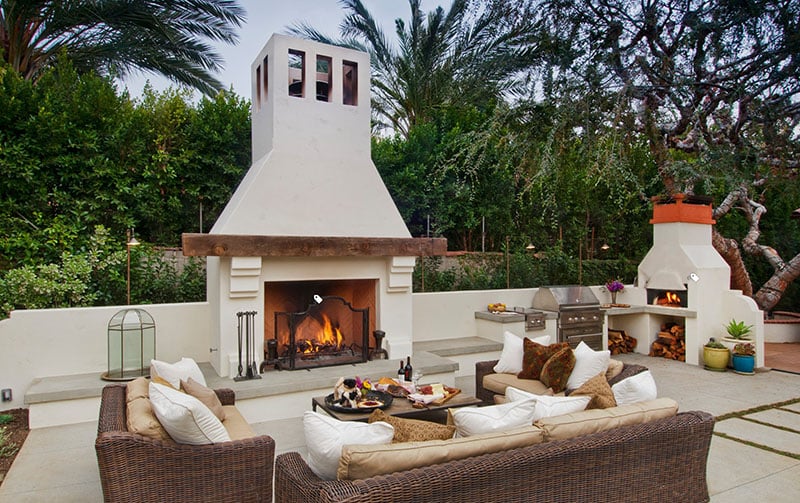 18. Frosted Glass
Frosted glass is a wonderful addition to your outdoor yard if you want to create more privacy or security without blocking out any sunlight. It looks great, but it is also a practical option, making your space feel bigger and brighter.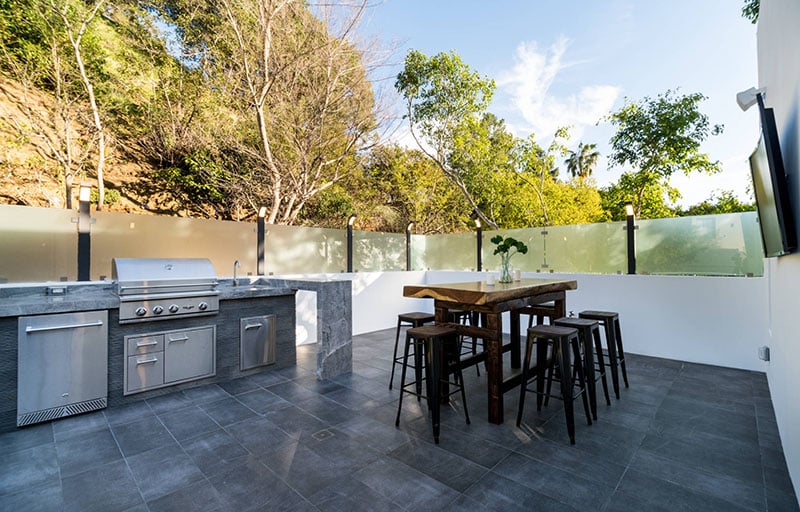 19. Green Outdoor Kitchen
Having plants in your outdoor kitchen and seating area can make it fit in better with the rest of the surroundings. Climbing plants or vines are also an excellent addition to a pergola. You can also add potted plants and choose pots that are a standout feature or a bright color to let the space reflect your style.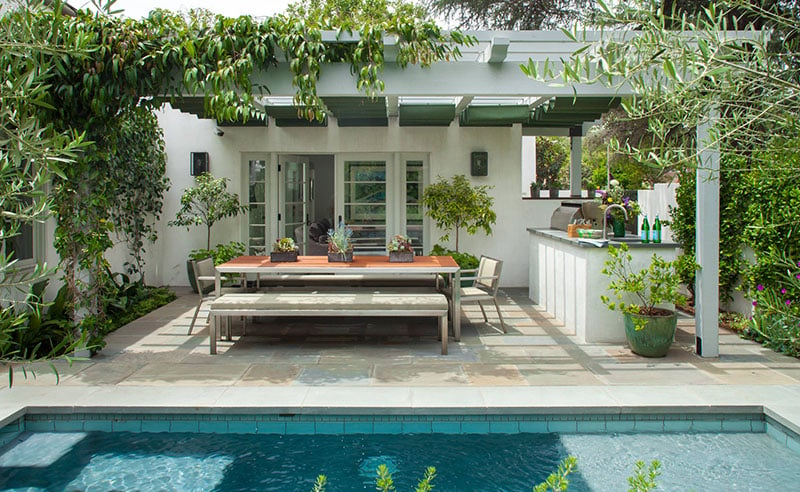 20. Grey Outdoor Kitchen
Grey is a fantastic color because it is associated with neutrality and balance. Depending on your preference, there are various shades to choose from, from light hues to dark, moody tones. Grey can also be mixed and matched easily, including metallic elements or wooden furnishings.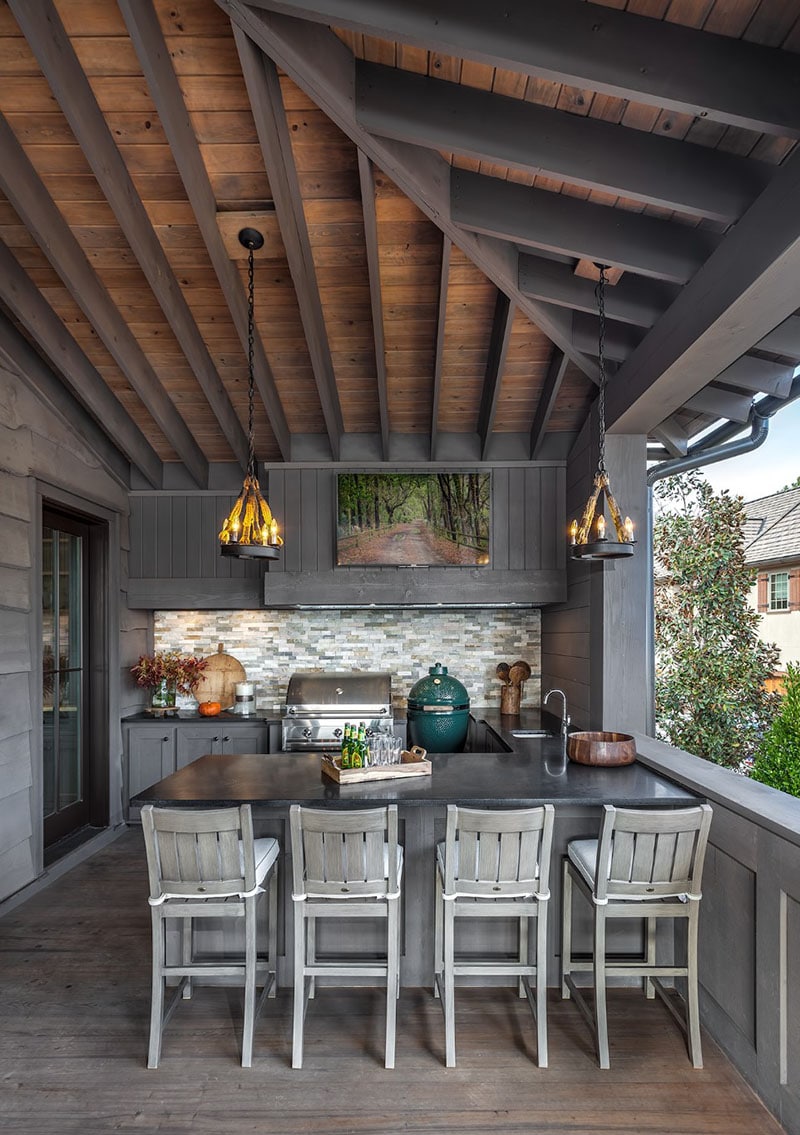 21. Indoor Outdoor Kitchen
To account for the rain, protect from the sun, and make the space warmer, you can opt for an indoor-outdoor kitchen. This outdoor area is covered and situated right against the home. You can leave the one side completely open or opt for large, glass sliding doors to close it off when needed.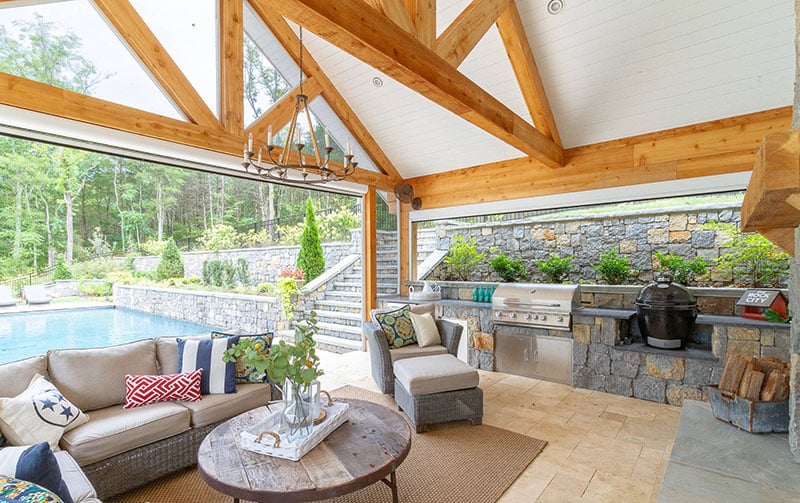 22. Inner City Outdoor Kitchen
For an industrial and modern outdoor kitchen that complements its city surroundings, you can complete the space with large metal pillars, unusual light fittings, and greenery lining the walls' sides. The result is a trendy inner-city outdoor kitchen.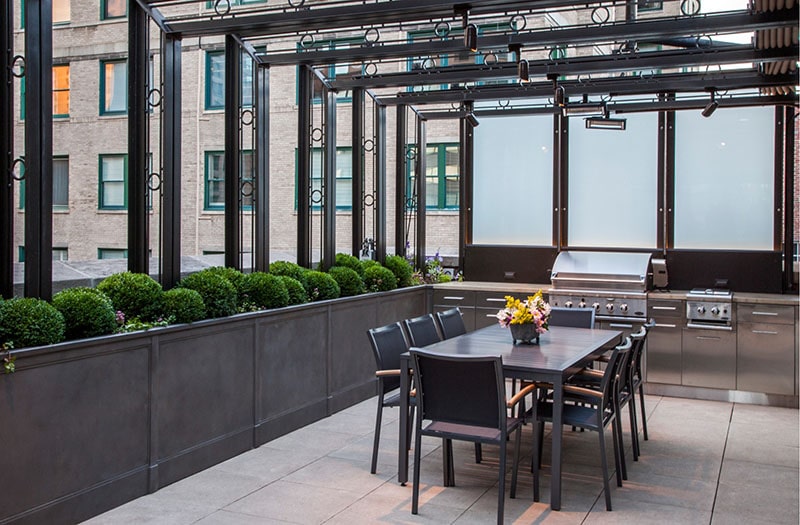 23. ​​Italian Inspired Outdoor Kitchen
If the Italian approach to dining has inspired you, you can create your own space that reflects this. You can achieve it with a mixture of warm colors, wooden details and wicker furniture, and a natural wall. It should feel warm and inviting.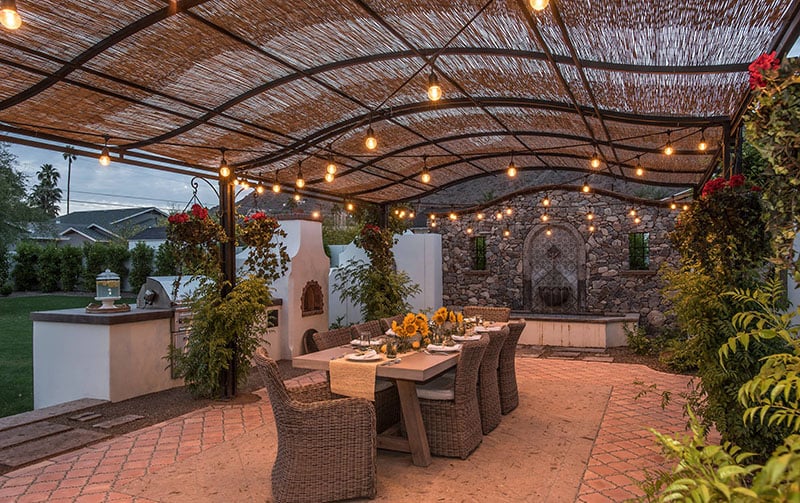 24. Kitchen by the Pool
Let your pool be the view for your outdoor kitchen. Create a seating area that looks onto the pool, making this a social way for guests or family members to chat with each other while swimming, eating, or relaxing.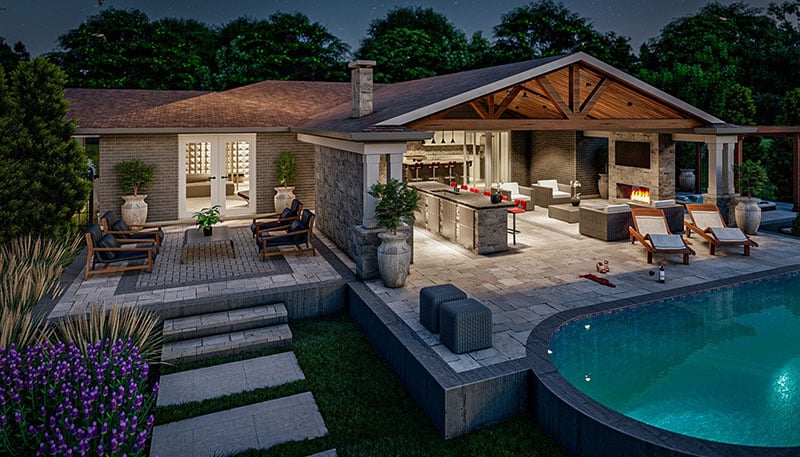 25. Kitchen with Rattan Outdoor Furniture
It is a great idea to stick to a color scheme of white and wooden details for a bright and modern space. To create a texturally interesting finish, you will also benefit from rattan furniture. This woven outdoor furniture is crafted using rattan vines and has a very distinct appearance.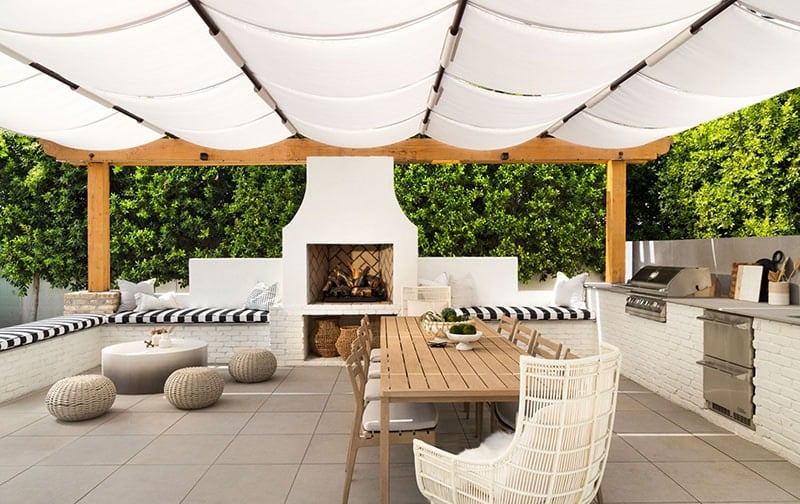 26. Kitchen with Sunken Entertainment Area
The versatility of a sunken seating area and your outdoor kitchen is one of the reasons it is so appealing. The area will make the space more visually interesting, but it is also great for entertaining and feels more intimate.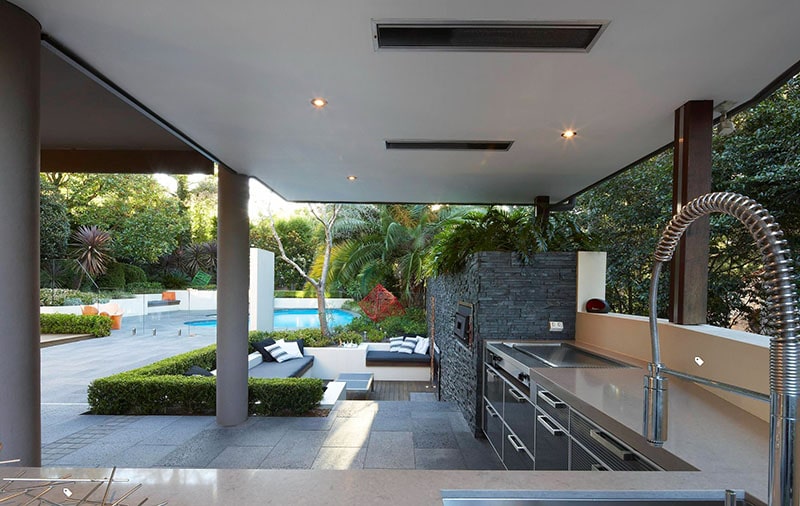 27. Marble Wood and Brick Elements
The marble looks luxurious, but it is also a great addition to any home because of its durability and longevity. For an outdoor kitchen space, you can combine your marble floors and countertops with brick walls to create an interesting contrast.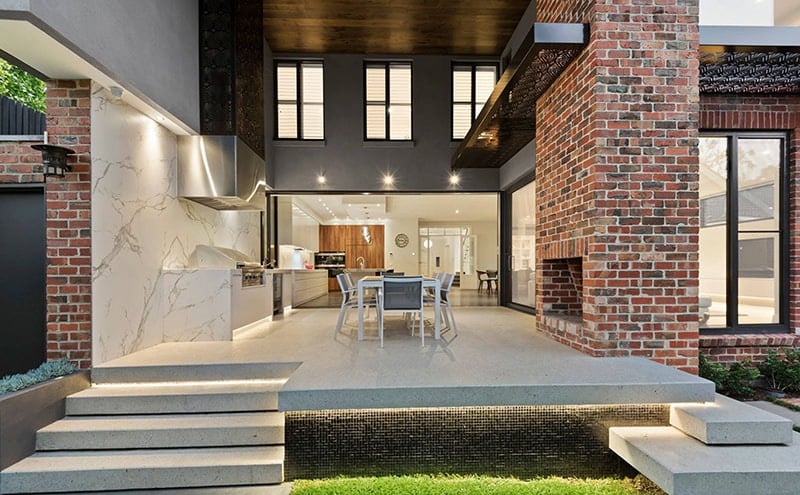 28. Minimalist Outdoor Kitchen
For those who prefer a minimalist approach to decor, outdoor kitchen space can reflect this by keeping the clutter and decor to a minimum. This area is characterized by clean lines and simplicity and will complement any home.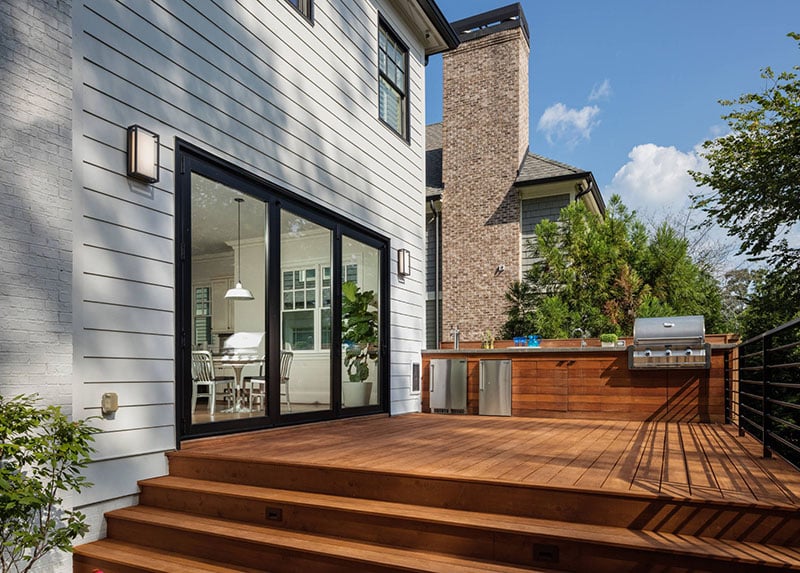 29. Modern Apartment Outdoor Kitchen
Modern decor and furnishings share some similarities with minimalism and often focus on a limited color palette, clean lines, interesting and unusual decor, and great use of lighting. With an outdoor kitchen, you can combine natural and artificial lighting for a space that feels brighter, bigger, and more welcoming.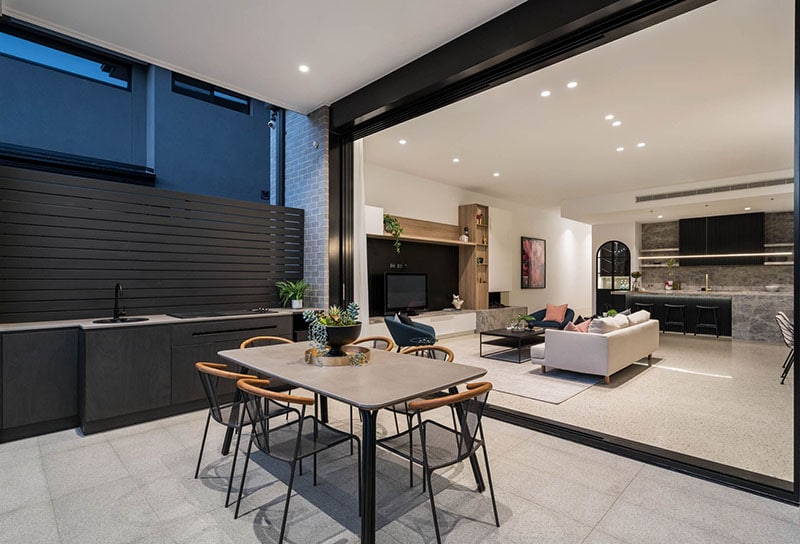 30. Monochrome Outdoor Kitchen
The classic monochromatic color scheme of black and white is versatile and timeless. There are many ways to introduce it to your outdoor kitchen, depending on the finish you wish to achieve. It can feel modern or retro and compliments all furniture, from wooden chairs and metal countertops.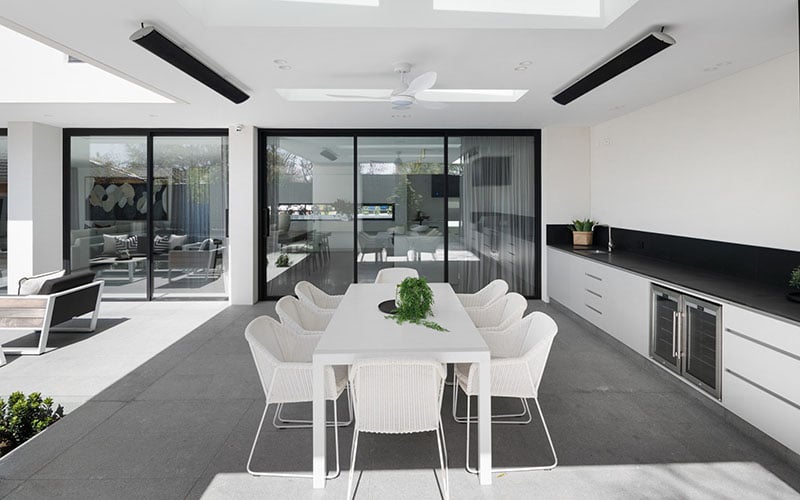 31. Mood Lighting
The right lighting can transform your outdoor kitchen space, and opting for a lot of warm lights will help you unwind after a long day. Warm light is less bright and can set the mood for romance, relaxation, and more. You can add the lighting in different ways, including overhead and LED strips.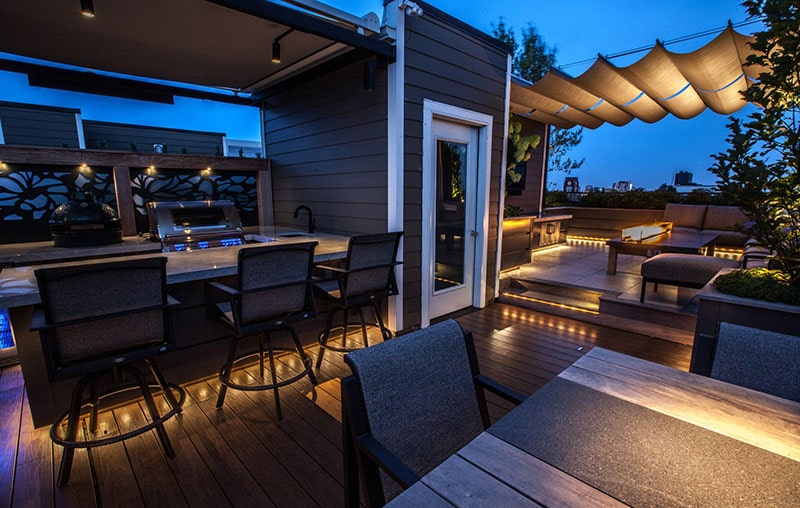 32. Mosaic Splashback
Mosaic tiles can make for a standout feature in your outdoor living space and can be the color of your choosing; you can also create a detailed image or pattern. This is also a smart choice to feature behind your kitchen appliances because these tiles are stain-resistant and easy to clean.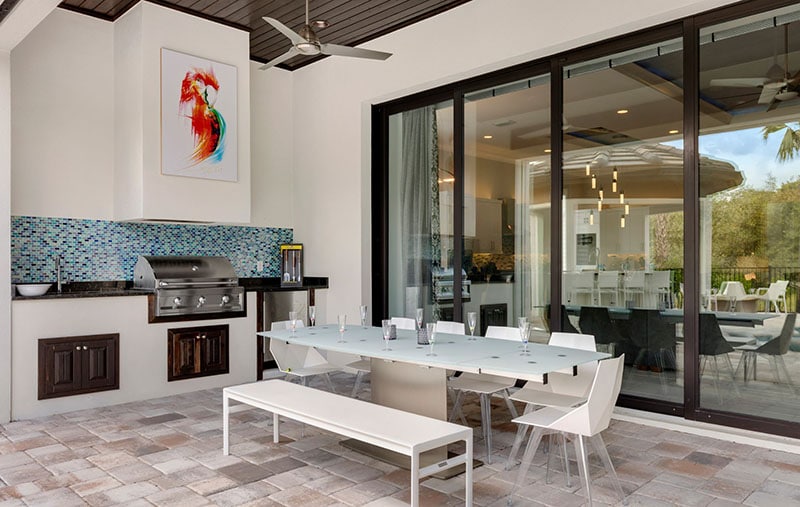 33. Natural Stone Tiles
Natural stone is an excellent choice for an outdoor space for several reasons; it looks fitting for an area that is in nature, and it is incredibly durable and long-lasting. Depending on your preference, you can add natural stone to the walls or use it on the countertops. It can also be the standout feature of the room.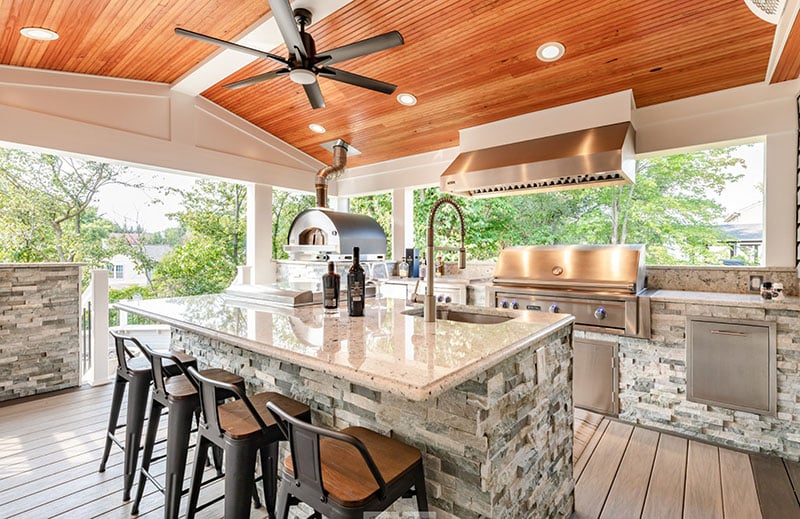 34. Outdoor Kitchen Lounge Set Up
If you have a big enough space, combining an outdoor kitchen and dining area with a lounge is a great idea. This gives you somewhere to relax and socialize after eating. Creating a large open-plan room is an excellent choice, but to make it feel more streamlined, stick to the same color scheme and decor style throughout.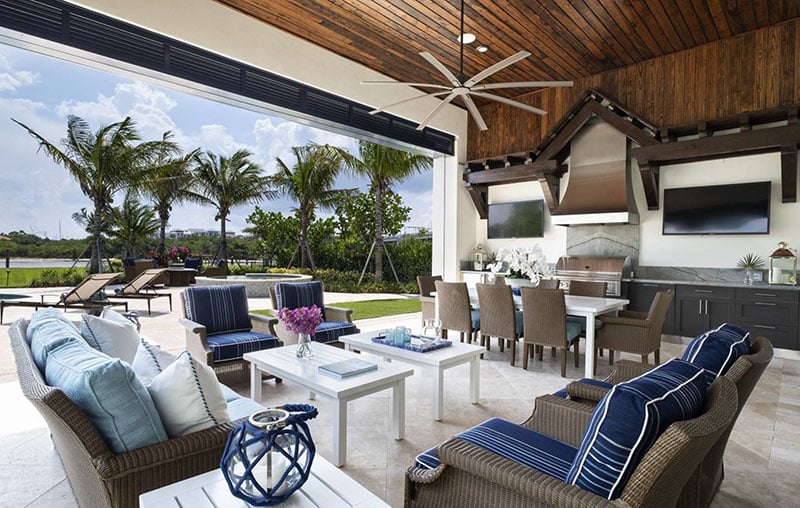 35. Outdoor Kitchen with a View
If you have a great view from your home, what is a better way to ensure you make the most of it than with an outdoor kitchen? Having a kitchen and eating area outside will encourage you to take in and appreciate your surroundings.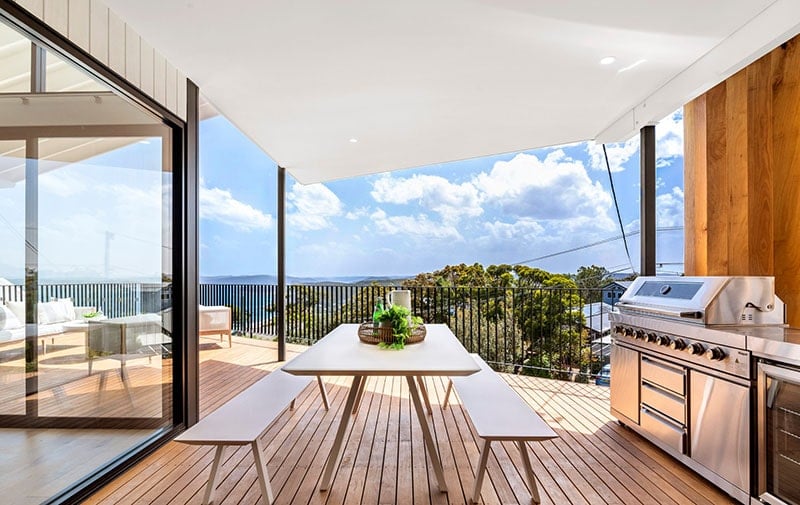 36. Outdoor Kitchen With Arches
Arches look great visually and can make the room feel bigger and become the focal point of your space. It can be used for decorative purposes or to support the load of the wall. Either way, having several large arches instead of solid walls will make your outdoor kitchen feel airy and bright.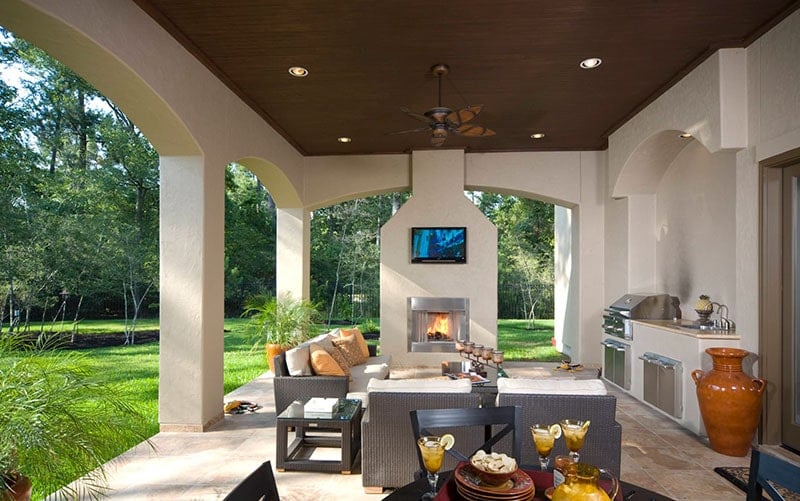 37. Outdoor Kitchen with Black Furniture
Black is a color that demands attention because it is bold and can become the focal point of any space. If you want modern decor or to create a contrast with your walls and floors, you can opt for black furniture, creating a versatile and stylish monochromatic color scheme.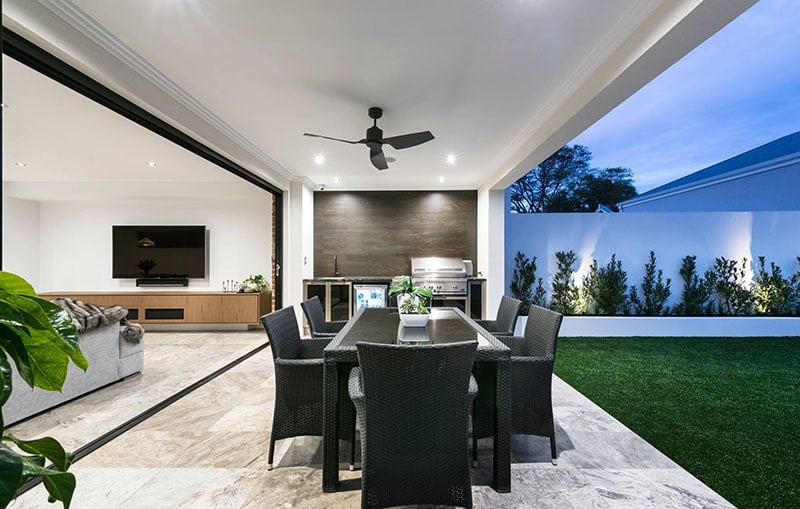 38. Outdoor Kitchen with Gable Roof
Gable roofs are practical, helping protect your roof from the elements and improving ventilation. They can look interesting and are often cheaper to construct. A gable roof will make the perfect covering for your outdoor kitchen, ensuring that you can enjoy it all year round by offering protection from the elements. You can also install ceiling fans to help keep your space cool.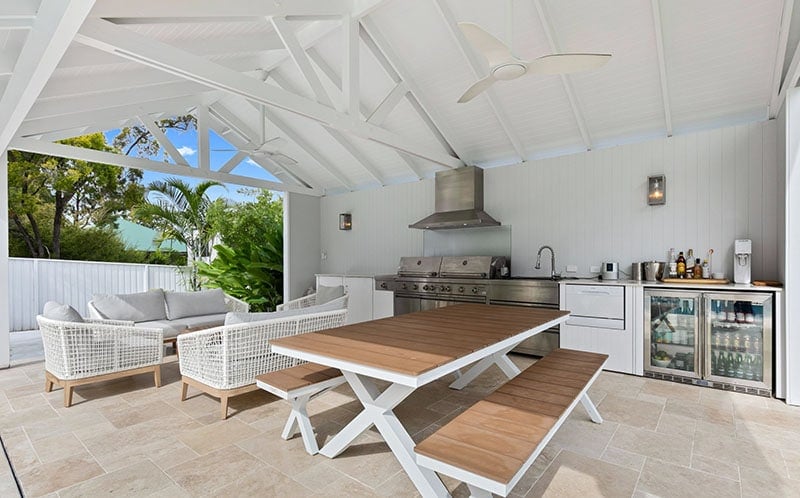 39. Outdoor Kitchen with Large Table
If you have a large family or enjoy entertaining, you need the space to do so, and a large table will be a practical addition to your outdoor kitchen space. It can also become a feature of your room, so choose wisely.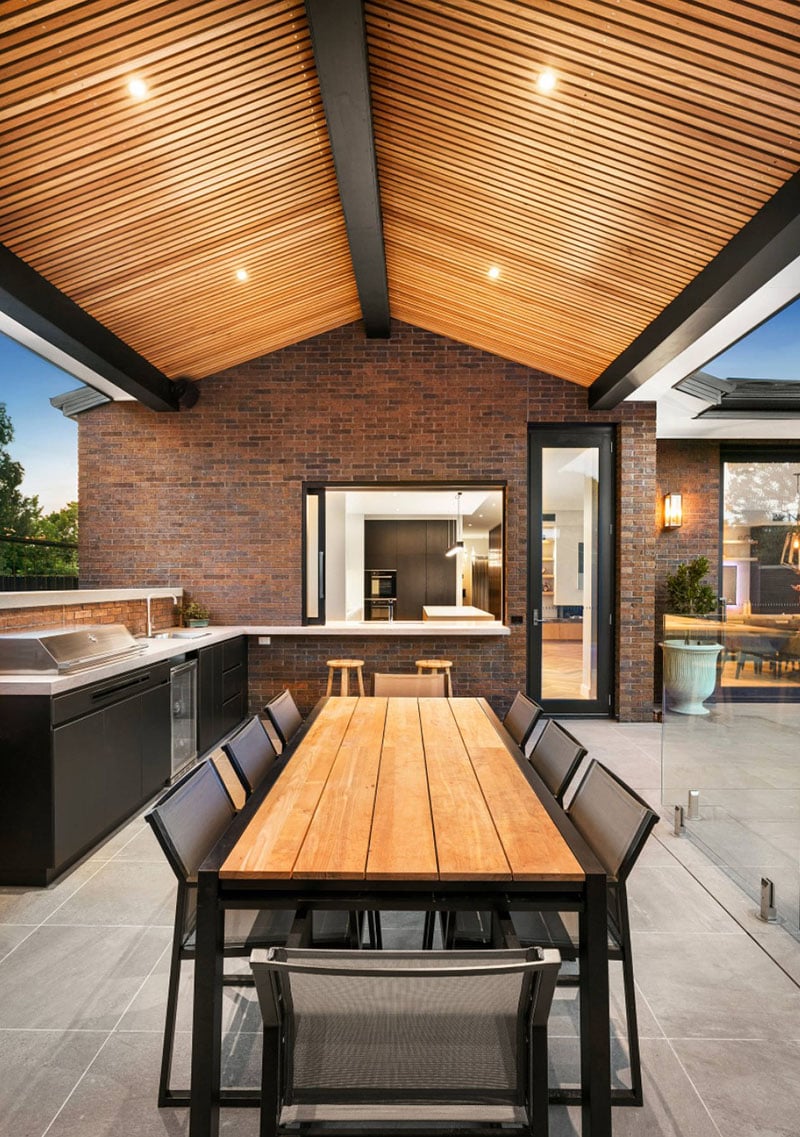 40. Outdoor Kitchen with Natural Wall
For an outdoor kitchen that really feels like it belongs in the garden, you can create a space that uses hedges or bushes to create a natural wall. This will have an impressive effect and help you create a charming, rustic-themed decor. Complement the greenery with natural stone countertops and wooden furniture.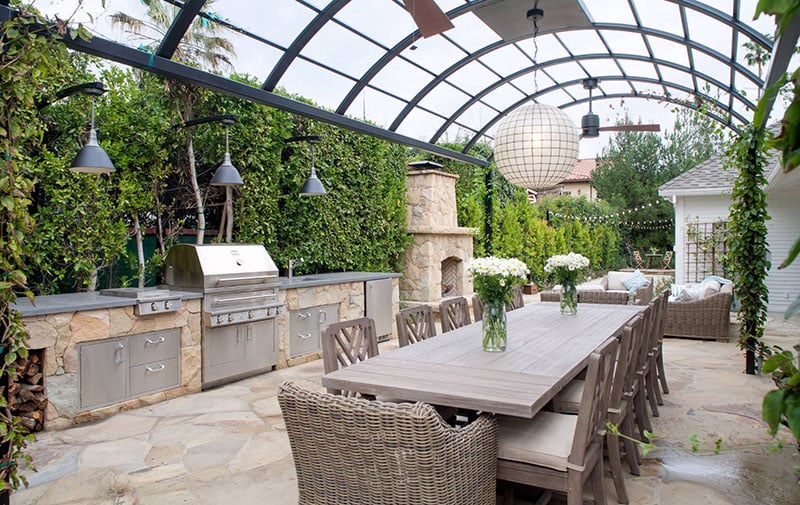 41. Outdoor Sofas by the Fireplace
Having an outdoor fireplace is a wonderful place to socialize and relax. The fireplace can become a feature of the room, adding warmth and brightness to the space. Comfortable seating, like sofas with stylish cushions, can help you unwind after a long day.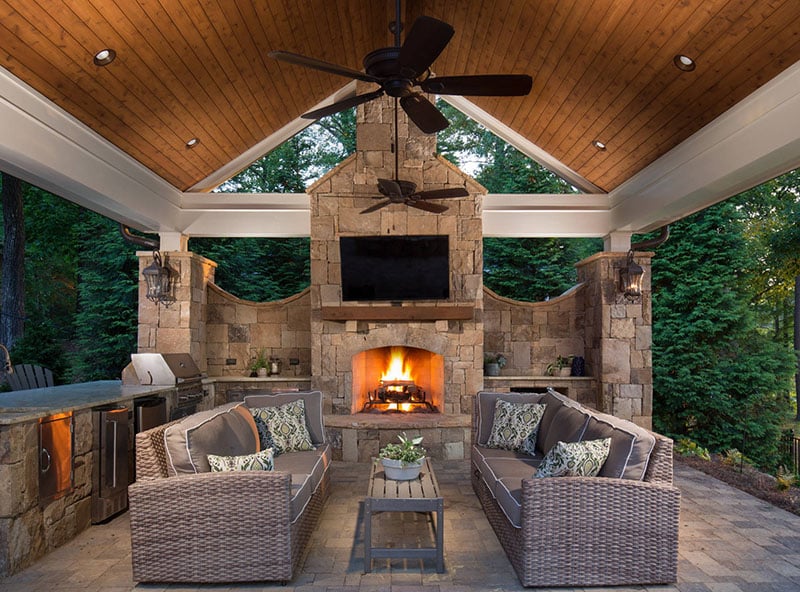 42. Outdoor Wood Fired Pizza Oven
Having a pizza oven in your yard will improve your cooking skills and make spending time outdoors more enjoyable. The wood-fired pizza oven can be the focal point of the room, and you can complement it with wooden details and a wooden patio cover.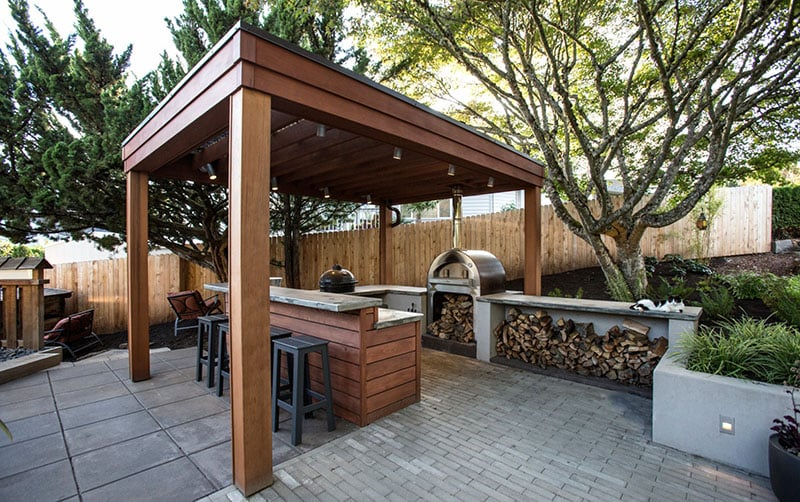 43. Pattern Privacy Glass
If you want to create a space with more privacy, that feels more intimate without sacrificing the natural light, you can do this with glass. There are several opinions to choose from, from frosted glass to walls with patterns in them, letting in enough light but keeping prying eyes out.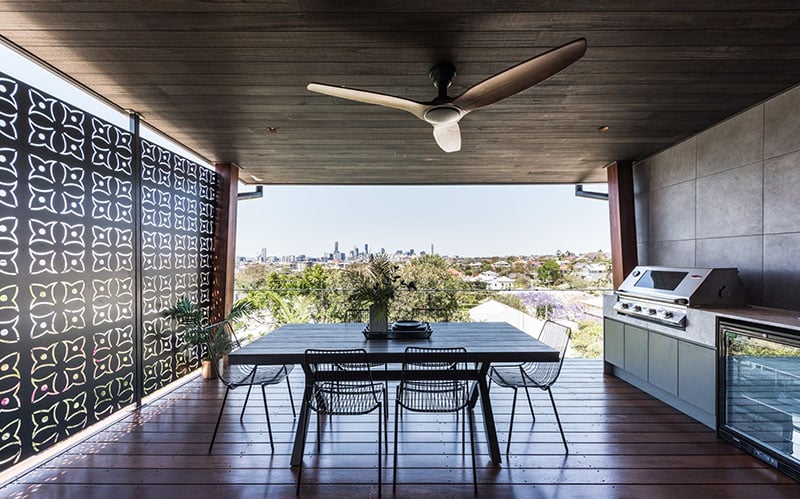 44. Retro Fireplace
If you love the retro decor and want to create a space with a lot of character, you can create your fireplace with retro-inspired fittings or opt for a dated but stylish color scheme or pattern from your favorite era. For example, colored checks for a groovy, 70s-inspired space.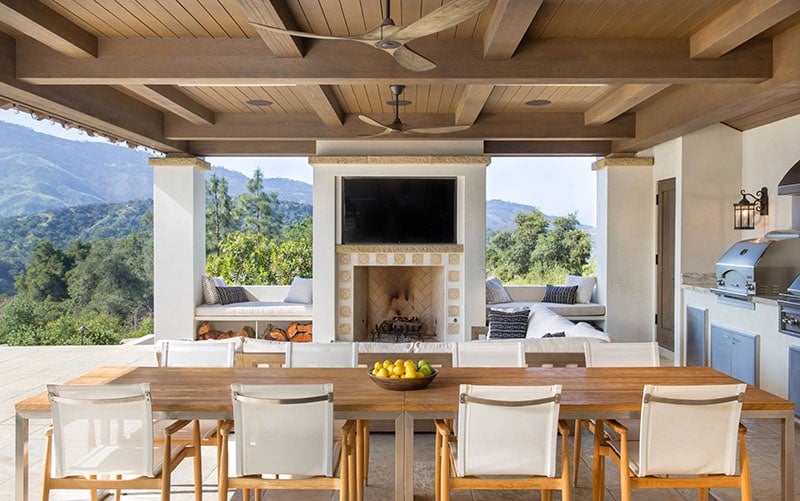 45. Romantic Outdoor Hut
For an outdoor space that is bound to facilitate romance, you want to keep it simple, warm, and inviting. The right lighting is essential, and warm lights feel romantic and aid relaxation. Stick to a muted color scheme and complement it with wooden details. It is also a great idea to create a seating area that encourages socialization.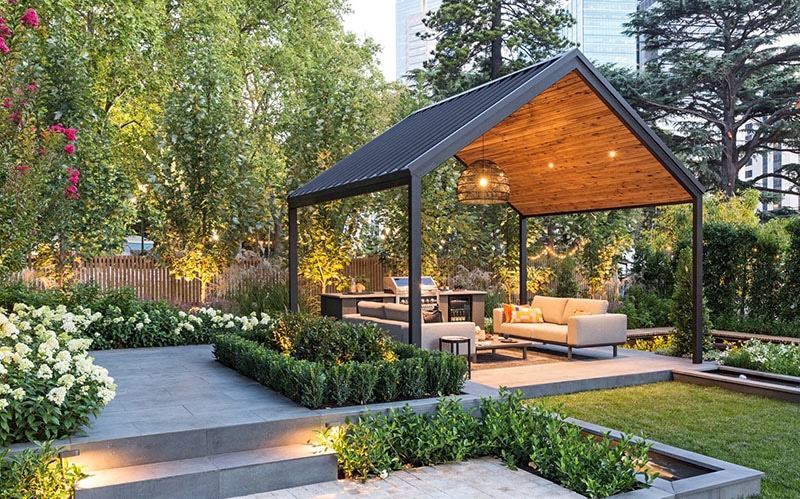 46. Rooftop Outdoor Kitchen
To enjoy an impressive skyline or other beautiful scenery, creating a rooftop bar and relaxation area is a wonderful choice. The area can also offer privacy as it is not on eye level with other apartments, but you can also use frosted glass panels or wooden slats to create an even more intimate space.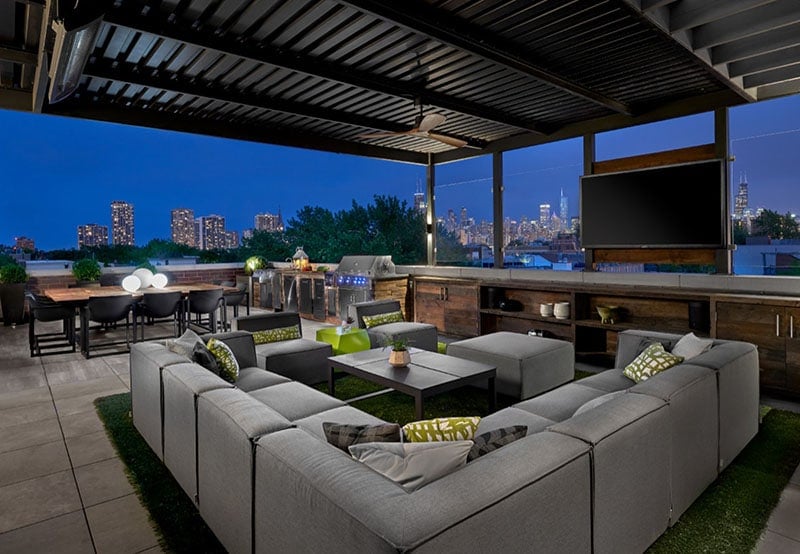 47. Rustic Barbecue Station
Rustic decor benefits from its natural and almost unfinished appearance and can be achieved by creating a space that uses unpolished or recycled materials. You can create a natural stone wall and a built-in countertop for your BBQ grill in your outdoor kitchen.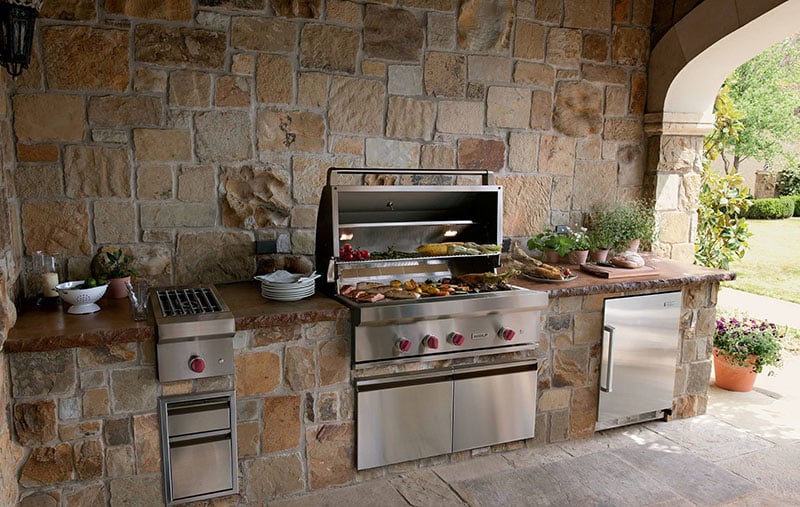 48. Outdoor Kitchen with Sun Loungers
An outdoor kitchen will increase the value of your home, but it will also encourage you to spend more time outside, making mealtimes more fun and social. If you live in an area with excellent weather or a pool, you can benefit from sun loungers, where you can sit and enjoy the feeling of warmth against your skin.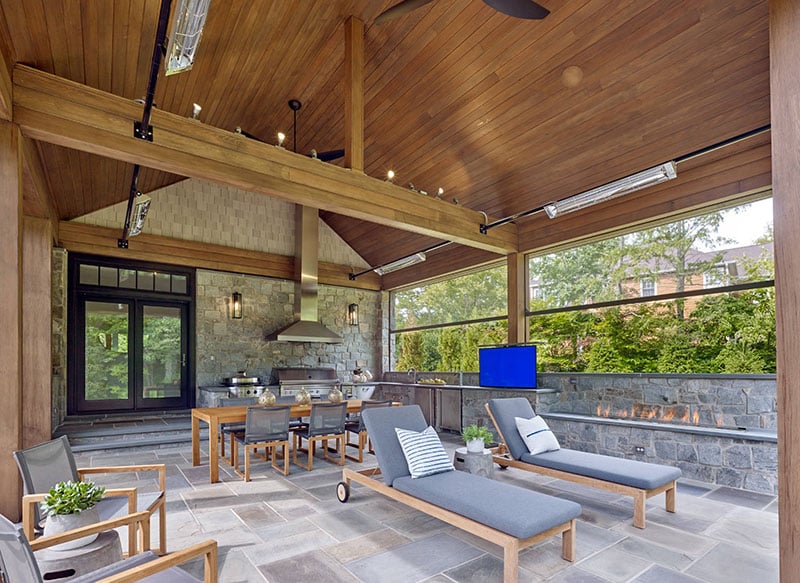 49. Skylight Roof
A skylight is a great addition to your outdoor space and can make it feel brighter, letting in natural lighting. This can also make the space feel bigger and more open. To fully benefit from the skylight, you want to position your dining table or seating area beneath it.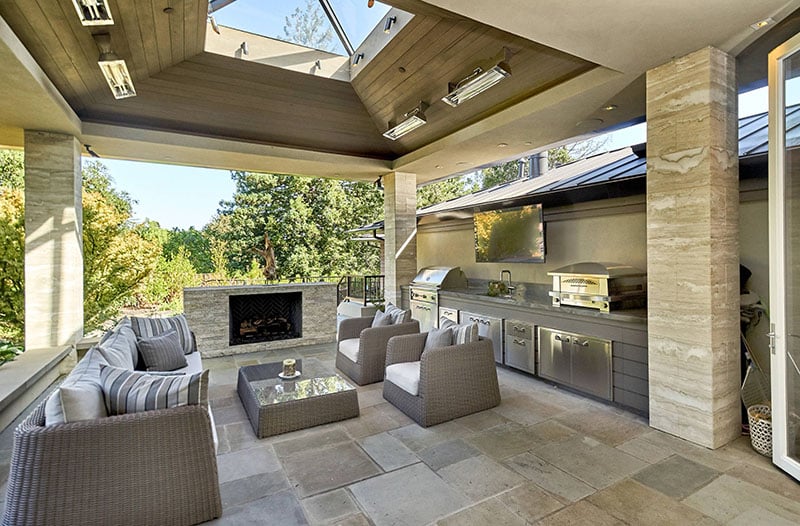 50. Small Outdoor Kitchen in a Backyard
The appealing thing about home renovation is that it can be adapted to suit your budget and the size of your space. If you have a small yard, you can still create an outdoor kitchen, and it will work best with decor and furniture kept to a minimum, so it does not feel cluttered and smaller.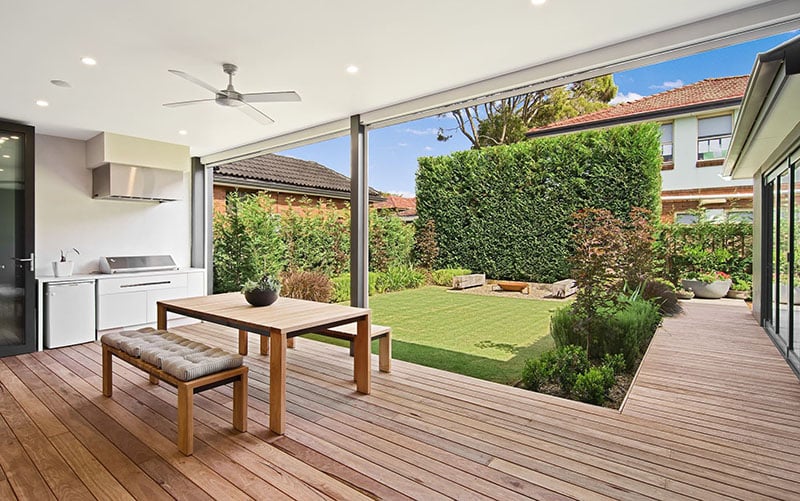 51. Spacious Outdoor Kitchen
An outdoor kitchen is a great choice if you are looking for a stylish way to transform your home and increase its value. If you have a large space, you are spoiled for choice as to how you can design the kitchen, including adding a seating area, dining table, and fire pit.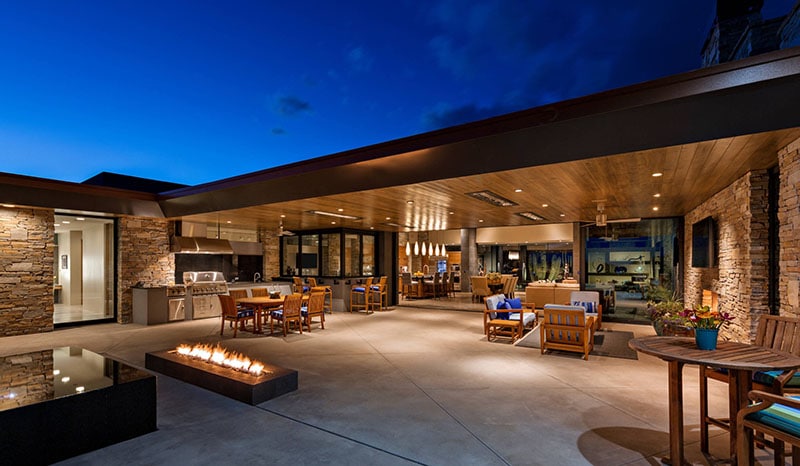 52. Statement Outdoor Rug
Sometimes all you need is a statement piece of decor to bring the room together and reflect your style. A statement outdoor rug is a great way to add a touch of your personality to the room, whether it is with a bold pattern, a stylish monochromatic color scheme, or something vibrant.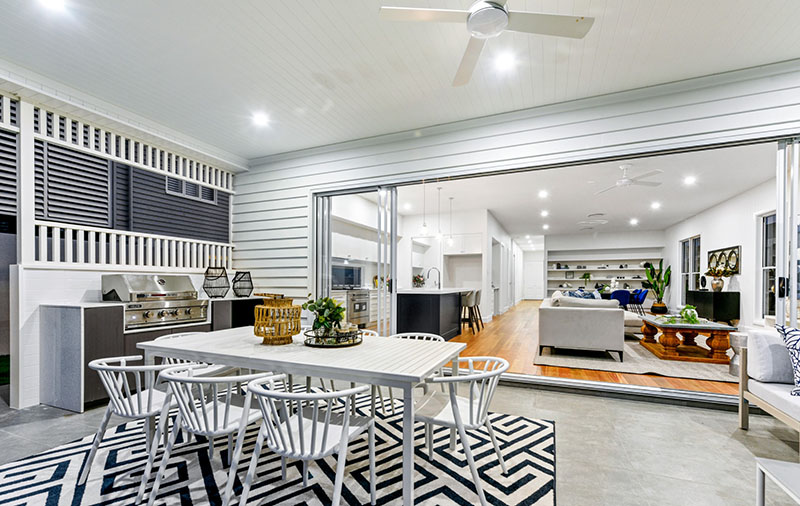 53. Stone Pathers
Using stone for your outdoor kitchen area is a great choice because it is long-lasting, durable, and has exceptional natural beauty. The unpolished and unique appearance of each stone also helps you create a space with a lot of character.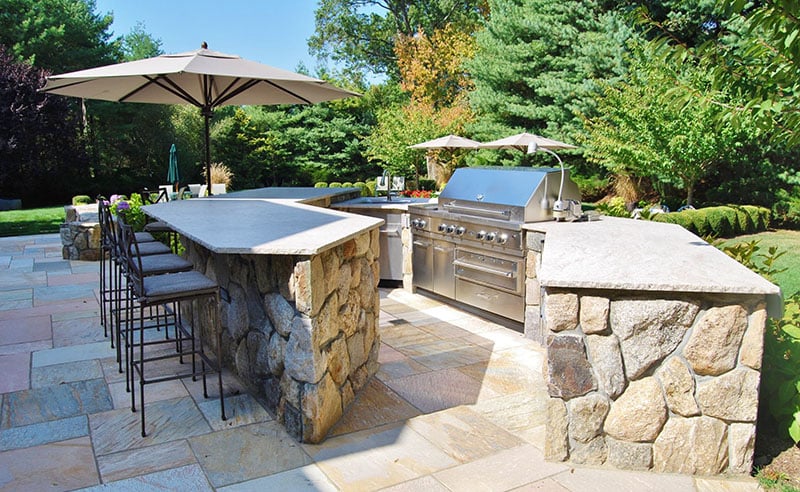 54. Stone Wall Kitchen With a TV
Having an outdoor kitchen and living area is to benefit from the good weather and the beauty of nature, but who's to say you cannot watch a little television now and then, too, right? Installing your television against a stone wall will be a great feature of the room.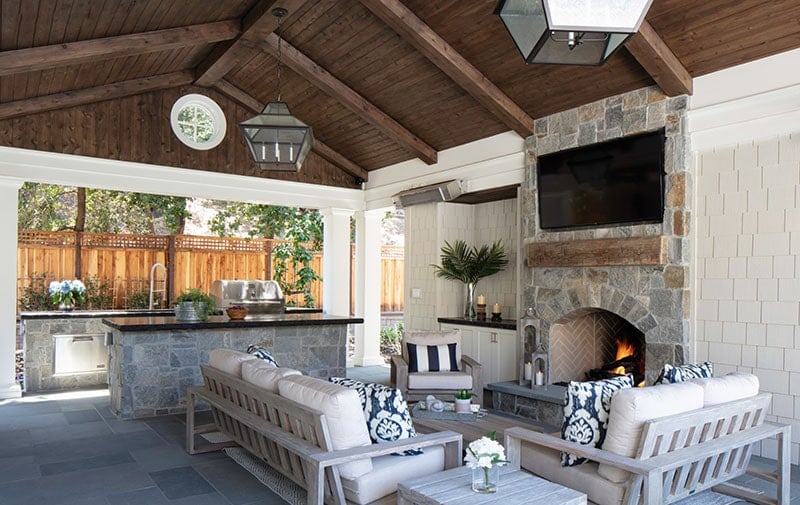 55. Vintage Inspired Outdoor Kitchen
The appeal of vintage-inspired decor is that it has so much character and looks expensive. It is as if each piece tells a story and comes with a rich history. You can combine this decor with modern elements to create an interesting contrast.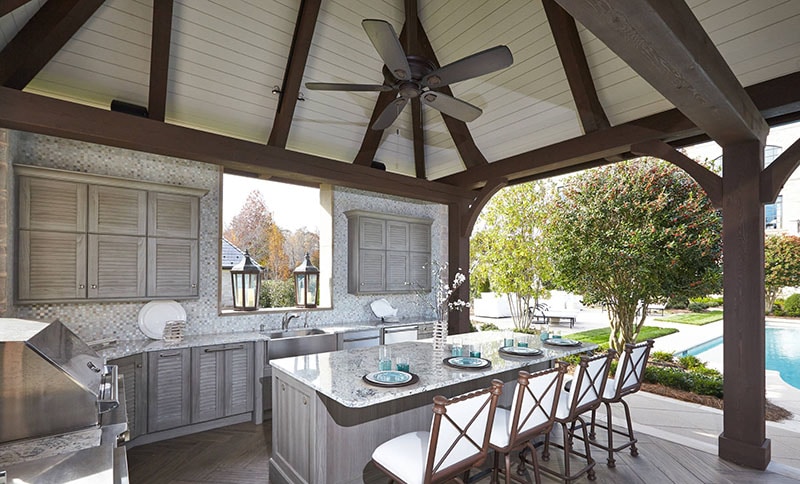 56. Wooden Elements
Wood is an excellent choice of material for an outside kitchen and living area and will give the space warmth. Wood is also a natural insulator, but the biggest appeal is how it looks. You can combine several different shades and types of wood and contrast it with bold colors like black or the crispness of white.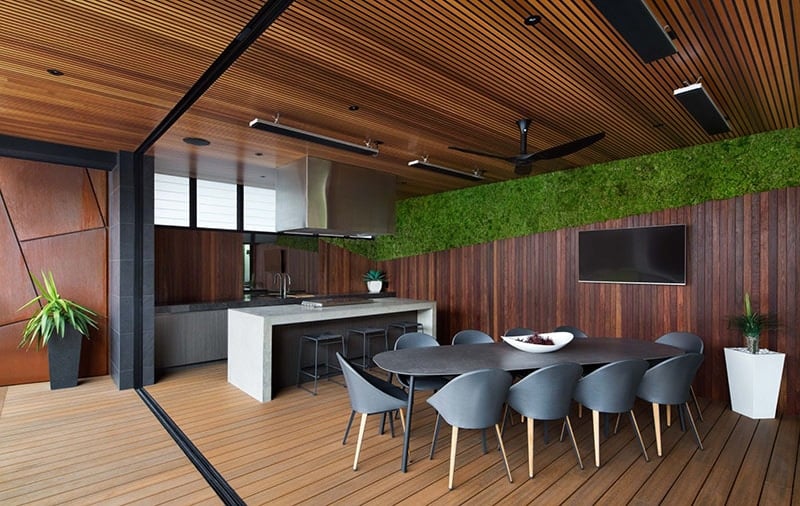 57. Wooden Sunshade Roof
If you are spending time outdoors, you need to consider the elements, and on a hot day, you will benefit from an area that has shade. A great option is a roof with wooden panels, which will create an interesting finish that still lets in light and ventilation while also providing shade.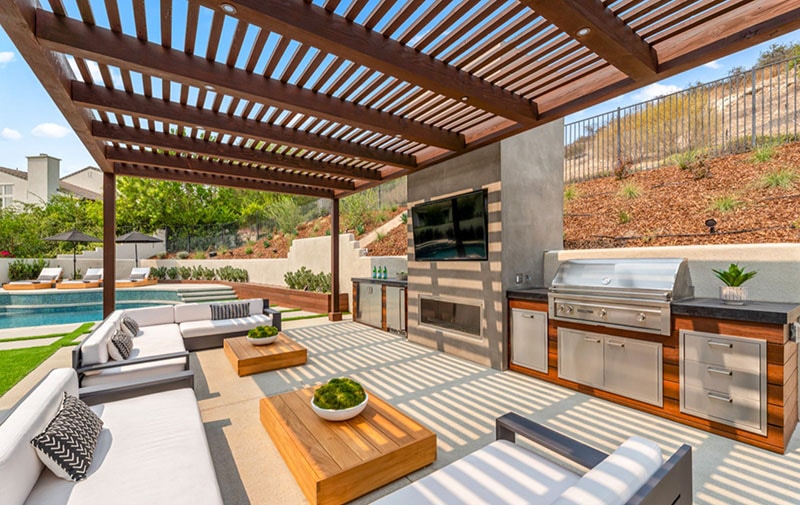 58. Contemporary Outdoor Kitchen
For a design that is made to stand out, you want a contemporary outdoor kitchen. This area is defined by its clever use of space, often has an eco-friendly design element, and feels modern, light, and bright. It doesn't have to be a big space to make a statement.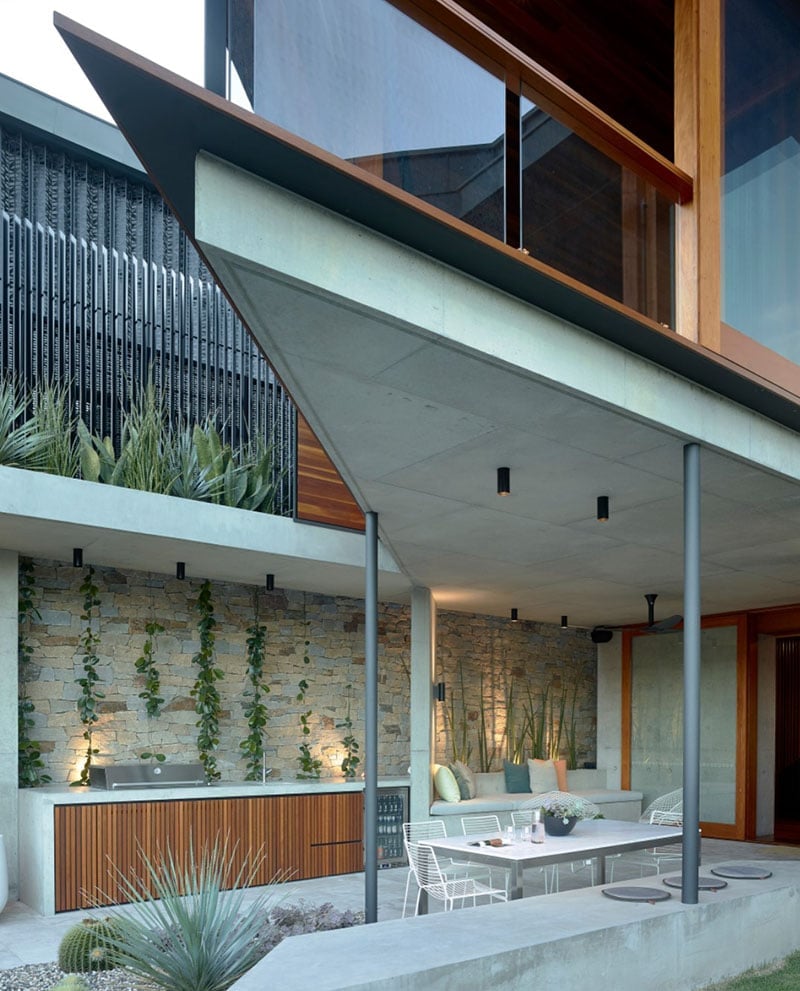 59. Outdoor Kitchen and Entertainment
If you are a social person, you will benefit from having an outdoor living and entertainment area. This is a space for you to speak to friends, family, and loved ones while unwinding and having fun. The addition of a fire pit will bring warmth to the space and is also practical for cooler days or the nighttime.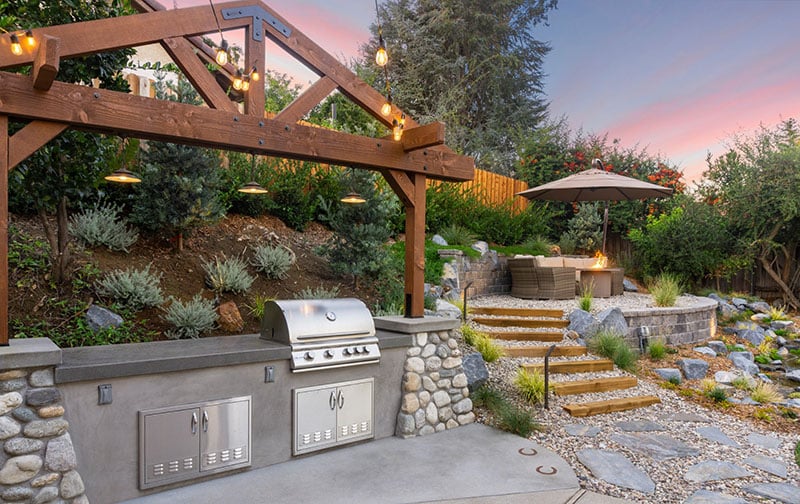 60. Outdoor Kitchen Bar
To up your cocktail-making game and create the perfect party station, it is also good to include an outdoor bar with your kitchen. The bar can be as simple as a long countertop to serve drinks or could have an integrated wine fridge and storage cabinet; the choice is yours.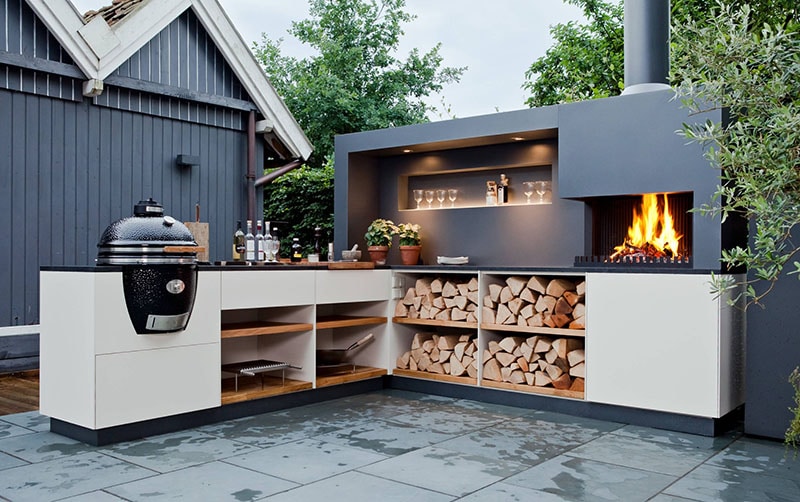 Outdoor Kitchen Ideas FAQs
How do I make an outdoor kitchen on a budget?
When creating an outdoor kitchen on a budget, you want to have a clear plan to prevent costly mistakes. It is also helpful to look for natural and recycled fabrics, which are often cheaper; this could include wood or stone. If you are willing to do most of the work yourself and get creative with how you decorate, taking on DIY projects can keep the cost down. Look at thrift stores and other second-hand good shops when furnishing the space.
Is it worth it to build an outdoor kitchen?
It is worth it to build an outdoor kitchen. This is a space that will improve the value of your home but also encourage you to spend more time outside, enjoying the fresh air and the beauty of nature. The right space can also boost relaxation and help you unwind after a long day.
What are the disadvantages of an outdoor kitchen?
There are some disadvantages of having an outdoor kitchen, with the most significant being the space you have to work with and the cost. Creating an outdoor kitchen on a budget is possible, but most of these renovation projects will be time-consuming and costly. You also need to consider the weather conditions and the safety of your area. If you live close to the sea, your kitchen appliances may also be prone to rust.
Can you have an outdoor kitchen in cold climates?
The simple answer is yes; you can have an outdoor kitchen in cold climates. You may not use it as often as you would in warm climates, and you do need to take measures to account for the cold, like an outdoor fireplace and heaters. You should also consider how the construction will be affected by snow or frost before deciding on your outdoor kitchen design and take care to protect it; this includes draining faucets and turning off the gas.
SUBSCRIBE TO OUR NEWSLETTER
Subscribe to our mailing list and get interesting stuff and updates to your email inbox.