Fashion month may have come and gone, but the street style inspiration from the past several weeks is still in abundance. From the streets of New York, Milan and Paris, we hunted down the best looks and the biggest trends of the Spring/Summer 2017 show season to decipher what you'll be wearing next. So, what's on offer? Vibrant reds and bold prints are about to have your wardrobe bursting with colour and style. While you're looking chic, you'll also be feeling relaxed as pyjama dressing becomes your regular. Sleeves will be extended, shoulders will be bare, pants will feature foot straps, and skirts will be pleated or patent. If that's not enough, ruffles and unexpected layers will provide the finishing touches to your look. Don't believe us? See for yourself!
1. Red All Over
Street style stars were red all over this fashion month as they attended the S/S '17 shows. From bright fire engine hues to rich crimson tones, red was undoubtedly the hot colour of the season. Worn head-to-toe, red created bold and unmissable looks for many female show-goers. Some of the ladies even decided to add red shoes to the equation! Whether the colour was worn as a dress or in coordinating separates, its rich tone was enough to be the statement for any outfit. Shoes, jewellery, sunglasses, hair and makeup, were all kept subdued and politely fell to the background to make way for this saturation of colour. Styles and silhouettes were long, loose, and, above all, elegant to keep these ladies in red looking chic and stylish.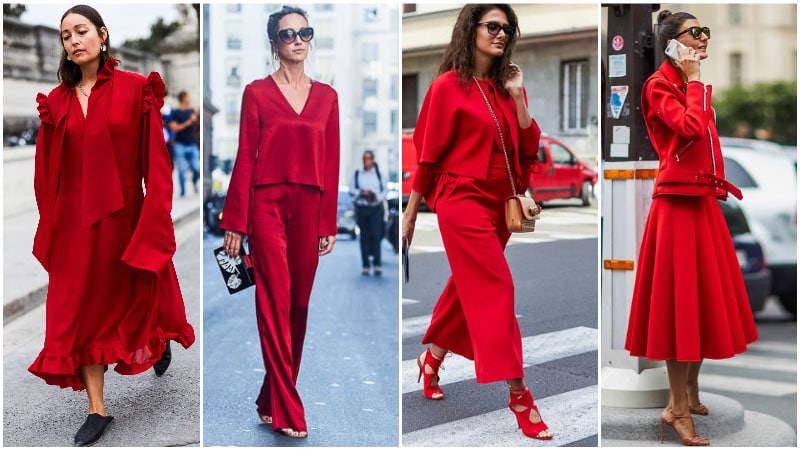 2. Pyjama Rama
The pyjama trend spotted on the streets during the men's S/S '17 show season is back and bigger than ever for women's fashion month. Silky, smooth, and oh-so-chic, this trend has seen the most stylish interpretations of PJs we've ever known. While you won't find any cartoon-covered, flannelette pajamas here, you will find satin, wide-leg pants and shirts, silk robes, and sexy slip dresses aplenty. Delicate botanical prints up the ante on this trend while hints of lace and traditional pajama-style piping finish the look off with the perfect details. Wear pieces together for the ultimate in daytime nightwear, or pair pieces with casual basics to tone down the trend. Then just add some fur slides, and you'll have the luxury lounge look down pat.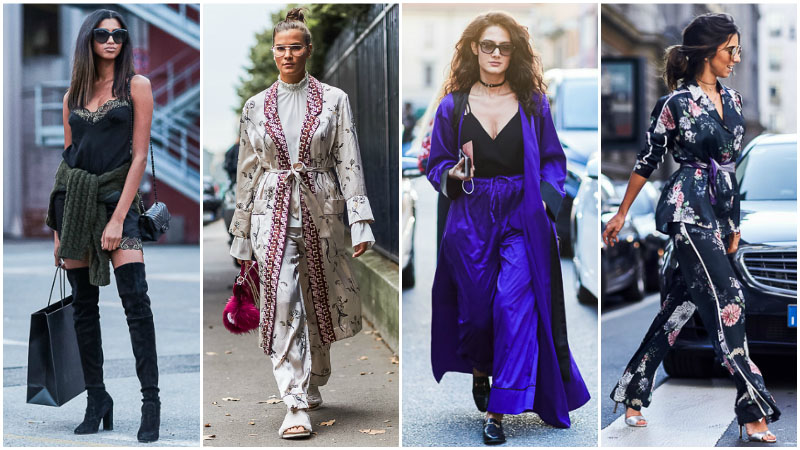 3. Unexpected Layering
One the best ways to show that you know what styling is all about is to master the art of layering. While it's not always the easiest of skills to learn, once you're proficient in layering, it will transform the way that you dress. Simple pieces take on a whole new life, and your style evolves from good to gold. While there's always going to be a place in fashion for minimal dressing, this season's best-dressed awards are going to those who've mastered layering. Moving beyond the simple white t-shirt and slip dress combo, this season took things up a notch with unexpected partners and pairs. Sweat pants were worn with trousers, high-fashion sleeves emerged from rolled-up jumpers, and statement shirts and dresses were combined to make one ultimate statement. Unexpected yet brilliant, this was a winning look.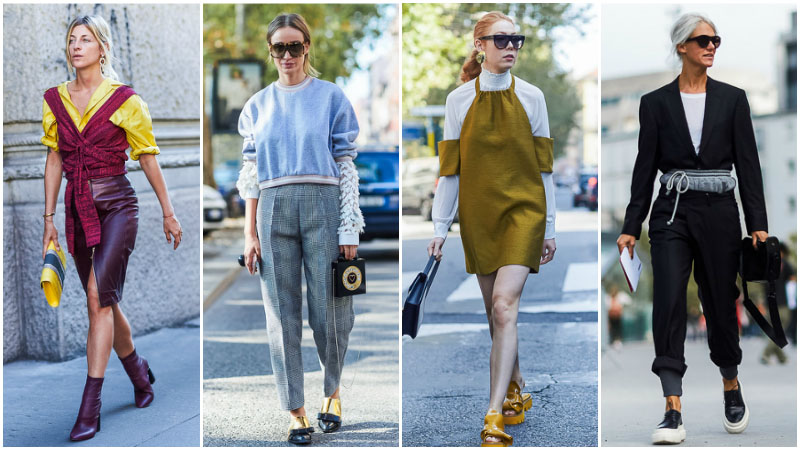 4. Patent Leather Bottoms
While patent leather usually walks on the wilder side of fashion, this season, it found a lovely home in bottoms. The edgy material looked fresh and stylish in pants and miniskirts on the streets of New York, Milan, and Paris. Paired with loose-fit tops, oversized hoodies, and relaxed outerwear, patent leather bottoms appeared modern and completely trend-worthy. The key to making this trend work on your own streets is the silhouette. Choose pieces that fit but aren't skin-tight. Wiggle room is your friend when taking patent leather from trashy to tres chic!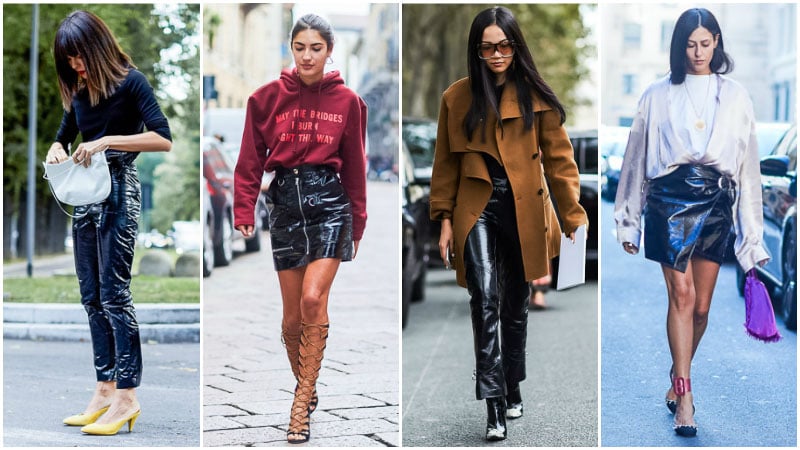 5. The Cold Shoulder
This season, street-style stars were all about showing off their shoulders. Leaving the tops of their arms out in the elements, fashionistas rocked cold shoulder tops all through the streets of the major fashion cities. Whether they were wearing simple dresses, statement tops, standout sequins, or even knitwear, these style stars knew that it was all about the shoulders. Sexy in an unexpected way, this feminine look is the perfect new addition to your wardrobe. Just remember the SPF and watch out for awkward tan lines in summer!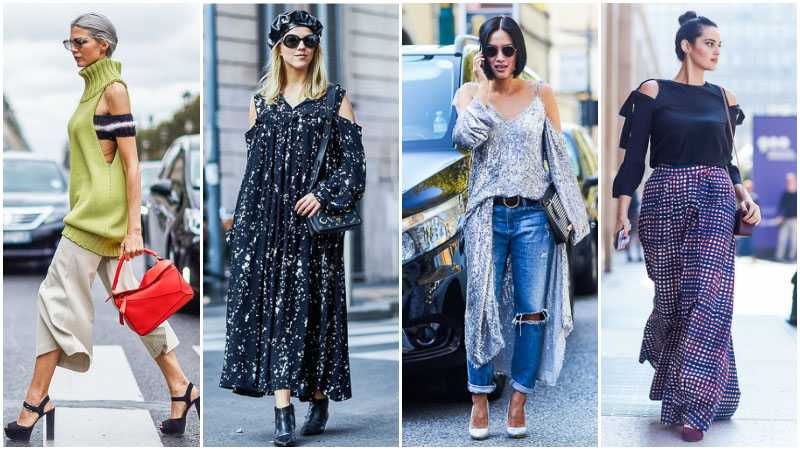 6. Pleated Midi Skirts
If patent leather bottoms aren't your thing, how about a pleated midi skirt? The chic style was just as popular at fashion weeks around the world this season, only with a vibe that's more elegant than edgy. Complete with a retro charm, this feminine trend is here to stay for a while. Whether you prefer a basic, black look, a bold block color, or a glammed-up metallic style, this skirt is worth the investment. Pair it with a tucked-in shirt, short crop top, bomber jacket, or whatever! Just make sure that you have one in your wardrobe.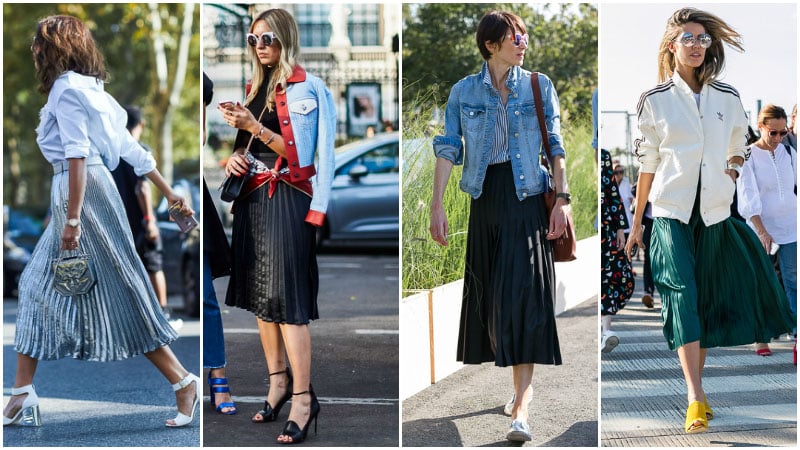 7. XXL Sleeves
When it comes to designing fashion, proportions are important. Whether the garment is "in proportion" or "out of proportion" can make a huge difference to the overall look. While oversized silhouettes have been trending heavily for some time now, they have mostly remained unchanged, featuring a broad and long shape with regular-length sleeves. This season, however, street style stars are having fun with proportions and favoring extra, extra long sleeves. Left long and loose, these unconventional, yet oddly cool, sleeves extend far past the wrist and even cover hands. After all, who needs hands to have fun?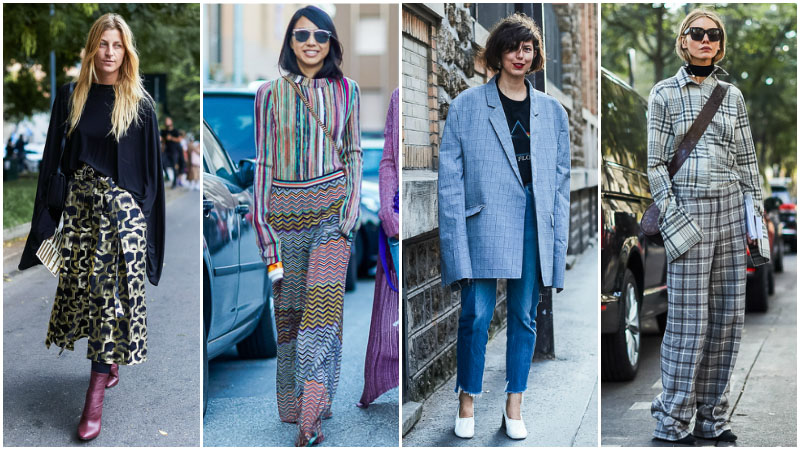 ]
8. Mix n Match Bold Prints
Bold, bright, and somewhat entrancing prints were mixed and matched to great effect during the S/S '17 show season. Featuring patterned separates with different yet similar prints, this trend played tricks on the eye as we tried to decipher piece from piece. Checks, geometric prints, bohemian patterns, and even unique florals were all in the firing range as the style set layered designs. If you're looking to try this trend but don't know where to start, pick up a top and bottom with the same print or pattern in different colors.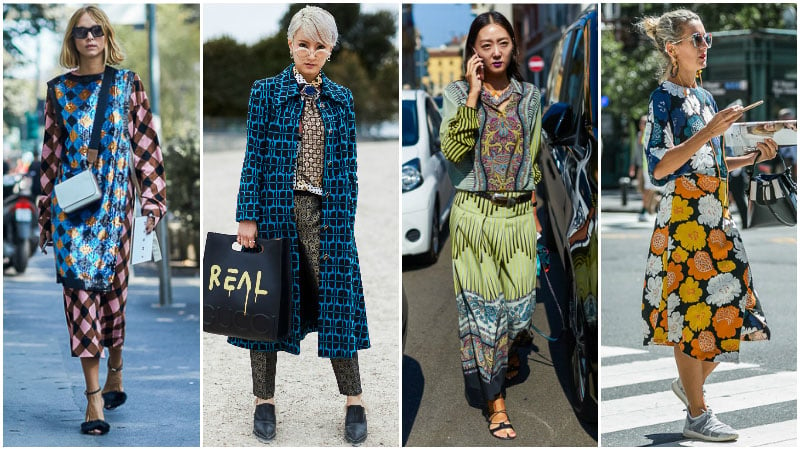 9. Stirrup Pants
When it comes to fashion, style is in the details. While stirrup pants may look like any other pair of pants from far away, their detail is the reason why we (and the street style set) love them. Up close, the unique foot straps of stirrup pants surprise and delight. A twist on the ordinary, this small style detail makes these pants infinitely more fashionable than regular pants. Whether it's jeans, trousers, or leggings, stirrup pants are a new trend that anyone can wear. Just remember to strap them outside of your heels to put them on full display.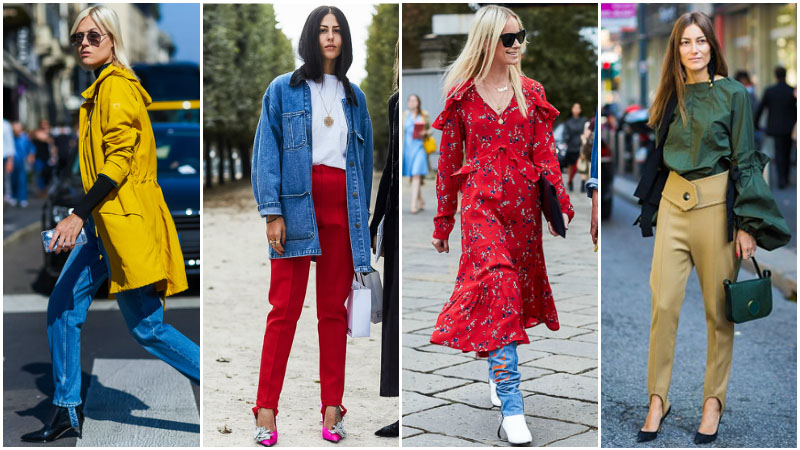 10. Ruffles Galore
Feminine ruffles went into overdrive on the streets of New York, Milan, and Paris this fashion month. One ruffle certainly wasn't enough as style stars showed off layer upon layer upon layer of the frilly fabric design. Switched on and dialed up to ten, this trend was spotted on tops, dresses, pants, and even shoes. Whether they were placed on the bust, around the collar, over the shoulders, down the front, or on sleeves, ruffles were a standout feature for many designs.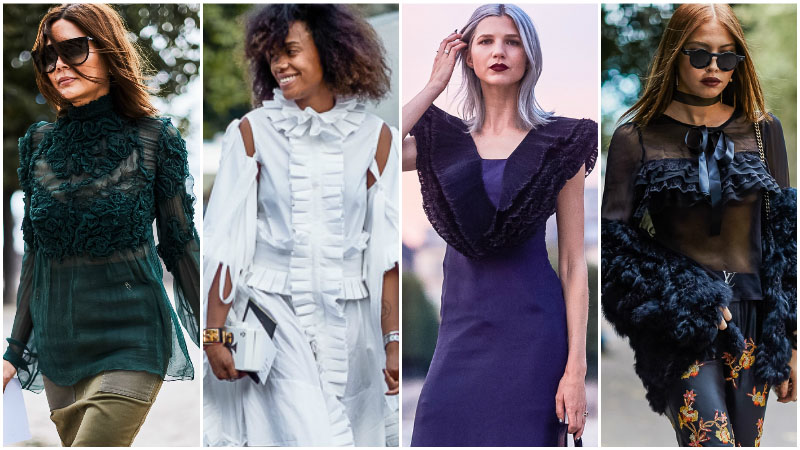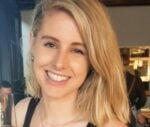 Taylah Brewer holds a bachelor's degree in fashion and business and is a skilled writer with several years of experience in the world of online content creation and copywriting. She is passionate about fashion, beauty, and all things lifestyle-related and has been writing for The Trend Spotter since 2016. She currently works as the Head of Digital & Ecommerce at White & Co.
SUBSCRIBE TO OUR NEWSLETTER
Subscribe to our mailing list and get interesting stuff and updates to your email inbox.