The internet age has brought many conveniences, including the ability to shop online, any time, anywhere, for (almost) anything. This even includes alcohol. Whether you're hosting a party, having a boy's weekend, or just stocking up your bar cart, you can jump on to any of these great online liquor stores for your booze. Some companies can even deliver in less than an hour for last-minute needs! Enjoy access to a world of wines, spirits, beer, liqueurs, mixers, and even party supplies, delivered straight to your door. Shopping online also gives you access to new, small, boutique, and rare finds that you may not otherwise discover. Of course, like in brick-and-mortar stores, there are some limits on who can buy and where it can be delivered, so it's best to check depending on where you live and what site you're buying from.
Best Online Alcohol Stores
1. Drizly
Drizly brings the drinks to you in less than 60 minutes. Consequently, it's great if you don't want to miss any of the fun, have unexpected guests show up, or you forgot the liquor store run. Simply download the app or log on to the website, add your address, then browse the vast selection of new, local, well-known, and not-so-well-known alcohol options. There's beer, wine, and spirits, plus mixers, snacks, and party supplies for all your social and celebratory needs. Once you select what you want, choose which store you want it from, then sit back and relax while you wait for the driver. Drizly partners with retailers in more than 1500 cities across 31 states, so you'll always support a local business.
Delivers to: The USA and Canada
App available on: iOS and Android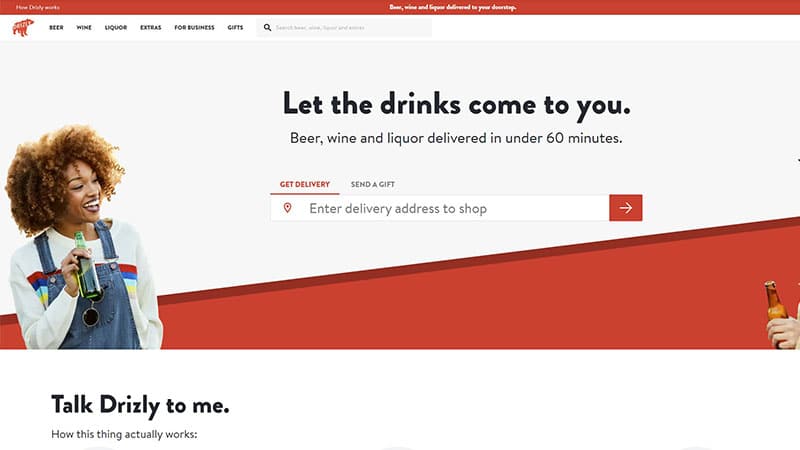 2. Saucey
Let the good times roll with alcohol delivery in just 30 minutes with Saucey. This online alcohol store services 34 cities in the United States, partnering with local retailers. On-demand delivery will reach you in 30 minutes; otherwise, you can also schedule an order, with operational times between 10:00 am, and 1:30 am. Shop for your favorite beer, wine, spirits, mixers, ice, party supplies, and even tobacco through the app or website. Add to cart, then chill while your driver collects and delivers it straight to your home. It's easy, convenient, and fast. Plus, there's no minimum order. Whether you only need a block of chocolate and a bottle of wine to sob your way through the latest Nicholas Sparks film or an entire party setup, it's no issue.
Delivers to: The USA
App available on: iOS and Android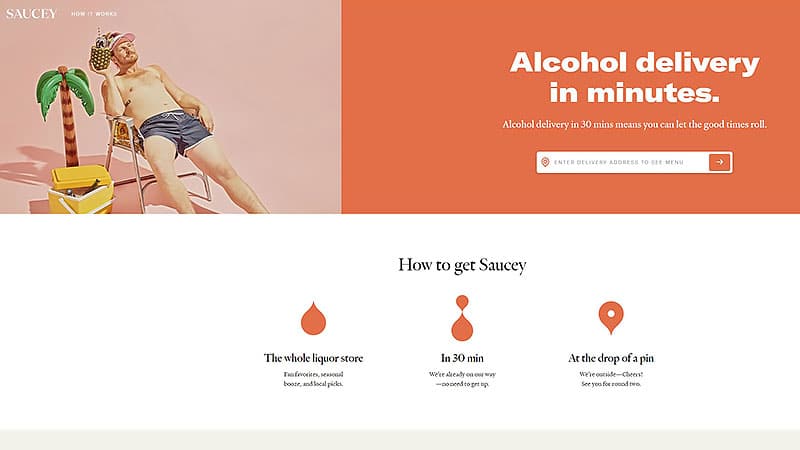 3. Postmates
Powered by Uber, Postmates is the ultimate one-stop convenience shop without leaving your couch. Browse the numerous alcohol stores on the app or website, shopping for a selection of beer, wine, and spirits. The range, prices, fees, and delivery times will vary between retailers (and what time of day you order), but it has plenty of flexibility. In addition to alcohol, you can also stock up on groceries, pharmacy items, and even pet supplies. Plus, you can have breakfast, lunch, or dinner delivered along with your booze from your favorite local restaurants. As such, if you have a sudden craving for tacos and tequila, you can have both arrive on your doorstep with a few clicks of a button.
Delivers to: The USA
App available on: iOS and Android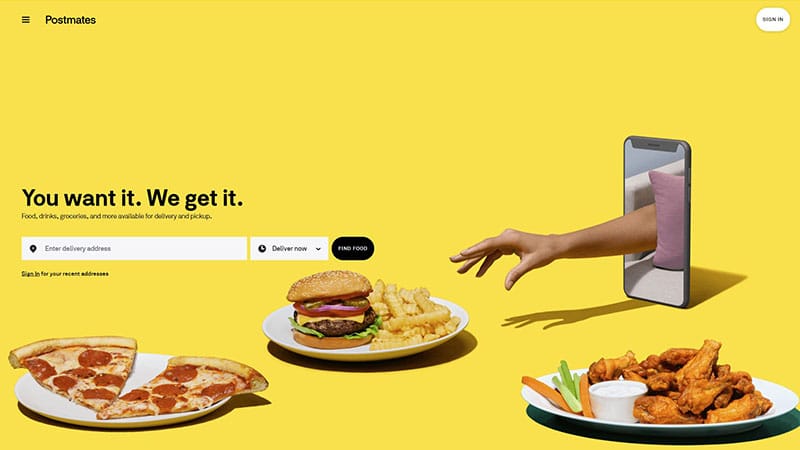 4. Amazon
Amazon continues to be one of the world's leading retailers, with its online alcohol store selling beer, wine, and spirits to customers in several countries. If you live in the United States, Australia, the UK, and certain European nations, you can add beer, wine, and spirits to your cart, with free delivery on some orders with Amazon Prime. Distribution and sale will vary between countries, depending on the local liquor laws and licensing. Sellers and local retail partners must also get approval in each market, so the offering can vary considerably. However, with easy click and delivery, it's a great way to stock up your bar cart or fridge for your next gathering.
Delivers to: The USA, Australia, UK, France, Germany, Italy, Spain, Sweden
App available on: iOS and Android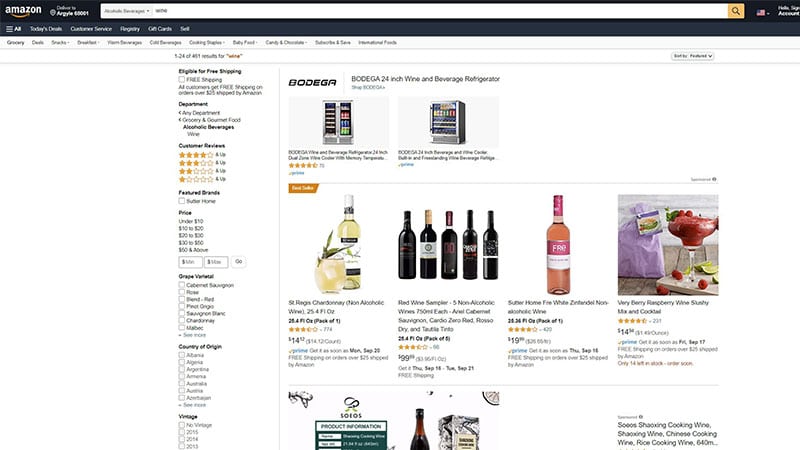 5. Reserve Bar
Send the gift of premium liquor with Reserve Bar. This online alcohol store was designed to fill a gap in the market for sending high-end spirits, Champagne, and wine as a gift. As such, whether you're buying something for yourself or someone else, you can choose custom engraving, special packaging, and efficient delivery. Additionally, if you're looking for a rare or limited edition bottle of whisky, cognac, or champagne, you'll have a much higher chance of finding it here than other regular retailers. Examples include The Glenlivet Winchester Collection, The Glenrothes 1978 Vintage scotch whisky, or the 2009 Chateau Haut-Brion.
Delivers to: The USA
App available on: None – website only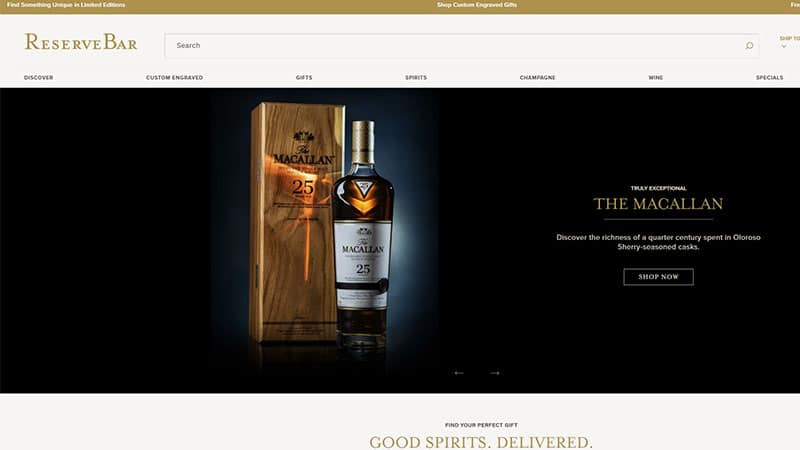 6. The Whisky Exchange
If you're into whisky, then The Whisky Exchange is a must-visit. It's gained a reputation as the leading whisky web retailer, serving mainly the United Kingdom but shipping to dozens of countries worldwide. Search for Scotch whisky from brands like Highland Park, Talisker, and Bruichladdich, including exclusive bottlings. You can also explore drams from the rest of the world, such as America, Japan, Ireland, and Australia. There's also a range of miniatures and samples so that you can create your own tasting pack. Revisit old favorites or make new discoveries without needing to commit to a full bottle. If you prefer something different, they also sell other spirits, wine, beer, and an impressive saké offering. Plus, the website is full of inspiration, with top lists, spirits of the year, and gift sets.
Delivers to: The UK, Australia, Austria, Barbados, Belgium, Bermuda, British Virgin Islands, Caymen Islands, Channel Islands, Christmas Island, Cocos (Keeling) Islands, Cyprus, Czechia, Falkland Islands, French Polynesia, Gibraltar, French Polynesia, Greece, Greenland, Hong Kong, Iceland, Israel, Japan, Liechtenstein, Luxembourg, Macau, Malta, Martinique, Netherlands, New Caledonia, New Zealand, Norfolk Island, Norway, Portugal, Reunion, San Marino, Seychelles, Singapore, Slovenia, South Africa, South Africa, Switzerland, Taiwan, United States, and Vatican City
App available on: None – website only or there are two London stores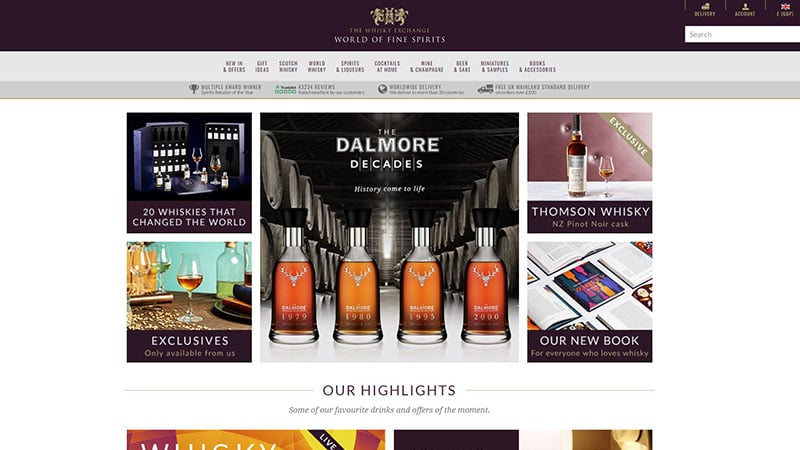 7. The Whisky Barrel
The Whisky Barrel online alcohol store is Scottish-born and bred. Established in 2007, it has a catalog of over 3,000 whiskeys, including Scotch, American, Japanese, Swedish, Indian, and Irish. Brands include favorites such as The Macallan, Yamazaki, and Buffalo Trace, plus independent bottlers like Alistair Walker Whisky Co, who provide variation for the collection. Additionally, The Whisky Barrel also has its own exclusive releases and collaborations. These include bottles such as the Caol Ila 10 Year Old 2010 Oh Man That's Great and Bunnahabhain 10 Year Old 2009. Finally, among the selection, you'll also find bottles from lost distilleries that have closed down, such as Port Ellen, Caperdonich, and Caledonian.
Delivers to: The UK and over 50 other countries, including The USA, Canada, Japan, Australia, New Zealand, Norway, Germany, Switzerland, and Sweden.
App available on: None – website only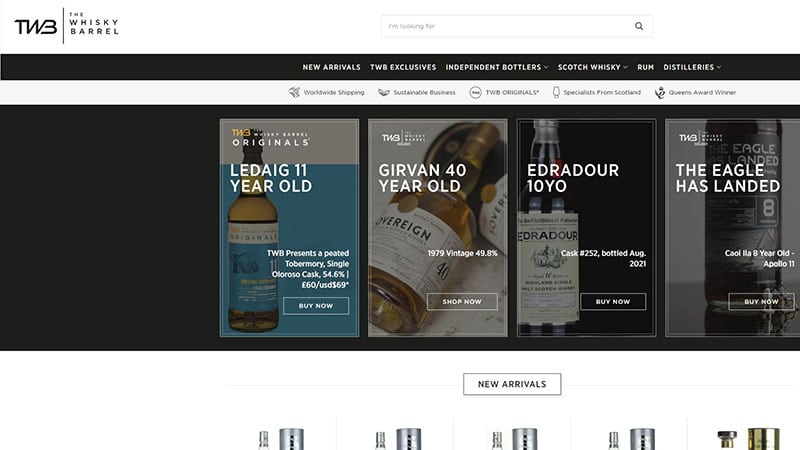 8. The Drink Shop
Grab yourself a great deal at The Drink Shop. This online alcohol store has regularly changing specials across its extensive range of beer, wine, spirits, mixers, barware, and gifts. Look for popular brands such as Peter Lehmann, Guinness, Grey Goose, Patron, and Bollinger. If you're in need of some boozy inspiration, check out the cocktail recipes and wine pairing advice. You can learn how to make an Appletini, Rob Roy, or Bloody Mary and see which wine will match best with various dishes, including beef fajitas, mussels in garlic butter, or just your favorite stilton. While they do deliver to an array of countries, it's currently limited with border closures, shipping delays, and flight restrictions.
Delivers to: The UK (other country deliveries are currently suspended)
App available on: None – website only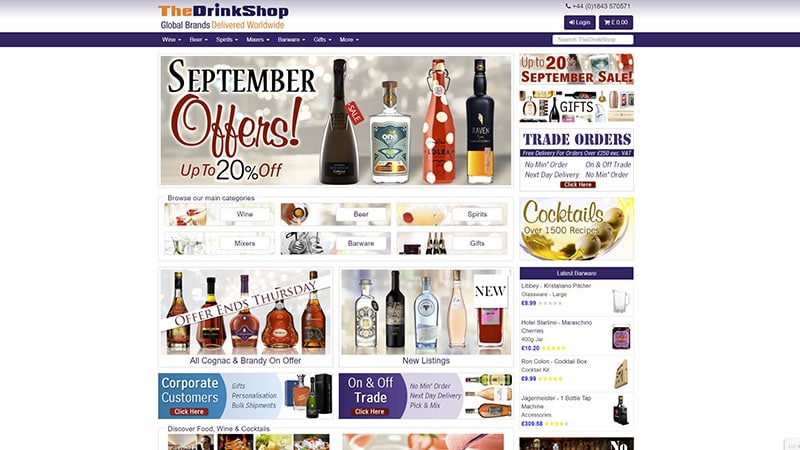 9. Wine.com
If you're looking for a cheeky vino, then Wine.com is the must-visit online alcohol store. Here you can sort the nearly 15,000 bottles by varietal and region, then filter further by rating, price, bottle size, fine wine, vintage, and even the reviewer. The company has built relationships with wineries around the world for decades, giving them access to leading brands and releases. Look for pinot noirs from California, Chianti from Tuscany, Malbecs from Argentina, and Sauvignon Blanc from New Zealand. If you're looking for a gift, check out the box sets, mixed collections, and hampers which are perfect for wine lovers. Finally, the website also has a new section for spirits. Here you'll find whisky, tequila, rum, gin, vodka, cognac, and mezcal to help fill out your liquor cabinet further.
Delivers to: The USA
App available on: iOS and Android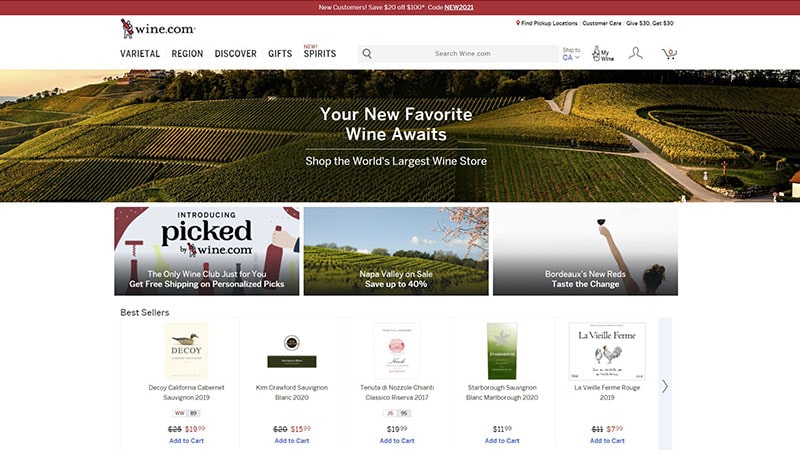 10. Wine Insiders
Enjoy high-quality wine at low prices at Wine Insiders. Pick your own adventure with single bottles, or enjoy carefully curated packs of red, white, sparkling, rose, or mixed drops. The resident winemaker works with various wineries to collate a delicious and exclusive offering, with 40 varietals from 15 wine regions around the world. This includes Australian Shiraz, Spanish Verdejos, and Californian Chardonnays. Each bottle on offer has comprehensive tasting notes, so you know what to expect before it hits your lips. There's also advice and education about wine and grape types and serving tips. While there is a minimum order of three bottles, you do get free shipping on any order with six or more bottles. However, in addition to one-off orders, there's also a no-commitemnt wine club that delivers a new box of 12 wines every 12 weeks.
Delivers to: The USA
App available on: None – website only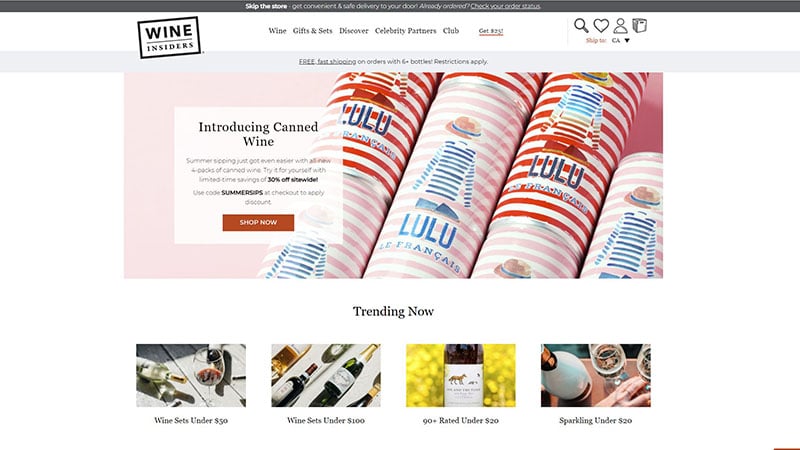 11. Naked Wines
Get your hands on some unique and delicious wines from independent Australian and New Zealand winemakers with Naked Wines. The model is based on connecting customers to wineries, cutting out the middlemen and marketing costs. Doing so keeps prices low and quality high, so you can enjoy delicious wines you'd get nowhere else. Pick and mix from single bottles or use the services of the Wine Genie to curate a case for you. When searching the website, you can filter by wine, style, grape, price, and origin. Regular wine drinkers will also love the Angels option, a flexible subscription-style service the gives you access to exclusive wine, even better prices, and a bonus bottle each month with a purchase of 12 wines. It's the perfect way to support small, local, and independent winemakers.
Delivers to: Australia
App available on: iOS and Android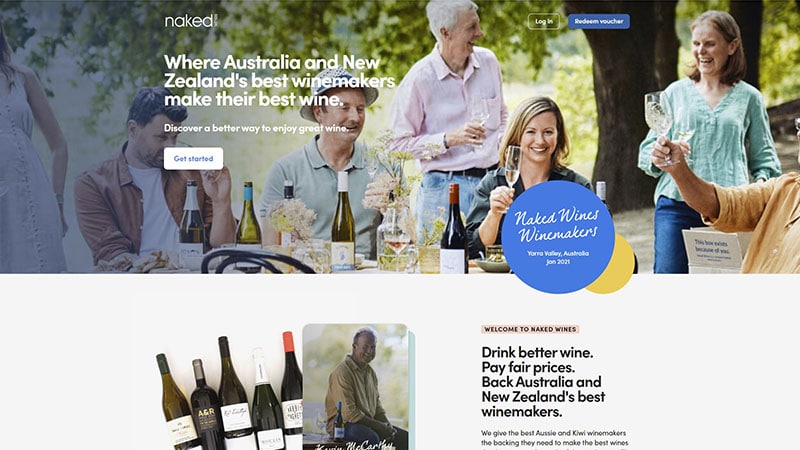 12. Zachys
Savor every glass of wine from the online alcohol store Zachys. This family-owned business has been bringing fine wines to the US market since 1994. Explore the range of thousands of wines, including the latest vintages, high-rated bottles, everyday value drops, up-and-coming brands, and rare finds for extra special occasions. Shop by country, region, varietal, type, appellation, vintage, size, price, and rating. Purchase a magnum or demi of French Champagne, a Spanish Rioja, or a Loire Valley sauvignon blanc. You can even join live or online auctions for rare finds.
Delivers to: The USA
App available on: None – website only or there is a New York Store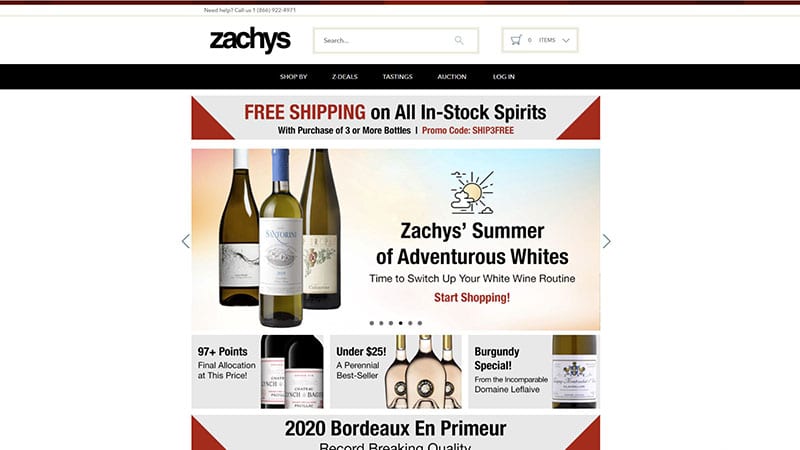 13. Dan Murphy's
Dan Murphy's is one of Australia's largest liquor retailers, with both a significant physical presence and an online alcohol store. Shopping online is easy, and you can choose pick-up from your local store or delivery. With delivery, there are options for a two-hour turnaround in metro areas; Just Say When, which lets you schedule a time; and Standard, for contactless drop-off in two to four business days. In addition to the usual range of products, shopping online also lets you browse items delivered directly from the supplier, giving you access to a much broader and more specialized product offering. Finally, if you sign up as a Dan Murphy's member, you'll get access to member's only offers and special pricing. You'll also have access to your dashboard with past purchases, wish lists, reviews, and easy-to-manage account details.
Delivers to: Australia
App available on: iOS and Android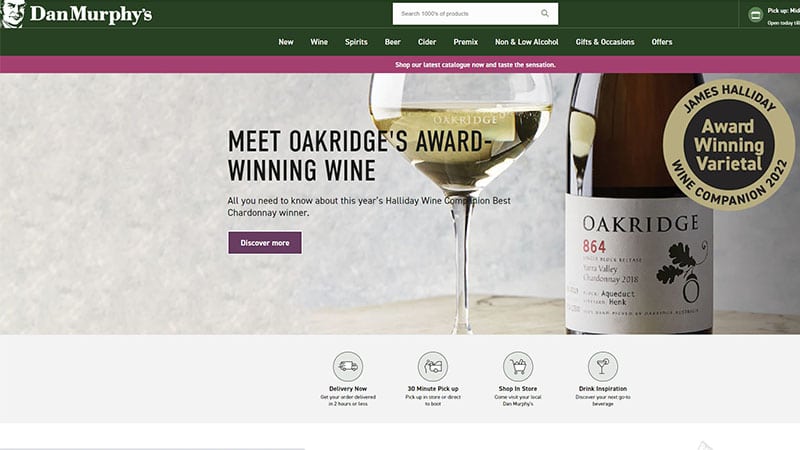 14. BoozeBud
Enjoy access to a massive range of wine, beer, cider, and spirits when you shop online with Boozebud. Sign up for an account to get personalized recommendations based on your preferences. They also have a Price Match Guarantee, Thirsty Thursday Promotions, regular specials, and app-only deals. Beer drinkers will love the Beer Club that delivers a mixed case every month or quarter, with a selection of favorites, new arrivals, and limited release tins. Additionally, if you're looking for a present for someone, you can also check out the Gifts tab, which has unique ideas and inspiration. Customers in Sydney and Melbourne will receive same-day deliveries, while Brisbane gets it the next day. Anyone outside these metro areas can expect their delivery in three to five business days.
Delivers to: Australia
App available on: iOS and Android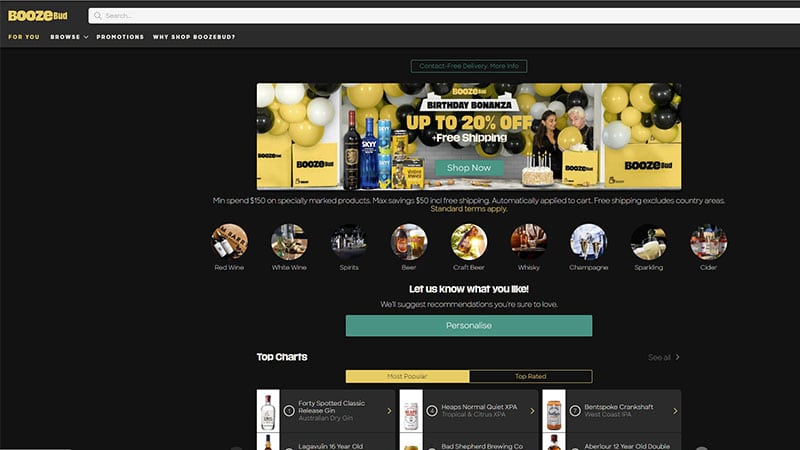 15. Liquorland
Coles owns Liquorland, so you'll often find them conveniently next to each other at your local shopping center in Australia. However, if you're not near one, you can shop online. Discover the range of wine, beer, spirits, and mixers, enjoying fast metro standard delivery, with slightly longer times for regional and country orders. Each week you can explore new specials and promotions, making shopping for your next social event, weekend, or regular Friday night knock-off drinks simple and great value. Plus, if you're signed up for Flybuys, add your card and collect points with every purchase.
Delivers to: Australia
App available on: None – website only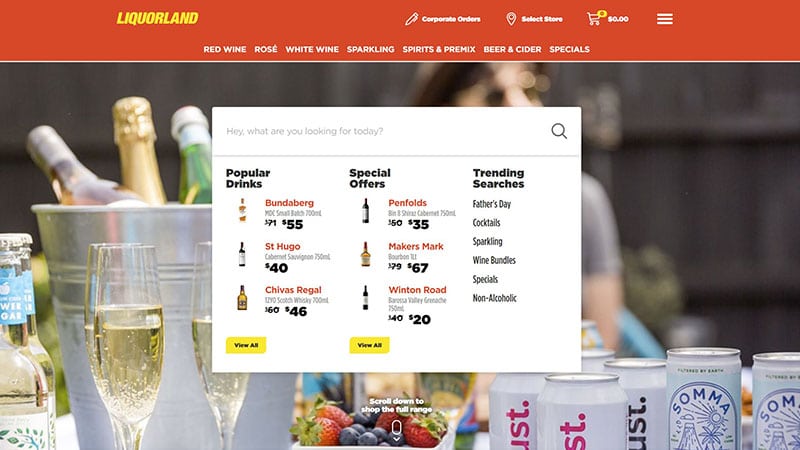 16. First Choice Liquor Market
First Choice is the sister brand to Liquorland, and therefore owned by Coles. The difference between the two is primarily the size of the range, with First Choice boasting a bigger selection, both online and in-store. Choose from domestic and international wines, excellent value wine bundles, international and domestic craft beers, various spirits, and plenty of premix options. It's all you need for a party, stocking up your cellar, or hosting a cocktail and games night. Like Liquorland, metro areas will enjoy fast delivery, with the same day, next day, and standard options. Meanwhile, regional and country customers will receive their order between three and ten business days.
Delivers to: Australia
App available on: None – website only
SHOP: First Choice Liquor Market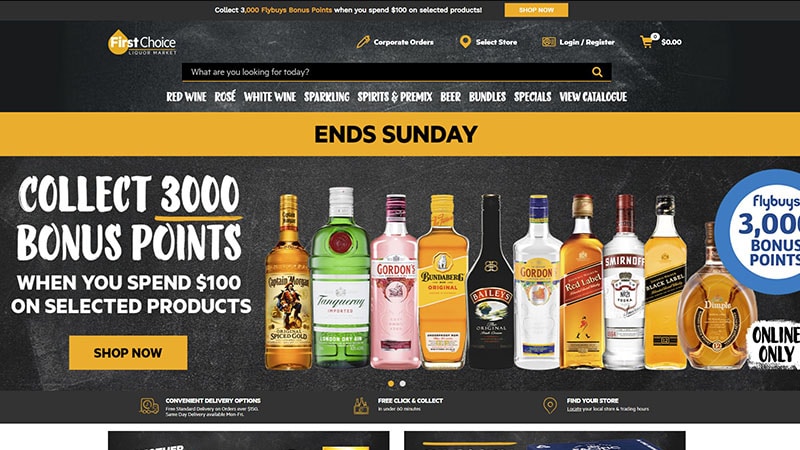 17. BWS
Shop online or in-store at BWS. While there are plenty of physical locations around, the online alcohol store is incredibly convenient, and you don't have to leave the house. Browse the range of beer, wine, and spirits, add it to your cart then choose when you want it delivered. Options include ASAP, or you can schedule a time up to seven days in advance. Plus, don't forget to add your Woolworths Everyday Rewards card to every purchase so that you can accumulate points. In addition to the website, the brand also has an app for extra convenience, and every so often, there are competitions to win great prizes like merchandise and free drinks. Lastly, if you're looking for inspiration, check out The Drop tab online for the latest releases, cocktail recipes, food pairings, gift inspiration, and educational guides.
Delivers to: Australia
App available on: iOS and Android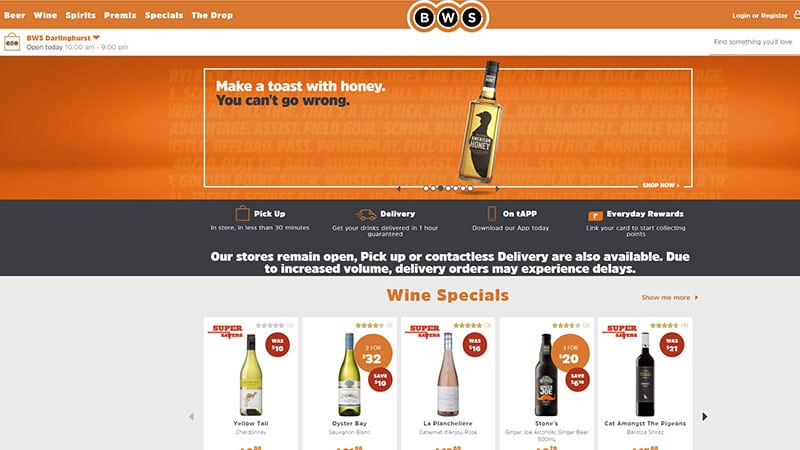 18. Drink Supermarket
Based in the United Kingdom, Drink Supermarket offers a huge range to its customers. Browse through a collection of international beers, wine, spirits, ciders, liqueurs, mixers, and soft drinks. You can get all of them in standard sizes; however, some of them also come in either a miniature or big size. You can buy mini spirits such as Kraken Spiced Rum and piccolos of wine such as Moet & Chandon Champagne. There are even mini-gift sets, which are ideal for any booze-loving friend, especially if you add on gift-wrapping. Then, if you're hosting a party or catering an event, why not add a magnum of prosecco or Crystal Head Skull Vodka or even a giant six-liter Methuselah of Ciroc Vodka!
Delivers to: The UK
App available on: None – website only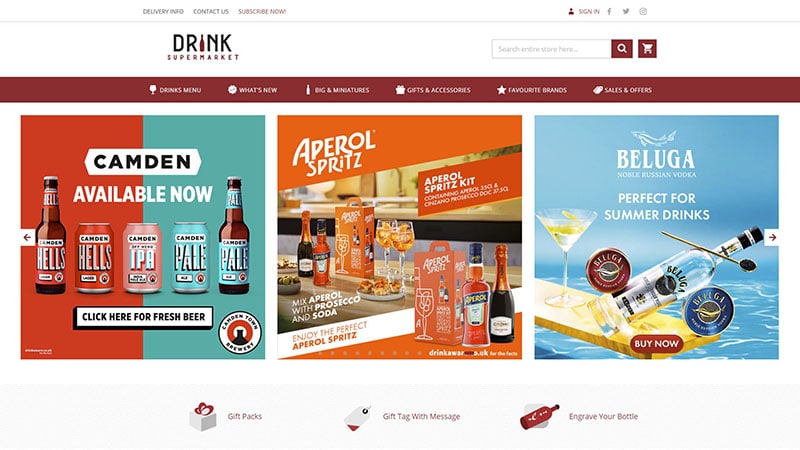 19. Waitrose Cellar
UK supermarket giant, Waitrose, has an online alcohol store through their Waitrose Cellar website. The product selection focuses on wine, having won Supermarket of the Year at the International Wine Challenge 2021. There are red, white, rose, sparkling, and fortified versions from all around the world, including South Africa, Chile, Australia, and France, as well as exclusive Cellar products. If you're unsure what you feel like, you can order a carefully curated case of mixed wines, such as The Luxury Reds Case, Aperol Spritz Case, or Dinner Party Case of Six. If beer or spirits are more your vibes, you won't be left out. There's a generous selection of rum, whisky, gin, beer, cider, cognac, vodka, and liqueurs for all your delicious cocktail needs.
Delivers to: The UK
App available on: iOS and Android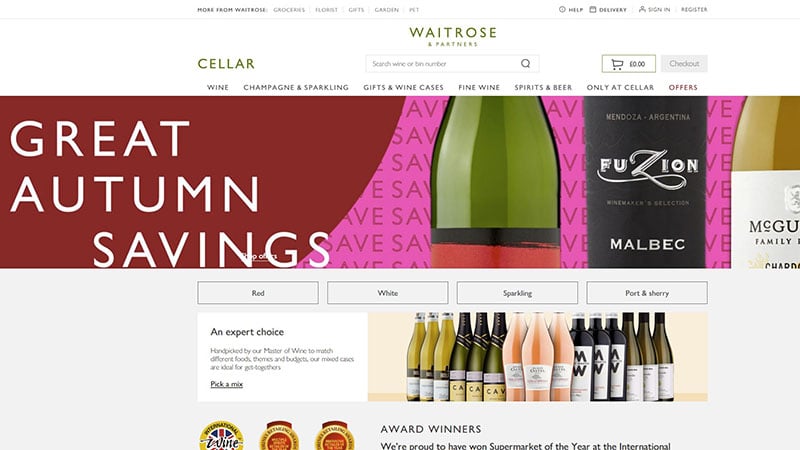 20. Adnams Southwold
Adnams Southwold is a one-stop shop of brewers, distillers, wine merchants, retailers, publicans, and hoteliers. The brand has been operating from the English North Sea coast for centuries, with a proudly independent spirit and innovative heritage. Discover the range of beers and spirits under the Adnams brand, including gin, vodka, whisky, and liqueurs. When it comes to wine, they offer a mix of brands from various countries, as well as their own labeled wines. Make life easy by opting for one of the mixed cases of wine, beer, and spirits that caters to all your needs. If shopping online for alcohol isn't enough of a fix, and you're based in the UK, you could even stay at an Adnams-managed hotel, or dine at a characterful pub, in one of many locations around the country.
Delivers to: The UK, but is exported to third party retailers in 33 countries
App available on: iOS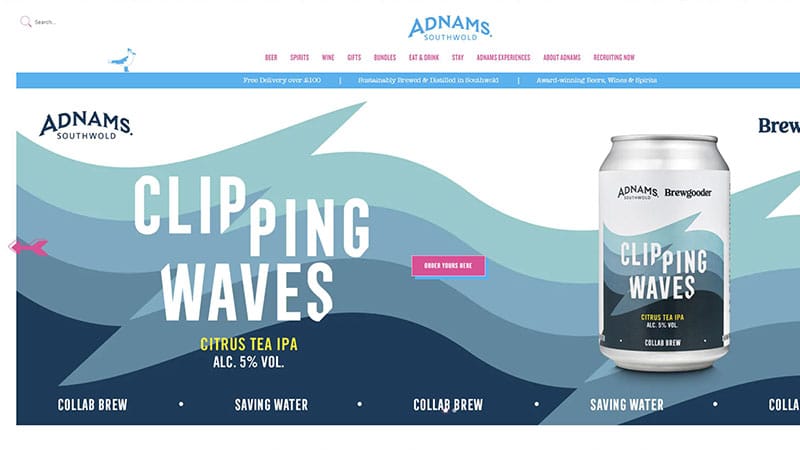 21. 31 Dover
You'll never drink terrible booze again when you buy from 31 Dover. Everything on their online alcohol store is tried, tested, and backed by the brand's stamp of approval. As such, whether you're shopping for wine, spirits, beer, liqueurs, mixers, or gifts, you can feel confident in your choice. Plus, the lifestyle section has low and no alcohol options, plus a range of CBD drinks. You'll enjoy next-day delivery as standard as well as some of the best pricing online. Check out the blog for extra inspiration and information about various brands and products, as well as cocktail recipes.
Delivers to: The UK
App available on: None – website only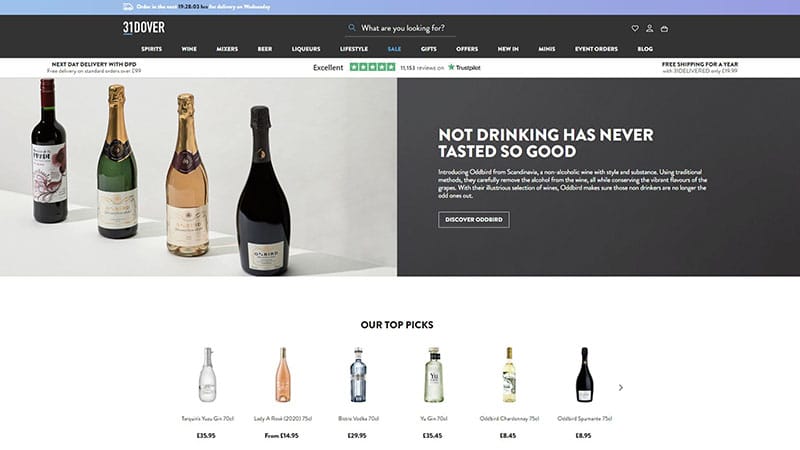 22. Beerwulf
If you're passionate about beer, then Beerwulf is the online alcohol store for you. Based in The Netherlands, it ships to various European nations, offering kegs and cases and also selling taps for the perfect at-home pour. Discover different styles of beer, from hop-driven IPAs to easy-drinking lagers. These beers are sourced from around the world, including Germany, The United States, Singapore, France, and more. If you're feeling a bit overwhelmed by the options, choose one of the pre-packed mixed cases that give you the chance to try different styles and brands. You can also check out the at-home beer taps, including the SUB keg compatible with two-liter kegs and the Blade, which fits an eight-liter keg. It's the smoothest way to enjoy draught beer outside of the pubs and bars.
Delivers to: The UK, Netherlands, Italy, France, Germany, Spain, Belgium, Austria, Portugal, Luxembourg
App available on: None – website only
23. Liquorama
Support a family-owned business when you shop at the Liquorama online alcohol store. The range includes premium wines from around the world, including French Bordeaux, New Zealand pinots, and German rieslings. Order single bottles or by the box, and if you're feeling adventurous, you can even choose a mystery case and be surprised with what shows up. There's also a wine club you can join, with various levels delivering every month or quarter, depending on the membership. Other than wine, you can explore the collection of beer which includes some excellent craft options, sake from a range of labels, and spirits. Stock up your bar cart with whisky, mezcal, cognac, gin, vodka, or even moonshine.
Delivers to: The USA
App available on: None – website only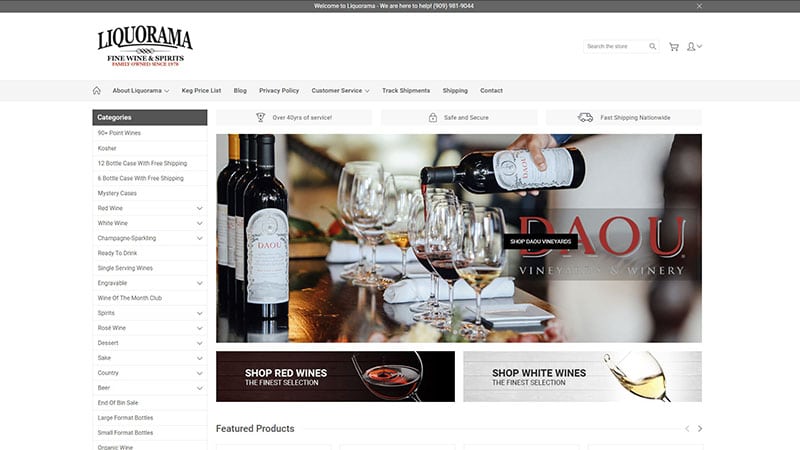 24. Majestic Wine
Find the perfect bottle of vino at Majestic Wine. However, it's more than just an online alcohol store, with almost 200 physical stores across the United Kingdom. As such, you can shop in many ways, with pick-up and delivery available. Explore that range of wines from around the world, including Spanish Malbecs, French Champagne, and Australian Chardonnay. With thousands of bottles, you'll be able to find the perfect drop for your next date night, girls' weekend, family dinner, or poker night. While wine is the specialty, other liquor isn't neglected. You can also buy beer from classic breweries and up-and-coming craft brands, as well as all kinds of spirits to shake up a tasty cocktail. Delivery takes two to seven days, and if free for orders over £75.
Delivers to: The UK
App available on: None – website only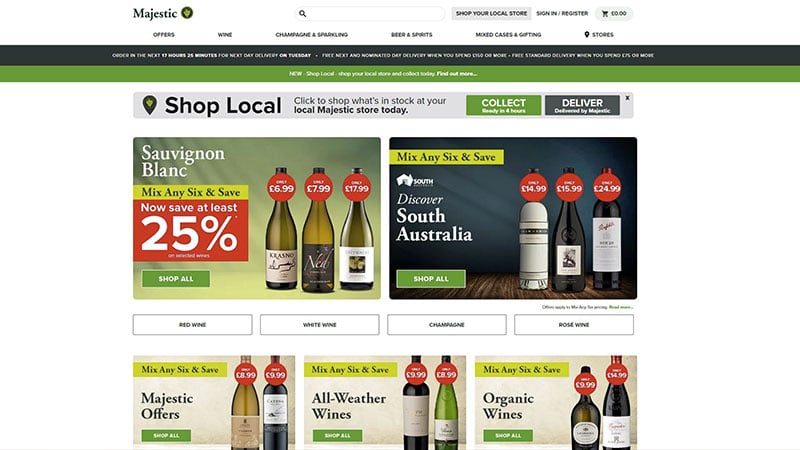 25. Vinomofo
Vinomofo is a cheeky Australian digital retailer connecting customers with good wine. Launched in 2011, every bottle sold has been tried, tested, and approved by the brand's elite tasting team. If they don't like it, they won't sell it. In addition to great wine, they also offer a happiness guarantee and excellent value pricing thanks to an immense buying power. While the range of wines is broad, they don't keep things in stock forever, so if you see something you like, grab it while you can. Each wine listing also includes tasting notes and the reason why they love it. Finally, you can get even better value with the Black Market releases, which feature dangerously good deals, but you won't know the maker until it attives at your door – only the region and tasting notes.
Delivers to: Australia
App available on: None – website only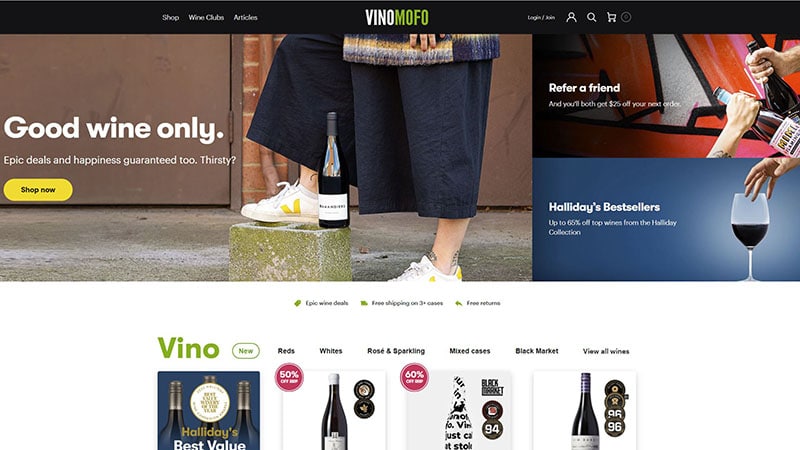 Best Online Alcohol Subscription Sites
An alcohol subscription is an easy and convenient way to keep your home bar stocked with minimal effort. It's also a great way to explore new drinks, wineries, breweries, and distilleries, getting you out of your comfort zone and discovering new favorites. Most websites will send a new delivery every month or quarter of carefully curated beverages. Many sites also provide a palette quiz or let you set your preferences, so you'll always get things you like.
Cellars Wine Club
Setting up your membership with Cellars Wine Club is simple and starts at as little as $29 per month. Choose from Single Bottle, Premium, Sweet, Sparkling, Red Trio, 90+ Point, Premium Case, and 90+ Point case. Each month, around the 20th, your wine ships out, straight to your door. Then, all you need to do is sit back and enjoy a glass (or three)! The company is family-owned and run out of Washington, with founder Mark Ihrig keeping everything from sourcing, shipping, and orders in-house so that he can maintain control over the quality of every bottle. His brother-in-law, Tom Bauer, is the Club Sommelier and brings more than 25 years of experience to the job.
Delivers to: The USA
App available on: None – website only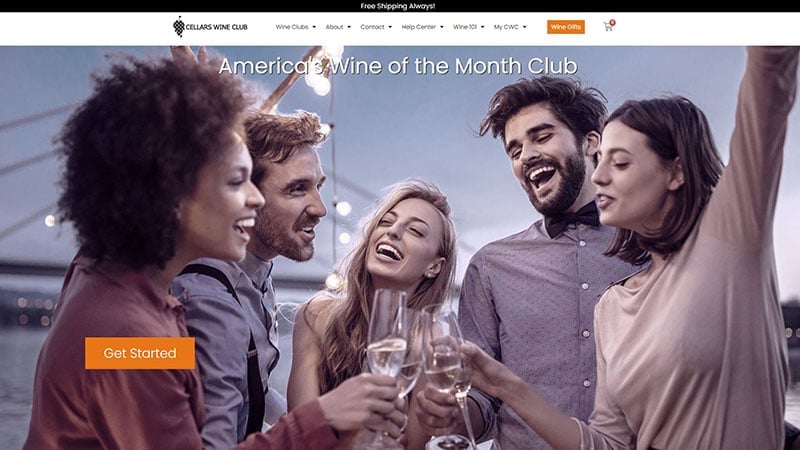 Beer of the Month Club
Stay stocked up on a unique and diverse range of froths with the Beer of the Month Club. Choose how regularly you'd like delivery, with options for monthly, every other month, or quarterly. Then, each shipment includes 12 or 24 twelve-ounce beers in four different styles from small-production, independent, artisan craft brewers in America. Examples include Susquehanna, Millstream, Smoketown, and Tivoli; however, the featured breweries will vary from month to month but are always independent. You'll also receive the Micro Brew News publication and free shipping all of the time (excluding Hawaii and Alaska). Choose to pay by the month or commit upfront to any duration up to a year, making it a great gift that keeps on giving.
Delivers to: The USA
App available on: None – website only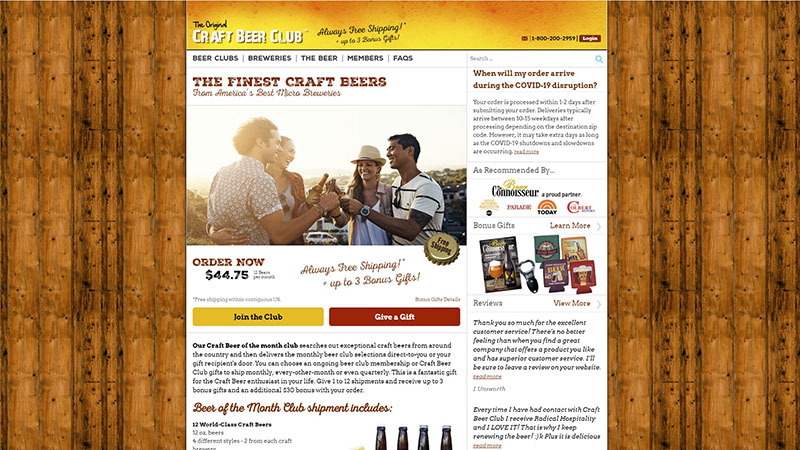 The California Wine Club
Discover small, independent wineries that you wouldn't usually find in large chains with The California Wine Club. This wine subscription service partners directly with wineries, ensuring quality and the best pricing by cutting out the middlemen. Select from various levels, including the Premier, Signature, International, Aged Cabernet, Pacific Northwest, and Case Club. Then, choose from monthly, every second month, or quarterly deliveries with pay-as-you-go billing. Apart from receiving great wine, other benefits include discounts on reorders for bottles you loved, $1 shipping on all half or full case reorders, access to a personal wine consultant, and the Uncorked publication. Finally, if you decide to pay a visit to any of the featured wineries, as a club member, you'll get VIP touring and tasting!
Delivers to: The USA
App available on: None – website only
SHOP: The California Wine Club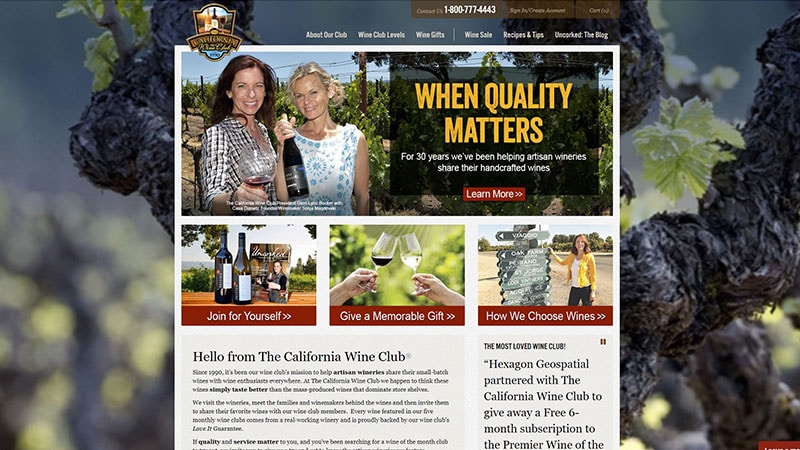 Firstleaf
One size doesn't fit all when it comes to wine. As such, if you're particular about your vino, then Firstleaf is a customizable and personalized wine subscription for those with discerning tastes. Start by filling out a short quiz to begin shaping your profile. Once you receive your first shipment, you can rate and review them to further refine your profile and help the algorithm and Wine Concierge team select the perfect wines just for you. The team behind the brand is passionate about wine and works closely with global winemakers, sampling up to 10,000 wines each year, bringing you only the best of the bunch. Plus, if you get a bottle you dislike, you've covered by a satisfaction guarantee! If you're new to wine, check out the Wine School resources, which provides helpful information about tasting elements and styles, so you'll feel like a professional in no time.
Delivers to: The USA
App available on: None – website only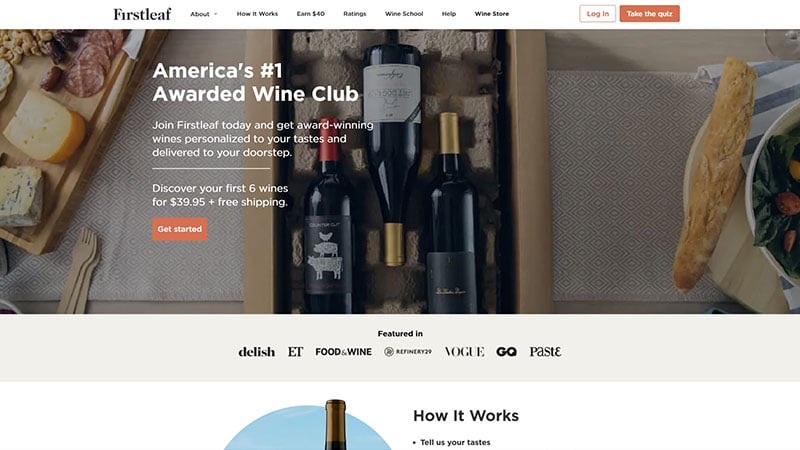 Plonk Wine Club
Etty Klein, one of Wine Enthusiast's Top 40 Under 40 Tastemakers, founded Plonk Wine Club to bring fantastic, natural wines straight to your home. Enjoy a selection of rare gems, organic, and biodynamic wines from the world's leading producers and off-the-beaten-path regions. You can choose from boxes of four, six, or 12 bottles, with a pay-as-you-go option. Alternatively, you can pre-pay for a certain number of deliveries. Then, simply choose if you want red, white, or a mix, and let the team do the hard work of selecting the wines. Expect a case of delicious vinos from passionate and skilled winemakers, tasted and approved by the team. In addition to the wine club, you can also reorder your favorites from your last box, mixing and matching, to create your own perfect mix.
Delivers to: The USA
App available on: None – website only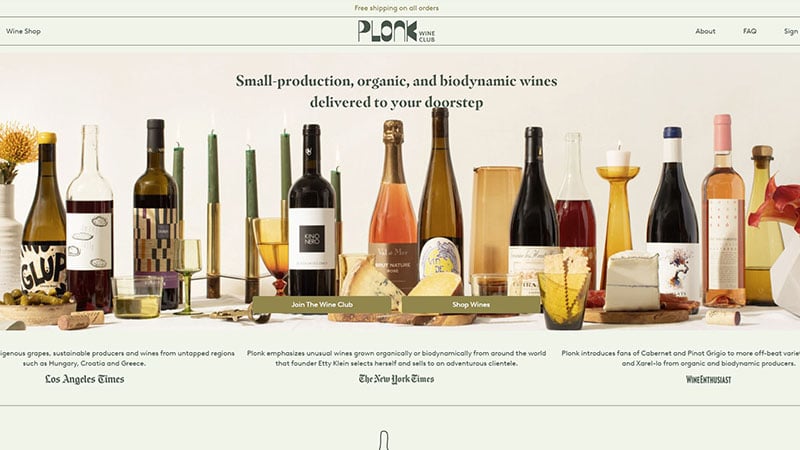 Who Can Order Alcohol Online?
Unlike other kinds of online shopping, buying alcohol is subject to different restrictions. All nations require you to be of the legal drinking age, and ID is often required upon delivery to prove your age. Depending on where you live, there may be other restrictions or limitations, which can include state or federal laws or even just logistical constraints. It's always best to check with each retailer before hitting the purchase button.
Based in USA?
Liquor licensing laws in the USA are controlled by the states rather than at a federal level. As such, buying alcohol online varies depending on where you live. There are no alcohol deliveries at all in both Utah and Alabama, as well as various dry counties in other states. Deliveries to other areas can vary depending on the type of alcohol, with wine more permissible than spirits and beer. Some states also have limits on the volume of liquor. Meanwhile, customers in Hawaii and Alaska may have to pay a premium for delivery because of the distance. Finally, all customers who can buy alcohol must be 21 years of age and show a valid government-issued ID upon delivery.
Based in Canada?
Similar to the USA, Canada's liquor laws are dictated by the provinces and territories. Consequently, the minimum drinking age varies between them, with 19 years applicable everywhere except Alberta, Manitoba, and Quebec, where it's 18. Ordering alcohol online in urban areas is common; however, due to the remoteness of some locations in Canada, not all areas may be serviced with deliveries. Additionally, there are some dry communities where alcohol is not permitted at all or limited.
Based In UK?
The most significant limitation for online alcohol orders in the United Kingdom is location. Many deliveries don't service areas like the Channel Islands, Isle of Man, Isles of Scilly, or the Scottish Islands. If they do, there can be delivery delays and extra surcharges. Brexit has also had an impact on both incoming and outgoing shipments, including to Northern Ireland. Finally, the minimum age for online orders in the UK is 18 years.
Based in Australia
All shoppers of online alcohol in Australia must be at least 18 years of age. Additionally, Australia has several dry communities where shipments cannot be sent, and some retailers also don't ship to the Northern Territory. Regional and country customers may also face higher shipping costs due to distance, as well as extra time for their delivery to arrive.
How to Store Alcohol
The best way to store alcohol depends on the booze, but there are some common rules. Avoid direct sunlight as the heat and UV rays can damage the contents, and significant temperature fluctuations can also lead to spoilage. Wine is ideally stored on its side, in a temperature-controlled environment, such as a cellar or wine fridge. Meanwhile, hard liquor is best stored standing up, but you should moisten the cork every so often to keep the seal tight. It's also prone to oxidization, so drink up once the bottle has less than a third of its content left — saving it can spoil it. Liqueurs or fortified wines with high sugar content or cream-based recipes should be stored in the fridge, as the sugars can go off faster. Finally, keep your beer upright in a dark environment, and drink non-cellaring beers while they're still fresh.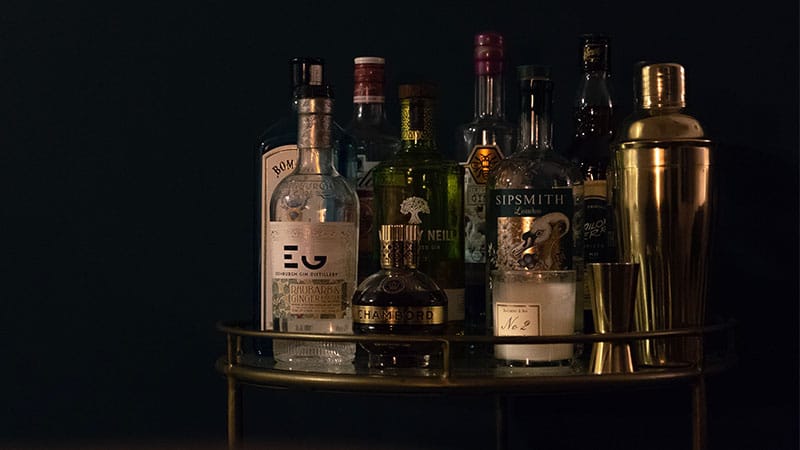 FAQs
Where can I buy alcohol online?
There are lots of places online to buy alcohol. Try websites like Drizly, Saucey, and Postmates for a fast turnaround. Reserve Bar and The Whiskey Exchange are great for unique gifts, while Wine.com, Naked Wines, Vinomofo, and Wine Insiders are great for vinos. Finally, stock up everything from retailers like The Drink Shop, Waitrose Cellars, and Dan Murphys. 
Is it cheaper to buy alcohol online?
Alcohol can be cheaper online, depending on where you look. Some retailers work directly with the suppliers, cutting out middlemen costs and passing the savings onto the customer. Others have enormous buying power, which can lead to lower prices, while online-only stores don't have retail rent to pay, increasing the cost of the end product. Finally, some online alcohol stores have a price match guarantee, so they will honor a lesser amount if you find it cheaper elsewhere. 
When do stores stop selling alcohol?
Liquor licensing laws and selling hours vary country by country and state by state, so it's best to check your exact location. Of course, with any online store, you can place an order at any time of day, but it will be processed during the business's operating hours. 
Can I buy alcohol online without being 21?
You only need to be 21 in countries where the minimum drinking age is 21, including the United States. If you are in another country, you must be the minimum legal drinking age applicable for that nation (or state/province). 
Can alcohol be ordered online?
Yes, alcohol can be ordered online for most locations but can vary depending on where you live. 
SUBSCRIBE TO OUR NEWSLETTER
Subscribe to our mailing list and get interesting stuff and updates to your email inbox.